The Jenny Pincher Blog by Jenny Kerr
My name is Jenny Kerr and I'm the owner and creator of the personal finance website, The Jenny Pincher. The goal of my website is to educate single women on getting out of debt and building wealth so they can live the life they dream of with out the fear of debt and money problems weighing them down.
Please tell us something about yourself. Is budgeting your profession or just a hobby?
My blog is a hobby but I believe it helped launch my career into IT. I had no formal IT training or background but taught myself everything I know about my website because I was too poor to hire someone to do the work on it!! I learned so many valuable lessons and realized I loved the technical side of things and today my full time job is as an IT Consultant. I've also had a few spin-off projects from the website that included a podcast and the potential for a reality TV show. In addition to my full time job and the website, I also have a skincare business.
When did you get an idea to launch your own blog and how important is it for you be online?
I started my blog back in 2007 after I had been laid off 3 times in a very short amount of time. I was fed up with trying to look for a job all day, every day and I needed something to take my mind off the stress and anxiety of job hunting. One thing I really struggled with after being laid off was my finances, obviously. As I started to research financial advice online, I realized there was nothing out there for single women. All the advice was geared towards families at that time and it actually made me mad!! So I decided to fix that problem and created my blog. I documented the everyday things I did to save money and get out of debt from the perspective of a single female.
Did you have someone help you make the website or did you do it by yourself?
I did it all myself! I knew nothing about blogging or websites and I actually didn't even like writing when I got started but I knew I had something to say so I kept trying. I was able to learn and get better as I went along. There were many nights I was up until 2 and 3 in the morning playing around with coding to see "if I do this, what happens?" That's the best way to learn in my opinion. Just dive in and see where it takes you!
The right domain name is important. How long did it take you to come up with the domain name for your blog?
Actually it didn't take that long, I had a friend suggest the idea for the name and I just went with it. It still amazes me today that I was able to create a whole brand out of the name from nothing!
What CMS (Content Management System) do you use on your blog? How hard is it to navigate within your CMS (making a new post, inserting images, moderating comments, etc.)?
I've used WordPress from the start and that's the only CMS I know. I feel like its pretty user friendly and now I can navigate very quickly through the site. In the beginning, I spent a lot of time just researching and reading to figure out what I was doing wrong. It actually became like a puzzle to me because I wanted to see how it all fit together.
How much time do you spend blogging?
In the beginning I spent a lot of time working on the site, writing articles and creating a newsletter. As I mentioned before, I wasn't very good at writing (and I still don't consider myself that great) but it was a skill I just kept working at to refine. Back then it was just me, but now I have help with content which takes the pressure off me to always come up with new ideas. After 7 years, I felt like I needed other input for a fresh voice for the readers.
How do you promote your blog? Do you use social media channels to attract more visitors to your blog?
I use social media sites such as Facebook, Twitter, Instagram etc. to promote my blog and reach more women. In addition to learning how to create a website, I read a lot and tried to educate myself on what value I could provide to my readers through social media. I'm always looking for the best content to share with them.
Is there a way to monetize (make money) through a blog?
Of course! I've created a Budget Bootcamp and some eBooks I sell on my blog. Additionally, you can monetize through sponsored posts, ad revenue and affiliate income just to name a few. Another great perk of having a blog is getting to try new products or services. I've had companies contact me to review their products which usually come with a complimentary product/service for me to try. Those are always a lot of fun!
Would you encourage other people to make their own blogs?
I think as long as you have something of value to offer people, having a blog is a great idea. Blogging is a fun way to connect to your market and you can meet some of the greatest people through blogging and social media!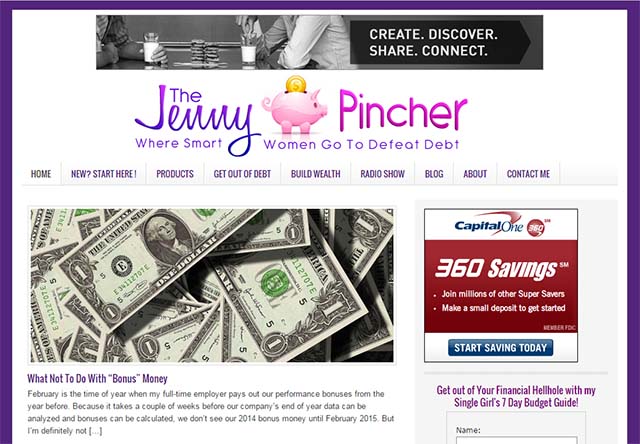 Please give us some advice for new bloggers and for people who are still not sure if they need a blog of their own?
It can be really overwhelming to get started with a blog. One of the mistakes I made was jumping around to the next "new" project or idea because I thought it was going to be better than what I was currently doing. I call that "shiny object syndrome". I wasted a lot of time and money doing that.

If I had it to do all over again, my advice to someone getting started would be:

Find a niche you are passionate about and stick with it. Don't get distracted by side projects that will take your time away from your main focus.
Organize your blog before you go to work. This includes deciding your blog theme, the pages within the blog, categories etc. so it has a flow that makes sense to your readers from the start.
Consistent daily work pays off! It doesn't seem like it at the time when you are in the middle of it but it really does when you look back on how far you've come. For example, I have always kept a running list of my ideas or things I wanted to do with my blog that includes things like expanding on current topics with in the "About Me" section, fixing some bugs I have let go for too long and other misc. small things. If I look at the entire list it's just long and I think there's no way I can do all that and I end up not doing anything. So instead, I take one thing off that list at a time to work on and give myself a deadline to complete it. By doing just a little bit each day, I'm able to work through the list one by one and get things done.
And finally, probably the best piece of advice I could give someone is to don't wait until it's perfect to get started. We are our own worst critics and this stops us from moving forward. I wasted too much time waiting for everything to be just perfect before I would put it out there and I don't recommend that approach to anyone!
Photos ©: The Jenny Pincher