Modest Money Blog by Jeremy Biberdorf
Hello everyone. My name is Jeremy Biberdorf. I'm a long time internet marketer turned blogger turned ad broker. You can check out my finance blog at ModestMoney.com and my ad brokering business at AdInventory.org. I've been doing website marketing since 2002, affiliate marketing since 2004 and blogging since 2012.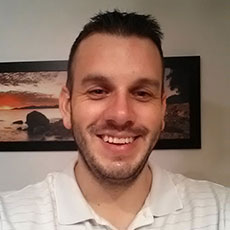 You've successfully established yourself an expert in your niche. What drew you into this area of knowledge? Was it all part of a plan, or did you find yourself swept up in the current?
I won't lie, I'm in the finance niche for the money. I started promoting financial affiliate programs back in 2004. At the time it seemed like there were plenty of very profitable financial affiliate programs. Over the years I transitioned to other websites but I stuck with the niche. It wasn't until 2012 that I decided that I would pursue personal finance blogging. That decision mostly came down to what kinds of sites Google seemed to be favoring more and the extra marketing potential that comes with a blog.
While many of our readers are probably familiar with you, how would you describe your job, in your own words? Basically, for the layman, what do you do?
While I was doing professional SEO work for 12+ years, last year I decided to go full time with my online business. By that time I couldn't really call myself a traditional blogger though. Rather than writing all my content, I rely on 3rd party contributors and just manage the blog. If someone on the street was to ask me what I did for work, I'd still say I'm a website marketer. If I felt like elaborating on that I'd explain that what I actually do is sell advertising on websites. In short, I'm mostly an ad broker and I also manage a finance blog.
The right domain name is important. How long did it take you to come up with the domain name for your blog?
I lucked out with my domain name and managed to find a domain name that I really liked within a few hours of brainstorming. I did check the availability of a lot of other options, but in the end I think I found the perfect domain name to match my personality. Since a domain name does stick with you for a long time, definitely take the time to find something you'd still be happy with years later.
How much time do you spend blogging?
When I first started blogging I was in the midst of another self employed stint and newly single. This allowed me to go full bore with my blogging and commit an insane amount of time to blogging. From when I woke up to when I went to sleep my entire day was blogging aside from the time to cook a quick meal or two. All of that hard work paid off with a very solid base. These days not much time actually goes into actual blogging. Counting my ad brokering business though, I still work a lot of hours. Every day is a work day and most evenings I'm fitting in some work hours. Working for yourself might seem like you have a ton of flexibility, but it's the flexibility of how you want to fit in your 12 hour work day.
Which social media sites do you consider the most important?
I think it really depends on your niche. Personal finance likely isn't the best niche for Facebook since it is still somewhat taboo to share too much about your finances. So in my case I do much better with Twitter. For most niches Facebook or Twitter will be most important. I suggest you dig into what your competitors are focused on. You might find that your niche is more Pinterest friendly. Sometimes you might that more than one social media site does well in your niche. Then you get the choice of trying to balance multiple social sites or focus more on the site that you are personally more comfortable with.
Do you have any advice for novices starting their own blogs, any rookie mistakes to avoid?
First of all, do not expect quick success. It takes a ton of time, effort and patience to build a successful blog. Far too many blogs die off as the blogger gets impatient about not seeing a profit. Others end up suffering from blogger fatigue due to the excessive hours they are putting in. So always keep the long term plan in mind. If you need to, fit in some blogging breaks, accept guest posts or hire cheap contractors to help out. If not, be prepared to be very patient.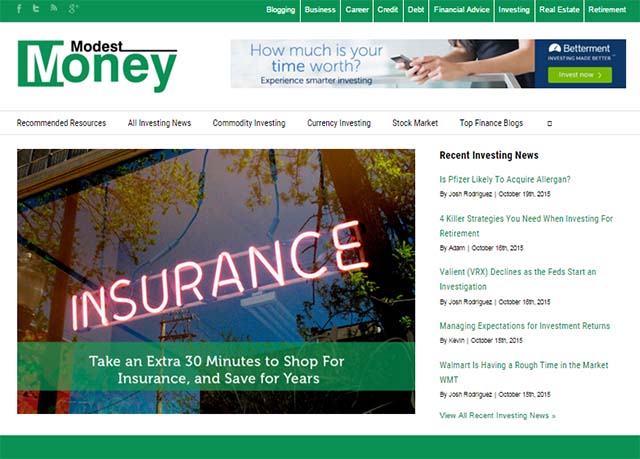 If you had to pick the top three reasons for your success what would they be?
The first reason was the sheer amount of effort put into it. Blogging was literally my entire life for the first while. The second reason would be my extensive website marketing experience. In the finance blogging niche I had a major leg up on my competitors as they were mostly finance experts and enthusiasts with minimal marketing experience. My experience allowed me to skip a lot of trial and error to market more efficiently. Plus it earned me a lot of favors by giving advice to other bloggers. The third reason would be how supportive the blogging community was. I'm not sure if other niches are this way, but most finance bloggers are quick to help out in anyway they can. This includes marketing cooperation, answering questions or just being supportive.
Monetization can be tricky, did you try anything that didn't pay out the way you'd hoped?
Definitely. Monetization is usually all about trial and error. What works for one blogger may not work well at all for you. I've tested a lot of affiliate programs that didn't produce a single dollar. A major one that really didn't pay out for me was Google Adsense. Back in the early days of my online business I was a lot more reckless. I made the naive mistake of asking someone to click on my ads….not realizing that they were one of the advertisers. Not surprisingly he flipped out. After reporting it to Google, he decided that wasn't good enough. He proceeded to click bomb my ads until Google was convinced I was scamming the system. Over 10 years later I'm still banned. For most crimes I would've gotten out of jail by now. In Google's eyes though I'm too much of a risk to get another chance. So be careful with keeping advertisers happy. You may never get a second chance.
We don't expect you to spill any trade secrets (unless you want to, then by all means. . . ), but what's the next big thing for you?
The next big thing is already here….mobile. More and more traffic will shift towards cell phones and tablets. Google also takes mobile factors into account in their rankings algorithm. So if your site is not properly optimized for mobile you will be fighting an uphill battle. You need a responsive theme and your site needs to load quickly, especially on mobile devices. Also think of other ways you can make your site better for mobile users as those user metrics may become a bigger factor too.
If you could get one message back to yourself, when you were starting out, what would you tell yourself?
I'm pretty happy with the way things have turned out, but I would've loved to have the insight to start my blog sooner. Many of the finance blogs who started earlier have already cashed out by selling their blogs for the kind of sum that sets you for life.
We like to wrap up with a bit of fun . . . Anyone out there you'd like to give a shout out to? A friend, a great resource, your mom?
Well I bored my mom away from reading my blog years ago. I doubt any of my other friends actively follows what I do online either. So since most people I know will not end up reading this interview, how about a shout out to my cat Trip, my dog Taco and my baby girl on the way later this year Jadyn.
If you could get a guest post from anyone, living, dead, or mythological, who would you tap for it?
Well if my blog wasn't focused on finances I'd choose someone really cool. I wouldn't really want to hear those kinds of people giving financial advice. As my blog is shifting to focusing on investing my automatic answer is Warren Buffett. Thinking about it more though, I'd probably prefer someone more entertaining like Kevin O'Leary from Shark Tank or someone controversial like Conrad Black. Then again that could be the marketer in me speaking.
Photos ©: Jeremy Biberdorf. Make sure to follow Jeremy on Twitter, Facebook and Google+.