Pearls and Twirls blog by Katie Lee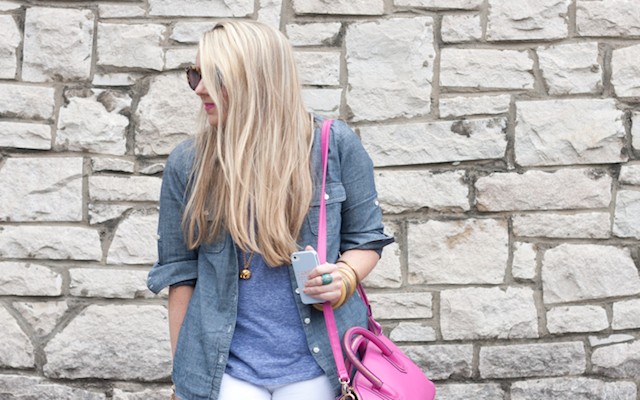 I'm coming up on my 3rd year of blogging and it's been one heck of a ride! I've stepped out of my comfort zone more than ever before with Pearls & Twirls and have taken some pretty serious leaps of faith. I'm currently in the process of launching a new business with my best friend while still blogging at Pearls & Twirls. Starting my blog has truly been a game changer for me personally and I couldn't be more excited about where I'm headed!
Please tell us something about yourself. Is fashion blogging your profession or just a hobby?
Currently blogging for me is somewhere in between my profession and a hobby. Pearls & Twirls landed my current job and has been pivotal in my newest venture, launching a boutique with my best friend, so I would say it's just a little more than a hobby! 😉
When did you get an idea to launch your own blog and how important is it for you be online?
When I discovered fashion blogs I immediately wanted to start one of my own. It took a while (over a year) for me to get up the courage to ask my boyfriend to start taking photos of me in my daily outfits. (Fashion bloggers were way foreign back then here in small town Tennessee.)
Did you have someone help you make the website or did you do it by yourself?
I've done everything myself! I hired Hey, Sweet Pea to help me design my logo but everything else has been all me (and a lot of googling)!
The right domain name is important. How long did it take you to come up with the domain name for your blog?
I brainstormed for months on my blog name. I wanted it to mean something a little more "me" than just your everyday fashion blog so I played on my love for sparkles coming from years of wearing sequins on Friday nights at football games in my majorette costume! "Twirls" came first and I settled on "Pearls" because everyone knows southern girls love our pearls! 😉
What kind of Theme do you use on your blog and what are the "must have" plugins for a blog?
I just use a basic wordpress theme. I wanted my content to stand out so kept everything else basic. I love my SEO plugins. They make optimizing my posts super easy!
What CMS (Content Management System) do you use on your blog? How hard is it to navigate within your CMS (making a new post, inserting images, moderating comments, etc.)?
I use WordPress and think it's super easy to navigate! I don't have any complaints! 🙂
How much time do you spend blogging?
Right now I'm juggling a lot between launching a new business, working full time and blogging but in a perfect world I would spend a couple hours a day brainstorming and perfecting my blog content.
How do you promote your blog? Do you use social media channels to attract more visitors to your blog?
Absolutely! Social media is really my only way of promoting Pearls & Twirls. It's pretty amazing what social media can do!
Is there a way to monetize (make money) through a blog?
There are definitely ways of monetizing your blog. I love using affiliate links for easy (almost) instant gratification but working with brands for sponsored posts and cool collaborations is always an awesome experience!
Would you encourage other people to make their own blogs?
Absolutely! Blogging has given me so many cool opportunities and led me to so many awesome friendships! The blogging community (not just fashion blogging – any kind of blogging) is so much fun because you're immediately connected with people who are passionate about the same things you are. Put a bunch of fashion bloggers in a room together and they're besties by the end of the day!
Please give us some advice for new bloggers and for people who are still not sure if they need a blog of their own?
Trial and error. Don't be afraid to make mistakes. Dream Big. Don't be afraid of "no". Take Risks. Have Fun!
Blogging should be something that's fun and at the end of the day you enjoy doing. Don't try to force content out there. If you're feeling un-inspired – go out and get inspired. If you're feeling something – don't post it. If you follow your heart and do what feels like "you", you'll have a great time along the way!
Images © Pearls and Twirls