MySMARTblog.com by Mikel Erdman
Could you tell us a little about yourself and about MySMARTblog.com – how you ended up starting an online business?
I created the our MySMARTblog.com automatic blogging system through a consulting project that I did for a very high producing mortgage loan officer. He was looking for an automated way to communicate with his connections in social media in order to keep top of mind awareness with them. I knew that a blog would be the best tool to create and distribute high quality content through the social networks. So I built him a blog and we developed custom content distribution software to automate the blogging process. We used a 3rd party tool for the social syndication, but we've since built our own software for that component as well. Here's a link to a quick video about our start: http://mysmartblog.com/about/
How do you balance traditional employment with the investment of time and effort required to maintain your internet presence ?
MySMARTblog is my only employment, so I spend every day working to improve it for our subscribers and members.
Did you have someone help you make the website or did you do it by yourself?
I created the first blog website myself. Shortly thereafter, I hired a developer to create a better looking version. And now we have a team of folks who do all of our graphic design, site development and programming.
The right domain name is important. How long did it take you to come up with the domain name for your blog?
Not that long. Originally the SMART was supposed to be an acronym for Social Media Automation, Resources and Training. We never really leveraged the acronym, but the name stuck.
What kind of Theme do you use on your blog and what are the "must have" plugins for a blog?
We use Studiopress Genesis framework and themes and then customize them for our purposes. It's really important to use a premium theme and a company that you know will be around and update their framework as WordPress evolves.
A few of the plugins that we use and recommend are SEO by Yoast, Gravity Forms, Smart YouTube Pro, Video User Manual and many more!
How much time do you spend blogging?
I spend 2-3 hours a week writing content. I also have a team of writers that create content for our site as well as for our content channel subscribers.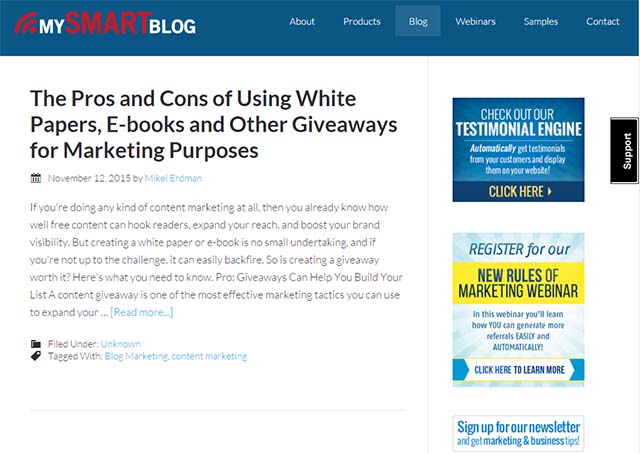 Do you use social media channels to attract more visitors to your blog? How do you maintain good relations with your audience/customer base?
By creating and sharing valuable content that they care about. It's really important to ask the question, "What does my target audience care about?" and then produce content that answers that question. I see a lot of people make the mistake of writing about topics that are important to the blogger, but possibly not interesting or compelling to their audience.
How did you go about branding?
I hired a consultant to help with our branding. And then we've evolved over time. We also pay attention to what other companies in our space are doing a borrow ideas from them.
Would you encourage other people to follow your steps and do you believe there's a formula for success on the internet?
Yes, I think this is the greatest business in the world! The first thing is to commit to A LOT of hours and hard work getting started. Once you get the ball rolling, it gets fun!

Let's assume we're not omniscient . . . what's the one question you have an awesome answer for, but we didn't think to ask?
"What about SEO?" It's a big mistake to focus on SEO as the primary way to drive traffic when you're starting your blog. It's a lot better to focus on what I call "Sphere of Influence Optimization". In other words, stay in front of the most influential people on a consistent basis with great quality content, build top of mind awareness with them and use that momentum to grow traffic and a following. SEO will naturally follow as your content library grows and you have a lot of social validation.
Photos ©: Mikel Erdman