How to Blog a Book by Nina Amir
I am an eight-time Amazon bestselling author of such books as How to Blog a Book and The Author Training Manual. A speaker and blogger, I'm known as the Inspiration to Creation Coach because I help creative people combine their passion and purpose so they move from idea to inspired action and positively and meaningfully impact the world as writers, bloggers, authorpreneurs, and blogpreneurs. I provide author, book, blog-to-book, and high-performance coaching services to my clients, some of whom have sold 300,000+ copies of their books, landed deals with major publishing houses and created thriving businesses around their books. I founded National Nonfiction Writing Month, National Book Blogging Month, and the Nonfiction Writers' University. As a hybrid author I have published 16 books and had as many as four books on the Amazon Top 100 list at the same time.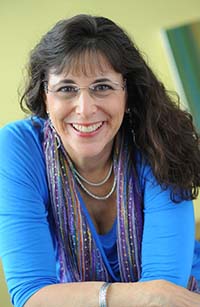 When did you get an idea to launch your own website and how important is it for you be online?
I've been online as a blogger since about 2006. I started with one blog and, at one point, had five. I now have four and currently produce four posts per week. Until a month ago I was producing six posts per week. I have published as many as five posts per week to just one of my blogs.
I launched a website initially to help me gain editing clients. It was a static site. Later I started a second static website to promote my personal development and spiritual work and books. Later I added the blogs when I discovered how important they were to the discoverability of the sites.
As I learned more about blogging, I converted all my sites to WordPress.org sites with their own blogs. I also combined the first two static sites into one, http://www.ninaamir.com, my flagship site.
I still run http://www.writenonfictionnow.com and http://www.howtoblogabook.com as well as http://www.mysoncandance.com, although I don't write regularly on the latter.
It's enormously important to have an author website. This is where you drive all your traffic. However, the only way for you to be "found" is via a blog. You must blog often and consistently to become "discoverable."
So, for me, being online and blogging is very important.
Did you have someone help making the website or did you do it by yourself?
Originally I created my blog sites alone with the free version of WordPress. Later, I had them designed by a developer on WordPerss.org. I know how to do most of the work on WordPress but rely on a developer/designer to make my sites look professional.
The static sites were created by a developer as well. However, she taught me how to use the program, and I later did all the work on the sites (including redesigns) myself.
The right domain name is important. How long did it take you to come up with the domain name for your website?
Not long…at least for some of them. I though about the topic and built from there. Each one of my sites has a domain name or URL that speaks directly to its topic. The exception is www.ninaamir.com. I wanted that one to direct people to me—to be findable by my name. However, I own probably 50 or more domains…some of which are redirected to other pages on my sites.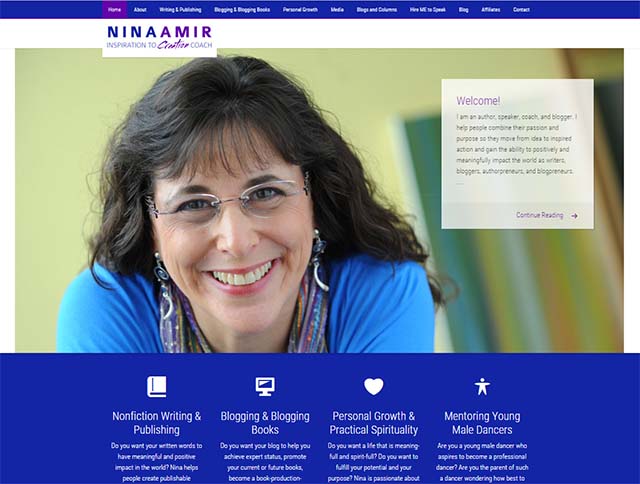 What kind of Theme do you use on your website and what are the "must have" plugins you would recommend?
Each site has a different theme. They are all premium themes that you pay for.
I list a variety of plugins that are "must haves" in How to Blog a Book Revised and Expanded Edition. To mention a few, be sure you have:
Akismet
Google Analytics
SEO by Yoast
Some sort of social sharing tool
What CMS (Content Management System) do you use on your website? How hard is it to navigate within your CMS (making a new post, inserting images, moderating comments, etc.)?
As I said, I use WordPress.org. It's very easy to use.
How much time do you spend writing/posting your articles? Do you communicate with your readers through comments?
It takes me about an hour to write and publish a blog post if I keep the length to 500 words. In that time I can find a photo, check the grammar, format, and publish. If I write a longer post, it will take me longer.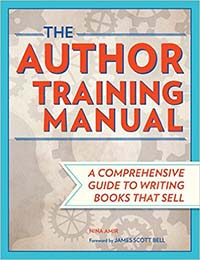 How do you promote your website?
On all the social media sites. I share every post on every site at least once. On Twitter I share multiple times.
Do you have any current projects?
I have just turned in two book proposals to my agent. I have a third that is almost done. I also have two new ebooks I'm working on currently.
Recently, I also launched a new venture with Joel Friedlander of www.thebookdesigner.com. We created a How to Blog a Book Template Kit.
What are your plans for the future?
Keep doing what I'm doing! However, I hope to be writing books that are not just about writing, blogging and publishing but also about personal development and spirituality.
Would you encourage other people to make their own blog/website/online business?
Yes. It's a great way to start a business. It's the best way to become visible and attract readers, customers and clients. And for authors, it's a way to make a living, which they most likely won't from book sales alone.
Please give us some advice for new bloggers and for the writers who are still not sure should they start a blog of their own?
I cannot stress enough the fact without a website no one can find you. Today, everyone searches for everything online—including writers, media guest and expert speakers. Without a website, you don't exist. And without a blog, your website, assuming you have one, remains lost amongst the millions of other websites. A blog is THE thing that will bring people to your website.
My advice is simple: Stop wondering if you should blog or create a website, and just do it. And don't create a free one. Pay the money to have a self-hosted site, and, if possible, get it professionally designed. You won't regret it because you'll feel and look professional, which will help you succeed.
Photos ©: Nina Amir