Pure Residuals Blog by P.J. Germain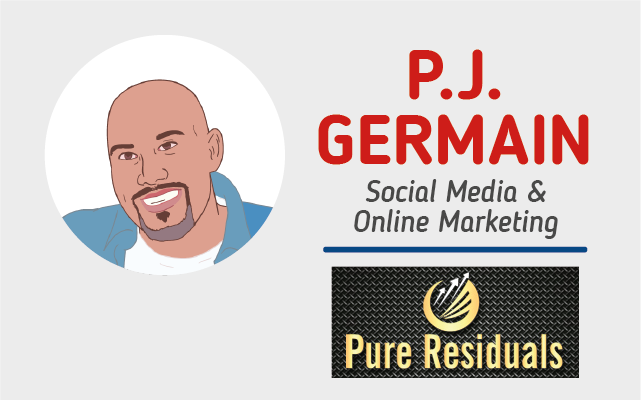 You've successfully established yourself an expert in your niche. What drew you into this area of knowledge? Was it all part of a plan, or did you find yourself swept up in the current?
Well, my life first began as in law enforcement and I then went to work for our government as a security engineer. Additionally, I became interested in building websites. Now, this was back in the days when there were no fancy HTML editors or WordPress and we had to code things manually! LOL! I know I'm telling my age here. But, the appreciation for creating something from an obscure "idea" into a fully blown professional website thrilled me. I had no idea I had this hidden passion, but had always considered myself a creative person. So, it wasn't really part of a grand plan, yet as the Internet and social media grew, so did my knowledge for building websites and marketing online. Later, I discovered how to build websites for search engine optimization and it was like a puzzle at first. But, once again, I was drawn in as the changes I made would increase website traffic and these website were like planting a seed and watching it flourish into.
Did you make a clean break from a traditional career, or did you transition over time, creating your internet presence on the side?
Like many others, I built my business in my spare time at first. I would work my day job and then come home and hop on the computer and build my websites and perform the requisite content management marketing and promotion until late hours in the evening. So, yes, it took some time in the beginning. I've since learned how to better optimize my time and as I practiced my content creation, it became easier and easier. As with many things in life, practice does help us hone the skills we choose to learn.
Did you build your site yourself or have you reach out to a designer?
Although I feel my first websites were very poor, they were fantastic learning experiences. So, no, I have never used a website designer. In the beginning, I even created all my logos for myself and my clients, but lately I have been outsourcing logo design. I still enjoy creating the websites myself.
The right domain name is important. How long did it take you to come up with the domain name for your site?
I totally agree. Now, while having keywords in your domain name is certainly an SEO factor, this time around I wanted to go more with a branding type of option with my domain name. While I love affiliate marketing, residual income – getting paid over and over again for doing the work once – to me is where it's at. Also, I knew I was going to be reviewing the best residual income affiliate programs and give solid honest research and investigation facts from each so Pure Residuals was born. So, while I pondered the domain name for a few weeks or more, it came to me one night in the shower as many of my best ideas do. LOL!
What are your top three plugins, the ones you can't live without?
Ah, great question! Plugins as you know can make or break a WordPress website. My first favorite is likely Yoast's SEO. It's been around for years and you can tell the research and level of functionality this plugin brings to enhance WordPress for the search engines. It saves so much time and is the first one I install out of the gate every time. The other two are nearly equally important for page loading speed – AutoOptimize and WP SuperCache. AutoOptimize is nearly a "no-brainer" – you just download and activate and it's ready to rock. WP SuperCache has a few settings to deal with, but does a great job of compressing functions of WordPress and serving up cached versions of your website to increase page speed for both search engines and website visitors. This is typically an overlooked on-page SEO factor and has proven to be well worth any webmasters time and effort.
How much time do you spend blogging?
I still keep to the 80-20% plan. I create content 80 percent of my time and the remaining 20 percent is used for promotion – be it social media marketing, video creations or contacting other website owners for a mutual promotional effort.
How do you promote Pure Residuals? Do you use social media channels to attract more visitors to your blog?
Indeed, social media is a huge traffic factor these days. Promoting with social media and then cross-promoting has shown a huge increase in my traffic for Pure Residuals. But, I also am a huge advocate for guest blogging, branding and reputation management.
What do you think the most important part of building your brand was, in retrospect?
As you know, the search engines have changed quite a bit the past few years with the Google Penguin, Panda (and a few other more obscure) algorithm updates. Thereby, writing unique, media-rich and engaging content has become even more and more important. Creating lists, "how to" tutorials and "evergreen" articles, eBooks and other products has proven itself to be like solid gold in our industry. Taking topics that work, expanding on them and "building a better mouse-trap" has been huge for my site. Also, keeping in touch with my humble beginnings and remember the challenges I faced as a beginner in online marketing and helping others bridge those challenges. I always try to remember how those first few years seemed overwhelming to me and how to create content and steps that convey easily to beginners. Because if you can teach what you learned to beginners, you're not going to be able to create an easy to replicate system in any industry.
We don't expect you to spill any trade secrets (unless you want to, then by all means. . . ), but what's the next big thing for you?
I personally feel that only a scammy website owner keeps secrets. I try to teach the hardcore nuts and bolts of creating an online business that works for anyone. Pure Residuals is all about how to create a real online business from the ground up. Our hope is that through "Good Karma" and helping beginners or even intermediate online marketers succeed, we will succeed. We're (Pure Residuals) are simply trying to convey the knowledge we have gained and help others succeed and pass on the same knowledge – allow the cycle to come full circle for all those that we pass the knowledge on to.
And, we realize the as the Internet continues to grow, changes and applications will change. So, we will tweak our website to reflect these changes as we feel there is always room for improvement.
Any bits of hard-earned wisdom regarding mistakes to avoid?
Creating an online business IS do-able. If you have the passion, dedication and commitment, we feel that anyone can do it. Anyone can earn a nice extra paycheck (or full-time income) blogging or via affiliate marketing online. But, here's the thing – it isn't easy. Don't let anyone fool you; it's not a piece of cake and it's not going to happen overnight. Now, it's nearly as difficult as a traditional "brick and mortar" business, but it requires time and work. And, with our methods, it can actually be done without any expense – no credit card needed. But, get ready to dig in, learn and commit for the long haul.
Photos ©: P.J. Germain