JustHost Hosting Review
Company Overview, Pricing, and Features
FirstSiteGuide is supported by our readers. When you purchase via links on our site we may earn a commission.
Read More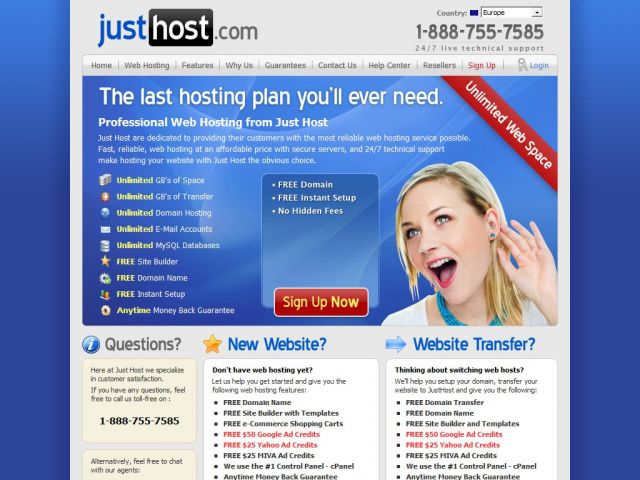 Some companies have a long history in the web hosting business. Others are just getting started and working to establish themselves among the veterans. Roughly three years deep, JustHost falls somewhere in the middle. And while this company can still be considered wet behind the years so to speak, it has made a name for itself in a relatively short amount of time.
JustHost makes it easy for you to acquire the web hosting services you need on a budget. While it currently only has a single plan available, that plan is designed to accommodate individual and small business needs alike. This host is generating a lot of buzz these days, but does it truly deliver the goods? Find out in this JustHost review.
Price Value
When it comes to web hosting with JustHost, there is one thing for certain – you do not have to break the bank to get all the tools needed to build a professional, beautiful looking website. The company always seems to have a special promotion going on, and if you catch them at the right time, you can easily find yourself a fully loaded package for under $5 per month. In terms of features and additional services, JustHost definitely gives you a nice return on your investment, one that many would consider an excellent bargain in these tough financial times.
Features
You want useful features? JustHost has a ton of them. Its attractive hosting plan features multiple email accounts, three different options for web-based mail, and an efficient spam filter for keeping your inbox free of junk. For creating your website, you have the option to use the free site builder included in the package, or Microsoft Frontpage as FrontPage extensions are available. The plan also comes with advanced features such as MIME types, cron jobs, and custom error pages. One glance at the feature list, and it becomes easy to see why JustHost is such a popular option these days.
Free Software
Like many of today's service providers, JustHost offers a variety of free software options that can be used to enhance your web presence. The plan comes equipped with blog applications such as WordPress and B2Evolution, in addition to Joomla, Mambo, Moodle, and other content management systems. You also receive your choice of several shopping cart applications, poll and survey software, bulletin board programs, and much more. Even better is that whether you would like to use a blog, CMS, or shopping cart, each program can be easily installed regardless of your experience. Simply choose your script, fill in your administrative details, click the mouse, and you're all done.
Control Panel
When signing up with JustHost, you are provided with the cPanel software to manage your web hosting account. cPanel is currently the number one control panel on the market, and its simplicity is the main reason why. Whether you are a seasoned webmaster or a beginner, this control panel makes keeping up with your website a breeze. Everything from creating email accounts to managing domains is a simple process that can be handled by just about anyone. Ease of use and a short learning curve make cPanel a great first choice for a control panel.
Customer Support
If there is one area JustHost could use improvement in, it would have to be the support department. Its customer support has received mixed reviews, with the feedback ranging from excellent to terrible. On one side you have customers who are thrilled with the responsiveness of the service, and on the other, there are not so happy customers who complain that the support is outsourced and not very helpful at all. In any event, the company provides support through multiple channels, with toll free phone, email, and live chat being the best way to contact the staff. There is also online documentation in the form of FAQs, articles, and tutorials to guide your way through the hosting process.
Technology
Technology is the driving force behind the web hosting industry, and the catalyst for the JustHost platform. The company utilizes rock-solid Linux servers as the foundation, backed by the flexibility of an optimized Apache web server. It uses the incredibly popular MySQL for its database system, and PHP, Perl, Python, Ruby on Rails, JavaScript and other programming technologies for dynamic content creation. These are just some of the reasons JustHost is becoming such a big hit with savvy developers and webmasters.
Service Reliability
One of the most important factors that must be considered when shopping for a web host is just how reliable the company is. Although it has only been in the business for a short time compared to many others, JustHost already has a reputation for being highly reliable. Operating from a state of the art data center, the firm utilizes high performance servers that receive the benefit of around the clock monitoring, and backups on a regular basis. There are also UPS systems and diesel generators in place to keep the operation thriving in the event of power outages.
JustHost's reliability can also be attributed to its impressive network infrastructure. Its facility is well connected to the say least, equipped with OC-96 backbone connections that transfer data at the rate of 400 gigabits per second. Coupled with the best in class server hardware, these connections ensure that you enjoy superb performance on the backend, and lightning fast access on the front. All in all, JustHost's reliable platform is designed to make sure excessive downtime is a non issue.
Extras
JustHost offers a variety of additional perks that add to the value of its service. You receive over $200 in free advertising credits for campaigns through Google, Yahoo, Facebook and other high trafficked channels, which could be very useful if you are looking for ways to generate traffic to your products or services. JustHost also gives you free access to Google Webmaster Tools, a highly sought after suite of tools to help with your search engine optimization efforts.
Conclusion
As one of the fast growing companies in the business, we conclude that JustHost makes a viable option for your web hosting needs. With that said, its low marks in the support department do warrant some concern. For this reason, you may want to think twice about this host before making your final decision.