Kevin Sanderson Interview
FirstSiteGuide is supported by our readers. When you purchase via links on our site we may earn a commission.
Read More
Could you tell us a little about yourself – how you ended up starting Vectips and what drew you to this area of knowledge?
I bought the site from a very well-known graphic designer, Ryan Putnam, because I saw great potential in a vector art blog.
The right domain name is important. How long did it take you to come up with the domain name for your website?
Well, since I didn't actually name the site, I'll just say that I think Vectips is a perfect explanation of what the site strives for: Vector Tips. We want visitors to learn something new about vector art when they visit us.
How do you promote your website? Do you use social media channels to attract more visitors to your site and which social media sites do you consider the most important?
We do use social media, as well as newsletter and blog updates via email. We have found that sharing our new tutorials on Facebook and Twitter goes a long way in our realm.
If you had to pick the top three reasons for your success what would they be?
A business development mindset
Always looking to find niche markets that need issues addressed/ resolved
Luck
If you had to pick the top three things people do wrong, the things holding them back from success, what would those be?
People get involved in industries they know nothing about or without little research
Waiting too long or ignoring gut feelings on things that need changing in your business
Not understanding they need to devote more time, maybe even money to reach consumers
You've got a pretty good thing going, obviously, but if there's one truth of the internet, it's that things change. Where are you going from here?
I'm always wanting to find new avenues for partnership and growth. Keep your eye out for new things coming from Vectips.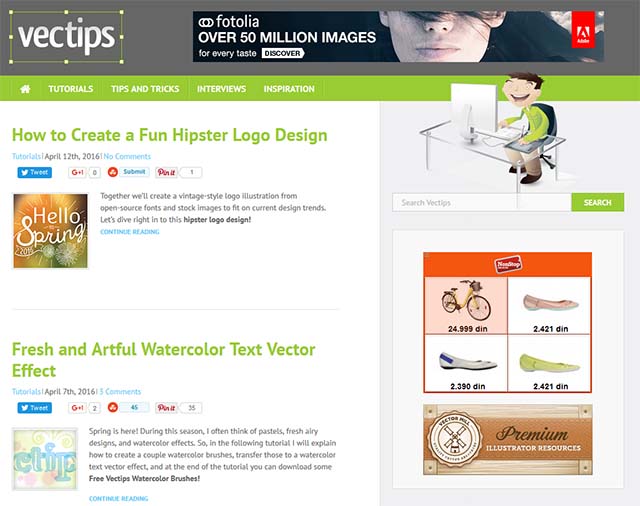 Please give us some advice for web beginners and for people who consider starting an online business?
Do your research! If you can create a website that does something better than the other sites in that industry – go for it!
Photos ©: www.vectips.com