Liquid Web Hosting Review 2023
Company Overview, Pricing, and Features
FirstSiteGuide is supported by our readers. When you purchase via links on our site we may earn a commission.
Read More
Liquid Web Hosting Review 2023
Liquid Web is a serious web hosting company that's mostly known for working with large enterprises. Still, they do offer affordable plans for all users, so if you are looking for a top-notch hosting service and are ready to pay for excellence, take a couple of minutes now to see what Liquid Web can do for you.
Who is it best for?
Liquid Web is best for bigger companies that need strong and fast server infrastructure on managed hosting that can run their resource-hungry web projects. It's also important to understand that quality and dedication come with a higher price, so be prepared to accept a three-digit invoice every month if you opt-in for their more powerful plans.
Table of contents
Company overview
This privately held company has a long history. Liquid Web came to life in 1997 when it was started by Jim Geiger. The company has 10+ data centers across the world and more than 45,000 customers in over 150 countries.
There are more than 500 people who work for this internet giant and it seems that Liquid Web doesn't plan to stop expanding and improving. Liquid Web received the "5000 Fastest Growing Companies" award nine years in a row, along with countless other awards.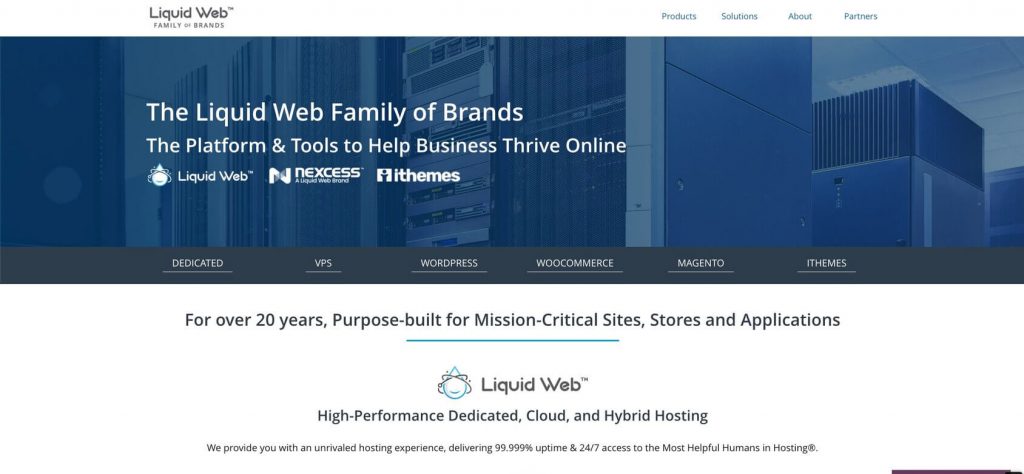 While this company has been around for twenty-four years, they have only been offering WordPress managed hosting since 2015.
Liquid Web plans and pricing
If you visit Liquid Web's official website, you will quickly discover that there are numerous products available for you to purchase, ranging from dedicated and Cloud servers to enterprise solutions and eCommerce.
For the purposes of this overview, I will focus on the dedicated server prices and features.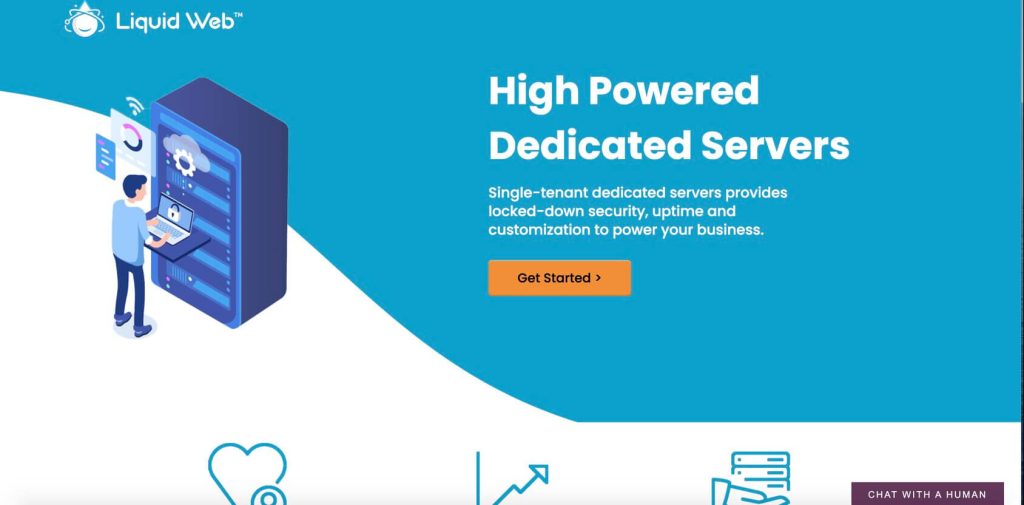 Intel Xeon 1230v6
4 cores @ 3.9 GHz max, 16 GB RAM, 2 x 240 GB SSD primary disk, 1 x 1 TB SATA backup disk, 5 TB bandwidth, 250 GB Acronis Cyber backups, cPanel included.
Intel Xeon Gold 6226R – Single
16 cores @ 2.9 GHz (3.9 Max Turbo), 32 GB RAM, 2 x 480 GB SSD primary disk, 1 x 2 TB SATA backup disk, 8 TB bandwidth, 250 GB Acronis Cyber backups.
Intel Xeon Gold 6226R – Dual
32 cores @ 2.9 GHz (3.9 Max Turbo), 64 GB RAM, 2 x 480 GB SSD primary disk, 1 x 2 TB SATA backup disk, 8 TB bandwidth, 250 GB Acronis Cyber backups.
Intel Xeon 1230v6
4 cores @ 3.9 GHz Max, 32 GB RAM, 4 x 240 GB SSD primary storage hardware RAID 10, 1 x 2 TB SATA backup storage, 8 TB bandwidth.
Intel Xeon Gold 6226R – Single
16 cores @ 2.9 GHz (3.9 Max Turbo), 64 GB RAM, 4 x 240 GB SSD primary storage hardware RAID 10, 1 x 2 TB SATA backup storage, 10 TB bandwidth.
Intel Xeon Gold 6226R – Dual
4 x 480 GB SSD primary storage hardware RAID 10, 1 x 2 TB SATA backup storage, 15 TB bandwidth.
Liquid Web key features and functions
It is clear that Liquid Web offers premium service. This means that you will get everything you need, backed up with professional support and a 99.999% uptime promise.
Still, let's take a look at the key features and functions that make this company a number one choice for many.
No pageview/traffic limits – relax knowing that there are no traffic limits. Show what you can do and drive as much traffic to your site as possible.
Private data centers – everything is owned by Liquid Web, so you don't have to depend on 3rd party services.
Full server access – unlike many competitors, Liquid Web will not limit access to your server. If you know what you're doing, tailor the server to your needs by using numerous tools that the company offers.
Automatic daily backups – if anything goes wrong, you can always grab the backup from yesterday and restore your site as if nothing happened.
Fully managed WordPress – do not worry about updates and security. Professionals take care of this, letting you enjoy your site.
Developer tools – if you are a developer, you will enjoy access to SSH, Git, and WP-CLI from day one.
Dashboard (admin portal) overview
Unlike many other hosting companies, Liquid Web does not offer cPanel as your control panel. Instead, a less user-friendly solution awaits – Plesk. Do not let this frighten you – you can still manage your hosting options without much technical knowledge.
Automated server administration
Set up automated updates, manage your applications, and take care of your website. Everything is done through a user-friendly interface that was designed for developers.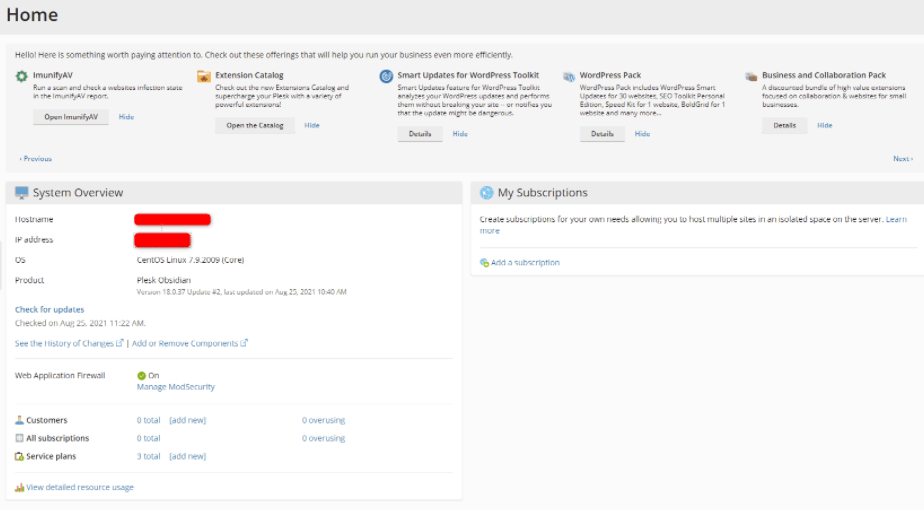 WordPress toolkit
If you need to manage your WordPress installation, you can quickly install, configure, and work with your WordPress website. If you are more of an advanced user, it is good to know that you can still have system-level control over your server.
Developer toolkit
Developers love Liquid Web for a reason – this toolkit includes support for MSSSQL, Tomcat, PostgreSQL, and many more tools that will ease the life of a developer.
Premium email antivirus
No matter what you do, you have to protect your email account against viruses, trojans, and worms.
Mobile manager
If you need to take control over your server while you are away from the office, it is good to know that you can access most administrative functions by connecting via iOS or Android devices.
Knowledge base and support
No matter which hosting plan you end up choosing, you can expect their Heroic Support to help you. Liquid Web is known to have one of the most professional support teams around when it comes to hosting.
More than one hundred of their agents come with Red Hat certificates which means that they know what they are doing. Whether you send an email or call them by phone, you can expect an expert to handle your problems.
When it comes to the knowledge base, there is everything you can expect and more. You can browse the articles, search for something or quickly find a category from the knowledge base homepage. The entire thing is well-organized and easy to navigate.
Liquid Web refund policy
Liquid Web has a very easy-to-understand money-back guarantee. If you purchase any of their Cloud VPS, Cloud Dedicated, or Private VPS Parent plans, you can ask for your money back within 30 days.
However, do note that it may take up to ten days to get your money back into your account.
Liquid Web pros and cons
Pros
One of the best support teams
99.999% uptime promise
Unlimited number of visitors
SSD installed on all servers
Free migration services
Cons
FAQs
Can I migrate my site to Liquid Web?
Yes, you can quickly migrate your website to Liquid Web hosting. In fact, the company offers free migrations for anyone who decides to move their websites to their servers.
Does Liquid Web offer a free trial?
Although there is technically no free trial available, Liquid Web does offer a 30-day money-back guarantee, which means that you can use their hosting services for that long and still ask for your money back if you decide not to continue paying for the service.
Is Liquid Web hosting free?
No, Liquid Web hosting is not free, but you can try it for free for 30 days. In fact, Liquid Web's hosting plans are more expensive than most of their competitors. However, the higher price is justified by extremely powerful servers and skilled personnel that will help you with anything you get stuck with.
Conclusion
Liquid Web hosting is definitely one of the most powerful web hosting companies. With amazing server infrastructure, educated personnel, and a 99.999% uptime guarantee, you really can't go wrong. However, be prepared to pay extra for the outstanding service. If you understand that quality comes with a higher price tag, you will love Liquid Web, and probably never move your site from their servers.