What Are LLC Articles of Organization?
FirstSiteGuide is supported by our readers. When you purchase via links on our site we may earn a commission.
Read More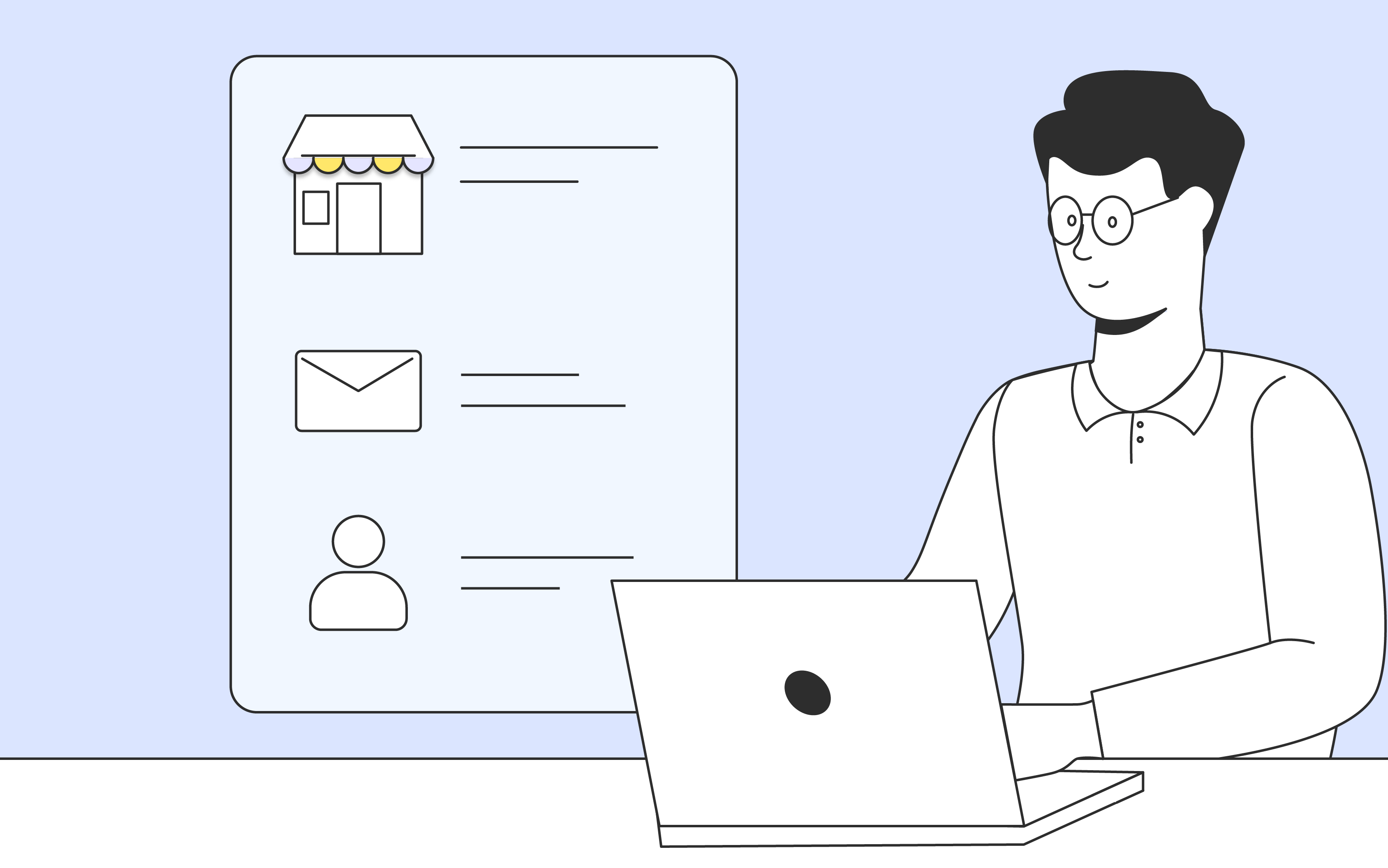 LLC articles of organization is a vital document required to form a limited liability company (LLC). This document is public and necessary for ensuring that your LLC formation proceeds according to the regulations in your state.
Without this document, you can't form or file a company with limited liability. It can help you to ensure LLC compliance, something that often varies from state to state. An articles of organization document is also necessary to make your LLC official. When forming an LLC in the state of your choice, you need to file articles of organization to provide the state government with basic information about your company.
Filing this document makes your LLC an official entity. Since different states have different regulations relating to how to create this document and where you may file an LLC, let's explore what this document is, the information it must contain, and how to file it.
Articles of organization defined
Forming an LLC requires a business owner to prepare the necessary documents (articles of organization) with the state secretary. This document outlines essential information about your business organization and ensures that your company becomes an official entity with publicly available records.
If or when your state wants to check your business information, the government will do so by accessing your public record and your articles of organization. Each state has specific requirements regarding the information that your public record should contain.
The most common details include:
Company name;
Description of your organization;
Email address and additional contact info;
Name and address of your registered agent; and
Personal and identifying details about business officers, managers, members, and owners.
The state secretary is in charge of reviewing the articles of organization and may reject a document in certain situations. The most common reasons for rejection are issues with the registered name of the LLC.
Getting approval for your LLC depends on the Secretary of State. Thankfully, it's possible to hire professional incorporating services to expedite the process.
Once your documents receive approval, you can proceed to file them with the state and make your LLC officially legal.
Why are they necessary?
First, you can't make your LLC legitimate in the eyes of the law without articles of organization. LLC owners and the company have their own legal identity. If any issues arise with your LLC, articles of organization can provide the necessary legal protection.
Your contracts, debt, bank accounts, assets, and everything else related to your LLC don't legally exist until you create and file this legal document and receive the state's approval.
The LLC business model offers several advantages, such as:
Limited liability that provides individual protection against debts and actions of the company; and
Tax flexibility that other types of companies can't access.
Your LLC is not legal without articles of organization. It doesn't legally exist without a public record that proves its existence, contract details, company information, and name. Governments and courts rely on articles of organization to access the address where they can send legal notices and lawsuits regarding the company.
Many counties have specific zoning and business licensing requirements. Your LLC must comply with the specific regulations of the state and county in which you plan to conduct your business.
These requirements also vary from industry to industry. Some industries have stricter rules and regulations than others. You can hire a lawyer to help you with the formation process or choose an LLC service to do it for you.
Articles of organization templates
The internet is an abundant source for free articles of organization templates. Depending on the needs of the kind of LLC that you wish to form, you can choose an appropriate template.
Although each state specifies unique LLC requirements, all templates should include your LLC's name, information about your registered agent, and a valid signature. All article numbers in templates should use roman numerals.
A template should include the following eight elements:
The entity name of the LLC;
Principal office and mailing address;
Duration/dissolution;
Purpose of LLC;
Registered agent (some states don't require you to hire an agent but we recommend getting one to handle the formation process on your behalf);
Board meetings and reports;
Liability; and
Dispute resolution.
Choose a free template and make sure that you provide detailed and accurate information when completing the document. Free services will create your document automatically.
You can choose the document format that you prefer (PDF or Word). You can also modify your document if need be.
Here is an example of the article of organization template for the state of California: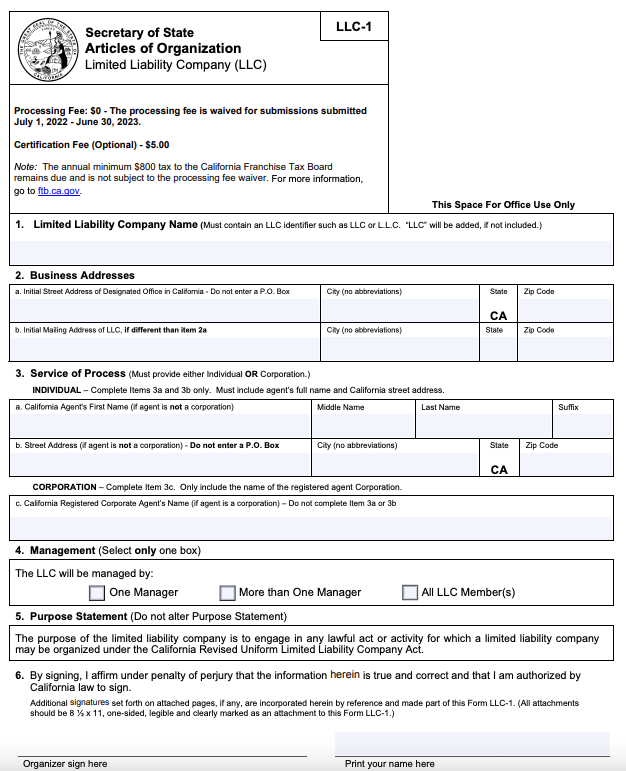 What information is required?
Although information requirements vary from state to state, here's a list of the most common details that you should include in your LLC articles of organization:
Company name – choose a unique business name that no other company uses before you file your formation form. Online search tools can help you with business name availability. Choosing an available business name is a surefire way to receive formation approval from the state. Pay attention to your state's rules for using a designation form in your company name.
LLC address – all states require a street address unless you're forming a company in a state other than your home state. In that case, you'll need an in-state office address.
Business email and mailing address – aside from a valid email, LLC owners must provide a mailing address, but only if it's different from the company's street address.
Purpose of your company – the statement of purpose includes a broad list of business purposes and activities of your company.
Names of managers, members, and owners – although this may vary from state to state, some states may require personal details and addresses of LLC managers, members, and owners.
The state law – each state has its own governing law statement, also known as the state statute number. You need this number to receive the state's permission to operate your LLC. This information typically comes in printed form.
Effective date – unless you're starting your operation right away, you can state an effective date of your LLC taking effect.
ID and personal details of a registered agent – a registered agent is a professional who handles all legal notices and documentation on behalf of your LLC. Most states require the statutory agent's name and physical address (registered office). Some states require the agent's signature on the articles of organization.
Duration of LLC – LLCs can either be indefinite or perpetual. The latter doesn't require an expiration date until the owners dissolve their LLCs. The former requires a compulsory dissolution date that an owner must specify in the LLC articles of organization.
The options for filing articles of organization vary from state to state. The most common way is to access an online business portal where you can access the entire online process.
Some states require that you download paper forms, fill out the details, and file your documents in person, by fax, or by mail.
How to file
Filing your LLC articles of organizations requires completing four steps. Let's quickly review them.
Go to your secretary of state's website
You can find all of the filing requirements by visiting your secretary of state's website. Look for the following information:
LLC articles of organization form;
The option to file your LLC form online; and
The filing fee.
Collect all of the necessary information about the LLC
Collecting all of the necessary documentation before filing improves your chance of approval. Here's a list of essential information that most states require:
LLC name – you can't register your LLC without a unique company name;
LLC address – you'll need to provide an email and mailing (physical) address. You can find more information about the LLC address requirements on the state's official website; and
Registered agent – save time, effort, and money by having a professional collect and file your LLC documentation for you.
Give the required answers to the state
Your state will require you to disclose additional details about your LLC, such as organizational and operational information.
Although this too may vary from state to state, here are some common examples of what the state may ask:
The purpose of your LLC – state a single professional purpose of your LLC when filing;
LLC manager – most states want to know who will manage your LLC. Manager-managed and member-managed LLCs are different. The former involves several members who may or may not participate in daily management. The latter involves fewer members who may participate in day-to-day operations; and
LLC members – some states require personal details of initial LLC members, such as their names and addresses.
Submit your forms
Once the complete filing information is ready, submit your LLC forms to the state's office. Depending on your state's preference, you can either do it online or send your paperwork in the mail.
Filing fees
The cost of filing your articles of organization will vary from state to state. It typically ranges between $40–$200.
Kentucky, Arkansas, Arizona, Mississippi, New Mexico, and Colorado are some of the states with the cheapest filing fees ($40–$50).
Some states, like Arizona, don't have a renewal fee, while states like Colorado and Hawaii charge as little as $10–$15 for renewal.
Conclusion
After you file your LLC articles of organization, wait for your state office to review your documentation.
If everything goes well, you should soon receive your certification of formation and can then file for an IRS employer identification number (EIN). 
This number is the main requirement for opening a business bank account for your LLC. For more information about LLC formation requirements, visit your secretary of state's website.