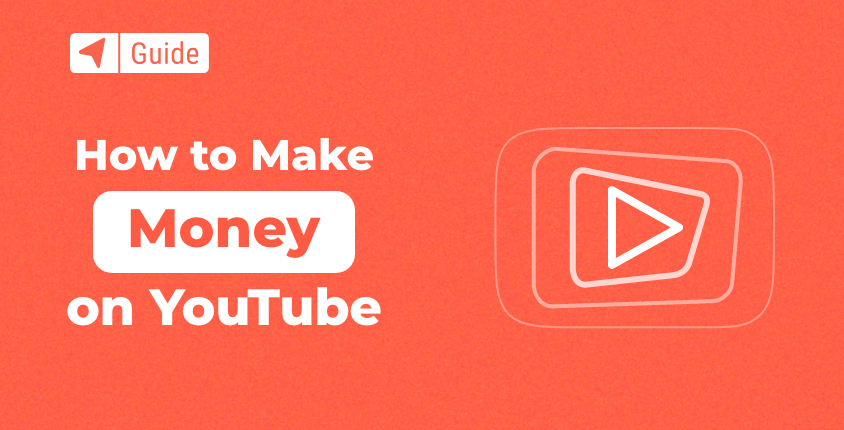 YouTube is an online platform that people use to store and share videos online. It allows users to browse videos by a variety of categories or search for videos on topics of their choice. Over the years, YouTube has become the most popular platform in the world for video sharing because it allows creators to make money. Creators can upload videos, optimize their video title and description, and then relax while the video earns income for them.
How does this work? YouTube has its very own ad network which 3rd party companies pay for to advertise their products and services.
How much money are we talking about here?
It's massive. YouTube's global advertising revenues show a 43% year-over-year increase. In numbers, YouTube generated $7 billion worth of revenue in the third quarter of 2021. Meanwhile, the most famous YouTubers are millionaires earning anywhere between 15 and 30 million US dollars. And this is only one of the ways to make money on YouTube.
It's understandable that you want to try and use YouTube to make money. How can you do it, though?
8 Ways to Make Money on YouTube
Below are listed 8 unique strategies that you can use to make money on YouTube. 
Step #1: Make revenue from ads
We selected ads as the primary way to earn money on YouTube because it allows you to focus on your creativity. The main step to begin is to join the YouTube Partner Program.
Facts and numbers
First of all, it's important to understand that Google pays 68% of ad revenue to the publisher, in this case, YouTube. However, the actual rates that an advertiser pays can vary significantly. Currently, the rates that an advertiser pays averages out at $0.18 per view.
How it works
To be eligible for the YouTube Partner Program, your channel has to hit 4,000 watch hours and 1,000 subscribers over the past year. Creators can join the program through YouTube Studio. Click on Other Features and select Monetization in the left menu, agree to the terms, and create an AdSense account. Set your monetization preferences, and you are set. Here is a great guide to help you understand ad revenue analytics.
Strategies to implement
Here are a few strategies that you can use to start earning cash from ads.
Keep content advertiser-friendly — YouTube will demonetize your content if it displays violence, contains inappropriate language, promotes regulated substances, addresses a controversial subject, or is sexually suggestive. Keep your content advertiser-friendly to avoid demonetization.
Focus on quality — the math is simple here — the more views you generate, the more cash you'll earn. It's exactly why you should focus on attracting more viewers, which you can do only if you deliver quality content. Follow the basics: plan, research, script, and edit your videos.
Call to action — don't be shy! Invite your viewers to subscribe to your channel. It will help you to retain viewers and have them notified when you upload new content. It is also an easy way to generate initial views.
Use cards and end screens to promote your videos — invite your viewers to check out other videos with cards and end screens. The only thing to worry about is to ensure that the video you suggest to them is relevant to the topic of the video that they are currently watching.
Where to start
Since you are focusing on generating the most views, you will be recording and uploading constantly. We suggest that you start with a topic that you are personally interested in and passionate about. It will help you to stay motivated and deliver valuable and unique content as you grow.
Step #2: Sell products
Another potential revenue stream on YouTube are products. Yes, you are able to sell products via YouTube. Here is what you must know if you decide to do it.
Facts and numbers
YouTube users watch over 5 billion videos every day, and top eCommerce brands use this as an opportunity to boost their sales. YouTube works in so many different ways. If you are a content creator and entrepreneur, we have some great news for you — you can sell your own merch on YouTube.
How it works
YouTube has a set of unique features called "merch features". These are designed to enable owners of eligible channels to showcase and sell their branded merchandise on YouTube. It appears as a shelf on the video pages. You can turn on the merch shelf in YouTube Studio.
Find Monetization in the left menu, click on Merchandise, and follow the on-screen instructions. Here is a complete list of supported merch platforms and retailers.
Strategies to implement
The following strategies will help you to sell more merchandise via your YouTube channel.
Get product ideas from your audience — your viewers are ultimately the ones that will buy your merchandise. There's no faster and better way to do quick market research than polling your viewers. Simply ask them what they want.
Build buzz with one-off items — to attract more people to buy your products, you should make them more unique, or better yet, a one-off. You can offer these items for a limited time after reaching subscriber-count milestones.
Keep promoting your products — the best way to promote your products is to wear/use them in your own videos. Also, feel free to engage your viewers in the comment section and answer some of their questions.
Step #3: Create a crowdfunding campaign on YouTube
Crowdfunding is a new way of earning cash. But, unlike other methods, this one is connected to an idea, a plan, and proper execution.
Facts and numbers
Crowdfunding is flourishing. There is no better way to explain than to look through some stats. Just in North America, these projects generated more than $17 billion through crowdfunding. In 2019, there were over 6 million crowdfunding campaigns worldwide. How much money can you raise? It all depends on your idea and how much effort you put into promoting it. In terms of numbers, you stand to raise anywhere from $824 to $29,656, or even millions.
How it works
The idea behind crowdfunding is really simple. You create a crowdfunding project on any of the popular crowdfunding sites such as Kickstarter and Indiegogo, promote it in your videos, and see how much cash it raises.
Strategies to implement
Here is what you can do to ensure the success of your crowdfunding effort on YouTube.
Explain your projects in detail — people won't give you their hard-earned money if you don't communicate the value of your project. Make sure to record a couple of videos explaining your project in detail. Provide blueprints, materials, and applications for the product — the more, the better.
Offer a taste of the end results — show your viewers what the end results will be. This can help them to really understand the value of your product/service packs.
Shoot a series — invite your viewers to take a look behind the scenes. Use the money you raise to start working on your project and turn it into a mini-series. It will help you to get more people on board and raise even more money.
Where to start
There are two things that you have to sort out. First, you need to decide what project you want to work on. You can share your idea with your viewers and ask them for crowdfunding ideas, for instance. And, secondly, you need to choose the crowdfunding platform that you want to use.
Step #4: Offer memberships
Did you know that you can ask your viewers to pay to watch your videos? Yes, YouTube offers membership as a monetization method.
Facts and numbers
Even though it was launched in 2020, there is not that much information to find out about channel memberships. So, unfortunately, we can't provide you with any facts and stats regarding YouTube memberships.
How it works
Channel membership is an out-of-the-box solution. You set up membership levels, add unique perks to each level, and go live. From that point on, your viewers can become members to access the unique perks that you offer them.
Strategies to implement
Succeeding with memberships is not easy, especially if you are just starting out on YouTube. These tips might help you out.
Keep your viewers in the loop — ask your viewers what they think about membership. Feel free to discuss the options with them and ask what they would like to see as perks at different membership levels.
Every membership level should provide value — in order to invite people to invest in pricier membership levels, you need to ensure that perks provide additional value.
Bonus content for members — you can treat your most devoted viewers with bonus content. Deliver to them some behind-the-scenes or bloopers kind of videos to make them feel that they made a good decision investing in a membership plan with you. You can also deliver unique emojis through membership levels.
Where to start
When it comes to channel memberships, there is no better way to start than attracting more viewers and investing in your setup. Your content needs to be high-quality in every way possible. You should also work on establishing great relationships with your audience.
Step #5: Utilize sponsored posts
Do you know that you have the freedom to advertise brands or specific products and services as a YouTuber? Here is what you need to know.
Facts and numbers
YouTube visitors are more likely to listen to YouTube influencers than other sources of information when it comes to making final purchasing decisions. Also, brands have found out that YouTube creators deliver four times better results compared to celebrities when it comes to improving brand reach and familiarity.
How it works
Sponsored videos work similarly to videos shot for affiliate marketing purposes. As a YouTube content creator, you work with a brand, and you endorse some of their products, services, or the brand as a whole. In return, the brand gives you money. The amount of money that you earn depends on the size of your viewership.
Strategies to implement
If you decide to go with sponsored posts, you'll find the following strategies useful.
Always check a brand's reputation — don't just align with any brand. Make sure to do background research. You don't want to lose viewers because you are promoting a brand with a bad reputation, or even worse, get your videos demonetized by YouTube.
Choose brands relevant to your viewership — some offers from brands might appear attractive, but on the other hand, their services and products might have nothing to do with your viewers. If you can, always promote brands that your viewers know about and love.
Be open about your new alignments with brands — don't just introduce some products or services into your videos. Keep your viewers well informed, and don't be afraid to share with them that you started working together with a brand.
Where to start
Your final destination is to become an influencer. Where to start? Focus on delivering valuable and high-quality content, engage with your viewers, upload regularly, and spend time connecting with them in the comment section.
Step #6: Add super stickers and super chat
Super stickers and super chat are YouTube features available to YouTube Partners. Here is what you need to know if you decide to earn cash through these two options.
Facts and numbers
Super stickers and super chat are both viable ways of making money on YouTube. However, there is no way to predict how much cash you can make. Some successful YouTube creators have earned anywhere from $776 to $4,000 during a single broadcast.
How it works
Essentially your viewers can join your live stream session and use super stickers and super chat. It makes their comments more visible. Other viewers can see their comments highlighted. They also stay pinned for a specific amount of time. You don't force your viewers to pay for any of these. They have the option to buy stickers and use super chat features. Here is how to enable them.
Strategies to implement
If you've never used these features before, here is what you can do.
Make viewers a part of your project — don't surprise your viewers; tell them that you are going to use super stickers and chat next time you broadcast. Tell them why you are doing so and why you need the money. It will help them to feel part of your project.
Show support in real-time — during a live stream, you will be able to see when people use super stickers. You are among their favorite creators, and they'll love you for noticing their support, so make sure to comment and thank them.
Always aim to spark discussion — live stream is a two-way street. If you want your viewers to use super stickers and chat more, spark a discussion. Read their questions and address them by name! Show them that you are listening, and they will return with contributions.
Where to start
If you want your fans to contribute to you and use stickers and super chat features, then you need to do a couple of things. First, ensure to build a momentum that leads to super stickers. For instance, you can tell them what you'll use the money for. Also, you can create a buzz with your social media tools or YouTube Premiere.
Step #7: Get paid from YouTube premium views
YouTube Premium removes that "free" prefix before the YouTube service. Viewers pay to watch YouTube, but they no longer see ads. As a creator, you can get paid from YouTube premium views.
Facts and numbers
According to Statista, there are roughly 20 million Premium YouTube users. However, forecasting tells us that the number of users subscribing to YouTube premium services will reach 28 million by 2024. The market is there, and here is what you need to know to penetrate it.
How it works
YouTube Premium is easy to understand. If a premium YouTube user views your video, you will earn cash. How much will you earn? It all depends on how long they've watched your video. If you want to earn more cash, you need to increase premium watch time.
Strategies to implement
To increase watch time and earn more money from YouTube premium views, you can follow these proven strategies.
Use YouTube cards — use cards on your videos to create a breadcrumb trail for your viewers to follow. It will help you to guide them to your best videos and increase watch time.
Become a brand on YouTube — in order to like you, your viewers need to be able to recognize you easily. You can easily achieve this with thumbnail branding. Make sure that your thumbnails are unique and stand out from others.
Create playlists — playlists are perfect for increasing watch time and session time. It makes watching convenient for viewers and prevents them from jumping off to some other content creators through auto-pilot.
Where to start
To earn money from YouTube premium views, you need to make original, valuable, and entertaining content. You should also ensure open lines of communication with your viewers. Listen to them and engage them in the comment section. The goal is to build a loyal viewership that will always come to watch your videos, even premium ones.
Step #8: Become a YouTube affiliate
A quick recap — affiliate marketing refers to promoting products and services of a brand and earning commission for it. If your videos are already generating some views, you should try and turn your popularity into cash with affiliate links.
Facts and numbers
Need some numbers to nudge you in the right direction? How about the fact that affiliate marketing (AM) accounts for 15% of all revenue that digital media generates? Or the fact that the global AM sector is worth $12 billion? There is plenty of wiggle room in this sector, and if you make the right moves, you can earn cash too.
How it works
Affiliate marketing and YouTube work hand in hand. First, find an affiliate program such as the one offered through Amazon Affiliate Network or ClickBank. You can then add links to your videos via the description section. Anytime your viewer clicks on a link and completes the purchase; you will receive a commission.
Strategies to implement
Here are some tips for you to follow if you want to try affiliate marketing through YouTube.
Choose relevant products and/or services — when choosing products and services, always have your audience in mind. Choose the products that are relevant to your channel. For instance, if you are recording videos for gamers, you should choose products and services developed for gamers.
Start reviewing products and services — there is no better way to start earning commission than to honestly review products and introduce affiliate links to products that you like the best.
Be honest — sooner or later people will find out that you are doing affiliate marketing on your channel. Why risk damaging your reputation and having viewers think that your reviews are not honest? Tell them that you earn a commission but also share that it won't affect your honesty, and you'll do everything in your power to remain unbiased.
Where to start
You can start by looking at some of the most popular affiliate programs that YouTubers have access to. Take your time comparing different programs to find the one that enables you to sell relevant products and services with the best commission rates.
Things to keep in mind
Here are several things you need to remember if you decide to try to make money on YouTube:
YouTube content creation can be a hobby or full-time work — YouTube content creation is like any other thing in life that can be monetized. The more time you invest, the better the results will be. Make sure to be honest about your goals and to ensure that your primary job doesn't suffer until you are ready to make a full transition.
YouTube takes time — don't expect to shoot, edit, upload three videos and generate an average monthly salary. YouTube takes time. You will need to spend months working on your channel before you see some cash.
You are there for your audience — catering to everyone's needs and wants won't take you anywhere. Focus on a niche audience and try to deliver something that other content creators don't.
You need to improve – don't get stuck in the same editing techniques and workflow. Try to improve as a video editor to make your videos more engaging. If you want to focus on shooting videos, you can always outsource video editing.
Invest in gear — modern viewers watch videos on OLED screens of all sizes. You need to ensure that your videos are shot in high resolution to delight your viewers.
Conclusion
YouTube has created unique opportunities for content creators to make money. In fact, there are eight ways to make money on this platform. You will notice that each one of these methods is unique. However, all of these methods share one thing in common – to succeed, you need to deliver high-quality and valuable content to your viewers.