The world's first website was published on August 6, 1991 by British physicist Tim Berners-Lee
As of August 2017, there are 1.24 billion websites in the world
Whether you're considering building a brand new website or want to redo your current website, you're faced with some basic, but important, decisions.
In this guide, we are going to help you with these decisions by showing your choices and explaining how specific options will fit your unique needs. We'll cover everything from understanding what type of website you need and choosing a domain name, to the finishing touches that will help you launch your website successfully, no matter what your goals are.
Also, we'll show you how to use specific tools or systems to create your site. As an example, we'll explain how you can make a website step-by-step with one of the most popular content management system (CMS) WordPress.org.
Most don't realize that there are plenty of affordable and efficient ways to make a website today. There are free tools, paid platforms, and easy to use the software. We'll cover all of these options and more in this guide.
The essential steps to launch a website:
Understand what type of site you need
Make a strategy and website plan
Select the right tools to build a website
Pick a domain name and hosting provider
Install and setup WordPress CMS
Design your site and make it look great
Write and prepare your content
Test before and after launch
We hope that you are excited at the prospect of having your website. Now, let's look at what are the steps you need to take to get it right.
Understand what type of site you need
There are different types of websites. The type, or combination types, you choose, will depend on what you want to achieve with your site and the functionality you'll need to accomplish this.
Following are the main types of websites:
Blog or website with a blog. A blog can be an extra feature for any website, or it can be a separate kind of site on its own. Blogs are usually arranged in chronological order, with the most recent entry at the top of the main page and older entries toward the bottom.
Recommended reading: How to Start a Blog in 2018
Most visited types of websites
44%
User-generated or uploaded media
Business card site. For some small businesses, a simple one-page website with the name, description, contact info and maybe a logo may be all that's needed. You can also include some product information, but the basic concept is a one-page website that represents your company or yourself.
Portfolio site. A portfolio site is similar to business card website, except you'll have a section on the web page where you showcase your work and give people options for contacting you. Photography studios commonly use this type of website, so do design firms and other creative endeavors.
Product brochure site. This kind of website is an extension of your company's sales and marketing efforts. You'll be able to include goods and services your business offers for visitors to browse through. This website may include some pricing guidelines but doesn't enable customers to make purchases online.
E-commerce site. With an e-commerce site, you'll be able to showcase your products or services and allow visitors to buy them online. At first, the setup process for an eCommerce site may seem daunting, but there are many simplified methods and tools on the internet today that will enable you to sell online.
Unfold this section to learn:
How to make a strategy and website plan
How to select the right tools to build a website
What you need to know before you make a website
This section provides background information to help you understand the basics you will need before you start building your website. You need an online strategy which should outline your primary goals.
Make a strategy and website plan
An online strategy will lay a foundation for a successful online presence.
First and foremost, you will need a plan for your website. You can't just say "I want to make my website pretty and I want to rank high in Google," this is like building a house without a floor plan.
An online strategy should outline your primary goals. What are you willing to achieve using available technology, and how you ready to make it. Developing an online strategy will involve thinking about: content you plan to include, tools you are going to use, features included on your website, and more.
Developing an online strategy
The process of forming an online strategy will vary depending on your needs. But, by using the following approach and answering these questions, you won't have any problems to get it done. Here are the questions you need to answer:
What you want to get out of a website?
Your website strategy should consist of the primary goals for your site. A clear set of goals lead to a clear plan and will help drive visitors to take an action you desire. Your website should draw visitors to do something that further engages with your brand (subscribe, download report, contact sales, purchase a product, etc.)
4 Reasons Why You Need to Build Yourself a Website
A website isn't static; it's dynamic. It's ever-changing. The moment you accomplish something, you can add it to your website.
Having a website makes you more findable. If you have a website, you can be found by a much wider audience and control what it is they see first.
Not many people have one. Succeeding today requires that you make yourself stand out, and having a website can help you do that.
You gain some new skills that can be very useful in the future. Learning how to build a website involves a number of different skills, especially if you get into customizing and optimizing things.
Who are your visitors?
The best practice is to create real user personas, imaginary characters of your visitors. The purpose of personas is to help you make a website that will resonate with your targeted audience and motivate them to take the desired action. Identify your future visitors and create personas.
It's up to you how specific you want to get. You can create a brief sketch of persona or be specific.
Recommended reading: How to Create Personas for Your Website
What is your unique value proposition (UVP)?
A unique value proposition is a promise of value to be delivered. If you attract a high number of new visitors, in most cases they won't be familiar with you and what you do. You need to answer if what you do is right for them immediately, and why they should buy/convert/stay on your website.
Recommended reading: How to Create a Unique Value Proposition
Who are your competitors?
Analyze your competition. Don't get obsessed with the competitors but research them to know what they do and who they are. It doesn't mean you should copy what they do. You should do that to understand what you can improve on. Visit competitor website, make notes of things you like and don't like.
Recommended reading: How to Analyze Your Competitors on The Web
What features and functionality will the site include?
Remember that a website isn't a piece of art; it's an interface that serves a function. That function may be to sell products, to deliver informational content, to entertain, to inform or to provide access to a service. Whatever that function is, your design must focus on fulfilling it
What do you want your website to be capable of doing? By researching your competitors and understanding general requirements for your site, you will be able to determine better what technical options available.
What is the timeframe to build a website?
How fast are you planning to get your site live? Figure out a launch date and work backward to establish the milestones. Be real, do not set unrealistic targets. The small (2-3 page) website can be created in days, but the complicated site could take months to develop. As a rule of thumb, project managers recommend allocating twice as much of the estimated time.
A computer game website for a younger audience needs a different style than that of a serious business journal. Usability should play a bigger role for older and less technically savvy audiences
| Website type | Template/theme website | Custom website |
| --- | --- | --- |
| Business card website | 3 – 5 days | 5 – 7 days |
| Portfolio website | 5 – 7 days | 2 – 4 weeks |
| Product brochure website | 5 – 7 days | 2 – 4 weeks |
| e-Commerce website | 1 – 2 weeks | 1 – 3 months |
| Blog (stand-alone or extra feature) | 1 – 3 days | 1 – 2 weeks |
What are the building costs?
As with many other things, the costs of making a website will vary, depending on what you want to get out of your site and whether you are going to do it yourself or get someone to help you with some of the tasks or find a company to complete the entire project for you. View this costs and benefits comparison chart.
WEBSITE TYPE
TEMPLATE-BASED SITE
CUSTOM SITE
Business card website
$400 – $600
$1

000

– $2

000

Portfolio website
$1

000

– $2

000

$5

000

– $20

000

Brochure website
$1

000

– $2

000

$5

000

– $20

000

e-Commerce website
$1

800

– $4

000

$10

000

– $80

000

Blogs
$400 – $600
$1

000

– $2

000
Disney's target audience is kids. The intent is to entertain and involve this young audience, and the design does it by wrapping the content in a fun, colorful interface with a lot of visual and interactive elements
When setting a budget for your website consider two things:
Establishment costs of the site development: content development, web tools, legal services, etc.
Ongoing costs (hosting services, web builder tool, domain name, technical maintenance, etc.)
What tools, skills or personnel you need to build a site?
Do you know all the technology required to build your website the way you want to? With our guide, you will be able to make a website on your own. But in some cases, you might be planning to get someone involved in the project.
In most of the cases as a small business owner, you will be covering all of these roles. Throughout this guide, we will be showing you the best DIY website practices.
If you compare creating a website to building a house, your sitemap is like an architect's blueprint. Without it, you might plan a house that doesn't have enough bathrooms or closets. There are many different programs and software suites designed to organize the information.
What is the structure of your websites?
The map for your site, it could be in any form. Think of it as an organization chart, the hierarchy of the pages in your website. It can be displayed in the org chart or simple bullet points. Here is an example:
TechCrunch is one of the more popular tech blogs. Its design consists only of the graphical element from the page. What's left is just the content, advertising, and navigation. Subtle lines and grey shades give the page structure, yet the interface is almost invisible and places content straight into the front row. For a blog that posts several new articles a day, this format is ideal because it facilitates fast and easy access to the content
What content are you going to use?
The content of the site is not just a text. Unless you want your site to look like a simple text document, you will need to add some visuals to go with the writing. To make your website appealing and useful, you will have to consider adding some of these content types:
Written copy
Graphic images
PDF documents
Audio and video files
Photos and galleries
Presentations
and more
If you are working on an e-commerce website, get your product descriptions, photos, and other materials you want to have on your site.
Recommended reading: 100+ Types of Digital Content You Can Make
Wireframes help designers get a better idea of where different components need to be and provide them an outline of how the website should function and where different features need to appear
How you want website pages to look (wireframes)?
Draw your site layout. You could use available web tools or simply draw it on the piece of paper. It always helps to understand how your website will look and what else you are missing. It doesn't have to be pretty but rather show page layout. One wireframe should be created for each unique page of the website. Here is an example of the wireframe:
Select the right tool to build a website
With so many options available today, it can be difficult to choose the best instruments for the job. Choosing the platform upon which you build your site will be one of the most important decisions you make. This choice is critical because you'll be tied to that platform for some time and it's never easy (or possible) to move your website from one platform to another.
Website building solutions can be divided into two groups: self-hosted content management systems and hosted web builder platforms.
Let's look at the most popular options available out there.
The best and most popular tool for making a website is WordPress content management systems (CMS). It's recommended by 90 percent of experts we've surveyed.
You can make any website with WordPress, be it one-page business card website, a site with a blog, and even an e-commerce website.
Content management systems (CMS)
Content management system (CMS) is a web tool/application that allows you to manage your site and its content from an internal user interface or dashboard.
There are plenty of options when it comes to choosing a CMS for your new website. The most popular content management systems include WordPress, Drupal, and Joomla. These three CMSs are open-source, which means you can use them for free.
With 58.8 % market share and about 20.6 million active sites, WordPress is the world's number one CMS. It hosts sites like The New York Times, Forbes and even the Facebook Blog and has been powering websites created since 2004
Note: You can create e-commerce website using CMS and additional plugins. For example, you can create it with WordPress + Woocommerce plugin. In addition to that, you have CMSes, such as PrestaShop, specially designed for e-commerce websites.
Recommended reading: How to Make a Website With CMS
Web builders
Web builders (or website builders) are tools that allow you to create a simple website using templates and drag-and-drop interfaces.
Market shares of the website content management systems
as of August 2017
In recent years, online web builders have become very popular, and there are plenty of options. With a web builder, you can build any website, but people tend to use them for smaller business or personal projects. The most popular website building platforms include Wix, Squarespace, and Weebly.
Note: Most web builders offer e-commerce functionality and basic online store setup options. There are also stand-alone web builders, Shopify and BigCommerce, mainly designed for electronic commerce websites.
Recommended reading: How to Make a Website With Web Builder
There are more tools available online that can be used for building a website. We only mentioned the attractive and easy to use options. You can also make your site from scratch using HTML and CSS, but you would need to learn how these function.
Recommended reading: HTML Basics Guide
Pick a domain name and hosting provider
There are 1,547 domain name extensions (TLDs) as at the 17th of August 2017
To create your new website with the recommended WordPress platform, you'll need a domain name and web hosting provider.
Domain name
Once you've selected the right platform for your site, you need to start thinking of a domain name. This domain will be yourname.com, yourbusiness.com or something similar.
Global Web Hosting Market Share 2017 Hosting companies with the most clients worldwide
2.2341
Amazon Web Services (AWS)
0.7941
Google Cloud Platform
If you're marketing yourself, you'll want to use your first and last name. Think johnsmith.com. Even if you aren't promoting yourself, it's not a bad idea to get your name as a domain now, in case you want to use it in the future. If you are marketing your business, you will want to use your company name. Think "yourbusiness.com."
For most websites, the first goal when choosing a domain name is to get the .com top-level domain whenever possible. Here is a useful guide to help you learn the details and secrets to selecting a valid domain name.
Web hosting provider
After choosing a domain name, selecting reliable hosting services will be one of the most important decisions you make. To a large degree, the functionality and performance of your website will depend on your hosting provider. The host makes sure your site is available to potential readers 24/7, and it's where your files are stored online.
The wrong web host can cause many problems with your website. Just imagine choosing a mobile company that has no reception. Your web host is a major piece of the puzzle to maintaining a successful internet site. Therefore, it's crucial that you choose a reliable provider.
Most hosting companies also offer domain registration services. Some people keep their domain name with the registrar company, separate from the hosting account. We recommend keeping it all in your hosting account for hassle-free management and maintenance.
We highly recommend Bluehost, which powers over 2 million websites worldwide. And for our visitors only, they offer an exclusive deal that includes a FREE domain name.
Install and setup WordPress CMS
There are two ways to install WordPress: one-click install (recommended) and manual install (advanced)
One-click install
While each host has slightly different control panels, the installation process will be similar. If you signed up with Bluehost, our recommended hosting provider, you'd find it very easy to setup a WordPress site. You'll see an icon on the host's control panel that says "Install WordPress." It's as simple as clicking that icon and following the step-by-step instructions to install the latest version of WordPress.
This section provides detailed information to help you signup for web hosting account. We also included screenshots of the pages that you need to go through.
Step One
Use this link to get the special deal from Bluehost. Then click the "Get Started Now" button.
Step Two
You should start by selecting your plan. If this is your very first one, you should go with the basic one – at least until you explore your options. The one called basic should be able to cover all your needs once you get your website going, and you should consider the prime version once your popularity skyrockets.

Step Three
Your domain name has an important say when it comes to the future success of your website, so you should take your time to come up with something new. Just type in a desired domain in this "new domain" box and BlueHost will show you whether it's available or not. If not, it will provide you with a list of similar names for you to choose from.
Step Four
After you pick out your domain name, BlueHost will take you to the registration page where it will be required from you to fill in your personal info including the billing data. A couple of minutes is all you need.
Step Five
Pay additional attention to your hosting options. Obviously, the 12-month package has the lowest price, but the other two are great when you want to make a long-term investment. You can feel free to uncheck the rest of the boxes – you can always get them later when you find them necessary.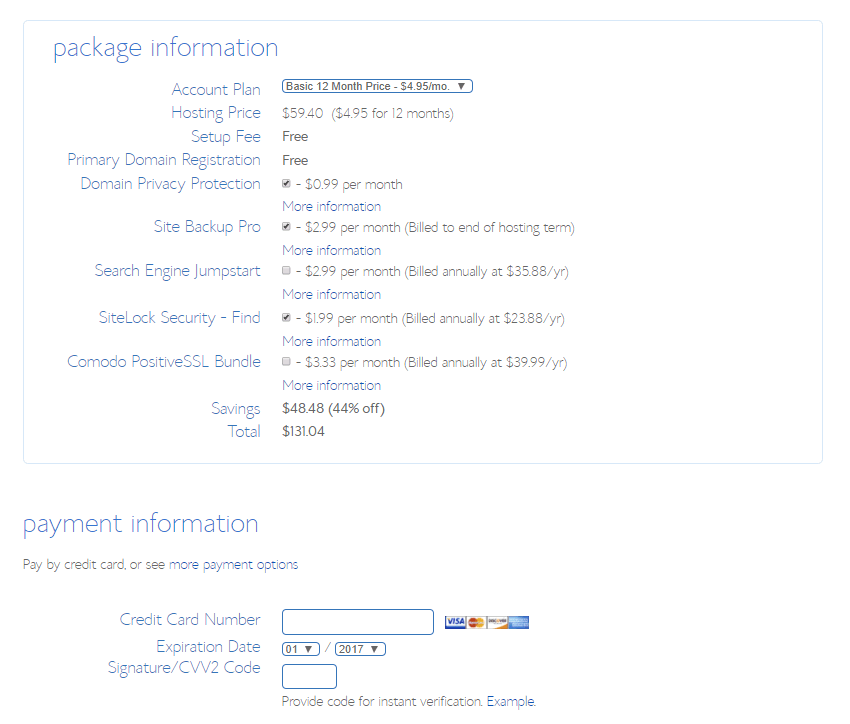 Step Six
After you enter your payment information, you're ready to set your password which will be used for account verification purposes.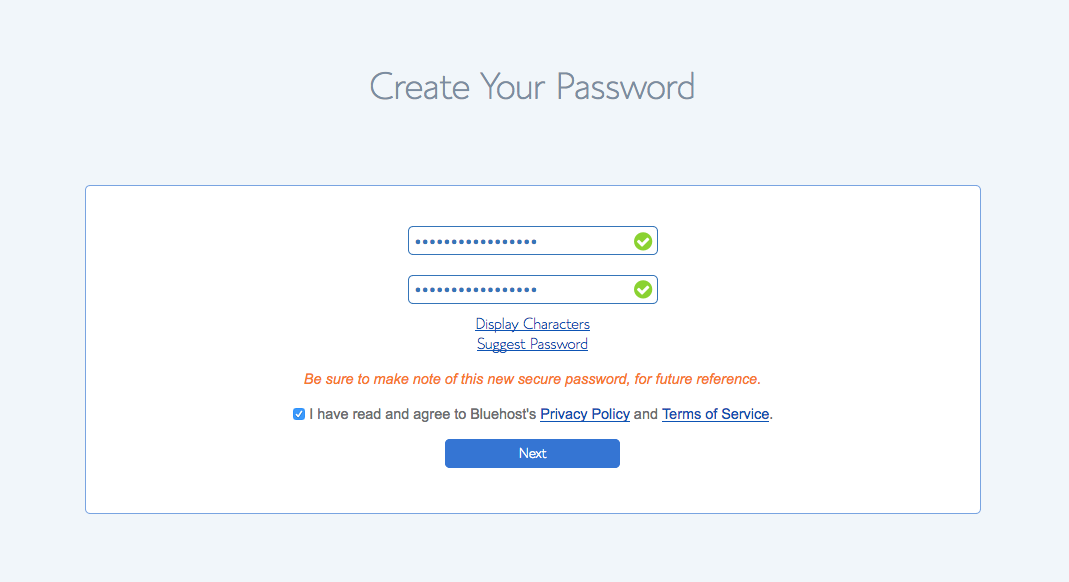 Step Seven
After successfully creating your new password you will be able to login to your account.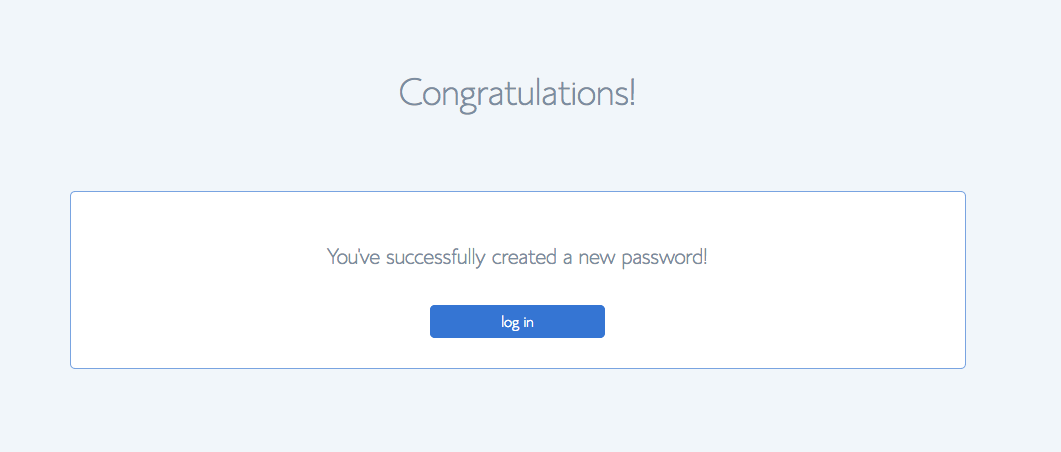 Manual install
If your host doesn't have one-click installation, WordPress has full instructions on how to install it manually at wordpress.org (for advanced users). Keep in mind that a host that doesn't offer one-click WordPress installation may not be your best choice.
Recommended reading: How to Install WordPress CMS
Setting up WordPress and managing your website
WordPress powers almost 27 percent of the entire internet
WordPress has two zones: the front-end and the back-end.
The front end is what your visitors will see when they come to your website. Many of the tasks performed on the back-end will be visible on the front end, such as theme customizations, plugin functionality enhancements, and content publication. Actions can also be performed by you and your visitors directly from the front-end of the website, including commenting and social sharing.
There are 72 translations of WordPress
The back end, also known as the WordPress dashboard, allows you to fully manage your site's content, community, functionality, and design. It's accessible only by users who have an account on your site. To access your WordPress dashboard, you need to type yourwebsite.com/wp-admin in the address bar of your browser and login using your WordPress username and password.
The dashboard
The Dashboard is the center of website administration. It consists of three main parts left-side menu, top toolbar and middle section. The left-hand column of your WordPress dashboard is where you'll find all of your admin options and where most of your creative effort will be focused.
The left-side menu items include the following:
There are more than 47,000 WordPress plugins. Akismet is still the #1 downloaded plugin
A premium WordPress theme has the average price of $40
Home

takes you to your dashboard.

Updates

show you any themes or plugins that need to be updated because a new version has been released. If WordPress itself is updated, you'll see a number in a red circle next to this menu item.

Media

shows every photo, video, and file you've uploaded as part of a post or page. You can also upload files directly to the media section.

Pages

are usually evergreen, static web pages. Examples include the "About Us" section on a company website or the "Services" page.

Comments

are what visitors comment on in response to one of your posts or pages. If you have comments, a number inside a red circle will appear next to this menu item.

Appearance

contains themes, design, and features related to the appearance of your site.

Plugins

are extra mini programs that help increase the functionality of your site. You can use plugins to turn your website into a membership site, add social media sharing, eliminate comment spam or just to do something cool or fancy with your graphics.

Settings

are used for just about anything. It's the first place you want to go when setting up a new site.
To learn more about how to customize your website, make design and layout changes, create your first post or page and much more, check our in-depth guide on How to use WordPress.
Design your site and make it look great
The design of your website is essential, and people will form an opinion about your business based on the look and feel of it. Visitors will make an instant decision (in 3 seconds or less) whether to stay on your site or move on. To make an impact, it's important to have great design.
Depending on the type of the website and the way you choose to build it, you will have some options as far as selecting a design for your site. If you decide to use CMS or web builder, you will be dealing with the pre-made theme and templates. Key things to keep in mind about your website design are the following:
Use clean design
Make sure it's mobile optimized
Fit your site's niche and goals
One or two columns layout is the best option
Use unique design elements
Make it easy to navigate
If you are looking for customized options using some of the platforms mentioned above or creating a website from scratch, you can turn to professional web designer/developer.
Design for differentiated sections and eye-catching transitions to help user navigate and reward them based on their engagement levels, interests or the site depth into which they explore
Write and prepare your content
Content is information that will be presented on your site. It's important to create and maintain useful, unique, and clear content so your visitors can easily understand your message. Poorly written and badly presented material can frustrate and discourage visitors from staying on your website or coming back.
There are two questions you have to consider when creating content:
Create custom visuals and iconography that speaks directly to brand story and personality. Avoid arbitrary media and iconography. Again, keep it relevant
Is the content relevant and exciting to your audience?
How should the content be presented to your target audience?
Today, search engines reward (by ranking them higher) websites that make an effort to create quality content to educate people in their niche. You will have to make sure your content is: unique, relevant, legit, and current.
Once you have an overview of your website plan/sitemap, you can drill down to the specifics of the content you need to create for a website launch. It will be important to create evergreen content (content that will not be changing much and will appear on the static pages) and also important to have fresh content appearing on your website on a regular basis.
Test before and after launch
Beta testing. Launching your website is an exciting process and people eager to get it live as soon as possible. With all the excitement, often people ignore the testing step. It's critical you test your website before it goes live. The testing process can seem overwhelming, and you are not sure where to start. We are here to tell you that it's not that complicated, you just have to check the following points carefully:
Content related materials (spelling, punctuation, etc.)
Design related elements (images, fonts, etc.)
Web development items ( live URLs, broken links, etc.)
Search engine optimization details ( title tags, meta data, etc.)
Network administrator areas (hosting, backup system, etc.)
Google Analytics
Even if you're on a tight budget, you can use free tools like Google Analytics to get a lot of data on how your website is being used, including overlays of your pages to see what links people click on most as well as the ability to track conversion funnels
Post-launch. Once your website goes live, you need to have a strategy in place on what to do next and how to maintain your site. Here are some basic things to consider:
Prepare your site for promotion.
Prepare to measure website stats.
Find maintenance if and when needed.
Make sure you backup your site.
Collect visitor's feedback.
E-commerce websites that make changes based on usability testing typically see sales uplift of 83%. That's well worth the money spent on doing the testing
Conclusion
We hope this guide has given you a basic idea of what you will need to make and launch your website. In the following sections, we will dive into the specific ways you can build your site, starting with content management systems and ending with professional developers and designers.