Best Managed WordPress Hosting Services in 2023
FirstSiteGuide is supported by our readers. When you purchase via links on our site we may earn a commission.
Read More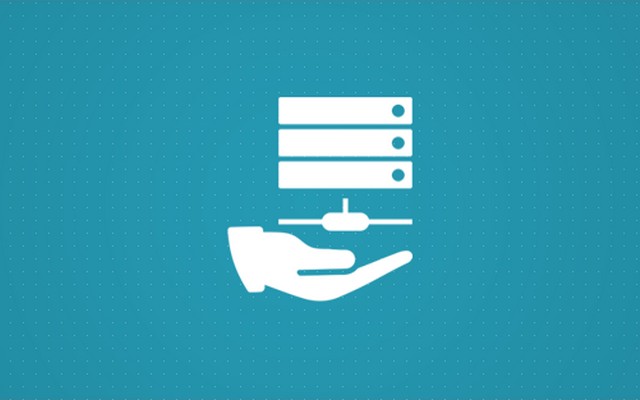 WordPress should be simple. That is one of the reasons why our beloved CMS is so popular in the first place. But is it so straightforward as it seems?
When talking about installing WordPress, publishing first posts, and managing photos, things are really quite simple. Even complete beginners will agree that getting around WordPress doesn't take much skill. Just after a few hours or maybe days of continuously working with the platform, even those who have never worked on a blog before will feel at home with WordPress. But if you are the owner of the self-hosted website and want to manage everything on your own, things can quickly shift onto another dimension.
Now, instead of enjoying the simple CMS how you intended, you need to take care of updates, backups, security, themes & plugins, and many other things you might know nothing about. You will hear about things like caching and optimizing databases, and that's something that you haven't opted for, have you? And truth to be told, this is just the beginning of WordPress site management.
If you find yourself lost in managing a WordPress site, or a headache kicked in just by thinking about all the extra work you should do to keep your site healthy, read on.
What is Managed WordPress Hosting?
Since WordPress appeared on the Internet, various web hosting companies have started to host WordPress websites. That was not a big deal for the companies since WordPress websites were nothing but yet other web documents stored on their powerful machines. But then, year after year, WordPress has rapidly gained popularity. Everybody who wanted to start a personal blog or a professional web portal wanted to be powered by the most popular CMS.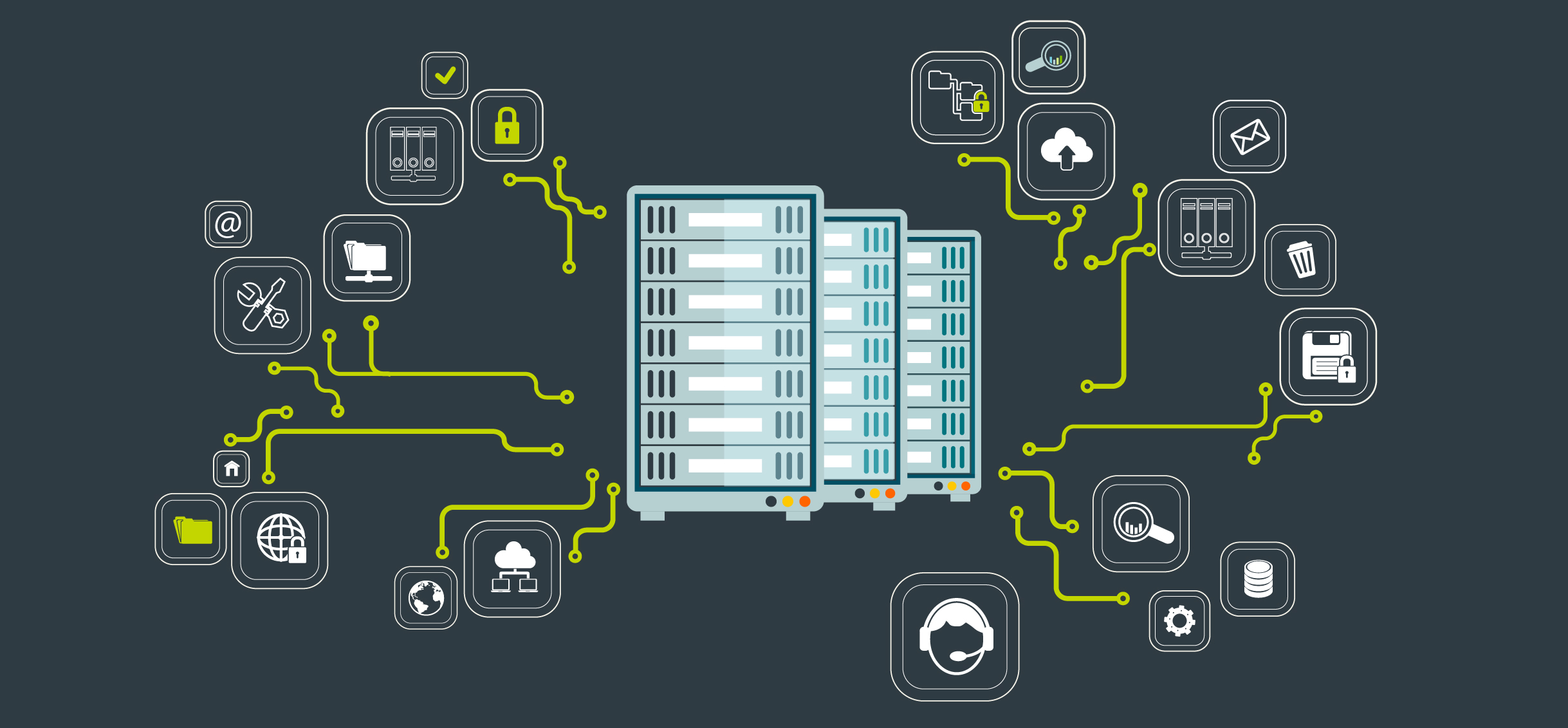 With more than 42% of websites on the web that can thank their existence to WordPress, hosting companies knew it was time to step up their game. Shared hosting was not something all those millions of users wanted anymore. They needed to focus on WordPress users and offer something unique.
Managed WordPress Hosting is the result of the popularity of the WordPress platform. The entire system of servers, along with professionals who run everything, are now dedicated just to WordPress users and their sites. They will speed up your WordPress website, take care of its security, optimize databases, and so much more to make your site run at its best. And you won't have to even move a finger.
Instead of worrying about all those technical details when managing a WordPress site, with Managed WordPress Hosting, you can forget about technicalities altogether and delegate work to WordPress professionals who are paid to keep your site as fast, best, and secure as possible.
Many hosting companies today offer Managed WordPress Hosting that includes various perks and benefits explicitly for WordPress users.
8 most popular Managed WordPress Hosting providers
Now that you know what managed hosting is and how it can help you with a WordPress site, it is time to see the most popular businesses that offer that kind of hosting. Depending on the services they offer, the prices are very different. So, take your time before making a decision and find yourself the plan that's just right for your blog.
Disclosure: FirstSiteGuide is supported by our readers. When you purchase via links on our site we may earn a commission. We test and try all the products that we recommend.
WP Engine — Starting at $22.50 per month
WP Engine is a huge player in the game. The company has been offering Managed WordPress Hosting since its beginnings, and you can say that they are one of the most experienced players on the field. With 60-day money-back guarantee, you can be sure that the team behind the servers knows what they're doing. They provide development, production and staging environments for every website.
Personal plan features:
10GB storage
Up to 25,000 visitors per month
Free SSL certificates
Free automated migration
CDN included
Page performance included on all plans
35+ premium themes valued over $1700 included for free on all plans
Award-winning 24/7 support
Use our exclusive coupon with our 2 months free offer on annual plans to secure 4 months free on 12 months of hosting!
Visit WP Engine for additional information
Bluehost — Starting at $19.95 per month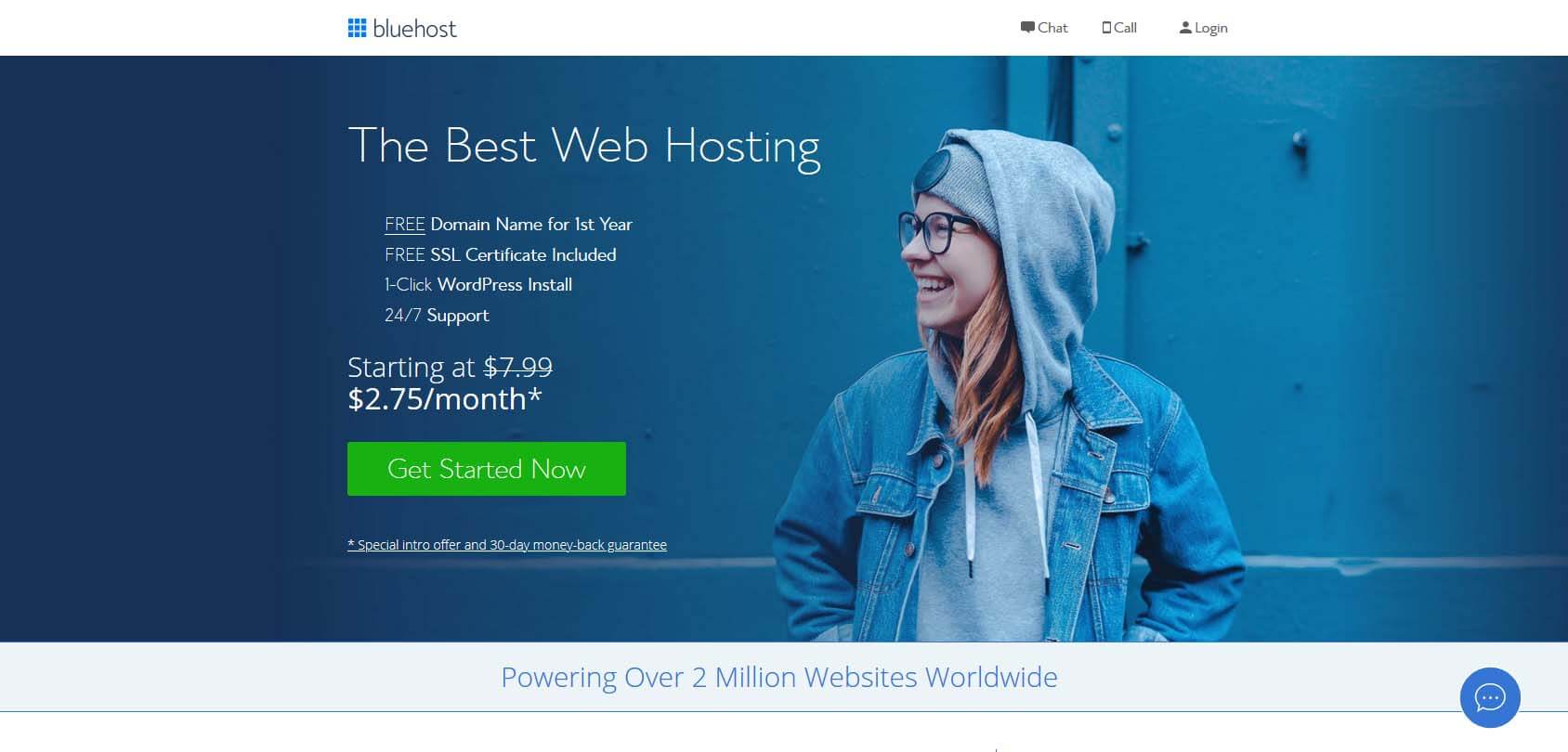 Bluehost is a popular choice because it comes with an incredible number of features at a reasonable price. With their basic plan, you get to have up to 100 million users per month which is something beyond the competitors. Also, Bluehost keeps your site extra secure by offering SiteLock CDN and SiteLock Pro. And these are, of course, just a few cool features among many that await Bluehost's customers.
WP Standard plan includes:
100 million visits per month
30GB storage
30GB backup
SiteLock Pro and CDN
Free SSL
Enhanced cPanel
Visit Bluehost for additional information
SiteGround — Starting at $6.99 per month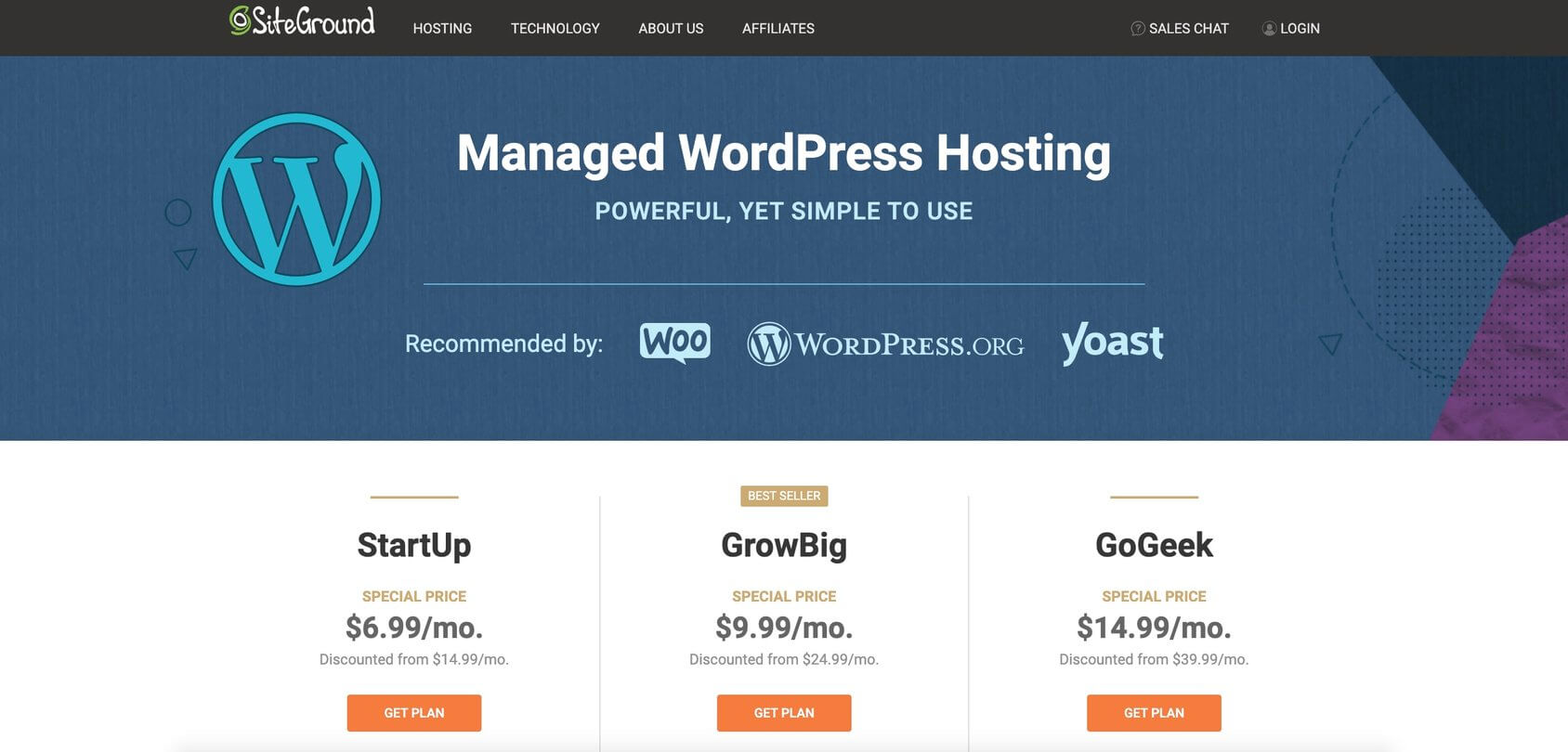 SiteGround is one of the most popular hosting solutions. That doesn't surprise since the company has been working since 2004 and now counts more than 400 employees. Also, SiteGround offers one of the most affordable Managed WordPress Hosting plans which is a perfect choice for the newbies and those who want to witness the power of managed hosting.
Starting plan features:
Up to 10,000 visitors per month
10GB SSD storage space
Free CDN
Daily backups
Anti-hack systems and help
24/7 support
Visit SiteGround for additional information
DreamHost — Starting at $16.95 per month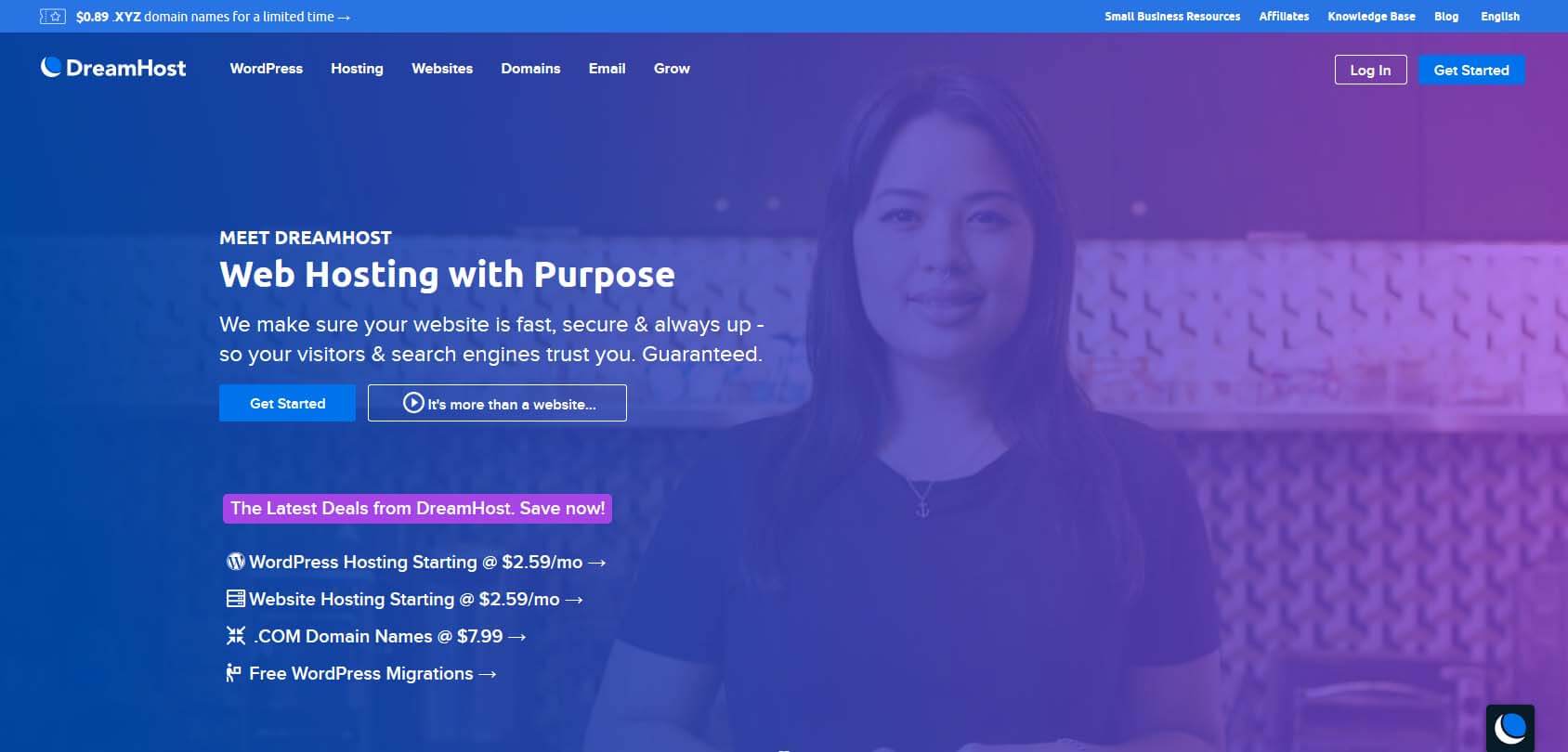 With 20 years of experience and more than 1,5 million websites under its wing, it is obvious why DreamHost is on the list of the most popular hosting companies. It offers domain registration, web hosting, and cloud services as well. Since half of the websites hosted by DreamHost are powered by WordPress, it doesn't surprise that the company specializes in the managed hosting.
DreamPress plan offers:
Scales to handle traffic spikes with no bandwidth caps
Jetpack Premium for advanced backup and security protection
Five times faster than shared hosting
Uses both a VPS for the webserver and a private database server
24/7 support
Visit DreamHost for additional information
Cloudways — Starting at $10.00 per month
Cloudways is one of the most reputable managed cloud hosting providers in the industry. They have been around since 2012 and have gathered valuable experience on their way to achieving a huge customer base. What makes them stand out is the freedom you get when you sign up for their managed cloud hosting. You have the liberty to choose your server from five different cloud providers and not only that, but you also have the freedom to choose RAM size, bandwidth, and data center.
Features:
Five cloud providers
65+ Global data centers
Application & Server Cloning
Unlimited websites
Pay-As-You-Go pricing
24/7/365 live chat
Visit Cloudways for additional information
Kinsta — Starting at $30.00 per month
Although Kinsta has not been present on the market as long as some previously mentioned hosting companies, it has definitely deserved its spot among the most popular companies when it comes to Managed WordPress Hosting. Their focus is on high-demanding websites with a lot of traffic. They are also one of the first who exclusively started using Google Cloud Platform for their clients' websites.
Features:
Top-Notch Security
Daily Backups
Free migrations
21 Global GCP Data Centers
Visit Kinsta for additional information
GoDaddy — Starting at $5.00 per month
GoDaddy has been slowly expanding their services to attract more WordPress users. With their managed hosting, you can expect good server performance and increased security technologies. GoDaddy's managed hosting plans are aimed at WordPress beginners on a budget.
Basic plan includes:
10GB SSD storage
25,000 monthly visitors
Pro Sites multi-site management tool
SFTP
24/7 support
Visit GoDaddy for additional information
Flywheel — Starting at $11.25 per month
Flywheel tries to stand out from the other companies by providing a somewhat unique service. It's targeted at designers, developers, and other creative agencies. Along with everything that comes with managed hosting, Flywheel also offers sleek workflow tools that will help you grow the business.
Tiny plan features:
Free site migration
5,000 monthly visits
5GB storage
250GB bandwidth with no overage charges
Free SSL certificate
CDN worth $10/month
Visit Flywheel for additional information
Managed WordPress hosting comparison
| | | | | | | |
| --- | --- | --- | --- | --- | --- | --- |
| | Price | Sites | Storage | Visits | CDN | Support |
| Bluehost | $19.95 | 1 | 30GB | 100 million | n/a | 24/7 |
| SiteGround | $6.99 | 1 | 10GB | 10,000 | Free | 24/7 |
| WPEngine | $22.50 | 1 | 10GB | 25,000 | Free | 24/7 |
| DreamHost | $16.95 | n/a | Unlimited | Unlimited | n/a | 24/7 |
| Cloudways | $10.00 | n/a | 25GB | n/a | Free | 4/7 |
| Kinsta | $30.00 | 1 | 10GB | 20,000 | Free | 24/7 |
| Flywheel | $11.25 | 1 | 5GB | 5,000 | Free | 24/7 |
| GoDaddy | $5.00 | 1 | 10GB | 25,000 | No | 24/7 |
Who needs a Managed WordPress Hosting?
Obviously, all the extra care and attention that comes with Managed WordPress Hosting dictates a higher price. So instead of $3-10 per month for shared hosting where you should do practically everything on your own, the managed packet can easily cost you up to a hundred dollars (and sometimes even more) per month. It all depends on the plan and services that come with it, of course. If you are concerned about the price then you should check out our guide on the best month to month Managed WordPress hosting plans.
So, the question is, who would prefer to pay ten times the amount of a regular hosting service? While someone who runs a WordPress blog just for fun clearly won't need managed hosting, many users will greatly benefit from its service:
Large websites that get high traffic
Individuals without technical knowledge who want fast and stable site
Companies that can't afford to go offline not even for a second
Everyone who needs quick and professional WordPress support 24/7
These were just some examples, but the truth is that anyone who's running a WordPress site will benefit from a Managed WordPress Hosting, one way or another. The only group of website owners who won't profit from such hosting is other WordPress specialists who want to run the site on their own, and on their own terms.
Why should you choose Managed WordPress Hosting?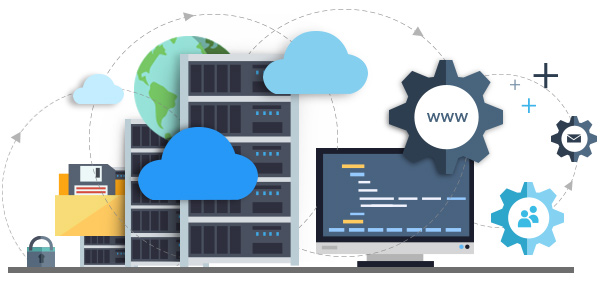 Until now, you understand that managed WordPress website hosting offers an advantage for all WordPress users. Let's see what can you expect from a hosting company if you select such a plan:
Automated updates so you won't have to worry about WordPress versions and compatibility issues
Daily or weekly backups of your site
Speed and database optimization
Enhanced security
Servers optimized specifically for WordPress sites
Professional 24/7 support
… and much, much more
The details will depend both on the company you choose and the plan you pay for.
Are there any negative side effects to it?
Unfortunately, even though Managed WordPress Hosting sounds like a perfect choice for anyone, there are a few cons to it you should know about:
It's usually more expensive than regular hosting (sometimes even ten times more expensive)
You have less control over the server settings
Some popular plugins are forbidden
Even if you pass the price barrier, managed hosting can be very restrictive to WordPress professionals who like to set up things on their own. Unless you are a WordPress power user who knows exactly what he wants and has specific requirements, you shouldn't worry about this – managed hosting will be a great choice for you.
Conclusion
Managed WordPress Hosting is definitely a step up from your everyday shared hosting service. Instead of just giving you a space to host your site, the professionals who know WordPress inside out will help you run your blog and your business on an everyday basis. Your site will run faster, better, and it will be more secure. You will get to use extra services that you have to know nothing about, and you will still be able to grow your site. Without worrying about it.
Of course, such treatment comes at a higher price. If you can afford any of the plans and you don't care about a few negative aspects of managed hosting that we mentioned, just choose the company from the list which you liked the best. Also, don't hesitate to contact any of the companies to ask for more details and to help you choose the right plan for your business. We guarantee that you will love Managed WordPress Hosting from the moment you open an account.