Network Solutions Hosting Review
Company Overview, Pricing, and Features
FirstSiteGuide is supported by our readers. When you purchase via links on our site we may earn a commission.
Read More
Network Solutions Hosting Review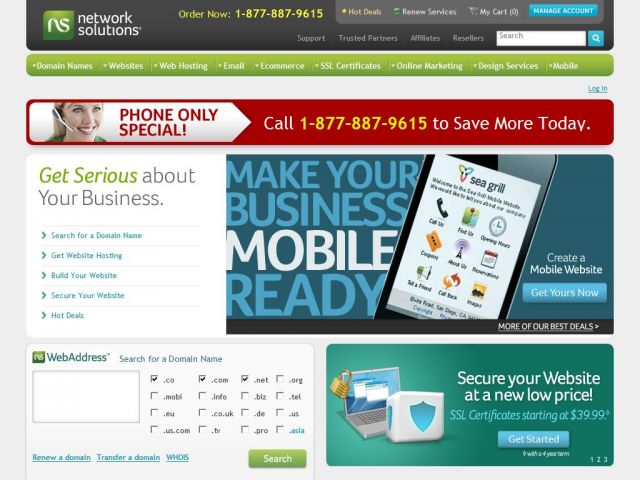 Originally founded in 1993, Network Solutions is one of the biggest domain name registrars around. And while it is perhaps best known for its status in the domain game, the company also happens to be one of the leading providers of web hosting services.
Network Solutions' web hosting services are designed for individuals and small to medium sized businesses. Even better is the fact that it specializes in competitively priced solutions that can be afforded on today's strained budgets. Not familiar with Network Solutions as a web host? Learn more by reading this in depth review.
Products and Services
Network Solutions gives you a wide variety of options to choose from. The company offers shared web hosting in three different flavors as well as VPS hosting packages for those with more complex needs. Also on the menu are solutions specifically designed for e-commerce, web design services, business class email, online marketing services, and much more. The ability to build up such an impressive portfolio is how Network Solutions went from being a domain name registrar to a top provider of IT hosting solutions.
Basic Features
Whether you need a small website for personal needs, or one for a business that receives high volumes of monthly traffic, Network Solutions delivers the features that can make it a success.
Some of the features that are common across all its hosting plans include multiple email and FTP accounts, website statistics with the popular AwStats web analytics tool, and a free site builder. Each package comes with at least one free domain name, though the Unlimited plan gives you three. Additionally, Network Solutions provides adequate disk storage and bandwidth to accommodate the growth of your web presence.
Business Features
Network Solutions is a popular choice among the online business community, and its business-friendly packages are the reason why. One of the most noteworthy is a comprehensive email system complete with multiple accounts, autoresponders, and tons of storage space. You also receive advanced spam and virus protection, in addition to web-based mail and unlimited forwarding. If you aspire to sell products or services online, shopping carts are available to help you get your very own store up and running quickly. Network Solutions offers all the features a business needs to make an impact in the online space.
Control Panel
Most web hosting firms use third-party applications such as cPanel and Plesk for their control panel. Network Solutions, on the other hand, uses its own proprietary software developed in- house. The Network Solutions control panel lets you manage all the vital aspects of your website from an intuitive, web-based interface. It allows you to perform functions such as create email accounts, upload and manage files, monitor resource usage, and manage all the domains you have on your hosting account. This control panel was specifically designed to ensure you have an easy time keeping up with website maintenance
Customer Support
Network Solutions delivers world-class support to its customers in the United States and beyond. The firm has a team of experts that are ready to lend a hand 24/7. Its knowledgeable staff can be reached via toll free phone, email, or a convenient support ticket system. Also available is a comprehensive Support Center, which consists of various articles that provide answers to the most commonly asked questions and issues. The Network Solutions support system is one you can count on to come through in the clutch when you hit a bump in the road.
Technology
When choosing Network Solutions as your web hosting partner, you can depend on a platform that is driven by some of the most powerful and flexible technology available today. The company specializes in both Unix and Window solutions, which means it gives you access to technology that is specific to both operating systems, including MySQL, MS SQL, and MS Access databases, as well as PHP, Python, Ruby on Rails and ASP.NET for dynamic programming. The platform also supports development tools that are more rare in JSP and Cold Fusion for Unix and Windows respectfully. Network Solutions' technology make the hosting environment easier for newbies to grasp, and more fulfilling for the technically inclined.
Service Reliability
Network Solutions has an excellent reputation as an IT solutions provider, and much of this has to do with its commitment to providing a reliable service. Unlike many firms that lease their facilities and share building space, this company owns it data centers and all the equipment in them. The Network Solutions data centers were built to withstand the demanding requirements of the hosting environment. From top of the server hardware to a world-class network, its infrastructure ensures a great performance and high level of availability.
One of things we like about Network Solutions is the honest approach to its uptime guarantee. The company is upfront about the fact that its 99.99% uptime guarantee is only for Unix platforms, while the guarantee for Windows servers is 99.9%. It attributes this to Windows having limited connections that could potentially cause customers with higher volumes of traffic to experience disruptions. Although this may seem like a cause for alarm, a 99.9% uptime is stellar and falls in line with industry standards.
Extras
It has become common practice for web hosting providers to offer a variety of bonuses features to enhance the deal, and give the customer an even greater bargain. Unfortunately, Network Solutions does not offer much in the way of extra perks. On the bright side, it does offer a wealth of free software and extensive management tools you will not find many other places. This factor does not make the service any less valuable, but if you are looking for free marketing credits or other bonuses, you will not find them here.
Conclusion
With nearly 30 years experience in the IT field, it is pretty safe to conclude the Network Solutions is a company you can trust with your web presence. Though far from the cheapest around, its solutions are competitively priced and designed to give you the best possible performance.