Office 365 Business Essentials Review
Company Overview, Pricing, and Features
FirstSiteGuide is supported by our readers. When you purchase via links on our site we may earn a commission.
Read More
Office 365 Business Essentials Review
Intro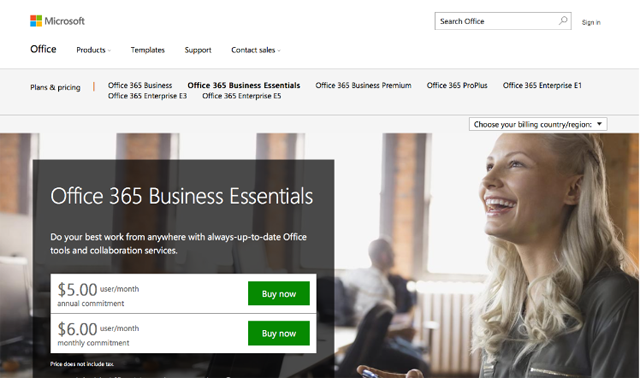 Office 365 is a Microsoft product, with all the features and compatibility Microsoft is known for. It was launched in 2011 as a group of cloud-based software and service subscriptions for business users. 2011 sounds relatively recent, but bear in mind that the main driving force behind the email component is Outlook Mail. Founded in 1996 as Hotmail, most of you know Outlook as one of the oldest mail services in the world. But today's infrastructure of Outlook evolved in 2015 from Office 365. Office 365 has the Microsoft name and a relatively long history. But given the slew of competitive products today, is it still a major player worth your time?
Setting up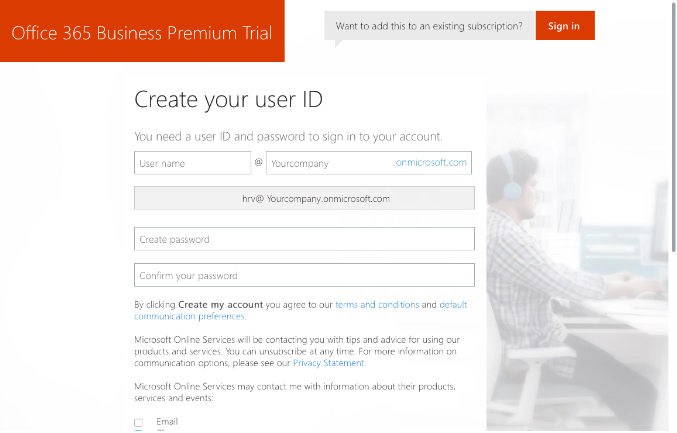 After you decide which Office 365 package is for you, (we reviewed and recommend Business Essentials) you'll need to provide the standard information: country, last name, email, company name and organization size. After that, you'll have to type in your username and password, and if you want to get information about Microsoft Online Services, you can specify how you'd like to receive it. Next, to confirm that you're not a robot, you'll need to type in a code that will be sent to you either via phone or text.
After these details are out of the way, you'll be taken to your office homepage. There's only one more step before everything's functioning fully—you'll have to sign in to Outlook. Although you're signed in, you'll still have to select your preferred language and time zone. Now your inbox is ready to send and receive email.
Most Office 365 packages have free trials, but you can only try out Business Essentials through the very similar Business Premium package. The main difference between the two is that Business Essentials only has Office Online, so it doesn't give you the option of installing Office on a PC or Mac, or its corresponding apps on mobile devices.
On your office homepage there's a three-step intro. You'll see where you can download Office to install on your computer (not in available in the Business Essentials package), where the app launcher is located (so you know where everything's hidden) and where to find the admin center. The last detail is important because the admin center is where you'll set up and manage your organization, users and billing and get web and phone support.
Components and details
Design, navigation and user friendliness
When it comes to design, Office 365 is a place where the expression "less is more" truly comes to life. Lines are clean and simple, everything is in a logical place, the color palette is eye pleasing and the whole interface is user friendly. Most of your Office homepage will be occupied by two things. The upper blue half of the screen will be filled with app icons and a search bar. The lower white half of the screen will display your recent online documents. Don't miss the black bar at the top. On the left side of the bar is a button that makes all apps available no matter where you are and Office 365, which will take you to your home page. On the right side you'll have buttons for notifications, settings, help and your account(s). Neat, clean and right to the point.
The array of apps at your disposal is big. This can be overwhelming for beginners, but if you're a Microsoft user, you'll feel right at home. There's even a marketplace for apps, called Dynamics 365. You'll find the standard Office bundle and Power Apps that will allow you to create your own apps. It also features a Calendar, the social network solution called Yammer, cloud storage Cloud One, integration with Skype and of course, Outlook. However, bear in mind that this is Outlook on the web, not Outlook.com. If you have Outlook.com, you won't be able to use it with Office 365. This is a big missed opportunity that not even Dropbox integration can redeem.
However, as of 2017, the experience between two is fairly similar, because, as already mentioned, Outlook.com uses the Office 365 infrastructure. When you get to your inbox, you'll have three columns by default. The left column is where you'll see a search bar, folders, and groups. The middle column is your inbox and the right column is the reading pane, which is occasionally hidden. You can customize the inbox and Office 365, but customization is usually more an issue of aesthetics than functionality. Not that we mind, because every customization we tried ended with a sleek design.
Features and Specs
In the Business Essentials package, you'll get a 50GB mailbox, and 1TB for file storage and sharing. This is pretty amazing, especially considering the plan pricing. The closest software and services subscriptions contender doesn't offer anywhere near this amount of storage. With this much storage, the sky's the limit. Go ahead! You really can upload your video presentation in the equivalent of HD 4K Blu-ray format. For lack of a better word, this is bonkers in the best possible way, at least at this time and stage of technology development.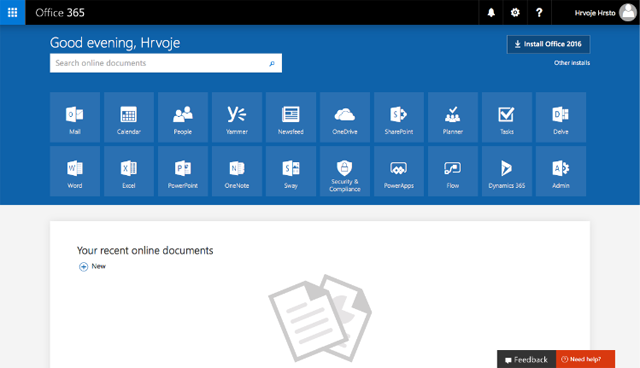 For more practical purposes, you can send emails with attachments up to 150 MB. You'll automatically sync emails, calendars and contact information across your devices. Be sure to check out the automatic weather icon in calendar. Name your location and it will give you the weather forecast for the next five days. You can, of course, use your own domain for a more professional touch. If that's not a concern, one will automatically be assigned with onmicrosoft.com.
You'll automatically get all the latest updates, and you won't have to pay extra for them, which is good news for your wallet. All Office 365 Business plans are limited to 300 users. Unfortunately you can't connect your Outlook.com account, but if you've downloaded the Outlook app on your computer, or any other compatible tool, you can access your email account via IMAP or POP3.
The clutter tool can be helpful because it monitors your inbox and moves messages that probably aren't important to a separate folder. However, as with any self-filtering tool, on occasion, you'll want keep an eye out for messages that might have gone in the wrong folder.
When it comes to app version of Outlook, you might find it a bit lacking. There's no sorting or grouping, so you'll either have to deal with what the desktop version offers or get a third-party app and connect it to your account. On the plus side, you can make up to 400 email aliases per user. It's a fairly simple and easy-to-use feature that some people really like.
Security
Office 365 has five layers of security and proactive monitoring. This means they have a defense-in-depth approach to providing physical, logical and data layers of security. Of course, there's anti-malware protection and anti-spam filtering to secure your mail. If you lose your phone, you don't have to worry. You can wipe your data remotely to prevent unauthorized access to your information. And data mining? Not an issue, because you remain the sole administrator and owner of your data: you retain the rights, title and interest in whatever you store in Office 365.
Support
Support comes in all shapes and sizes. If you're a DIY person, you can use their knowledge base, blogs and community. If you need tech support, they're available 24/7 via email or phone, in multiple languages. However, if they're responding back to you via phone, the response times can vary. Office 365 does not offer chat support.
They designate three levels of severity: critical, high and non-critical. With Business plans, if a critical event occurs that's preventing you from accessing or using your services or data, they're available 24/7, with a response time of one hour. For everything else, you'll have to their check business hours. And when it comes to response time, they literally say on their website: no commitment. Huh? Not that we encountered any problems, but an hour can seem like an eternity when things are literally falling apart. Not something that you want to see. But stating that they make no commitment can mean you're waiting for a response for anything from a day to a week (or God forbid, even later). Ouch.
Pricing
Microsoft offers three Business plans with monthly or yearly commitments and a maximum user count of 300 per plan. All prices are expressed per yearly commitment.
Office 365 Business $8.25 per month
Full Office on PC/Mac with apps for tablets and phones, 1 TB file storage and sharing, Office apps on tablets and phones. However, email is not included.
Office 365 Business Essentials $5 per month
Online versions of Office with email and video conferencing, email with 50 GB mailbox, 1 TB file storage and sharing, HD video conferencing and Office Online.
Office 365 Business Premium $12.50 per month
Includes all the features of Business Essentials and Business in one integrated plan.
If your needs are greater, there are also Enterprise plans.
Pros
1TB of storage space per user
it's easy to sort and group mail
HD video conferencing
Cons
no Outlook.com integration
support is not always reliable
the Outlook mobile app is underwhelming
Conclusion
Office 365 is both a beauty—and a bit of a beast. It's versatile and offers flexible packages that should cover your needs. However, when first using Office 365, it can be overwhelming because there are so many options. Even if you just use the most basic Outlook, the online Office bundle and One Drive, your investment will pay for itself in no time at all. For multitasking office applications, there are few alternatives. And you'll get so much storage space that it will last you a long, long time.
If you're living your online life through the Microsoft-based system, then Office 365 will be a natural extension to your digital life. If not, you might find yourself out of your element with lots of apps that you won't use. Despite some minor inconveniences and sometimes sluggish live support, it's an industry giant with competitive pricing. Add the fact that they offer a free trial and there are no excuses for you not to test it out. If you're already skilled with Microsoft products, you'll feel right at home with Office 365.