Pobox Review
Company Overview, Pricing, and Features
FirstSiteGuide is supported by our readers. When you purchase via links on our site we may earn a commission.
Read More
Intro
Pobox is one of the dinosaurs when it comes to internet email services. They've been online since 1995 and, more recently, they've come under the FastMail and IC Group corporate umbrella. Primarily a spam filtering and redirecting service provider, Pobox also offers email service. Pobox has been more than 20 years—a long time in internet years. So can their longevity be attributed to force of habit and are they really worth the money?
Setting up
Signing in involved several steps and a few not-so-typical quirks. Although they have a free trial period, you'll have to have provide another email address in order to sign in to Pobox. It kinda defeats the purpose, but it's always good to have a backup. Don't have one? There are a ton of free email services. In addition to a current email address, you'll have to provide a username, password and one security question of your choice. You'll also have to decide which of their plans you want to test. They help you make the decision by placing a handy features chart right on the first step of sign-in.
Next, there are a few billing details like first and last name, full address and telephone number. If you live outside the U.S., you'll have to ignore the area code box and put your entire number, including the area code, in the telephone number box. After that, you'll receive a confirmation email. Click on it, log in and, voila, you're ready to start using their services! Or you would think so. First, they need to verify your account. You can log in into your account, but you'll see a red message, "Your account is being reviewed by customer service." In short, you won't be permitted to send an email until you're verified. They say this process is to keep spammers away. Way too many hoops to jump through just to sign in, if you ask us. It took us a whole day to get our account verified, but we registered on Sunday so that may be the cause of the delay. As far as first steps go, this was not an easy and quick start.
Components and details
Design, navigation and user friendliness
We've reviewed the Pobox Mailstore account, which includes all of their services. We don't always opt to select the most expensive package, but the pricing is competitive and not as expensive as you might think. The dashboard is relatively clean and straightforward. On the top left side you'll have a bar with Pobox Homepage, Webmail, Services, Spam, Profile and Help. While all of them are self-explanatory, we will elaborate on Services. There you can adjust your addresses, users, domains, filters, redirection and get a relatively compressed view of your profile statistics.
In some areas, Pobox can seem somewhat crowded and disorganized. There can be icons, chunks of text, bulletin points, links and charts. It will take a bit of time to get used to certain things. Everything is labeled correctly and, when it comes to explaining things, there are a lot of helpful tips that are not written in tech babble, so everyone can understand what they have to do. The only thing that's missing is a direct link from your inbox back to your dashboard. But there's a rather bizarre reason for this.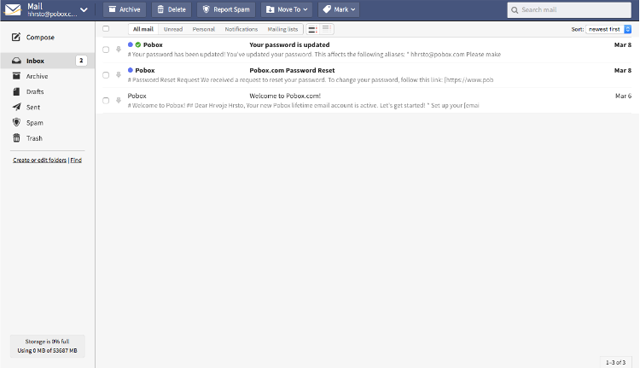 It has to do with the inbox. Open your inbox and you'll think you've been Shanghaied. The Pobox identity and domain will tell you you're in FastMail. It seems that as a member of the FastMail family, Pobox automatically redirects to the FastMail domain. So, you'll find yourself on the FastMail domain with your Pobox username and password cut and fit into a FastMail form.
We've reviewed and experienced companies that are merged under the same corporate umbrella, but never quite like this. Usually, each company is either completely merged with its owner or it retains its distinct visual identity. In any case, if you want to see a more detailed review of the inbox, check our FastMail review.
Features and Specs
Storage is something that can only be discussed in their most expensive plan, where you actually get an inbox, which is sized to exactly 50GB. While that may sound ok, when you consider that one of their main advantages is the ability to have multiple addresses and aliases that can be filtered and processed into a single mailbox or multiple mailboxes, it might sound a little too small. However, even with the busiest people, 50GB will give you a lot to fill up.
One of the main selling points of Pobox is that one email fits it all. If you're a person who likes to migrate and change email addresses or have multiple addresses but hate checking multiple inboxes, having Pobox account is heaven on earth. You can either get one address that will forward and filter your email to multiple accounts, or you can get multiple addresses and direct all of the mail to one place. A lot of email services can provide you with that, but it's usually not their main selling point.
However, the spam filtering can get a bit tricky. They use a number of blacklists and most of them check the sender IP. Some of them check message headers and content, which can sometimes cause bizarre spam blockages just because there's a seemingly innocent combination of words in your email. And their support response can vary. Their level of spam filtering is not one-size-fits-all. You can specify two things: One is your desired level of aggressiveness. The other is geographic areas from which you wish to receive mail.
You can also use your own domain, which will add another layer or two to your hosting account. This is what we want because the ability to have your own email domain is important today. If you don't have your own domain, you can buy one from them for $17 per year. However, it's invaluable to have a good filtering system, which Pobox gives you. This is often lacking at hosting accounts because they're more focused on hosting than on email services. And yes, you can use POP and IMAP services.
Security
As we explained, Pobox is a service that mainly shuffles email between different services—and it does this well. It's also focused on spam, but the results of this can vary. The main selling point for us and the main reason why you should consider buying one of their plans is the privacy policy. There is no data mining or selling, so all your information is confidential and secure. So if this is one of your primary concerns, Pobox may be a great match for you.
Support
Clicking Help on your dashboard will take you to their knowledge base. There you'll see two search bars, which is a bit redundant since one is enough and they provide a good list of topics and helpful articles. You also can scroll down and click on the link for a support request, which is just another way of naming the ticketing system. You can also contact them via snail mail, fax and email. However, when it comes to customer service, you'll see rave reviews from users that have been Pobox customers for years. Or you'll see former customers with long, drawn-out complaints. We were surprised to see that they use fax—but not chat. Time to update their technologies, don't you think?
Pricing
Popox offers three plans that each have a 30-day free trial. If you pay for five years on an individual Pobox account, your sixth year will be free. Billing groups with two or more accounts get a 10-percent discount or a 20-percent discount for five or more accounts. Inquire about additional corporate price discounts.
Pobox Basic $20/year
You can use your own domain, 2 aliases, forward up to 5 places and custom spam filtering. It will also give you up to 20 total addresses (up to 3 of those Pobox) and 1,000 messages a day with 1GB traffic volume.
Pobox Plus $35/year
You can forward mail by an alias, server-side email filters to CC, redirect, block, auto reply and more, plus all features of Basic account. It will also give you up to 40 total addresses (up to 6 of those Pobox) and 2,000 messages a day with 2GB traffic volume.
Mailstore $50/year.
50GB of storage, FastMail webmail with IMAP/POP access, import of existing email, and all the features of Plus account. It will also give you up to 100 total addresses (up to 6 of those Pobox) and 4,000 messages a day with 3GB traffic volume.
Pros
excellent forwarding system
if you need custom email without paying to host
no data selling
Cons
dragged out registration for an account
hit-or-miss support
there are cheaper all-in-one alternatives
Conclusion
People either love or hate Pobox. Don't get us wrong, when it comes to accomplishing what it needs to do and their infrastructure, we did not encounter any problems. Pobox's forwarding is solid. However, some things in the dashboard could be more streamlined and better organized. And their whole process of account verification seems like a lot of trouble.
However, if you like to acquire many different email addresses, Pobox might just be a lifesaver. It's helpful to those who do or do not have their own domain(s) and want the ability to change the recipient email service at will, without changing their email address. And now that they offer email, not just forwarding, they can be your all-in-one solution.