Rackspace Review
Company Overview, Pricing, and Features
FirstSiteGuide is supported by our readers. When you purchase via links on our site we may earn a commission.
Read More
Intro
Rackspace is a managed cloud computing company founded in 1998. In 2007, they acquired Webmail.us, a private e-mail hosting firm. This became part of the newly formed Email and Apps Division and thus, Rackspace Mail was born. At its core, Rackspace's foundation in hosting is obvious. But is that necessarily a good thing? Let's find out.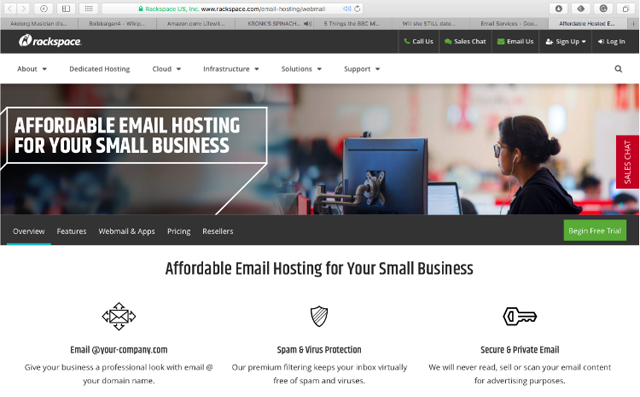 Setting up
When you try out Rackspace, you'll have to provide information in a few steps. First, you have to decide what you want, because, in addition to Rackspace Email, you can connect Microsoft Office, Microsoft Exchange and add email archiving. The second step is creating an account, which means you'll have to input the usual username, password, domain and security question. The third step is providing your personal account information, including billing information. And you will get a bill at the end of your 14-day free-trial period. Until then, you have time to cancel the account if you find that Rackspace isn't a good fit for you. Finally, you'll receive a confirmation email. We waited about two and a half hours to get ours. And you can't log in into your account before confirmation. After that, we logged in through the email link into…Cloud Office at Rackspace. However, you're still not finished setting up your email.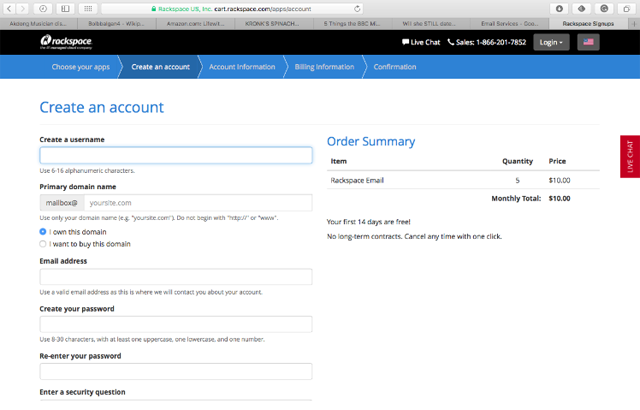 Start up took longer than we expected, although it was not the longest we've had to wait for security and spam reasons. After this, you can add administrators, mailboxes, migrate email, configure domain settings and set up desktop and mobile email clients. It's good to get this set up at the start, but sometimes, you just want to get to your inbox. Creating a mailbox is obligatory; then you'll have to wait a couple minutes to access it. Surprisingly, although we used a custom domain, we did not have to configure it to send email, but we did have to configure it to receive mail. After you complete these steps, you're ready to fully use your email.
Components and details
Design, navigation and user friendliness
To be honest, once we were inside our inbox, the design was a bit outdated. But let's not get too invested in the skin-deep things; let's look at what we actually see, and what we can and cannot do. The layout is fairly standard. On the top, you'll have the main Rackspace bar with links on the left side for Email, Contacts, Calendar, Tasks, Notes and Chat. We're not sure why there's a need for both tasks and notes, because tasks were just notes with the addition of a due date. Additionally, they opened in the same small pop-up window we typed them in, while notes opened in the new big page section.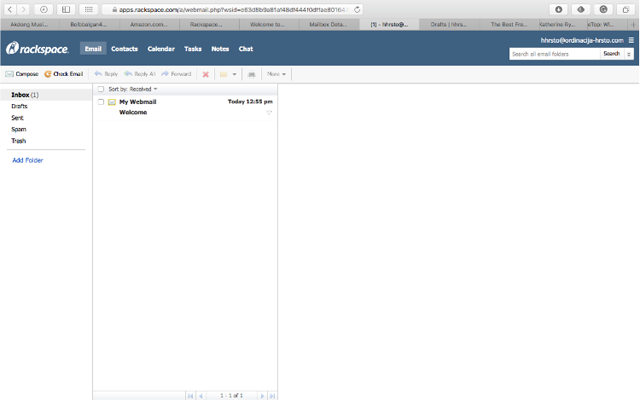 On the right side of the bar, there's a search field with some advanced options that we were delighted to see. Your email address, located above the search field, also serves as a link for a small drop-down menu for adjusting your account settings. Below the main Rackspace bar is a smaller bar with buttons for Composing, Checking Mail, Replying and usual email stuff. The main part of your inbox page will be divided into three columns. The left one is for your folders, the middle one is the list of emails in the folder and right one is for displaying email content.
However, there was one major annoyance. If you're accustomed to using the tab key to skip to the next fill-in box, as we are, sometimes you will be taken to a whole new, not quite logical, box somewhere on the page. For example, when you open most of the pop-up windows, instead of scrolling down through the each descending box, sometimes, if you press the tab key, you'll be taken to an entirely different area. While composing an email, after filling To: box (a.k.a. Bcc: box) you'll skip to the search box on the upper bar. In notes, after typing in the title box, you'll be taken to the box of the main body where you write the actual note—not the one in the pop-up window, but the one behind it on the main page. There were several more instances like this and, we must say, they annoyed us a lot.
When composing the email, you do have a rich text editor, but by default, it's turned off. Luckily there is an on/off link right next to it so you can enrich or simplify your text without going into settings. While there were some slight annoyances, the whole webmail inbox was pretty straightforward and easy to use. Just not the prettiest belle of the ball.
Features and Specs
25GB is the storage you'll get with Rackspace hosted email. That's an ok size and slightly larger than the industry average. However, some offer more more storage with their better paid plans. Attachments are limited to 50MB, which is solid. You can get a whole different experience if you add Microsoft Exchange or Office 365—but the pricing is different and more expensive. But seamless integration with one of the most-used business email services is a big plus. Also, you'll have POP and IMAP access so you can connect it with all the big email clients.
Surprisingly, we liked their mobile mail more than their webmail. It looks slightly more up to date, although it does not have all the same options. Usually, mobile apps lag behind the webmail with any kind of service, but the Rackspace mobile design is a winner. However, when we downloaded their native app, the only thing it doesn't support is their email service and hosted exchange. We were disappointed with this. It was primarily made for hosting services, despite the claims that you can get your email in the native email application
However, you can get hosting and use your Google Apps and Office 365 and the integration is relatively simple. This way, you can even increase the size of your inbox. But the best feature comes with their data centers, which are placed around the globe. With it comes their 100-percent uptime guarantee. In this instance, it's quite handy that they're also a hosting provider company. It means, if you want to have an email and be a reseller, you can do that too. Entrepreneurs ahoy!
You can also import and export your email contacts and email from other email clients. The extent of what parts of your email you'll be able to migrate depends on the client. But if you're using Outlook, Apple Mail or Mozilla Thunderbird, you will be totally covered. When it comes to mail aliases there are no limits, although you will be limited to five inboxes. You can forward to 15 addresses, four of which can be outside your main domain and lastly, the autoresponder is included.
Security
As soon as an email arrives, their gateway servers match the sender's IP address to an aggregate blacklist compiled from multiple spammer tracking systems. Then they scan all email with spam-detection software to detect viruses, spam and phishing. These algorithms update every 60 seconds. In the last step, Message Sniffer from ARM Research Labs searches the entire message for spam and malware features, including unusual headers, message source behaviors, structural artifacts, obfuscation techniques, binary and image signatures, email and URL targets, unusual code fragments, and even coding styles.
Support
Rackspace offers a range of support options. However, we were surprised when we had to log in to their help portal. The portal is completely separate from their support knowledge base, which is open to the public. There are tutorials, a knowledge base, community forums, and if you're developer, there's support for you, too. You can even send them feedback. If you're wondering where 24/7/365 live support options like chat, telephone, ticketing or email are located, don't worry, they are there. But the only way to access these services is to log in to the control/admin panel—again. Sometimes we felt forced to do a lot of virtual jumping through log-in boxes to get to certain features. Way too much clicking. And the worst surprise came during a live chat when we were asked to send a ticket because tech support could not solve the problem. This should not happen.
Pricing
Rackspace Email offers two plans with a 14-day free-trial period.
Rackspace Email $2 a month per user
Spam and virus protection, 100-percent uptime guarantee, 25GB storage, migration tools and 24/7/365 support.
Rackspace Email with Archiving $5 a month per user
Includes everything from the previous plan and, as the name suggests, it also archives your email.
They also offer automatic, paid integration with Microsoft Exchange and Microsoft Office 365.
Pros
excellent uptime
good integration with other clients
affordable pricing
Cons
outdated design
lack of native email app
confusing navigation
Conclusion
Oh, Rackspace. You're full of surprises. Some are annoying; others are helpful and useful. Some features were exasperating, like the endless log-in screens, guessing which box did our tab key moved us to or just the dated look of the inbox. Other features were great. Migrating email from different clients and importing and exporting contacts was easy and that is giant piece of the cake.
However, the ultimate bait and switch was the claim that we could access our mail via the native app—but when we downloaded it, we could not access Rackspace Mail. There was still access via the mobile portal, but seriously, they should get on the modern mobile train asap. Developer and reseller options might sound delightful to those with enterprising affinities, but if you're just looking for a simple email service basic support, this might not be your match. However, the pricing is really competitive and they do offer a 14-day free trial, so there's no reason for you not to try it out.