30+ Best Examples of Shopify Store Websites (2023)
FirstSiteGuide is supported by our readers. When you purchase via links on our site we may earn a commission.
Read More
Shopify is a massively popular platform for creating eCommerce stores, and countless people have used it to start an online business.
The beauty of Shopify is that it lets people create an online store easily and effectively. However, even when using Shopify, most people could still use a bit of assistance with creating the perfect store they'll love and that will bring them success.
With that in mind, we wanted to help you out by giving you a list of the best-looking Shopify stores on the web. Many of these examples are incredibly successful stores with stunning designs, so you're bound to get inspired to create your version!
35 Beautiful Shopify Store Websites
The list you're about to see is the definitive list of the very best Shopify stores on the web. All of these websites were made by using the tools that Shopify provides. We will provide explanations and insights into how it all works, so you'll be able to create an online store on your own. Start reading, and make sure to check these sites on both desktop and mobile to see how they look and feel in different settings.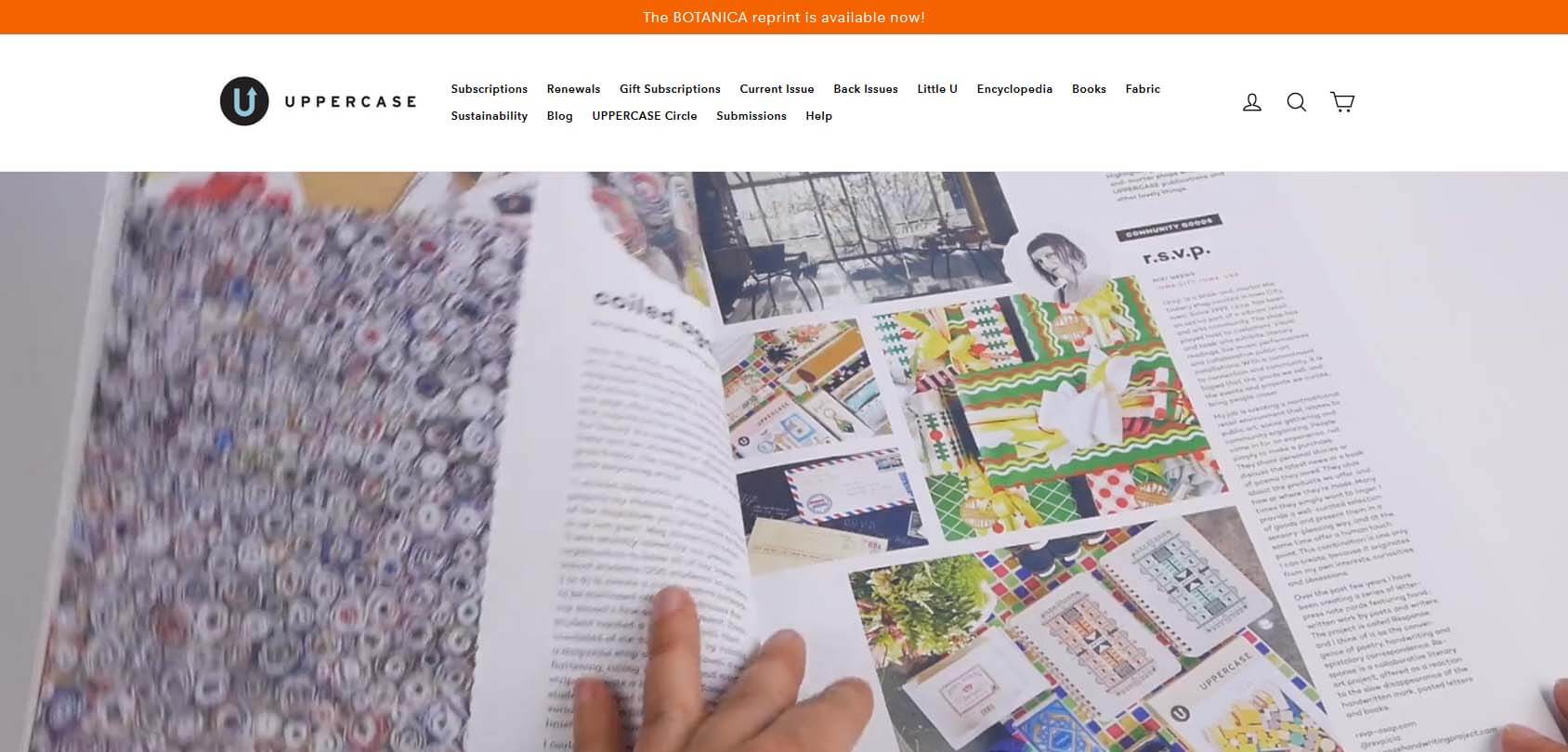 Uppercase started as a small magazine but, over time, it expanded to include other publications until it reached the high level it has today.
The main page features a massive gif of the magazine and impressive video quality that will immediately capture your attention. Then, you will feel compelled to fully explore this stunning Shopify store, and that's precisely what makes it memorable.
Store description: Magazine publisher and subscription
Unconditional is a UK-based clothing store that sells elegant designer clothes for both men and women.
The site's design is simple and captivating — a mix, not every eCommerce store can achieve. It's highly effective at tempting visitors and making them scroll and explore more, not only because of the stunning fashion pieces it sells but also thanks to the store's exceptional design.
Store description: Designer clothes store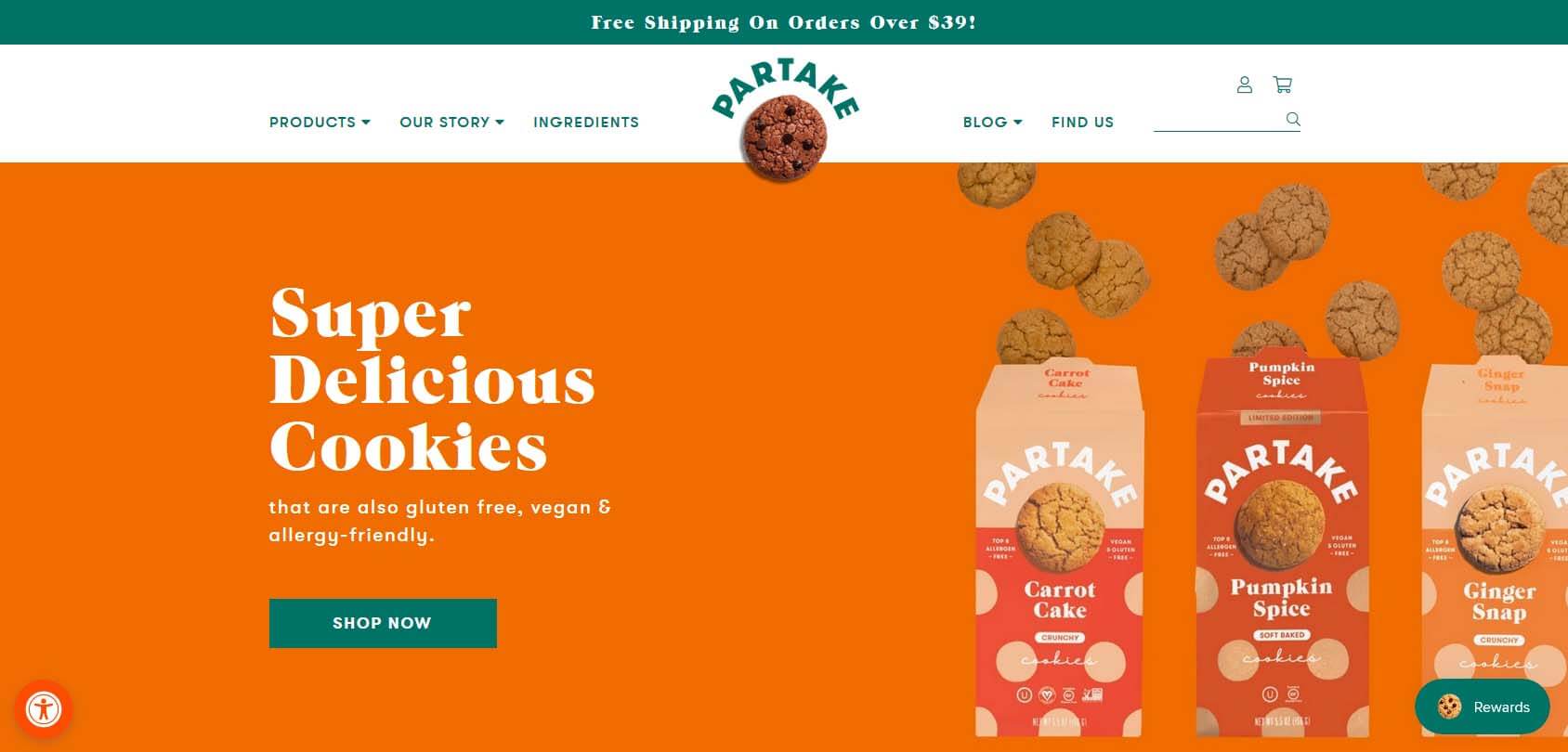 Partake Foods is a gorgeous Shopify store that sells homemade gluten-free vegan cookies.
Despite belonging to such a small niche, Partake Foods has found success thanks to its astonishing design. It's colorful, cheerful, and carefully created to evoke the feelings you experience when eating a delicious cookie. It's the best example of how an online cookie store should look!
Store description: Homemade cookies store
Taylor Stitch is a typical clothing store with an atypical Shopify website.
We say this because it has a unique design that's elegant, majestic, and completely mesmerizing. The site manages to emphasize both its design and its products, becoming a perfect example of what a great Shopify store should be.
Store description: Clothes and designer pieces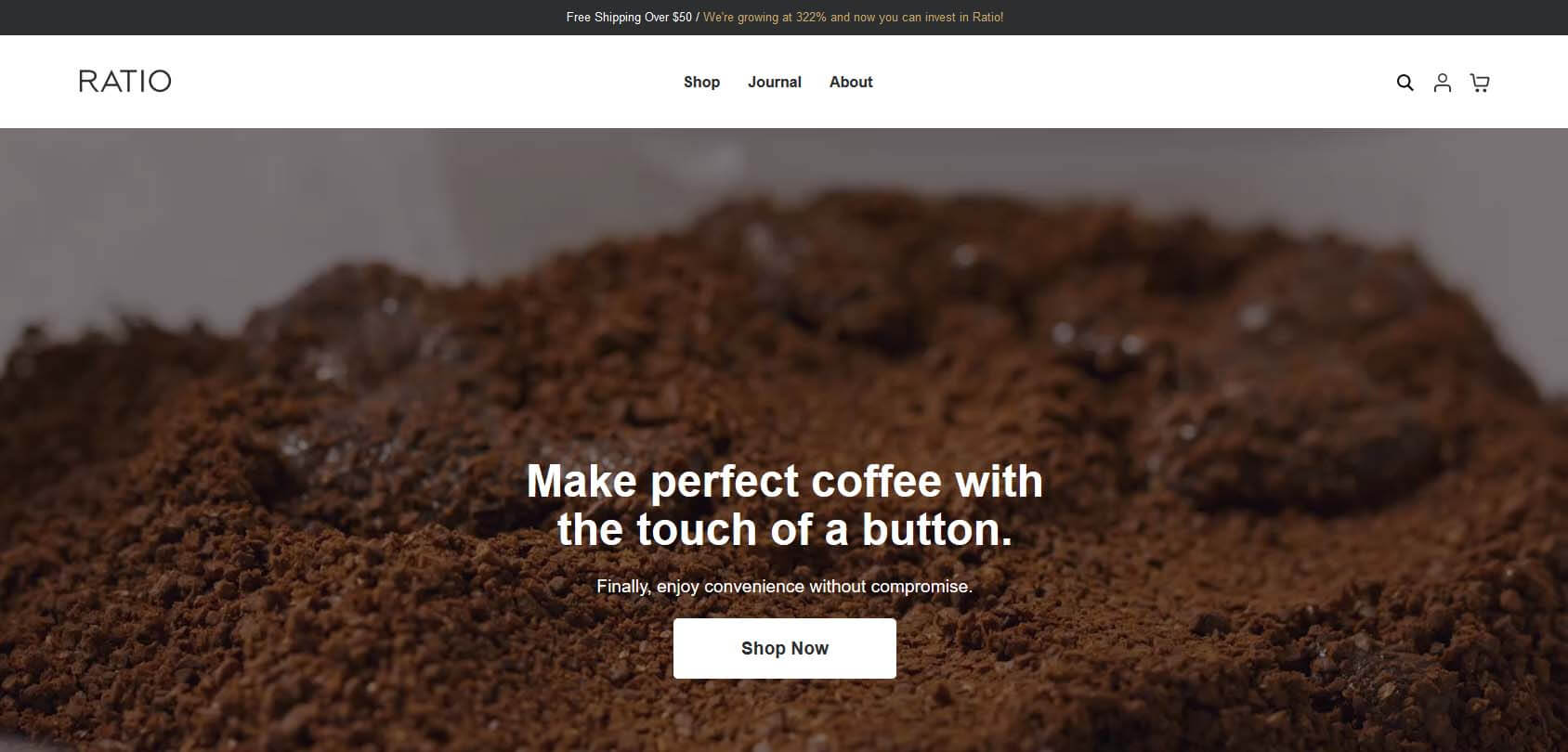 At Ratio Coffee, you're greeted by a simple yet quality design and only a handful of content.
However, in only a few seconds, you learn what the store is all about, as the homepage contains all that you need to know in a well-organized manner that's bound to inspire you. Additionally, we love the pop-up feature. It's discreet and useful — two things we rarely associate with pop-ups.
Store description: Automatic coffee machines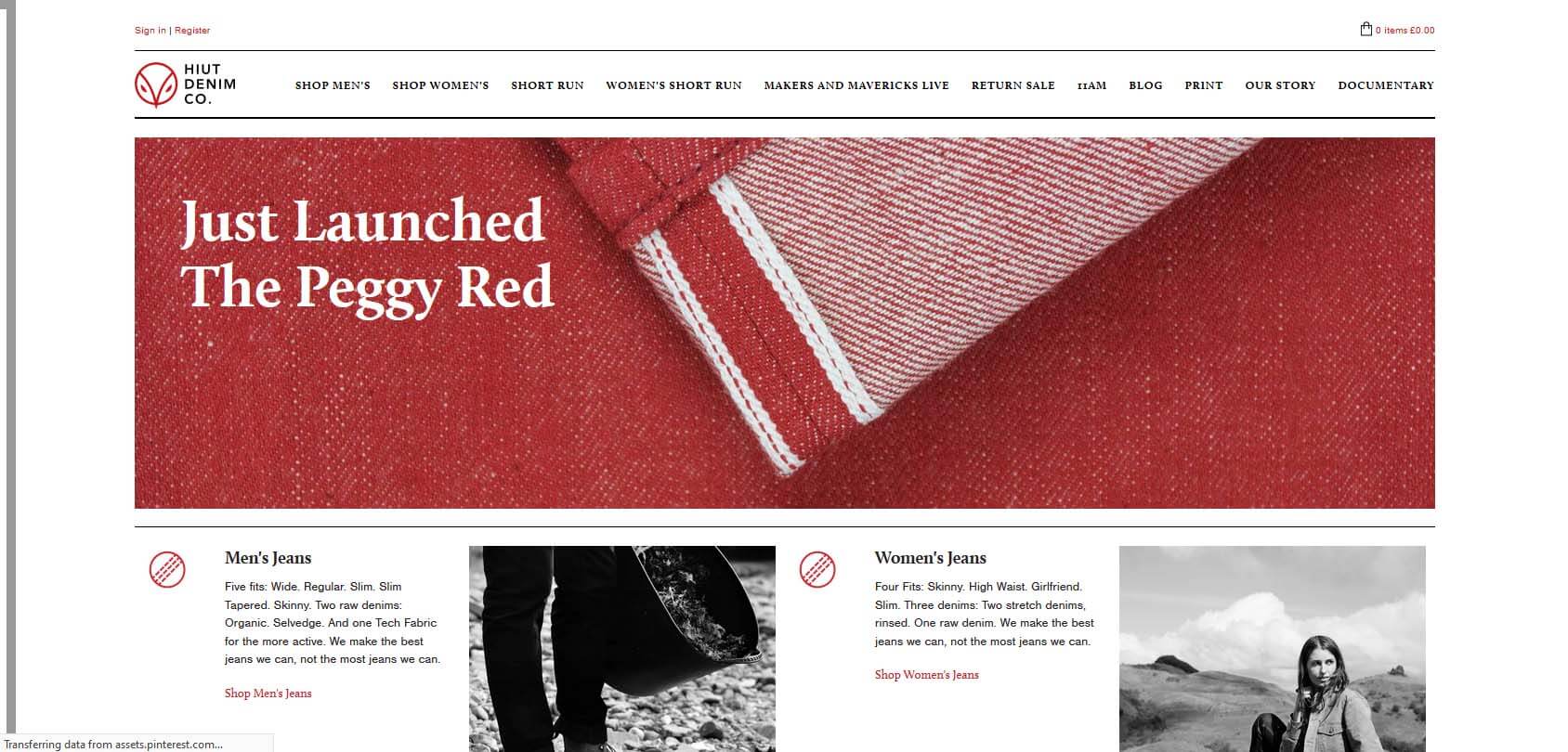 Located in Cardigan, Wales, Huit Denim Co. sells jeans for both men and women.
The factory behind this Shopify store is known for preferring quality above quantity, and especially for its attention to detail. All of this is incredibly well expressed in a site that's riddled with details and unique design elements that complement the products.
Store description: Jeans store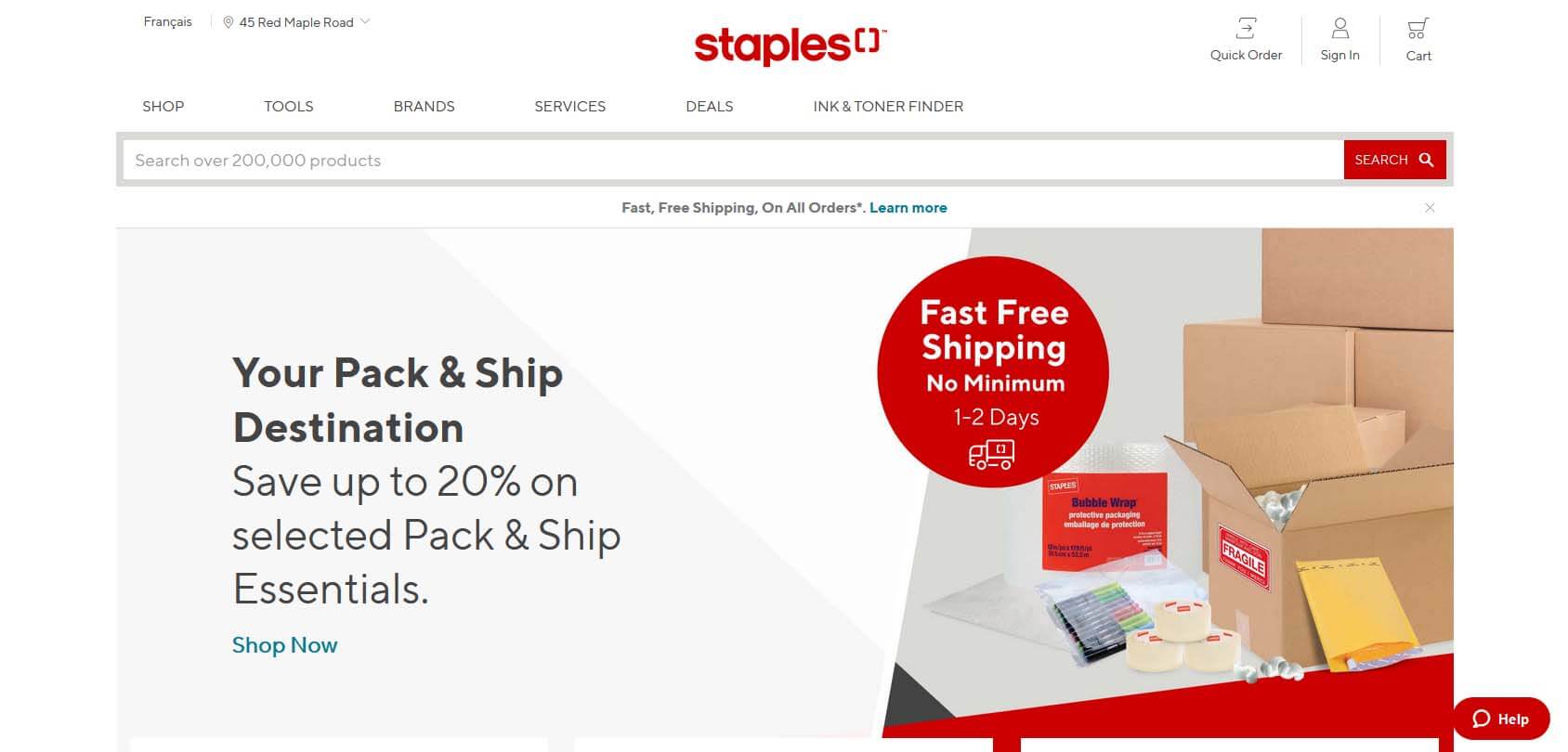 Staples is certainly a bigger store than the majority included on this list, but we still love how well it used the features that Shopify Plus offers.
The website doesn't come off as a jam-packed store owned by a huge corporation, but more like a small retailer with high-quality products. It's not something that you see every day in most other massive retail stores.
Store description: Office supplies and computers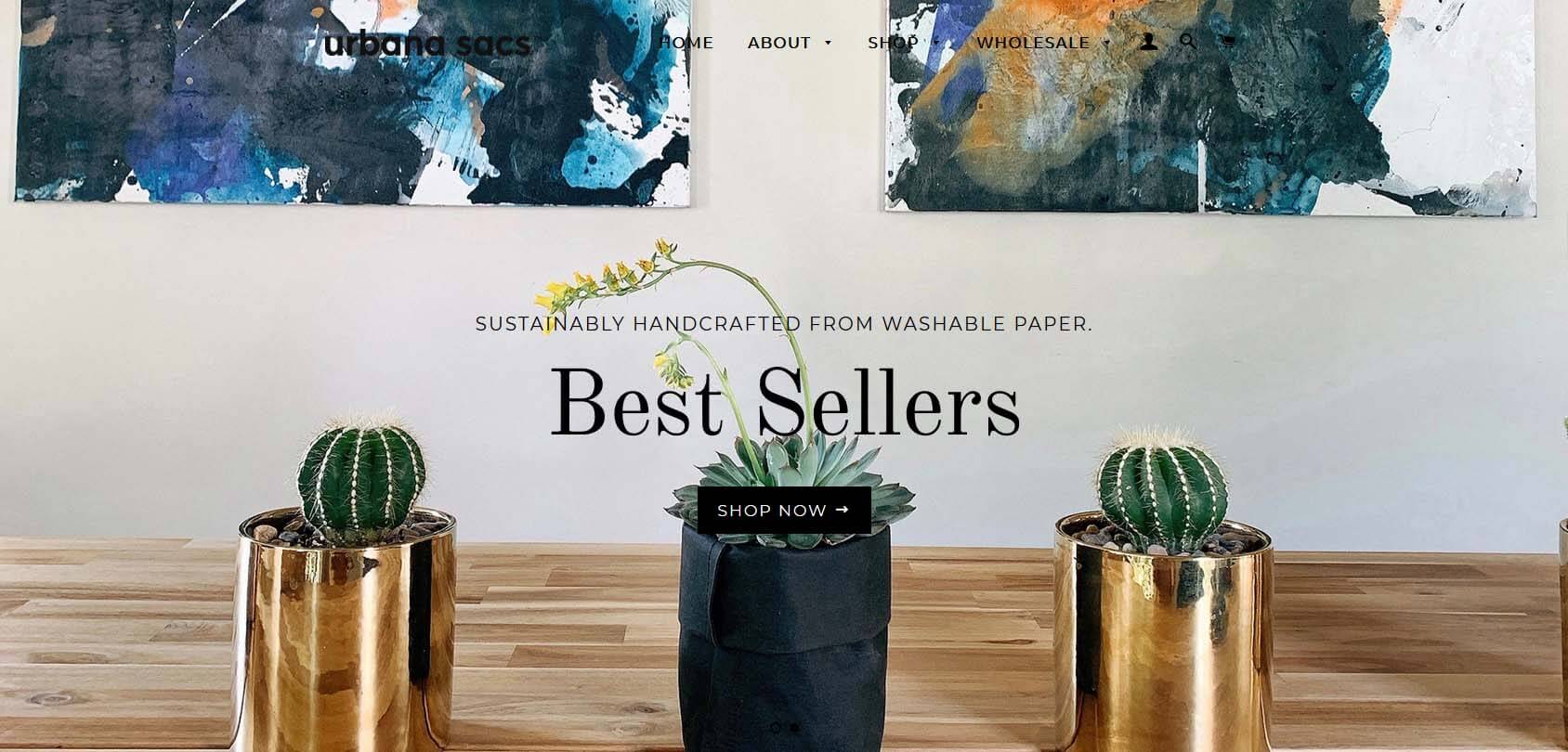 Urbana Sacs sells unique bags and other accessories made from sustainable and washable paper.
The store has created a niche of its own, but its success mainly lies in its design. Thanks to the tools that Shopify offers, the Urbana Sacs owner has managed to create a minimalist platform of exquisite design that provides everything a potential customer needs to know about Urbana Sacs.
Store description: Bags and accessories made from washable paper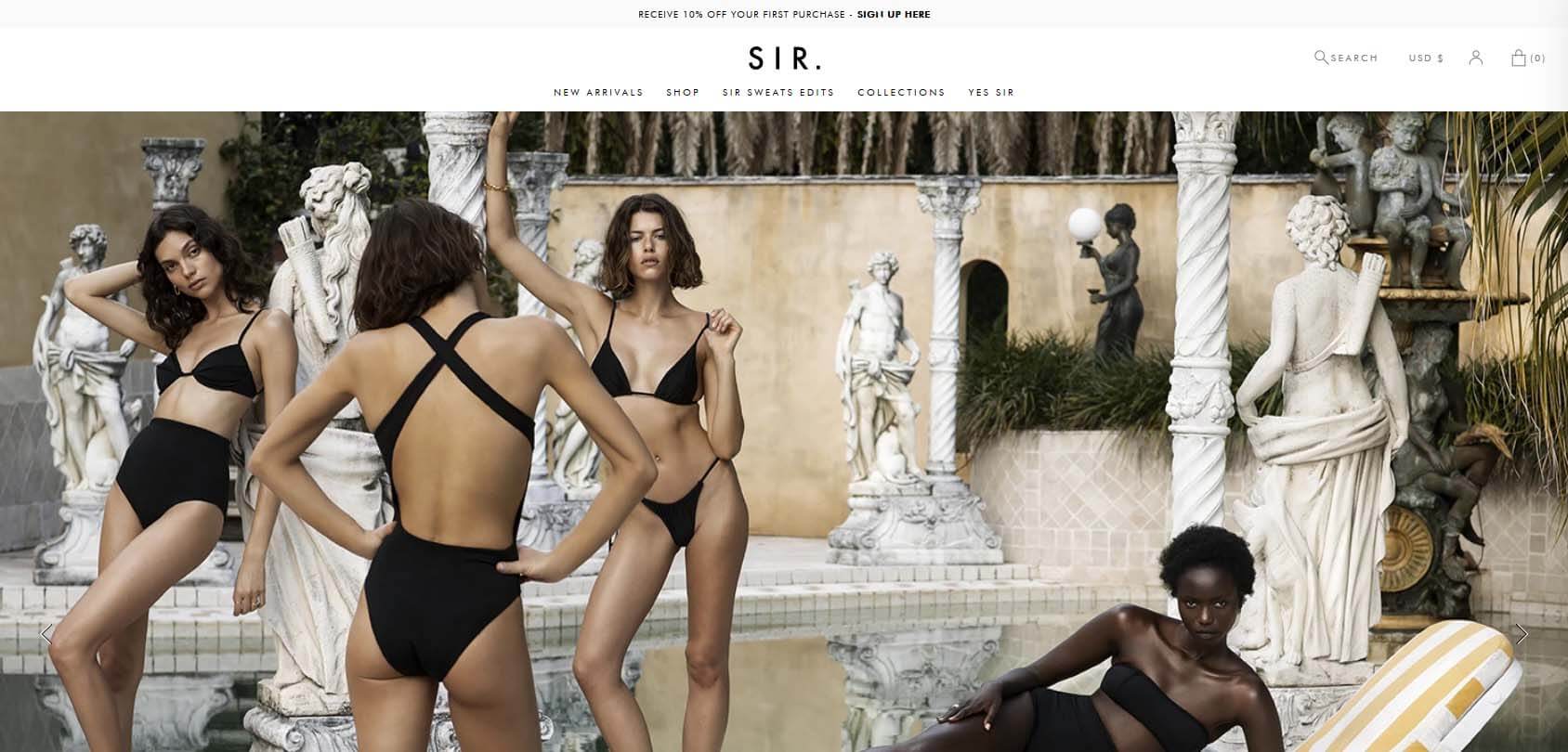 Sir. immediately steals the show with a bold and unique design.
The website is filled with stunning photographs and videos that give you the full picture of these designer pieces' quality. The website resembles an exceptional Instagram profile and effectively captivates its potential customers.
Store description: Clothes and accessories store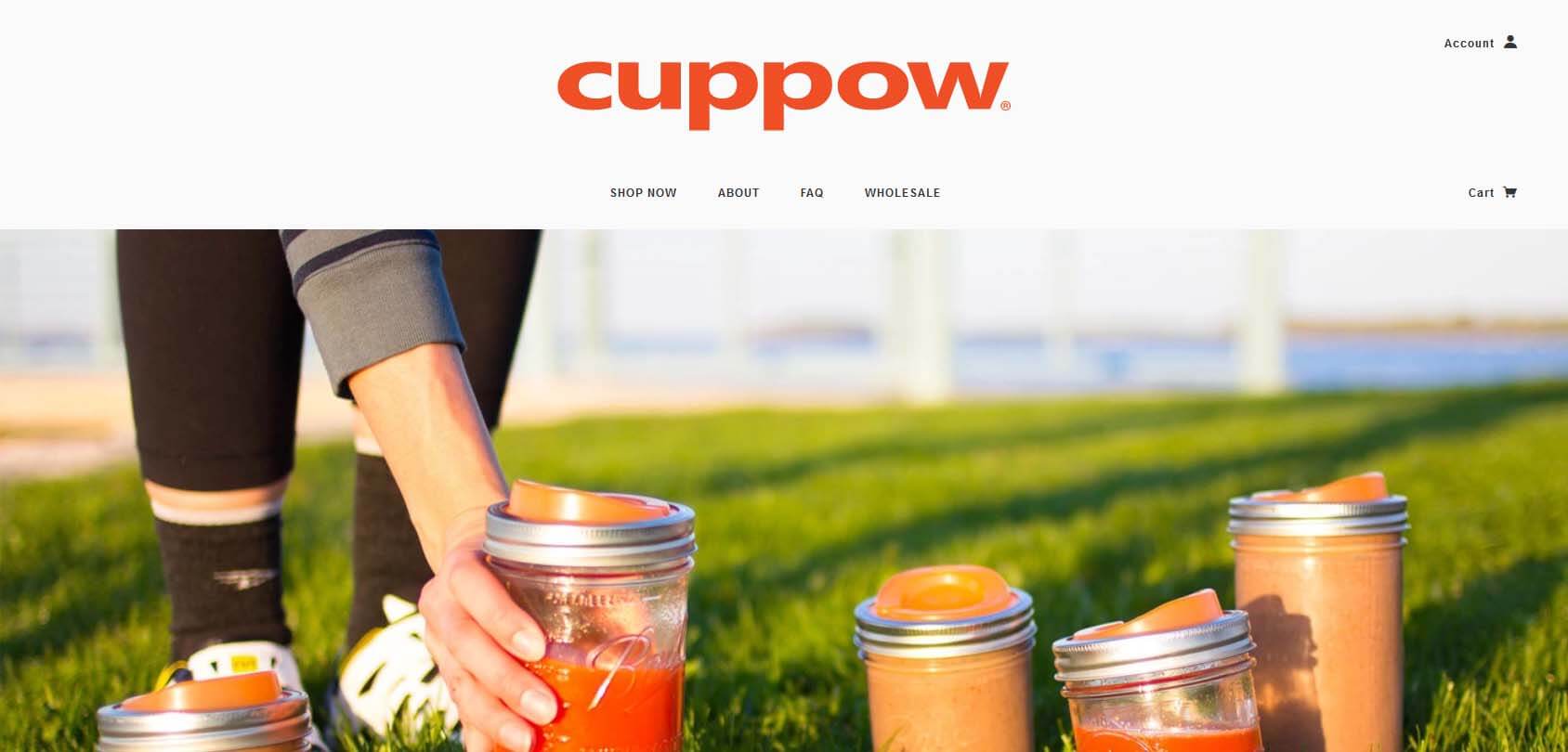 Cuppow sells eco-friendly and completely reusable food containers.
Its effectiveness lies in how well everything is organized in the store. You only get the information you need, coupled with pictures that quickly tell you what this store is all about. It's basically a great example of how simplicity is often the road you should take when creating a Shopify store.
Store description: Reusable, eco-friendly food containers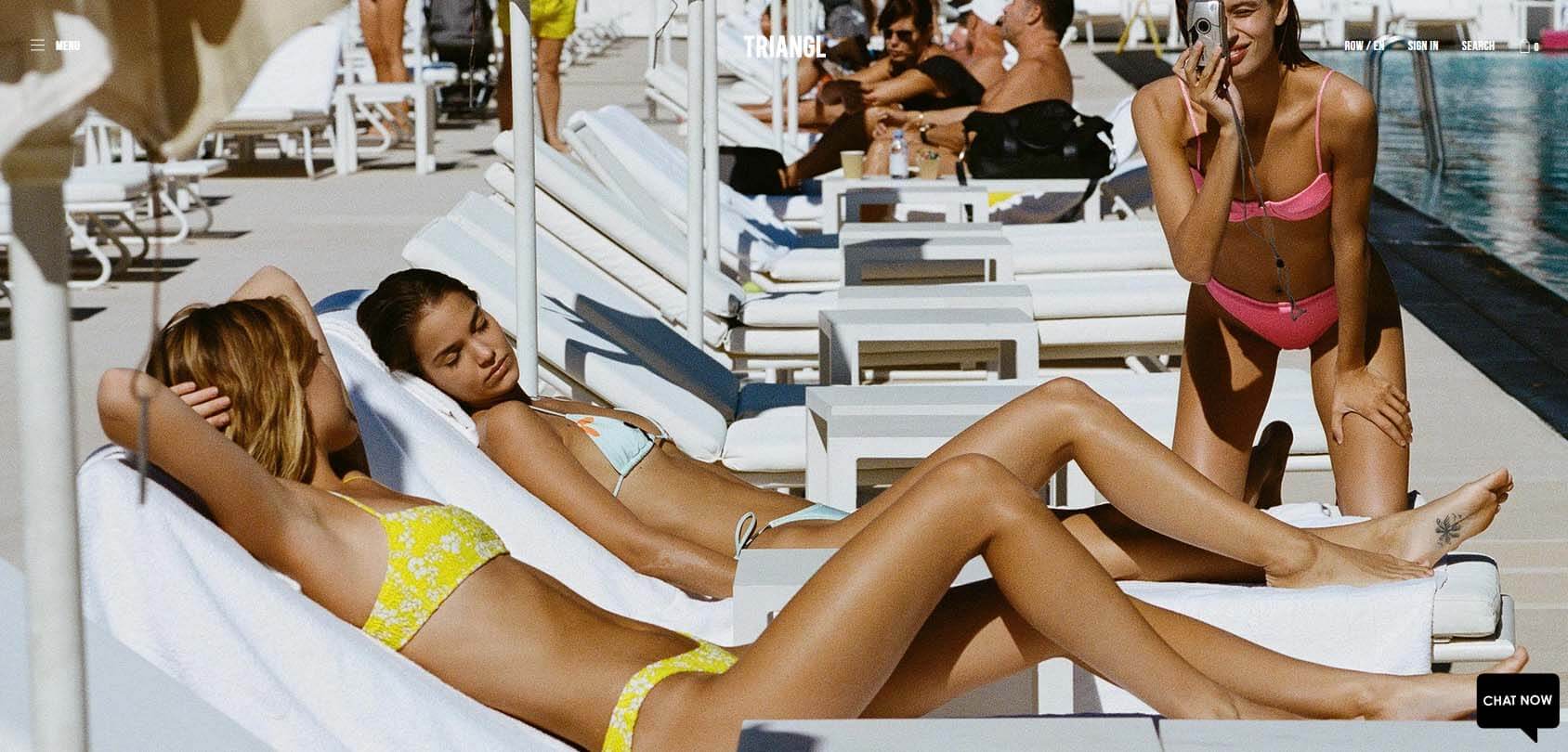 Triangl is one of the few swimwear companies that has managed to earn more than $25 million in the first year of its existence.
And it's thanks to how well the online store presents their swimwear pieces. The entire store is basically one big photograph reel that adequately displays the beauty of the sporty bikinis that it sells.
Store description: Swimwear store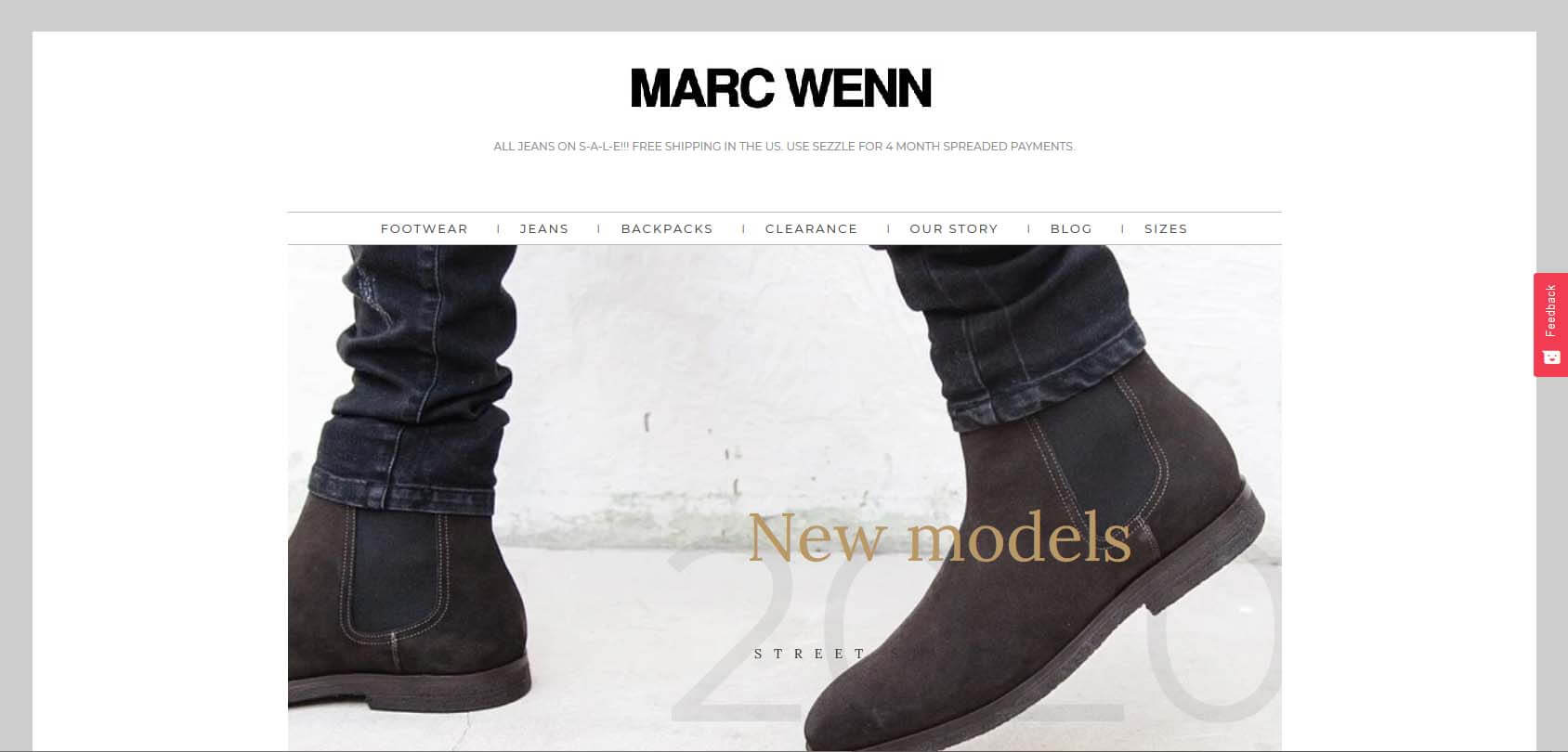 This luxury footwear store sells shoes designed by Marc Wenn from London.
The store deserves a place on any Shopify store list for how personal it has been from the start. Marc Wenn used to contact their first customers to thank them for their purchase. We also love how symmetrical it is and how effectively it showcases luxury, which is completely in line with the brand.
Store description: Footwear and backpacks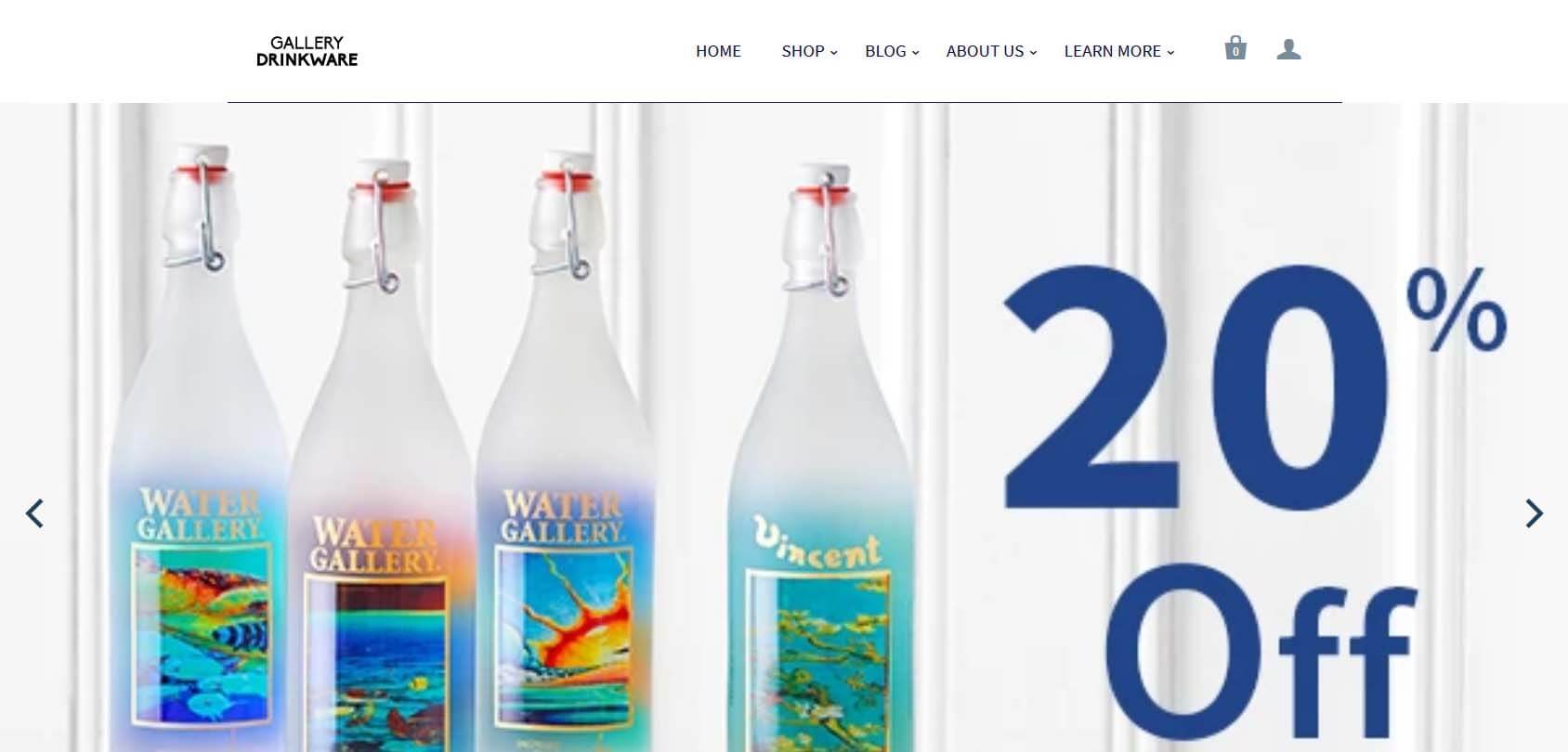 Gallery Drinkware is a unique Shopify store not only for the peculiar yet astonishing products it sells but also for how exactly it achieves this feat.
\It uses elegant menus, effective CTA buttons, informative content, and various high-quality images to tell the whole story of these unique and artistic products.
Store description: Artistic water bottles
Modern Market is a store that sells designs, tools, presets, online lessons, and a lot more — all for photographers.
What makes it special, in our eyes, is its minimalist design, stunning colors, and lovely photographs. These tasteful photographs effectively show that this is a store every professional photographer will appreciate.
Store description: Designs and tools for photographers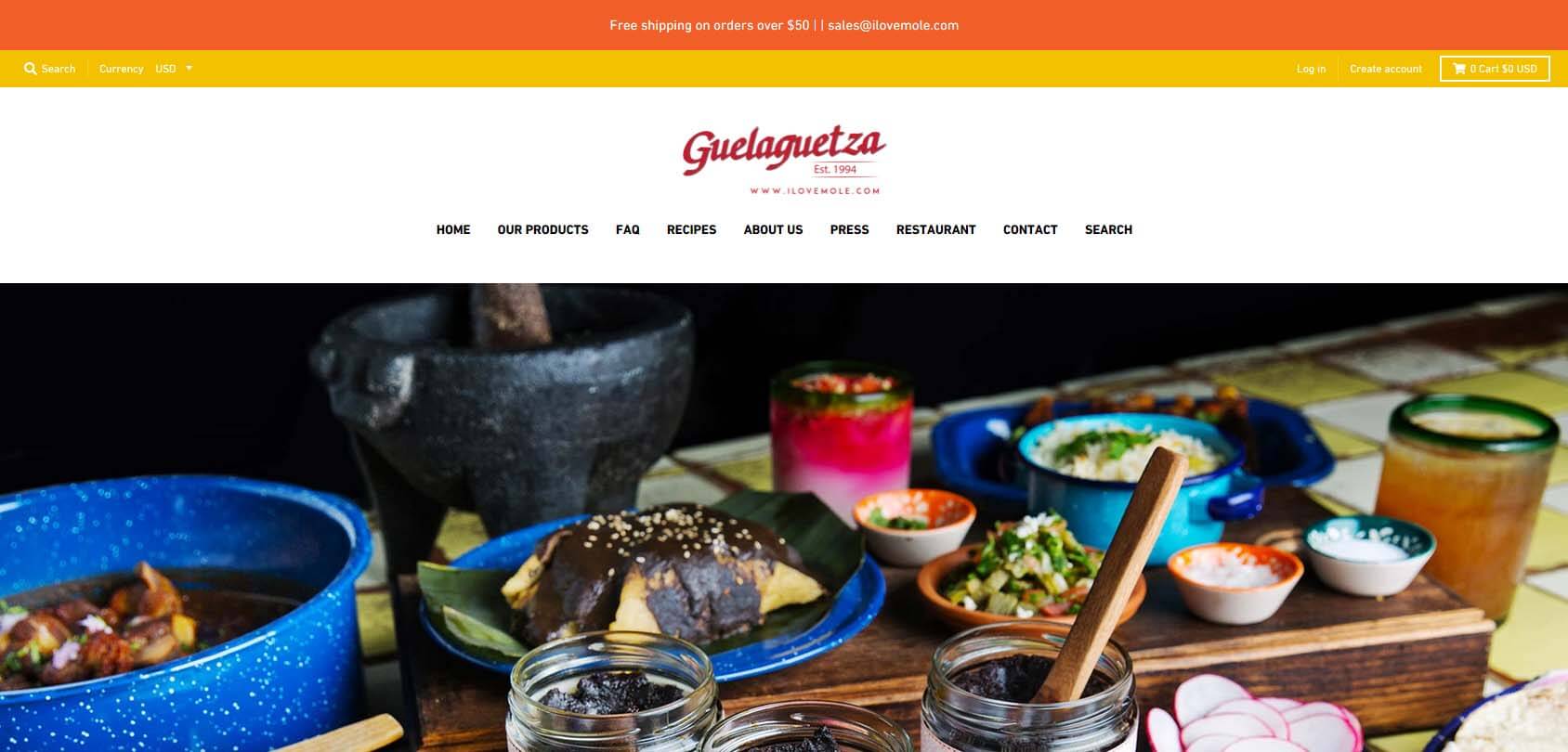 I Love Mole sells a wide variety of Mexican sauces, ranging from the famous guacamole sauce to the incredibly spicy sauces we all know and love.
The site uses a design and color palette that emphasizes what the product is in a way we don't often find in Shopify stores. It just feels right, and once you combine that with the quality of the pictures and content on the site, it becomes impossible not to love the store.
Store description: Mexican sauces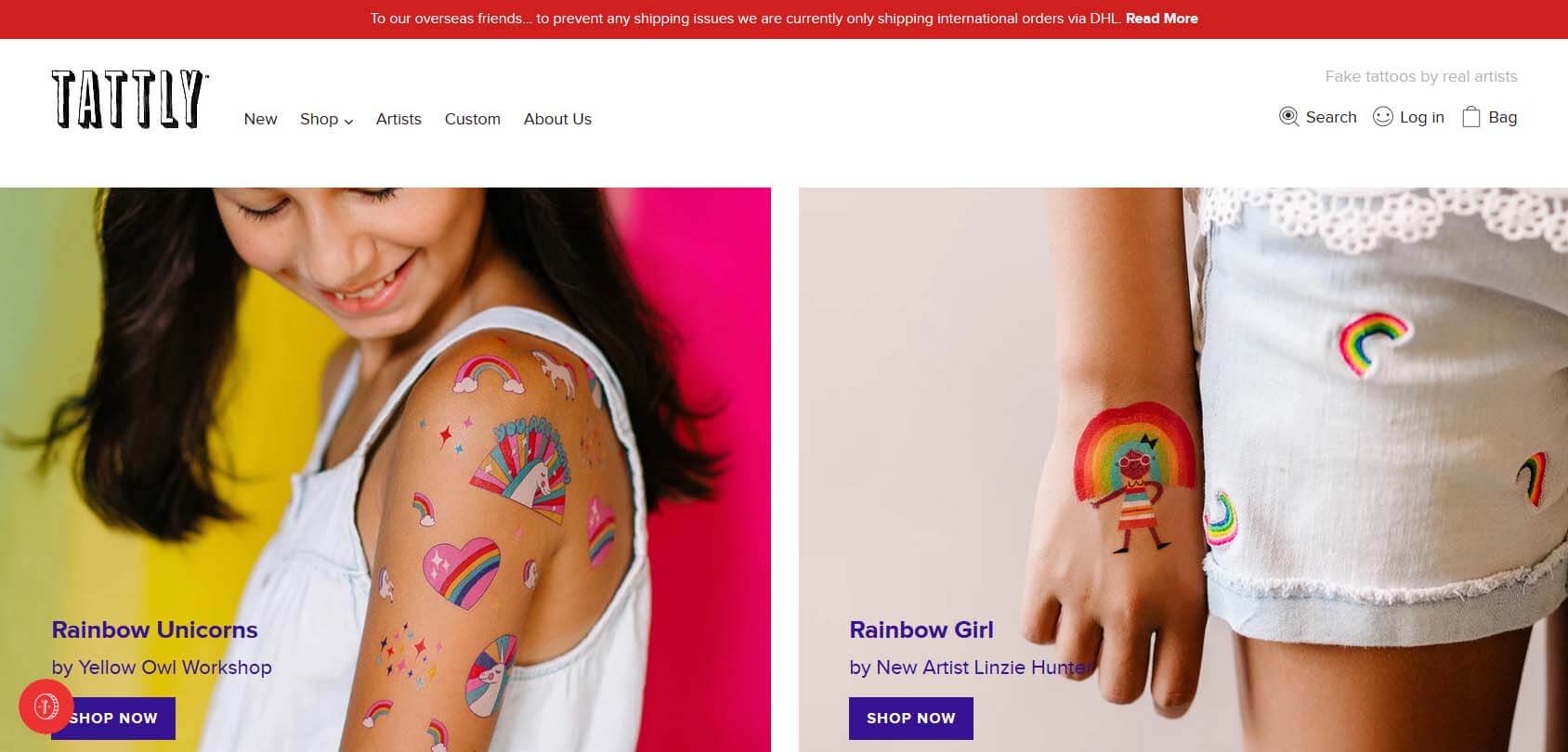 Tattly is a unique store that sells temporary tattoos.
However, despite this uniqueness, what truly sells this site is its inventive approach to store design. The simple white background emphasizes the product categories that come in the form of original pictures. We also love how some tattoos are displayed on women's photos in stylish frames and the entire store's overall playfulness.
Store description: Temporary tattoos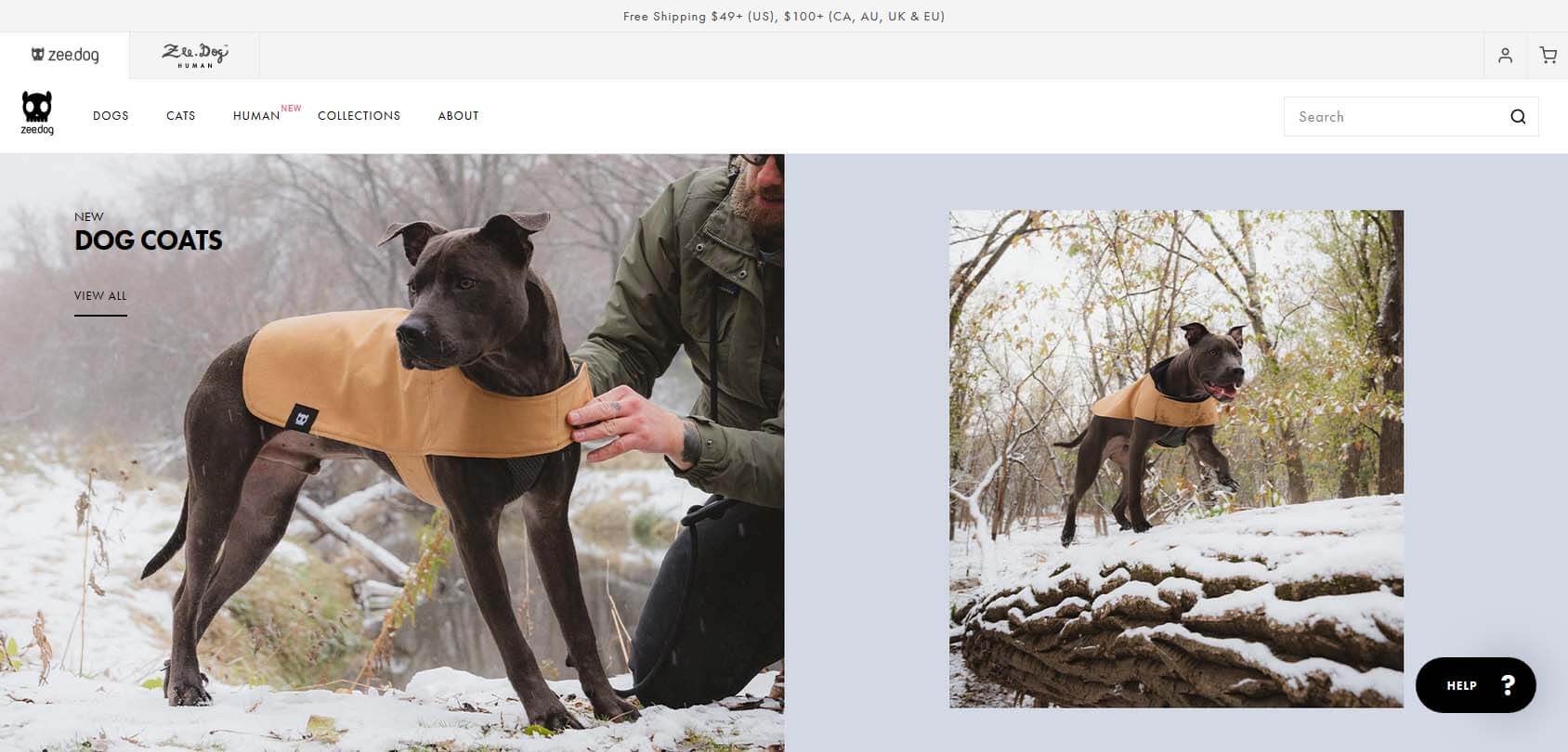 Zee.Dog sells various dog products, including collars, leashes, and toys.
The site has a stunning ultra-modern design that's there to captivate viewers and send them down the sales funnel. It's quite clean and highly functional, making every customer's experience near-perfect, and enabling the site to garner the success that it has.
Store description: Dog products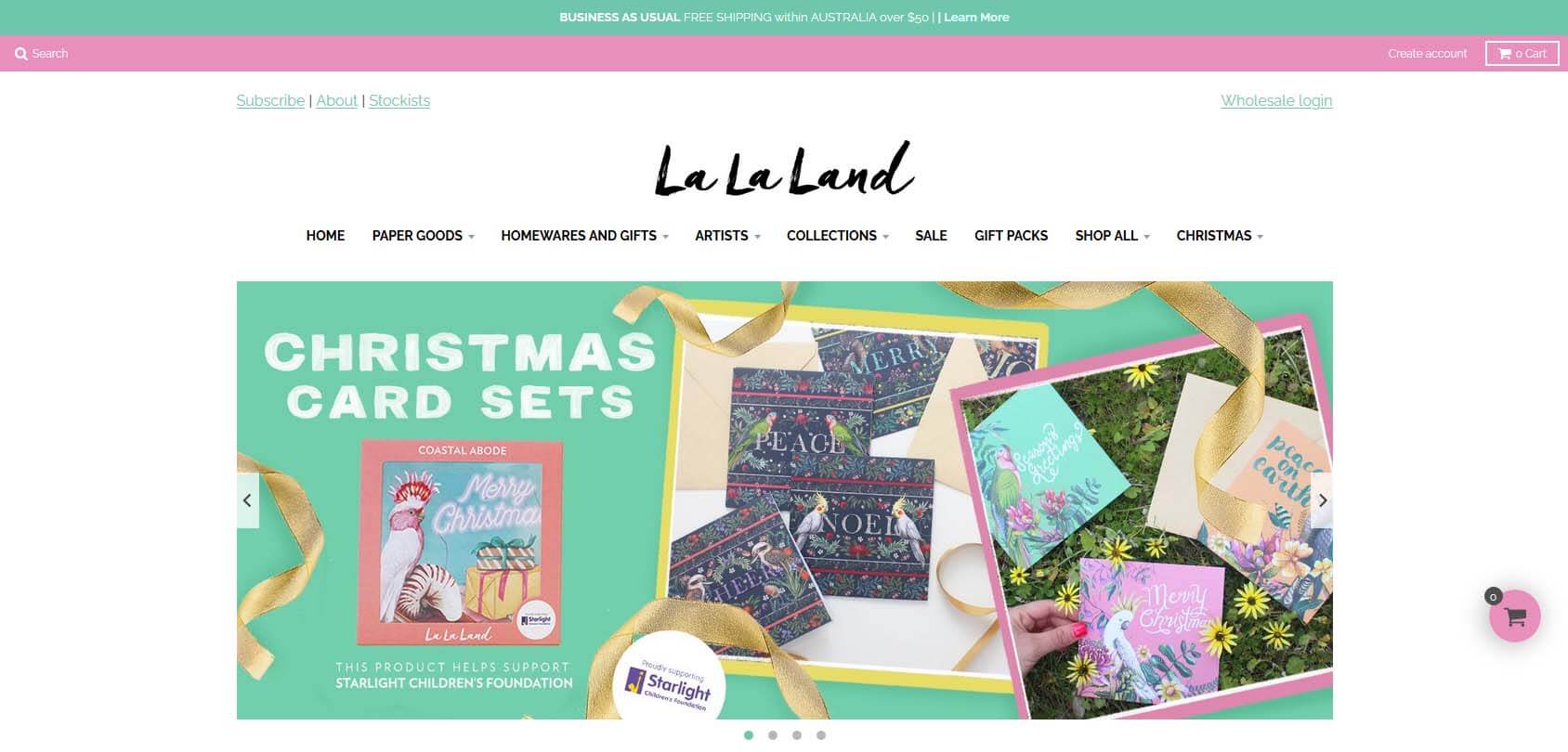 La La Land sells various items for your home, and it excels at a modern and youth-centered design.
It's more oriented to the female portion of its visitors, but that doesn't mean it alienates the other half of its potential customer base. What's more, it's clearly working for everyone with its fantastic content, colorful design, and high functionality.
Store description: Home decorations and other home products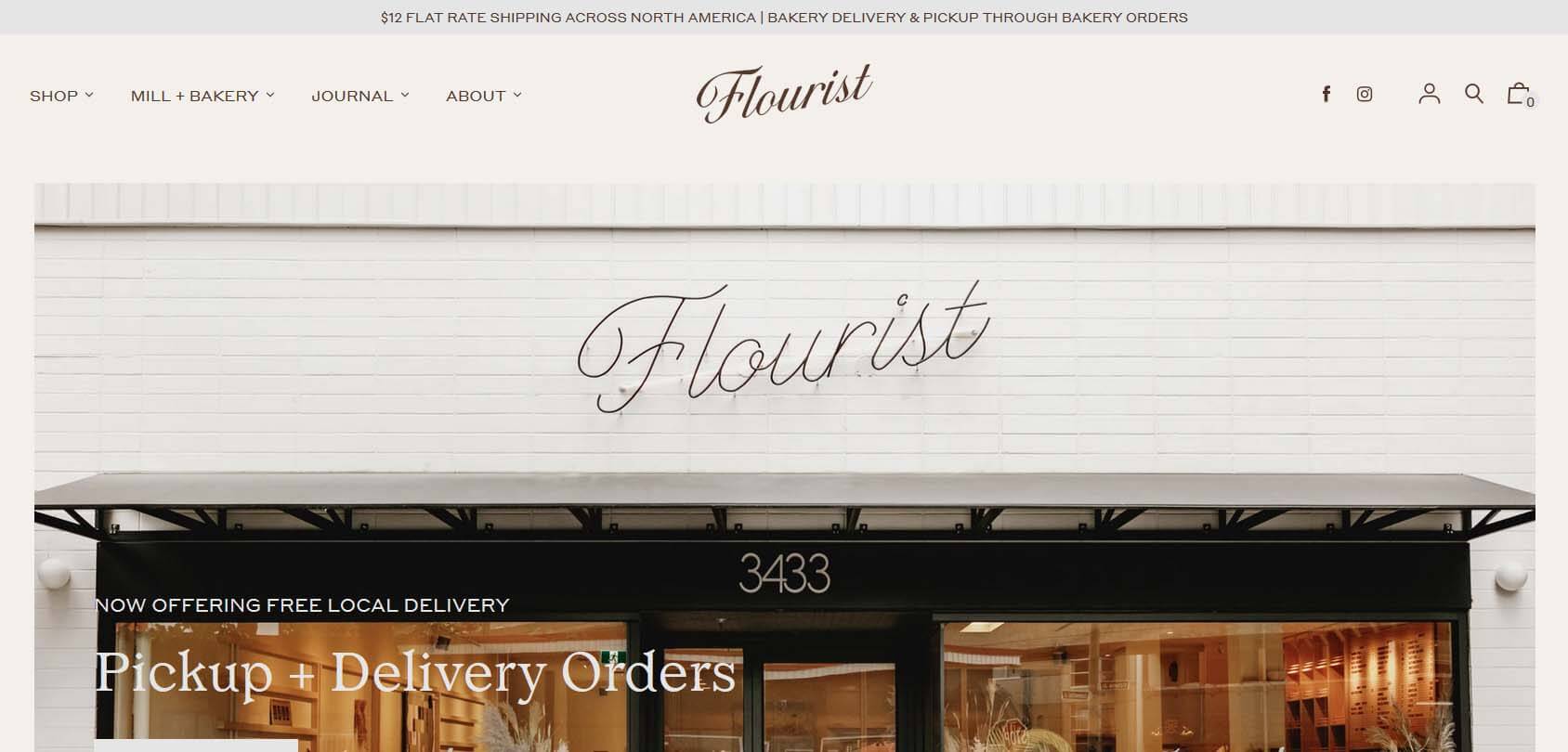 This store has an ingenious name and effectively complements the pastries it sells with a welcoming site design.
It's unobstructed and straightforward, all of the while managing to make you fall in love with these gorgeous-looking pastries.
Store description: Pastries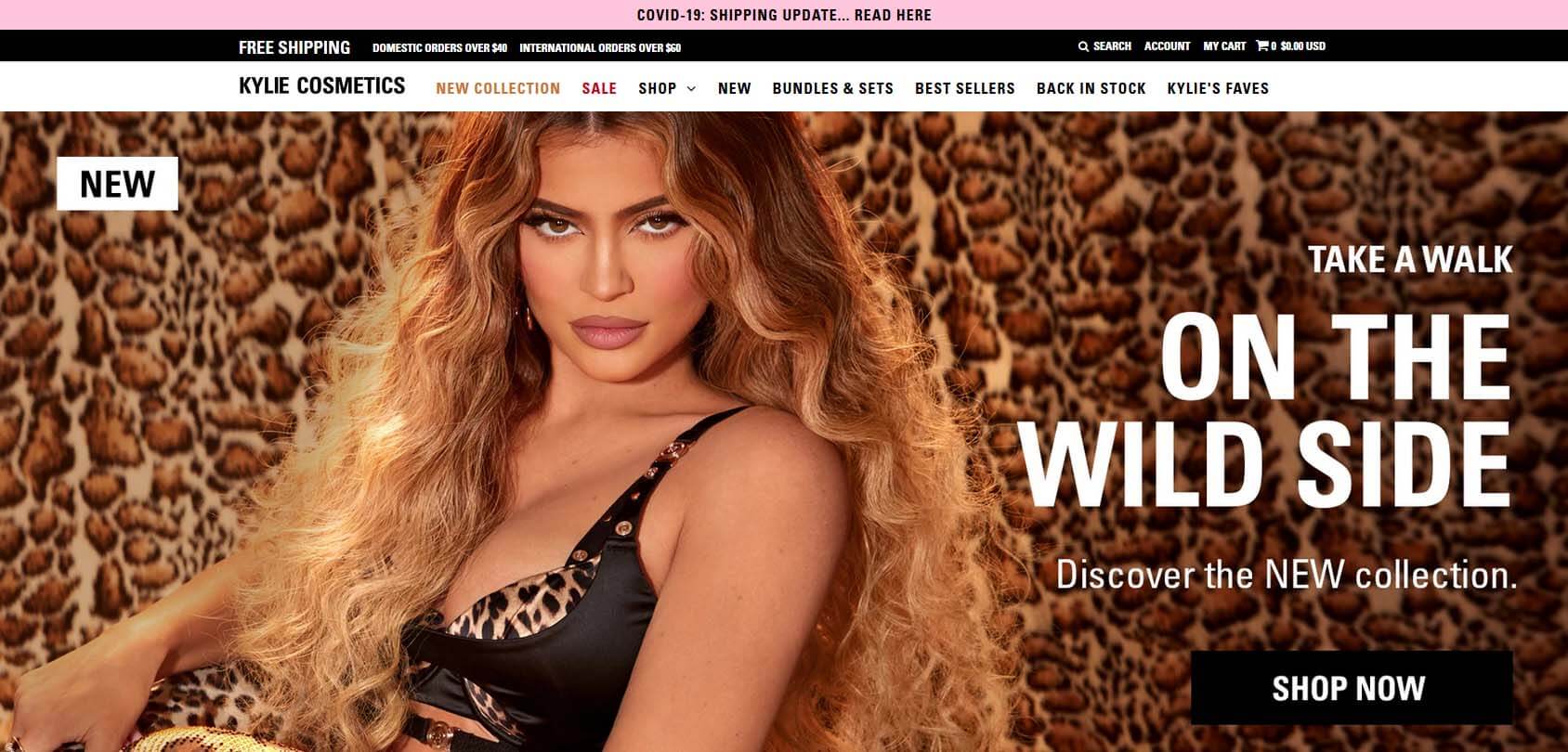 We all know how successful Kylie Jenner is and that she is the world's youngest self-made billionaire.
So, you would probably assume that the Shopify store website for her cosmetics brand is amazing, and it really is. The design is clean and minimalist, emphasizing the products themselves and, naturally, Kylie. The store often sells many of its products in mere minutes when a sale is on, and we can see why.
Store description: Cosmetics
Some sites deserve awards for originality, and we believe Pop Chart Lab is one of them.
The store is an online printer with numerous products that are hard to categorize. What makes this site truly remarkable is the ingenious header that will immediately catch your attention when you visit the homepage for the first time. But that's not all; with bold and astonishing typography and numerous items that never clutter the page, it becomes a site bound to inspire anyone.
Store description: Online prints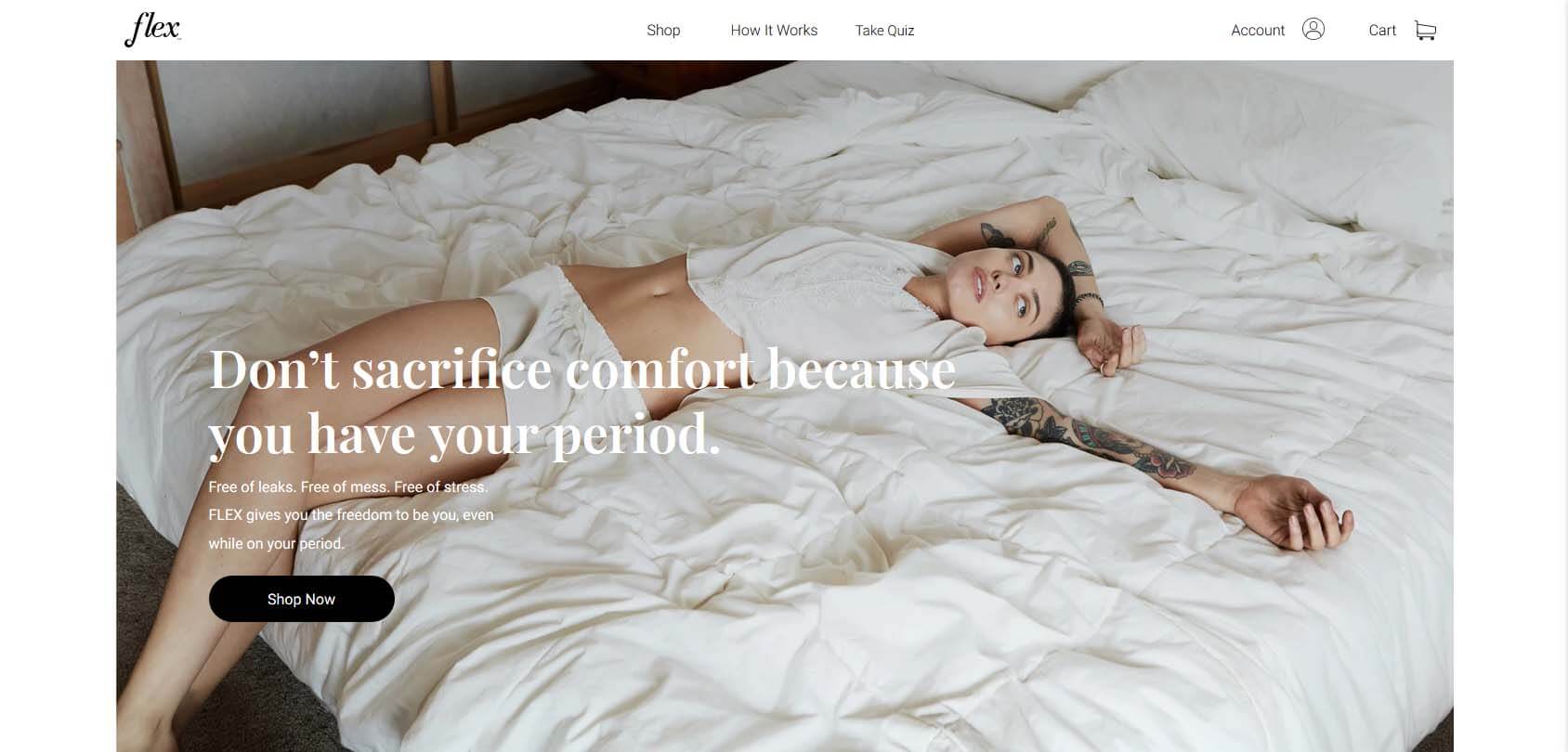 Flex is a unique Shopify store that sells two products only — an original menstrual cup and a menstrual disc.
This might sound like a limited business that can't succeed, but the store earned almost $5 million in the first half of 2016 when it started out. The site's original, modern design that emphasizes the product and the company itself has undoubtedly been a big part of that success.
Store description: Menstrual disc and cup
Footwear made of natural materials and with complete sustainability in mind is the primary theme of both the Allbirds brand and its Shopify store.
All of the footwear is incredibly well designed, and it effectively exudes comfort, which is something you gather from both the content on the page and its layout. It's clear that this eCommerce store was designed with great attention to detail.
Store description: Footwear store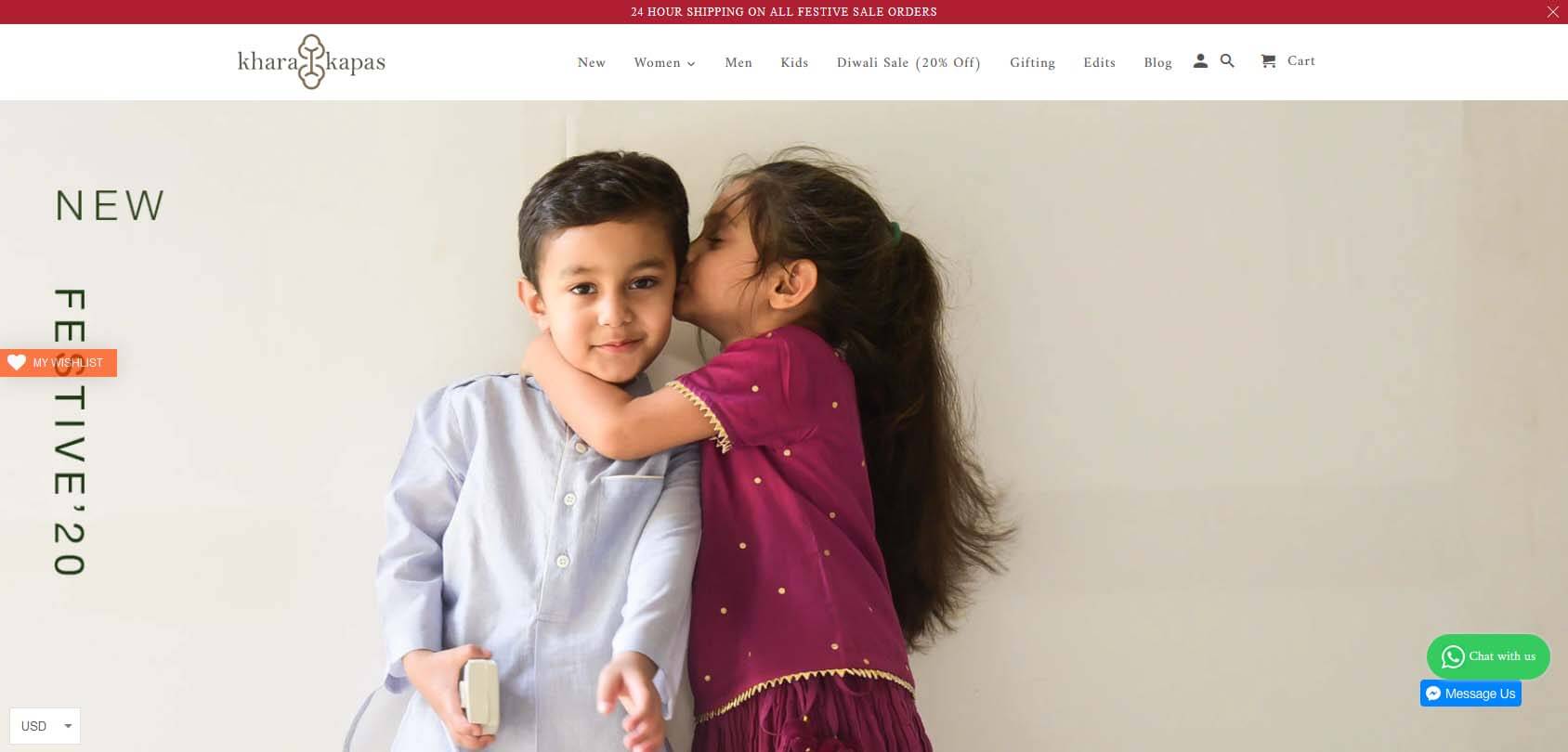 Khara Kapas strives to promote the beauty of Indian culture through handmade clothing.
The clothes are elegant, stylish, modern yet traditional, and stunningly minimalist. These are attributes you can apply to the store itself as it effectively conveys the products' beauty.
Store description: Indian-inspired clothing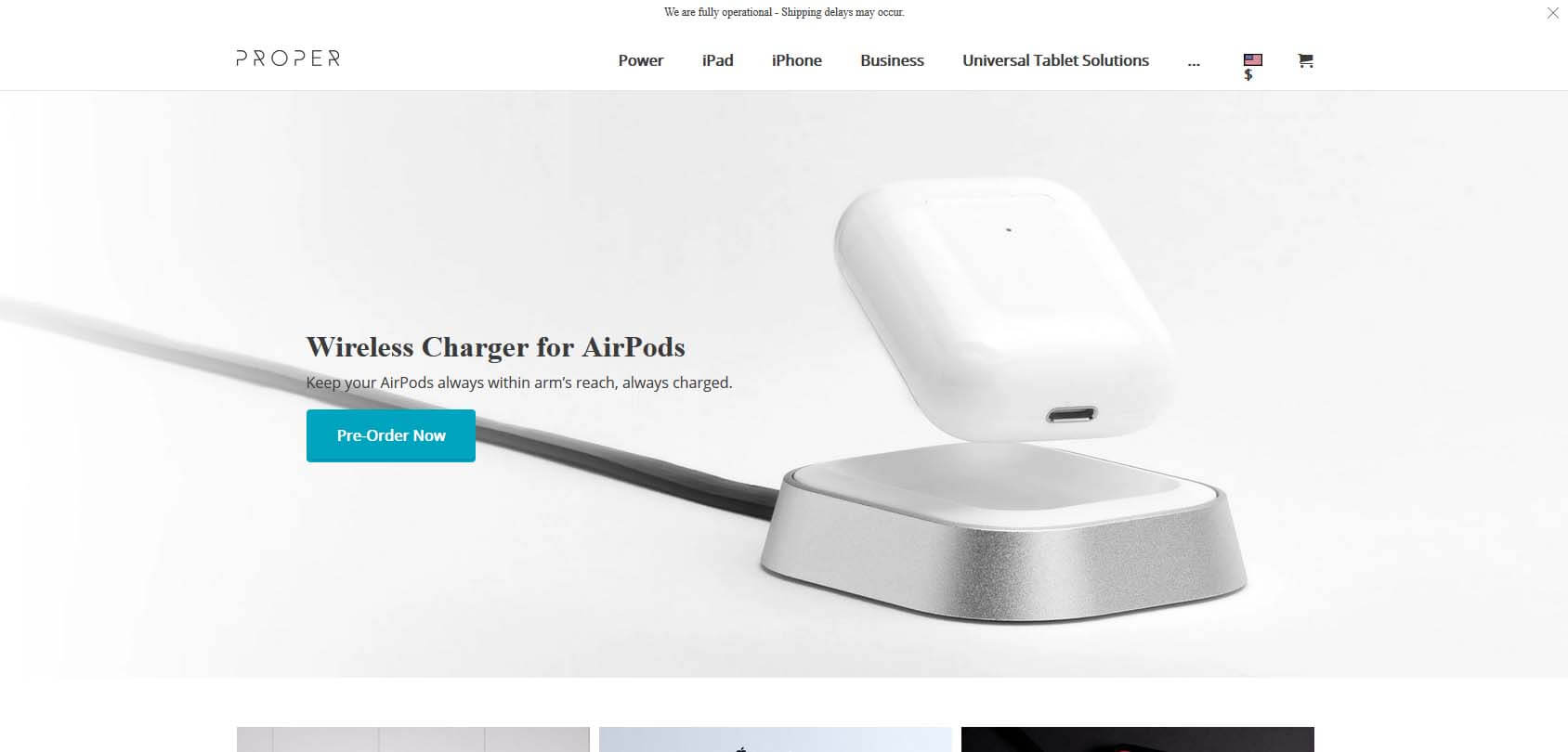 Studio Proper sells original designer products for iPhones, iPads, and a few other unique accessories and gadgets.
The store is not trying to be flashy; it's incredibly minimalist, clean, and has that overall look that we associate with great electronic products, which is entirely appropriate considering what Proper sells.
Store description: Gadgets and accessories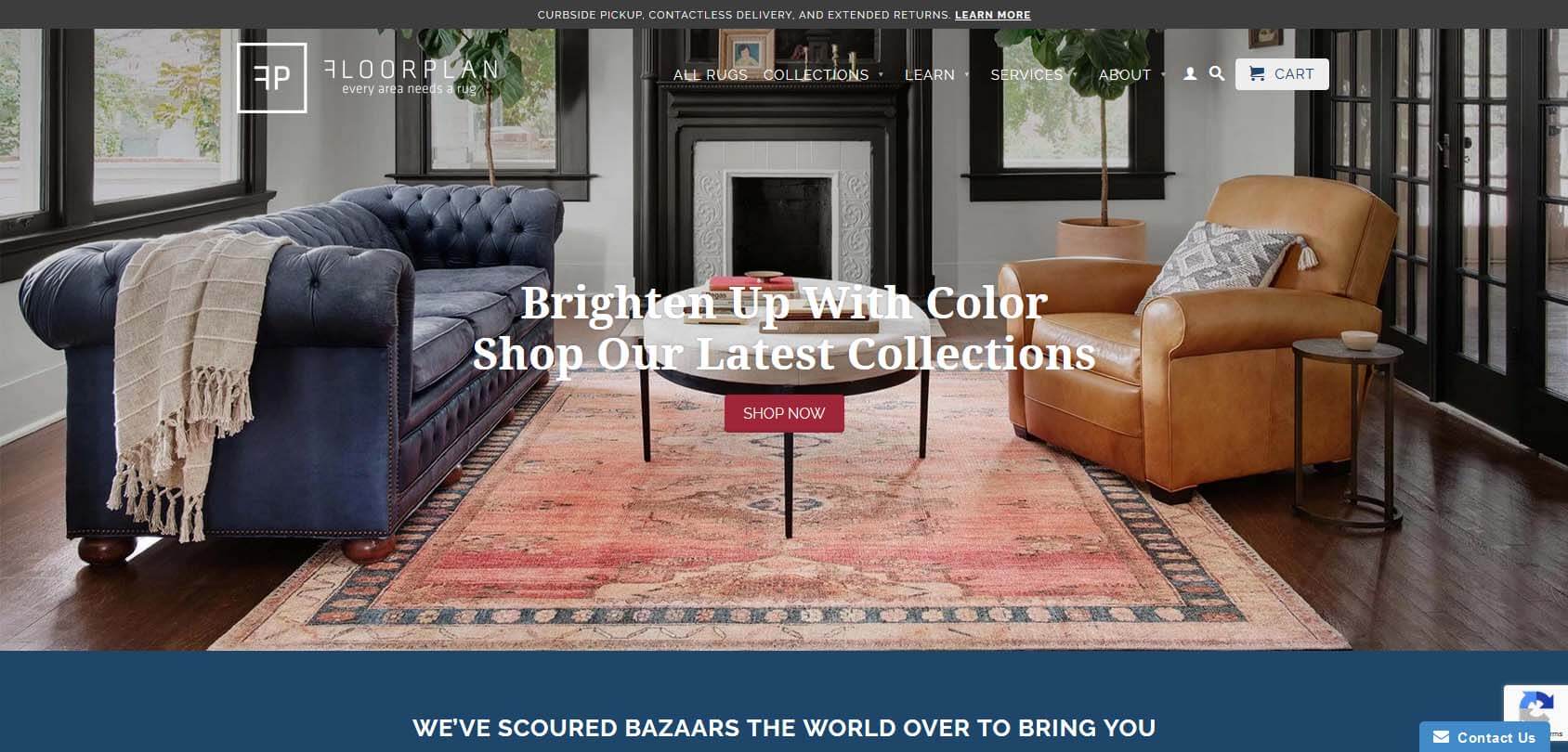 Floorplan only sells rugs, but its astonishing online store design manages to effectively prove to us that its rugs are high-quality and worthy of our hard-earned cash.
It uses a colorful palette and clean product images, together with an easy-to-use drop-down menu and a carefully organized product page. It's there to sell rugs, and it does that very well.
Store description: Quality rugs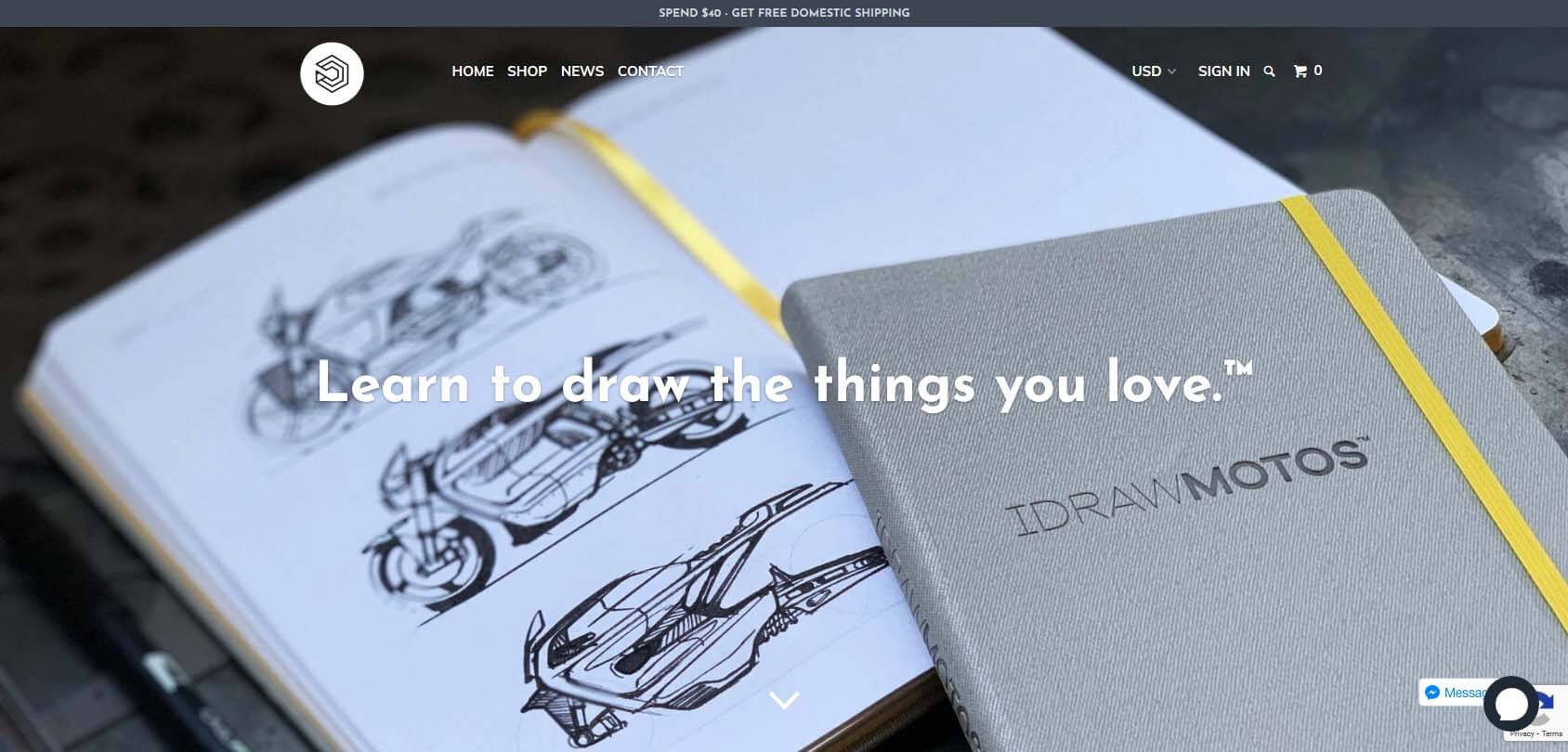 We love how the beautiful sketchbooks that the store sells keep following you while you scroll through the homepage.
It's an ingenious choice that is consistent with the store's central theme. On top of that, IDRAW features an integrated Instagram feed and stunning images and photographs. All in all, everything is designed to support the high-end sketchbooks this beautiful Shopify store sells.
Store description: High-end sketchbooks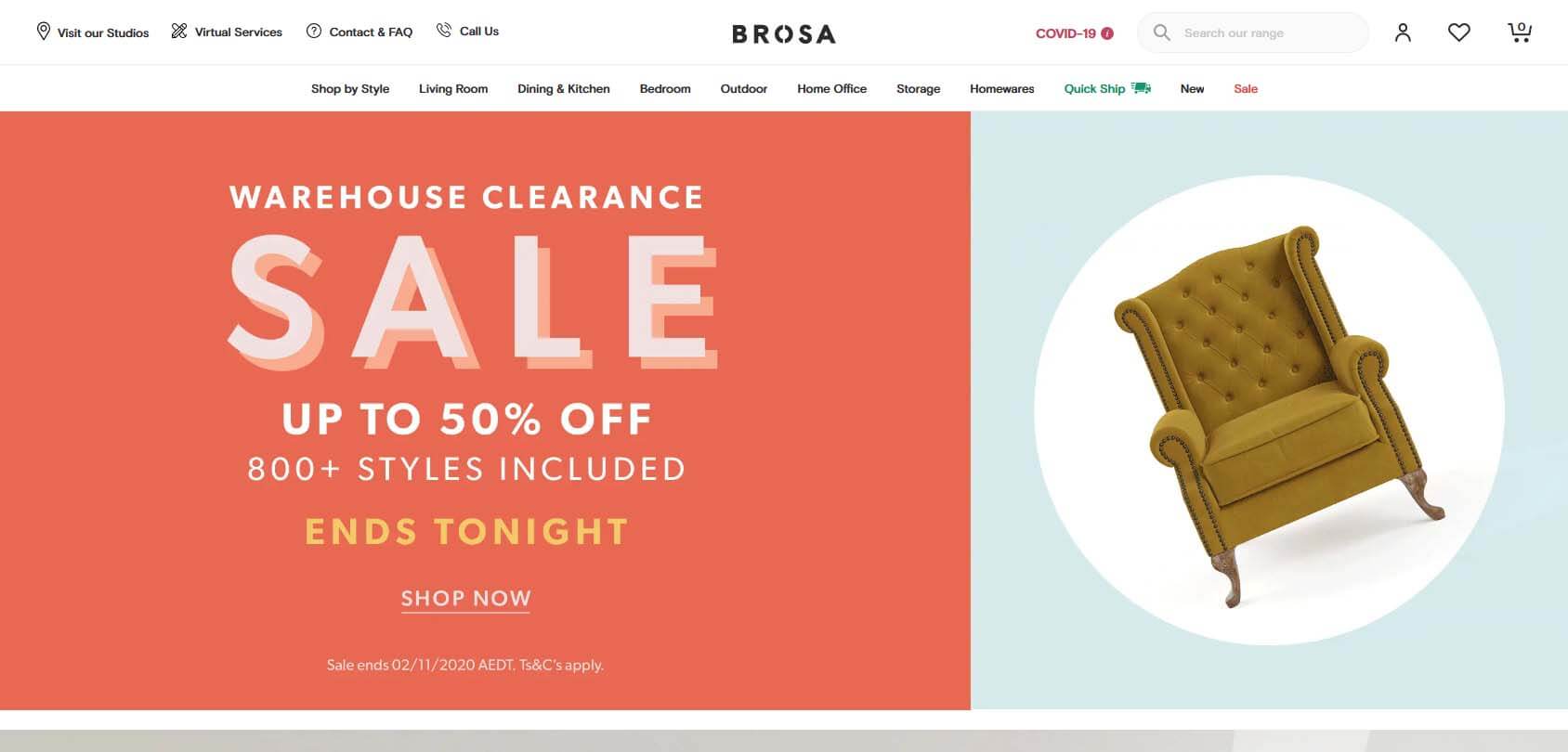 Brosa is a small furniture design studio that effectively sells its own products, which is not common in the furniture industry.
This has enabled them to offer high-quality furniture pieces at affordable prices. The idea is excellent, and the execution is even better as the site is highly functional and well-designed, made to efficiently market and sell furniture pieces. The Brosa mobile version of the site is superior, keeping in line with the mobile-friendly times, so make sure to check it out.
Store description: Furniture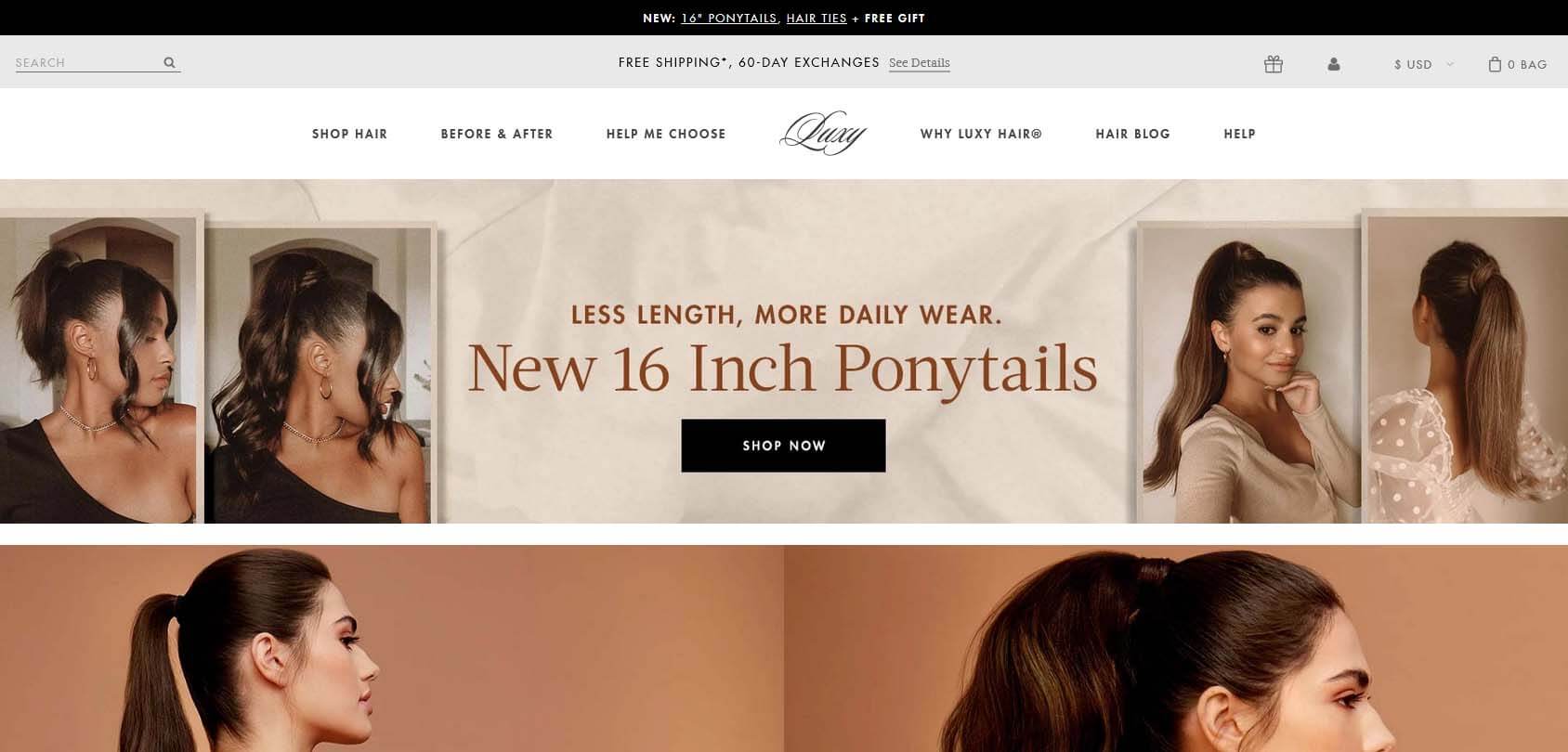 Luxy is a modern and high-quality niche Shopify store that sells clip-in hair extensions.
The products are high-quality, like the design of the site itself. We really love it because it focuses not only on the shop portion of the site but also on content. You can find countless transformation videos, a hair blog, and a lot more content that will familiarize you with the brand and help you to appreciate what you can get at Luxy.
Store description: Clip-in hair extensions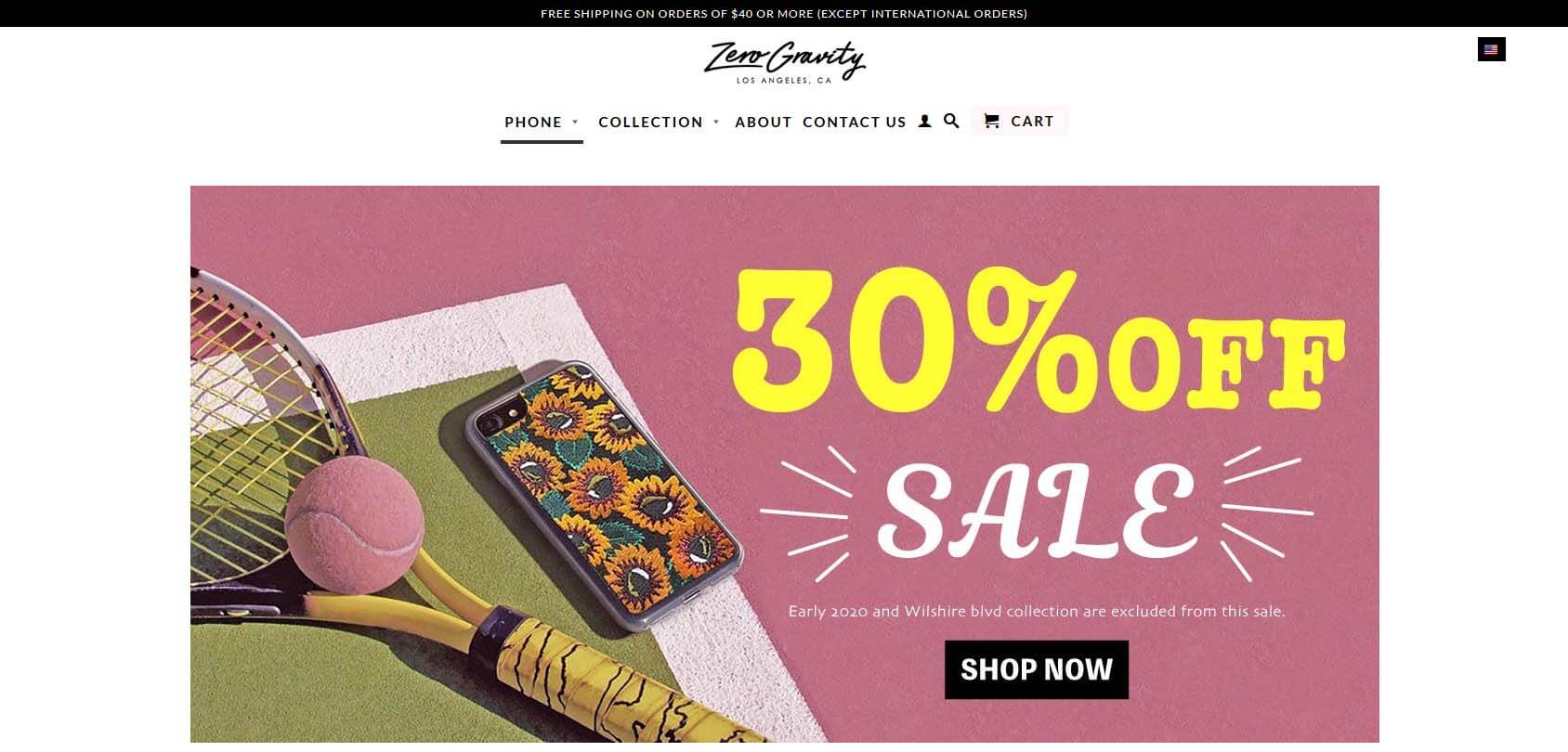 Many might think tech accessories are cool, but Zero Gravity genuinely makes them so with its trendy product and store design.
The store mostly sells iPhone cases, but it does that incredibly well with a simple store design that entirely concentrates on marketing the products to its younger audience.
Store description: Tech accessories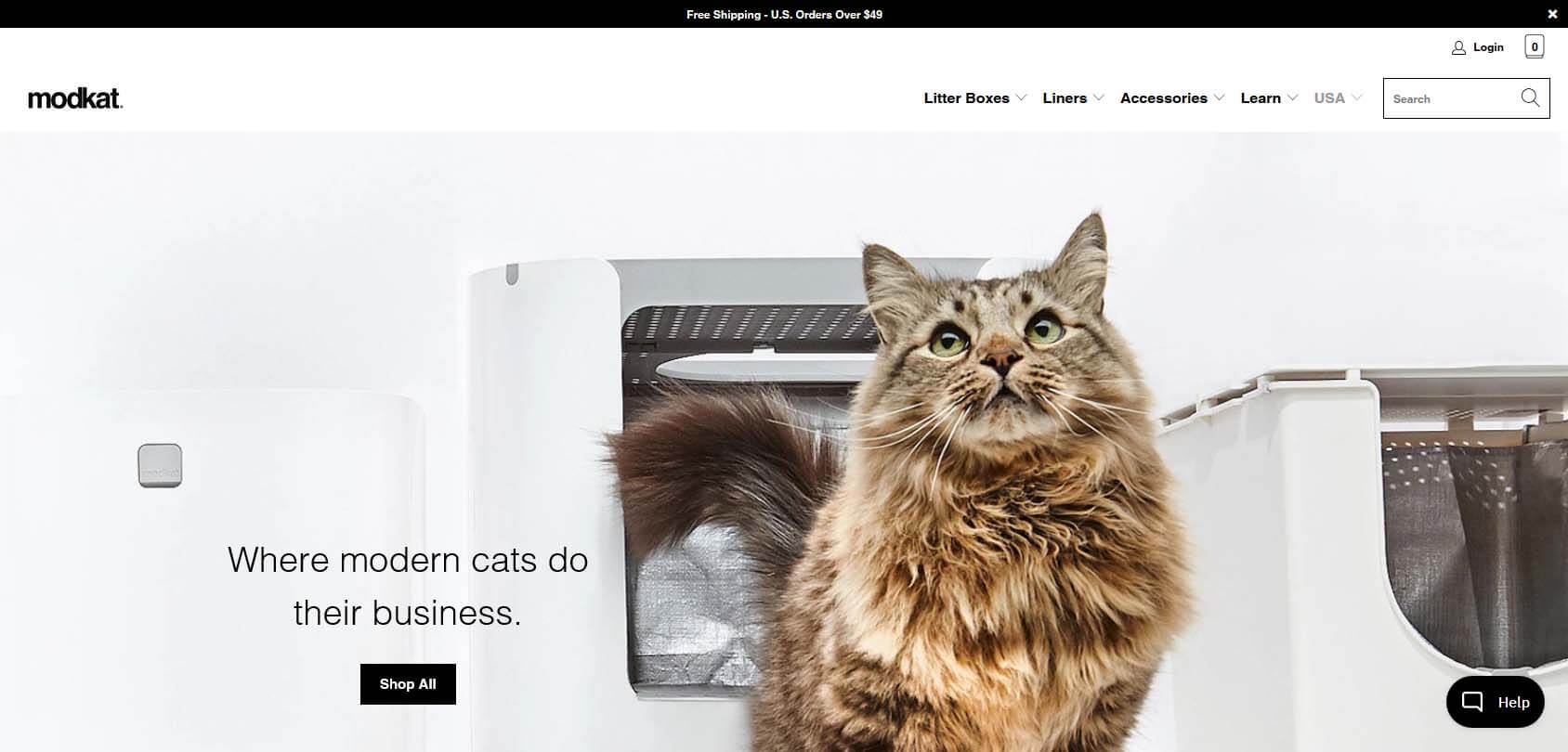 Modko sells inventive litter boxes and other cat accessories to feline owners.
The site emphasizes its products in any way that a Shopify store can, with a modern design that was carefully conceived to match the products. What's more, the store is very clean and informative and offers some high-quality images on a fast and functional website.
Store description: Cat products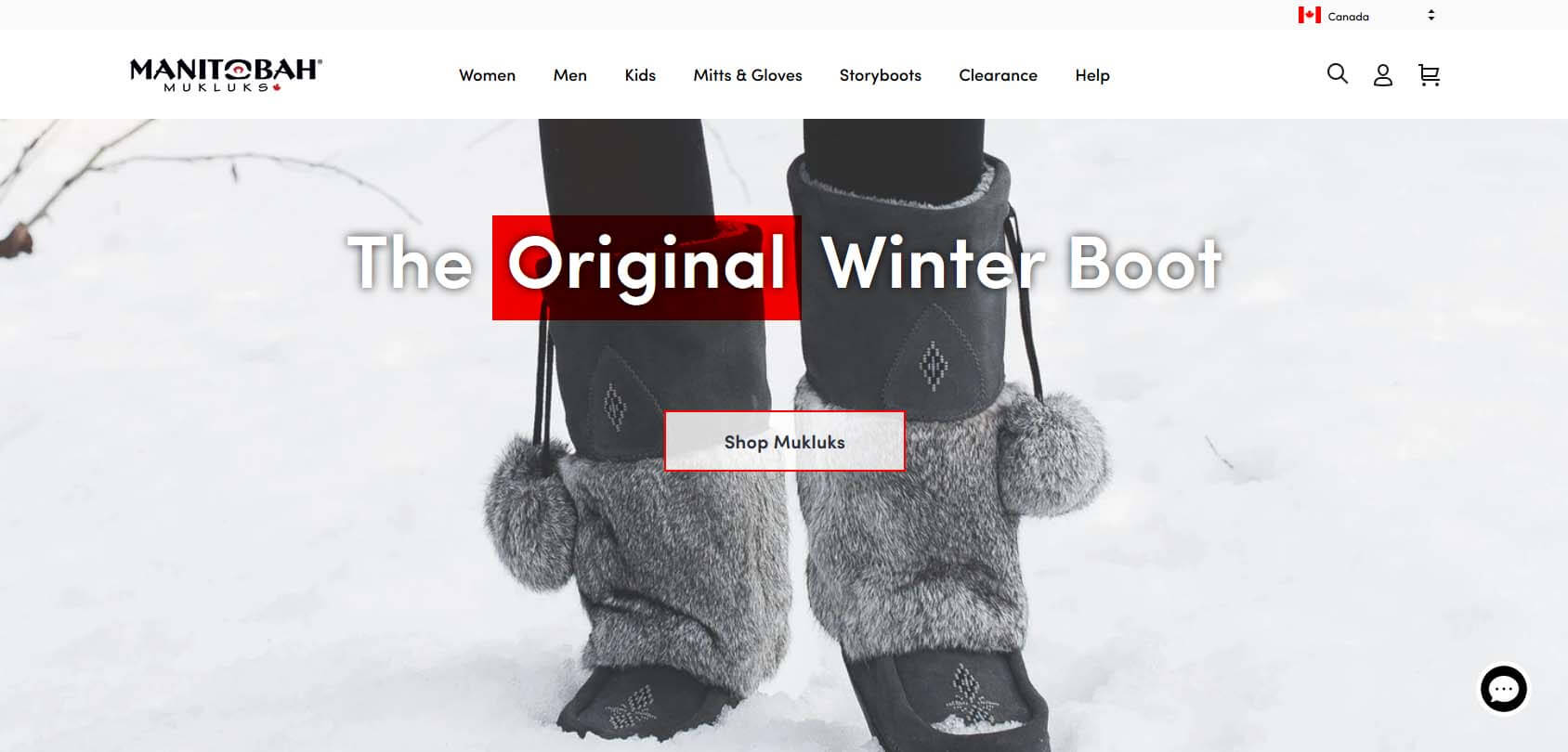 This unique Canadian footwear and mittens store sells products inspired by indigenous culture.
It's astonishing how well the culture permeates the design of the site. The site also tells the whole story, so you should scroll all the way down to the bottom.
Store description: Footwear and gloves inspired by indigenous designs
This stunning site has all of the right ingredients a lingerie store should have, ranging from soothing colors to high-quality pictures that emphasize the product design.
The company behind the site empowers women by employing single mothers, and we love how effectively the site conveys these facts through stylish images.
Store description: Eco-conscious lingerie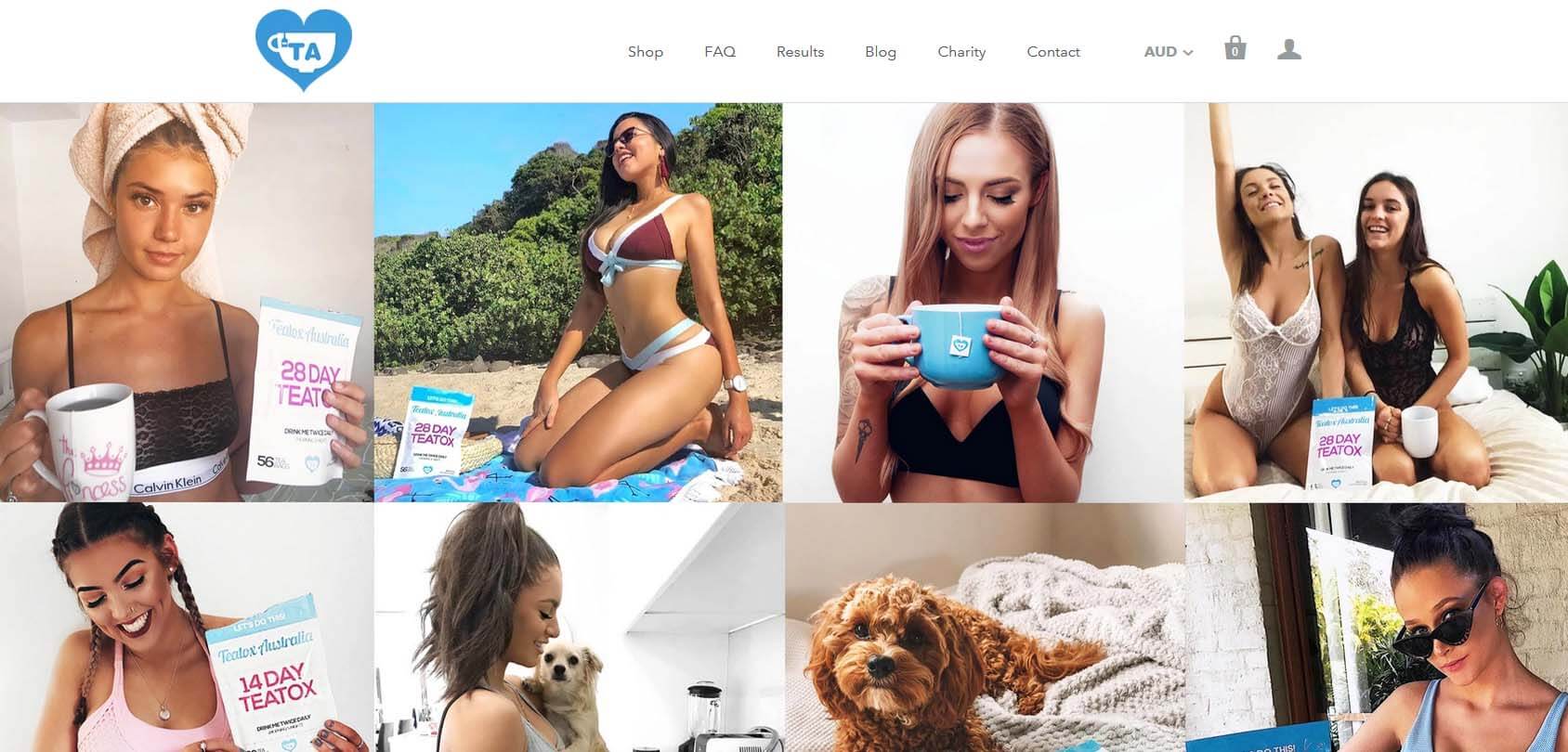 A health supplement shop, Teatox Australia boasts a high-quality Shopify store with intriguing blurb icons, transparent backgrounds, and many personal touches that make it completely unique.
However, this company knows that a Shopify store needs to focus on functionality, which is evident from the carefully arranged shop section and a quality shopping cart and the checkout experience.
Store description: Health supplements
This aptly named Shopify store sells regular, beauty, and household products that everyone needs and ships them package-free.
The site's owner, Lauren Singer, wanted to inspire anti-waste behavior in consumers, and we love how well that idea has influenced the design of the store.
Store description: Package-free household and beauty items
Conclusion
These are 35 beautiful Shopify stores, complete with descriptions of the features that make them so effective and successful. We carefully selected these examples from a wide range of niches, so you're likely to find at least one in your industry. But even if you don't, know that website design transcends specific industries, so this list will enable you to find inspiration in any online store.
We hope that this light read has provided you with enough examples and inspiration to create your unique Shopify store to catapult your business to the stratosphere!