30+ Inspiring Examples of Squarespace Websites (2023)
FirstSiteGuide is supported by our readers. When you purchase via links on our site we may earn a commission.
Read More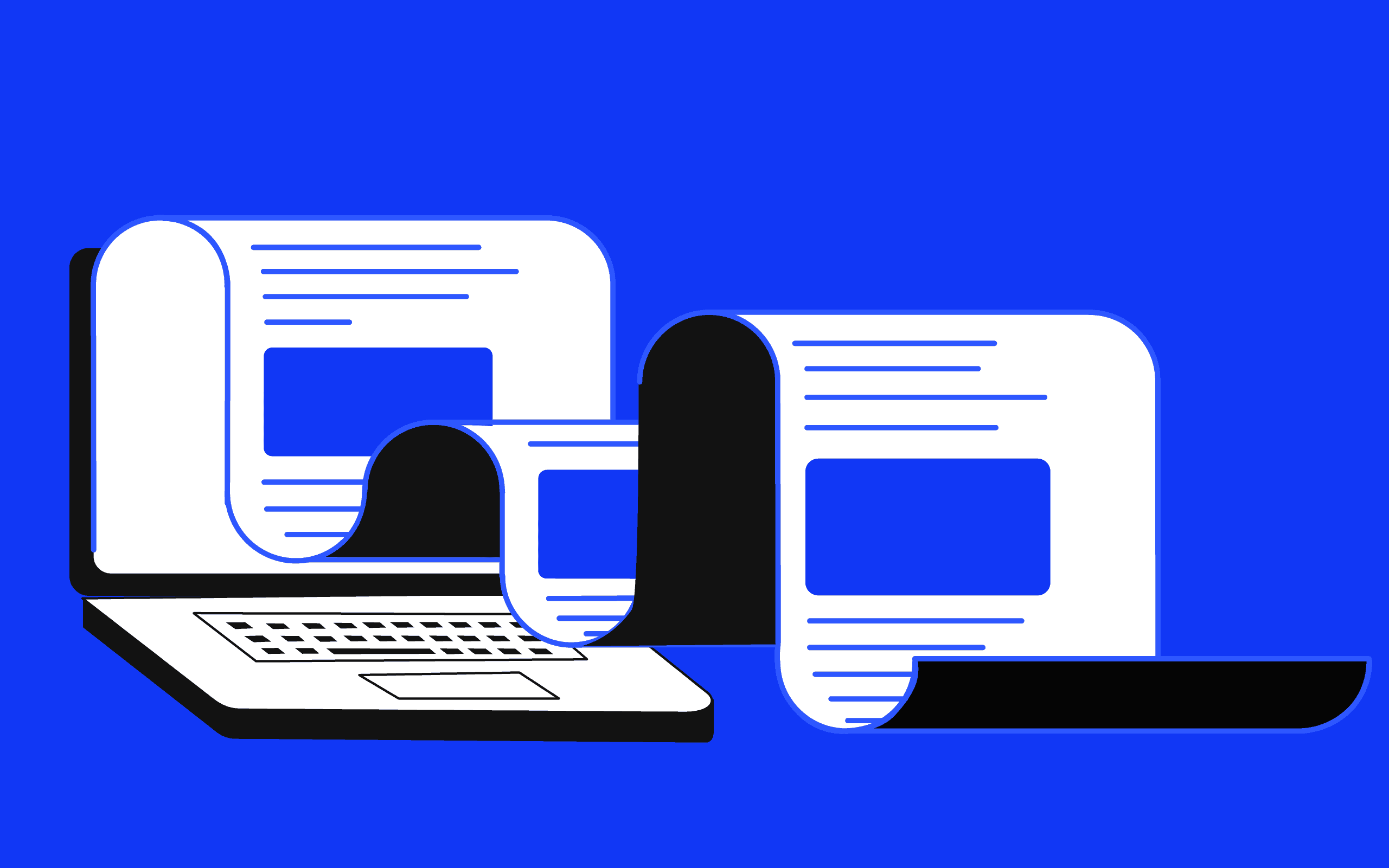 Squarespace is one of the most prominent web builders in the industry. Countless successful websites on the Internet are built on this platform. Their creators probably opted for Squarespace because it is very easy to use and does not require coding skills.
Still, it can be a challenge to make your Squarespace website stand out from the rest. You need some creativity if you want to attract as many visitors as possible. That is why we have chosen some examples of great Squarespace sites to inspire you.
In this article, you will find a wide selection of Squarespace website examples from a variety of different niches. No matter what kind of site you are trying to build, we are sure this list will help you to make your vision a reality. These sites are strong examples of good designs, excellent niche choices, and compelling content, which will help to inspire you on your journey.
So, let's take a look at the best Squarespace website examples and discuss what it is that makes them popular!
33 beautiful sites created with the Squarespace website builder
The list below contains the best websites powered by Squarespace. Here, you will find only top-notch sites that show the full potential of this builder. Feel free to check them out on your mobile devices as well to see how well they work on all platforms.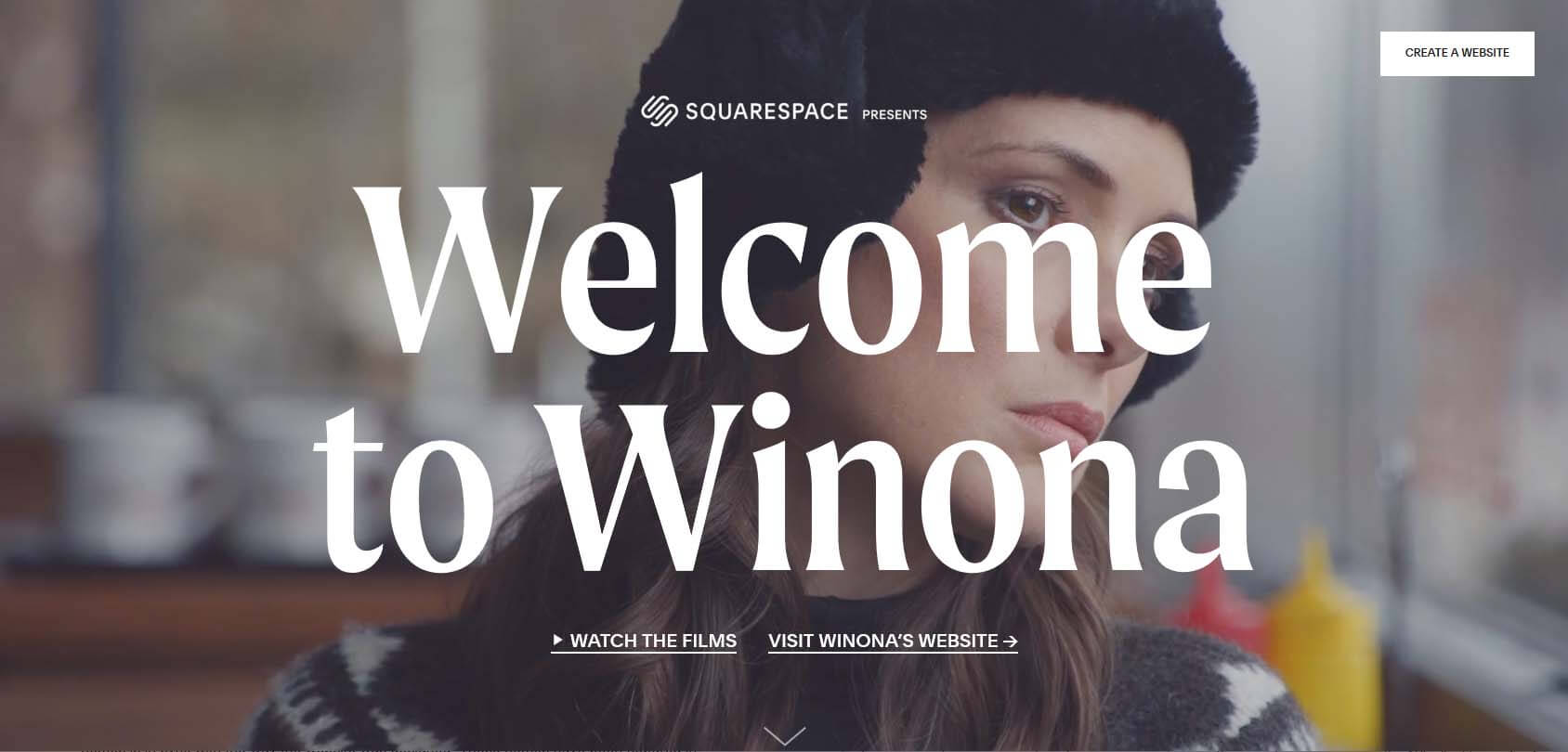 Winona Ryder, a famous actress, designed this website with a small team from Squarespace to showcase her hometown of Winona, Minnesota. She took photos of this town and made a website dedicated to it. She wanted to introduce her birthplace to the world by creating a photographic exploration of this place and its people.
The website is quite minimalistic, as it mostly focuses on photos of the town. The dominant color is white, which is evocative of snowy Minnesota.
Website description: Winona Ryder's collection of photographs
Website type: portfolio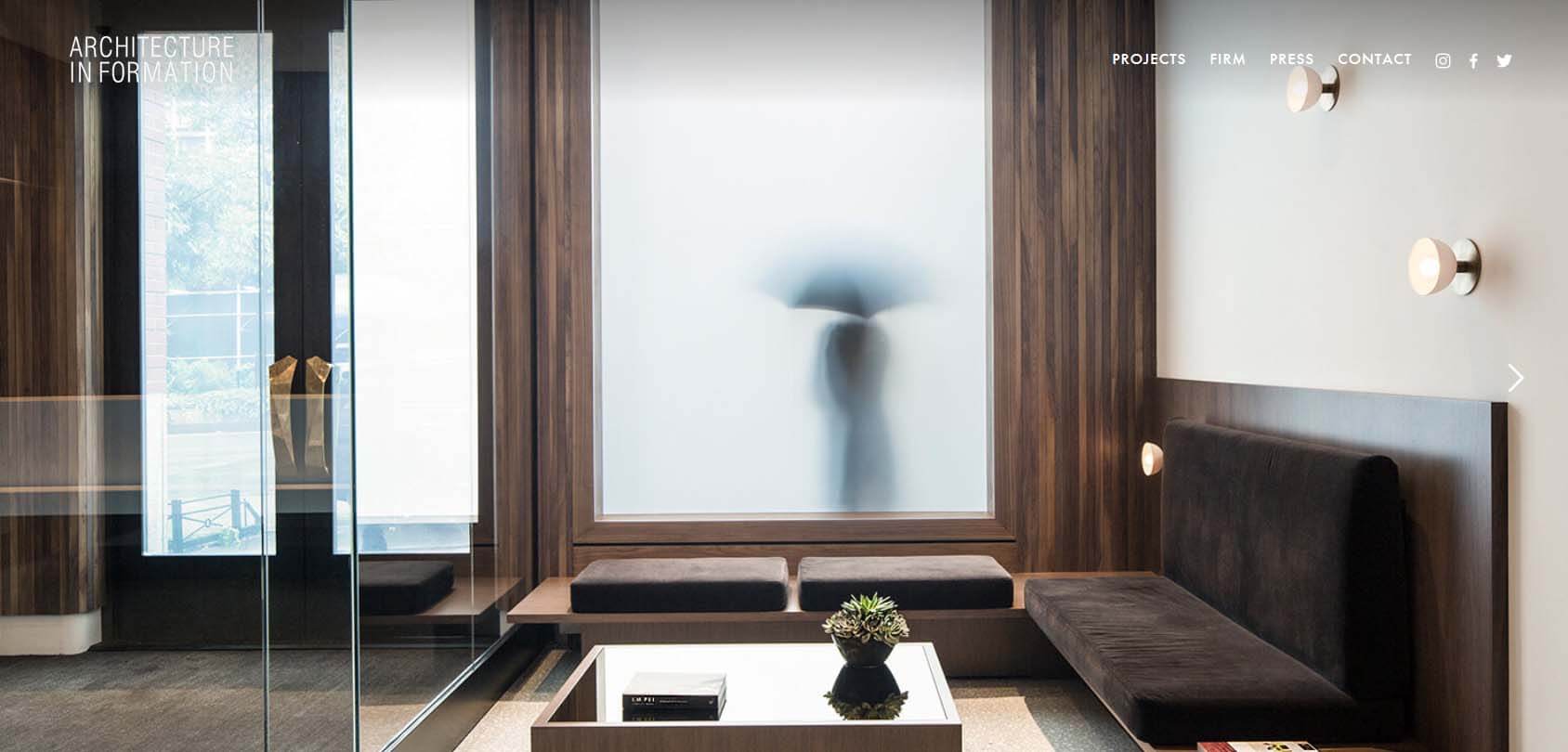 Architecture in Formation is a gorgeous website where a group of designers and architects from New York post pictures of their award-winning portfolio. The modern, minimalistic design of the homes is in sync with the way the website was designed. These homes have been featured in numerous well-known magazines such as the New York Times and the Wall Street Journal.
Website description: a portfolio of an architecture and design firm
Website type: portfolio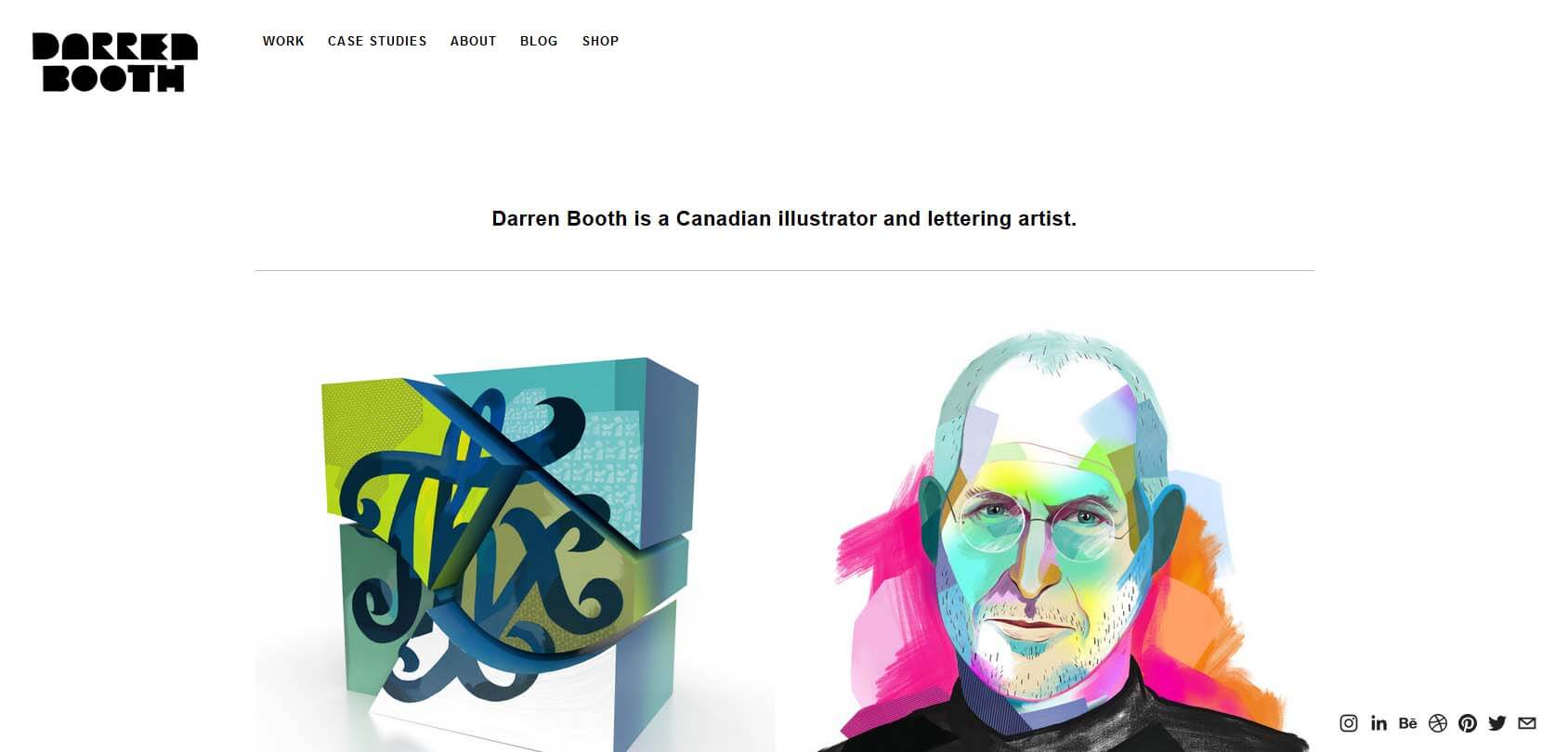 Darren Booth is an illustrator and a lettering artist from Canada who uses a contemporary collage style. He has worked with famous companies such as Google, Coca-Cola, and Disney. This Squarespace website is colorful and filled with his designs, so that you can see what his style is right away, and you can decide whether you want to contact him.
Website description: a portfolio website of an illustrator
Website type: portfolio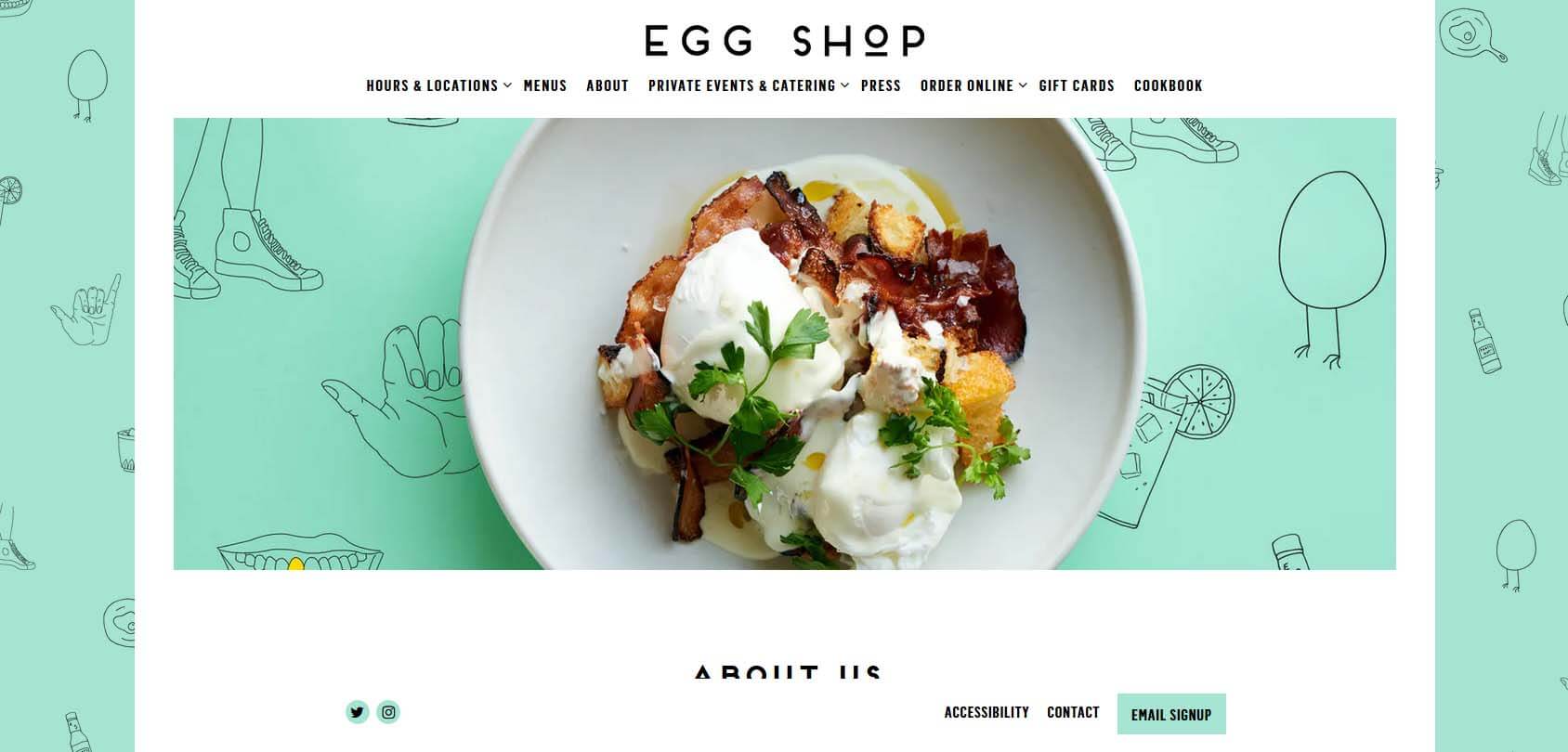 Egg Shop is the website of a food company based in New York. Its owners, both fans of egg sandwiches, decided to open a restaurant that focuses primarily on dishes prepared with eggs. The fun, relaxed atmosphere this venue offers is evident as soon as you land on the website's homepage, thanks to the turquoise background and its exciting patterns. There is also a slideshow reel of the mouthwatering specialties Egg Shop offers.
Website description: a restaurant that offers egg-based specialties
Website type: restaurant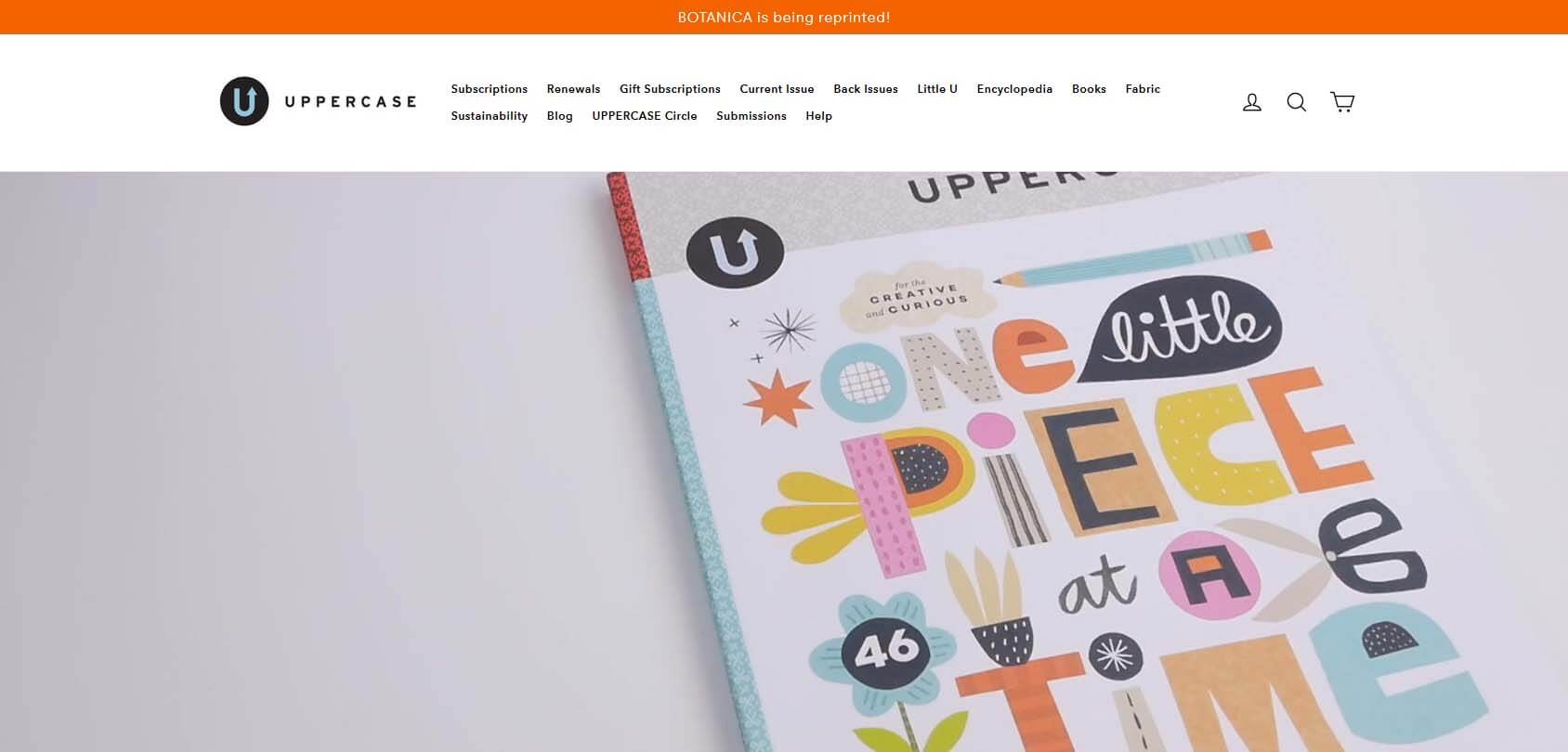 Uppercase is a company that publishes magazines and books for creative and curious readers. You can sense its whimsical nature by merely glancing at the site — the hearts used instead of bullet points and the orange color of the website borders instantly evoke a feeling of happiness among visitors.
Website description: a publishing company
Website type: homepage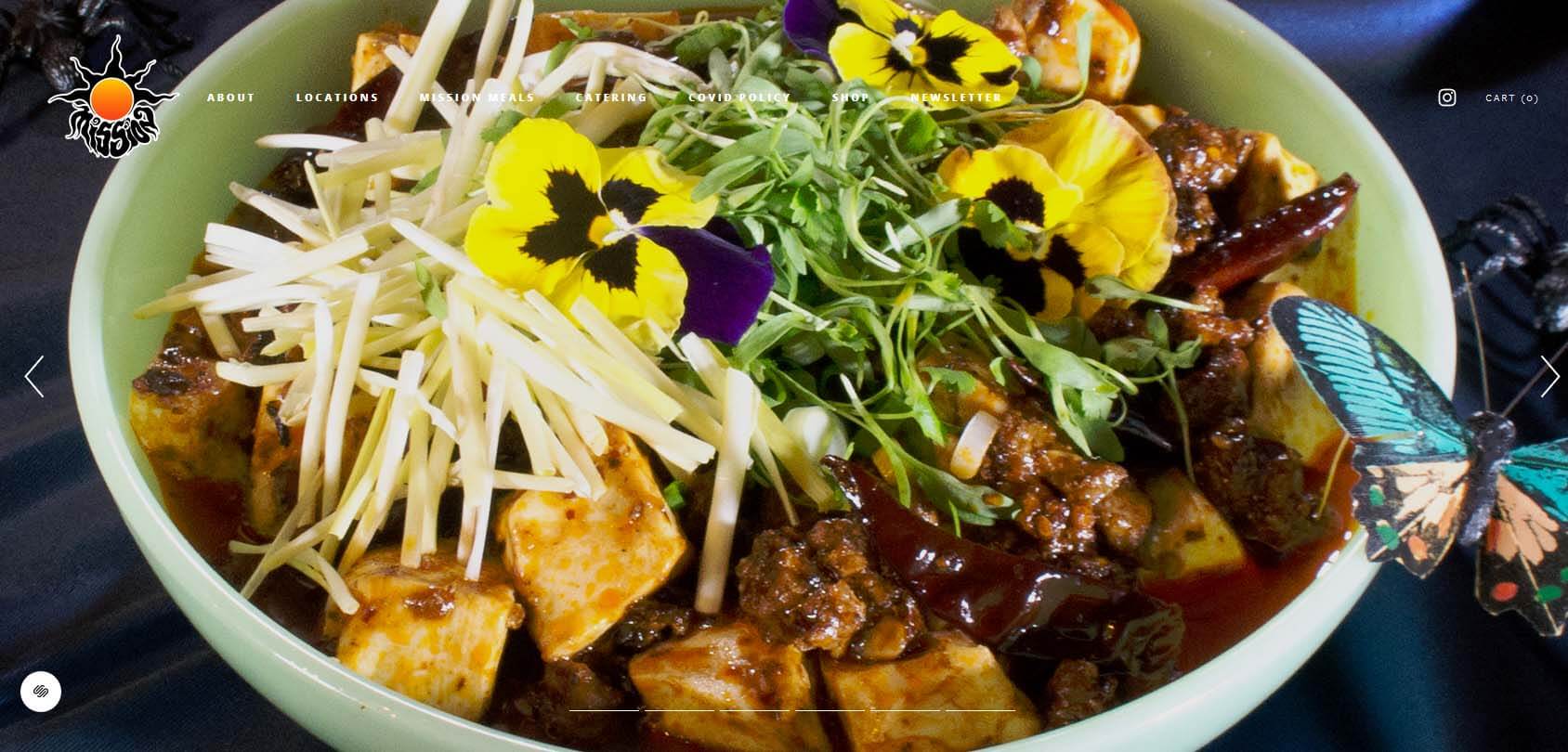 The exotic type of cuisine that this restaurant offers is likely to make your mouth water. The slideshow reel, the homepage's focal point, shows you photos of various delicious meals decorated, unexpectedly, with wild animals and flowers. The website may look simple, but the creators picked this style to allow the food to be the center of attention. A wise decision, if you ask us.
Website description: a Chinese restaurant
Website type: restaurant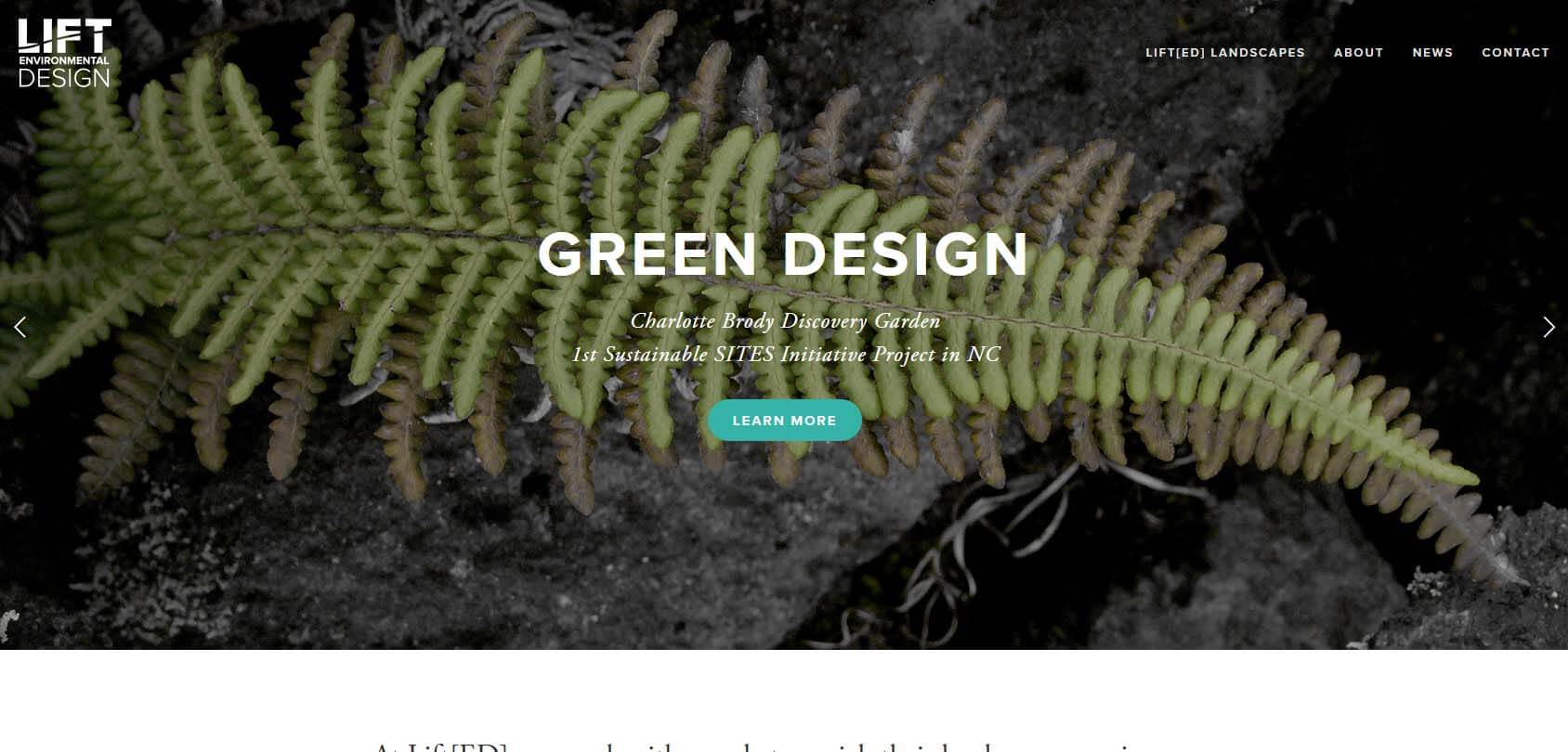 Take a quick peek at the Lift Environmental Design website, and you'll understand what this company is all about. The photos of happy children playing in the garden and relaxed people sitting on the grass tell you that they aim to enrich their clients' landscape experience. The simple, clean design allows you to navigate through the website easily. The beautiful font, on the other hand, gives this site an elevated tone.
Website description: a landscape design company
Website type: portfolio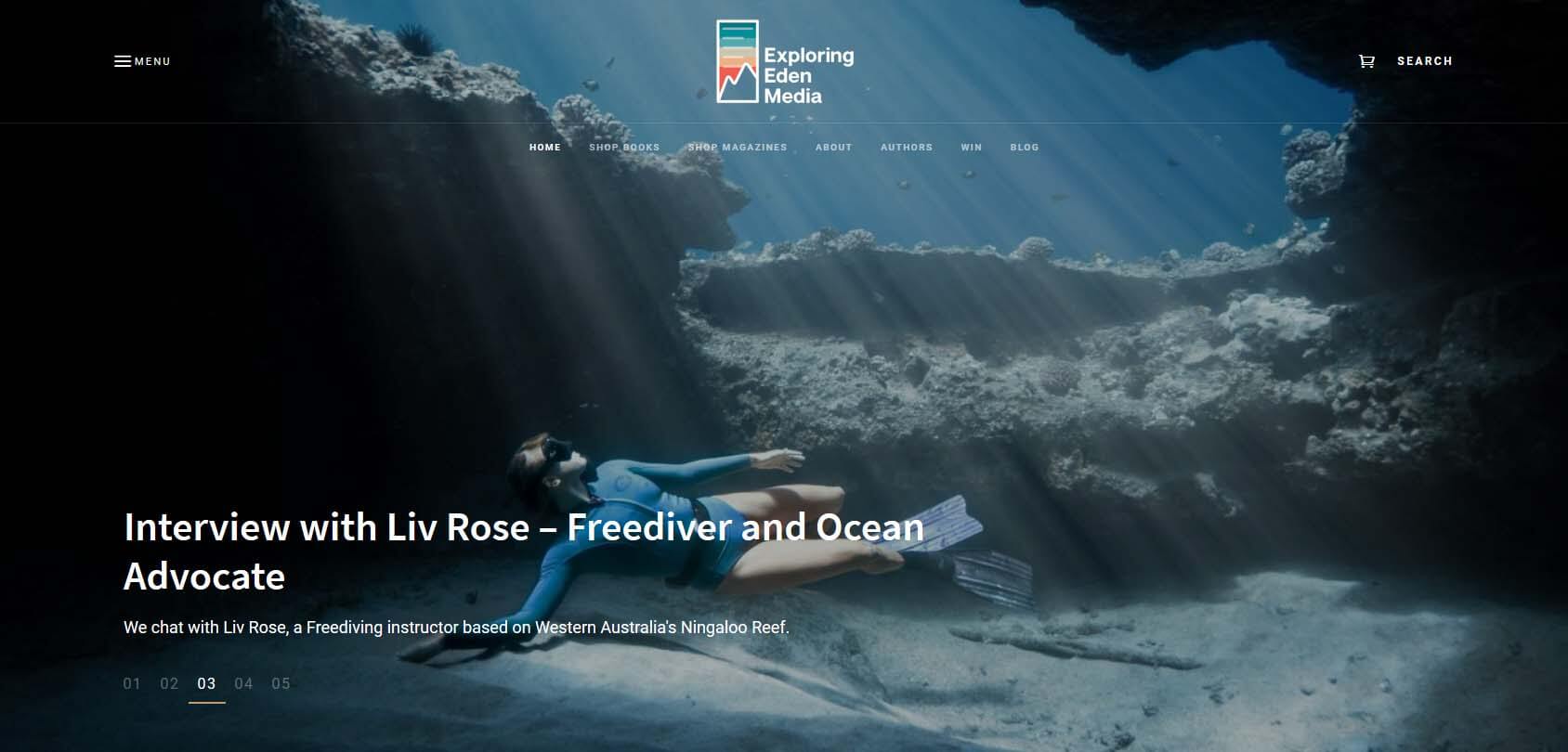 The chill tone of the homepage of Slow Travel Magazine's website relaxes you right away. The photos of people enjoying their alone time in nature create an image of perfect calmness and serenity — and that is precisely the aim of this company. The numerous photographs are bound to make you wish you were relaxing somewhere far away, nowhere near the usual hustle and bustle.
Website description: local stories and advice on traveling
Website type: blog, eCommerce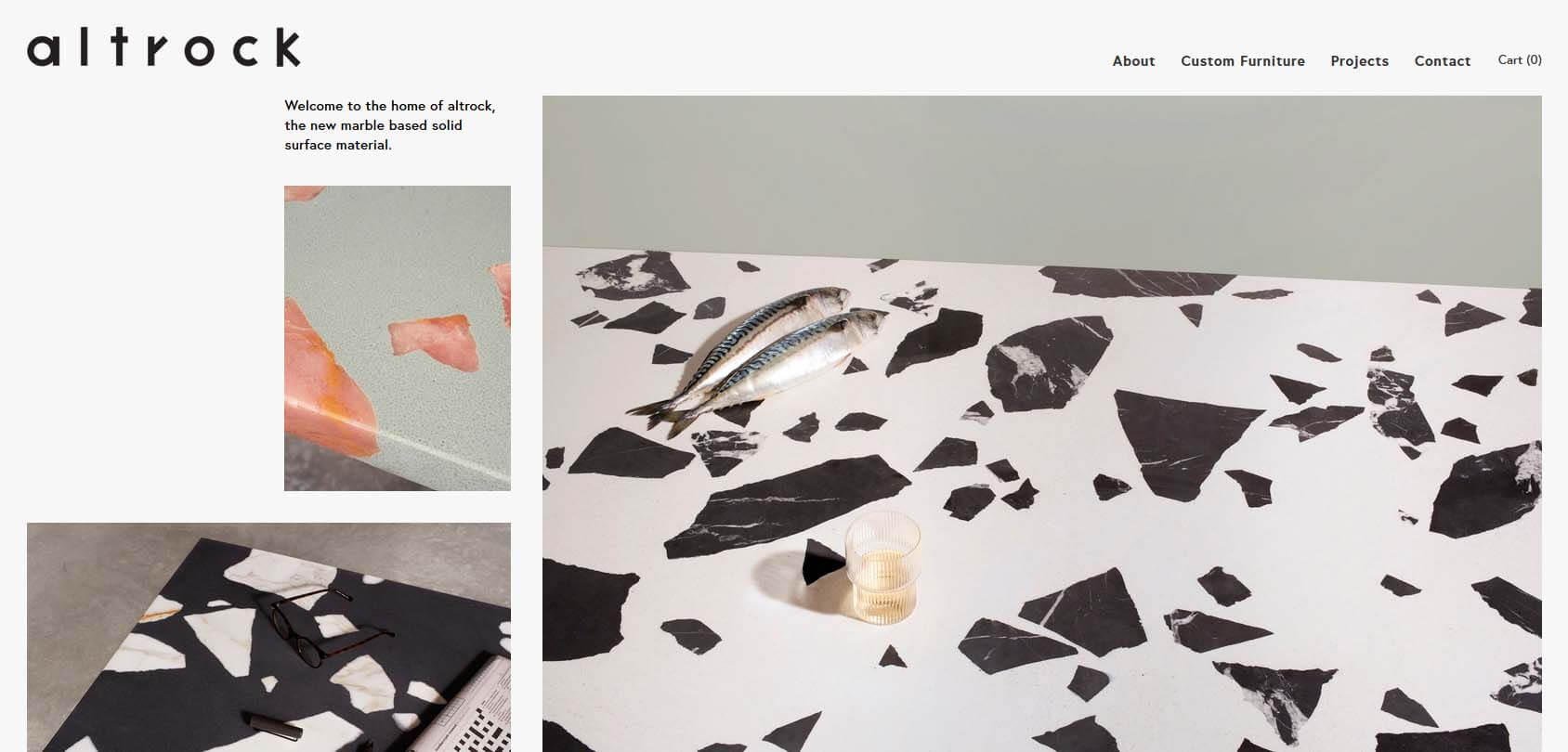 Altrock designs furniture surfaces by using durable, recycled marble. The pictures of their beautiful pieces catch your eye the second the website loads in your browser — the multitude of colors is enough to attract even visitors who thought they were not interested in buying anything. Altrock uses Squarespace to display its projects and show the creative process behind the products. How cool is that?
Website description: a company that produces and showcases furniture
Website type: portfolio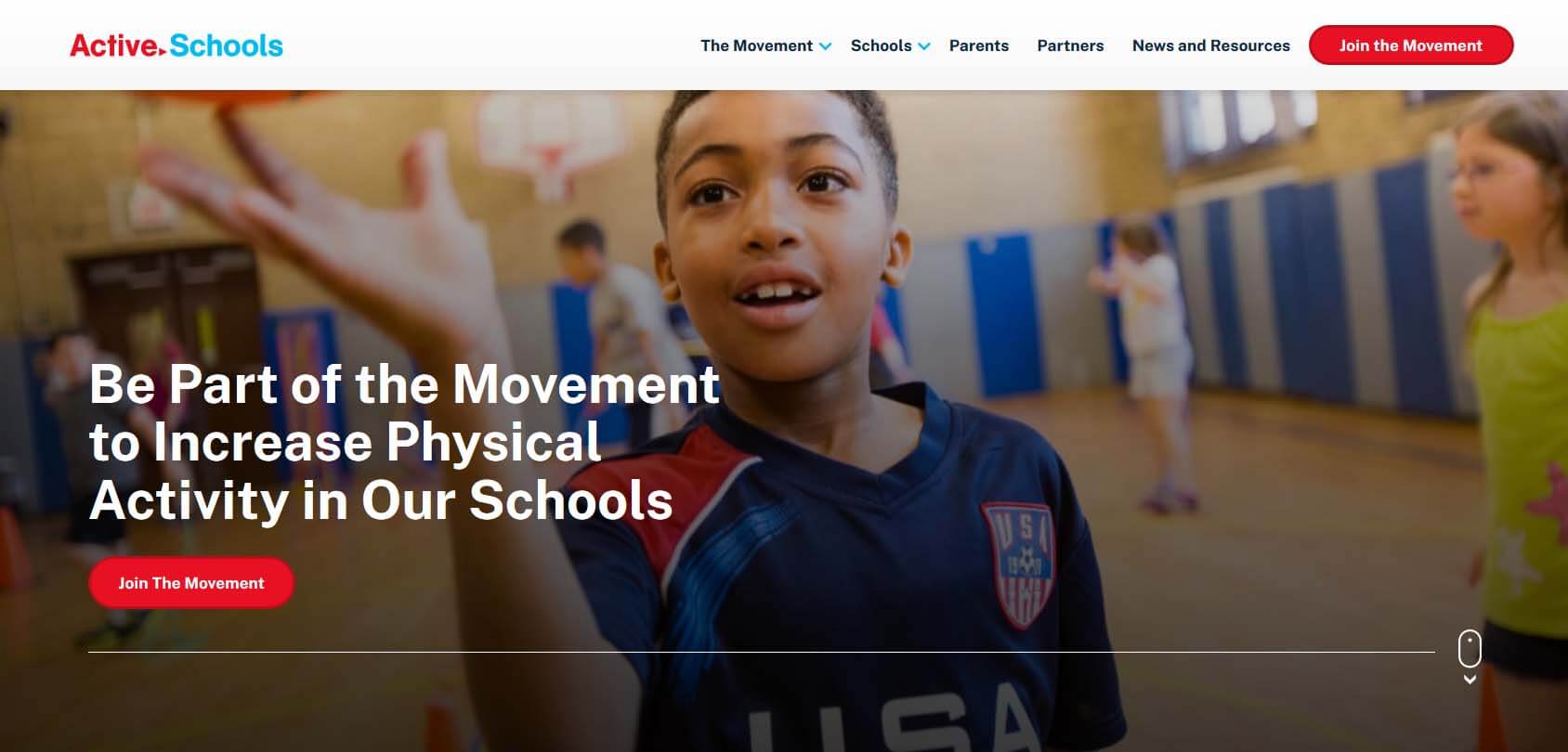 Picture this — a group of children is playing. One of them is rolling a basketball on his finger. Another one is spinning a hula hoop. There's another one climbing a jungle gym. What do they all have in common? Well, they are all active, of course! All these photos are present on the Active Schools' Squarespace website for a reason — the site is trying to convey a message that children need to play and have fun, and that is precisely what this organization is committed to.
Website description: an organization aiming to promote physical exercise in children
Website type: presentation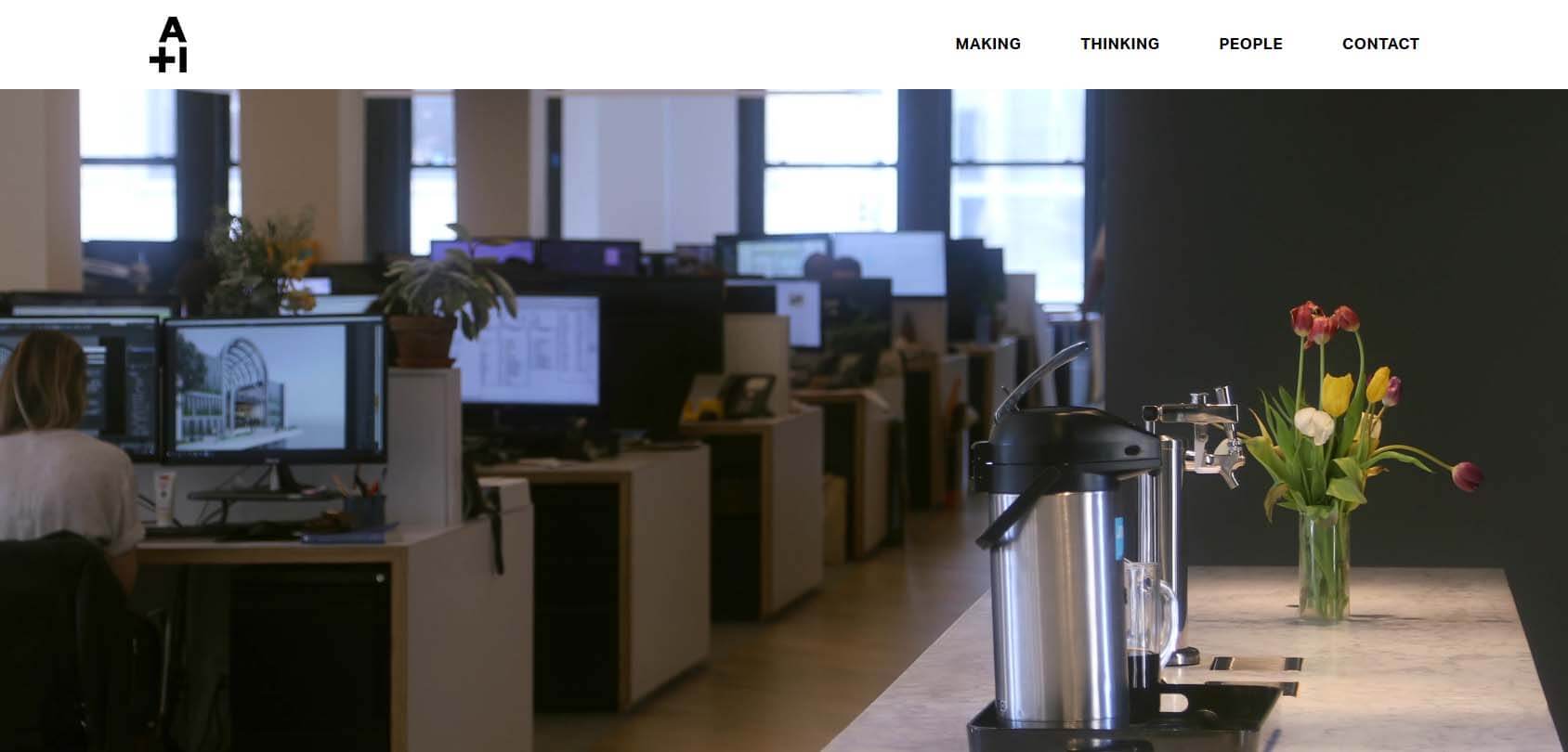 A + I stands for Architecture Plus Information. By hiring this firm, you will get not only design but also structure and strategy. The video at the top of the page shows people in an office, working hard to create dream designs for their clients.
However, the focus on the coffee machine in this video might be a bit misleading, as you may think the company sells these kitchen appliances. Still, by scrolling down a bit, you will see examples of the many architectural projects A + I has worked on so far, so any ambiguity should be quickly resolved.
Website description: the portfolio of an architecture company
Website type: portfolio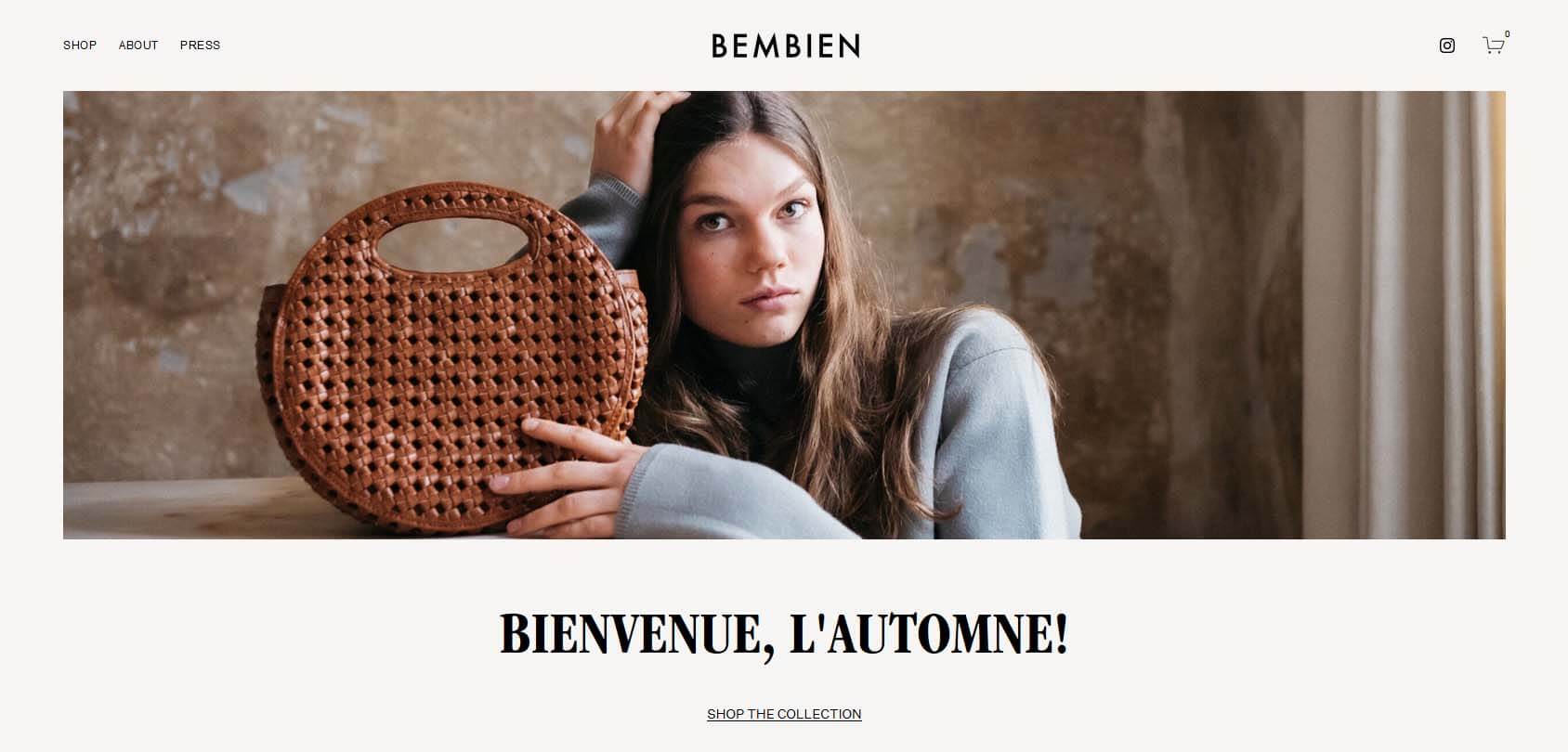 Squarespace websites are perfect for all kinds of eCommerce businesses, and Bembien is a great example. On this website are listings for numerous woven handbags that artisans from all over the world have created. Once you've chosen your favorite bag, you will be able to buy it, thanks to Squarespace's perfect purchasing funnel that leads you through the entire process. Quickly and easily, you will be the proud owner of a cool new bag!
Website description: artisan woven handbags
Website type: eCommerce
13. The Collective Quarterly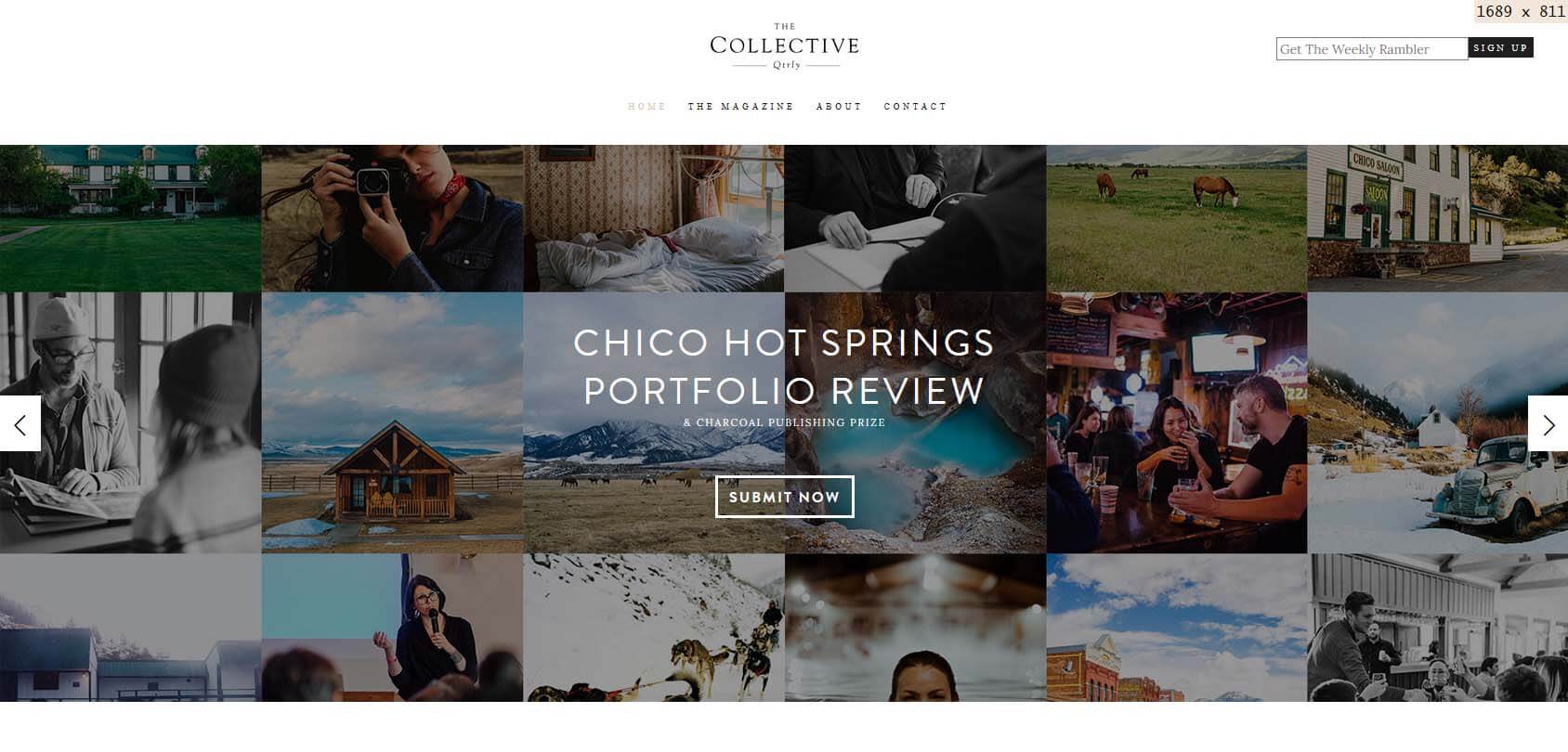 The Collective Quarterly is a magazine that strives to capture a place's soul at a particular moment in time. The slideshow of different polaroids, all taken spontaneously, shows what the columns in this magazine are like — raw, naked, and enchanting. The simplicity of the website only adds to the overall allure of The Collective Quarterly. Though it might look unusual, it has the ability to mesmerize each of its visitors.
Website description: a magazine about traveling
Website type: blog
14. Refinery 29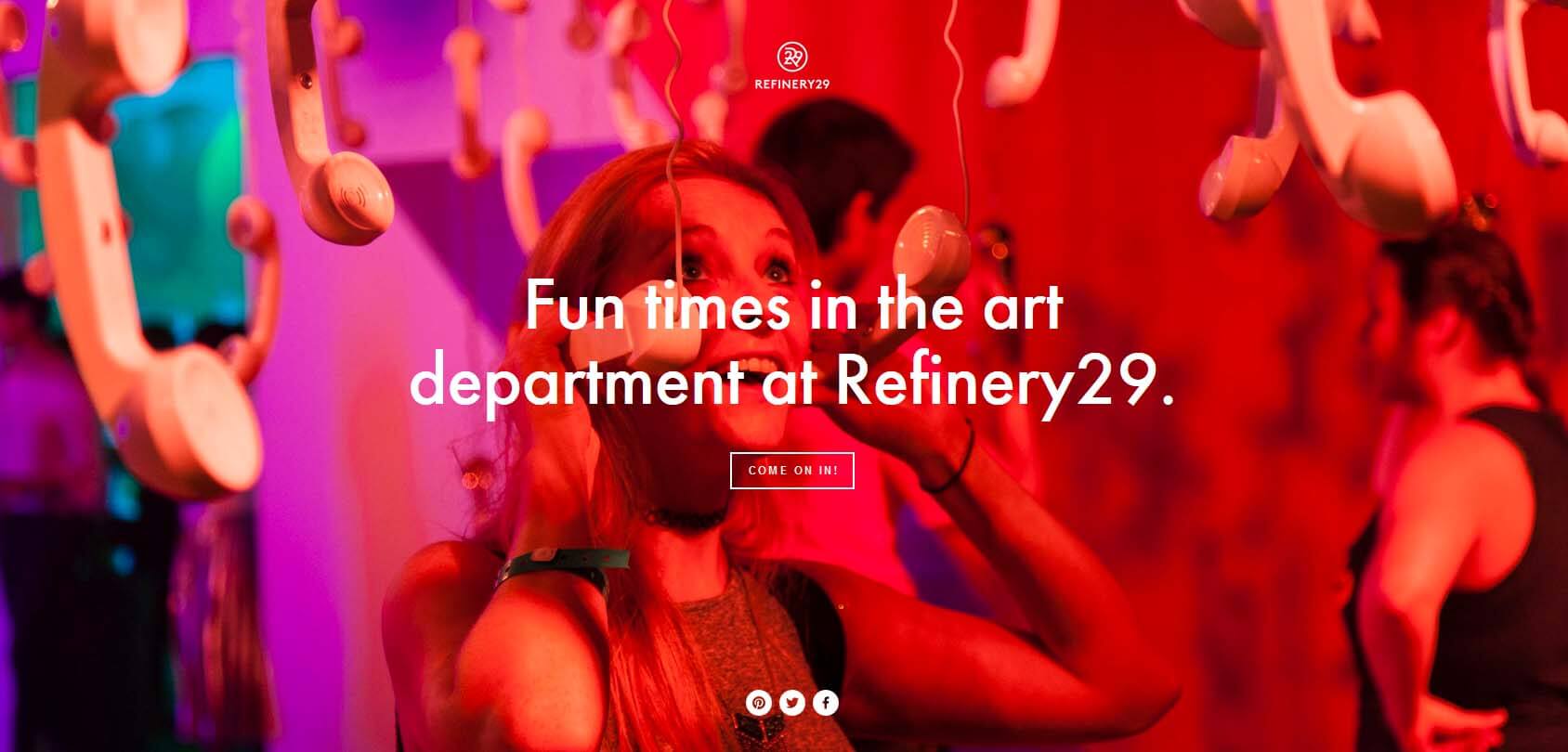 Pink streamers, neon lights, shiny sparkles, and broad smiles — this is what awaits you the moment you type Refinery 29 in your browser. The pictures that appear one after another, right before your eyes, invite you to further explore the website.
This digital media and entertainment website, owned by Vice Media, is aimed at young women. Here, they can find the latest news about fun activities and experiences. On this Squarespace website, they can explore visual narratives that the employees at Refinery 29 prepare for them daily.
Website description: a digital media and entertainment website
Website type: blog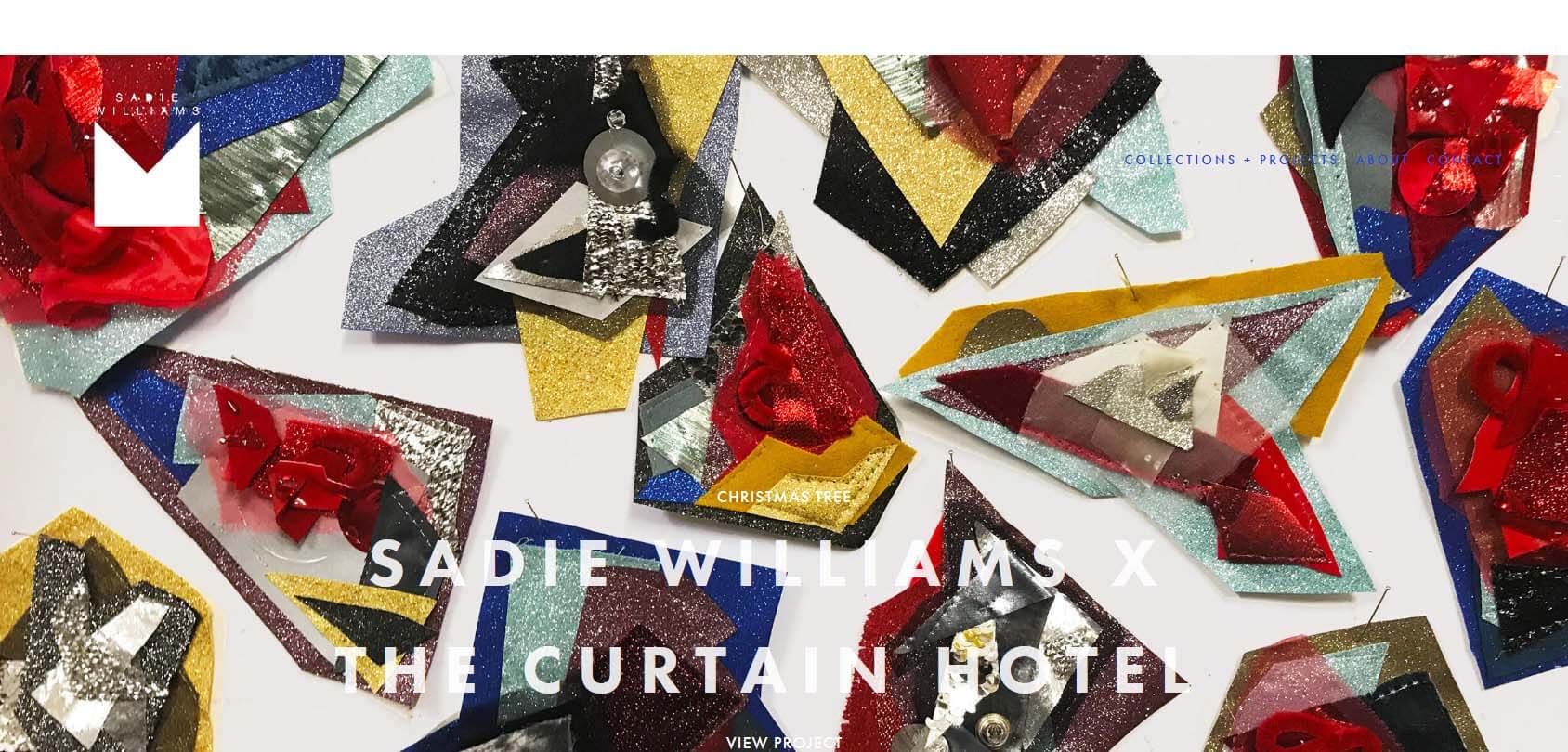 Sadie Williams uses her Squarespace website to showcase her designs and share her vision. The different collections on her site allow you to learn more about her brand and how she likes to use different fabrics, colors, and textures. The photos she has chosen for her web presentation represent what she is like as a designer — colorful, bold, and slightly edgy. If this sounds like your style, make sure to check Sadie out!
Website description: a portfolio of a designer's collection
Website type: portfolio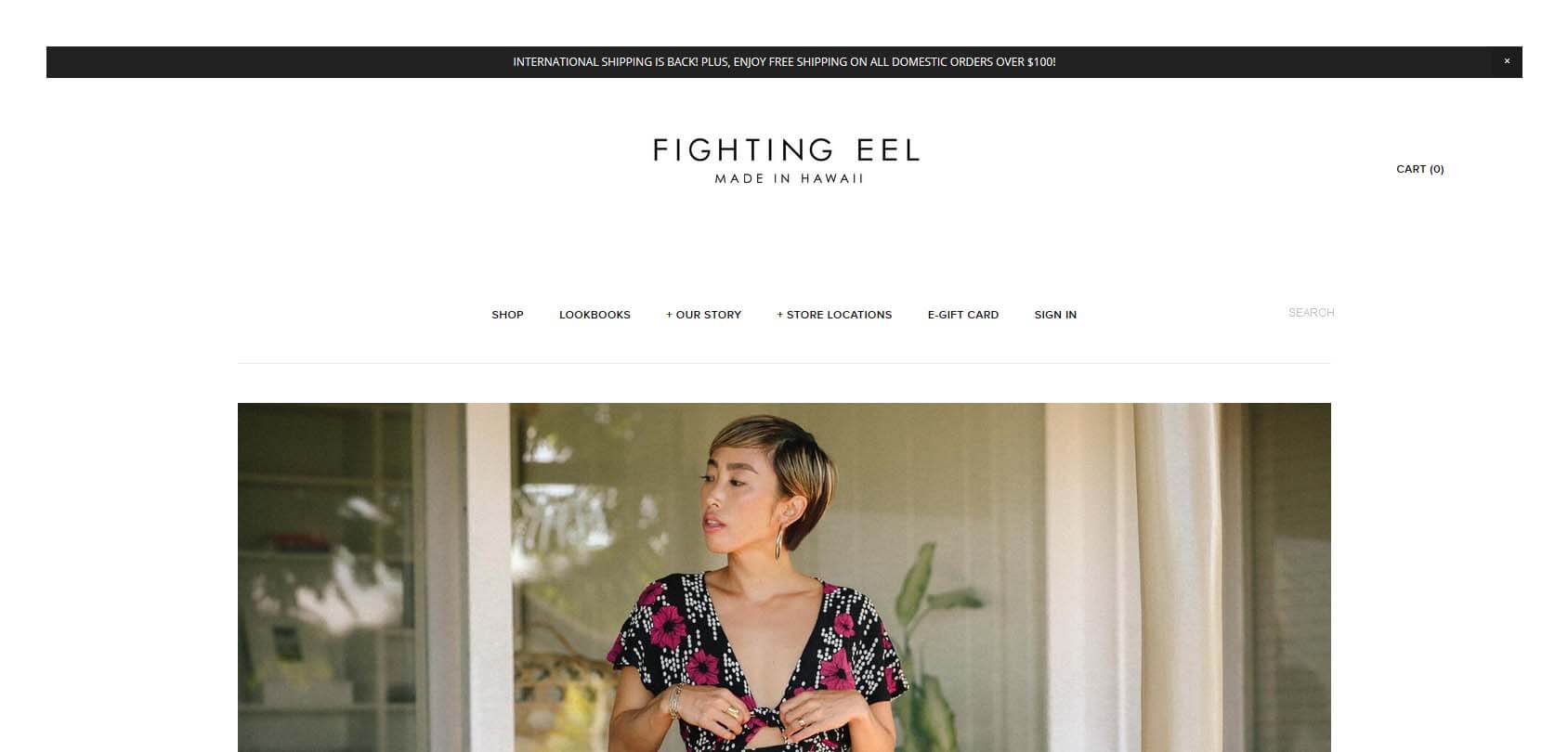 Fighting Eel is a Hawaiian clothing company that uses its Squarespace website to offer its attractive pieces to its customers. The company's homepage introduces numerous styles you can opt for while browsing this online shop. If you're a fan of laid-back, beach fashion, this online store is the right place for you.
Website description: an online clothing store
Website type: eCommerce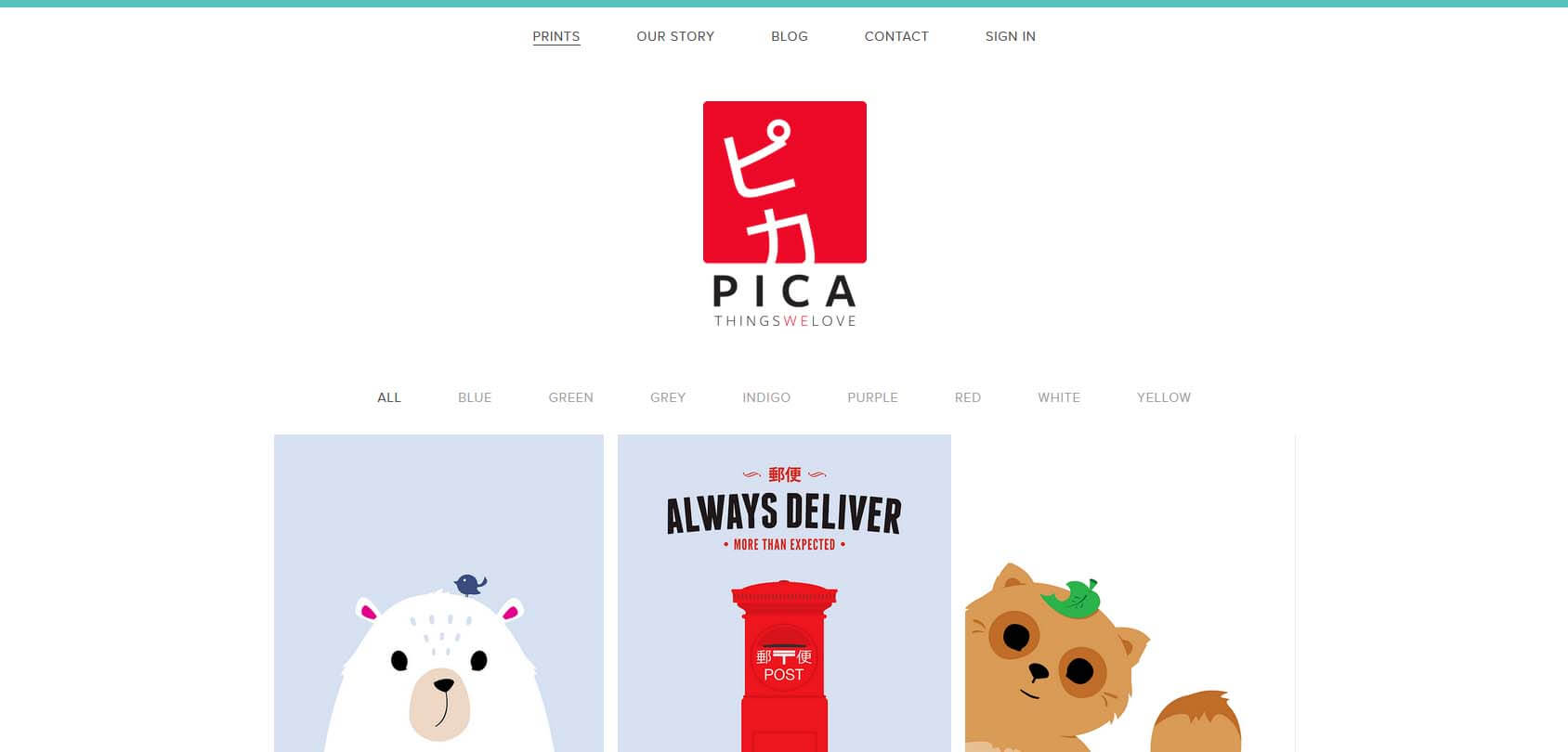 Pica Things We Love is a website created by two Japan-enthusiasts. After visiting this beautiful Asian country, the two women decided to redecorate their apartment, inspired by what they had seen on their trip. Being graphic designers, they made some art as well, and eventually they decided to start selling it.
Their Squarespace website has proven to be the perfect way of reaching new customers. Its simple yet effective design allows prospective buyers to browse through different, colorful pictures before choosing those they like the most.
Website description: an online shop selling Japanese design prints
Website type: eCommerce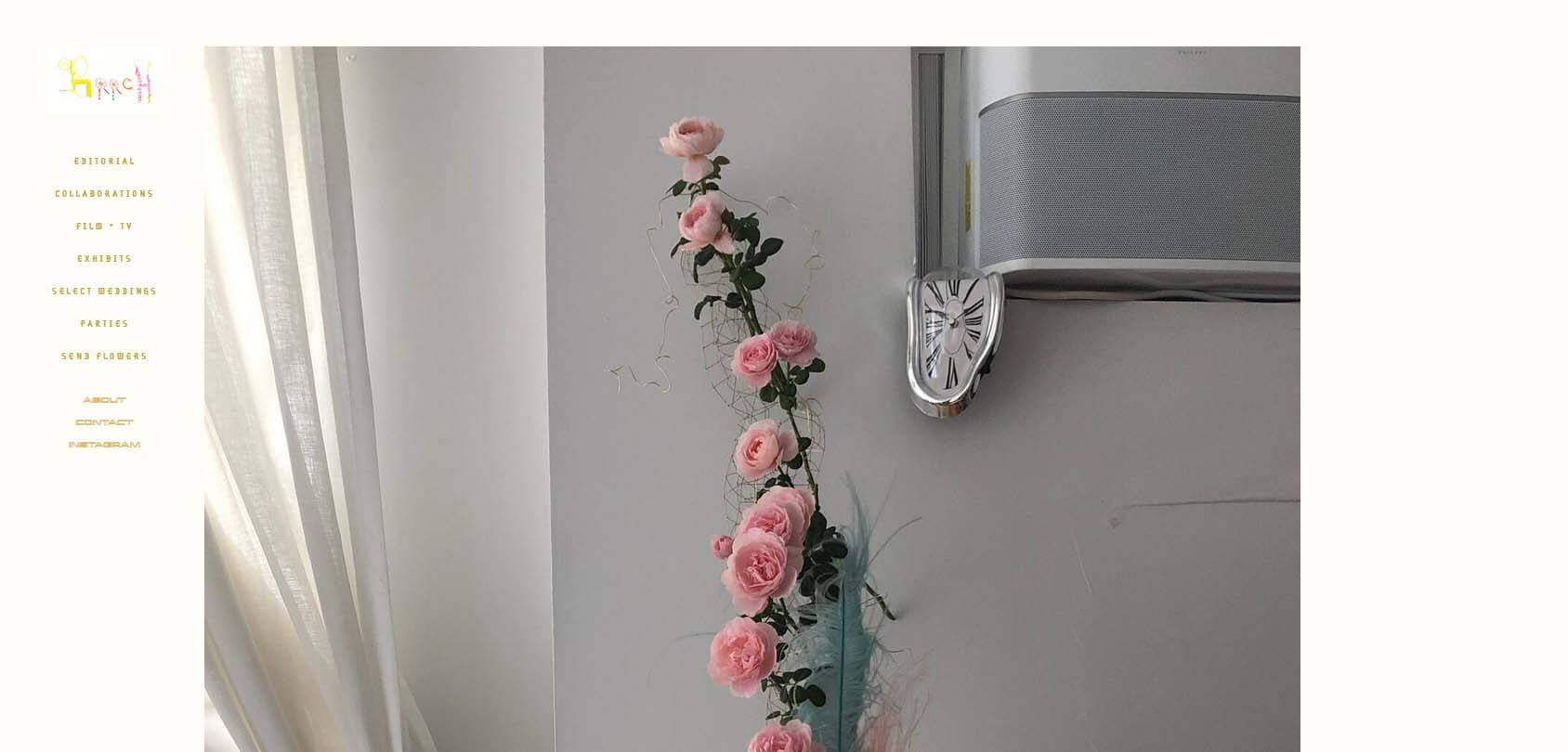 This is a floral arrangement company that uses Squarespace to build its business online. The designers at BRRCH create breathtaking arrangements for different occasions. You can visit the website if you want to use this company's services, book a new project, or simply take a look at the stunning work on display.
Website description: a company that creates floral arrangements
Website type: eCommerce, portfolio
19. Wired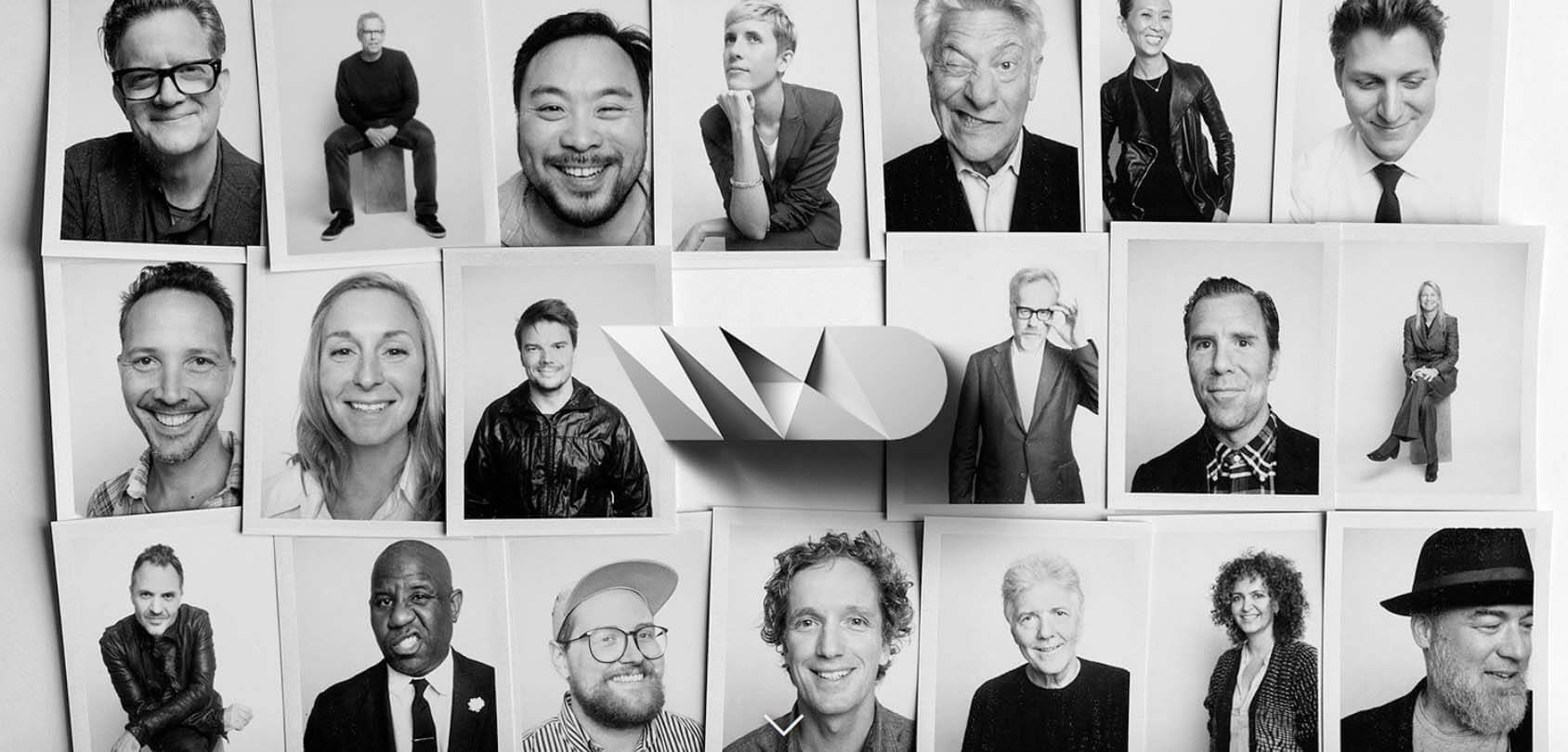 Wired is a magazine that focuses on new technologies and their effects on culture, politics, and economics. Its website is very modern and clean. The simplicity is reflected in both the grayscale photographs and the colorful illustrations of the participants of the creativity panel organized by Wired. Within this website, you can find fun videos of celebrities, as well as thoughtful discussions about technology.
Website description: an online tech and lifestyle magazine
Website type: magazine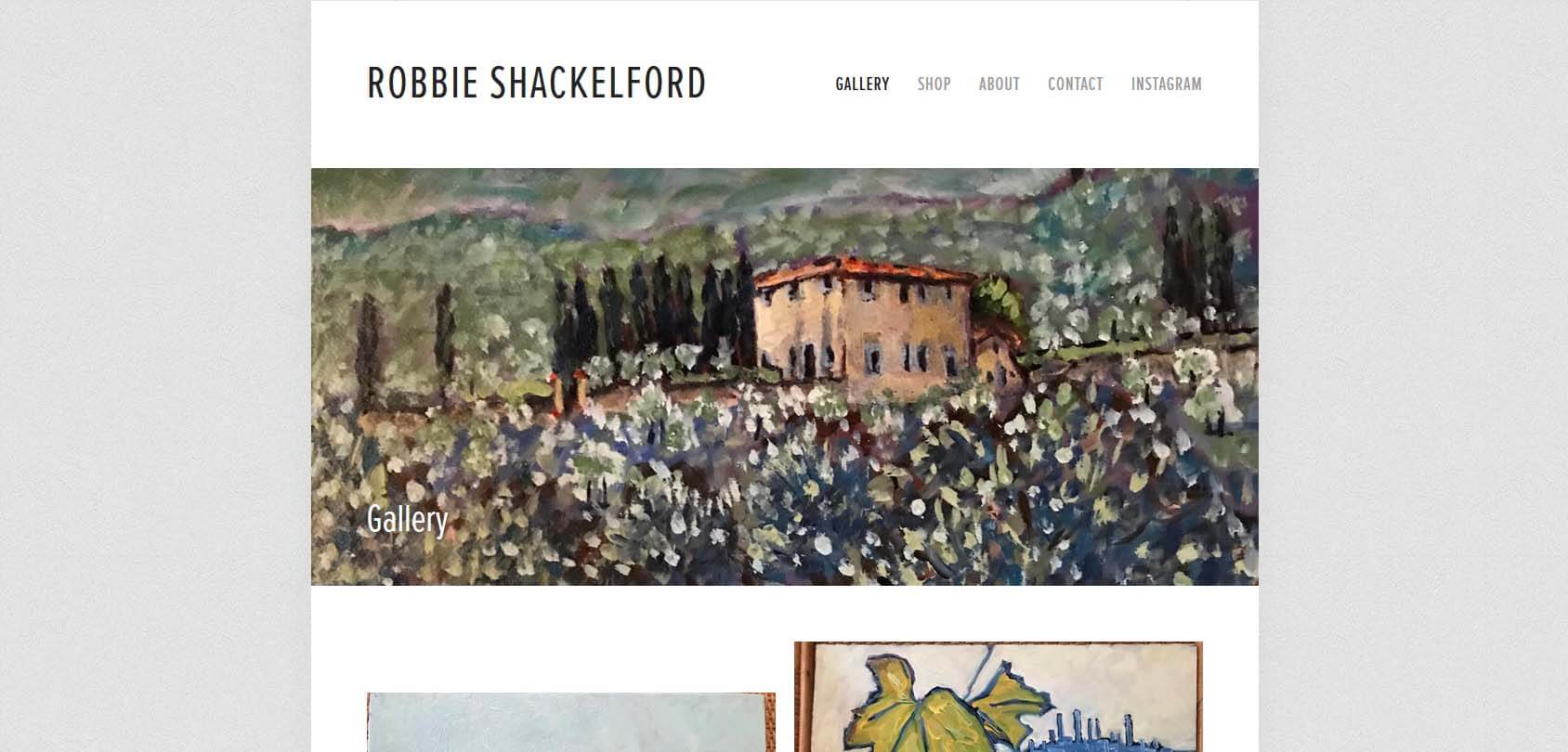 Robbie's website gives you a hint about its nature the moment it loads. A painting of beautiful, tall, Tuscan cypresses immediately shows you that this man is a talented painter inspired by Italian landscapes. On his website, Robbie offers a variety of paintings representing sceneries characteristic of this country. Make sure to check him out if you want a breath of Tuscany in your home.
Website description: a portfolio and online shop of an artist
Website type: portfolio, eCommerce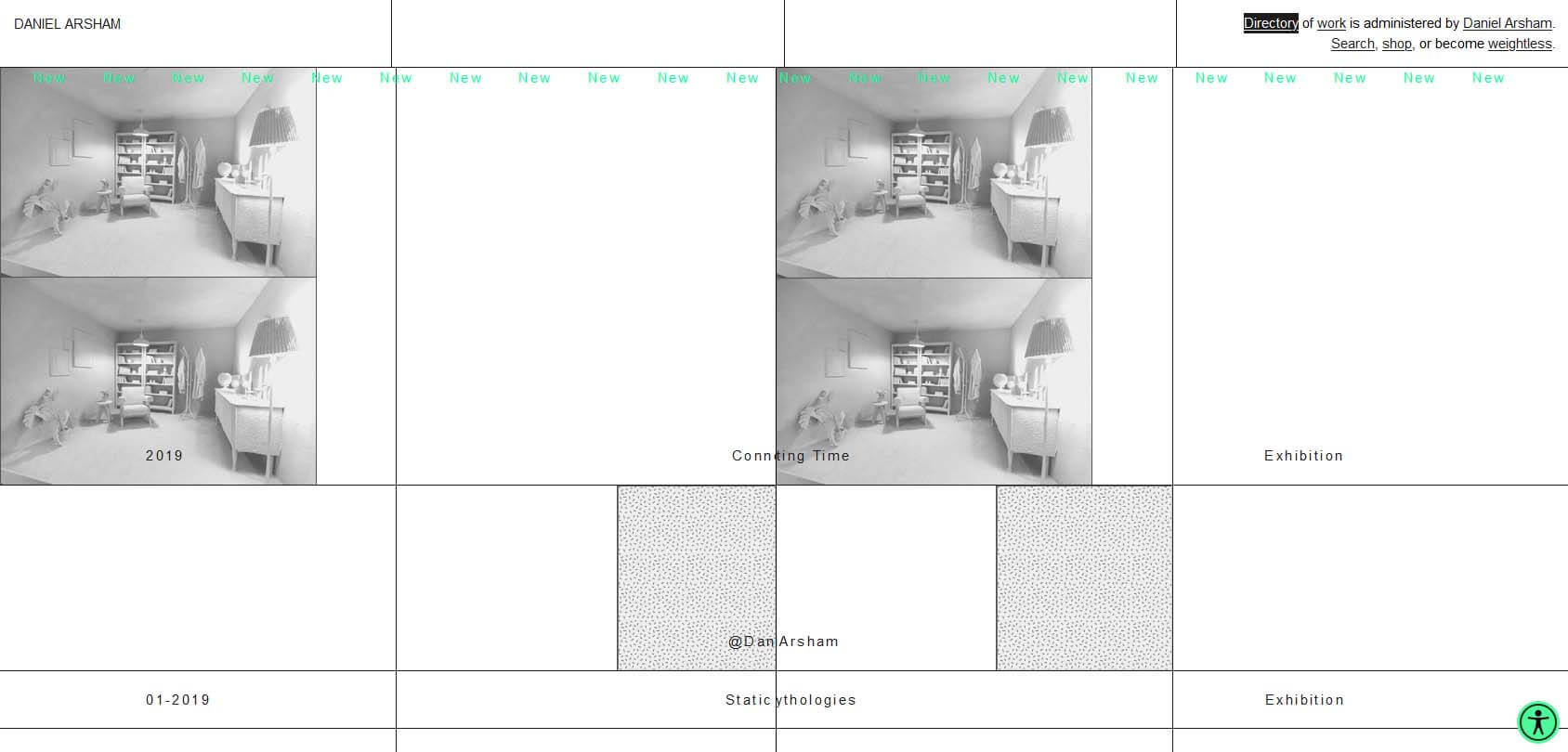 Just like Robbie, Daniel Arsham is an artist who uses his website both as a gallery and as an online store. Daniel seems to have used the full potential of Squarespace. His website is very modern, and it is easy to see what kind of art he is into — one that blurs the boundaries between artwork and architecture. The artist is colorblind, which makes his choice to make the website black and white all the more logical.
Website description: a portfolio and online shop of an artist
Website type: portfolio, eCommerce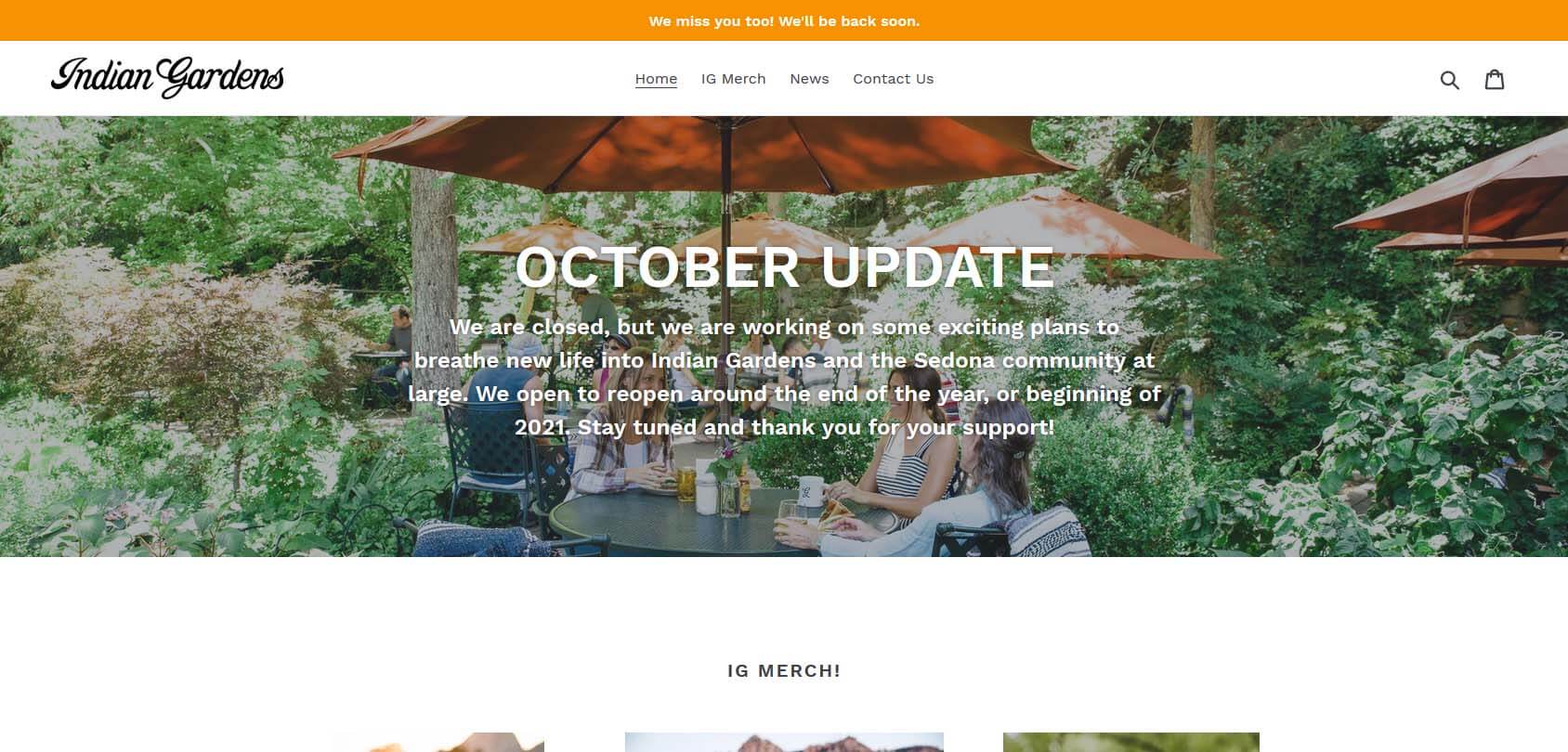 Indian Gardens is an authentic general store, located in Sedona, Arizona. It has been operating for almost 50 years and recently decided to take its business to the next level by making a Squarespace website. Here, it announces the latest news regarding the products it offers, while also posting gorgeous pictures of the ambiance you can enjoy while browsing for the items you need.
Website description: a website of a general store
Website type: blog, eCommerce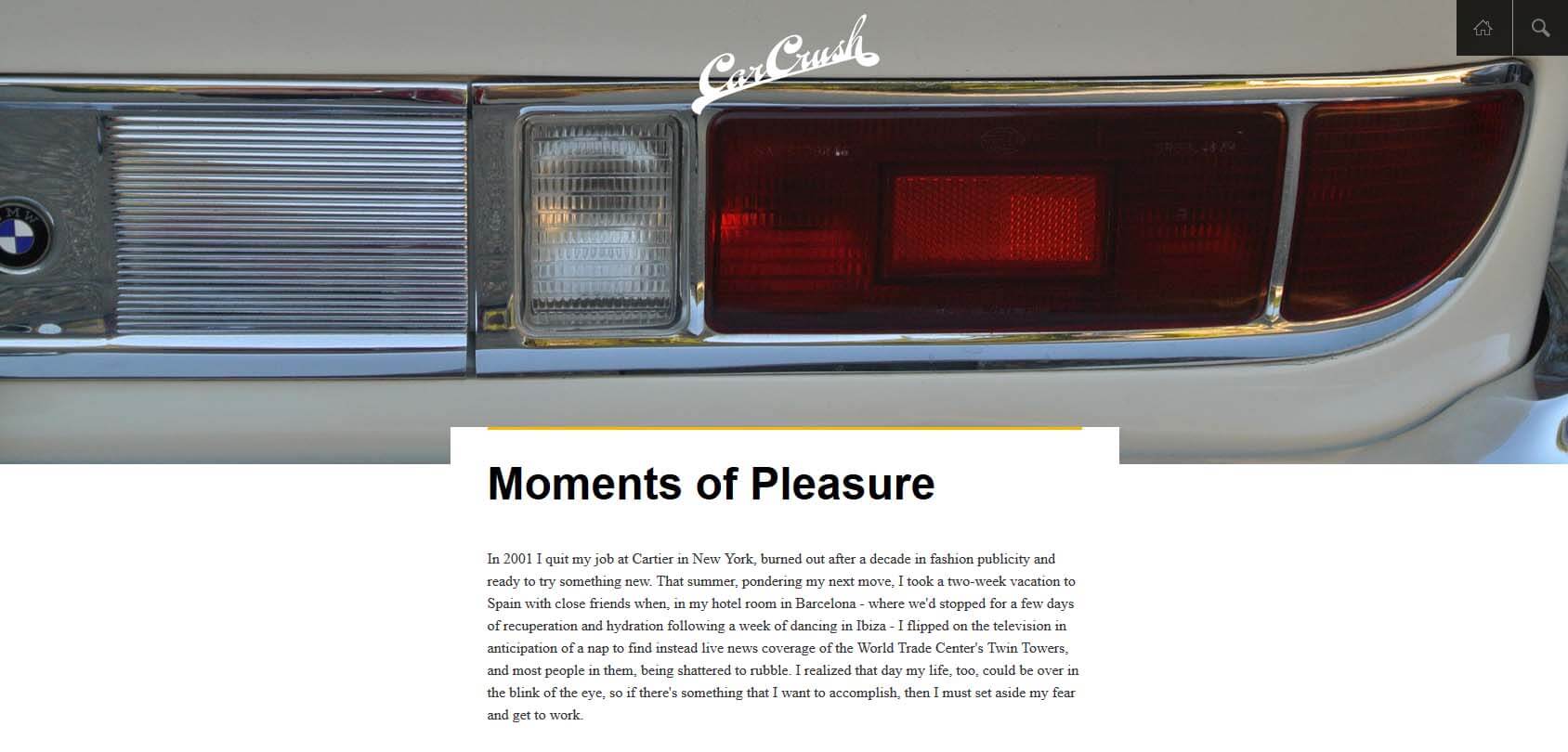 The Car Crush is a well-designed blog where you can read about a man who has decided to share his lifelong passion for cars. If you are a car enthusiast, you will have an opportunity to learn more about these vehicles. Moreover, you will be able to see some gorgeous photographs this man has taken on his travels. This site has a relaxed, chill vibe that you can only get while aimlessly cruising down the coastline, and it is worth a visit.
Website description: a personal blog about cars
Website type: blog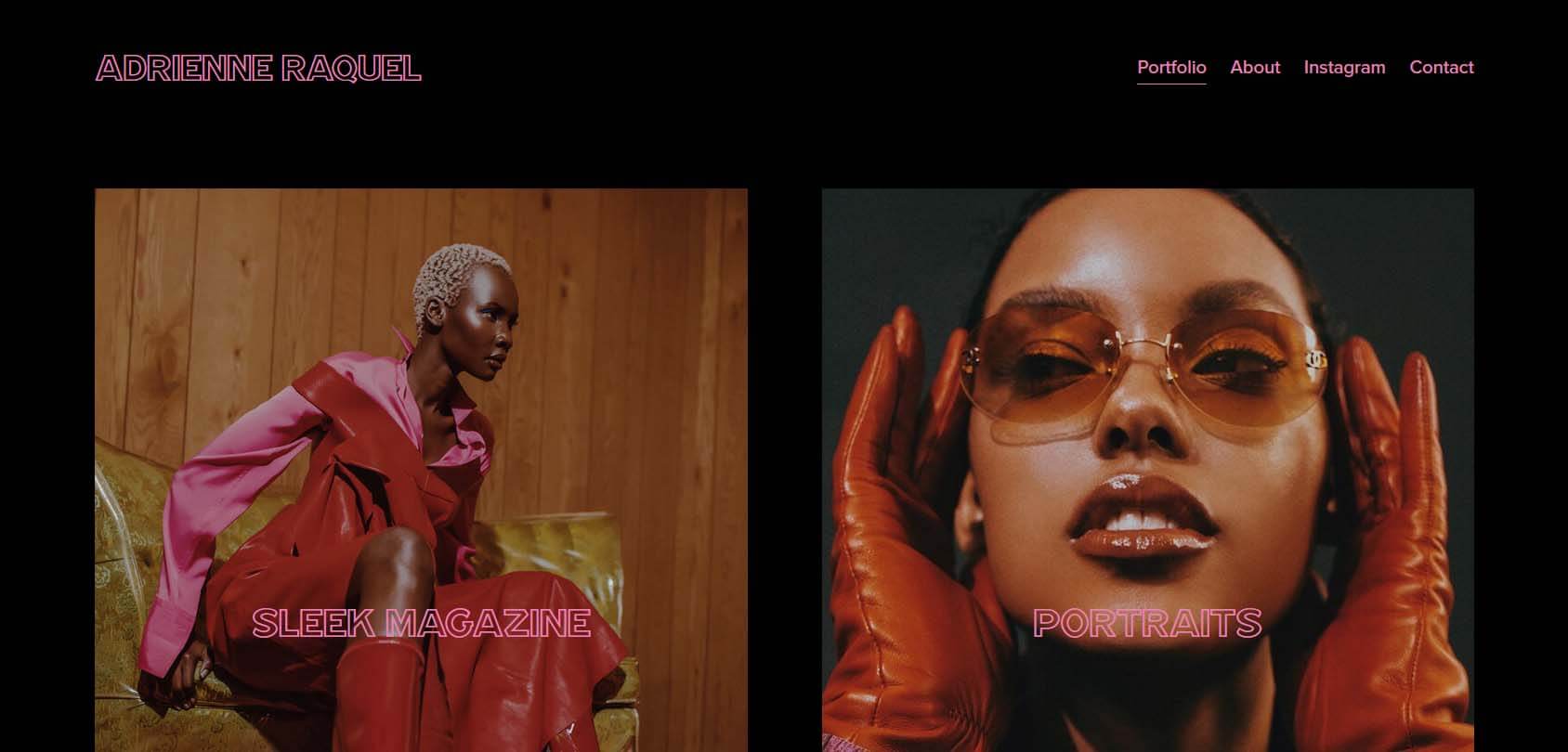 Adrienne Raquel is an NY-based photographer and art director. She mainly focuses on women of color and their inclusion in the world of mainstream fashion. The rugged, vibrant images on her Squarespace website are used to contribute to her online presence, as this site is her portfolio.
Website description: a portfolio of a talented artist
Website type: portfolio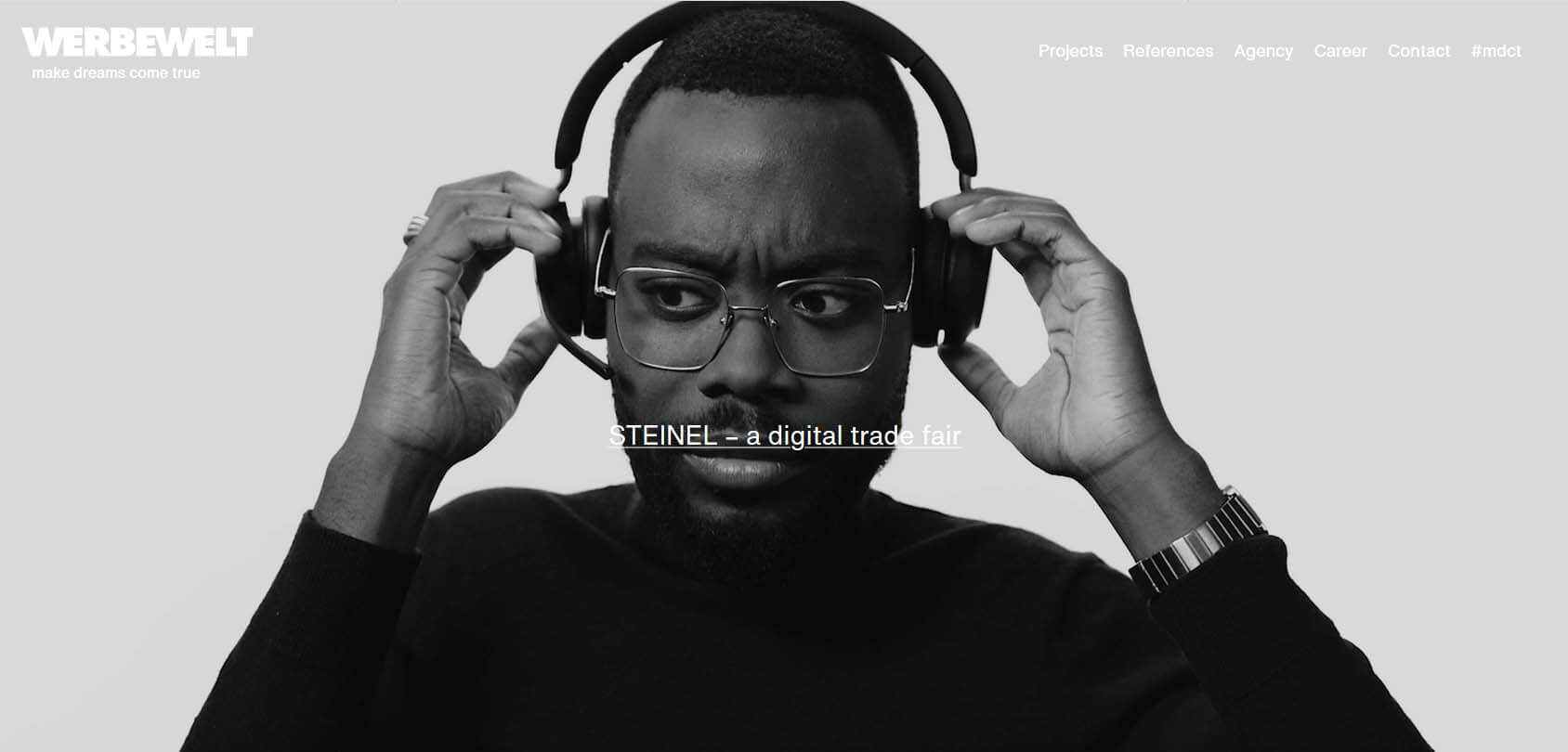 Werbewelt is a contemporary German website that serves as an advertising platform for different types of brands. The website is very hip and modern. Even though it is mostly in German, you will still grasp the idea of what it's about when you visit. As you scroll down, the images and videos advertising products and services will appear, and you can click on the ones that you find the most appealing.
Website description: a platform for advertising
Website type: homepage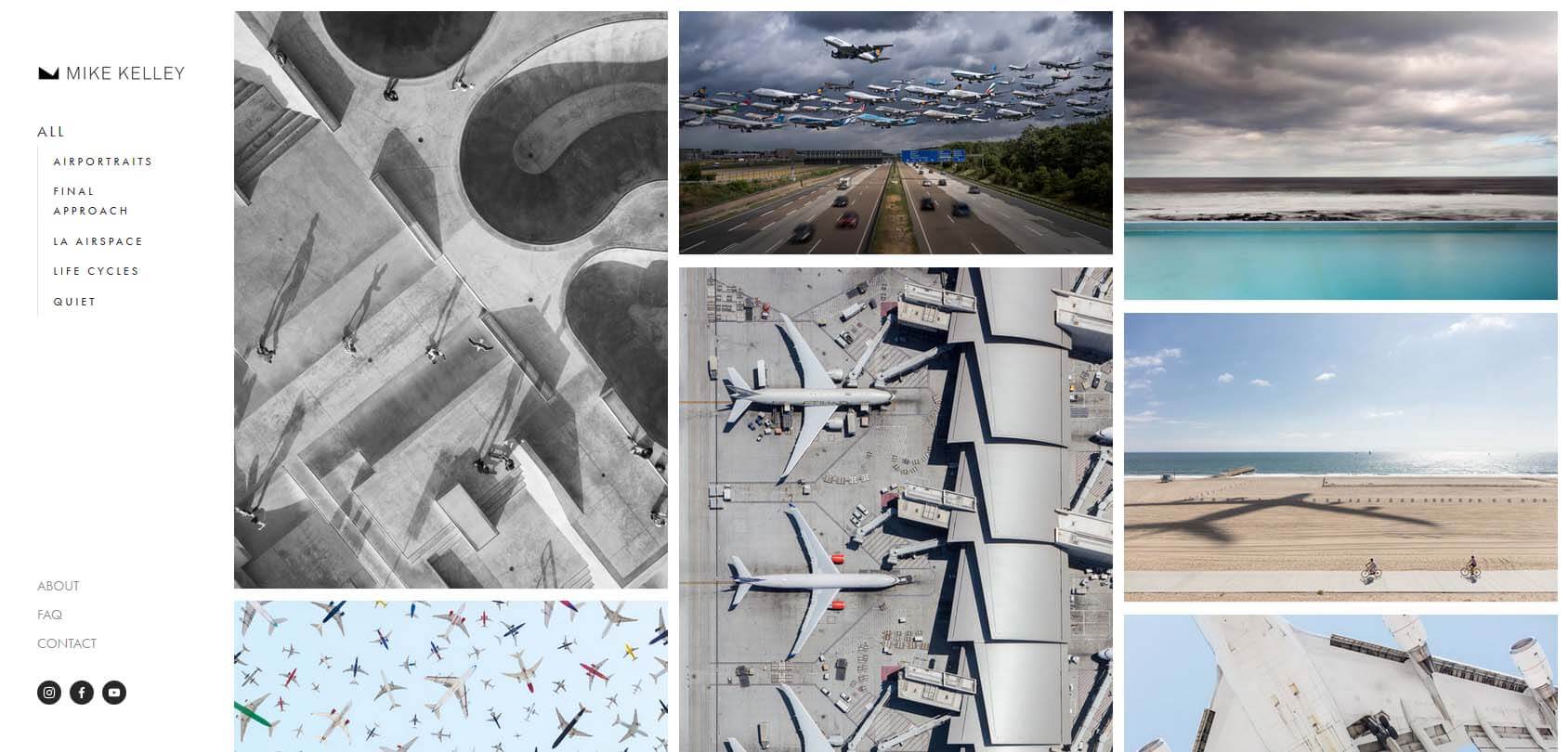 Mike Kelley is a professional photographer who enjoys taking air portraits and pictures of air space. On his website, you can see some exquisite photos taken from different, exciting perspectives. He has received multiple awards for his work, and he uses his Squarespace website to showcase it proudly.
Website description: a portfolio of a photographer
Website type: portfolio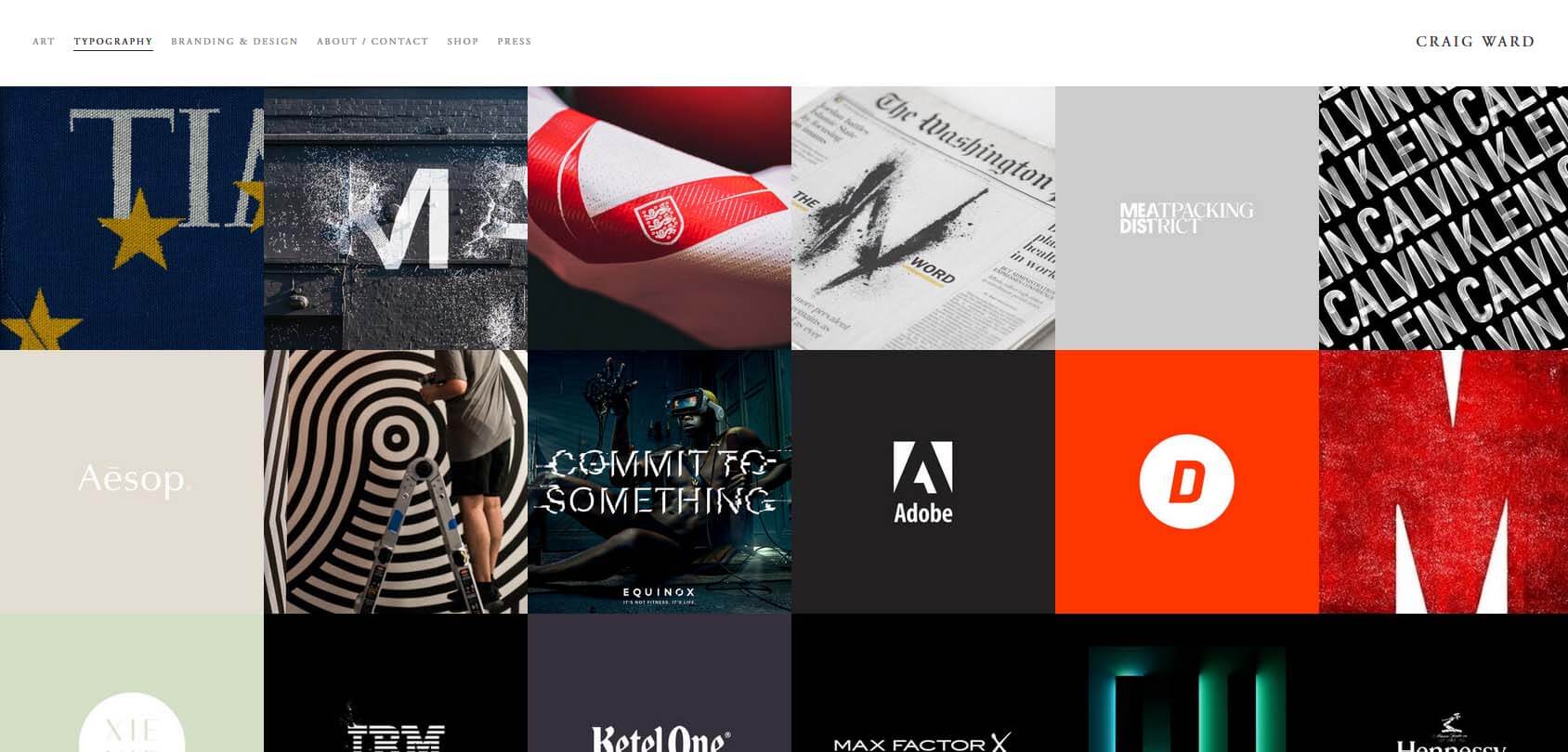 Craig Ward is an artist, designer, and typographer — one of the pioneers of the typography industry. He uses this website to share all of his numerous projects. Here, clients can check out his work while also being able to buy some art pieces that he has created. Craig's work always comes with a unique backstory which draws his audience in even further, and occasionally seals the deal for a purchase.
Website description: a portfolio and an online store of an artist and typographer
Website type: portfolio, eCommerce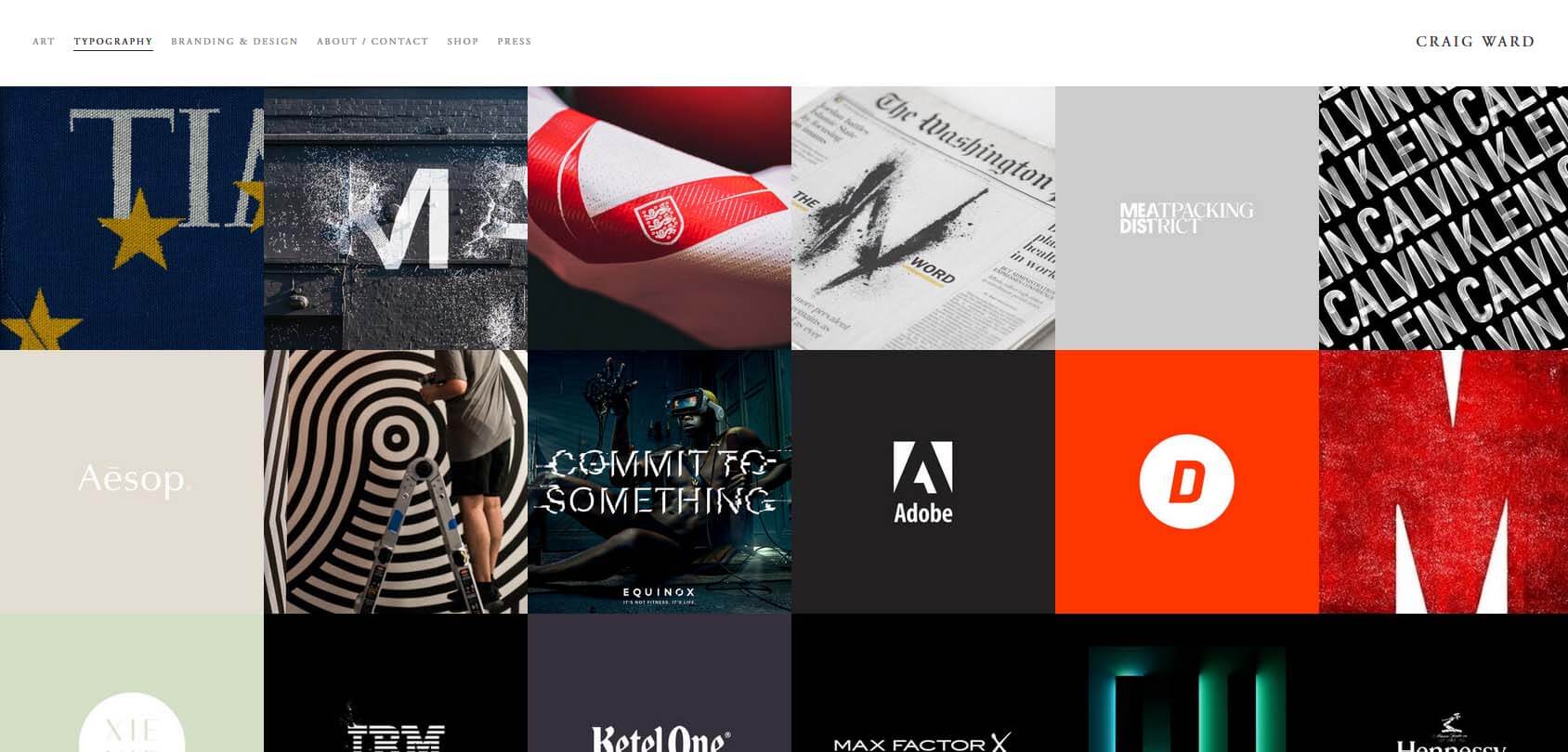 As you can guess from its name, this website serves as a guide to the newest locally-available artisan food and drinks in Eastern Massachusetts. You can learn about the latest farmer's markets, cute restaurants, and tasty recipes from a couple of foodies. This blog is easy to navigate and definitely worth a visit.
Website description: a blog about food in Boston
Website type: blog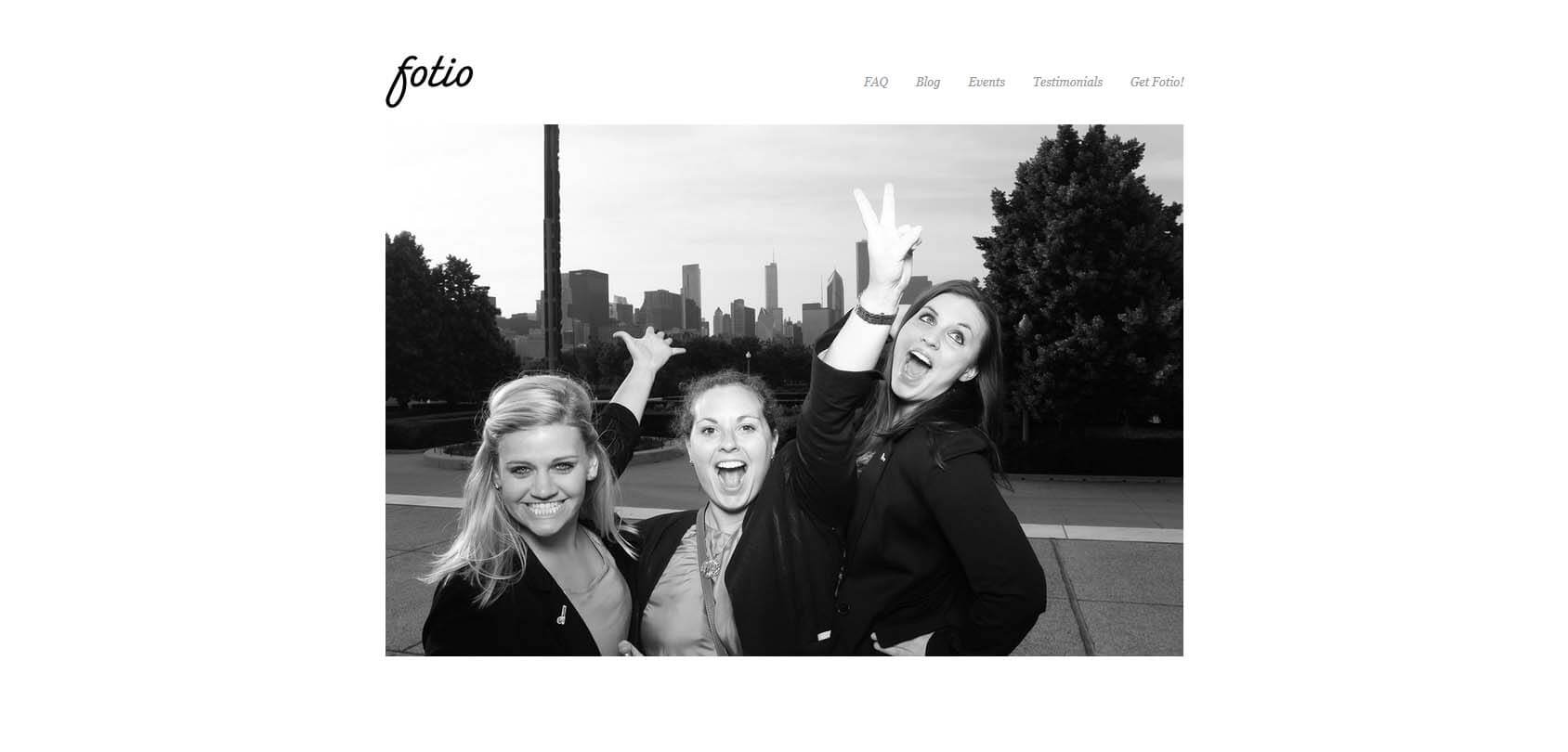 Fotio is a website advertising a photo booth without a booth. It looks like a vintage camera, and since it is eco-friendly, it does not print out the photos you take. Instead, it sends you a link where you can check them out online. It looks quite elegant and classic, which is what makes it perfect for any occasion. You can see the kind of photos it takes by looking at the slideshow reel on the homepage. If you want to learn more about photo booths, you can also check out the blog posts on the website.
Website description: a website about new, hip, vintage-looking photo booths
Website type: presentation, blog
The moment Lucia's website loads, you will see how talented she is. This girl makes gorgeous flower arrangements by using different types of paper, and her Squarespace website serves as her portfolio and advertising platform. Her work has been featured on Martha Stewart's website, which proves just how stunning it is. The flowers are very versatile, so whether you are into a classic look or something more modern, we are sure you will be able to find something to your liking.
Website description: a portfolio of a talented artist who makes paper flowers
Website type: portfolio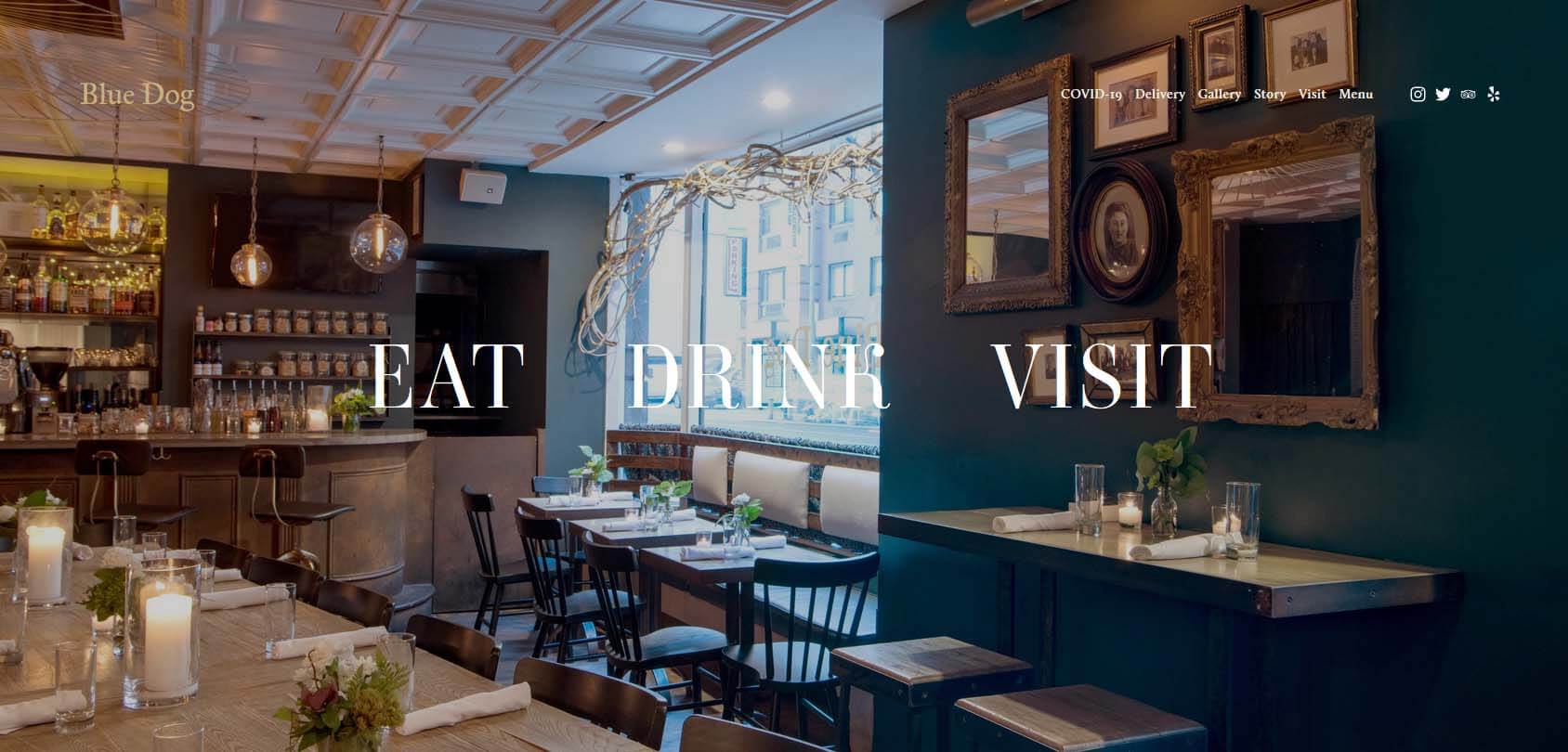 Blue Dog is a classy, authentic restaurant based in New York. The front page of the website shows you how elegant of an establishment Blue Dog is. The color that is predominantly used on the website is blue, which is evocative of the restaurant's name.
Website description: a website of a restaurant
Website type: restaurant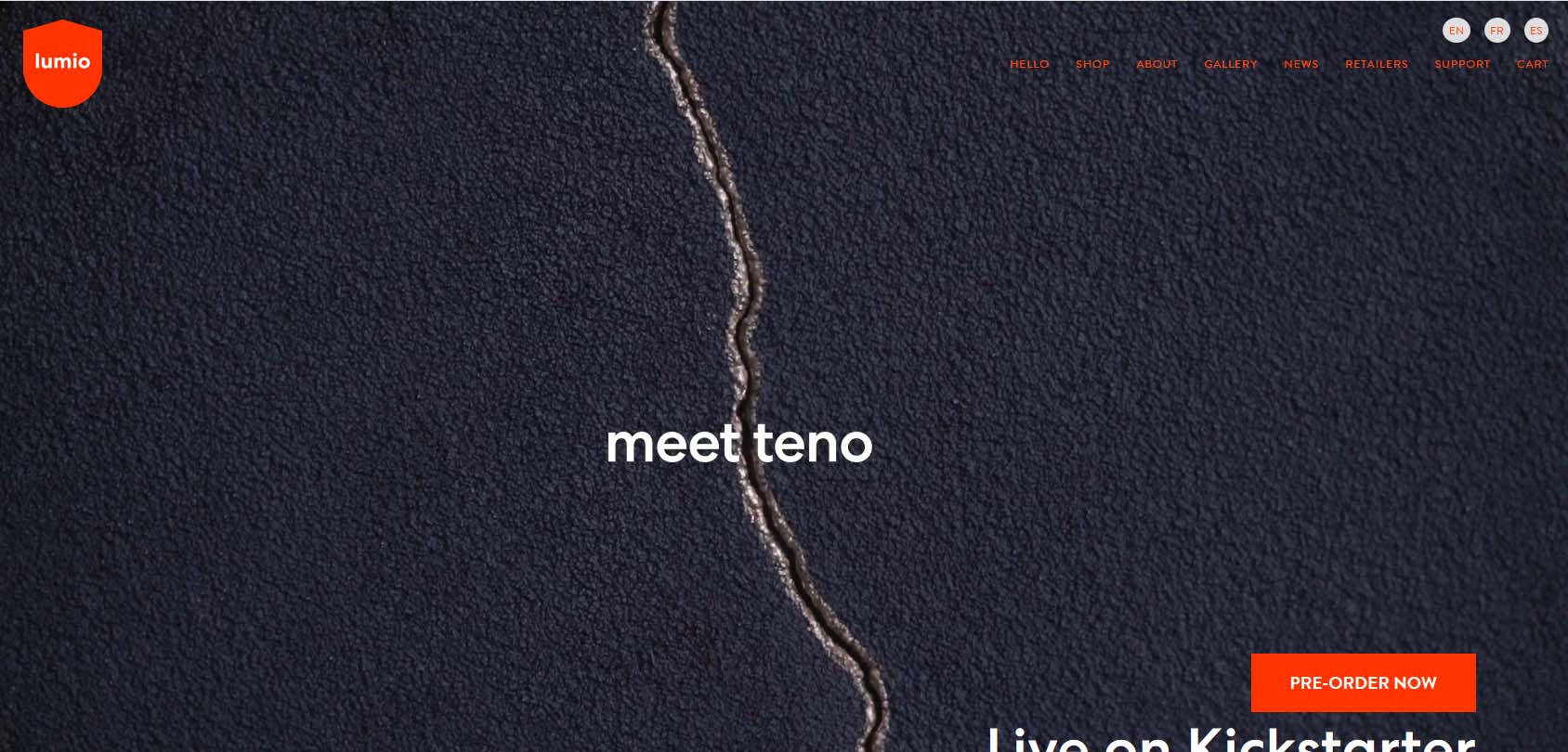 Lumio is a website offering the newest technology in lighting. Its modern products are bound to attract numerous users who like innovation. On the website, you can purchase some cool lamps that look like open books. You can also see where you can buy these products offline, and you have a chance to read the latest news regarding production and sales. The homepage video is the perfect advertisement for this product — we bet you won't be able to resist shopping when you see it!
Website description: an online store where you can buy some interesting lamps
Website type: eCommerce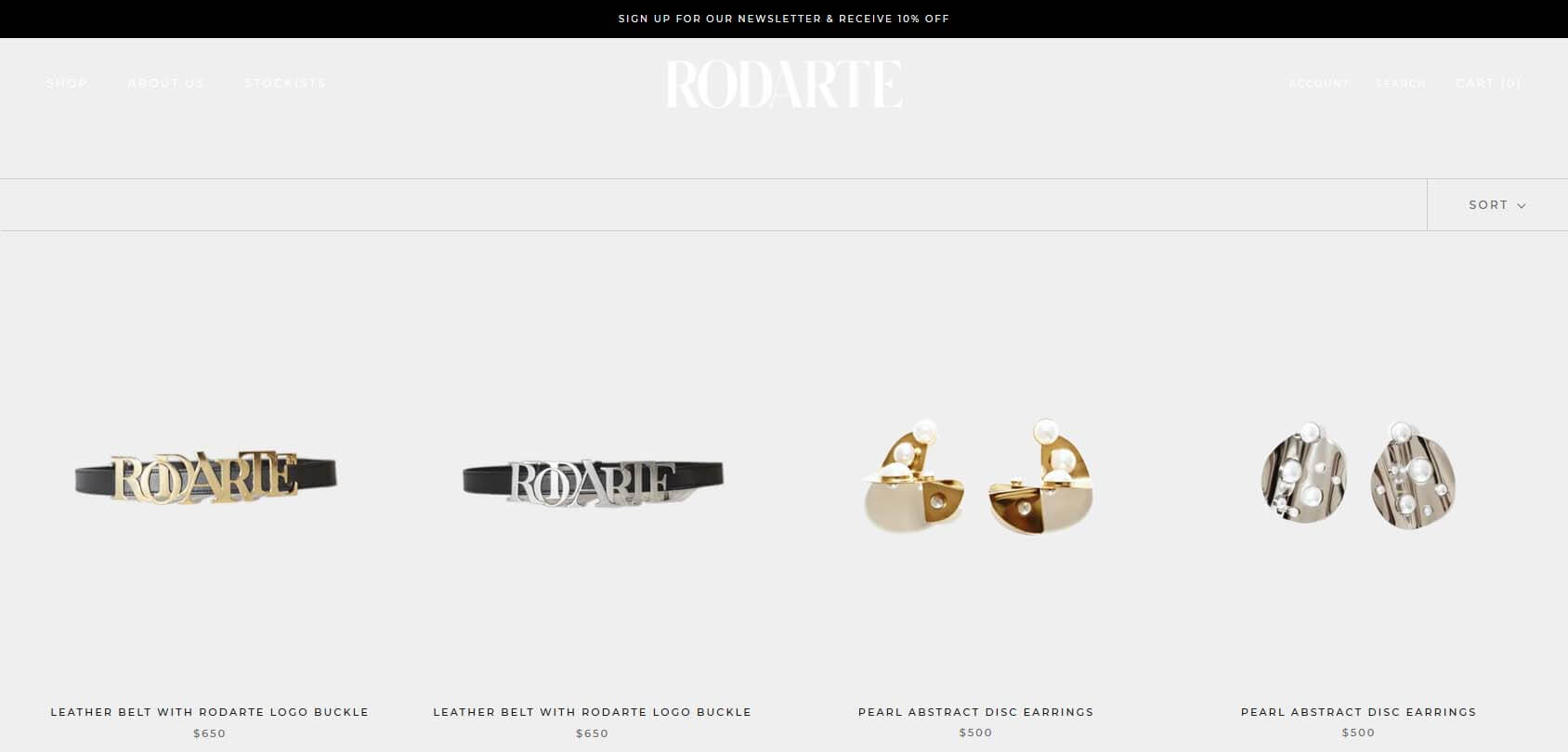 This giant of the fashion industry has also used Squarespace to build its website. The site is full of romantic pictures of feminine designs that this fashion house is famous for. Here, you can check out Rodarte's latest work, and you have the opportunity to purchase products from its clothing and accessory lines.
Website description: an online store of a renowned brand
Website type: eCommerce
Conclusion
We hope that these impressive site examples have inspired you to make your own Squarespace website. It really isn't that hard! You just need to choose a template and domain name, use the Squarespace builder to add your photos and text, come up with a logo, and publish the website. Then, you will be able to reach your audience in a way that is representative of your brand.
As you can see, it is very easy to make a Squarespace website. You only need a creative idea, a clear vision, and some free time. Why not give it a go?