Do you want to learn how to start a blog?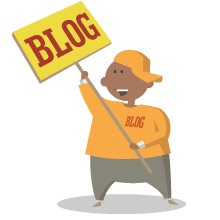 More than 7,467 people started their blogs with the help of this guide.
Hi, my name is Anya. I've been blogging for more than eight years and love every moment of it. Blogging helped me find my first job and earn money on the side.
When I was learning how to create a blog back in 2010, it took me some time to find all the right information online, and I had to look for it on different websites. That's why I've created this free step-by-step blog tutorial to teach beginners how to make a blog fast and easy. It's not as complicated as many people think.
NOTE
This guide is 30 minutes read (8231 words). Yes, it might be an extended reading, but I cover everything new bloggers should know for starting a blog today.
Below, I'll show you how to build your own WordPress blog with the one-click install using Bluehost (hosting provider trusted by millions of customers).
Jump to "Step #5: Starting a blog on WordPress" section
P.S. If you have any questions about this guide or get stuck with the steps, I'd be more than happy to assist you. You can get in touch with me via the
contact form.
Kind words from top bloggers and influencers
If you're just starting your blog or want to level up your blogging skills, make sure to check out Anya's @firstsiteguide.
How to Start a Blog via @firstsiteguide. Super helpful!
New to #blogging or looking for additional blogging resources? Check out Anya and @FirstSiteGuide.
How to Start a Blog in 8 Easy Steps
Disclosure: FirstSiteGuide is supported by our readers. When you purchase through links on our site, we may earn an affiliate commission. We test and try all the products that we recommend.
Before you go into action steps for how to create a blog, let me cover some valuable facts. This section provides details on why you should start a blog and blogging 101 information.
To skip the basic introduction, use the link below:
Why are you starting a blog?
Do you want to communicate something, like a message or an idea? Do you want to build a community around your love for a cause? Do you want to keep your followers and fans updated on what's the latest with your brand? Do you want to explain how your product or service works and why people should buy it?
A blog can help you inform, educate, promote and even sell, but only if you are clear about your intention from the start.
Hence, take some time to figure out your message and the purpose of your blog. In the meanwhile, here are several reasons why many people make a blog and enjoy blogging:
To enhance writing and thinking skills
To establish expertise
To increase self-confidence
To network with others in the industry
To make money blogging
There are many ways to make money by starting your own blog; you can sell products and merchandise online or place ads and receive compensation from brands by promoting their products and services – considering that 61% of online customers make purchases based on recommendations from a blog, this could turn into a highly profitable endeavor for you.
A quick primer – Blogging for beginners

All in all, there are four important steps to making a blog quickly. I'll go into details on how to start a blog on WordPress later, but for now, you can review these steps. If you are familiar with these things, you can create a blog in 15-20 minutes or even less:

Carefully select the best blog platform
Find a perfect web host and get a domain name
Design your blog
Find as many useful resources as you can

Blogging platform

The first thing you should do is find the best blog site. There are many of these, with all kinds of different features, but I use and recommend self-hosted WordPress.org. It's one of the biggest and easiest blogging sites and it allows you to design your blog with ease. Simplicity is key here.

Web host and a domain name

Free blogs have tons of limitations and downsides, but self-hosting a blog on your domain allows you to fully own your blog. That's why you should seriously consider hosting a blog on your own domain. I tested Bluehost, a web hosting company that provides you with a free domain name, and I recommend them to all new bloggers.

Design

If you decide to go with WordPress, you'll get a chance to enjoy multiple free WordPress blogging themes. Go with the one that's easy to customize and looks professional to some degree.

Useful resources

The more you know about social media and online experiences, the more prepared you will be to step into the blogosphere. Remember, the big fish always eats the small one, so keep learning and improving if you want to stay ahead of the curve.
Step #1: Select a perfect niche for your blog
Before you learn how to start a successful blog, you must first find your niche, figure out how to make it profitable, and figure out who your ideal readers are. In short, a niche is a topic that you write about most often, or even exclusively, in your blogs. Niche blogging is creating a blog to advertise to a particular market. Niche blogs are easy to monetize and they usually contain affiliate links, advertisements, etc., and that's mostly how they become profitable.
How to choose a niche for your blog
To become a successful blogger, you will have to choose the right niche and work on attaining the highest form of knowledge within that topic. So pick the one that appeals to you—the one you are passionate about and most interested in. Strive for success, happiness, and recognition. By choosing the niche of interest and having your own point of view, you'll be able to differentiate your personal blog ideas from the competition.
Step #2: Choose a blogging platform
At this stage, you'll need to look at the best blog sites out there and determine the type of blog management tool you want to use. I recommend that you make your own blog using a self-hosted setup that I show in this guide. But before you ask yourself, how do I start a blog, let me describe each option. When it comes to popular blogging platforms, you have the following options: free and self-hosted (recommended).
Free platforms
Blogging statistics for top management platforms in the United States
WordPress
96.19%
Blogger
3.29%
MovableType
0.18%
Ghost
0.17%
Tumblr
0.03%
Blog Engine
0.01%
Pagekit
0%
Svbtle
0%
Posthaven
0%
Anchor CMS
0%
Source: builtwith.com
For many new bloggers, the availability of free blog platforms such as WordPress.com, Blogger, or Tumblr is tempting.
By keeping your blog on a free platform, you let the platform own your name. You'll be subject to their rules and restrictions. If you are looking to learn how to make money with a blog, they may limit or prohibit ads on your blog, or they may even place their own ads. If you're serious about blogging, you'll want to move away from free blog sites.
Self-hosted platforms
Self-hosted platforms allow you to run a blog using your own domain. Aside from following your domain registrar and web hosting company's rules, you're fully in charge of your blog and its contents.
You have several choices when it comes to self-hosted systems (also called a Content Management System or CMS). The most popular is WordPress.org. This option is called self-hosted because you will use your own web hosting space and name. If you use our recommended hosting company, it will cost just a few bucks per month for the webspace (hosting account), and you will get a FREE name (domain) for the first year. The actual CMS is usually open-source and free.
Although I mentioned some free hosting options, the best course of action is to own your blog, especially if you will be using your own copyrighted material (articles, drawings, photos, etc.). Pay a small amount of money every month, about the same as a Starbucks coffee, and you will build your own equity.
If you plan to sell products, services, music, or anything else via your blog, then this is the best way to go. Many hosting providers can help you maintain an e-commerce blog.
One of the best and most well-known self-hosted content management systems (CMS) is WordPress.org, powering 25.4% of all websites in the world and responsible for over 76.5 million sites. It is recommended by 99% of the blogging experts I've surveyed.
NOTE
To create a WordPress blog, you need to decide on two important things: a domain name and a web hosting provider. If you are a new blogger, you should try using Bluehost, a company that powers over 2 million websites worldwide.
I was able to negotiate a special deal only for my visitors that includes:
Free domain name
30-day money-back guarantee period
Discount price of $2.75 per month
→ Click Here to Claim an Exclusive 65% Bluehost Discount Offer ←
Step #3: Pick a domain name
Your domain name will be the name by which you will be known online, no matter what niche you choose. It's your unique address on the Internet. Your domain will be yours as long as you continue paying the annual fee ($10 to $15 for a .com domain). Users who know your domain/URL (uniform resource locator) can simply type it into their browser's address bar. Others will be able to discover you through search engines such as Google and Bing, so you definitely need to find a unique moniker.
Your domain name may be the highly popular "dot com," or it may be country or niche-specific. The general rule is to go for a "dot com" domain, but some of the other extensions can work. For example, "dot net" or "dot me."
If you can't find the domain name you like, Bluehost will let you choose a Free Domain later. That will give you time to do some research and thinking.
Recommended tool:
In the end, it's about being memorable, so if a different extension or country code helps you be memorable, then break the rules!
Step #4: Get a web hosting account
After choosing a domain name, selecting reliable hosting services will be one of the most important decisions you make. To a great extent, the functionality and performance of your site will depend on your blog hosting. The host makes sure your site is available 24/7 to potential readers and it's where your files are stored online.
Most hosting companies also offer domain registration services. Some people keep their domain name with the registrar company, separate from the hosting account. I recommend keeping it all under your hosting account for hassle-free management and maintenance.
The wrong web host can cause many problems with your blog. Just imagine choosing a mobile company that has no reception. Your web host is a major piece of the puzzle to creating a successful blog; therefore, you must choose a reliable provider.
Based on our survey, a reliable provider is Bluehost. 99% of blogging experts suggest using it with WordPress.org.
Step #5: Starting a blog on WordPress
This section provides detailed information to help you sign up for the web hosting account and how to set up a WordPress blog. As an example, I will show you how to make a blog with Bluehost, and I included screenshots of the pages that you need to go through.
1. Visit Bluehost
Use this link to visit Bluehost. Then click the "Get Started Now" button.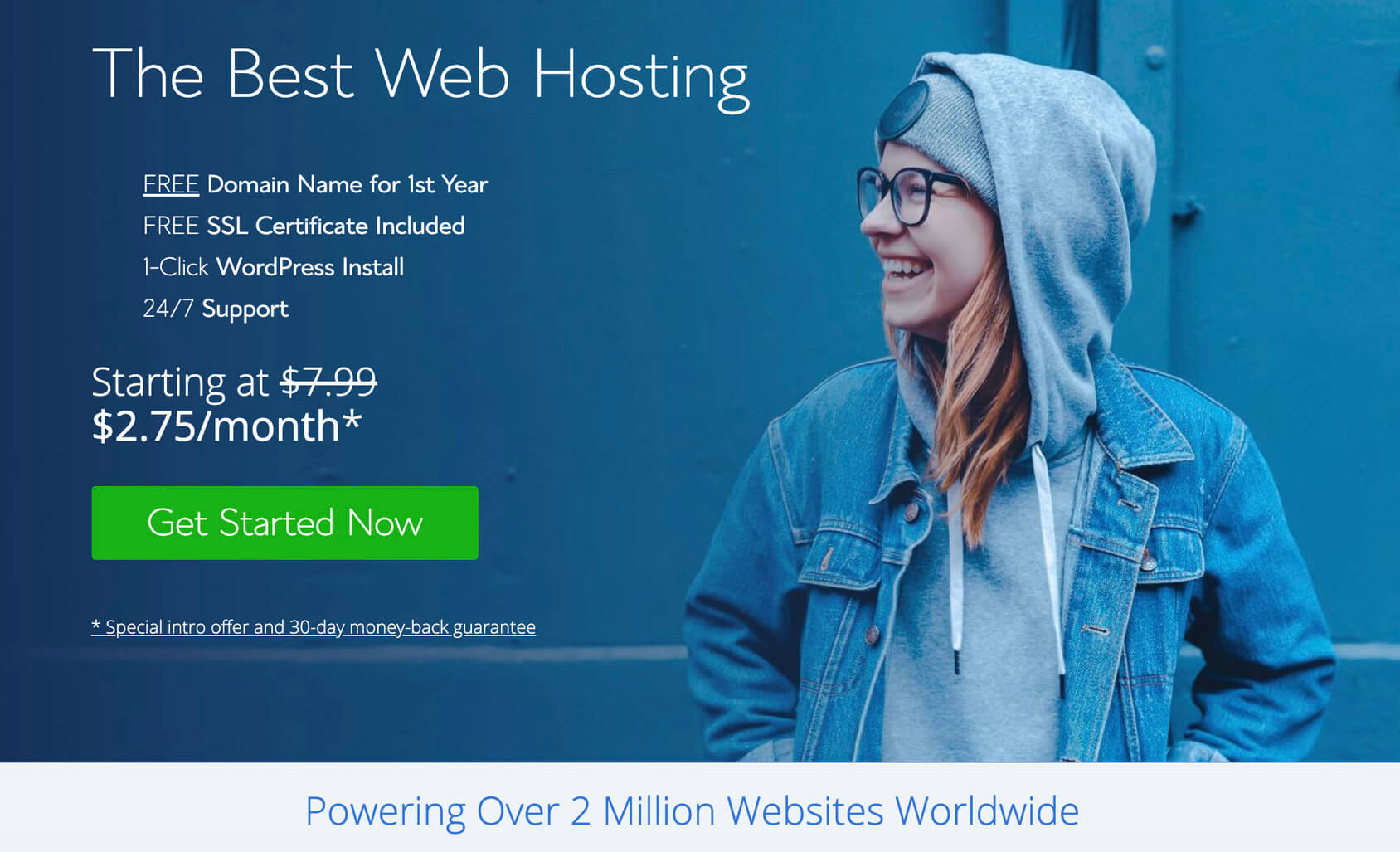 2. Select your blog's hosting plan
You should start by selecting your plan. If this is your very first one, you should go with the basic one – at least until you explore your options. The one called plus should be able to cover all your needs once you get going, and you should consider the pro version once your popularity skyrockets.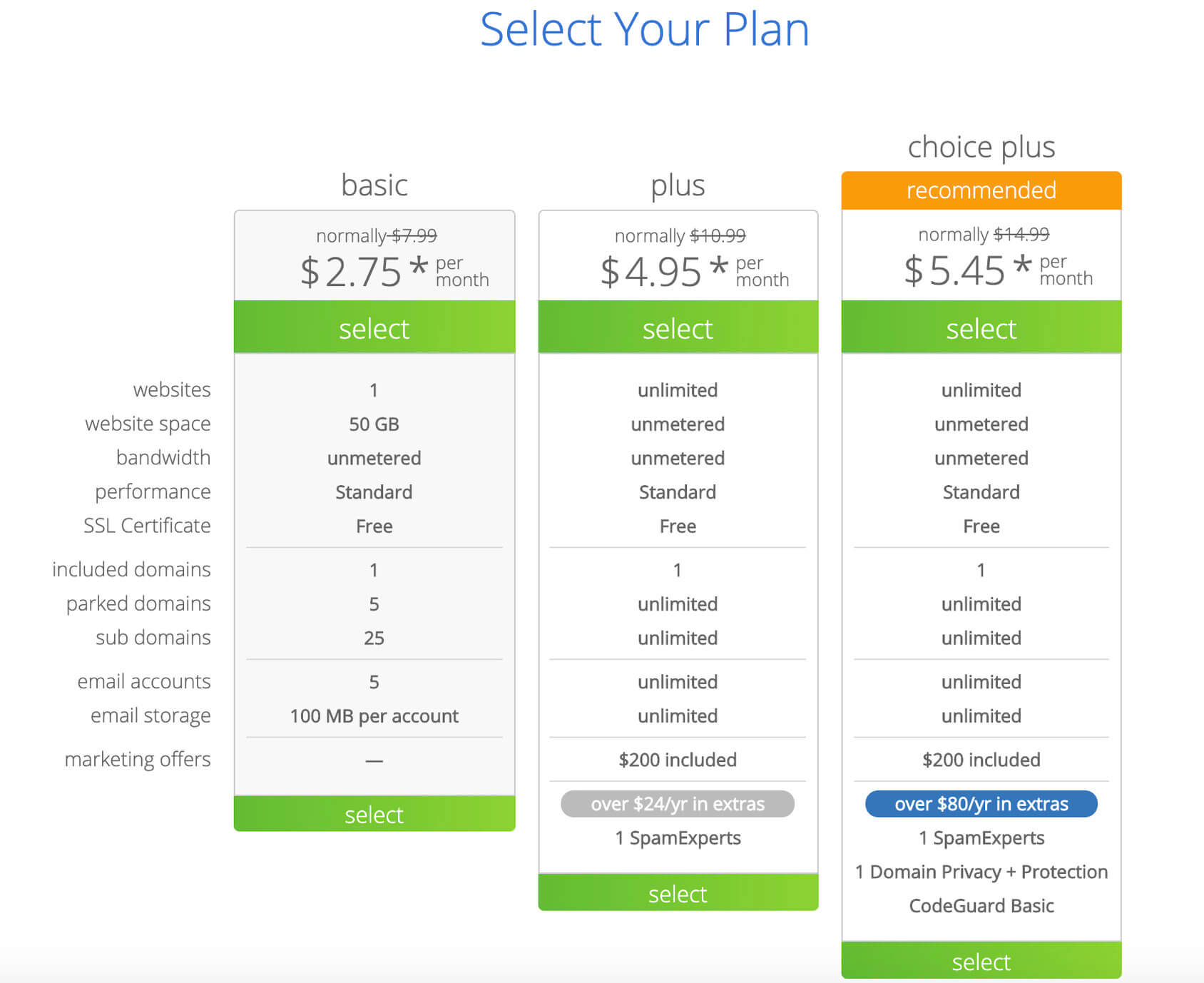 3. Input your blog's domain name
Your domain name has a say in the success of your blog, so you should take your time to come up with something new. Just type in the desired domain in this "new domain" box and Bluehost will show you whether it's available or not. If not, it will provide you with a list of similar names for you to choose from.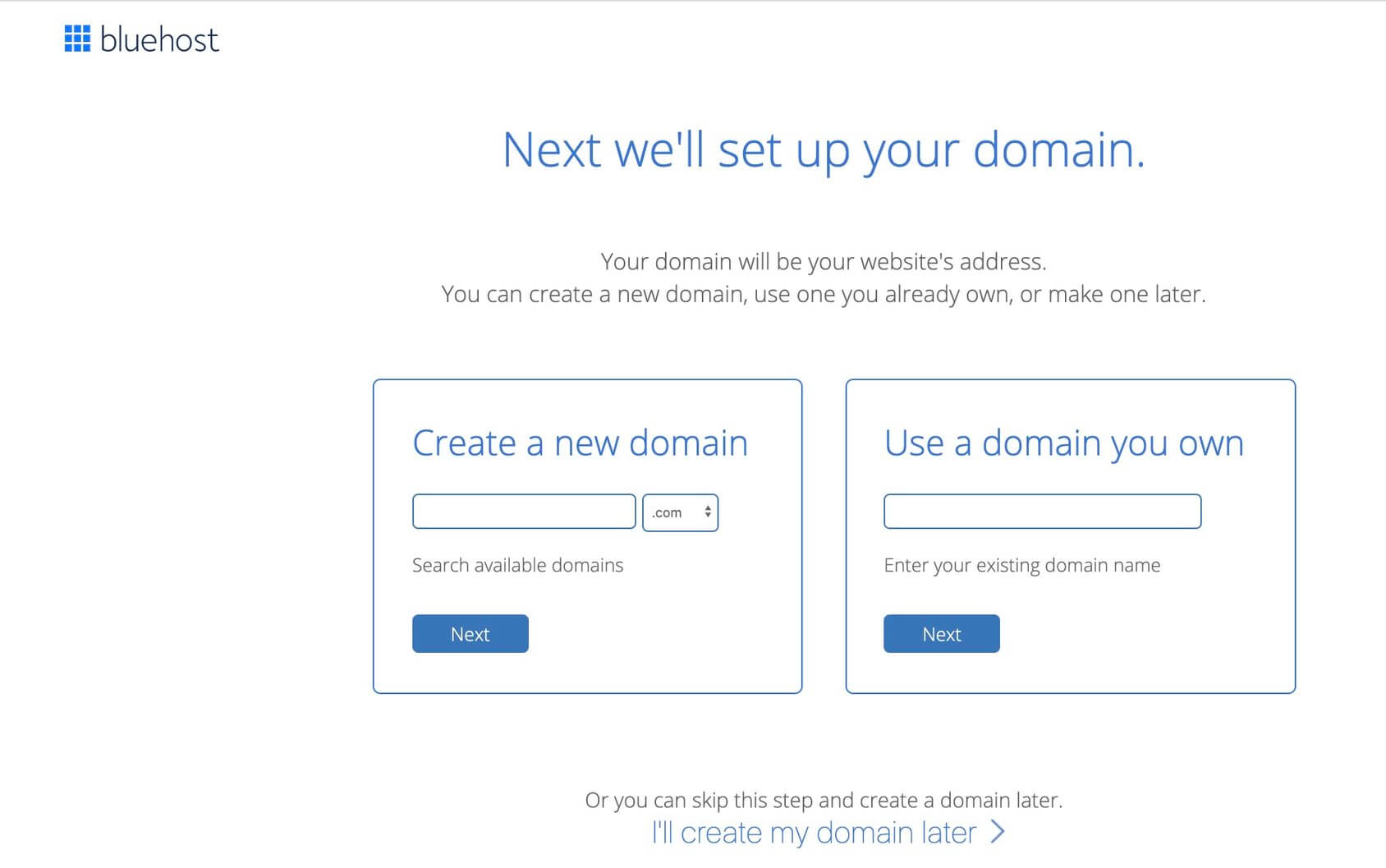 4. Register for Bluehost
After you pick out your domain name, Bluehost will take you to the registration page where it will be required from you to fill in your personal info, including the billing data. A couple of minutes are all you need.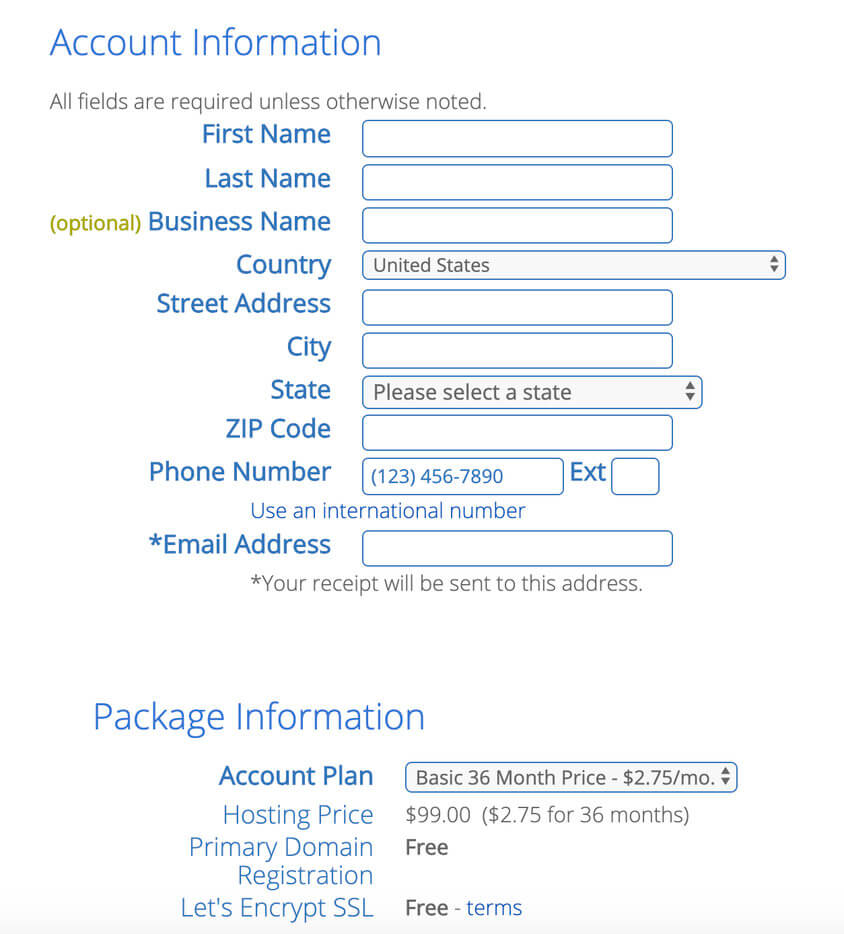 5. Select your hosting options
Pay additional attention to your hosting options. Obviously, the 12-month package has the lowest price, but the other two are great when you want to make a long term investment.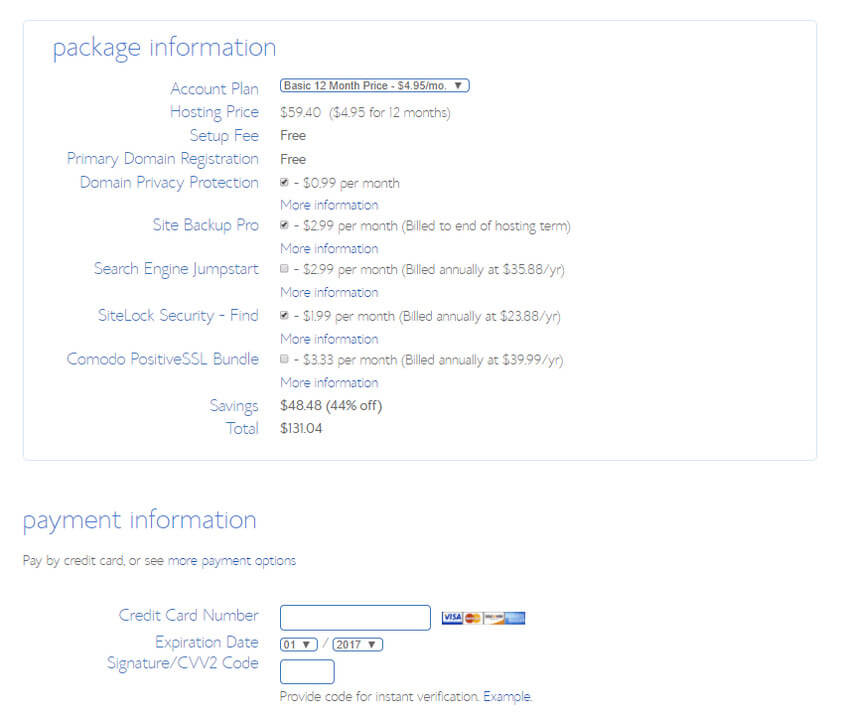 You can feel free to uncheck the rest of the boxes – you can always get them later when you find them necessary.

6. Launch your WordPress blog with Bluehost
Congratulations, we are almost there! Once you have your domain name and web hosting connected, it's time to set up WordPress.
Go to your Bluehost cPanel account, find the 'My Sites' section, and click Install WordPress. That's the famous one-click set-up offered by Bluehost that makes blog creation a breeze.
Now, if you go to your site's URL, you will only see a 'Coming Soon' page because the site hasn't gone live yet. For this, you'll need to set up and design a WordPress site before launching it, but I'll get to that later. Once this is done, go back to the cPanel and hit 'Launch.'
Step #6: Select a WordPress theme to design your blog
The first thing your blog's front end needs is a face (design and layout). You want to create an environment that is both eye-catching and practical. In the long run, you want your visitors to easily find information on your site. You don't want visitors to be discouraged by the colors you choose or the non-intuitive and unpractical way in which information is displayed. Your design can cause instant distrust of your blog or immediate acceptance.
Start your search for a theme as soon as your WordPress platform is installed. The look and feel of your new blog rely on the theme you choose. Your readers will first notice the overall appearance, before even taking a look at the content. Choose a theme that looks great, but also works for your unique content needs. The default theme that comes with your WordPress blog installed is Twenty Nineteen—while it's a good starter theme, you'll want to choose a theme that is unique and compatible with your niche. There are more than three thousand themes available on WordPress.org.
A premium WordPress theme has the average price of $40
Among the 10 most popular free themes on WordPress.org, only 3 come from third-party developers (not developed by WordPress.org or Automattic). They are: Swift, Zerif Lite, ColorWay
Here's a quick checklist for choosing your theme by searching within the blog dashboard:
Read the description. Most themes come with a short description of features and functionality. Reading it can help you figure out if the theme matches your needs.
Check for responsiveness. Aim for a responsive design that will work on desktop browsers and mobile devices. This is recommended by Google.
Check the ratings. Star ratings will be visible in the preview and under theme details to give you a clear idea of how good the theme is.
Preview the theme. Preview the theme (demo) to get an idea of the overall look, layout, and how customizable it is.
If you find a theme that takes your breath away, cool down. Once you install a theme you like, don't be surprised if it doesn't look quite right. It is just a skeleton of your blog. To make it appealing, you'll have to fill in content (text, photos, videos, etc.).
Should you choose a free, premium or a custom theme when setting up a blog
For many visionary novice bloggers, the world is not enough. The stash of free themes does not satisfy their particular desire for the look and feel they are going for. There are two other options you can take a look at, premium and custom themes. But they incur a cost, sometimes a tiny one, at other times a considerable amount.
Premium themes are created by both single developers and dedicated showcase websites. The price range for single-use licenses ranges from $30 to $500, depending on which premium theme you choose.
Custom themes are created by an individual developer (coder and designer, or agency) who will either customize an existing theme or create a brand new theme for you. While coming with clear-cut advantages, they are not the ideal choice for a beginner blogger due to their high cost. Prices to customize a theme, ranging from $500 to $2,000, depending on the features you want.
Recommended reading: The Best WordPress Themes for 2020
Blog theme customization
Installing and setting up your new theme is quite exciting; these steps confirm that you made a good choice with WordPress as your blog management system. Remember, your Dashboard is the place where it all happens in the back end, including the option of installing your theme.
Once you login to your account, you are now able to choose one of the default WordPress themes provided by Bluehost. Keep in mind that you can always pick another theme from a WordPress.org repository.
After selecting a theme of your choice, you are now ready to log in to the WordPress dashboard.
Once you login to your WordPress dashboard, you will be prompted with the "Welcome" message and you can choose to accept the help provided by Bluehost for selecting the type of website you are about to create. Or, you can always do it on your own.
If you click on the Bluehost button in the left-hand corner, you will see the page with various tools that are designed to help you create your own blog. Click the "Launch" button and you'll be seen online within minutes.
After clicking the "Launch" button, you will just need to fill the two most important fields for your site. The title and description, which will tell your future visitors what is your site all about.
Congratulations, you just learned how to create a blog. Your new blog is ready for launch, so get ready to learn how to blog!
Recommended tutorial: The Beginner's Guide to Managing WordPress Blog (including Video Tutorials)
Now you should learn what it takes to customize your blog, make the necessary tweaks to make it stand out and please your readers.
Step #7: Write content and promote your blog
So far, you've captured a domain name, chosen your blog site and set up the theme, and you are ready to go. Your framework is complete. Now comes the moment of truth. You must learn how to write blog content – in the blogging world, any useful information that you bring to readers can be called "content." It must be something people will want to interact with and come back to get more, something of value.
The next step is to figure out what content you need to make for your new blog and the best practices you should follow. Whether your blog is to be composed primarily of words, photos, graphics, audio, video, etc. – the content will be the bait that draws your crowd. Few will come just to see your new site.
Without great content, even the most well-designed, tightly-structured blogs will ultimately fail. The framework of the web is code – but the attraction of the web is the content found there.
Three things your content should do
Your content speaks to a specific audience and provides value to them in some significant way. If this sounds suspiciously like our Commandments, you are right. Drill the idea into your mind and never forget it: It's not about you; it's about them.
Your content should be easily accessible and attractively presented. Your presentation must equal the quality of your content. Here again, don't cut corners on low-quality graphics or designs. Everything about your blog must attract your visitors and encourage them to interact with your content.
Your content may be commercially purposed, but should never be commercially focused. Never greet your visitors with pop-up ads and giant banner ads. Greet them with content and reasons to engage with that content. Let them know you are there to help them, not to use them.
As a blog owner, you might get overwhelmed by all the available types of content and methods you can deliver it to your readers. You have to remember that the content delivery method is less important than the actual content and its quality.
Wondering how you can create quality content? It's simple.
Here are three simple steps approach you can use to make great content of any type:
Point. State your main idea and point you are covering.
Prove. Give an example of the idea you are covering.
Perform. Give a simple way to execute the idea.
There are two blocks you need to worry about, pre-launch and post-launch contents:
Pre-launch content
Before you start writing your day-to-day blog posts, you will want to make sure static pages (such as About us, Contact, etc.) and other parts of your blog (Sidebar, Footer, etc.) are filled with the suitable information. Let's explore each of these content areas.
About us. The most traditional page on any blog is the About page. This page tells new visitors to your blog what it is all about, who you are and why you run a blog about the particular topic. Depending on your niche and your style, the information you provide can be "all business" or personal and fun.
Contact. This page allows visitors to your blog to communicate with you at any time. It can be a simple page with your email address plus social network links, or you can use a simple contact form that visitors can use to communicate with you without leaving your website.
Sidebar content. Your sidebar is the smaller column to the left or right (depending on the theme you selected) of your blog's main content. In the sidebar, you could include your blog categories, the most popular posts, ads, etc.
SEO meta tags. You will need to prepare content for the SEO titles and description tags of each page (not seen on the actual page, but you need to have it ready).
Post-launch content
Blog posts. The blog post is an entry (article) that you write on a blog. It can include content in the form of text, photos, infographics, or videos.
Cornerstone content. Cornerstone (or evergreen) content continues to be relevant to its readers and gives them value years after the publish date. It is always fresh and up-to-date. It remains informative and retains its original quality. As its name implies – it is timeless.
Recommended reading: How to Write Blog Content – Posts, Pages, & More
Content is not limited to written material but easily overlooked. It is often best to utilize numerous forms of content and give your audience more than one way to obtain knowledge.
Recommended reading: 100+ Types of Digital Content You Can Make
To produce quality content, you will have to use your originality and imagination. However, you have to understand that some content performs better than others. But again, you should start creating content that you feel comfortable with, right for your readers, and for your blog.
Start promoting your blog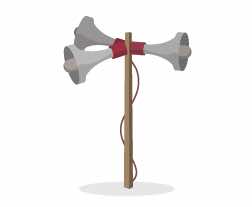 You've learned that the content will be the bait that draws your audience. You can write the most compelling copy the world has ever seen and design a blog interface that would sell people their own shoes…if no one sees the blog, though, all your work is in vain. Marketing and promotion happen every time you engage with your current and future readers. The success of your blog promotion will depend on the ability to engage in your niche.
Let's look closely at the advanced and straightforward promoting/marketing activities you could be taking to become an authority and successful blogger:

Let your friends know about your blog
Inform everyone you know about your new endeavor. You should include your blog name and URL in your email signature, list it on all your social media profiles, and use every opportunity to get the word out about your new undertaking.
Submit your blog to search engine
It only takes a moment, and it will help to get your blog indexed. To submit your blog URL to Google, sign in to your Google Account and go to the Submit URL option in Webmaster Tools. For extra credit, submit your site to Bing.
Submit your blog to bookmarking sites
Bookmarking sites can offer your content to a lot of potential viewers who are searching for content within your niche. You should do this every time you publish a new blog post to spread the word out. Some popular social bookmarking sites are Scoop.it, Reddit, etc.
Be active in your niche
Get active on relevant blogs, forums, and social pages. Blogger communities are a good way to connect with other bloggers within your niche. You can engage, build friendships and help each other in spreading the content.
Be active on social networks
Your business is unique, and you should make use of the social media avenues that best fit your own niche and style. Choose the one (or ones) that best fit your needs and become an expert at leveraging them to help reach your goals.
Comment on other blogs
Commenting on other relevant blogs is a great way to build relationships with top bloggers within your niche. This will help you make them and their readers aware of your existence as well as developing your personal brand within the topic.
Guest blogging
Take the relationship a step further and offer to write a guest post for other websites. Just be sure your work goes on reputable sites and that the content is directly related to your niche. Guest blogging is an excellent way to build an online presence.
Start building your mailing list
Once your blog gains new fans and readers it's a good idea to collect the email addresses of those who want to be notified of new articles and offers. As people come to know and trust you, they will respond better to your promotional efforts.
Advertising on the web (paid traffic)
Appropriate and well-informed use of paid media can help you gain exposure and attention before your organic (naturally derived) traffic takes hold. Paid traffic avenues include Google AdWords, and Facebook, to name a few major ones.
Recommended reading: How to Promote Your Blog and How to Increase Blog Traffic (100+ Hands-on Tactics)
Remember that you can always find other ways to promote your new blog. Rely on the blogging fundamentals: a clear and well-functioning blog, focused and helpful information, engaging conversation and practical advice. Your authority will come from helping and giving advice to other people, your fans or readers.
Step #8: Make money blogging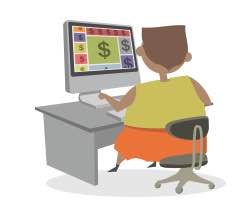 Monetization is the process of translating your blog activity into earnings. You should keep in mind that blogging isn't all about making money but instead creating useful content that will attract readers and make them come back for more.
After producing great content for some time and by engaging with your niche market, you will become a recognized expert who will be able to build a significant list of followers and subscribers. Only then you could consider adding content that will generate income.
Blog monetization channels
How to monetize a blog? There are several options from which to choose. You should use the ones that prove most useful to you:

Running ads on your blog
There are seamless possibilities for you to run ads on your blog. Regardless of your niche, you can opt for ads that are specific to what you are writing about or ads that simply better serve your advertiser's purposes. Google Adsense is one of the most popular choices for ads.
Enrolling in affiliate programs
Affiliate programs are ways of teaming up with retailers to promote their products and benefit from successfully carrying out sales through a commission. Some things that you need to consider when enrolling in affiliate programs:
The number of affiliate sales will strongly rely on the number of visitors you have.
You need to be credible enough for your visitors to click on your links.
You may want to consider placing a notice on your Terms of Use page that you do use affiliate links.
There are a few popular online platforms that offer many affiliate programs you can enroll in Amazon Associates, ShareASale, etc.
Selling your products and services
If you are more on the creative and entrepreneurial side, you may want to consider using your blog as a venue for selling your products and services. Use this advantage especially when your blog gains in readership, authority, and popularity. There are plugins that you can easily integrate into your blog and start selling, such as the WooCommerce plugin. It comes with product pages, cart, checkout, secure payments, etc.
Writing and selling an Ebook
Another great opportunity to make money is to gather existing content from your own blog and offer it as a downloadable ebook. Your ebook can be sold independently if your blog has a commercial platform (such as Bigcommerce), or it could be sold elsewhere. A great publishing opportunity is offered by Amazon and their KDP (Kindle Direct Publishing) program.
Sponsored posts
Advertisers are always looking for exposure and are willing to pay you for placing a sponsored post on your blog. Those posts usually promote advertiser products or services and are a good way to earn some additional income for your blog. In the future, if you're able to build one of the most popular blogs and become an authority in your niche, the advertisers would approach you to publish their posts.
Recommended reading: How to Make Money Blogging
As you can see, there are numerous ways to monetize a blog. Consider the possibilities, and then choose the method or methods that best suit you and your audience. As a minimum, you should – from the very start – begin compiling a mailing list of your readers through subscriptions. Then, when you are ready to recommend products, you will have ready access to those who want to hear what you have to say.
Frequently Asked Questions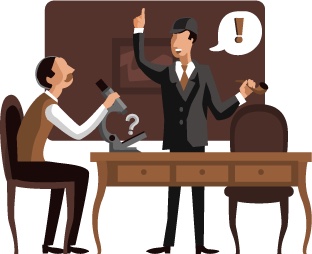 What is a blog?
Some people still don't know what is a blog? A blog (in the early stages called "weblog") is known as many things—a digital magazine, diary, newscast, collector's meeting place, a showcase for your art, information sharing, teaching hub, a place to learn and…well, almost anything you want it to be. A typical blog combines text, images, videos, and links to relevant pages and media on the Web. Blog readers can leave comments and communicate with the author. In fact, dialogue and interaction are a popular part of a blog's success.
How to start a blog for free?
People often wonder where to start a blog, but several blogging platforms allow you to create a blog for free. All you have to do is to choose the one you like, register an account and start blogging. For example, you can start a free blog on WordPress.com, Blogger or Tumblr in a matter of a few minutes.
But you need to understand a few things when starting a blog for free:
If you open a BlogSpot account, your free blog name will be in this form: "blogname.blogspot.com" or "blogname.tumblr.com". In the blogging community, this type of blog is the sign of an inexperienced beginner who likely won't be taken seriously.
You'll be subject to rules and restrictions set by the platform. They may limit or prohibit you from using ads, or they may even place their own ads on your blog. If you're serious about blogging, you'll want to move away from this option sooner than later.
How to make a blog the right way? I strongly suggest setting up a WordPress blog, and I covered how-to in this blogging guide. If for some reason, the free blog is the only option for you, then create an account on one of the free blog platforms mentioned above and check them out.
What is a niche and how do I choose one for my blog?
If you're unsure what a niche even is, you've come to the right place. In short, a niche is a topic that you write about most often, or even exclusively, in your blogs. Think about the countless of 'healthy living' blogs – they give advice on, well, healthy living. They often offer some interesting recipes, share insight into great exercise routines, talk about which foods you should avoid, etc. Leading a healthy lifestyle would be their niche. Brainstorm to find your topic Following is a process that can help you determine which niche is best for you:
Make a list of your interests or hobbies. Which topics fascinate you? List them all, for instance: golf, fishing, yoga, playing games or cooking.
Next, list accomplishments you are proud of, such as musical talent, artistic talent or sports achievements.
Now, list difficulties you have overcome or defeated, such as: losing a significant amount of weight, recovering from a financial setback or managing a disease.
During this exercise, you will get a better feeling for the topics that resonate with you. The ones you are most passionate about are the best candidates for your niche. The reason is that while blogging is an enjoyable process, most people give up after a few months because they lose interest in it. You don't need to be an expert on the topic that you choose, but it is necessary to want to learn more about it. It's necessary that you're excited about it. When you're disinterested in the topic, the readers will notice and they'll stop coming to your blog; it's as simple as that. Narrow it down Once you've found your topic of interest, it's a good idea to narrow it down. If you're super excited about yoga, for example, choose the type that you're interested in the most. Is it Hot and Bikram yoga? Kundalini? Something else? If you pick too broad of a topic, it'll be difficult for you to stand out from the crowd. Speaking of yoga specifically, just by doing a simple Google search of it, you'll find countless big blogs covering this topic. You'll only be making it harder for people to find your blog.
Recommended reading: How to Find a Niche for Your Blog (Step-by-Step Guide)
What should I blog about?
More often than not, people think they should blog about popular topics where they think money grows on trees. And while the truth is that you might be able to attract the larger audience if you write about smartphones instead of blogging about something specific like tuna fishing, that's the wrong way to go. In the case, it would show that you write about something you might not completely understand and love, and it would result in an unsuccessful blog that not even you would enjoy.
Instead, you should start writing a blog about something you love and follow. Even if it is a smaller audience, your passion and expertise will attract just the right people. You will be able to connect with them, which will help you to grow and even earn money from it.
Which is the best blog site?
As you might have already realized, there are more than a few blog sites that can easily catch your attention. Although the answer depends on your needs and wishes (where each platform has its good and bad sides, of course), I'm a strong supporter of self-hosted WordPress.
Some may argue the fact that having a self-hosted WordPress site is the best option, but you can't dispute the fact that it is the most popular blogging platform in the world. WordPress will let you own and control the blog.
How much does it cost to start a blog?
Starting a self-hosted blog is not as expensive as you might have initially thought. If you choose to host your site with Bluehost that I recommend, you can have the environment ready for as low as $2.75 per month!
While usually, a domain would cost you around $15, with Bluehost, you will get one for FREE! The basic package also includes a free SSL certificate (which protects data transfers on your site and makes it safe), 50GB of storage and unlimited bandwidth which means you can have as many visitors as you are able to attract to your site. And this is more than enough to start with.
Do bloggers make money?
You can definitely make money blogging. The amount of money will depend on many factors and it won't happen overnight but if you put enough effort you could be making extra income or even make a living from your blog.
When you are just starting a blog, don't get disappointed if blogging won't buy you a new car in the first few months.
How much money can you make from a blog?
It depends on many factors. Are you just starting out or you already blog for some time and have a group of people who trust you? Is blogging your primary focus or do you manage a blog just in your spare time? And how to make a living blogging?
According to Glassdoor, bloggers in the United States on average earn $30,000 per year. Obviously, some earn a lot less, while there are influencers who have millions of people following them and can earn more than $100,000 per year. Some even say blogging for money gets them more than a million-dollar per year.
Do you want to know how to make a living blogging? If your blog is completely new, you will have to work hard before getting that first paycheck.
Also, passive income needs time to start increasing. Different advertisements and banners will make sense only after you have a well-established blog. While it is possible to get a few bucks per click on a Google ad, you will have to develop your site and build an audience before that becomes a reality. So, when starting out, you can expect only a fraction of a dollar for each click, but do not let that discourage you. Everything has a start, so does your income from a blog.
How do I find a profitable niche for my blog?
So, now you have your topic of interest, you've narrowed it down, everything seems to be going great. What now? How do you start making money off of it?
Do a market search
Well, the first thing you should do is check out the competition. A simple Google search for your niche would suffice. You can also check out social media networks, even paper magazines to figure out your competition and see whether you'll have the audience you want. You can use free SEO tools to get insight into the volume of searches so you can know what you'll be dealing with. I personally use SEMrush SEO tool for all my research.
If there are too many searches with a lot of competitive sites, you might want to narrow your topic down even more. Explore all the possible keyword ideas that would be of interest to the audience, so that you can find that sweet spot between great demand and low competition.
Check out how profitable your niche is
If you want to make money off your blog, you need to find out whether the niche you've chosen is profitable and how much do bloggers make in the same niche. You can once again easily check this with a Google search. When you type in your keywords, are there any ads that pop up as the first result?
When brands or businesses are paying to advertise the products or services related to your niche, you'll know you've picked a good topic, and you'll be able to monetize your blog with ads.
A better way for monetizing a blog might be through selling affiliate products. Amazon, for example, has a nice affiliate program that allows you to get a 10% commission when your blog sends a buying customer to them. Going back to the yoga niche, you could link to Amazon affiliate products like yoga pants, mats, etc.
Who is your ideal reader?
It's a common misconception that a specific type of blog post will attract the right person when it's actually the audience itself that dictates what a blogger should write about. This is why you should always have your ideal reader in mind when creating a profitable blog.
Once you have an idea of who your ideal readers are, you can adjust the language you use in blog posts, the tone of voice, the type of products you'll market to them, etc.
Knowing the age group of your audience will help you determine their probable spending power, which will, in turn, let you know what types of products to promote. The lower their spending power, the cheaper the products you should market, and vice versa. It will help you determine your style of writing. If your audience is advanced in your niche, you can use topic-specific jargon, if they're not, you'll want to keep it simple.
Having a specific reader in mind will help you center your posts towards them, making writing easier, and your new job more enjoyable.
Should I start my blog on WordPress?
WordPress is truly a superior choice when starting your own blog. It's the most popular CMS in the world for several very compelling reasons. Apart from having complete control over your blog, if you create it on self-hosted WordPress.org, you will experience several more exceptional benefits.
The platform is very intuitive and user-friendly, and it's very easy to install. You can have your blog up and running with just a few simple clicks.
WordPress comes with plenty of customization features. There are thousands of themes to choose from to make your blog enticing and attention-grabbing, and there are also thousands of plugins for adding more functionality to your blog, including SEO plugins for optimizing your content for search engines.
So, to answer the question: you should definitely start your blog on WordPress, particularly self-hosted WordPress.org. You don't have to worry about security, updates, or slow-loading pages, as you can quickly create a powerful blog that readers will absolutely love.
What to do if I already have a free blog?
For starters, don't worry. If you decide to switch to a self-hosted WordPress, you can quickly and painlessly move your free blog to your new host.
Most of the free blog sites allow you to export the content. And WordPress features a ton of tools that will automatically import the content to the new blog. If you are running a Blogger, let me show you how to move it to WordPress, step-by-step.
How do I learn WordPress?
I always love to hear that someone is interested in WordPress or to learn blogging. That's because I have been working hard to gather the knowledge and experience I had been collecting for many years in the business.
I have dedicated an entire section of our site to learn WordPress where you can level up your WordPress skills and understand the best practices.
The section will guide you from the very beginnings of your WordPress site to advanced techniques that will teach you how to develop a unique site that both you and your visitors will love.
How bloggers get paid?
There are two main categories we can talk about when it comes to getting paid as a blogger. One is passive income while the other requires you to engage in some actions.
Passive income is an always popular option since it allows you to earn money even while you sleep. While the concept is very tempting, you should understand that it isn't entirely true. While you are able to get paid all the time, you still have to work hard on the advertisements and different systems if you want to get the best out it (earn as much as possible). This usually includes:
Displaying Google ads or other advertising platforms/networks
Affiliate links (you get a percentage for sale that comes from your site)
Adding textual advertisements & links
The active income may bring you more cash, but it needs more involvement. You can earn money by:
Having Course Sales, Training, and Coaching
Writing & publishing sponsored posts and listings
Selling products directly
Writing ebooks
Podcast sponsorships
These are just some popular ways of earning money while blogging. Learn more about it through my beginner's guide with tips from 33 experts.
What to do if your domain name is taken?
Unfortunately, gazillions of awesome domain names have been already taken; especially if you aim for the most popular .com domain. But don't worry; if you can't get the domain you want while registering for a hosting account, Bluehost will help you by letting you choose one later. Just by clicking the button, you can skip the registration of the domain. That will give you time to do some research and thinking. Try thinking about other options or maybe another extension like .net or any other that may be a good fit for your blog.
I have put together a guide to help you come up with a great domain name, so take your time and consider all the factors before registering a domain.
How do I switch from HTTP to HTTPS on Bluehost?
Recently, Google started to penalize sites that aren't secured. News about unsecured sites started to spread like wildfire, and everyone wanted to get their site on the safe list. And so should you; having a secure website have more than a few benefits:
People will be more likely to stay on your site
If you sell something or ask visitors for email addresses or different personal information, they will know the information will remain visible only to you
Google will not penalize your site by showing an alert that your blog is not safe
To make your blog safe, all you need to do is turn on the SSL certificate. It controls the data transfer on your site and makes it unreadable to nosy people who might sniff the data from an outside. But before you start worrying that only tech savvy-experts know how to do this, let me show you how you can get a FREE secure connection in just a few steps: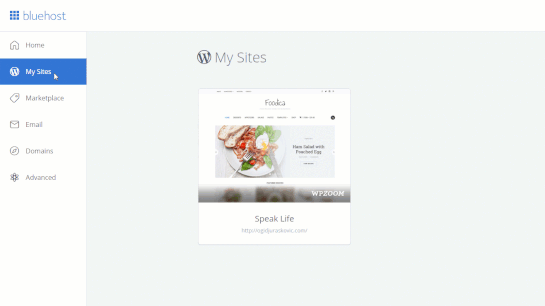 Login to your Bluehost account (Use the login information you received via email after creating an account)
If not already selected, choose "hosting login" tab
Click on "My Sites" from the menu
Hover over the thumbnail that represents your site
Click the "Manage Site" option that will show up over the thumbnail
Select the "Security" tab at the top
Turn on the "Free SSL Certificate" by clicking the switch to "On"
After toggling the switch, you should wait up to one hour before the changes become visible on your site.
To quickly identify if the SSL certificate was successfully installed for your domain, check for the icons next to the URL of your site.
If using Chrome, you should see a little green lock followed by the word "secure" or the name of the site. This will indicate that the certificate has been successfully installed and that your blog follows the rules. Congratulations!
If not, Chrome will show a little information icon (a circled letter "i"). If you click on the icon, it will tell you that the site is not secure, and warn you about leaving sensitive information on that site. Now you can imagine how terrible that looks like when Google recommends not leaving any information on a site.
Please note that you can turn on the certificate only after your domain registration is fully completed. To make sure it will work; wait at least 24 hours before turning on the certificate.
How to Start a Blog PDF
This guide takes you from learning the basics of blogging to becoming a talented blogger.
Useful Resources to help you maintain and grow your blog:
Conclusion
Congratulations! Now you've learned how to start a blog. You have your own domain name, hosting space and your blog is set up. Next, you will need to get familiar with the WordPress dashboard, make desired changes, start content creation and promotion to become a successful blogger. Check out all my Resources and learn how to blog.