How to Start a Virtual Assistant Business
FirstSiteGuide is supported by our readers. When you purchase via links on our site we may earn a commission.
Read More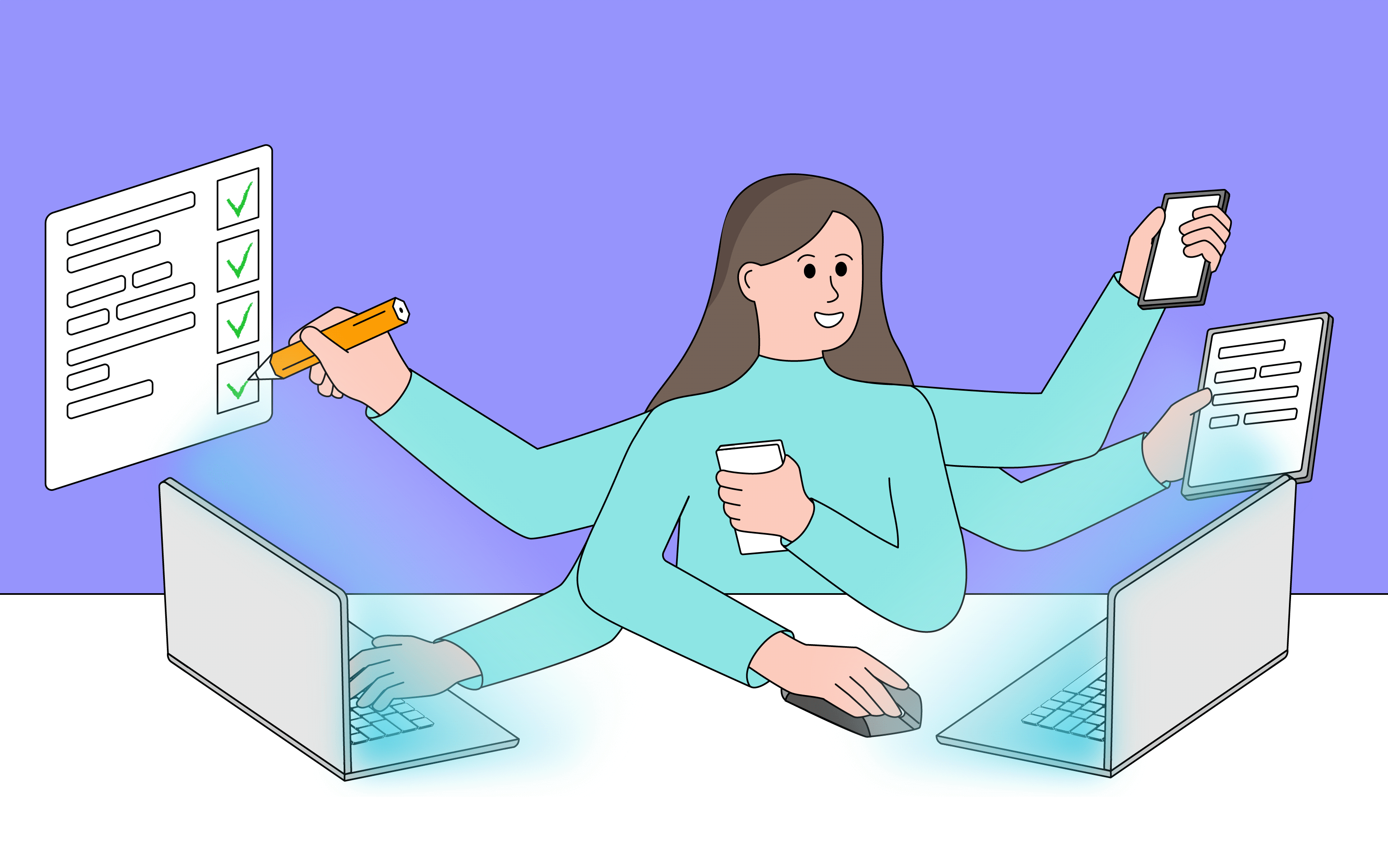 As a virtual assistant contractor, your job will be to handle administration for your clients. The range of services you provide may vary, and you'll have to be a well-organized, capable problem-solver and quick thinker to handle every possible situation in the office environment.
A virtual assistant (VA) is an occupation that's in high demand these days. It's mostly a remote position, making it easy to start for people new to the concept. You can work from anywhere and choose your clientele however you see fit.
Whether you're interested in learning more about this flexible career path or thinking about starting a virtual assisatnt business, this guide will show you the way by breaking down the essential elements to consider.
What is a virtual assistant business?
A virtual assistant or administrative freelancing business refers to a contractor who provides administrative services for corporate clients, usually small to midsize companies. This profession is called a virtual assistant because these professionals are typically remote employees operating via an internet connection.
This operating flexibility allows virtual assistants to work from anywhere and choose as many clients as they can manage. A virtual assistant business is a flexible and customizable concept. However, your VA business management depends on your location, operating hours, the services you provide, and your skills.
This level of customizability and flexibility exposes virtual assistant businesses to fierce competition. You don't need much to start, making it even more competitive. In truth, all you need to become a VA is basic administration knowledge, good communication skills, decent tech abilities, and a reliable internet connection.
Even though you don't need any prior experience to get started, you will need some tangible proof of your communication, project management, and organization skills to attract clients by providing a proven track of your achievements.
Now, let's discuss what it takes to start a virtual assistant business.
Determine which services you will be offering
The best thing about running a VA business is the variety of services that you can provide. However, that's also a problem, as starting your business offering too many services could become overwhelming. The best course of action is to begin by specializing in a few carefully selected business niches.
Modern-day virtual assistants typically provide general administration services, such as:
Office paperwork and correspondence management;
Customer service over the phone or email;
Email management;
Bookkeeping and accounting;
Invoicing and billing;
Appointment scheduling; and
Calendar management.
Providing additional services increases your chances of beating your competitors. Consider business marketing as an addition to your offering. VA business marketing services include:
Social media management;
Community management;
Video editing;
Tracking sales;
Facebook ads;
Content creation and blog writing;
Creating and sending email newsletters;
SEO services;
Editorial calendar management;
Ghostwriting;
Affiliate management;
Branding; and
PR distribution.
In addition, you should also consider specialized services based on your existing skills, knowledge, and experience. Here are some considerations:
Market research;
Data entry;
Transcription;
Editing;
Proofreading;
Webinar setup;
Website maintenance and design; and
Graphic design.
Start by determining the services that you will be offering. Be thoughtful of your circumstances and choose a niche based on your previous experiences to lay a strong foundation for your VA business.
Creating a basic package of services is a good starting point. Your services should include mixed business and office management skills, such as website maintenance, customer support, scheduling, and emailing.
Figure out your target market
Picking your target market is the next step in building your VA operation. Many experienced VA professionals say it's best to market your VA expertise to an industry in which you have prior experience.
Since you're already familiar with that market, you could target business organizations and their specific needs to outpace your competitors by creating a unique value proposition. Consider attracting clients from your previous jobs to build your business network.
Make sure that you ask for feedback and include positive customer reviews and testimonials on your website and social media. Reaching out to potential clients is an excellent way to focus on a specific industry or niche, as it allows you to build a unique client base and establish your brand.
Whether you're an accountant, bookkeeper, healthcare professional, or realtor, almost every industry provides lucrative business opportunities for virtual assistant professionals.
Create a business plan
You've determined services to offer and the target market for your VA business. Now, it's time to move on to the next critical step of your operation – creating a business plan.
A business plan is a crucial document that helps you determine the fundamental aspects of managing your VA business:
The scope of professional services you will provide;
Your market;
Target audience;
Your main competitors;
The demand for your business type;
Your pricing;
The necessary funding to get started; and
Expected ROI.
A business plan is also an official document that helps you to define your business goals, objectives, and mission. It can also help you outline the best business structure for your operation.
You should also include your pricing rates in your business plan, such as:
Personal living costs;
Taxes; and
Business overheads.
Your rates should be competitive enough to cover your business expenses and attract new clients.
Select your business name and register your company
Naming your virtual assistant business is one of the most effective ways to stand out from the crowd and attract high-paying clients. However, determining a catchy and memorable business name can be more challenging than you think.
It should be something that describes your business but is also easy to pronounce. The name you choose must also be available to use.
You have two ways to find an appropriate name for your business:
Use a business name generator – browse the web to identify the most suitable business name ideas by entering keywords and checking for available domains; or
Visit your secretary of state's official portal – check your business name to see if it is available for use.
In addition to choosing a catchy business name, the next step is to pick the business entity and register your company.
You have three options at your disposal:
Each of these options have their own advantages and disadvantages that you should consider. More importantly, the business structure that you select determines how you'll pay your taxes, the level of your personal liability, and more.
Our recommendation is to hire professional LLC services to handle your business formation and successfully register your company to avoid legal issues, compliance violations, and paying hefty fines.
Invest in equipment
Once you have named and registered your company and assembled a comprehensive, all-encompassing business plan, you should consider investing in the best tools of the trade to get your business going.
Essentially, a VA business requires only a reliable and fast Wi-Fi connection and an internet-enabled device with a camera. While you can't do without these essentials, you should also invest in additional business management tools. Let's delve deeper into the necessities.
Computers
Aside from a powerful computing device, consider investing in additional equipment, including:
A second monitor;
An ergonomic office chair;
A top-quality desk with a monitor stand; and
High-end headphones.
Tools and software
Invest in software tools such as:
Project management – project management software tools like Evernote, Basecamp, Asana, and Trello help business professionals keep track of past, current, and future projects and clients to stay on top of deadlines, schedules, and more.
Accounting and invoicing – accounting and invoicing software tools are essential to your virtual assistant business efforts as they ensure that your clients pay on time, and help you track your expenses and income. There are also resources like Excel accounting templates that can help you manage your financial data.
Time tracking – a standard rule of thumb for virtual assistants is to charge by the hour. However, that can be pretty challenging when managing multiple clients. Time tracking tools can help you to track your ongoing projects and determine your prices accordingly.
Investing in social media advertising, SEO, driving organic traffic to your website, and listing your business on Google are all excellent business strategies for getting ahead of your competitors.
Create a business site
Now that your business is almost ready, the next step is to build a website for your company. While you may not have the necessary expertise to create a website, you should know that modern-day web technology makes the web design process very simple.
Establishing a business website isn't something that you should delay. You need an attractive, easy-to-use, responsive website with seamless navigation to attract regular customers to your VA services.
It can help you promote your business in two ways:
It gives your business legitimacy – a fully optimized website makes your business appear legitimate and trustworthy.
It helps you to build brand awareness – including backlinks to your website in your social media posts and blogs is an excellent way to broaden your target audience and drive more traffic to your site.
Here's a professional tip: Save money on hiring a web developer by tapping into website builder tools such as WordPress, Shopify, and GoDaddy Website Builder.
Create social media profiles
Social media profiles help you to establish a brand presence online and work on brand recognition. Internet users spend a lot of time on social media networks like LinkedIn, Twitter, Instagram, and Facebook.
You can tap into all of these platforms and start sharing your business-related content and industry news to create an authoritative brand image and gather social proof of your services.
Social media is also the most effective way to engage with your clients, start discussions, collect user reviews, and build a community of loyal customers.
Conclusion
Since the pandemic, the VA industry has gone through a period of rebirth. Compared to previous years, the VA hiring rates have never been higher.
Demand for remote VA professionals continues to rise, and there has never been a better time to choose this career than today.
Use these guidelines to start your VA business, and explore other steps that you can take to ensure that you start off on the right foot.