Startup Statistics (2023): 35 Facts and Trends You Must Know
FirstSiteGuide is supported by our readers. When you purchase via links on our site we may earn a commission.
Read More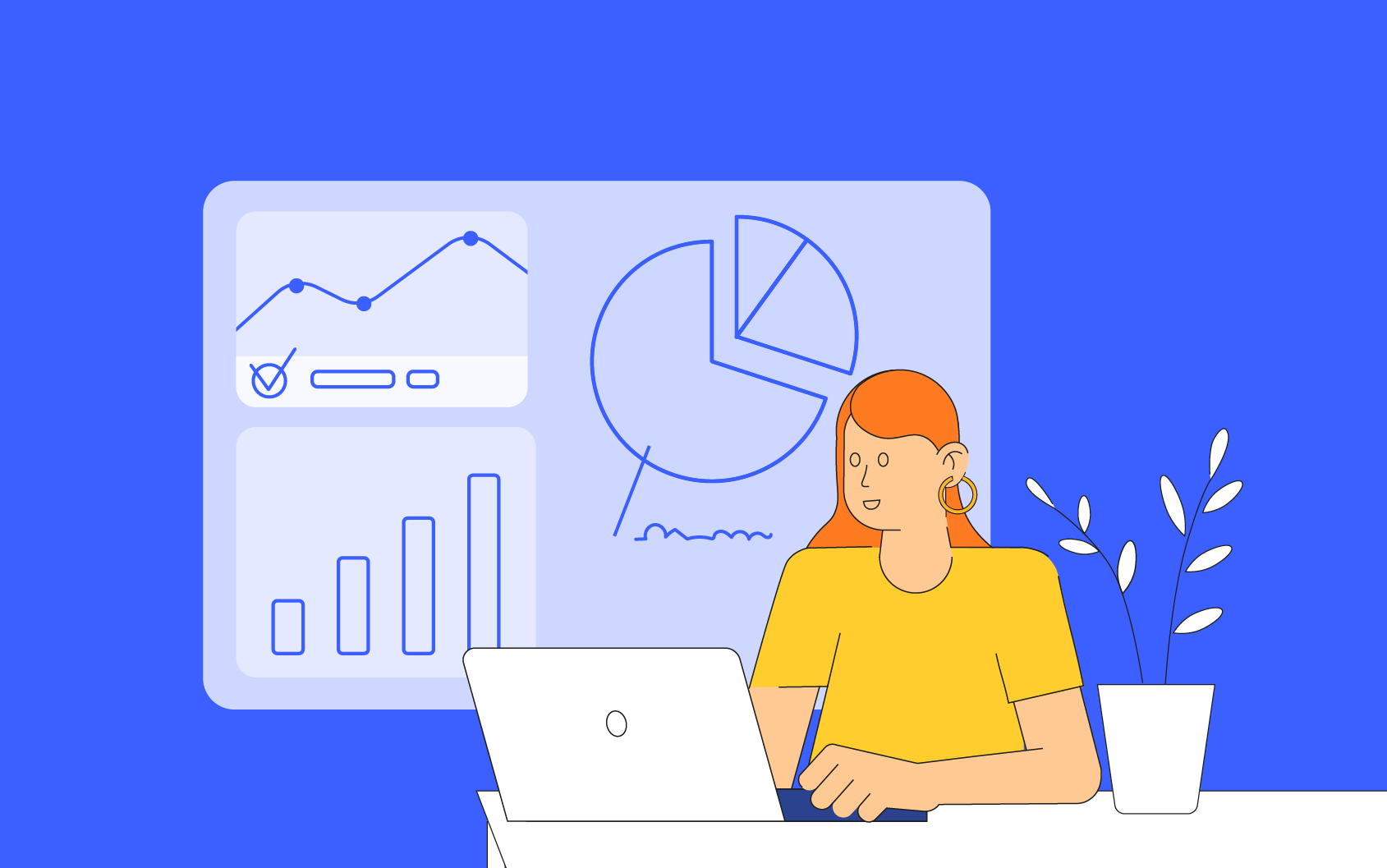 Do you have an idea that you think could change the world? Are you dreaming about earning millions or even billions of dollars by launching a business around this idea?
You could be the founder of a Startup. Startups are a leading business model that drives innovation and economic growth across the world. New types of products and services are created by startups each year. They are the manifestation of creative and ambitious entrepreneurs who have amazing ideas.
When someone says the startup, we usually immediately think of various success stories and exponential business growth. However, in reality, not all startups are successful. We usually only hear about the winners, and that is partial information that doesn't tell the whole story.
Everyone wants to hear positive success stories, but you need to know all of the facts if you want your startup to succeed.
We've decided to share with you some essential information about startups, including enlightening statistics, insightful startup facts, as well as an understanding of startup trends. All of this combined will offer a comprehensive view of the dynamic startup landscape.
Interesting Startup Statistics
The United States is the leading country by the number of startups (75,056).
7.1% of the startups in the world operate in the Fintech (Financial technology) industry.
The highest-valued private startup in the world is Bytedance from China ($75 billion).
Over 69% of startup companies started as home businesses.
Only 40% of startups are able to become profitable.
Competition (19%) is the greatest challenge when starting a business.
58% of startups have less than $25,000 at their disposal during the startup phase.
60% of entrepreneurs agree that AI is currently the most promising innovation technology.
General facts and statistics about startups
Before we start getting into details, let's take a look at some of the common facts and statistics about startups. You'll be surprised when you hear some of them. From which countries have the most startups to which companies are the leading startups, you might not get the answers you expect.
After all, this business model has become globally popular, and many companies around the world are trying to create their own success stories fueled by the internet.
1. Distribution of startups worldwide by industry
7.1% of the startups in the world operate in the Fintech industry. Followed by Life sciences and healthcare with 6.8%, Artificial intelligence with 5.0%, Gaming with 4.7%, Adtech with 3.3%, and Edtech with 2.8%. Even though there isn't completely accurate data about industry distribution, it's clear that modern startups gravitate towards the internet and digital technologies. With this information, we can also see which industry is best for startups at the moment.
(Source: Statista)
2. Number of startups by country
The United States is the leading country by the number of startups (75,056) by a long shot. This figure not only leads the tally but gives a clear answer to the question of how many startups are in the US. The second on the list is India, with just 15,427 startups, and the third spot is occupied by the UK, with 6,843 startups.
To put things into perspective, the US has almost three times more startups than the rest of the following 9 countries in the world combined.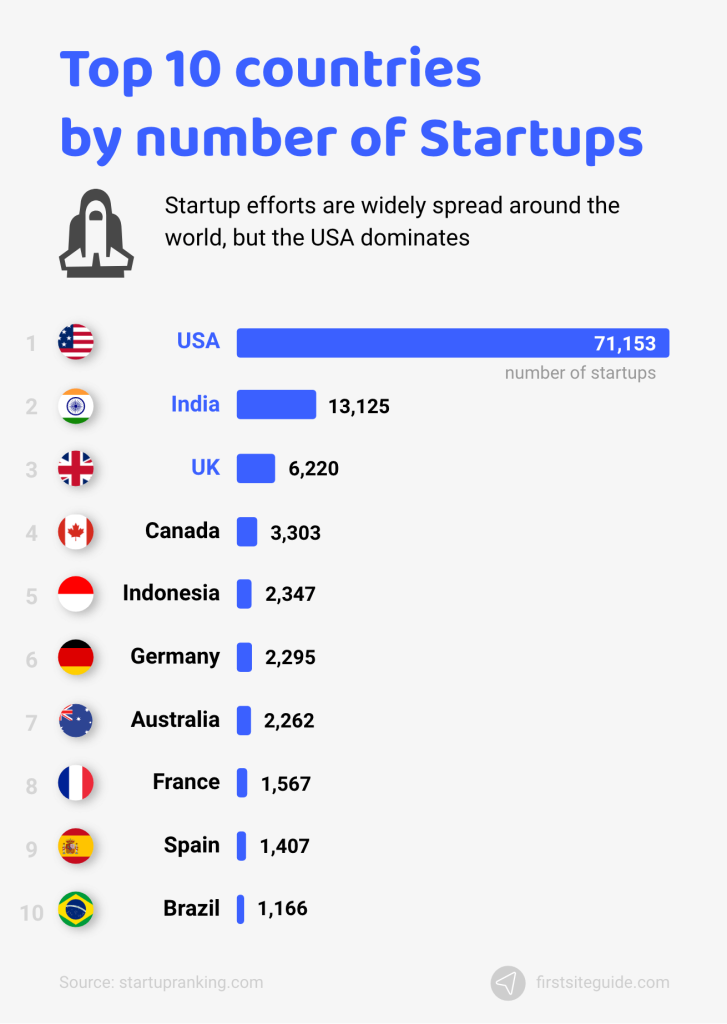 (Source: Startup Ranking)
3. The most valuable unicorn company in the world, ByteDance, is valued at over $350 billion.
ByteDance is a tech company from China that owns Tiktok. There are currently more than 600 Unicorn companies around the world. However, the majority of them are located in China or the United States.
Unicorn companies are startups that are valued at $1 billion or more. The majority of unicorn companies today are involved in the global sharing economy, where they can make quick gains.
4. Around 50% of Unicorn companies are located in the United States.
Second place is held firmly by China, with 25% of all unicorn companies in the world. Third and fourth places are constantly being traded by India and the United Kingdom, with about 5% of unicorns or around 20 companies each.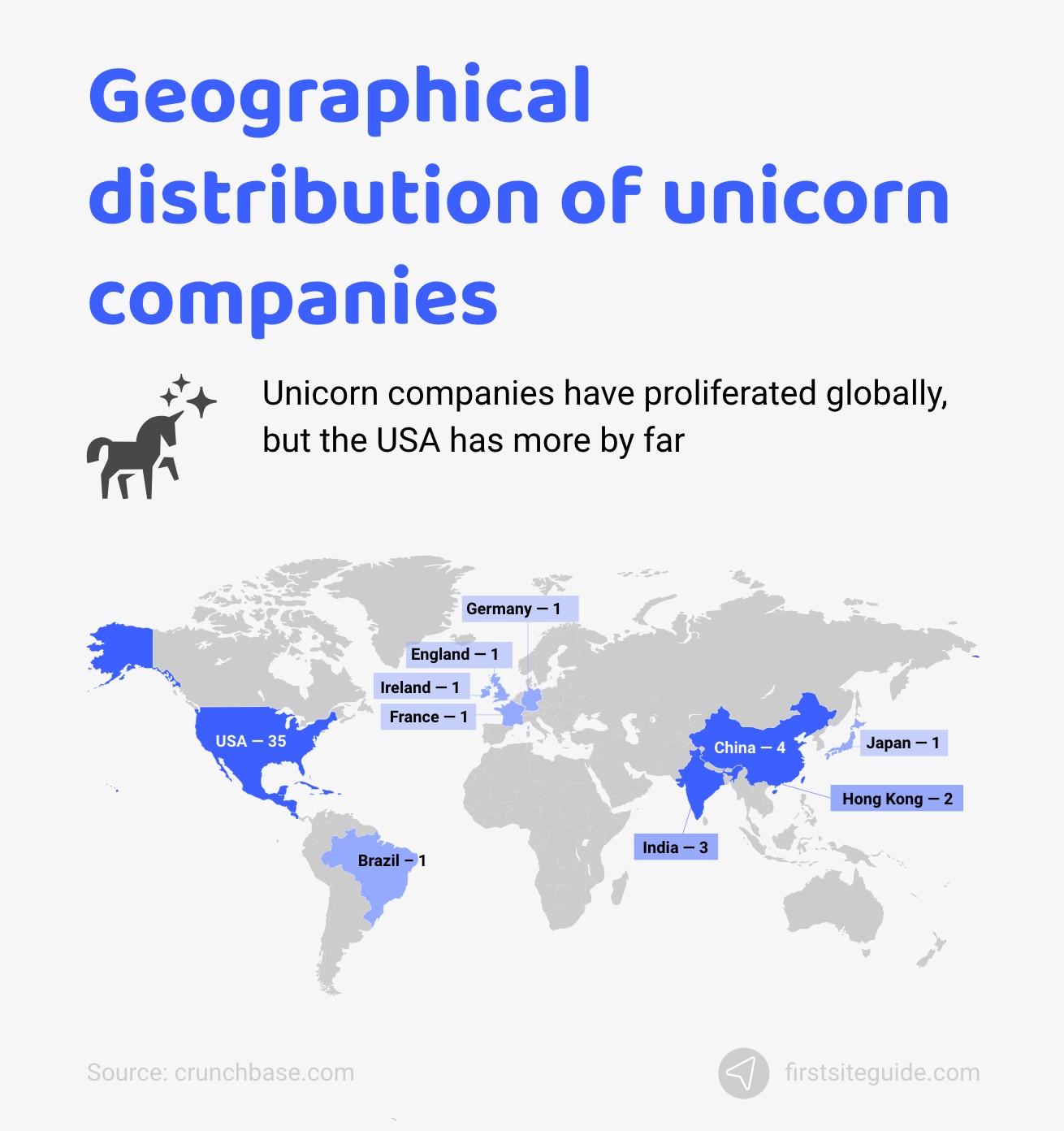 (Source: Crunchbase)
5. The value of eCommerce sales globally is around $3.5 trillion, with rapid growth expected in the future.
That's why eCommerce is one of the most popular industries for new startups. The next industry in line is "Fintech" – Financial technology. Online financial services have been booming since the introduction of PSD2.
Another big focus of new startups is cybersecurity. These companies understand how important online security will be in the future. FoodTech combines food and technology, specifically the internet, to deliver products to customers – another popular industry for startups.
With over $16 billion of investments in 2018, EdTech is becoming another popular startup industry that provides educational technology solutions to people worldwide.
(Source: International Business School Barcelona)
6. The highest-valued private startup in the world is Bytedance (Toutiao), from China, worth around $75 billion.
Even though ANT Financial is the undisputed leader, it is a partially government-owned startup. The second most valued startup in the world is Didi Chuxing, a transportation company from China worth $56 billion.
A Fintech company from the US is third with $36 billion estimated worth, and SpaceX sits at 4th place with a $33.3 billion price tag.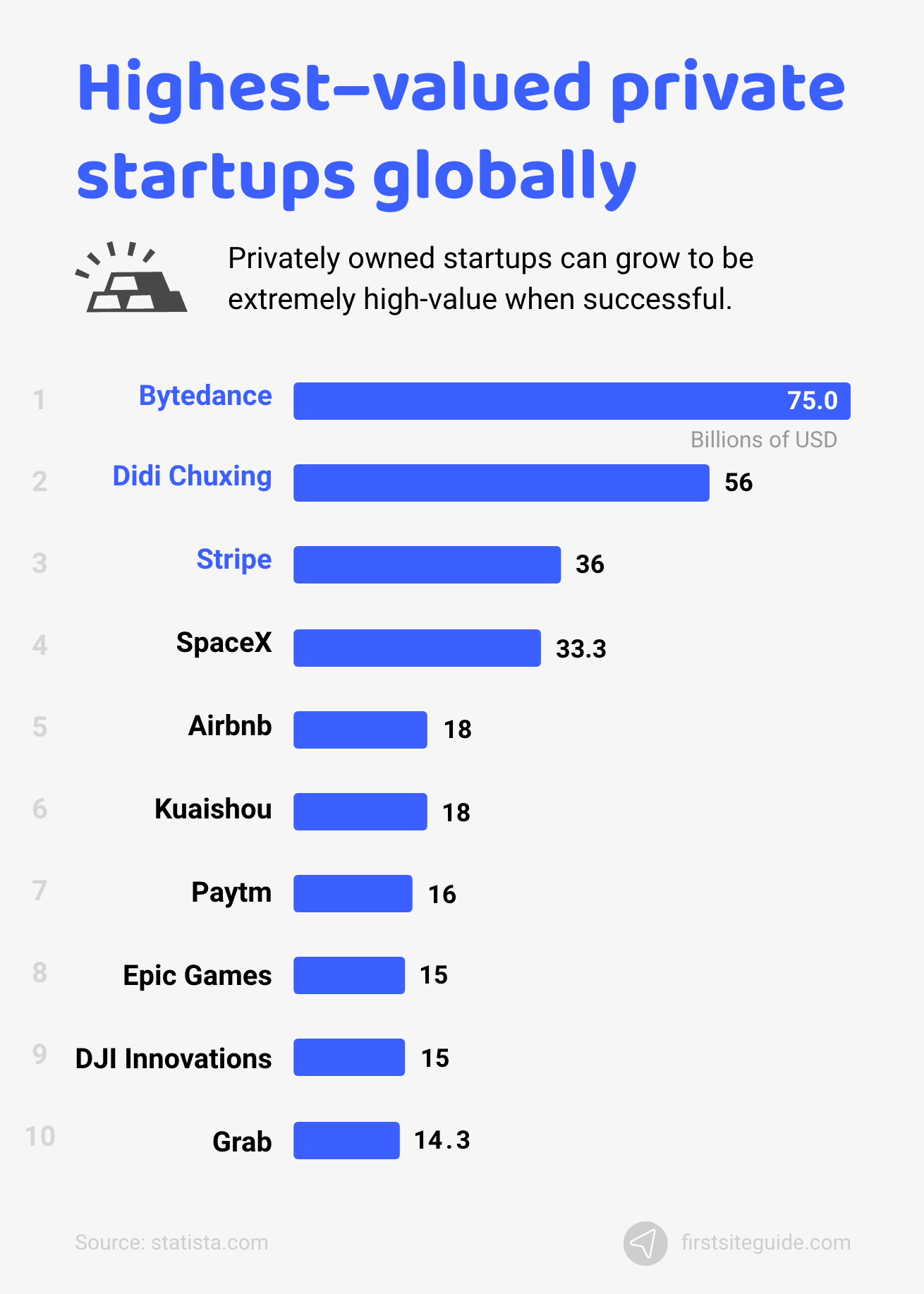 (Source: Jewish Review)
7. 95% of entrepreneurs that create startups have at least a bachelor's degree.
Many people say that education isn't important. They point to Mark Zuckerberg and Elon Musk as examples. However, most of the people involved in some of the world's most successful startups have a higher education.
(Source: Serious Startups)
8. Over 69% of startup companies started as home businesses.
The idea has to start somewhere and take shape. Even though most startups don't have the necessary funding at the beginning to cover office costs, they can start their operations from home.
However, this isn't just an attractive choice during the startup phase, as reports show that over half of entrepreneurs in the US continue to operate their companies from their homes after starting up.
(Source: Small Business Trends)
Success and failure: numbers of startups
There are many figures tossed around about how successful startups actually are. Some of them are true, while others are exaggerations or fabrications.
At the same time, there's a common narrative that business is easy and that starting up a company is a piece of cake. Well, the numbers don't support this kind of story. Here's what you need to know before heading into entrepreneurial waters.
9. How many startups fail?
Take a look at the honest statistics below about how many startup businesses fail, this information will give you an idea of what percentage of startups are successful:
9 out of 10 startups don't make it.
20% of startups fall apart after a year.
30% of startups close within two years.
50% of startups shut their doors within five years.
70% of startups dissolve within 10 years.
The primary reason for these numbers is a lack of ability to offer a product for a target market. Many companies aren't able to generate interest in their products or services. Some companies also struggle with marketing. They don't have the finances to do it right and present what they have to offer to the right segment of the public.
Another reason for startup failure is poor team organization. Companies are unable to develop a group of people that will work together effectively towards the same goals.
(Source: Failory)
10. 58% of startups have less than $25,000 at their disposal during the startup phase.
This is another statistic that exemplifies how money is an issue for more than half of startups. For companies to grow, innovate, and market their products and services, money is necessary. This is one of the most significant reasons why so many startups fall apart.
On the other hand, 33% of employer startup firms have a capital level that's $10,000 or lower. Money is a big issue, and it's necessary to start up a business the right way with the right amount of funding.
(Source: Profit From Tech)
11. Only 40% of startups are able to become profitable.
This number also shows that not all startups fall apart because of money. There are many factors involved in starting up a business, such as legal issues, logistics, organizational problems, and more.
All of these potential issues need to be considered for a successful startup. 30% of startups have a higher chance of losing profit, while the remaining 30% will simply lose money from the beginning.
(Source: Profit From Tech)
12. The highest number (42%) of startups fail because they misread the current market demand.
29% of startups go under because they simply lose funding. Some other big reasons for closure are poor team organization (23%), being pushed out by the competition (19%), and having cost issues (18%).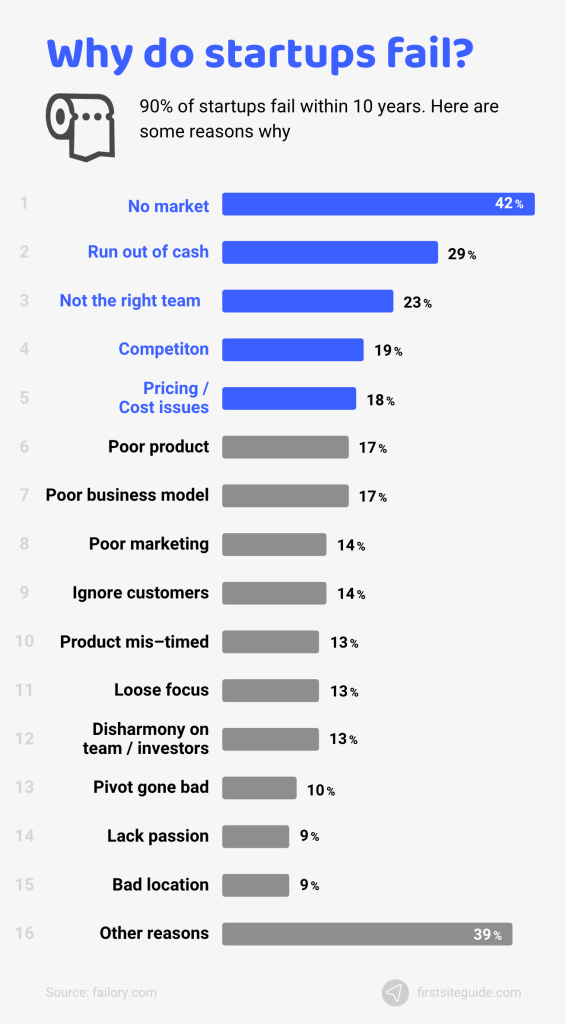 (Source: Failory)
13. 19% of startup leaders agree that competition is the greatest challenge when starting a business.
The second biggest challenge is cash flow (12%), taxes (11%), economy (11%), and growth is last with 10%. Other startups face a variety of other challenges.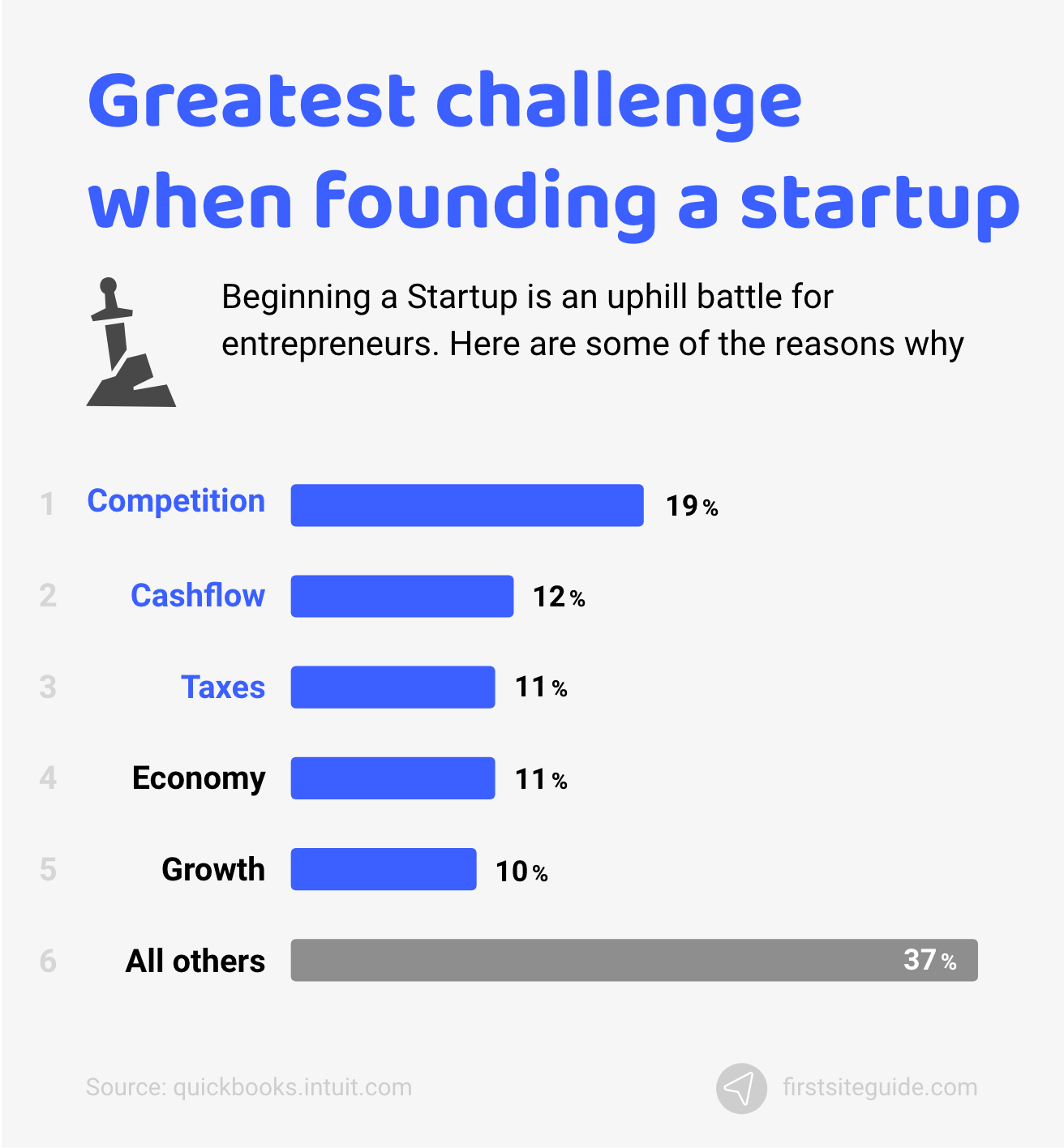 (Source: Quickbooks)
Investor stats and the financial costs of startups
The numbers and finances involved in the startup industry are very important. These stats can show what startups are missing and where they should put their money. Also, the startup industry relies on investors to thrive.
For a startup to be successful, it needs to catch the attention of investors and prove its worth. Here are some of the numbers we found most interesting.
14. The vast majority of small business startups have a maximum of $10,000 at their disposal during the startup period.
That's the average number any small business startup would need. However, costs can be very different depending on the business model, subsequent investments, and future development. It's a general rule of thumb, but it won't work for every startup.
(Source: Business.org)
15. ¾ of startups used personal savings during the development process.
This shows that finding an investor isn't easy and that most startups need to bootstrap themselves to grow. Simply put, investors are often not willing to take the risk early on. They want to see a startup make their own returns and establish an organization first.
Be prepared to rely on your checking, savings, and retirement accounts. Believing in your business idea also means putting your own money behind it.
(Source: Quickbooks)
16. The vast majority of companies need at least $50k in annual revenue to be sustainable for a long period of time.
Building revenue takes time. For most companies, it takes up to two years to become profitable, which is why finding investors is one of the top priorities of startups. They do this by borrowing from friends and family, getting loans, crowdfunding, micro-investments, or reaching out to investment firms.
(Source: Quickbooks)
17. From 2010 to 2018, startup valuation grew by 11.2% CAGR for seed valuations, 15% for series B, and 16.2% for Series A.
Simply put, investors are valuing startups more and more, and the startup market is growing more serious each day. Entrepreneurs are taking the necessary steps to show that they mean business, which helps them to attract investors.
(Source: Toptal)
18. 58% of Micro Venture Capital funds in the market are located in the US.
This statistic makes sense since the vast majority of startups are, in fact, in North America. Asia is next with 19% of Micro Venture Capital Funds, and Europe and the rest of the world have 11%. The proportions are similar in Non-Micro Venture Capital Funds, with the only major difference being Asia with 22%.
(Source: Toptal)
19. The majority of companies raise three rounds of financing before they turn into Series A.
In the past, a Series A phase was in the second round, but now most companies have to get three rounds of investments before they can go to Series A. This just goes to show that companies are struggling to get the money they need to grow. At the same time, with each subsequent investment, the owner loses a part of their company to the new investor.
(Source: TechCrunch)
20. Only a tiny number of startups (0.05%) secure venture capital investments.
Venture capital is provided by some of the most reliable investors. It comes in the form of finance or managerial and technical assistance. This type of investment is provided only to companies that have long-term potential for growth. This indicates that venture capitalists don't have a lot of faith in most startups and aren't often willing to invest in them.
However, with the right startup, this investment can offer extremely high returns.
(Source: Fundera)
21. Only 1/100 startups that raised seed rounds were able to reach a valuation of $1 billion.
1.07% of seed round startups become unicorn companies. That might seem like a good number, but raising seed rounds is a challenge on its own. Companies should focus on optimizing their services and products towards the market, and not try and achieve the mythic status of some of the most hyped startups in history.
(Source: CBInsights)
22. During their first three years of existence, SaaS companies invest 80% – 120% of their whole sales revenue in marketing.
After the first three years, their investment in marketing starts dropping, and by the fifth year is down by up to 50% on average. After the fifth year, the ratio doesn't change significantly. Despite the range of differences between SaaS companies and their individual revenue levels, these ratios are consistent for all of them.
(Source: Tomasz Tunguz)
23. In 2019, 52% of companies expected their next source of funding to be Venture capital.
This trend has remained pretty steady since 2017 when 51% of companies expected this to be their source of funding, and in 2018 when 54% of companies relied on Venture capital. The next go-to source of funding is Angel or Micro Venture capital, with 13% of companies relying on it in 2017, 19% in 2018, and 17% in 2019.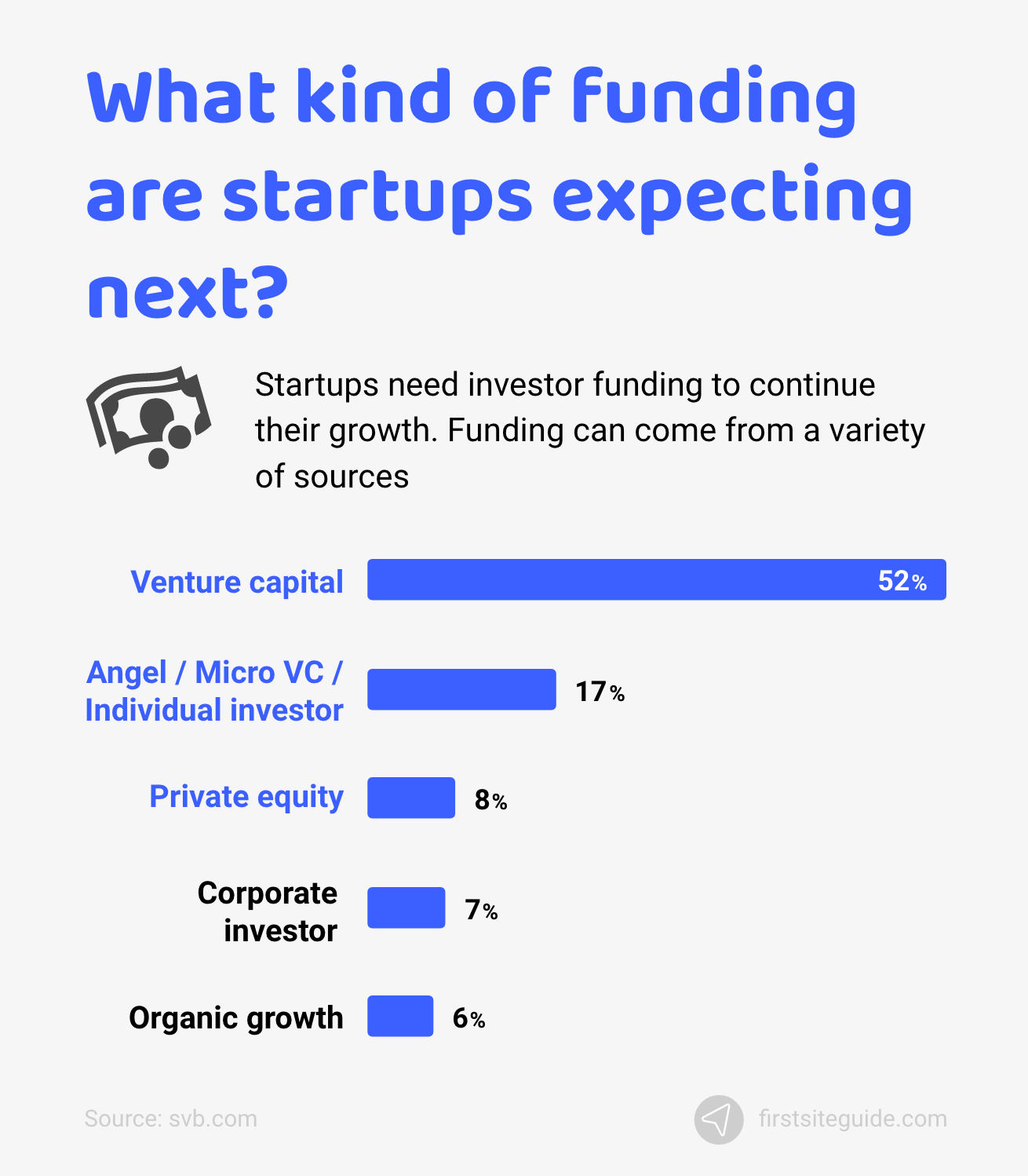 (Source: Silicon Valley Bank)
24. When asked about their long-term goals, 50% of company leaders said that the most realistic scenarios are acquisition.
18% of startups were preparing for potential IPOs, 17% were hoping to stay private, and 15% of companies didn't have a long-term goal. These expectations weren't any different in 2018 when 57% of companies expected to be acquired, 18% were hoping for an IP, 16% wanted to remain private businesses, and 9% didn't have long-term plans.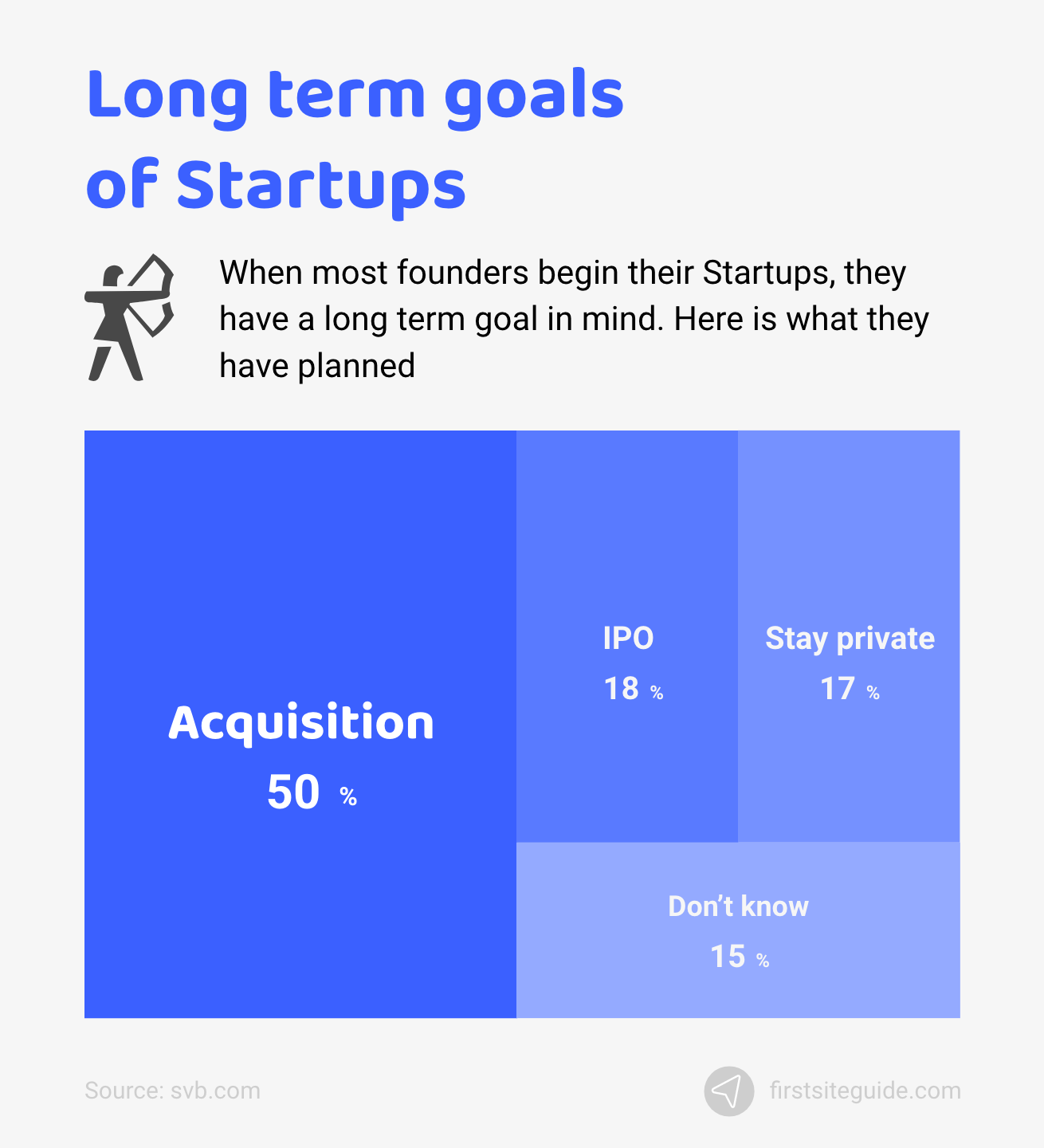 (Source: Silicon Valley Bank)
Types of startups and industry specific statistics
Not all startups are created equal. Entrepreneurs start their companies with different ideas, target markets, products, and services. However, they all use a similar startup model for different industries.
It's important to understand how startups are performing in different industries and whether their numbers are different. Here are some of the stats we found most relevant in this context. First of all, let's see where the most significant investments are: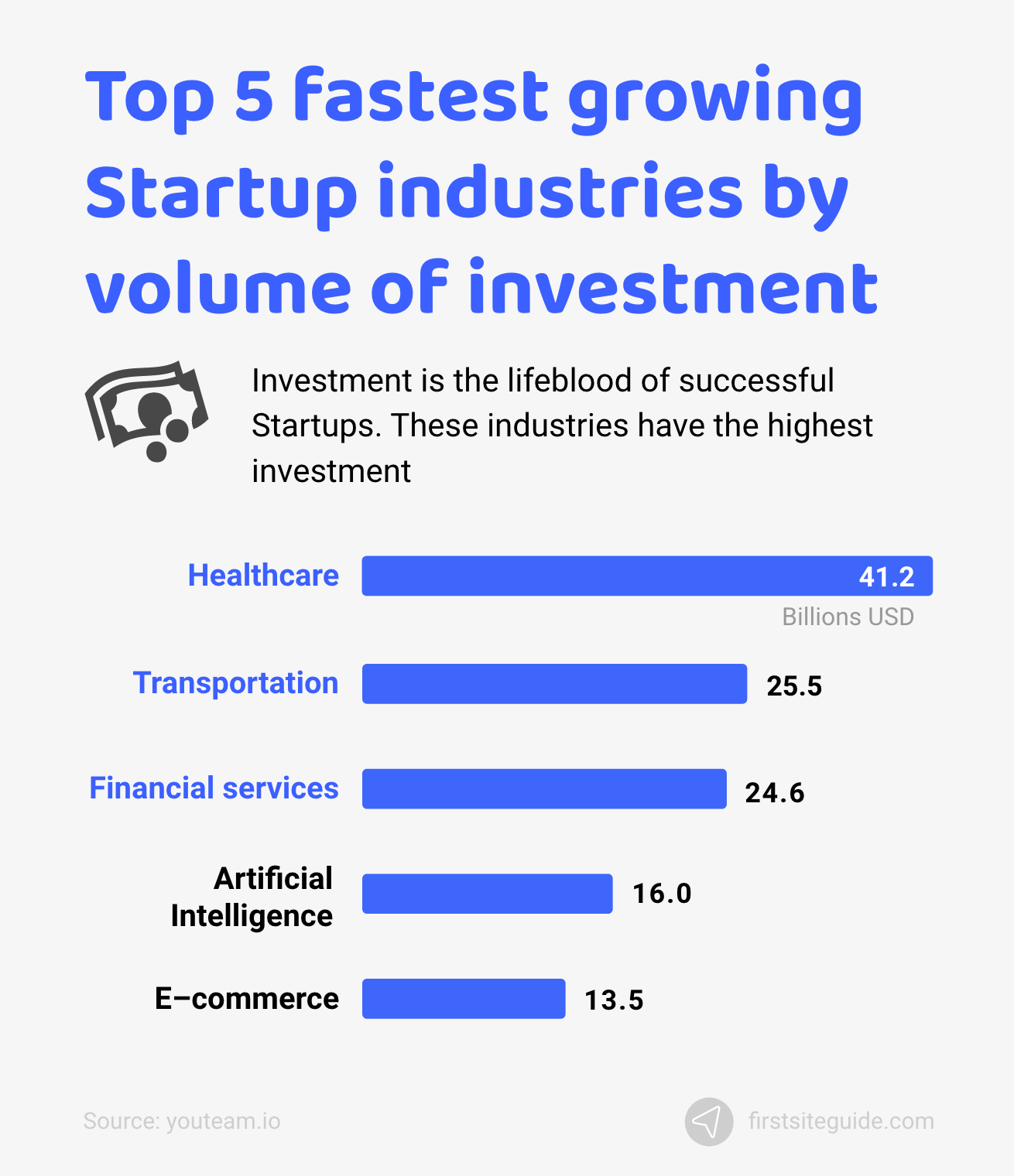 (Source: You Team)
25. In 2018, eCommerce startups were able to raise on average $66.3 million per round.
eCommerce startups were able to improve the amount of investment they receive per round by almost 55% from 2014 to 2018. Not all startups are struggling with obtaining investment, as this statistic clearly shows.
(Source: HexGn)
26. The total amount of investment in cybersecurity startups on July 12th, 2019 was $6.24 billion.
This total amount of investment almost reached the total investments of 2018 by July. For the whole of 2018, the amount of investment was $7 billion. This growing investment trend for cybersecurity startups is expected to continue into 2021.
This growth of investment in cybersecurity was possible because large businesses are facing many challenges in this aspect of their work and need specialist companies that will help to deal with them.
(Source: Statista)
27. Total Venture Capital investment in FoodTech companies in the US in 2015 was $1 billion.
This trend has been increasing for a long time, and the investments are likely higher in 2020, even though there isn't any current data available. However, consider 2008, when total investment in this industry was $60 million, and 2013 when it was $290 million. Clearly, there is steady growth in this industry.
(Source: Pitchbook )
28. Edtech companies raised a total of $1.03 billion in 2016 through more than 138 venture capital deals.
Startups that focused their services on the secondary learning market or corporate learning were the most successful in raising money, grabbing a total of $593 million. Still, the size of the e-learning market in North America hasn't seen significant growth between 2013 to 2016.
(Source: BrandonGaille)
29. In 2018, the total investment in Fintech startups was just over $254 billion.
The number of startups that received investment deals was over 18,000. Compared to the total investment received in 2017, that's a 40% growth over just 12 months. The largest growth was seen in the UK, where the total investment was $4.9 billion, a $3.6 billion increase compared to 2018.
(Source: Medium)
Startup predictions and trends for the future
Now that we know where the startup industry stands and how it got there, let's take a look at the future and what we can expect.
When starting a new business, it's important to know where the market is headed and anticipate your place in the business world.
Here are some of the interesting things we found.
30. The total value of the biotech industry is around $295 billion. Further growth is expected in 2021 due to the development of DNA analysis technologies.
In the past, DNA tests were used solely for discovering ancestry, but the use of DNA has been extended in many ways. Companies are developing technologies that will use DNA for health improvement, suggest exercises, help users figure out the best products to use, and more.
(Source: Exploding topics)
31. The average investment in African tech startups in 2019 was $48 million.
More and more venture capital companies are investing in Africa each year. The average investment per startup in 2015 was $25.3 million, which means that the investment level has grown by almost 100%. However, only about 20% of those companies have local founders.
(Source: Quartz Africa, The Guardian)
32. The entire Green Technology and Sustainability market size is expected to reach $28.9 billion by 2024.
The projected CAGR growth from 2019 to 2024 is at 27.1%. When it comes to technology, the largest growth is expected to be seen within the Blockchain industry. In terms of application, the largest growth is expected in carbon footprint management.
(Source: Markets and Markets)
33. No-code startups reach a 100% increase in searches in 2018.
The interest in no-code startups spiked in 2018, and from there, it has stayed steady. Companies are looking for customizable digital products that they can adjust to their needs.
However, they no longer want to spend time and research coding those products. Instead, they want websites and apps that they can adjust without any coding knowledge. This trend is expected to continue in the future.
(Source: Exploding Topics)
34. The sharing economy market is expected to reach a total sales revenue of $335 billion by 2025.
In just a few years, sharing economy startups like Airbnb and Uber have grown exponentially and established a global presence. At the moment, Airbnb is worth $24 billion, and Uber is valued at over $50 billion. In 2013, the total revenue of market sales was at $15 billion, which means that in just seven years, the projected revenue of this market is expected to grow more than 20 times larger.
(Source: Pwc)
35. 60% of entrepreneurs agree that AI is currently the most promising innovation technology.
Not only that, but they also agree that it will be the most promising technology over the next 10 years. The areas of this technology with the most potential are autonomous transportation and big data. Even though these two areas are already making strides, it's expected that they will grow substantially in the near future.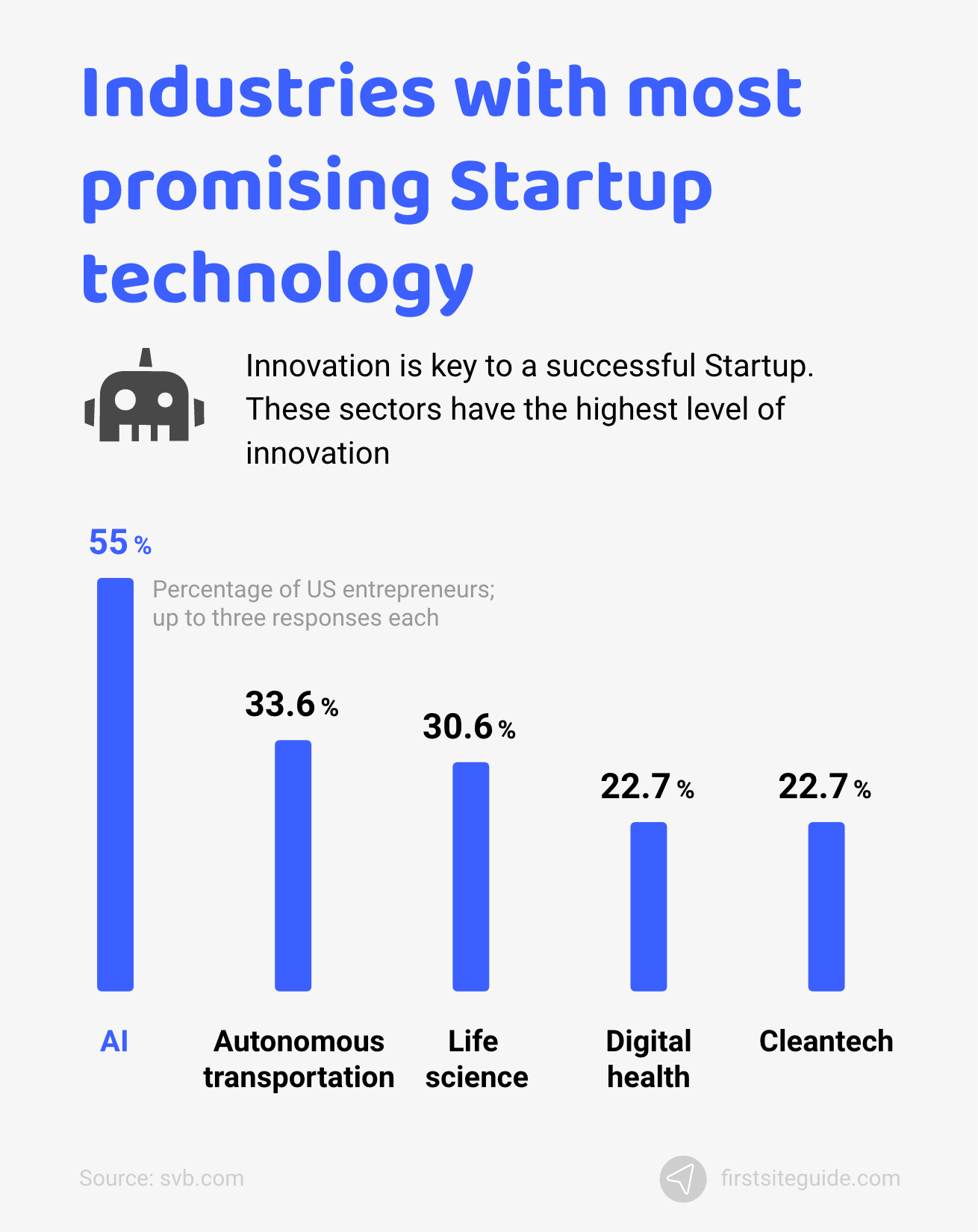 (Source: Silicon Valley Bank)
Conclusion
We want to see you succeed in your entrepreneurial efforts, which is why we have shared these important numbers and trends about startups. The startup industry will continue to be the driving factor for global innovation and business growth for many years. However, companies need to learn how to adjust to trends while being sustainable and efficient so that more startups can survive long term.