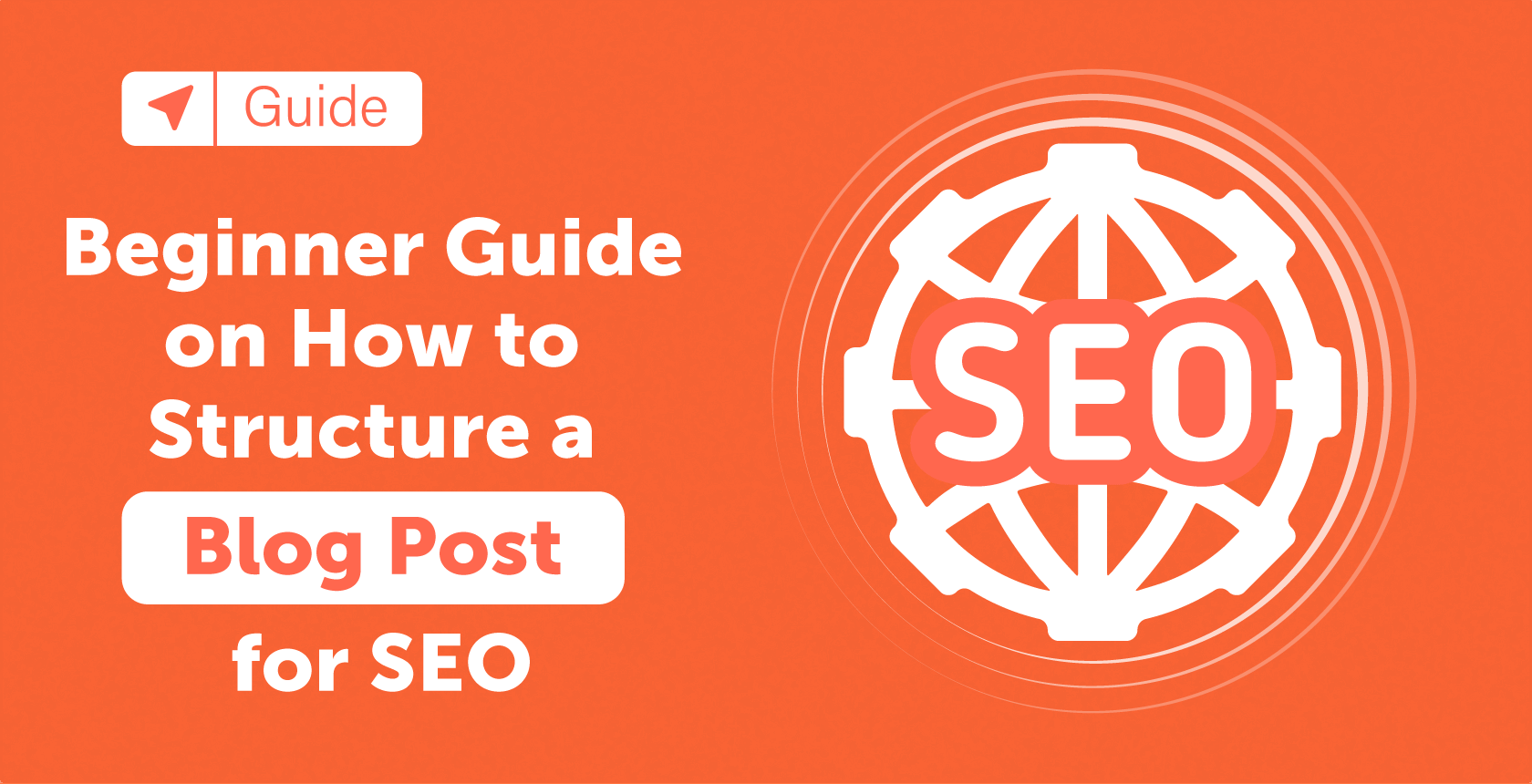 Why should I keep writing when hardly anyone reads my texts? How do I attract more readers? Why is this article not reaching people?
These are all problems bloggers often deal with. Like any good blogger – you want your blog posts to reach a large audience. To achieve that, you need a good ranking in search engines, and the best way to get there is through good SEO.
Search Engine Optimization (SEO) is a common name for all optimization processes you deal with to improve your search engine ranking, but what does proper SEO involve?
This guide will review eight tips for creating the perfect structure for your blog posts to boost your SEO.
Stick with us to learn more about SEO and structuring blog posts for better online visibility.
Why is SEO important?
SEO comes in after you publish your article and try to get natural clicks from visitors other than your existing readers. After all, most clicks go to the first few websites shown on the first page. If you're not in those top few, your website doesn't have good online visibility.
By doing SEO, you're optimizing your website and content to appear in the first few places in search results. Doing SEO increases your content visibility, drives more people to your website or blog, and increases your revenue from clicks and readers.
8 tips on structuring a blog post for SEO
Becoming great at SEO and driving traffic to your website doesn't happen overnight. It's a long and challenging process that takes time for you to even notice, let alone for it to be effective.
However, if you stick with it, you'll see positive changes in a few months. Your blogs will reach more readers, have a higher click rate, and your online visibility will skyrocket.
You can include these eight helpful tips in your writing to boost SEO:
Tip #1: Choose a focus keyword and add it where necessary
Choosing a proper focus keyword is the first step towards optimizing your blog for better search engine ranking. That's your main keyword and the one you want to rank for in various search engines. 
Your focus keyword should be highly related to your post's content, as you don't want to clickbait readers. This keyword is what users will most likely type into search engines when they're trying to find content such as yours.
Various SEO tools can help you choose the perfect keyword. Some of these tools are free, while some require a paid subscription. Most of them work on the same principle, where you need to feed the tool information about your topic, and it will give you keyword suggestions back.
Tip #2: Add meta descriptions, titles, and tags
Although these elements aren't essential for your readers, they are crucial for search engines. Meta titles, descriptions, and tags help search engines understand your content. What are these?
Meta title – This one stands at the top of the browser window as the headline you click on. It should ideally be 50–60 characters long, and you should try to include the focus keyword in it.
Meta description – It's precisely like a summary of your post, appearing under the title in search results. It should be informative and give a brief description of what your post is about. That's how search engines learn about your content.
Tags – These keywords and phrases help internet users find what they're searching for when looking for a specific topic.
As you can see, these are all essentially short summaries of your post.
Tip #3: Create a logical flow
It's a tricky aspect of writing and why so many blogs fail. Without it, your blogs will lack an organized structure, negatively affecting SEO. Moreover, your readers will also have difficulties following the text.
It's wise to first outline your text before writing. See what you'll write about and create a structure that makes sense and flows naturally. That includes headings and subheadings, which you can find more about below.
When writing under a particular heading, only put information under it that's relevant to the title. Try to divide your text into shorter paragraphs, each with its theme, and use conjunctions and transitional words to create a smooth flow and a cohesive article.
Tip #4: Add links
There are two types of links you can use:
Internal links – These lead to other pages of your website. They help keep readers on the site longer and engage them with additional content. Moreover, they help search engines understand your content and the website's structure, letting them categorize it better.
External links – They're links that point to other websites. If you're networking with other bloggers in your niche, you can put external links to each other's websites, driving traffic to one another. Additionally, these links should be from credible websites.
Quality links should be put on relevant anchor text, which helps users and search engines know what the link is about.
Tip #5: Create a compelling title
Using a proper title is one of the most critical steps to gaining new readers. It's the first thing that your blog guests see and what usually makes them click a particular link when searching for content on Google.
You should avoid creating clickbait titles. Although these will most likely work if you want a high click rate, your readers will undoubtedly close the tab once they realize it's clickbait.
Additionally, you want your title to be relevant to the content of your blog post. It should include the focus keyword, and it can even have a play on words. A great title should also be catchy, and its goal is to lure the readers in.
Tip #6: Add headers and subheaders
These two elements help both readers and search engines. Your readers will easily find their way around the text, while search engines will quickly see your content's structure, and that's why it improves your SEO ranking.
Headers and subheaders are hierarchical, with the H1 being your title and the most important one, while the H2s are smaller, the H3s are even smaller, etc. For example, "Tip #6: Add headers and subheaders" is an H3 in this article.
Try to use the correct header hierarchy and write texts and info that are descriptive and relevant to the header under which they're found.
Tip #7: Include bullets and numberings
Breaking up your content is essential for readers to rest their eyes and easily find their way around your post, and the best way to do that is to include bulleted and numbered lists.
You shouldn't spam or rely too heavily on either of these, but you want to use them whenever possible, and you want to switch it up with paragraph text. For example, the H3s in this text use a bulleted list ("Tip #2: Add meta, descriptions, and tags".)
These lists also help search engines understand your content better, and it's why they're essential for SEO.
Tip #8: Add images
Another great way of enhancing the visual appeal and improving the aesthetic of your blog posts is by adding images. They break up large blocks of text and make your content engaging for readers.
When adding images, ensure you use high-quality ones from copyright-free websites. Only add pictures that are relevant to your topic. For example, if you're writing about restaurants, add an image of a restaurant. If you start with a landscape image, try to use only landscape images throughout the text to increase the visual appeal.
Moreover, you should add an alt text under images to allow search engines to comprehend what's on the picture.
Conclusion
Remember that increasing the number of clicks and readers on your posts is a long and tricky process, but it's a doable one. However, you'll undoubtedly see improvements if you follow the blog structuring tips above. Therefore, your blogs will reach a larger audience, and your posts will engage your readers.