Thinkific Statistics That Prove the Success of Online Education
FirstSiteGuide is supported by our readers. When you purchase via links on our site we may earn a commission.
Read More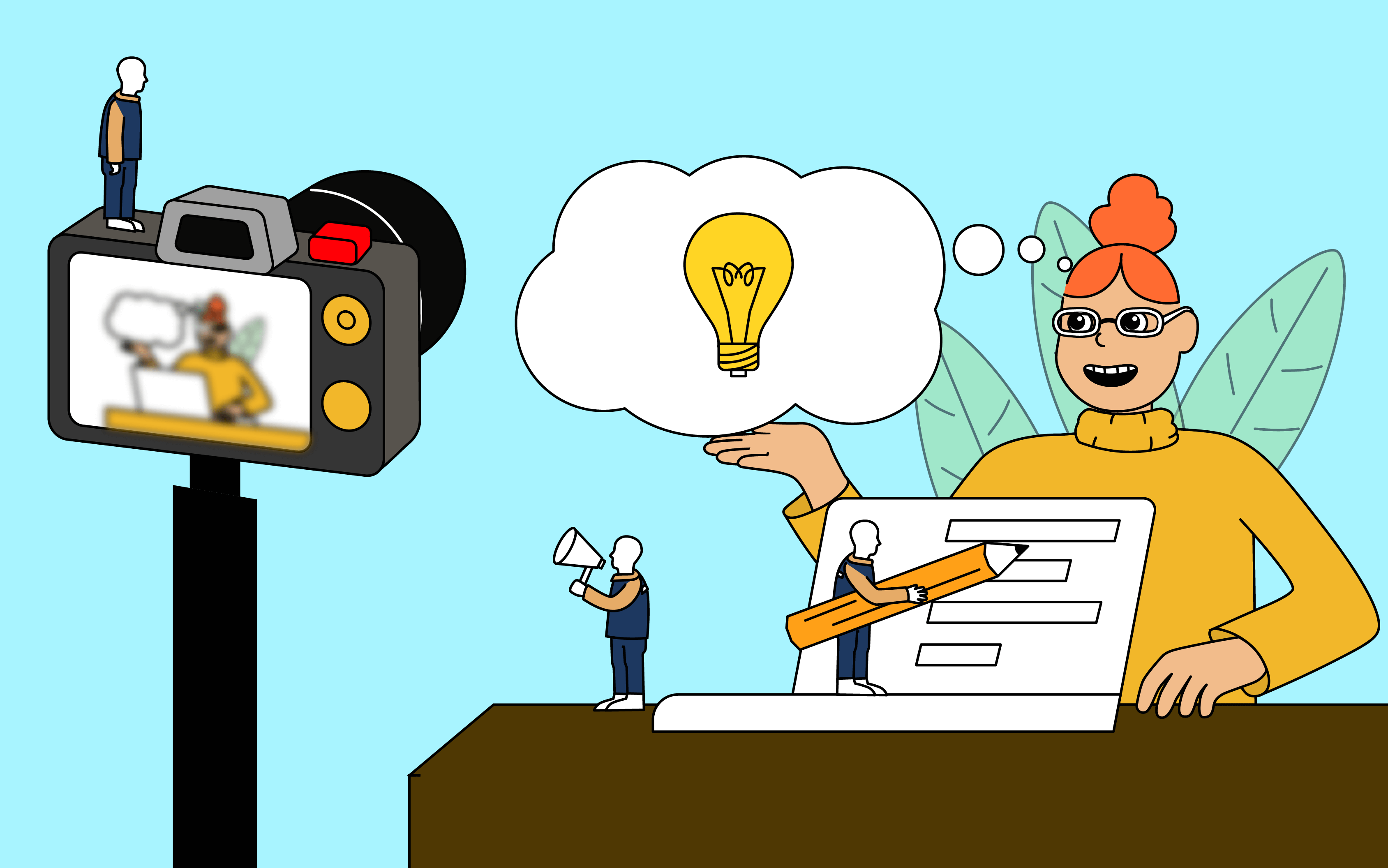 With the massive and rapid growth of the tech industry paired with the internet boom, the educational sector has leveraged these newly available options to improve. Thinkific is one of the platforms that offers a great example of this forward momentum.
Thinkific is the brainchild of Greg Smith, the current co-founder and CEO of the company. He and his brother Matt Smith were attempting to attract more students to Greg's LSAT online course. To their surprise, once they offered the course online, it started earning a lot of money. The brothers grasped this opportunity, even dropping their corporate lawyer career paths.
Soon, other brands and entrepreneurs started reaching out to the Thinkific team, asking if they could offer their own courses on the platform with full control over their content and data. The brothers, along with their co-founders Miranda Lievers and Matt Payne, were happy to oblige.
From these humble beginnings just a decade ago, this team has managed to build one of the most prolific online education platforms to date.
Interesting Thinkific Statistics
More than 100 million course enrollments at the end of 2020.
Thinkific raised $160 million gross when it went public on the Toronto Stock Exchange in 2021.
Thinkific's leadership team includes 48% female members.
Over 500 dedicated employees are part of their ranks.
$38.1 million in revenue in 2021.
Overview of the most important Thinkific stats
Let's examine some facts about the company and see how successful it actually is.
1. 22,111 live websites currently use Thinkific, with an additional 5,267 sites that have used Thinkific historically.
The most foundational number to cite is the usage number for Thinkific. Since 2017, Thinkific's usage numbers have grown steadily. Currently, Thinkific serves 22,111 live websites and that number keeps growing.
From these 22,111 websites, about 0.1% (1,049) fall into the Top 1 million category, 0.19% are grouped into the Top 100k category and 0.38% are contained in the Top 10k category. The US websites are the most prominent, composing more than 50% of the total websites currently using Thinkific (14,805).
(Source: Builtwith.com)
2. Thinkific course creator's revenue in 2021 was expected to exceed 1.5 billion dollars.
Revenue is another good data set to examine when assessing the success of a particular brand. With Thinkific revenue hitting half a billion dollars in 2020 and their projections for 2021 expected to be three times higher, we can conclude that their growth is substantial.
This may seem surprising, but if we consider that more than 50,000 course creators use Thinkific to serve a massive global pool of students, things quickly add up.
(Source: Financialpost.com)
3. Thinkific has more than 100 million course enrollments.
Thinkific announced on December 22, 2020, that they have accommodated more than 100 million course enrollments through their platform. That's a huge milestone, solidifying their status as clear industry leaders capable of maintaining stable services at the highest level.
The most prominent industries to provide courses through Thinkific in 2020 were Health & Fitness, Software & Technology, Career Development, Fashion and Beauty, and Arts & Entertainment.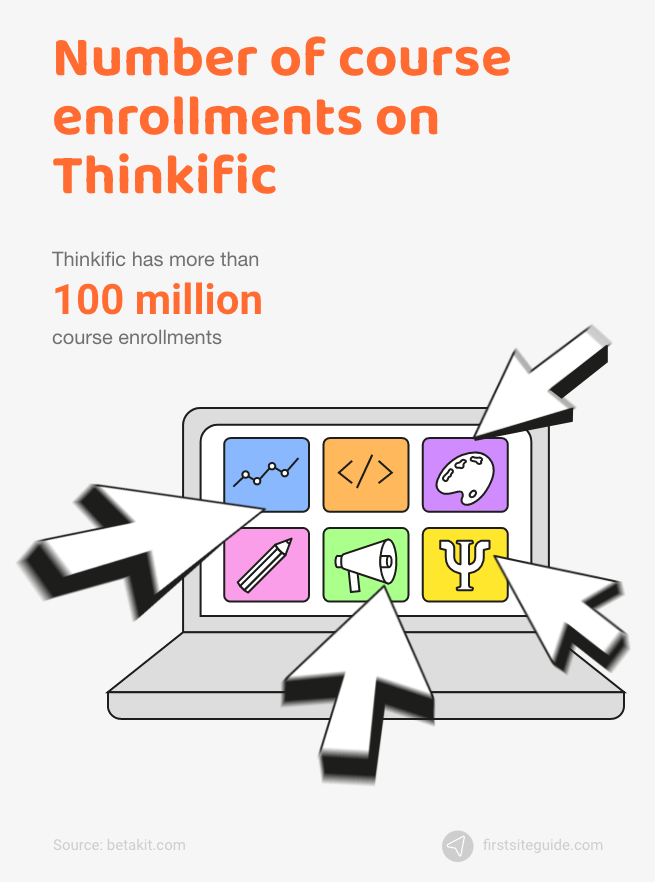 (Source: Thinkific.com)
4. Thinkific reported $38.1 million in revenue for 2021 and an 81% revenue increase.
Let's examine their revenue from another angle. In 2021, the company reported an astonishing year-to-year revenue jump of 81%, growing from $21.1 million to $38.1 million.
If we view their fourth quarter results in 2021 and compare them to 2020, Thinkific earned $10.8 million, an increase of 49 percent.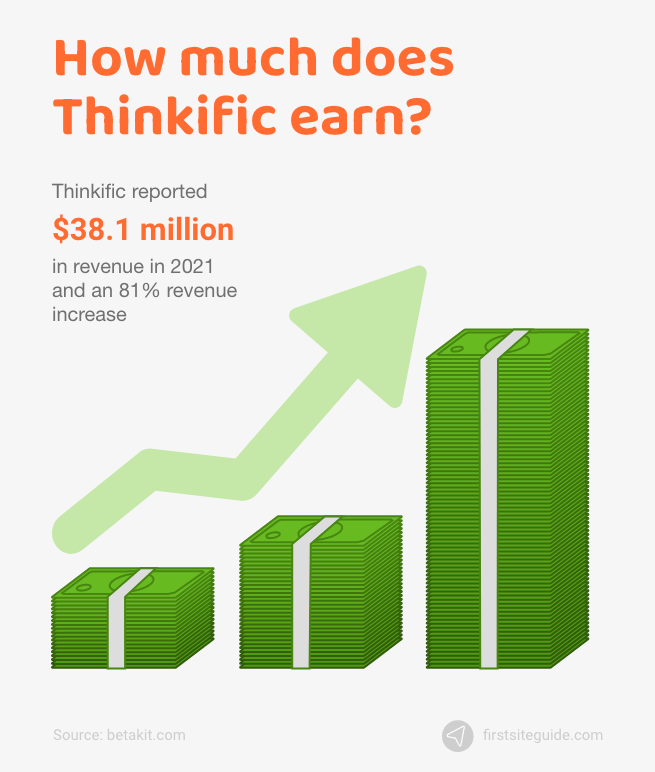 (Source: Betakit.com)
5. Thinkific is expected to have EBITDA losses of between $10.2 to $10.8 million in 2022.
While this may seem like a lot of money to lose, it is important to consider what the company lost it on. Thinkific's losses are reflected in their strategy to invest in their future growth. This means that the posted losses will result in even higher revenue down the road and is a clear sign of a company on the rise, instead of stagnating.
(Source: Betakit.com)
6. The company went public on the Toronto Stock Exchange in April 2021.
Going public with a company is a big move for any brand, and it can be tricky to figure out the best time to do it. Thinkific went public in April 2021, allowing them to gather around $160 million in gross proceeds. They also made a significant move a month later by exercising their over-allocation option.
Thinkific IPO value was subsequently boosted to $184 million.
(Source: Betakit.com)
7. Thinkific has 500+ dedicated employees.
Numbers related to money show us the financial side of things, but what about employment numbers? Running a company requires a solid team of people, pushing the boundaries of what a team can do. At this point, Thinkific employs over 500 people.
The company is focused on retaining talent and maintaining the high standard of service that they've offered so far. Valuing the staff that brought you success is one of the soundest business decisions a company can make.
(Source: Thinkific.com)
8. Thinkific is represented in 35+ countries worldwide.
Another critical factor in assessing the success of a company, especially in the 21st century, is its global presence. With over 35 countries in their client portfolio, Thinkific is well-established globally.
The company is represented in the US, UK, France, Spain, India, Sweden, Canada, Italy, Germany, and many other significant global markets.
The universal utility of Thinkific's platform crosses all boundaries, so there is nothing standing in the way of their future expansion into other countries.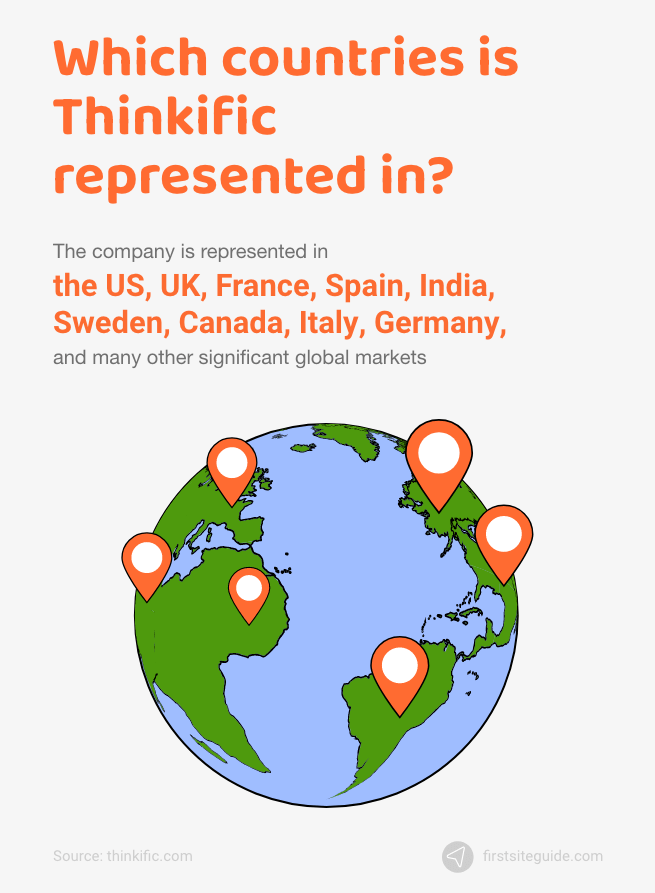 (Source: Thinkific.com)
9. 48% female representation on Thinkfic's leadership team.
Equality of gender representation, especially in leadership positions, has been a goal for many companies in the last decade. Unfortunately, not many of them have notable results to show for their efforts. Thinkific isn't one of these companies.
With 48% of their leadership team composed of women, Thinkific has shown that they value the input, talents, and unique perspectives that their female team members can bring to the table. There are very few companies that can boast such equal statistics in regards to female representation in leadership positions.
(Source: Thinkific.com)
10. Over 200,000 customer questions were answered.
This could seem like a strange statistic to consider when examining a company's success, but bear with us. Businesses that are customer-oriented like Thinkific tend to have a lot of back and forth with their clients. Since Thinkific provides a very specific service that requires time and effort to set up, their stats related to communication are highly indicative of their success.
With over 200,000 customer questions resolved, Thinkific possesses a stat that shows how much work they undertake to ensure that their customers have a smooth experience. Keep in mind that this stat refers to 200,000 original questions, not the total number of questions answered overall.
(Source: Thinkific.com)
Conclusion
Online education is a thriving industry, and Thinkific finds itself, quite deservedly, at the head of the pack. This company has gone from humble beginnings to the position of an industry giant that shows no signs of slowing down its growth.
We hope that with these stats we have managed to show how far Thinkific has come and how they have positively impacted the global educational marketplace.