Are you planning to start a blog but not sure which blogging site to use?
You are not alone. In fact, the most common question I get asked is – What is the best blogging platform for beginners? When I started blogging in 2010, I was asking the same question.
In this guide, I'll share with you all the available options and also give you suggestions based on the hands-on experience working with blogs for more than eight years. Also, our team has done several surveys and collected blogosphere stats to find the most popular blogging platforms on the web (free and paid) and I'll tell you all about them in a while.
Whether you want to blog as a hobby or to promote your business, finding the right tool is imperative for your blog's success. Several blog sites offer a range of capabilities – and one is bound to suit your needs.
Table of contents
The top 13 most popular blog sites
A quick guide to selecting the right blogging platform
How WordPress compares to other websites for blogging
Migrating your blog across platforms
Best platforms for different uses
Best platforms for beginners
Best free platforms
Best platforms for writers
Best platforms for photographers
FAQs
Conclusion
Do you know what to look for in a blogging platform? And, have you figured out what kind of blog you want to create?
If you are a beginner, you will want a platform that is easy to set up and requires no coding skills. It's essential to choose a flexible software that provides you room to grow and also gives you options to monetize your blog.
The top 13 most popular blog sites
Let's take a look at some of the best blog sites available on the web today and how they compare against each other.
1. WordPress.com – Best free blogging platform
2. WordPress.org – Best overall blogging platform
3. Blogger.com – Publishing platform by Google
4. Wix.com – Best blog builder for beginners
5. Squarespace.com – Premium all-in-one solution
6. Weebly.com – Best drag and drop platform
7. Medium.com – Platform with a simple interface
8. Typepad.com – Best for businesses and journalists
9. Tumblr.com – Best microblogging platform
10. Postach.io – Blogging powered by Evernote
11. Ghost.org – Best WordPress alternative
12. MovableType.org – For medium-sized businesses
13. Svbtle.com – Minimalist designs and functions
---
Disclosure: FirstSiteGuide is supported by our readers. When you purchase via links on our site we may earn a commission. We test and try all the products that we recommend. 
1. WordPress.com – Best free blogging platform
WordPress.com is a hosted version of the open-source software WordPress.org. It is a commercial project that offers a free trial option with upgrades for premium plans and custom domains.
It's one of the most popular hosted blogging platforms out there. If you are an absolute beginner with no coding skills or technical knowledge, but you want to build your blogging site, WordPress.com is the perfect platform for you. I recommend this software to all new bloggers as a good starting point.
The online publishing software is free to use (but your blog name will be formed as a subdomain and look like this – yourblogname.wordpress.com), and you can test it out after you create an account on WordPress.com. This gives you a unique opportunity to try the software before you decide to upgrade for premium plans. With the upgrade, you will be able to set up a custom domain and use the advanced features.
The platform often rolls out new features and updates to continually enhance user experience.
Key features
Custom domains – free domain for one year, available for paid plans on WordPress.com
Get stats on your blog traffic – determine what your visitors find engaging
Create media galleries – integrate images and videos with the drag and drop option
Social media integration – share your blog posts on social media platforms automatically
Comprehensive SEO tools – help your readers find you easily
Variety of personalized themes – with new themes being added every week
Mobile-responsive blog sites – select from several mobile-responsive themes
Pricing
Free plan – limited features and subdomain only
Personal plan – $4 per month paid annually
Premium plan – $8 per month paid annually
Business plan – $25 per month paid annually
E-commerce plan – $45 per month paid annually
2. WordPress.org – Best overall blogging platform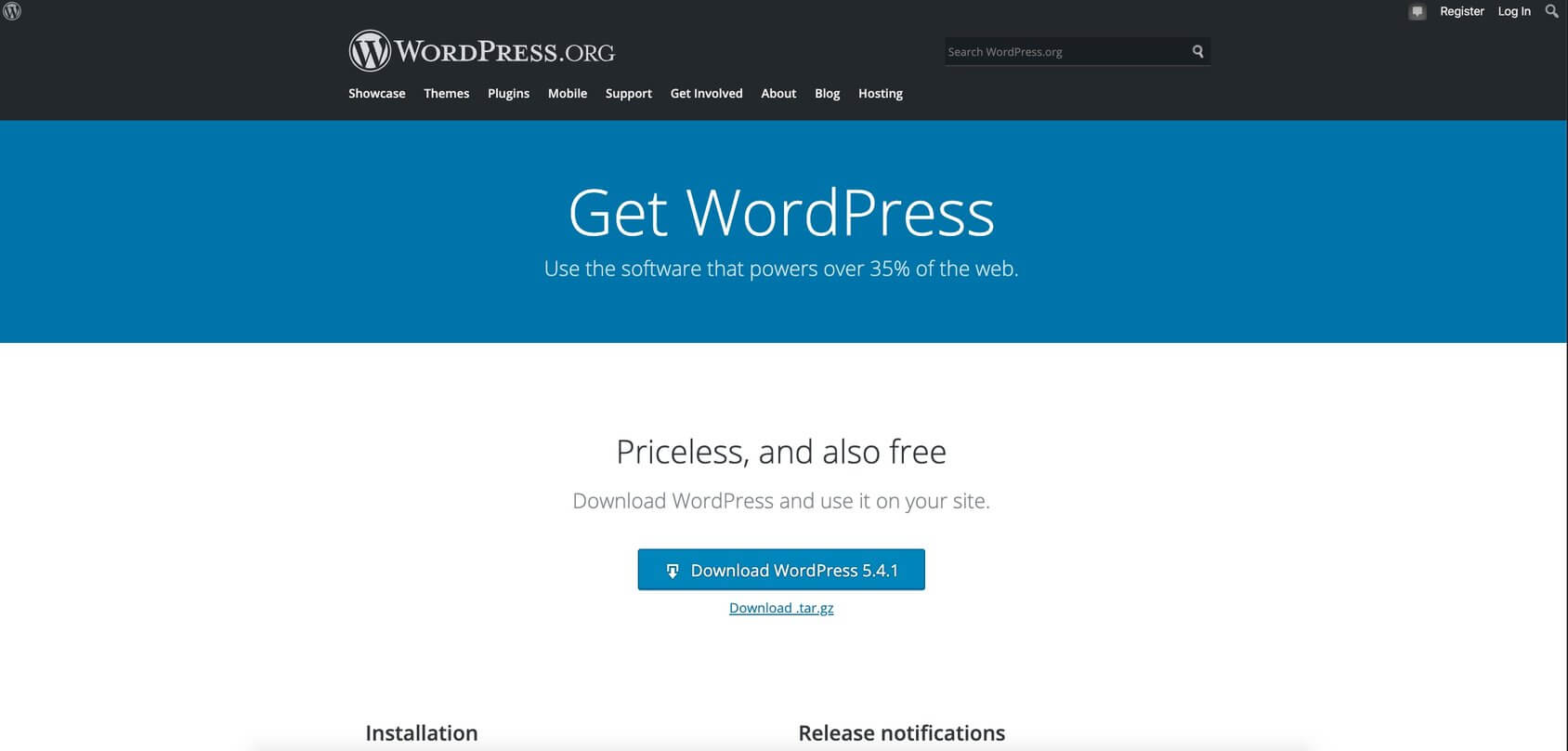 WordPress.org is a free, open-source platform that combines simplicity with powerful features.
We used this CMS (content management system) to build FirstSiteGuide.com and also recommend it as a preferred software for all serious bloggers in our How to start a blog guide.
This tool enables you to launch your blog site from scratch in a matter of minutes.
Many popular bloggers (Tim Ferriss, John Lee Dumas, Pat Flynn, and more) use this platform to create highly functional and profitable blogs.
It is easy to set up – all you need to do is select a reliable web hosting provider, install WordPress software, and explore the wealth of features that come with it. You get to create your blog just the way you want to, by using pre-designed free themes. These are templates that you can pick based on your preferred layout, look and feel, and color scheme.
WordPress also comes with a powerful administration area (Dashboard) for blog maintenance, easy content publishing, and an overview of what's happening on your blog.
WordPress.org has a large community of experts who provide tutorials that help newbies. Here, at FirstSiteGuide, we also cover various WordPress topics. You can check out our Lean WordPress section to level up your skills and understand the best practices.
Key features
Reliable and secure – keeps blog site data safe from malware
Mobile-responsive websites and blogs – pick from many mobile-friendly themes
Free themes – select a customized theme from hundreds of options in the theme directory
More than 55,000 plugins – access plugin directory to find ways to enhance your site
Search engine optimization tools – install SEO plugins that help you rank high in search engines
Simple publishing process – create content, integrate media, and make it live with a single click
Pricing
Free (your expenses will be a domain name and web hosting services)
3. Blogger.com – Publishing platform by Google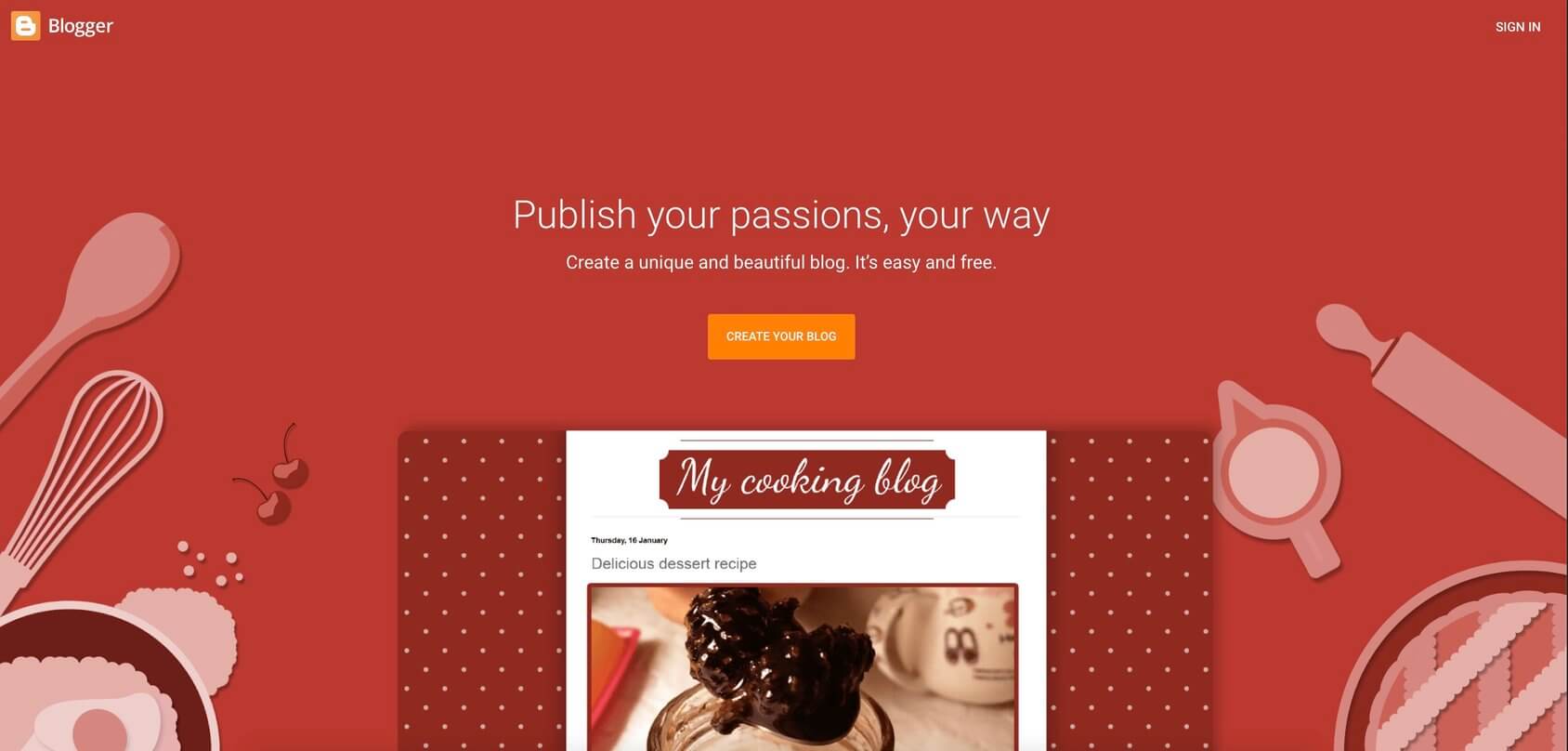 Blogger is a free blogging platform that offers a secure and reliable way to create your blog.
This hosted blog platform was launched in 1999 and later acquired by Google.
You don't need a hosting provider to get started. All you need to do is log in using a Google account – you'll be asked to follow the simple guidelines provided by the platform to make it easy for you to create a blog.
There's no need for technical knowledge or coding experience as the platform is quite intuitive in design and setup.
It remains a widely used solution; however, I see more people moving away from it. The good news is that it's free, and you can test it without any commitment.
Key features
Free or custom domain – free subdomain via blogspot.com or buy a custom domain
Easy to use templates – design your blog using flexible layout and background images
Featured ads – monetize your blog by integrating it with Google AdSense
Blog analytics – assess your blog's traffic and see the content getting the most visits
Secure storage – store your media files with Google
Pricing
4. Wix.com – Best blog builder for beginners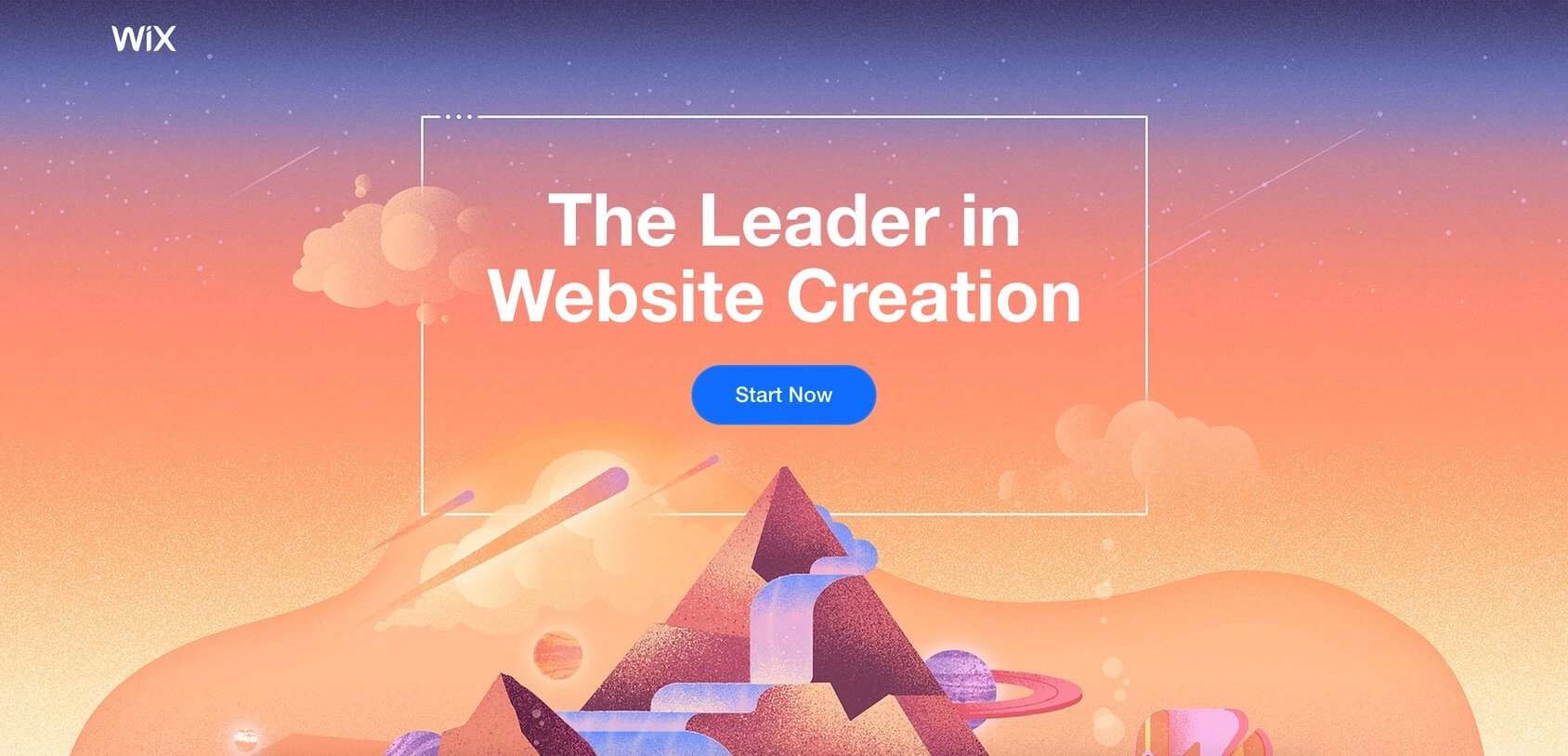 Wix is a leading intuitive site builder that also lets you set up a blog site quickly and easily.
This hosted platform started as a website builder tool (it powers over 3.8 million websites). However, lately, they've been tapping into a blogging vertical with a specific blog website builder offer. You don't need any prior coding experience or web development expertise to build a blog with Wix.
It's simple to control and maintain blog sites with Wix. You can select a pre-made blog theme from their resources or customize an existing one according to your taste.
In addition to stunning templates, Wix packs the power of several amazing features.
Key features
Customizable templates – select a prototype and personalize it according to your blog's theme
Mobile-responsive blogs – mobile editor makes blogs mobile-friendly
SEO Optimization – create a personalized SEO plan to rank your blog
Freedom to design – drag and drop editor to customize any part of the blog
Third-party integrations – integrate apps without coding skills
Comprehensive site builder – all your blog building and maintenance needs in one place
Pricing
Free – use wix.com subdomain, plus Wix ads displayed
Connect domain – $4.50 per month, allows you to connect your domain
Combo – $8.50 per month, removes Wix ads, comes with a free domain
Unlimited $23.50 per month, comes with the unlimited bandwidth and increases storage
VIP – $24.50 per month, comes with VIP support
Business Basic – $17 per month, you can accept online payments and have 20GB storage
Business Unlimited – $25 per month, increased storage
Business VIP – $35 per month, 50GB storage, VIP support
5. Squarespace.com – Premium all-in-one solution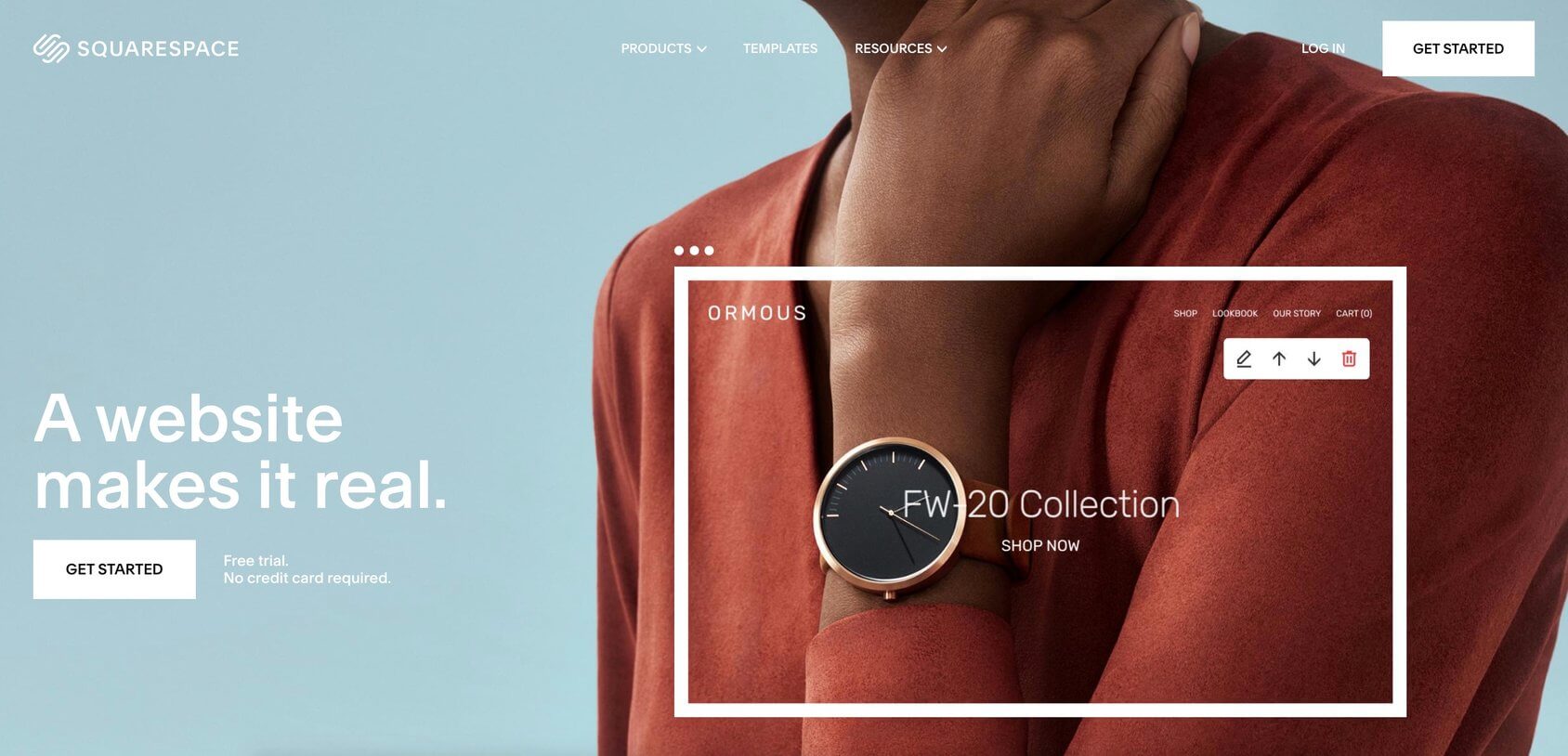 Squarespace is a comprehensive website builder that provides everything you need to build, run, and grow a blog.
Similar to Wix, Squarespace started as a website builder software but now also gives you an option to start a blog. It offers practical marketing tools that will help you gather a vast audience for your blog while reaping significant benefits for yourself.
This platform is known for the quality of its templates and the minimal layout that can give your blog a unique look.
To create a blog with Squarespace, you need to select a template from its stunning collection and customize it according to your design needs.
If you are new to the blogging world, Squarespace offers webinars and tutorials for you to go over and learn all that you can.
Key features
Expert-designed templates – modern sites created by design enthusiasts for you to customize
Style configurations – a built-in editor that customizes all aspects of a blog to make it unique
Mobile-responsive sites – blogs that look stunning even on mobile devices
Customizable layouts – each template design comes with customizable content blocks
Drag and drop media – directly add images from desktop to blog.
Marketing tools integrations – promote your blog on marketing channels
Pricing
14 days free trial no credit card required
Personal – $12 per month paid annually
Business – $18 per month paid annually
Basic Commerce – $26 per month paid annually
Advanced Commerce – $40 per month paid annually
6. Weebly.com – Best drag and drop platform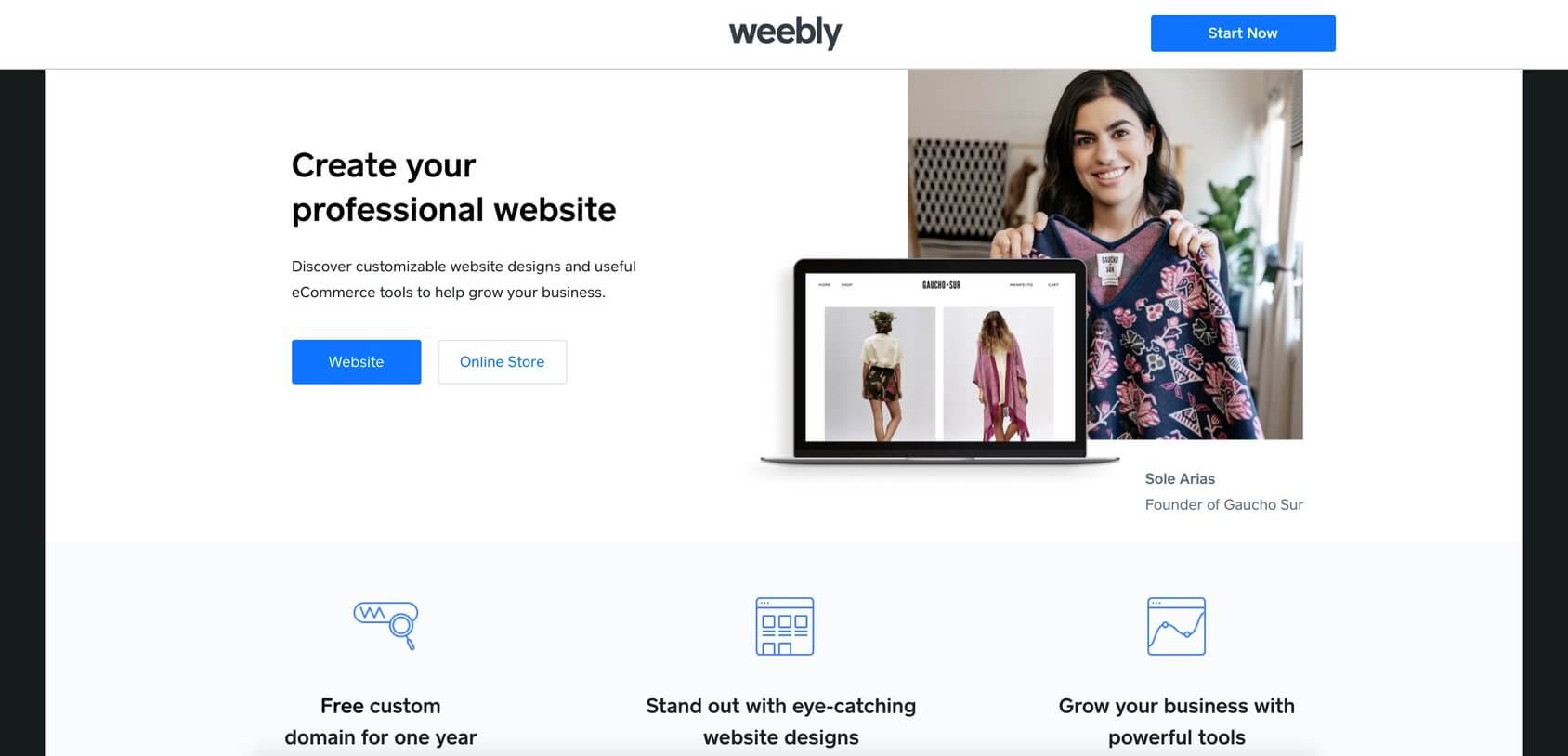 Weebly is a simple yet powerful website builder with a blog set up option available via an easy drag and drop editor.
In 2018 Weebly was acquired by Square, a mobile payment company. That indicates that their focus is mainly around websites, particularly eCommerce and small business sites. However, the platform offers blogging services, and anyone can try it for free.
Weebly gives you complete freedom to build your blog using beautiful themes with drag and drop functionality. There's also a free built-in hosting provider that ensures fast loading time for your website.
All in all, this platform gives the right tools that work in combination with powerful features to start a blog in minutes.
Key features
Drag-and-drop builder – create your blog with powerful tools
Media management – gather images and create your galleries
Free personalized templates – alterable professionally designed blog templates
Search engine optimization – SEO tools to rank your website
App collection – multiple apps and third-party integrations that add functionality
Social media sharing – RSS integration to share blog posts on social media
Pricing
Free plan – domain with Weebly branding
Connect plan – $5 per month when paid annually
Pro plan – $12 per month when paid annually
Business plan – $25 per month when paid annually
7. Medium.com – Platform with a simple interface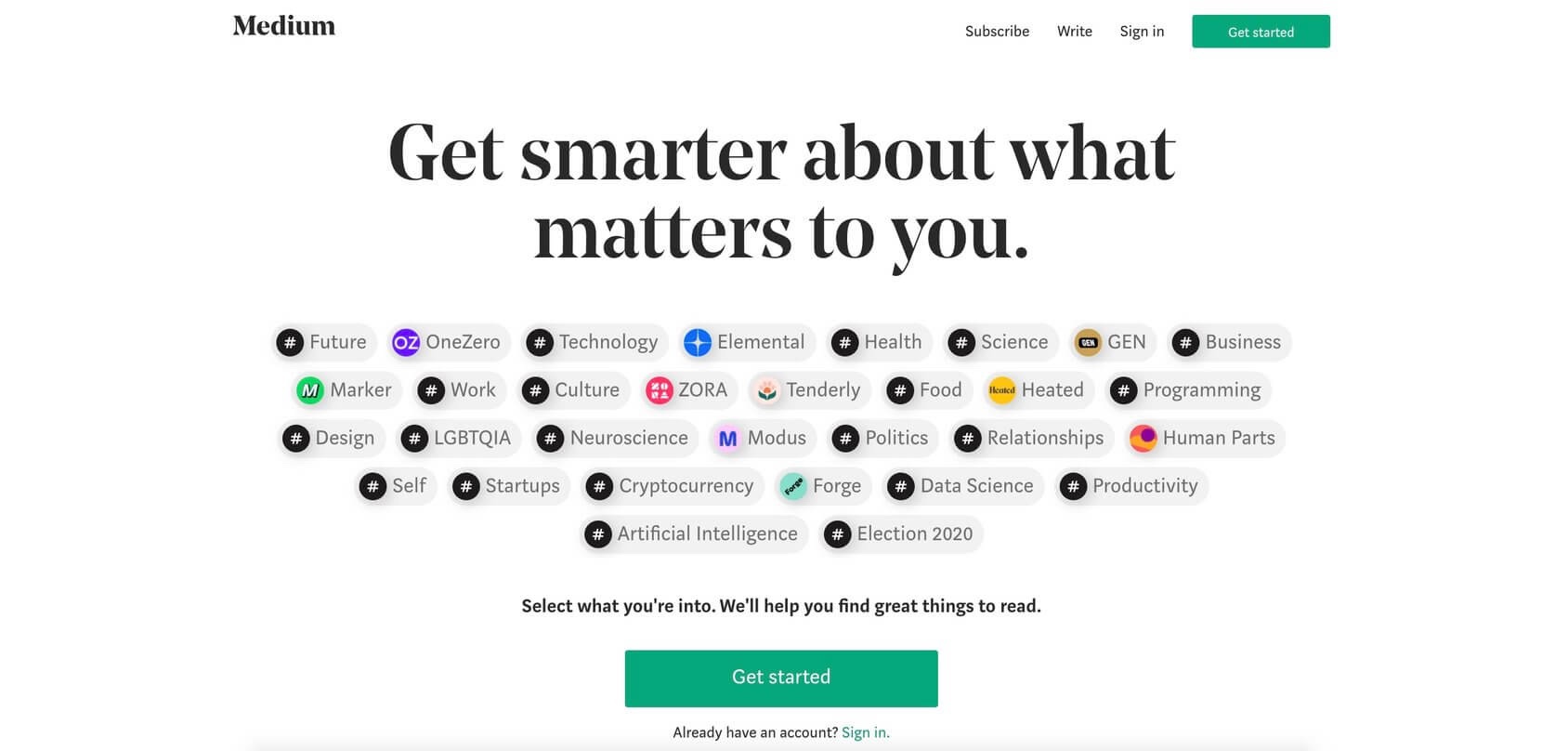 Medium offers a no-frills approach to blogging as it allows bloggers to write what they are passionate about without having to worry about coding, design, domain, or other issues.
I wouldn't use Medium as a primary blogging platform. You can use it as an additional channel to share your content; for example, you can repurpose content from your blog and post it on Medium. That's how most professional bloggers use it.
You can post stories for a vast community of readers that visits Medium and get appreciation and feedback from them. It is also possible to connect with avid readers who are willing to pay for quality content through the Medium Partner Program. This way, you can monetize your blog posts while sharing your ideas and opinions with the world.
To start blogging with Medium, sign up and share your blog posts with the editorial team who analyzes it according to the standards set by them. If the post follows the guidelines, it is posted to your blog page, and you can start earning money by attracting subscribers.
Key features
Vast audience – convert millions of site readers into your subscribers
A free app – access Medium on your mobile devices from anywhere
Monetization – earn money when someone reads your blog.
Social media integration – share your blog posts on social media
Media embeds – integrate various forms of media files
Pricing
Free plan – unlimited public stories and 3 per month exclusive stories
Member plan – $5 per month for unlimited public and exclusive stories
8. TypePad.com – Best for businesses and journalists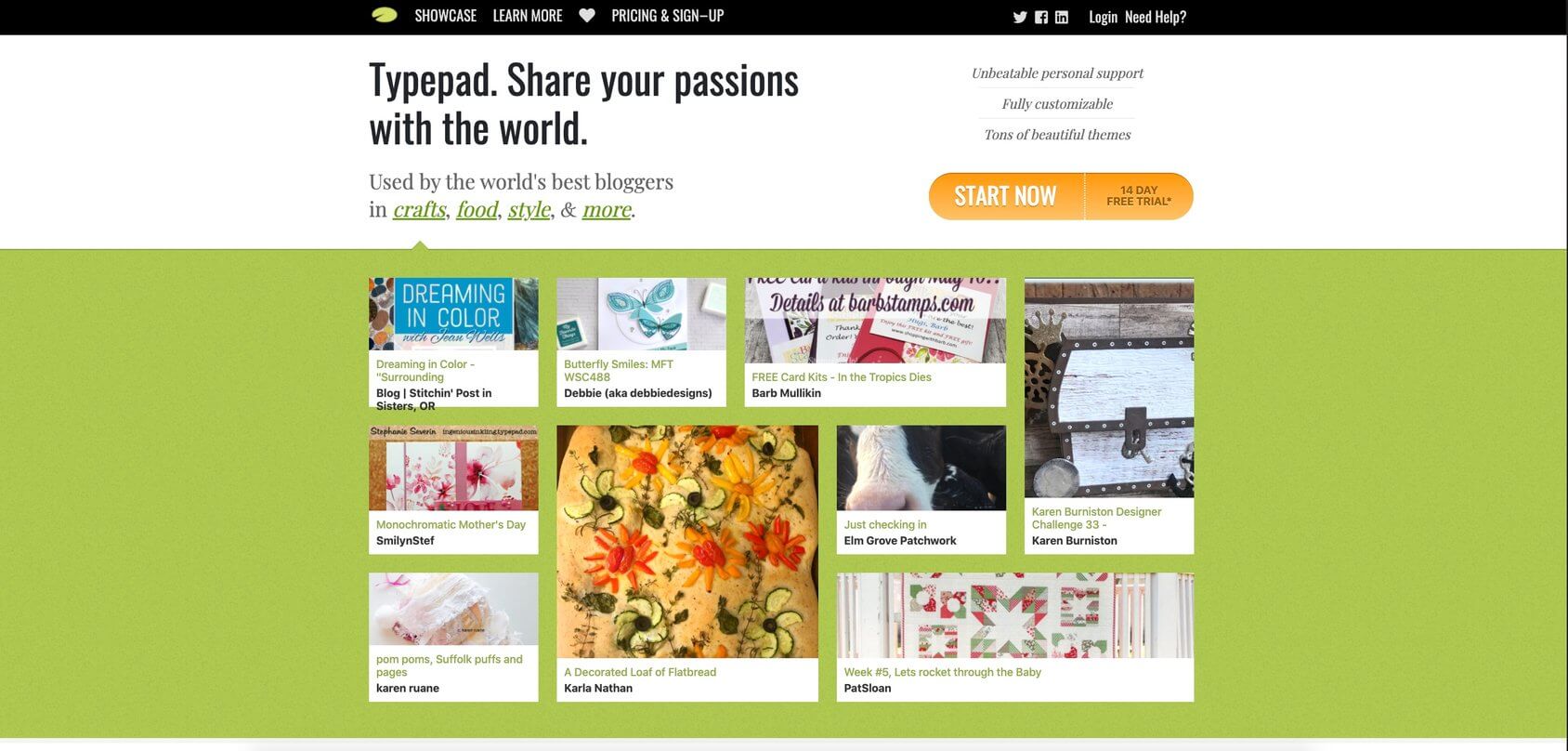 TypePad is a blogging service that has been around for a while, launched in 2003. It has a simple and easy-to-use interface, and if you face any issues, it offers exceptional customer support.
I don't know too many successful blogs that are running on this platform. One that comes to mind is a blog by Seth Godin, he used to run it with a subdomain sethgodin.typepad.com (archive link) but some time ago changed it to a custom domain seths.blog.
TypePad offers various design tools that breathe life into your blogs so that you can captivate your readers visually. It's your choice to monetize your blog with ads and services or not. Additionally, you don't need to worry about any technicalities with this blogging platform as it is fully hosted.
Note: When I last checked their site (on June 24th, 2020), I saw a popup message – "Typepad is currently not accepting new signups. New customers are encouraged to check out our partner, Bluehost."
Key features
Flexible publishing – write and publish from any device
Google Analytics integration – analyze your audience engagement
Theme builder – build your site's theme from scratch
Stunning templates – select beautiful themes and make them even better with design tools
Built-in tools – get your blog noticed through social media and search engine rankings
Pricing
14-day free trial
Plus plan – $8.95 per month
Unlimited plan – $14.95 per month
Premium plan – $29.95 per month
Enterprise plan – $49.95 per month
9. Tumblr.com – Best microblogging platform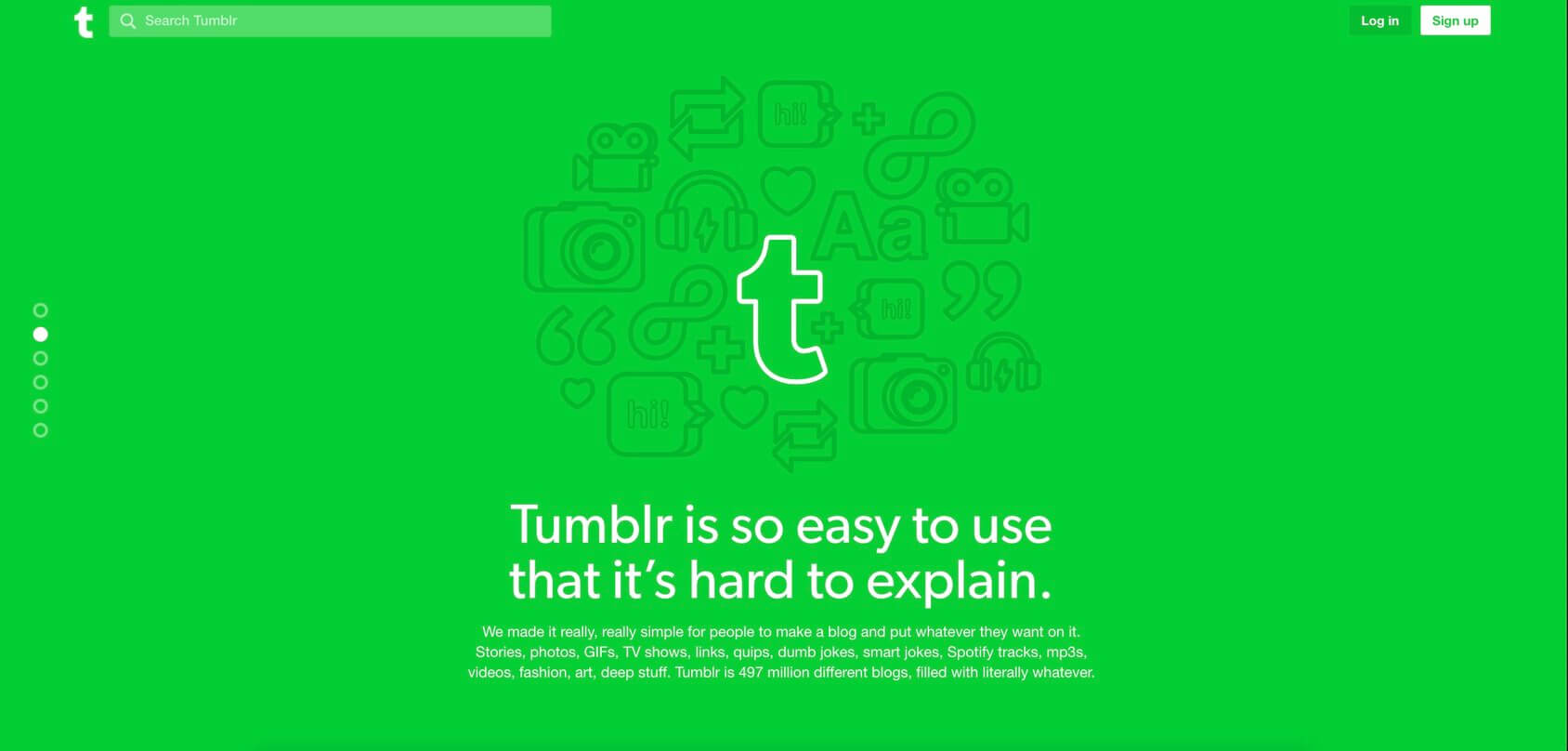 Tumblr is a microblogging, and social media website joined together, founded in 2007 with the main focus on multimedia and short-form content.
If you are into writing and planning to write longer-form content, I wouldn't recommend starting with Tumblr. It's often used as a social media website; you can integrate a variety of media files such as photos, videos, audio files, and embellish your blog with GIFS, stickers, and some text. You get the option to design your Tumblr blog with customizable themes, fonts, layouts, and many other design options.
Tumblr is ideal for bloggers who have a heightened focus on visual content. It is a global platform that is visited by millions of people every day who repost their favorite blog posts and initiate conversations.
Key features
Custom domains – choose a domain name composed of 64 characters or less
Blog export – gathers your blog content in a ZIP file to export
Password-protected blogs – blogs can only be viewed through the correct password
Customized themes – the ability to personalize anything you set your eyes on.
Social media integration – share your Tumblr blog posts on social media platforms
Pricing
Free – you get a subdomain blog, i.e., yourblogname.tumblr.com
10. Postach.io – Blogging powered by Evernote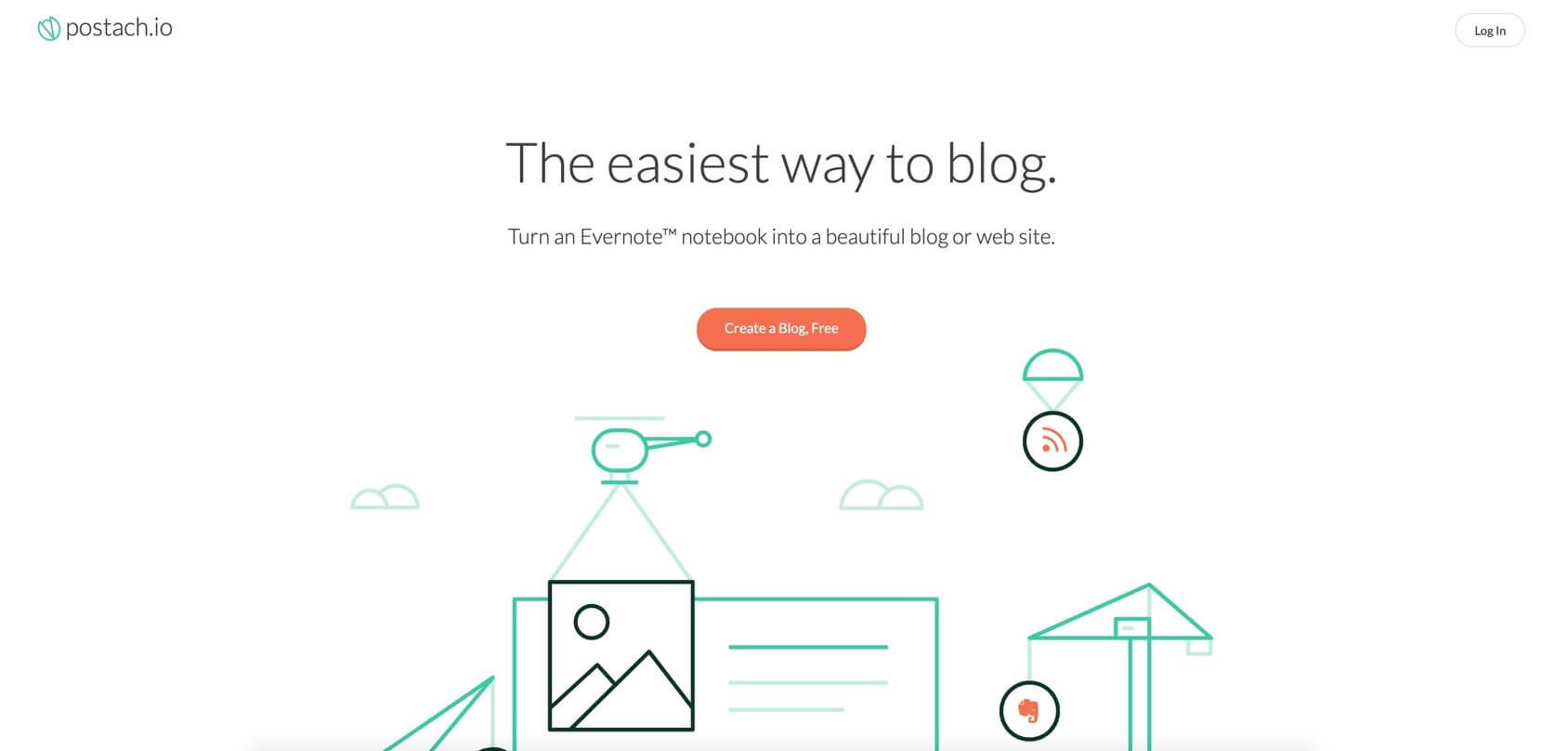 Postach.io is a blogging platform powered by Evernote, and it enables you to convert your notes into blogs.
To sign up with Postach.io, you need to register a new account, or use an Evernote account if you have one. You'll need to install Evernote and then integrate it with Postach.io to connect your notes. All in all, it is a convenient way to enter the world of blogging – use the dashboard to personalize your blog site according to your taste and write your blogs on the go with Evernote.
You can create a free blog with this platform, but if you want a custom domain, subscribe to a paid package. Postach.io also offers a collection of free and premium themes to help you create a visually appealing blog.
Key features
Add images – insert pictures to engage your readers
Evernote sync – integrate notebooks with Postach.io blog
Site editor – customize your blog site through a robust dashboard
Custom domains – optimize your site with a paid custom domain
Visual content – insert a logo or avatar to personalize your blog
Pricing
Free trial – no credit card required
1-5 sites plan – $5 per month or $50 per year
6-20 sites plan – $15 per month or $150 per year
21-50 sites plan – $25 per month or $250 per year
11. Ghost.org – Best WordPress alternative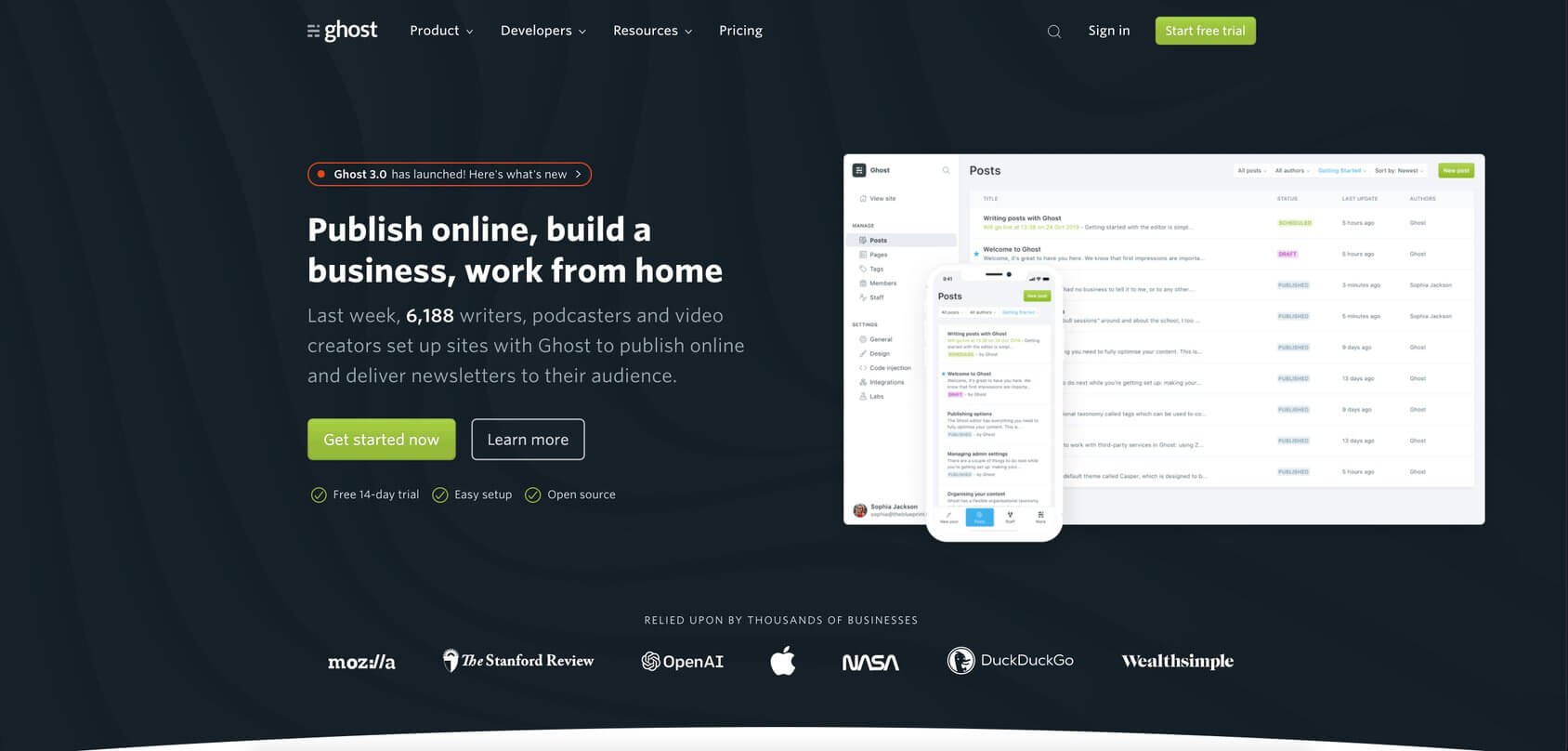 Ghost is an open-source blogging platform meant for journalists, editors, and writers. The platform was launched in 2013 through a successful Kickstarter campaign.
You can be in control of the design of your blog and the kind of experience you want to create for your readers. There are absolutely no rules when it comes to this platform – no limits on customizations or social media restrictions. Sign up to get started and publish your content for a vast audience as you target readers through email newsletters and make money from your written pieces through Ghost's premium plans.
You can benefit from a collection of publishing tools perfect for professionals who want complete control over their site. It allows you to code and add functionality to your blog using modern technology.
Also, Ghost is fully managed through state-of-the-art cloud management technology and offers comprehensive developer control.
Key features
Site editor – create and embed exciting media files and content
Content management – complete control over the type of blog content
Posts scheduling – create an editorial calendar to stay ahead of time
Powerful SEO tools – comprehensive SEO features for high rankings
Simple templates – use Handlebars stunning templates to build your blog
Automatic backups – never lose data with off-site location backups
Pricing
14-day free trial
Basic plan – $29 per month billed annually
Standard plan – $79 per month billed annually
Business plan – $199 per month billed annually
12. MovableType.org – For medium-sized businesses
MovableType is a powerful blogging software and content management system being used by the world's largest media and publishing companies.
To get started with this blogging site, you need to purchase a license or log in if you already have it. Then, install MovableType and extend its effectiveness with several powerful plugins that add to the functionality to your blog.
With MovableType, you don't have to worry about storage bandwidth or page loading times. No matter how big your blog grows, the services will remain impeccable.
Not only can you personalize themes, but you can use the many available features to build your blog, grow your audience, and achieve what you aimed to.
Key features
Powerful dashboard – displays blogs, websites, stats and analytics in one place
Customizable templates – functional and gorgeous templates with added benefits
Media management – insert media files with customization options
Technical support – leave the coding queries to MovableType support experts
Ultimate security – ensures safety with password protection and IP management
Plugins and tools – integrate your blog with top-notch plugins and widgets
Pricing
7-day free trial
Pro unlimited – $499 per year
13. Svbtle.com – Minimalist designs and functions
Svbtle is an all-inclusive publishing platform designed to share your content and ideas with the world.
This platform has an eye for detail as it can help you focus on removing distractions that might hinder your productivity as a writer. It uses the Markdown format for articles that are later converted into HTML and supports all types of media files as well as Markdown features such as code blocks.
This platform follows strict principles and promises the best service with enjoyable writing experience. It provides fast page loading times, secure posting, and minimal themes that breathe professionalism in your blog posts.
Key features
Blog dashboard – well-managed dashboard with a clean and minimal display
Site editor – customize your blog with more advanced controls
Supports media – integrate images, embed videos and much more
Responsive site – enjoy writing and reading from any device or screen type
Minimal distractions – clean and straightforward blogs with fast loading times
Pricing
7-day free trial – you can cancel any time
Monthly plan – $6 per month
Yearly plan – $70 per year
A quick guide to selecting the right blogging platform
Now that you know about all the options available to you, it's time to finalize the perfect blog management tool for you.
Assess your options against the following checklist:
Value for your money: For starters, make sure you know that your chosen service is going to deliver precisely what you need. This means easy-to-use blog software, with all the bells and the whistles you need for your blog to succeed.
Types of solutions available: Explore the different solutions that are designed to facilitate you, the blogger. Use these to create the best blog sites, and ensure that you build something truly unique. Options typically include free blog sites, self-hosted builders, and premium blog website builders.
Ease of use: Some platforms offer quite the learning curve that can discourage new bloggers. They need an easy-to-use blog-building platform that doesn't need any technical skills, design, or marketing expertise.
Features: You might not need all the features at the start or even use them at all, but make sure that your best blog platform lets you customize or modify your website if needed.
Blog management: If needed, you'll have to access the back-end or admin area to update your blog, make any changes, and fix the layout. So it is crucial to make sure that this area is available, manageable, and easy-to-navigate.
Rules and restrictions: Before you pay for a platform, read through the 'Terms of Usage' so you can be sure that you aren't breaking any rules with the way you'll be using it.
All in all, this information should be enough for you to check and find the best platform for your needs.
As one of the most widely used blogging platforms and self-hosted CMS, WordPress.org is recommended by a majority of blogging experts. This platform has emerged as the clear winner for professionals because:
It takes care of all tasks related to setting up and sustaining your blog.
The integrated dashboard can make and finalize updates with a click.
It offers comprehensive customizations and support for blog design and functionality.
While WordPress.org is our top recommendation, if you are thinking about how to set up your new blog, there are several other options at your disposal as well.
For example, you have access to the following blog sites:
Free (hosted) blogs: If you opt for a hosting blog builder, your blog's address will look like this: blogname.bloghost.com. The most significant advantage is that it's free, but the shortcoming is that you'll have to follow their rules. Besides, a blog name with a subdomain can make you look like an amateur.
Freemium/premium options: If you become interested in a freemium/premium solution, you can experience it in all its glory during a free trial period. If you like it and choose to continue using it, you'll have to start paying (up to $30 per month).
Self-hosted blogs: Select this option if you want to host your blog on your domain and name it however you want. You'll have to follow some rules set in place by your domain registrar and web hosting company, but other than that, you are your own boss. You'll be fully responsible for the site and its contents. The Self-Hosted CMS is free as well.
Blog/website builders: These tools let you create simple blogs thanks to their drag-and-drop interface. Take advantage of the WYSIWYG (what you see is what you get) facilities when you use site builders.
How WordPress compares to other websites for blogging
As explained earlier, WordPress is the absolute best in its class, and its self-hosted version is quite popular as it is home to 37% of websites on the internet.
But I've already written another guide wherein I compare WordPress with other leading CMS so we won't go into those details here. If you'd like to read these in-depth comparisons, here are the links:
These other platforms have their unique audience as well because they are great for beginners who want to make a blog. But if you want a solid foundation for your blog, nothing beats the self-hosted version of WordPress.
Migrating your blog across platforms
If you've already started your blog with another platform, but then decided to move to WordPress, know that it is possible to do it without harming your blog. The 'Import Tool' with WordPress takes care of it for you.
Go to the WordPress Dashboard and head to the Tools section. Here you'll find these options to help you import from other platforms:
It is important to remember that WordPress plugins offer other import options as well – try searching the official plugins repository for an importer tool that works for you.
Best platforms for different uses
If you are looking for the best blogging platform to start your blog, but the sheer number of blog sites overwhelms you, we are here to help. We have reviewed the best blogging sites according to your specific needs and demands that align with your level of expertise and the specific niche that your blog is catering to.
Best platforms for beginners
Now whether you are blogging to connect with others, just to express your ideas and hobbies or to promote your business, blogging is the sure-fire way of connecting with the world.
Following are two of the best options that are perfect for beginners:
WordPress.org is the simplest content management system and blogging platform out there. To start with this platform, you need to install WordPress, and that happens in a matter of minutes.
Key features
Dashboard – displays activity and updated information
Personalized themes – choose from hundreds of stunning themes
Plugins – integrate add-ons or plugins for extended functionality
Easy to use – simple interface requiring no coding experience
Automatic backups – saves your work in case of any technical issues
Building a blog site with Wix requires a considerably less learning curve. With the help of the Wix editor, you can create your site selecting from a stunning collection of more than 500 completely customizable templates.
Key features
Database collection – manage and store your blog content in a secure place
Wix Partner – get in touch with a Wix partner to design your blog site
Wix Editor – create a blog theme from scratch using drag and drop builder
Fonts – select from over 100 fonts or create your own
Design tools – design the site you want with the drag and drop editor
Best free platforms
With the help of free blogging sites, it has now become easier to create a blog and establish an online presence without breaking the bank. These tools are aimed at creating online blogs that are hosted on the platform's servers.
These are the two best blogging platforms that help you to create a blog for no charge at all:
WordPress.com is a free blog site builder that provides abundant features with no prior coding experience. It provides all the tools that you need to design as well as grow your blog.
Key features
Media files – insert all types of media with a single click
Build in blocks – add and remove files and content until you build what you want
Add-ons – extend the functionality of your site with add-ons
Analytical tools – assess your website audience with Google Analytics
Another hosted blogging solution that lets you create a free blog as a blogspot.com subdomain. You get to choose from a variety of easy to use templates according to your blog layout and host it for free.
Key features
Designs and themes – a collection of gorgeous templates and layouts, available for free
Hosting domain – house your blog on a blogspot.com domain
Google AdSense integration – earn money through targeted ads
Built-in analytics – analyze the blog posts that are an absolute hit and which are not
Safety – back up your data and content in a secure and reliable location
Best platforms for writers
If you are looking for a platform that allows you to focus on writing and relay your ideas to the world, you have to choose a blogging site that gives you that freedom. This is important because some platforms can easily distract writers with snazzy tools that they don't need.
The following sites will help you to pursue your talents as a writer through content-friendly features:
Ghost is the most potent professional blogging platform that comes with a collection of publishing tools and ultimate functionality. It allows you to focus on your content by minimizing distractions and providing the most minimal looking interface to get your ideas flowing.
Key features
Site editor – handles the entire designing process while you focus on creating content
Post scheduling – line up your blog posts for publishing ahead of time
Site designing – insert additional features with a single click
SEO tools – comprehensive SEO support
Medium is different from other writing platforms as it helps you to share your knowledge and ideas and find fellow writers who believe in the same. It is a global community with readers and writers from all over the world, speaking and sharing what they are passionate about the most.
Key features
Ad-free – Medium promises fewer distractions for writers and readers
Medium Partner Program – earn money when a reader visits your blog
Easy to use – to sign up, you simply need to register with medium.com
Customization options – personalize your blog with media files and designs
Best platforms for photographers
You want the best platform to display your work. The goal of these platforms is to represent your photography vibrantly and aesthetically.
We are here to help you with your decision to showcase your work on two fantastic platforms for photographers.
Squarespace is the best platform for photographers who want to display their work and get in touch with professionals. The site provides top-notch visual quality that enhances your work and attracts people to your photography blog.
Key features
Minimal website templates – explore through stunning templates that can be customized
Design tools – powerful design tools to create the desired blog theme
Powerful dashboard – track and analyze your blog on the dashboard easily
Promotional tools – increase blog traffic with marketing tools and social media sharing
This is the perfect platform that blends visual content with social media. Whether you want to display a single photo or an entire gallery, Tumblr supports photographers of all expertise levels.
Key features
Site editor – edit text, fonts, and themes
Social media sharing – attract traffic to your Tumblr blog through social media pages
Real-time feedback – connect with other users who can comment on your photographs
Reblog – repost photos and images posted by your followers
FAQs
What is a blogging platform?
It is a service that's used to create and manage a blog so that you can publish your ideas and words online. Choosing a blogging platform is the very first step towards blogging, and without it, you cannot start blogging at all.
Blogging platforms are also sometimes known as CMS (Content Management System) since they let you efficiently manage the content for your blog site.
How to create a blog for free?
Yes, you can quite quickly start a blog for free using free platforms I mentioned in this article. It can have the potential to become one of the blogs on the web. But if you decide to upgrade your blogging game and go a step further, I still recommend self-hosted WordPress.
What hosting should I get?
If WordPress.org was your choice among all the others, I suggest choosing Bluehost as your hosting provider. They're one of the rare hosting services recommended by WordPress itself; it is reliable and not as expensive as some competitors.
How long does it take to set up a free blog?
It depends on the blogging software you choose. Also, it depends on how meticulous you are. You can set up an entire blog in under 10 minutes if you are ok with the default settings, and you find a theme you like. But if you have to have all the colors and elements in place, it might take even days until you set up everything the way you want.
What does "self-hosted" mean?
Self-hosted is usually tightly connected to WordPress. This means that you, as a user, have to take care of your site. You have to find a place on the internet where you will store all the files and databases that are used for running a blog. Usually, this means paying for a hosting service that will take care of the server, store your files, and make sure the website is always accessible.
Do I need to know to code when creating a blog?
No. Whether you want to start with simple sites like Tumblr or want to go with widely used WordPress, you don't have to know anything about programming languages or databases. Most of the available blogging platforms in the modern world let you build websites through their drag & drop builders. That means you can sit, relax, and focus on the design of your blog.
But if you decide to improve your blog and start a more serious online project that requires something unique, it would be good to know a thing or two about coding. But even in this case, you can always hire an expert in the field to code something for you.
Can I earn money with free blogs?
Yes, even if you start a free blog, you can earn money with it. There are different ways of monetizing your blog (like showing ads, joining affiliate programs, or accepting sponsored content, just to name a few). But understand that to make money with your blog, you will have to invest time (and usually money) into it before it becomes feasible. This is something all popular blogs and best blog sites have had to do.
I wrote about how to make money blogging, where you can learn more.
What is the difference between a blog and a website?
A blog is a website that's focused mostly on the content that is regularly delivered. Blogs are a kind of a modern diary where people get to write about the topic they like. Usually, people like others to read their opinions and comment on the content they're delivering (whether it's written words, images, or videos).
On the other hand, a website is any site that provides information about something, but it doesn't usually have to endorse regular content to their audience.
I started a blog, but my friends can't find it on the search engines. What's wrong?
Usually, it is enough to start a blog and have at least one page for Google, Bing, and other search engines to recognize it. But since the popular search engines have to discover millions of new sites daily, it can be several weeks until your content shows up in search.
To speed things up, you should focus on the content, have new articles, and connect with people who will start interacting with your site. Also, you can manually tell Google and Bing that you have a new site by submitting your URL.
Is it possible to move a blog from one platform to another?
In most cases, yes, that is possible. I understand that choosing the best blog site at the very beginning is hard. People usually have to work with one blogging platform for at least several months until they realize what they actually need.
More often than not, bloggers want to move their blogs from Blogger to WordPress, Wix to WordPress or Tumblr to WordPress.
I started a blog, but no one is reading it. How do I get more traffic?
Even though you might have something interesting to write about, without an effort, it won't be likely that you will get the audience. You have to realize there are millions of bloggers who are already writing about the same thing you're interested in. So to attract people into reading your blog, you will have to connect with other bloggers. You will have to start promoting your content (free or paid) by joining communities, posting your articles on social media, and commenting on others' work. You can even pay for advertising, which will show your blog post to thousands of users all over the world.
I wrote about this already, so feel free to learn 100 tactics to get more traffic to your new blog.
What should I write about?
To be honest, starting a blog without having something to write about won't get you far. It doesn't make much sense to start a blog just for the sake of it.
Still, one you've decided on the niche, you have to listen to your audience. Write about something you like, but also about something that people will be interested in. You can browse the web to see what others in the same niche are writing about, who is most likely to comment, and what they like on social media.
Here are a few ideas you should take into consideration.
How many times per month should I publish new posts?
Although many bloggers debate on this, the truth is that there isn't a correct answer to this question.
While someone might achieve better results by posting a few short posts per day, another blogger might have it better by posting just one or two articles per month.
This depends on the type of blog you have. For example, if you want to share news from a specific category like technology, you will probably want to have at least several posts per day to cover all the essential news. On the other hand, if you decide to write more in-depth guides, tutorials and teach the audience something, you might get better results if you put the entire focus into just one or two articles that the audience will appreciate.
How many words per article should I have?
Depending on the niche and the type of blog you have, the answer might vary. You can have a successful blog post with just 200 words and achieve the same result with a post that's exceeded 5,000 words. Everything depends on what you write about and how people react to it. In my opinion, your average article should have about 1000-1500 words if you want to make sure it will rank well on Google and other search engines.
Conclusion
The best way to find the right solution for your needs is to understand whether each blogging platform focuses on your level of experience. Moreover, it depends on the customization abilities of the site and if it is easy to use and upgrade.
Through this guide, I have informed you of all the features and pricing range of the best blog sites. And now you know how to get started with each of them.
So which one is it going to be?