Different studies show that almost two-thirds of small businesses already got a website. If you don't have one yet, the right time to make it is now. There are a number of popular website builders on the web to assist you with the process.
In this guide, we'll help you find the best website builder solution for your next project.
An online site builder helps you create a functional website without any coding knowledge or technical expertise. The only skill you require is the ability to use a browser and an understanding of a basic drag-and-drop interface. We've reviewed the most popular software and analyzed features that make each platform unique in its own way. With this information, you will be able to pick a reliable website maker to build a website without any hassle.
The 3 best website builders – July 2020
The top 20 most popular website builders
Before selecting a website builder software, you must determine what your website will be used for and how it will look like. Also, assess the goals that you want to achieve with your website and discover if a particular web builder can help you accomplish them.
The site builder or your choice should be easy to use and include features that are organized clearly, giving you the power to add elements and change color schemes as you please. Moreover, they should have pre-formatted website templates that are fully-customizable and mobile responsive.
To help you decide which builder platform is the best for you, we have selected some popular ones (including free website makers).
1. Wix – Best all-around website builder
2. Constant Contact – Fast AI-powered website builder
3. WordPress.com – Most popular flexible website platform
4. Squarespace – Best overall builder for bloggers
5. Weebly – Most intuitive and easy to use
6. Strikingly – Best for one-page websites
7. Carrd – Best for fully responsive one-page sites
8. Format – Best for building portfolios
9. Mailchimp – Simple and quick site builder for DIYers
10. Webs – Best for small business and entrepreneurs
11. TemplateToaster – Software for building high-end sites
12. Duda – Best for building multiple creative sites
13. GoDaddy – Best for creating a website fast
14. Shopify – Best for e-commerce websites
15. Ucraft – Best custom website builder
16. Site123 – Builder with the best customer support
17. BoldGrid – Best for professional websites
18. Gator – Best for small businesses
19. Webflow – Best custom design tools
20. Jimdo – Best online store builder
---
Disclosure: FirstSiteGuide is supported by our readers. When you purchase via links on our site we may earn a commission. We test and try all the products that we recommend.
1. Wix – Best all-around website builder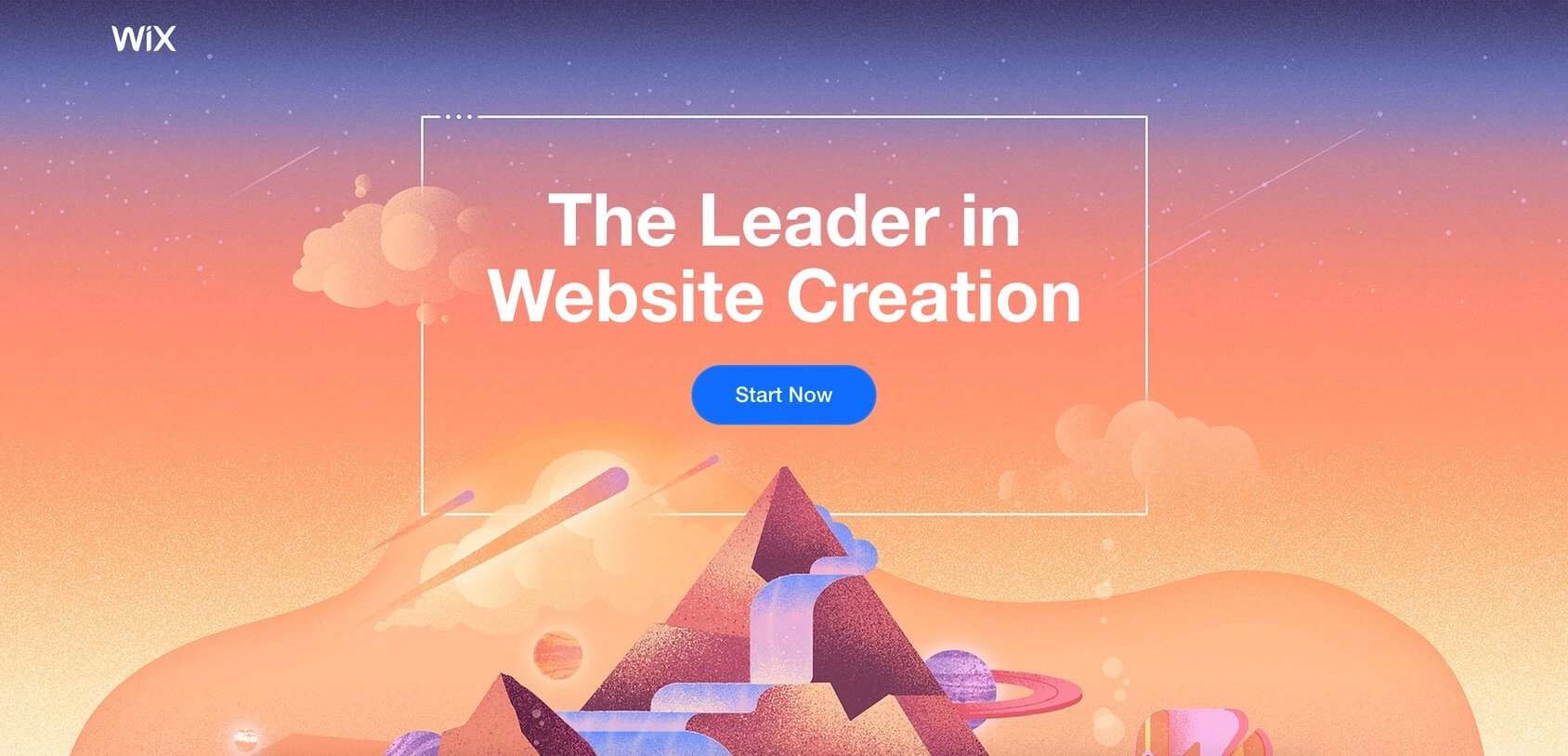 Wix is one of the most popular website builder sites, offering a variety of plans and products. It is beginner-friendly and gives you complete control over your site. The platform is not only packed with appealing features, but it is also continually evolving and introducing new features to outperform its competitors. While some services provide you only a few templates to build on, Wix website builder offers more than 500 industry-specific website templates. Use these in combination with its incredible drag and drop editor to create the website according to your design preferences. Building an online store with Wix is extremely simple. Choose a template and add components such as forms, blogs, social media links, videos, and text to it to build your very own, very unique website. You can preview it later and feel the layout of your online store. Also, it supports plenty of payment platforms, uses these to accept online payments, and create an e-commerce website that supplements your income.
Key features
Mobile optimized
Unlimited fonts
App market
Total design freedom
Industry-leading SEO
Media galleries
Scroll effects
Pricing
Connect Domain plan starts at $4.50/month
Combo plan starts at $8.50/month
The unlimited plan starts at $12.50/month
VIP plan starts at $24.50/month
2. Constant Contact – Fast AI-powered website builder
It is an intelligent AI-powered website builder software that lets you create your website within minutes. The initial setup is relatively simple, where you can select the website design that you want, after which you are directed to the Constant Contact editor. Here you can customize the design according to your taste and even add your content. Also, it provides a royalty-free image gallery so that you don't even need to source images for your website. Constant contact is known for its fast-loading web pages, online store, built-in analytics, visual effects, and much more. On top of that, you can easily check these features for free without handing out your credit card details.
Key features
Free SSL certificate
Search engine optimization
Free hosting
Website analytics
Impressive visual effects
Blogs
Social media sharing
Expert support
Pricing
It has a free plan that allows you to create and publish your website without any cost
Starter plan charges $10/month
Business plus plan charges $20/month
3. WordPress.com – Most popular flexible website platform
This is the world's most popular website building platform that powers over 36% of sites on the internet. It is a flexible website builder that allows you to gain maximum control over your website as compared to other services here. You can easily create all types of websites, such as an e-commerce store, a blog, a corporate site, and more. There are several pre-designed WordPress themes that you can select for your website. Through its fantastic drag and drop page editors, you can make beautiful layouts. With access to more than 55,000 free WordPress plugins, it allows you to add any additional features and functionality that you require, such as signup forms, image gallery, social media tools, chatbots, etc. WordPress is by far the cheapest website builder on the internet, and it is the number 1 choice for both web developers and business owners.
Key features
Mobile responsive sites
Powerful media management
High performance
SEO friendly
Highly secure
Supports multiple languages
Pricing
It is entirely free, but if you require hosting, you'll have to pay some added charges.
4. Squarespace – Best overall builder for bloggers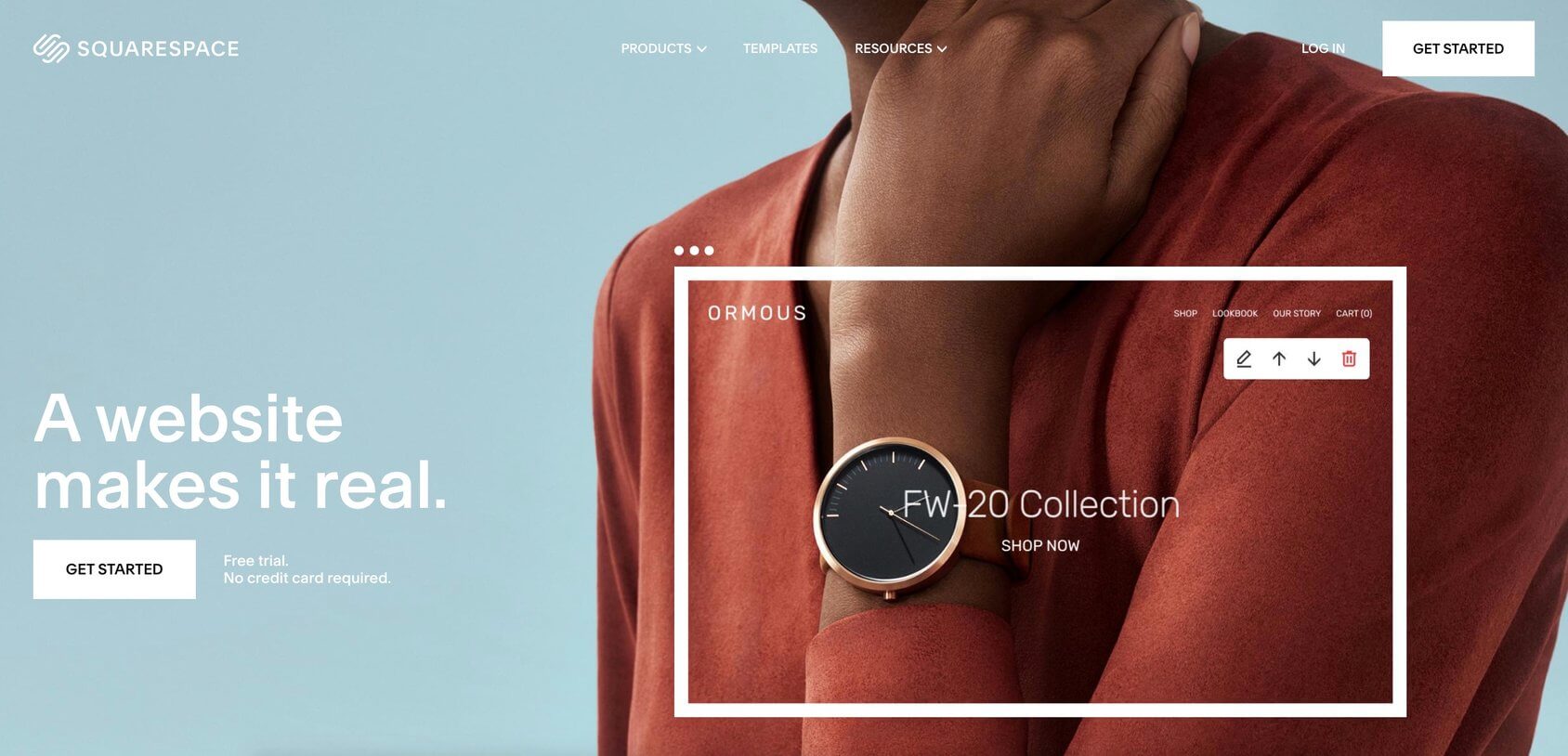 This is another highly acclaimed website builder that offers several features with gorgeous looking templates. These templates are beautifully designed, and you can easily switch them if you decide to change the looks of your site later. Also, they are customizable and ready for integration with all types of content. Squarespace is equipped with enterprise-level infrastructure to host your website, which makes it one of the most secure and robust platforms where you can grow your business without worrying about hosting.
Key features
Customizable templates and content layouts
Built-in mobile websites
Gallery blocks
E-commerce finance, inventory, shipping and sales extensions
Social media integration
Analytics and reporting
Unlimited bandwidth
Free custom domain
Pricing
Personal plan starts at $16/month
Business plan starts at $26/month
Basic commerce plan starts at $30/month
Advanced commerce plan starts at $46/month
5. Weebly – Most intuitive and easy to use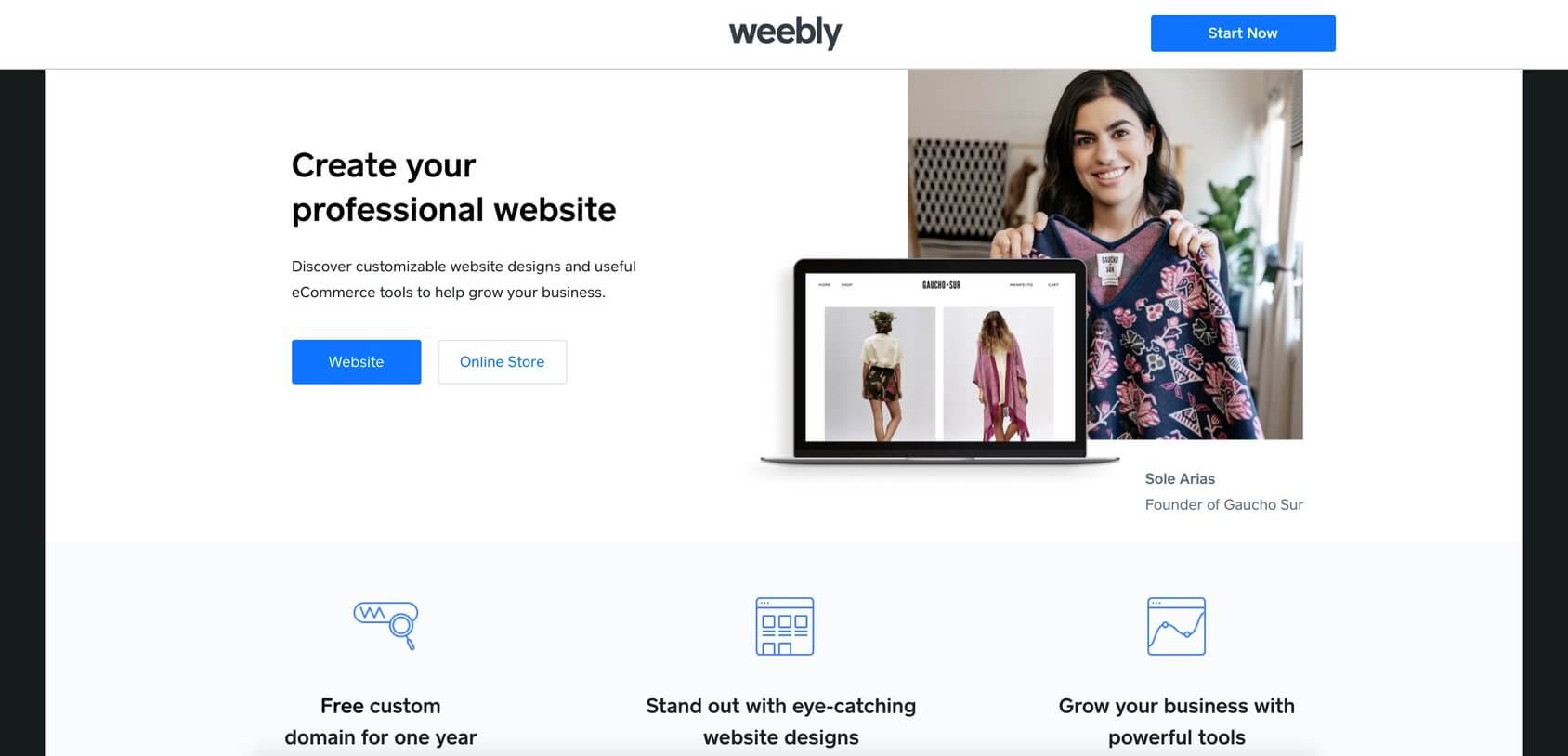 It is an easy website builder with plenty of great designs and templates. Weebly also includes a seamlessly crafted web page builder that allows you to edit your website without any coding skills or experience. It is a fully hosted platform, so you don't need to install or manage any additional software as Weebly takes care of all the software that runs in the backend. Additionally, Weebly comes with built-in support for e-commerce through which you can create an online store and start selling your products and services. So, it's no wonder that Weebly is rated as one of the best DIY website builders that is perfect for beginners.
Key features
Mobile responsive websites
Third party integrations
Professionally designed templates
Customized signup and survey forms
Powerful SEO tools
Reliable and free hosting
Pricing
Free plan with easy to use tools
Connect plan for $5/month on an annual basis
Pro plan for $12/month on an annual basis
Business plan for $25/month on an annual basis
6. Strikingly – Best for one-page websites
This online software has a special focus on one-page websites that are essentially just long scrollable sites – visitors can also go up and down the page by clicking the navigation links. It is beginner-friendly and offers a range of stylish templates with minimalistic designs. The strong point of this website builder is its blogging features. It offers everything that you need to start your blog, including analytics, RSS feed, comments section and much more. If you want to start simple, you can subscribe to its free plan and later on upgrade to one of their tiered plans for extra features.
Key features
Domain name registration
Fully functional simple e-commerce store
Super easy blog
Built-in analytics
Signup and contact forms
Social feed integration
Built in HTTPS
24/7 customer support
Pricing
Free plan with 5GB monthly bandwidth and 500 MB total storage per site
Limited plan for $12/month with 50 GB monthly bandwidth and 1GB total storage per site
Pro plan for $20/month with unlimited bandwidth and 3GB total storage per site
7. Carrd – Best for fully responsive one-page sites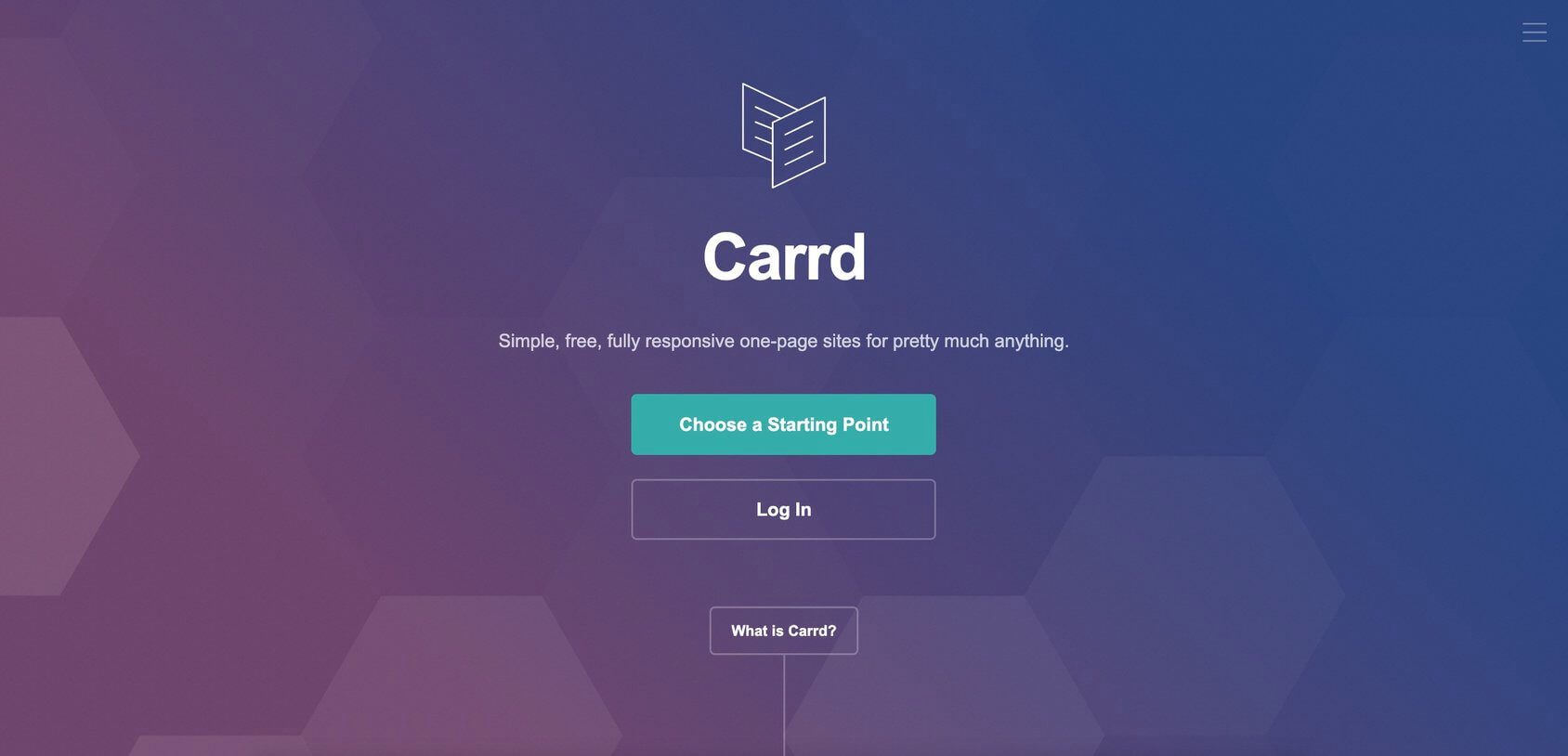 Carrd is for anyone who needs a clean one-page website to maintain their online presence or promote their business without breaking their bank. If your main focus is to grow your email list, a Carrd landing page is just what you need to direct visitors towards the content they want to see. The templates offered by Carrd are particularly well-suited to freelancers, photographers, and designers. Also, they can be easily customized according to your taste through an intuitive and simple-to-use website builder. Each feature is designed to keep the end user's experience in mind, but it does not possess the ability to create multi-page sites. However, if you need your website to be nothing more than your classy online business card, this is it.
Key features
Publish sites to any custom domains
Add signup and contact forms
Embed widgets from third party services
Google Analytics
Publish sites without Carrd's branding
High quality images
Build sites with more than 100 elements
Pricing
Free Pro plan for 7 days trial period
Pro Lite plan for $9/year
Pro Standard plan for $19/year
Pro Plus plan for $49/year
Pro Max plan for $99/year
8. Format – Best for building portfolios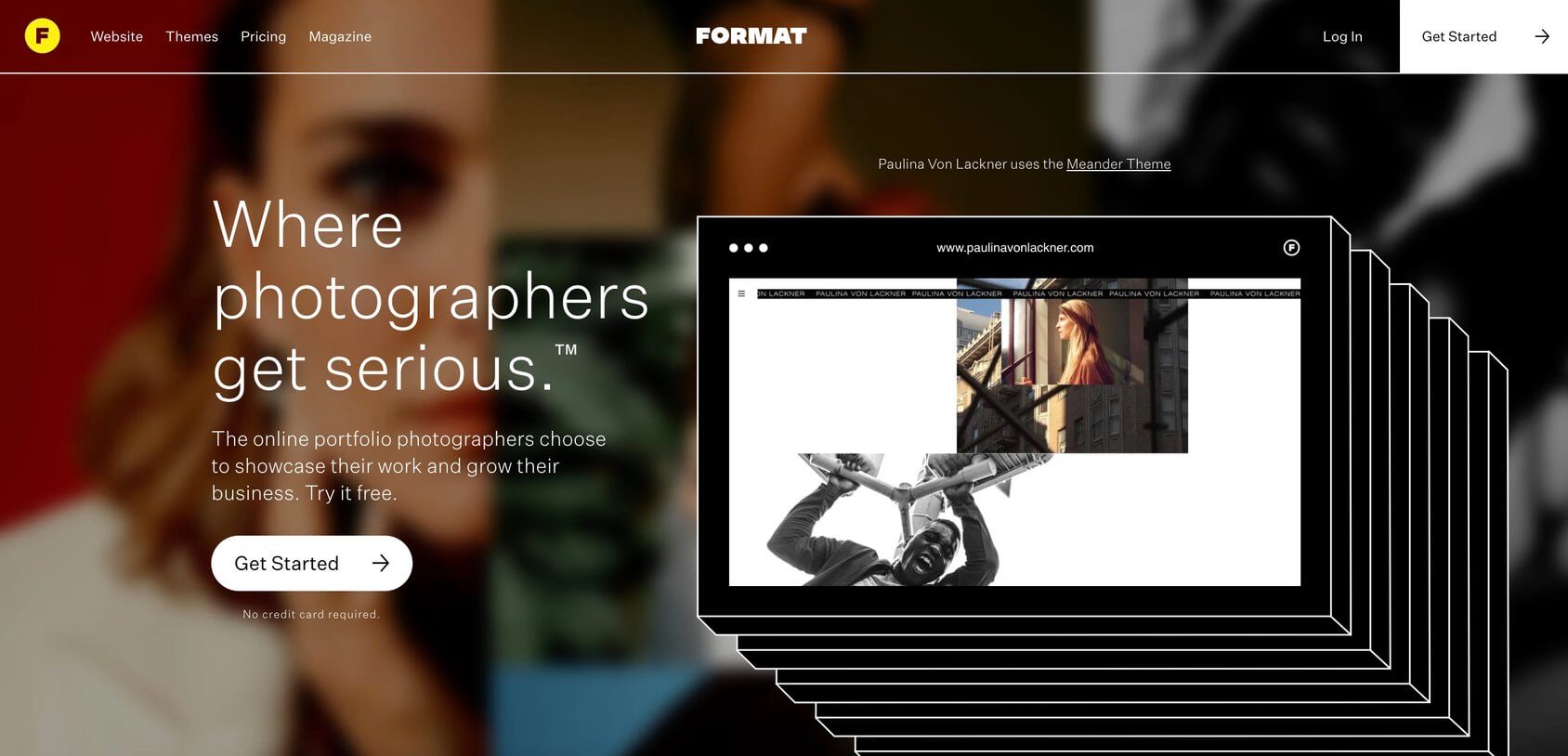 The Format is an online portfolio-based site builder which means that if you want to build a portfolio quickly, this is the way to go. One of its strongest features is its special focus on online photography portfolios. It has several pre-built, optimally-designed templates that make it easy for you to build a mobile-responsive website. It has all the features to display your work and reveal multiple opportunities for you. You can even integrate a web store into your portfolio website to sell the works/services you offer. Just like any other website builder, it offers integrations for shipping, payment, product availability, and much more.
Key features
Customize websites without coding
Easy to set up online store
Professional domain and email
Efficient 24/7 customer support
Strategies and tips to book more clients
Completely flexible
Pricing
Basic plan for $7/month
Pro plan for $16.99/month
Pro Plus plan for $25.99/month
Unlimited plan for $32.99/month
9. MailChimp – Simple and quick site builder for DIYers
MailChimp website creator is certainly very easy to use and will integrate seamlessly with your emails, landing pages, signup forms, social media posts, and even advertisements. If you already have a MailChimp account, use their free website builder via the main menu and get started. Otherwise, sign up. Moreover, MailChimp has a user-friendly interface that will easily get you started with a homepage as a start point after which you can drag and drop additional elements on the page. This makes it a great option for entrepreneurs and DIYers who need a professional looking clean website without hiring a web developer.
Key features
Free custom domain
All-in-one marketing
Payment block integration
Custom signup forms
Drag and drop page editing
Pricing
Free plan with site building and analytics
Essential plan for $9.99/month
Standard plan for $14.99/month
Premium plan for $299/month
10. Webs – Best for small business and entrepreneurs
It is the largest site building company in the world with more than 500 million websites hosted on its servers. Webs targets small businesses and entrepreneurs but that does not mean that you cannot build your personal or non-profit website here. Webs builds your website in front of you and offers 6 different page configurations so whenever you create a new page, you can easily choose a page layout to use. You can also take advantage of specialty pages that are pre-set and dedicated site setups for you to choose from. These pages are great for blogs, web stores, photos, videos, forums, and appointments. Also, if you are building an online store, Webs has all the features that any e-commerce online shop will need such as images, text, shipping options, payment methods, and much more.
Key features
Search engine friendly
Mobile optimized websites
Social media integrations
Customized robust templates
Local listings
Advanced web analytics
Cloud hosting
Custom domain names
Pricing
Starter plan for as low as $5.99/month
Enhanced plan for as low as $12.99/month
Pro plan for as low as $22.99/month
11. TemplateToaster – Software for building high-end sites
This website builder aims to make it easy for amateurs to create the perfect website for just about any purpose. With Template Toaster's simple drag and drop design and multiple CMS theme builders, you can integrate the template of your choice without any coding experience. The dashboard has an array of tools and menus that you can use to edit the themes and design them just the way you like it. When you are satisfied with the theme that you created, export and upload it according to the instruction for your chosen CMS. If you face any errors or issues, TemplateToaster's excellent customer support will make sure that you are not left in the dark through a dense user forum where you can connect with fellow users.
Key features
Desktop based website builder tool
Supports all major CMS platforms
E-commerce websites
Mobile responsive websites
Drag and drop UI
Upload to any standard web host
Pricing
Standard edition for $49
Professional edition for $99 that is currently reduced from $149
12. Duda – Best for building multiple creative sites
This one is a design-focused website platform that is perfect for people who want an attractive site but need its pre-set templates to do most of the work. All you require is an internet connection and you can start building your website in minutes without any prior tech skills. Duda has scored spectacularly well for ease of use, all thanks to a simple and fast sign up process. It also has a drag-and-drop builder that lets you customize your templates according to your taste. It also comes packed with several features to help you personalize your websites such as 100+ font styles or a built-in photo editor. You can also add e-commerce tools to the mix even with its cheapest plans – including over 30 payment options, tax calculations, coupon codes, product categories, and customized shipping options.
Key features
Flexible navigation on all devices
Content import
Responsive framework
Image optimization
Mobile friendly dashboard
Add and remove widgets
Contact form
Custom HTML
Pricing
Basic plan for $19/month
Team plan for $29/month
Agency plan for $59/month
13. GoDaddy – Best for creating a website fast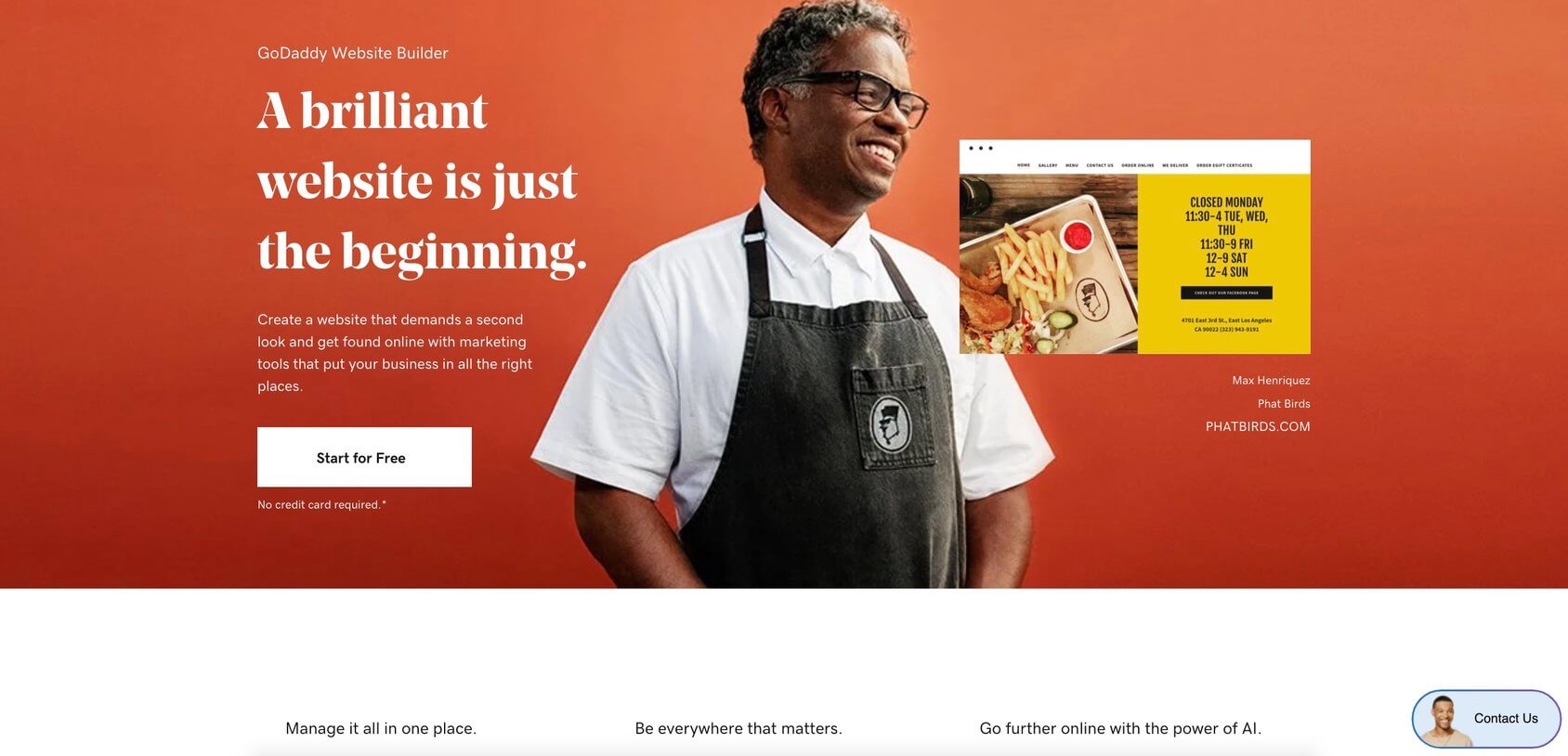 GoDaddy offers a beginner-friendly tool with mobile-optimized stunning design templates. It uses AI to make website creation easier and faster. Creating a website with GoDaddy is best for blogging where you can add images, videos, and audio files, etc. Now, you can easily enable comments and allow people to sign up for your blog notifications via an RSS feed. The recent updates are highly focused on entrepreneurs and small businesses. For example, GoDaddy Insight shows personalized scores about how your business website is performing in comparison to other similar sites. It also provides a tailored action plan to help you achieve your goals.
Key features
24/7 customer support
Social media integration
Google analytics
SEO and marketing
Domains
Backups and restores
SSL security
Pricing
Basic plan for $10/month billed annually
Standard plan for $15/month billed annually
Premium plan for $20/month billed annually
Ecommerce plan for $25/month billed annually
14. Shopify – Best for e-commerce websites
This is another software that specifically caters to online stores and eCommerce websites. Shopify is an all in one fully hosted solution that does not let you worry about managing software, installing updates, or backing up data. As an all-inclusive e-commerce website platform, it comes with full inventory management, unlimited products, easy marketing solutions; powerful stats all packed under one roof. Shopify has an intuitive drag and drop user interface that makes it easy for users to create a complete e-commerce store in a few clicks. It also offers POS solutions through which you can easily sell products at your location while accepting credit card payments.
Key features
70+ professional themes
Full blogging platform
Edit HTML and CSS
Custom domain name
Full featured CMS
Pricing
Basic Shopify plan for $29/month
Shopify plan for $79/month
Advanced Shopify plan for $299/month
15. Ucraft – Best custom website builder
It is a website platform that prioritizes design over everything else. A seamless editor, useful features, and stunning templates that let your images play their magic are just some of the features that Ucraft provides. Getting started with Ucraft is easy, all you need to do is pick a plan and then select a template that is split into categories to make it easy for you to find them. Ucraft also has some of the finest features like image editing tools, video backgrounds, and social media integration. Also, Ucraft's support team is really helpful and diligent about your queries and provides unlimited support through Help Center, FAQs, and Live Chat.
Key features
Multilingual websites
Logo maker
Readymade layouts
System page customization
Free icon and image library
Custom domain
Pricing
Free plan comes with unlimited bandwidth and number of pages
Pro Website plan for $10/month billed annually
Pro Shop plan for $21/month billed annually
Unlimited plan for $69/month billed annually
16. Site123 – Builder with the best customer support
Site123 is built for individuals and businesses who need a website fast with no hassle. When setting up, it asks you some basic questions like the type of site you want and the name of the site before creating a customized template according to your requirements. Their templates are beautifully designed, apps easy to integrate with the added benefit of selling products through your website. Site123 has some really powerful features for blogging that include analytics, social bookmarking, search feature, and an RSS feed. It is also a good option for basic business sites or ones who want to sell a few products as it lacks real financial eCommerce tools but it provides a clean-looking business site that shows what your company is all about.
Key features
Mobile responsive mobile design
Free hosting
SEO tools
Online store
Custom domains
24/7 live support
Pricing
Free plan for 500MB storage and 1 GB bandwidth
Premium plan for $5.80/month
17. BoldGrid – Best for professional websites
It is a new and modern tool that combines efficient website hosting and builder with the power of WordPress which is the most powerful CMS in the world. BoldGrid has a powerful drag and drop tool that is used for building professional looking websites that you can transfer to a hosting platform of your choice. You can choose from over 200 themes, most of them are highly professional with top-quality images, fonts, and color schemes. After selecting a theme, you can open the site in BoldGrid's Customizer that helps you to configure all options such as title, logo, colors, background, fonts, menus, and more.
Key features
Drag and drop customization
Free responsive themes
Built-in staging
Backup plugin
Image gallery plugin
24/7 customer support
Pricing
Premium plan for $2.50/month billed annually
Premium bundle plan for $5/month billed annually
Premium creator bundle for $8.25/month billed annually
18. Gator – Best for small businesses
Gator is a simple website builder that is specifically designed for people with little technical expertise and they require a website. It offers an attractive combination of templates and a drag and drops editor that allows you to put your spin on it. Gator's features make it the best option for any small business that needs to promote a service or even personal blogs. Moreover, Gator also offers all the basic features that you can expect from a website creator along with some attractive bonus elements.
Key features
Customizable templates
Powerful drag and drop interface
Free hosting
Free SSL certificate
Website analytics
Domain name included
Social media live integration
Pricing
Starter plan for $3.84/month
Premium plan for $5.99/month
Ecommerce plan for $9.22/month
19. Webflow – Best custom design tools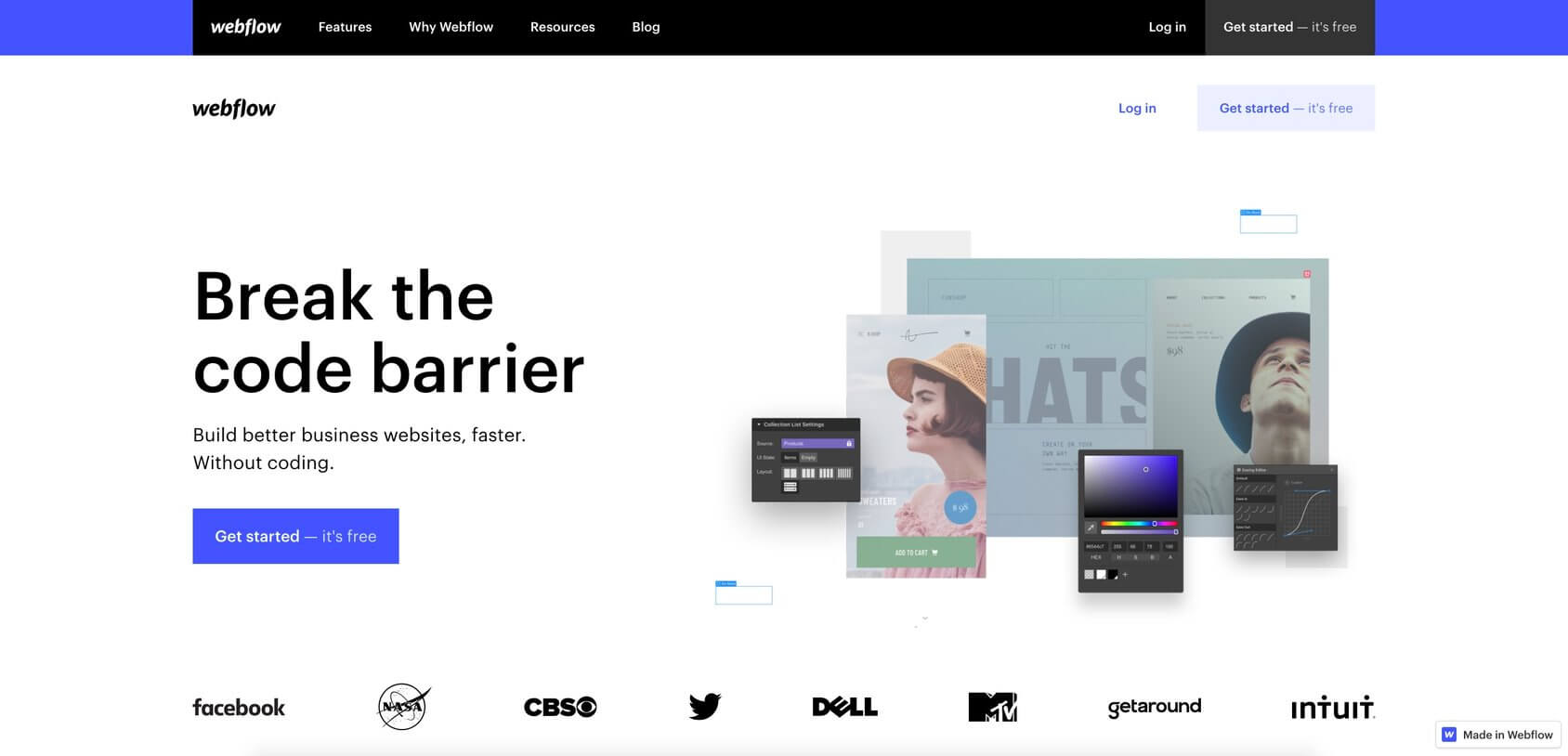 It is a responsive website builder that has been attracting a lot of attraction lately. When you sign up to this platform, Webflow provides a tutorial for its first site users that help them in navigating through the entire process. After completing the tutorial, you can pick a template and edit it with several design options that are available to choose from. Also, Webflow has over 100 templates including 40 free ones that you can easily filter by industry and test before purchasing.
Key features
Parallax scrolling, animation and interactions
Backup and security
Advanced SEO control
Multiple payment options
Facebook and Instagram Integration
Tutorials and guides
Pricing
Basic plan for $15/month
CMS plan for $20/month
Business plan for $45/month
20. Jimdo – Best online store builder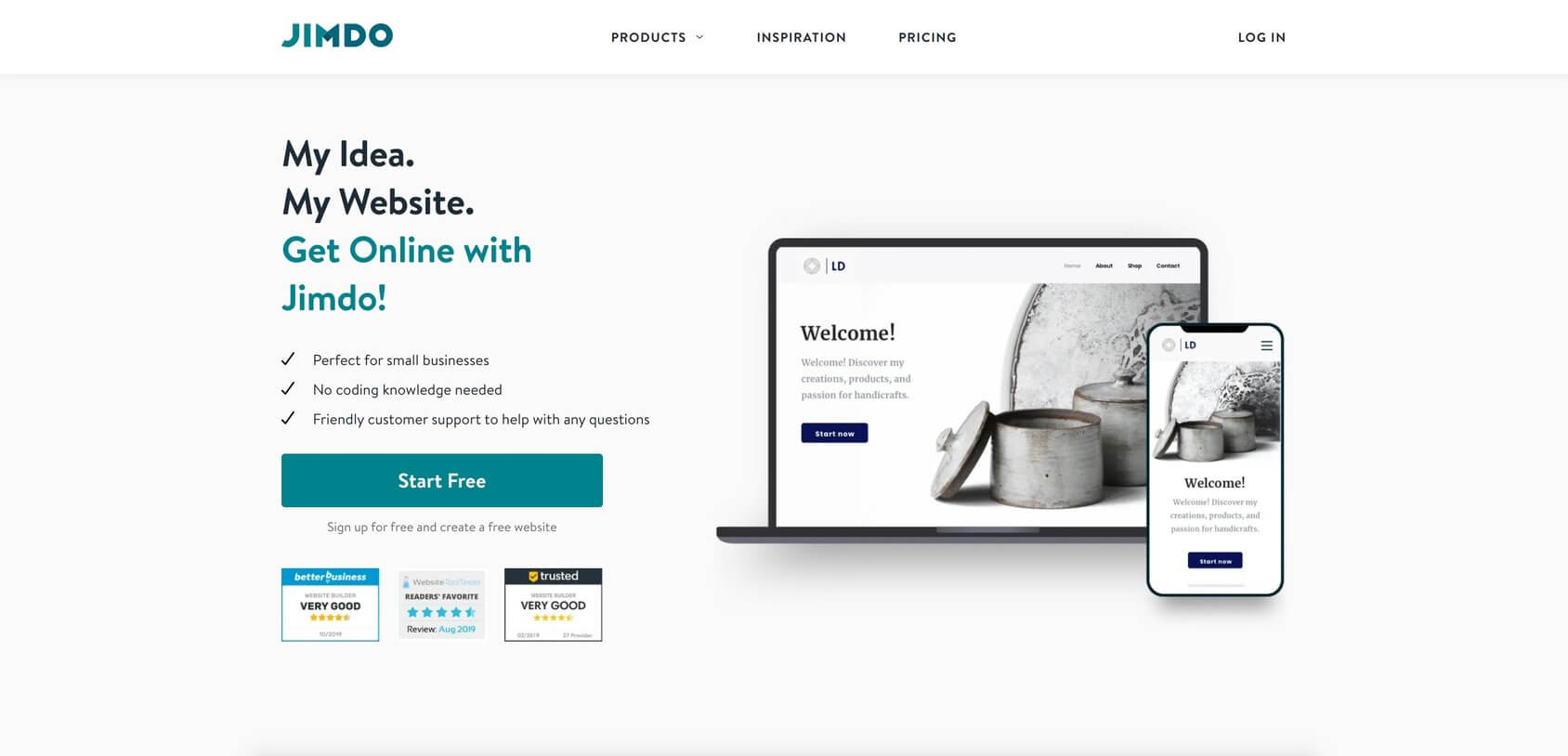 Jimdo provides the best features in the least expensive way to make an ad-free website. You can make a site on anything including business, blog, e-commerce store without using code. It is a complete editing interface that allows you to add in content, resize images, and drag elements into different positions. The interface is easy, clear, and simple to navigate where you can start from selecting a template and then editing it. Jimdo is famous for either personal or small business sites and offers a range of mobile-responsive templates that are an instant hit with both types of content. It is a great platform to build your blog on where you can track your readers using analytics, split posts into categories, and set up an RSS feed. Also, if you are a business, Jimdo sets up a professional looking site in a matter of hours to help promote your brand.
Key features
Flexible website design
Customized business domain
Mobile responsive sites
Image library
GDPR compliant legal pages
Social media integration
Dedicated support
Pricing
Play plan for free with basic features
Start plan for $9/month billed annually
Grow plan for $15/month billed annually
Unlimited plan for $39/month billed annually
How to choose the right website builder
If you are determined to create a new website from scratch without professional help, it is imperative that you choose the right tool for your needs. Therefore, you need to assess the following aspects before settling on a website builder.
Website building
Firstly, you need to figure out who will build and design your website. Web builders are perfect for people who possess no prior coding knowledge or experience. Or, if you want to hire a professional for the initial processes of website designing, you need a tool that will allow you to manage your site easily when it's done.
Budget
Website builders are a cost-effective solution to making a website. Many of them offer free trial options where you can easily sign up to them and test features to see if they fit your requirements. After a certain period, they charge a monthly fee that grows with the size of your website or additional services.
Website themes
Themes are an essential component of your site that defines the entire layout and its look. Web building platforms should offer a variety of theme designs for different industries and types of websites. This includes themes for blogs, e-commerce stores, portfolios, or professional services. You can choose any theme if you determine the type of website that you are making and the specific niche you are looking to target.
Layout
You need to choose a solution that allows you to customize your site according to your preferences. Many site builder companies offer powerful customization options, but if you want a unique template or that is entirely customizable, you will have to hire a web developer.
Additional features
Today, many builders are equipped with all the tools necessary to create sophisticated websites or even entire e-commerce stores. Therefore, the best one will offer you additional features that will streamline your website, such as mobile responsive website, social media integration, emails, and much more.
Hosting
Web hosting should be included with the software, so once you create your website you can host it online. You need to look for a hosting plan that suits your requirements, such as technical needs, support services, customization options, and ease of set up.
Other considerations to keep in mind include ease of use, popularity, pricing, and timely customer support. You also need to check website builder reviews and users' feedback about the software.
Best of the best
The website builders industry has grown exponentially over the last 10 years.
It can be overwhelming to pick one company that provides the features and customer support that you need. But it also means that now you have plenty of choices to find the best website builder software that creates websites tailored according to your requirements.
Best free website builders
You might think that a free website builder will have no features and little functionality but you'd be wrong here. There are some really good options out there that offer quality tools and services to design your website for no charges.
You can create a professional-looking website in minutes with this free site builder. It is made specifically for people who have absolutely no experience with building a website but still want complete control over all its functions and tools. Not only is the platform quick, but it is also powerful and highly customizable.
Key features
AI-powered creation
Content delivery system
Built-in eCommerce tools
Social media integration
Custom domain names
Google advertising
It is a commonly used free website builder that allows you to run your site live with a WordPress-owned URL (subdomain). You can easily create stunning websites, blogs, and landing pages with this platform and also add elements such as sign up forms, images, videos, and audio files. For people who possess no prior website creating an experience, WordPress offers an easy to understand user interface with no coding requirements. When you start, it will ask you to select and preview a theme as well as help you navigate through its editing software with the help of a tutorial.
Key features
Custom domains
Mobile responsive sites
Fast and friendly customer support
In-depth analytics
Search engine optimized
Built-in social sharing
Best premium website builders
Many premium website builders provide expanded storage and bandwidth as well as features that differentiate them from their free counterparts. These plans also remove unnecessary ads from your page and the subdomain present in your website URL.
The following are the two top website builders that offer incomparable premium plans.
It is the front runner in the race for website building software dominance. Being the biggest player it provides an AI-enabled website creator that requires absolute minimal efforts from the user. If you want more value-added features, you can switch to premium plans that cover almost everything that you need for your personal, online store, or business website.
Key features
Limited storage capacity according to each plan tier
Limited bandwidth with economical plans and unlimited bandwidth with expensive ones
Removal of Wix ads
Site booster app
Visitor analytics app
Limited amount of video time
Squarespace attracts a lot of attention for offering sleek features such as full e-commerce integration or an SSL security certificate. This modern platform allows you to create an HTML5 compliant website that has a specific focus on commerce and analytical tools. It also has a huge amount of add-ons, templates and tools that create beautiful websites that are fully responsive on all mobile devices.
Key features
SEO features for site visibility
Advanced website metrics
Premium integrations and blocks
Fully integrated e-commerce
Squarespace extensions
Best cheap website builders
With the number of site builders that are available now, it is cheaper and easier to go online with a website. Even if you are a newbie and this is your first design experience, you must start with website builders that provide an economical plan just to test the waters.
If you want to create and design a website but you have a limited budget, you should check the One.com. The price starts at $2.49 a month but it might increase if you require more features. But the good news is that on top of the website creator tool, this package also includes web hosting.
Key features
Web statistics
Unlimited traffic
5 pages per website
SSL certificate
OnePhoto Gallery
Webnode is a low-cost solution that creates modern and mobile responsive website designs. It is an easy to use website builder that allows you to connect with a domain name. It has two low-cost plans: Limited and Mini. Limited shows the small Webnode footer while mini doesn't display ads and includes a free domain name for a year. These both are great plans for a small personal or professional website.
Key features
SSL encryption
Design templates
Unlimited number of pages
Limited bandwidth and storage
Best easy to use website builders
If you go for the easiest website builder, coming up with a website will be quick and easy. It could be a website for anything such as a blog, business page or an online store. Not only that the development process will also take no time. These builders can be especially feasible for all beginners who have no coding or designing background.
The following are two of the best website builders that have a user-friendly interface.
Wix is used by over a million users all around the world which shows that it is indeed an easy to use website creator. If you are new to web design, this platform's features are perfect for your needs that are collected in one location for your convenience. You can start by selecting from hundreds of pre-designed templates that can be dragged to the editor for further customization. Both elements do not require any kind of coding.
Key features
Stunning templates
Mobile responsive sites
SEO-friendly
Custom domains
This platform is an impressive combination of functionality and usability with an easy to use interface that helps you design websites quickly and gets them up and running. It is suitable for people of all experience levels especially beginners who are not familiar with the designing concepts.
Key features
Free image library
Intelligent web builder
Quick load times and no site crashes
Easy to edit
Best one-page website builders
One page websites have become quite popular in the modern web design industry. This is because these websites can display striking online presentations while allowing the owners to comply with the users' requirements.
They are ideal when businesses need to narrow down a customer's choice and keep them focused on a specific product or service. The following are two of the best one-page builders out there.
As one of the best one-page site builders, this can surely leave a prominent impression on your prospective clients and customers. Even if you are new to this, you can easily come up with a professional and minimal page for your personal and business needs. Owing to its name, Carrd acts as a business card for you to display your talents or services and take them to the entire world.
Key features
Custom domains
SSL certificate
No Carrd branding
Mobile responsive
Strikingly has positioned itself as a leader in the one-page site builder niche with promising results. It possesses an intuitive editor that helps you in creating sections that can be scrolled up and down as one page. You can easily get started with this one-page website builder by filling a short signup form or connect with Facebook to automatically fill up your information. You do not need coding experience or knowledge to create your small business or e-commerce one-page website.
Key features
Eye-catching themes
Built in site analytics
Built in free HTTPS
24/7 customer support
Sign up and contact forms
Optimized for e-commerce sites and blogs
Best website creators for blogs
If you are an avid blogger who wants to create a website where you can share your musings and knowledge with the rest of the world, you need to check out these website builders for your blog.
It is recognized as the leader of the blog-building industry due to its strong focus on blogging. The platform stands out from others due to its extensive range of features that are streamlined for blogging. But to create a high-end personalized blog design, you require some basic coding knowledge.
Key features
Integration of blog plugins
Blog-specific templates
Stunning design customization tools
Weebly not only creates websites but also manages and maintains it successfully. You don't require in-depth coding and designing skills to build a blog website.
Key features
Pre-designed templates specific to blogs
Mobile-responsiveness
Blog statistics
Best website builders for photographers
As a photographer, it is vital to have an online portfolio to share your work with potential clients. If you are searching for a web builder to create a site where you can display your masterpieces, we have a few recommendations for you.
Format offers a simple website that can be created quickly. You can choose from over 60 themes all of which can be customized according to pages, layouts, and colors. Also, you can easily get your images up on the site by just dragging and dropping into the desired position.
Key features
Clean online interface
Mobile-responsive websites
Custom domain
It is one of the most popular website builders that offer striking templates for getting your pictures portfolio up on the web. Whether you want the images to show up on full size or you prefer the grid look, Squarespace has something to suit your requirements. Also, it allows you to crop and resize the image so your website looks good on any device.
Key features
Password protection for image galleries
Flexible designs
Contact form
Best website builder for small businesses
A website is a great way of promoting your small business and reaching out to more people. These websites require certain features to help you grow your business therefore; we have reviewed two of the top website builders that are right for your small business.
Wix has the best drag and drop builder that creates beautiful and attractive websites while allowing you to customize them according to your taste. You can easily create a website for a small business in hours and get it online really smoothly. Also, Wix is the best choice if you are looking to build brand awareness online.
Key features
Easy drag and drop interface
Unlimited customization options
Contact forms
Integration of customized quizzes and surveys
It is a fantastic small business website builder that provides the best ready-made themes with complete freedom to craft your website as your company prefers. With BoldGrid, you can use its drag and drop editor and innovate the look of your website that appeals to potential customers.
Key features
Faster design time
Simple management
Free responsive themes
Best e-commerce website builders
If you want to set up an online store to sell your products and services online, you can create your website with the help of these two online website platforms.
It is the world's most famous e-commerce marketplace that comes with everything you need to set up and manage an online store. All payments can be handled directly through the platform so that you can start selling immediately. Moreover, it allows you to add functionality to your store by adding apps from the Shopify App Store.
Key features
Unlimited email forwarding
Unlimited bandwidth
In-depth analytics
It is another option to consider if you are looking for a reliable eCommerce website builder. This platform is versatile and packed with some important features that add complexity and make it the ideal solution for beginners.
Key features
Enterprise level security
Multi-channel selling option
High uptime rates
FAQs
What is a website builder?
Site builders are tools that allow you to create websites without any necessary coding knowledge or abilities. The design professional looking websites without the requirement of a web developer.
Types of website builders: offline and online
Offline website builders come as software that can be downloaded and installed on your computer. You can build the website and save all the files on your computer, and whenever the website is ready, you can upload all the files to a web host.
On the other hand, online website builders are web-based and run on the provider's service. You don't need to download or install them; all you require is a web browser and an internet connection. It allows you to work on your website from anywhere and from any device.
How does a website builder work?
A website maker allows beginners and experienced users alike to create an entire website within no time using the drag and drop editor. Users can craft a website by simply dragging the elements and dropping them to the desired location just as quickly as moving file icons on the computer.
How long does it take to build a website?
Building a website through a web builder can take anywhere from 2 hours if it's a simple website to months if it's a complicated e-commerce site with several categorization levels. The average amount of time for professional website development is 3-4 months.
How can I create my website for free?
You can create a free site by signing up for a free website builder such as Wix or WordPress that allows you to choose the kind of website you want to create. You can choose from several templates and design features to get your website ready for business with absolutely no charges.
How to build a professional website from scratch?
To build a professional and clean website, you need to choose the right tool and sign up for a plan that suits your budget and requirements. Then you need to select a domain name and pick a template. You can easily customize the template according to your taste, after which you must upload the content, preview the website, and publish it on the internet.
How to create an online store?
You can easily set up your online store by choosing the perfect e-commerce platform such as Shopify. It creates your website and allows you to grow your business by selling online and accepting payments via multiple channels. It also allows you to target shoppers with advanced marketing tools.
Conclusion
In this guide, we have carefully evaluated all the popular online website builders that provide ease of use, competitive features, and flexibility.
We hope this guide helped you choose the best website builder for your new project.