Email marketing services allow companies to build relationships with potential and existing customers. Brands use emails to keep consumers updated on a brand, to offer discounts and promotions, and to boost engagement. It is a direct mode of marketing, which helps a business achieve its goals.
Email marketing has an average return on investment (ROI) of $44 for every $1 spent — which is why more businesses tend to create email marketing campaigns under their broader marketing strategy.
As an integral part of the marketing strategy of most companies, email marketing software allows brands to enhance visibility and to find ways to increase sales for a particular product or service. The overwhelming popularity of email marketing has led to an abundance of tools to choose from.
There are many paid and free email marketing services available, which may prove challenging when choosing the right service for your business.
The 3 best email marketing services – July 2020
Email marketing software
Bulk emailing program makes the process of sending mass emails easy and less time-consuming for businesses. These systems allow marketers to create email campaigns, analyze emails, and gauge the level of user engagement. There are 16 services and tools presented in this guide – that offer both free and paid plans – so choose the best email marketing service that suits your needs.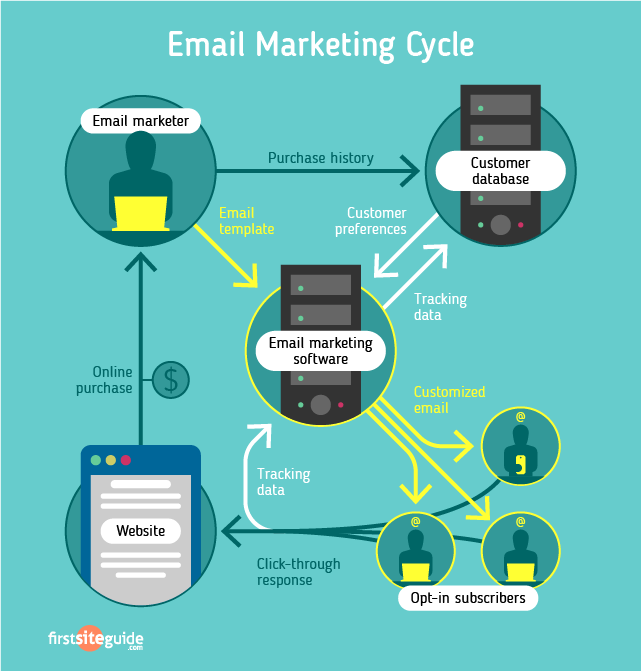 Why you need email marketing
There are multiple reasons why a business requires email marketing. For starters, businesses need email marketing software to contact several potential customers and leads at once.
With plenty of options available, one can easily draft a message to reach customers and create a comprehensive emailing list with the help of these tools. All you need to do is type your email and leave the rest to these platforms. This software allows you to novel features, such as the ability to schedule your email campaign months in advance. Just set time and dates for when they are supposed to be sent, and sit back and relax. With a high ROI, you must not make the mistake of ignoring this highly effective mode of marketing, even if you have a limited budget. Plenty of free email marketing services are available with different features that allow you to create an effective outbound email marketing campaign.
Read the complete guide to understand what each software offers and how you can use them to produce results for your business.
Top 16 most popular email marketing services
Selecting the right email marketing service is vital to the success of your marketing campaign. An email campaign software can help you create engaging email newsletters with an easy-to-use interface, allowing you to draft and send bulk emails without much hassle. The chosen service must also streamline the process of contact management. It should be able to segment contacts into groups and track performance for each email marketing campaign.
The best email marketing software should offer enough features to run a successful campaign. Let's take a look at some of the most popular email marketing providers and how they differ from one another.
1. Constant Contact – Best service for small businesses
2. SendInBlue – Best for transactional emails
3. GetResponse – Best for small to mid-sized businesses
4. ConvertKit – Best email marketing for creators
5. AWeber – Best for bloggers and small businesses
6. Drip – Best for e-commerce websites and marketers
7. Automizy – Best for digital businesses
8. Campaign Monitor – Best for small business owners
9. ActiveCampaign – Best for businesses and enterprises
10. Mailjet – Best for fast-moving teams
11. Omnisend – Best for e-commerce websites
12. VerticalResponse – Best for freelancers or non-profits
13. MailerLite – Best for personal projects
14. Mailchimp – Best all-in-one marketing platform
15. OutreachPlus – Best for personalized cold emails
16. Moosend – All-in-One Marketing Platform
---
1. Constant Contact – Best service for small businesses
Constant Contact is one of the world's largest and fastest-growing email marketing services. You can manage your email lists, contacts, email templates, and schedule calendar through the service. After gaining access to the platform, you get an event management tool and a social media tool that helps you create coupons to share on social media. You also get different integrations to merge apps or other services. An account on the platform gives you access to streamlined marketing applications that are designed to help small businesses expand and nurture relationships. With no requirement of coding knowledge, businesses can engage their customers quickly with Constant Contact.
Key features
Customized email template
Integrations for e-commerce businesses
Drip campaigns
Image library
Landing pages or web forms
Reporting and analytics
Subscriber management
Customer surveys
A/B testing
Pricing
Basic email plan starts at $20/month with the first month free
Email Plus plan starts at $45/month with more powerful features and free first month
2. SendInBlue – Best for transactional emails
It is an intuitive and powerful email marketing solution that was originally built to send transaction-based emails. But now it offers both email and text messages in one unique email platform. SendInBlue has an easy-to-use interface with plans that are affordable for businesses with limited budgets. You can create beautiful email templates through this platform and build meaningful relationships with your customers. For those who require brand-focused and creative email templates, the service is a good fit for most bulk mailing companies. All the templates are responsive so you can easily preview the designs on any screen format.
Key features
Landing pages
Facebook ads
Retargeting
Open and click-through statistical reports
Email heat map
A/B testing
Plugins
API integrations
Pricing
Free plan with 300 emails/day and access to unlimited contacts
Lite plan for $25/month with 40,000 emails and no daily limit
Essential plan for $39/month and $35.10 annual payment with 60,000 emails/month
Premium plan for $66/month and $59.40 annual payment with 120,000 emails/month
Enterprise plan offers advanced features for which you can get a quote
3. GetResponse – Best for small to mid-sized businesses
It is another popular email marketing solution that is easy to use and makes marketing easy for small businesses. It gives you access to some amazing marketing automation tools that allow you to develop automated emailing campaigns. Businesses can create the best email marketing templates through its drag-and-drop editor and use a segmented list to send emails. GetResponse provides timely support through phone, live chat, and email. Also, the help section is full of free tutorials including videos, webinars, and how-to guides.
Key features
Comprehensive email marketing campaigns
Landing pages
Integrated sales page
A suite of e-commerce tools
Tools to drive traffic from social media platforms
Marketing automation for businesses of all sizes
Complete webinar marketing solutions
Pricing
Basic plan for $15/month
Plus plan for $49/month
Professional plan for $99/month
Enterprise plan for $1,199/month
4. ConvertKit – Best email marketing for creators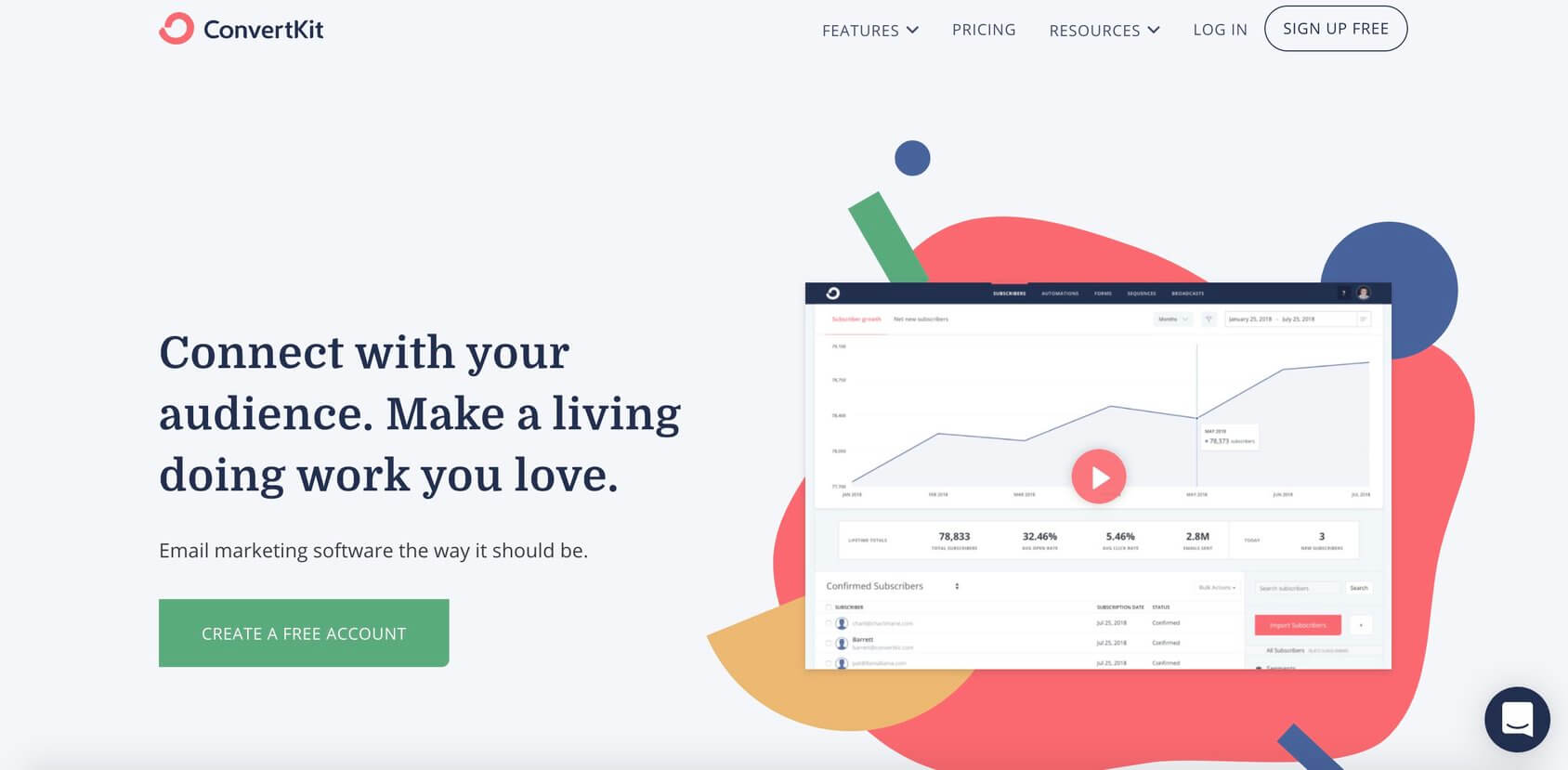 It is a simple service developed exclusively for content creators like vloggers, bloggers, authors, and Instagram influencers to promote their content. The platform encourages its users to send plain text emails to increase engagement. This is why the creators have added no fancy undertones to this service. The biggest selling point of this platform is how easily you can automate your email workflow. Also, you can preview the email sequence through the visual builder. If you are a creator who needs a simple tool to provide regular content to your audience, there's no better tool than ConvertKit. You can open a free account; with which you can send emails to up to 100 contacts absolutely free.
Key features
Customizable and easy-to-embed forms
Landing pages
Email designer to create simple emails
Marketing automation
Conversion-rate tracking feature
Subscriber listings
Pricing
Free plan with 500 subscribers, unlimited landing pages and unlimited traffic
The complete plan for $29/month with 1,000+ subscribers, visual automation funnels, and report
5. AWeber – Best for bloggers and small businesses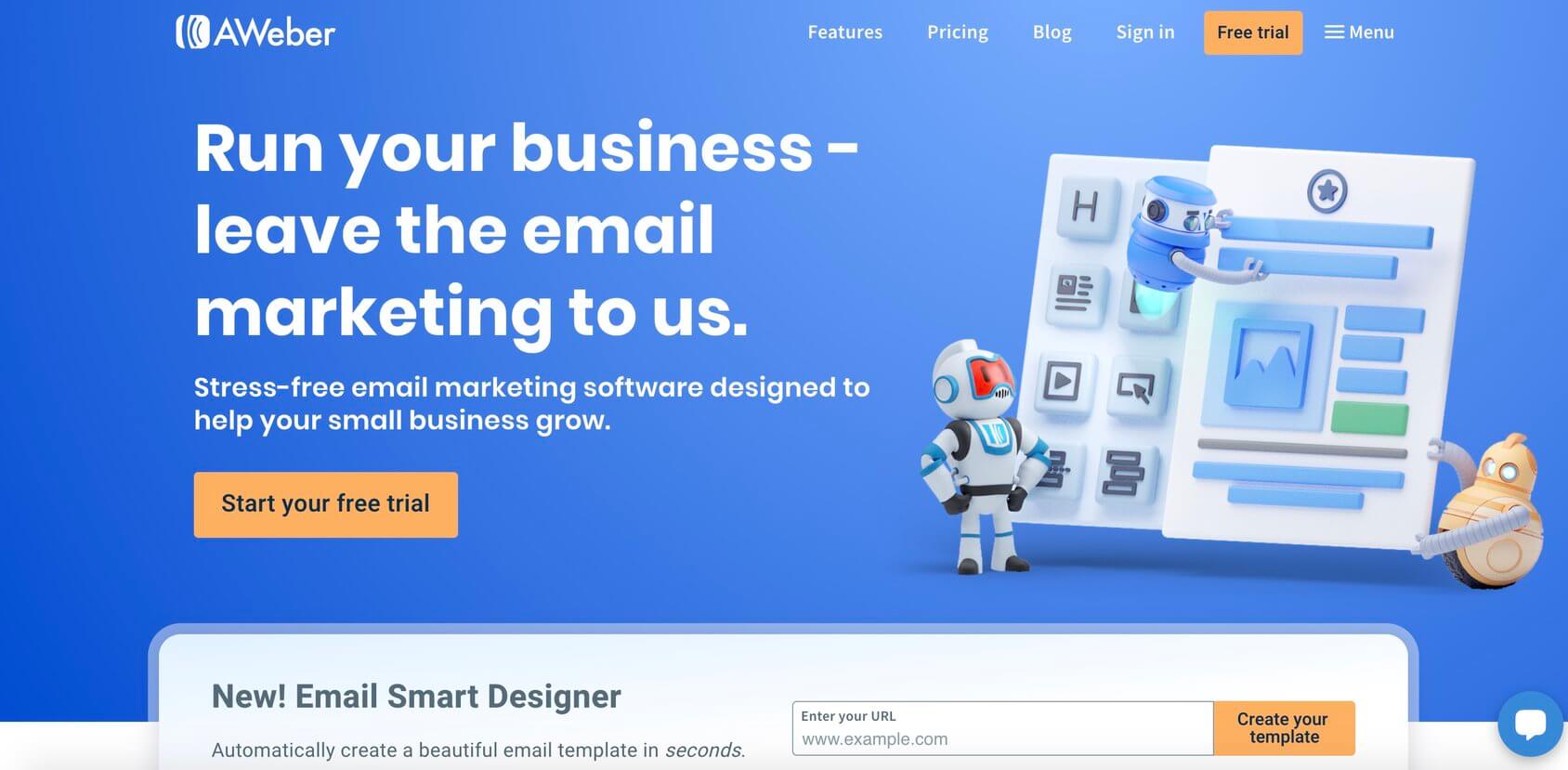 It is one of the oldest yet the most popular email marketing service. AWeber offers a range of tools for small and medium-sized businesses to manage their email campaign services. You can quickly get started on the platform by just connecting to any content manager, i.e., WordPress. Also, you get access to several email design templates, management tools and get to track your emails through detailed analytics. AWeber provides top-notch customer support through live chat, phone calls, emails, and live webinars. With its mobile-responsive templates, you can create email newsletters according to your needs. It offers a 30-day free trial. You can also sign up for quarterly or annual plans to save more money.
Key features
Time-saving autoresponders
Reliable industry-leading delivery
Live customer support
Fast email list growth
Easy imports and migrations
Seamless integrations
Pricing
$19/month for up to 500 subscribers
$29/month for 501-2,500 subscribers
$49/month for 2501-5,000 subscribers
$69/month for 5,001 – 10,000 subscribers
$149/month for 10,001 – 25,000 subscribers
For more than 25,000 subscribers you can get a quote
6. Drip – Best for e-commerce websites and marketers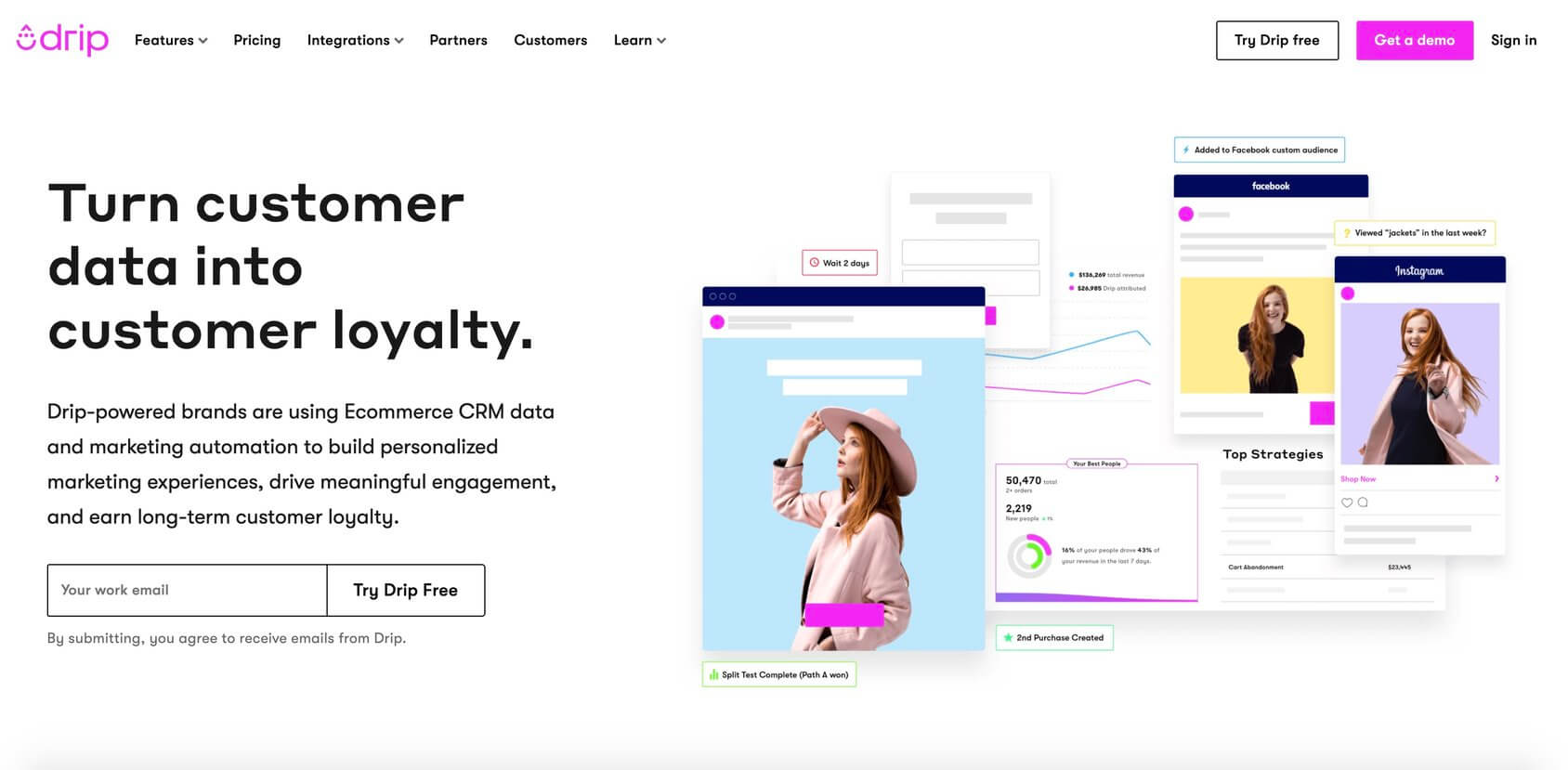 It is a powerful email marketing platform for e-commerce websites, marketers, and bloggers. Drip offers a vast range of tools to automate email marketing campaigns and to personalize content for each segment. Drip can be easily integrated to all popular website builders, including WordPress and WooCommerce. You can add sign-up forms to your website and generate more leads with the help of this service. What sets Drip apart from other email marketing providers is its smart automation, email segmentation, and visual-workflow building tools. These features help you reach the targeted customers in your email list to attract more leads and generate sales. Drip provides excellent customer support with its live chat feature, webinars, automation training, comprehensive courses, and free guides.
Key features
Collect customer information through ECRM
List segmentation
Behavior-based automation
Insights dashboard
Workflow split-testing
Third-party integrations like SMS and direct mail
Pricing
Free trial
$49/month for 2,000 contacts
7. Automizy – Best for digital businesses
This email automation software is designed to help marketers achieve high open rates. Small and medium-sized businesses use email providers to generate and convert leads into customers. Its drag-and-drop automation allows you to create smart email campaigns. With the use of analytics, you can tweak email campaign services for better results. Unlike competitor platforms, Automizy's user-friendly interface makes it easy for businesses to manage multiple operations at the same time. With the A/B testing feature, you can write up to four subject lines, which are then selected through an algorithm for better engagement.
Key features
Visual automation builder
Drag-and-drop email editor
Drip campaigns
Subject-line recommendations
Send-time personalization
Website tracking
Auto-responders
List and contact management
Pricing
$9/month for 200 contacts
$18/month for 500 contacts
$29/month for 1000 contacts
$49/month for 3000 contacts
$69/month for 5000 contacts
$99/month for 8000 contacts
$119/month for 10,000 contacts
Company quote for the enterprise's plan
8. Campaign Monitor – Best for small business owners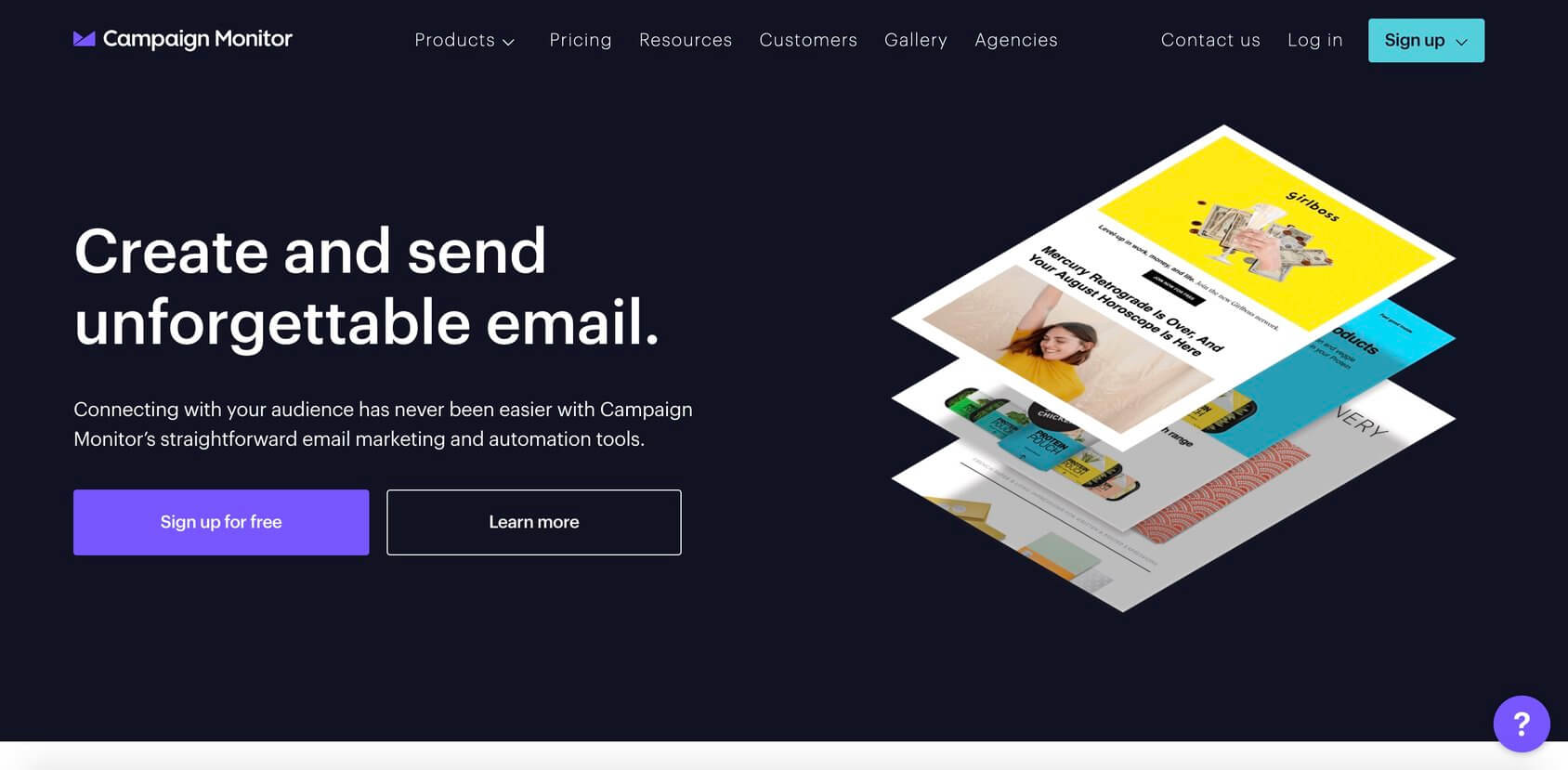 It is a simple tool that companies can use to design their own personalized messages for customers. Users can also optimize their email campaigns with the help of advanced analytics and detailed reports that Campaign Monitor offers. Campaign Monitor is a reliable channel where businesses can increase engagement with their subscribers and improve conversions. The software provides an email builder through which you can create customized emails. The management tools help organizations build segmented lists. The service makes sure that the right message is sent to the right customer. A business can also track the effectiveness of its operations through optimization tools. It shows who read the email, who shared it, and what readers are saying about it.
Key features
Template designer
Content customization
A/B testing
Social-sharing options
Segmentation and customization tools
Mobile-responsive templates
Pricing
Basic plan for $9/month
Unlimited plan for $29/month
Premier plan for $149/month
9. Active Campaign – Best for businesses and enterprises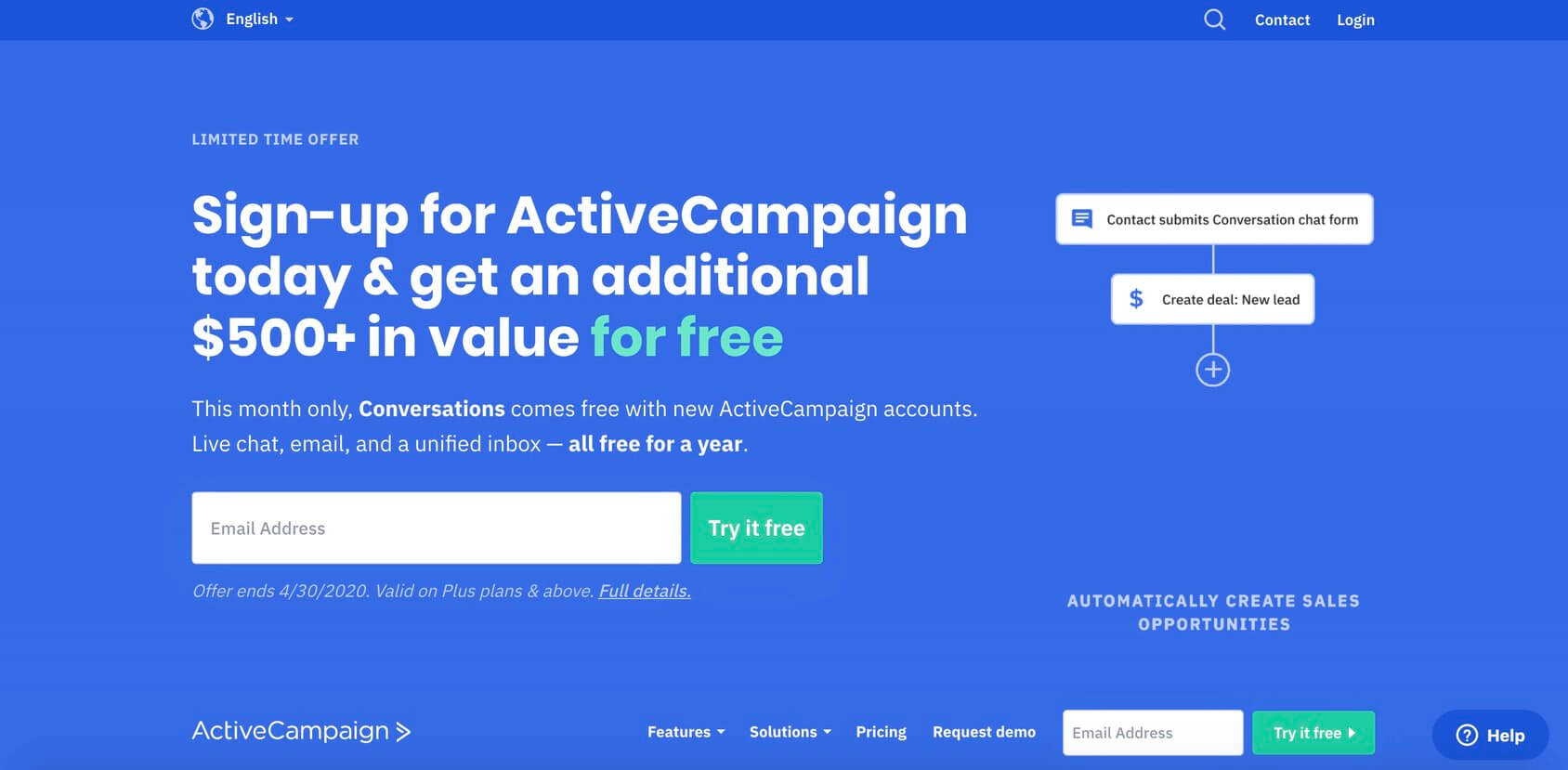 It is an all-in-one marketing platform that allows businesses to send fewer emails but gets better results. The platform is for users who demand sophisticated automation tools with advanced CRM features. With its visual automation builder, anybody who has no prior experience can create powerful email automation sequences. Also, the platform is rich in revenue-increasing features such as predictive sending that allow users to send text messages on a mobile device. One of the most important features of Active Campaign is its ability to run A/B tests. You can get in touch with customer support through email or live chat.
Key features
Send targeted emails
Email autoresponders
Email funnels
Schedule emails
25+ professional email templates
Smooth integration
Mobile optimized interface
Pricing
Lite plan for $9/month paid yearly
Plus plan for $49/month paid yearly
Professional plan for $129/month paid yearly
Enterprise plan for $229/month paid yearly
10. MailJet – Best for fast-moving teams
The platform sends, tracks, and delivers emails for both marketing and transactional purposes. With its intuitive tools, businesses can build effective email marketing campaigns. They can easily customize pre-designed templates and create emails to impress recipients no matter what screen format they are using. It integrates with REST and SMTP servers so you can not lose emails or they do not end up in the spam folder of your subscribers. MailJet is famous for its analytical capabilities through which you can tweak campaigns based on past performance and forecasts. Users can learn how the customers are responding to the campaign, collect data on click or view rates, and get comprehensive reports to gain insight.
Key features
Delivery and analytics dashboard
Contact list management
Campaign comparison
Email automation
Tracking tools
List segmentation
A/X testing
Pricing
Free plan for 6,000 emails per month
Basic plan for $8.69/month billed annually for 30,000 emails/month
Premium plan for $18.86/month billed annually for 30,000 email/month
Enterprise plan for high volume senders available with a quote
11. Omnisend – Best for e-commerce websites
It is quickly becoming the leading marketing platform for e-commerce businesses. It helps websites control their marketing processes across multiple channels. Omnisend also offers automated emails, push notifications, and more importantly, integrations with Google Ads and Facebook Messenger. The marketing platform is considered ideal for e-commerce businesses. Omnisend has creative email templates that are designed to decrease the chances of customers abandoning their carts. It also offers virtual scratch cards and birthday discounts to engage customers. The service not only shows how your email campaigns are doing but also suggests ways to improve their performance.
Key features
Drag-and-drop visual composer
Easy-to-use content editor
Campaign booster
Newsletter designs
Automated workflow
Personalized customer experience
Wheel of fortune
Customized landing pages
Pricing
Free plan with 15,000 emails/month
Standard plan for $16/month
Pro plan for $99/month
Enterprise plan with custom pricing
12. VerticalResponse – Best for freelancers or non-profits
The platform helps small businesses to remain connected with their customers through VerticalResponse email marketing tools. It allows them to send professional emails like newsletters, offers, promotions, and invites, without requiring any design or coding expertise. You can choose from a variety of mobile-responsive email templates or build them from scratch through an email editor. With autoresponders, you can ensure a pleasant experience for your email subscribers with little to no efforts from your side. VerticalResponse also offers the option to build landing pages, surveys, and social posts that you can create quickly. You can seamlessly integrate VerticalResponse with several sales platforms to make better use of customer data.
Key features
Live customer support
Unlimited emails
Automated follow-up emails
Pop-up forms
Newsletters
Tailored analytics reports
Dedicated account contact
Pricing
Basic plan starting at $11/month
Pro plan starting at $16/month
13. MailerLite – Best for personal projects
The platform provides businesses with an easy bulk email solution. With sophisticated features like landing page builder or pop-up forms customizer, MailerLite stands out among other tools in the market. It has a drag-and-drop editor, custom HTML editor, built-in photo editing feature, newsletter design templates, and a file manager. It possesses an email statistics feature through which you can check important aspects of your email campaign, such as click-through rates or conversion rates. This lets you find ways to improve engagement. What makes MailerLite a great email marketing solution is its API function that allows users to scale the platform easily depending on their requirements. They also offer 24/7 customer support to address any queries.
Key features
Embeddable web forms
RSS campaigns
Subscriber management
Email automation
Developer API
Campaign reports
Smooth integrations
Auto resend
Pricing
Free monthly plan for up to 1,000 subscribers
$10/month for 1,000 subscribers
$15/month for 1,001 – 2,500 subscribers
$30/month for 2,501 – 5,000 subscribers
$50/month for 5,001 – 10,000 subscribers
14. Mailchimp – Best all-in-one marketing platform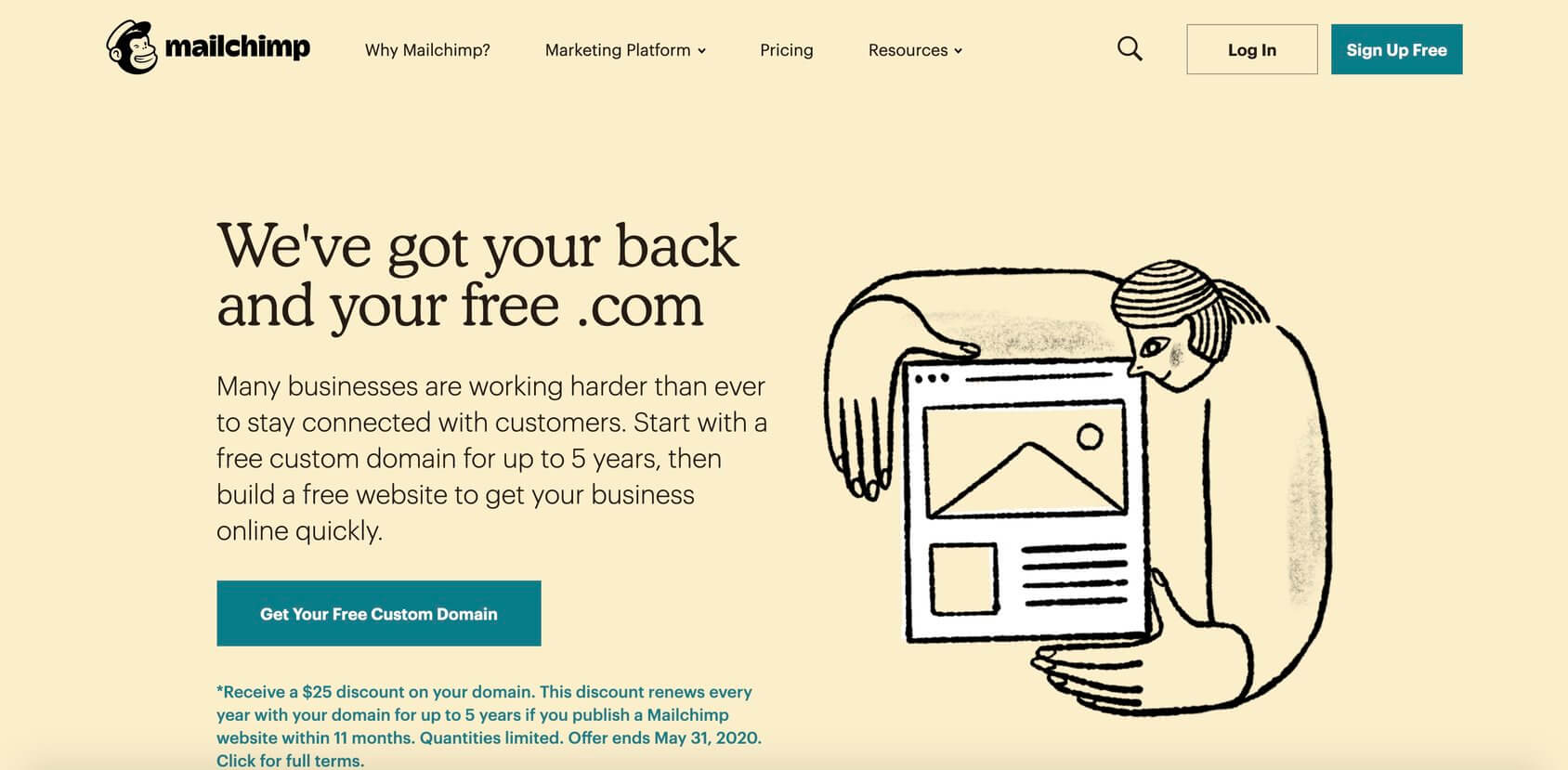 It is one of the most popular email marketing providers in the world because it offers a lifetime plan, allowing users to create and send professional marketing emails to customers. Mailchimp's design feature offers several templates that you can edit according to your preferences. Mailchimp also allows you to set delivery times according to the user's time zone or devise a segmented list according to their location. It can be easily integrated with WordPress, Magento, Shopify, and other platforms. Also, when it comes to marketing automation features, Mailchimp offers limited options compared to other email providers. The platform offers customer support through email, live chat, and tutorials. However, the website's user interface isn't that good and can be slow at times.
Key features
Drag-and-drop builder
Content studio
Ready-made email automation
Analytics report
Online store integration
Mobile app for email marketing
96-99% inbox acceptance rate
Pricing
Free plan for 2,000 subscribers
$9.99/month for 50,000 subscribers
$14.99/month for 100,000 subscribers
$299/month for over 200,000 subscribers
15. Outreach Plus – Best for personalized cold emails
It is a powerful email outreach software that is developed for brands and agencies to generate more leads. It allows businesses to set up campaigns that attract prospects and achieve higher response rates quickly. Outreach Plus possesses advanced personalization and automation features that do not require manual intervention. It also makes it easy to track customer interactions and get multiple team members involved when needed.
Key features
Simple personalization
4-step campaign wizard to launch quick campaigns
Smart automation platform
360-degree view of prospects
Increased traffic through link-building activities
Pricing
Free monthly plan with 100 emails
Solo plan for $18/month
Multi-user plan for $38/month
Agency plan for $79/month
16. Moosend – All-in-One Marketing Platform
Moosend is a robust and fun-to-use email marketing and marketing automation platform, preferred by both small ventures and Fortune-500 hundred companies.
This platform features an easy-to-use interface, making the learning curve even shorter, and plenty of features. Moosend's advanced features include everything a business needs, from lead generation through landing pages and subscription forms, to email newsletter design through the platform's powerful drag-and-drop editor and 100+ integrations that will allow users to perform all marketing actions.
Finally, you can handle your reporting and analytics through Moosend, with precise and easy to manage reports that will allow you to make educated decisions.
Key features
Broad automation features
Landing pages
Subscription forms
Drag-and-drop editor
Live chat support
Pricing
Free plan for up to 1,000 unique subscribers and unlimited emails per month
Pro plan starting at $8/month, billed annually
Custom made Enterprise plan
How to choose the right email marketing software
Choosing the right email software is vital to the success of all your marketing efforts. Among key considerations, you also have to choose a software that can help achieve your marketing goals. Determine the level of personalization you want for your emails and whether the investment will be worth it in the long term. Some of the key considerations include:
Integration
You must choose an email marketing platform that supports integration with your CRM to manage valuable data. It should also provide an overview of all the key metrics to gauge the success of your campaigns.
Segmentation
It is the first step in sending targeted emails to customers with different buying personas. The subscribers are grouped into categories to suggest products and services based on their specific requirements. The email platform must also help in personalizing emails for each segment.
Reporting And analytics
Email marketing is a strategic process that requires regular analysis of data on customers over days, months and years to determine the success of a campaign. Hence, the best email marketing platform should make use of all useful information and translate it into actionable insights.
Drag-and-drop editor
Many programs allow you to personalize emails to represent your distinct brand image. The editor saves time by providing a variety of email templates, which can be tweaked, to best suit your product/service.
A/B testing
The right email marketing platform will allow you to test anything whether it is the length of the message, the subject line or the CTA button in your email. You can learn about audience preferences with A/B testing and use the information to create successful email campaigns.
Best of the best
Email marketing is beneficial for businesses of all types and sizes. It is the best way to connect with visitors, build meaningful relationships, and convert them into loyal customers. Choosing the right service that meets the needs of your business is essential for long-term success. Just because an email marketing company is popular among some businesses — doesn't mean it will work for your business too. The best email marketing platform should automate a majority of marketing activities, track customer-interaction statistics, and send better emails. Some mass email services are meant only to serve businesses from a particular niche, while many can function across industries. Whether you are a marketer or an Instagram influencer, content creator or a small business owner, you need to find a marketing platform that best serves your needs.
In this guide, we have compiled a list of email platforms for different niches and how they help a business achieve its goals.
Best free plans
Marketers may face many challenges when it comes to creating an email marketing strategy. A major challenge is to run a successful email campaign without breaking the bank. Several best email marketing platforms let you reach contacts through forms and landing pages, send emails automatically and track results, all for free. Most free email marketing platforms do not provide customization options. You first need to build an audience and find what engages or interests them. When your list starts to grow, you can then upgrade to a paid plan and use additional features.
Here are two email marketing platforms that allow you to start an email newsletter for free.
It is probably the most popular free email marketing software with an easy-to-use interface. It is a great choice to start your free email newsletter. What makes it the best email marketing tool is its smart recommendation feature that gives valuable market insight to optimize marketing efforts. It also allows you to design emails through a content manager, where you can store files and images for easy access. Mailchimp also lets you automate marketing efforts under its free plan. You can send order confirmations, abandoned cart reminders, and much more.
Key features
Landing page builder
Form creation tool
Marketing automation
List segmentation
A/B testing
The platform stands out among other free email marketing tools as it provides the option of easy customizations. You can start with any template or a blank page and edit the format, add content and details according to your requirements. Other than just text and images, you can even add product details, embed a video, or even link your most recent blogs. It is an excellent way of making more interactive emails that provide more material than just a newsletter. You can create mobile responsive landing pages that match the emails you send for more conversions. MailerLite offers a comprehensive campaign report that provides essential statistics to determine click rate and subscriber rate.
Key features
24/7 email support
Video tutorials
Drag-and-drop editor
Built-in photo editing option
Embedded signup forms
Subscriber management
Best for beginners and bloggers
Most bloggers do not pay attention to this extremely beneficial marketing tool. Email marketing helps bloggers increase their revenue and build a strong reader base over time. The first step that you need to take as a blogger is to select a software that allows you to manage your valuable subscriber list.
There are many platforms to choose from, but here we have listed the best choices only.
It is designed exclusively for independent content creators and bloggers. It is a simple platform, but offers good automation options and is also very light on the pocket. ConvertKit has a more focused approach when it comes to UX design, as specific features are available in tabs instead of the dashboard. You have to create your email campaign and go through each step separately. This allows you to get more in tune and focus on different stages in your email marketing campaign.
Key features
Landing page and form builders
Email marketing automation
Pre-designed templates
Email list segmentation
Third-party app integration
Another good email marketing platform is SendInBlue, which is an amazing tool to send emails, blogs, and newsletters to your subscribers. Through the platform, you can easily segment the audience according to your preference. It offers a drag-and-drop email editor, which allows users to add coupons in their emails. The feature is beneficial for affiliate marketing and promoting brands. Also, SendInBlue's user interface is easy to use, which makes it a good fit for first-time bloggers. It possesses a highly customizable WordPress plugin through which you can easily manage your campaigns from the WordPress dashboard.
Key features
Email marketing automation
CRM tool
Built-in analytics and testing tools
Ad retargeting
Best for small businesses
Email marketing is one of the most cost-effective marketing options for small businesses, such as e-commerce stores that are still in the growing phase. This is because it is easy to manage, gives full control, and allows business owners to maintain close contact with their customers. It's imperative to understand that the success of a small business depends on the email marketing platform they choose. A good email platform must allow businesses to create engaging email newsletters through an easy user interface. Also, it should make it easy for them to manage contacts and track performance for future email marketing campaigns.
We have compiled two of the most popular email marketing platforms that can help you grow as a small business.
It is one of the largest beginner-friendly email marketing services in the world. Each account gives you access to tracking tools, social media sharing, list segmentation and powerful e-commerce integration for Shopify stores. You can manage your email lists, contacts, the marketing calendar, and much more through this platform. Also, its email plus account offers surveys & polls, coupons, online donations, and subject line A/B testing to send targeted emails to improve your open rate. ConstantContact is the best email marketing service for small businesses.
Key features
Customizable email templates
Promotion ideas for your business
Live chat, email, and discussion forums
Free access to tools for 60 days
The platform is equipped with many online marketing features that can help grow your business. You can create and host webinars on your site, and build attractive landing pages to convert more visitors. They also publish several useful marketing resources such as courses, whitepapers, and videos, to help you get acquainted with email marketing and use it most productively. It is straightforward to use and comes with amazing automation tools that help you create effective campaigns. You can also integrate it with third-party lead generation software like SalesForce and ZenDesk.
Key features
List building funnels
Sales funnels
E-product sales
Transactional emails
Automation builder
Email and chat support
Email and chat support
Best open-source solutions
An open-source email marketing tool helps you schedule, send, track, and analyze emails. More importantly, it lets you examine customer behavior. With all efforts combined, the software saves time and improves the results. Open-source email marketing software allows you to send unlimited emails for free, but you will have to buy the program to manage server space. The software is highly effective for businesses looking to send emails in large quantities.
Below are the two best open-source email marketing tools.
It is the most advanced email marketing software available on the Internet today. Mautic is an open-source tool that can be used to download a contact management feature or social media sharing feature absolutely free. It allows you to create target lists and send outbound emails. Also, it can be integrated with almost all major platforms. It offers a complete package to create a comprehensive email marketing plan.
Key features
Automated email responses
Search tracking and optimization
Ad management
Budgeting
Analytics
Database management
Highly customizable
Mobile optimized
It is simple to use and easily customizable email management system. You can keep track of regular responses from your subscribers as well as personalize emails based on user needs. OpenEMM is integrated with Google Analytics, which helps keep track of responses and alerts daily. There is no limitation on the number of subscribers or emails with OpenEMM.
Key features
Simple UI
Bounce management
Automated data import and export
Personalized emails
Target group management
Analytics
Mail tracking
Best for agencies (white label)
If you are an agency looking to add email marketing as one of your services, you need a white-label software that can manage multiple client accounts. The platforms help you customize dashboards to a certain extent so that the agencies do not have to invest in new software. No matter how many clients you have, your email marketing platform must allow you to create logos, URLs, and other branding elements.
Here are the two best white-label email marketing companies.
The platform provides the best automation and integration features. It gives you more freedom to design custom domains and logos, as well as change the style of the interface to match your agency's brand. You can also remove buttons or add them to other parts of the dashboard.
Key features
Removes all references to ActiveCampaign
Modify HTML and CSS for buttons and fonts
Replace logo with your own
Custom domain
It is a simple email marketing solution that requires no hosting or complicated setup. It has a built-in email template builder that allows you to create attractive emails. You can send bulk emails either by connecting through an external Simple Mail Transfer Protocol (SMTP) or through the in-built SMTP. Pabbly manages your subscriber list, and it also comes with a drag-and-drop editor through which you can set automation rules for sending emails.
Key features
MX Cleaner
Increased lead capture
Subscription forms
List management
Auto-responders
SMTP routing
How to build an email list (get more subscribers)
An email list includes all email addresses that you acquire by engaging with potential customers over time. The list can shrink if customers unsubscribe to your newsletters or grow if more potential customers engage with your content and emails. As a marketer, you need to make sure that you regularly add new contacts to your email list to reach more people. The larger the number of customers in your email list, the better are the chances of engagement and conversion. But a common challenge among marketers is to devise strategies that can help gain more subscribers.
Building an impressive email list is a delicate and time-consuming process. Here are some tips to create the best email list from scratch.
Create a pop-up form that allows your customers to share contact information and subscribe to your list
Create a customized CTA button for each blog post or web page
Reach out to visitors with personalized pop-up surveys
Create unique email content
Encourage subscribers to share emails by including social media buttons
Send customized content based on different user personas
Create personalized landing pages to attract a broader customer base
Pitch your email newsletter on social media with a strategically placed CTA
Optimize your website for opt-in messages
Top 3 email list building tools
To attract a bigger audience for your business, your first priority should be to build an exhaustive email list. When you write a blog post or create any other type of content, people on your email list are the first to see it.
The tool allows you to insert opt-in messages in several places on your blog to turn your visitors into subscribers. It also offers an advanced feature that increases lead conversions through personalized content. OptinMonster is used by over 700,000 websites, as its lead capture tool has many useful features.
Key features
Embeddable opt-in forms
Drag-and-drop visual editor
Customizable themes
Retargeting and redirection
Intuitive dashboard
Advanced targeting automation
With the email list building tool, you can create optimized landing pages to attract more visitors and make your business flourish. It helps convert more leads into customers, and sign-ups through targeted sticky bars. All the features of the tool are well-documented, and the entire platform is easy to use. The only thing you need to do to get started is to sign up for a free trial and create your landing page. It is perfect for all types of businesses such as e-commerce websites or even agencies.
Key features
100+ landing page templates
Design pages according to your preference
Mobile responsive
Publish to domain
Publish to WordPress
Built-in Google fonts
Auto image optimizer
The tool is best for medium and large e-commerce stores and SaaS businesses but can be used by all online businesses. Sleeknote is a pop-up builder that helps you gather email addresses and increase sales with personalized website pop-ups. Since each segment of the target population has a distinct buyer persona, the pop-ups on Sleeknote show exactly where potential customers are in their buying journey. You can prevent cart abandonment issues and collect email addresses through timely pop-ups.
Key features
A/B testing
Analytics reporting
Subscriber management
Online forms
Lead distribution
Lead segmentation
FAQs
What is email marketing?
Email marketing comprises the process of sending emails to promote products or services to potential customers. It is an effective digital marketing strategy that helps a business connect with leads and convert them into customers.
How much does email marketing cost?
A medium-sized business can expect to spend around $1,000 per month on an average basis if it is using an email marketing platform. The exact amount depends on the industry, the products or services you sell, your marketing goals, and the percentage of online generated revenue. Ultimately, you need to create an email marketing budget to determine the exact costs.
How can I get the first 1000 subscribers?
To attract your first 1000 subscribers, you need to create attractive personalized landing pages. Then, you need to give reasons to your visitors to subscribe that can be in the form of infographics, videos, and much more. Without quality content, nobody will be interested in reading what you offer so you must produce top-notch content. Also, you will need to promote your brand and increase its visibility so that visitors have more chances to subscribe to your email list.
How can I legally collect email addresses?
You can gather email addresses through legitimate means by targeting Facebook ads, pop-ups, and free tutorial videos, or by promoting your email newsletter throughout the website. You can host contests or offer free resources that are relevant to your target population.
Can I send marketing emails to my customers?
Laws differ from country to country. Often marketers need to obtain some kind of permit. There are two types of permissions: implied and express. Implied permission means you can reach out to those people who already have a relationship with you. If you do not have that, you need to acquire an express permit. It is granted when someone permits you to send them marketing emails by voluntarily entering their email address in a subscription form.
How do I start a marketing email?
To start a marketing email campaign, you need to choose an email marketing service provider. After that, you must gather contacts and build your email list. These contacts are then added to your email marketing account; after which you are required to create a welcome email by using a template. After this, you need to write a persuasive subject line and preview it before sending it to your contact list.
Can I do bulk email marketing services from my Gmail or Outlook account?
Sending bulk emails with Gmail and Outlook is possible, but there are high chances of them being marked as spam. Additionally, you will not be able to view the statistics of your campaign.
Conclusion
If you are a business owner or a content creator who is just getting started with email marketing, then there are several useful email marketing services and software that can make your life easy. But before selecting among them, you must determine your requirements and the budget for your campaign.
We hope this guide helps you make the right decision for your business!