Choosing the best web hosting service is the most important decision that you can take for the success of your website.
A website hosting provider acts as a foundation for your site – you wouldn't build your house on a wonky foundation, so why would you create a website using a low-quality host. Selecting the wrong web host can ruin your plans for running a great site, causing immense frustration and catastrophic results.
We conducted in-depth research and found the top 10 website hosting companies that you can count on. We found these hosting services to be reliable as we:
Reviewed all features and products they offer
Tested their support by submitting tickets via available channels
Looked at the price options and signup periods
Monitored uptimes and load times for each one*
*Note: We didn't rank web hosting companies based solely on uptime and load time tests as many other review websites do. The reason is, these tests bring no value to future customers. Consider this: When you perform tests on a single website that is hosted with a specific company on a single server and companies can have thousands of servers. It's just like picking one berry from the bucket and assuming that all of them are good. To receive legit tests one has to test multiple servers of each company, which is impossible to do since you have no access to data centers.
The 3 best hosting providers – July 2020
RECOMMENDED
Bluehost is one of the largest hosting services powering millions of sites.
Visit
Bluehost
DreamHost is the best monthly shared hosting provider in the industry.
Visit
DreamHost
InMotion is the best hosting provider for small business.
Visit
InMotion
Top 10 most popular web hosting companies
All web hosting services aren't equal, and you might end up choosing the wrong one when deciding on a web host. It has the power to affect the SEO rankings, revenue, and overall traffic generation of your website.
This guide has a simple goal, and that is to help you choose a solid hosting provider that fits your needs perfectly. We have gone through many hosting companies and narrowed them down to 10 best hosting providers.
1. Bluehost – Best web host overall
2. Hostinger – Best cheap hosting plans
3. Inmotion Hosting – Best VPS hosting
4. Siteground – Best customer support
5. Godaddy – Best beginner-friendly hosting
6. Hostgator – Best scalability for price
7. Dreamhost – Most affordable monthly plans
8. Web Hosting Hub – Best affordable hosting service
9. Greengeeks – Best eco-friendly hosting
10. iPage – Best for inexpensive plans
---
Disclosure: FirstSiteGuide is supported by our readers. When you purchase via links on our site we may earn a commission. We test and try all the products that we recommend.
1. Bluehost – Best web host overall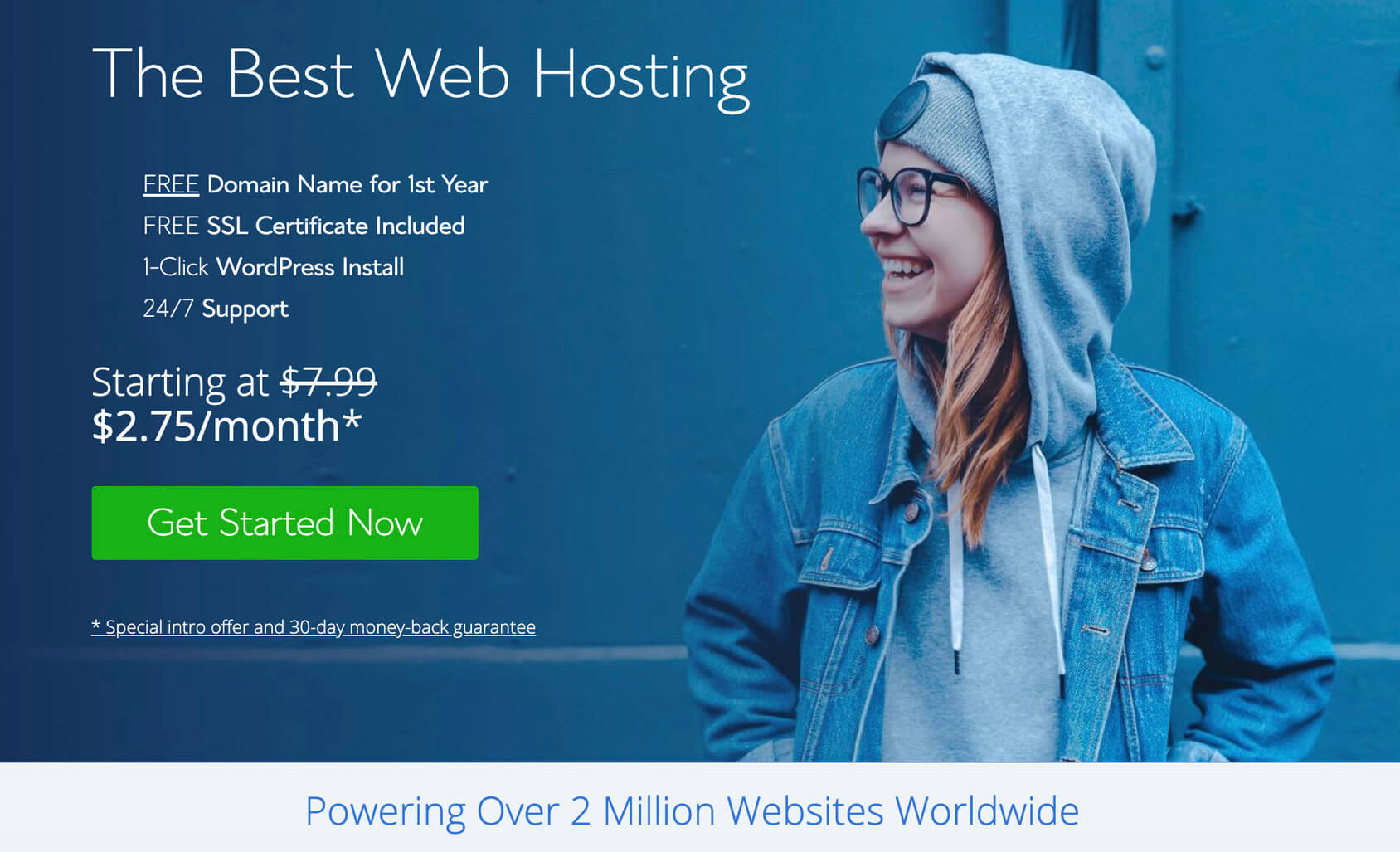 It is one of the most popular companies out there due to its affordable yet highly efficient shared hosting packages as well as a variety of other options. Bluehost provides everything you need to get your website up and running. Bluehost offers six different types of plans that include: Shared, Shared WordPress, WooCommerce, VPS, Managed WordPress, and Dedicated. You also get to use the Weebly builder that lets you create a website of up to six pages with added functionality. Additionally, BlueHost offers excellent customer service to make their services more user-friendly.
Key features
One-click install for WordPress
FREE domain and site builder
SSL certificate
Unlimited disk space
Pricing
Shared plan starts from the Basic plan at $2.75/month, Plus plan for $4.95/month, Choice Plus plan for $5.45/month
WordPress hosting starts from a basic plan at $7.99/month, Plus plan for $10.99/month and Choice Plus plan for $14.99/month
VPS starts from Standard plan at $29.99/month, Enhanced plan for $59.99 and Ultimate plan for $119.99/month
Dedicated server starts from Standard plan at $119.99/month, Enhanced plan for $159.99/month and Premium plan for $209.99/month
2. Hostinger – Best cheap hosting plans
It is one of the cheapest hosting providers of 2020 that makes it affordable for you to start a website with minimal running costs and overheads. They offer a customized control panel that gives you unprecedented control over the performance and features of your site. It has a nice selection of plans that can be optimized for WordPress. If for any reason, you decide to discontinue Hostinger, they offer a 30-day money-back guarantee.
Key features
Dedicated experts team
24/7 customer support
SSD storage
Free domain hosting and SSL
Website builder
Pricing
Single plan charges $0.99/month
Premium plan charges $2.89/month
Business plan charges $3.99/month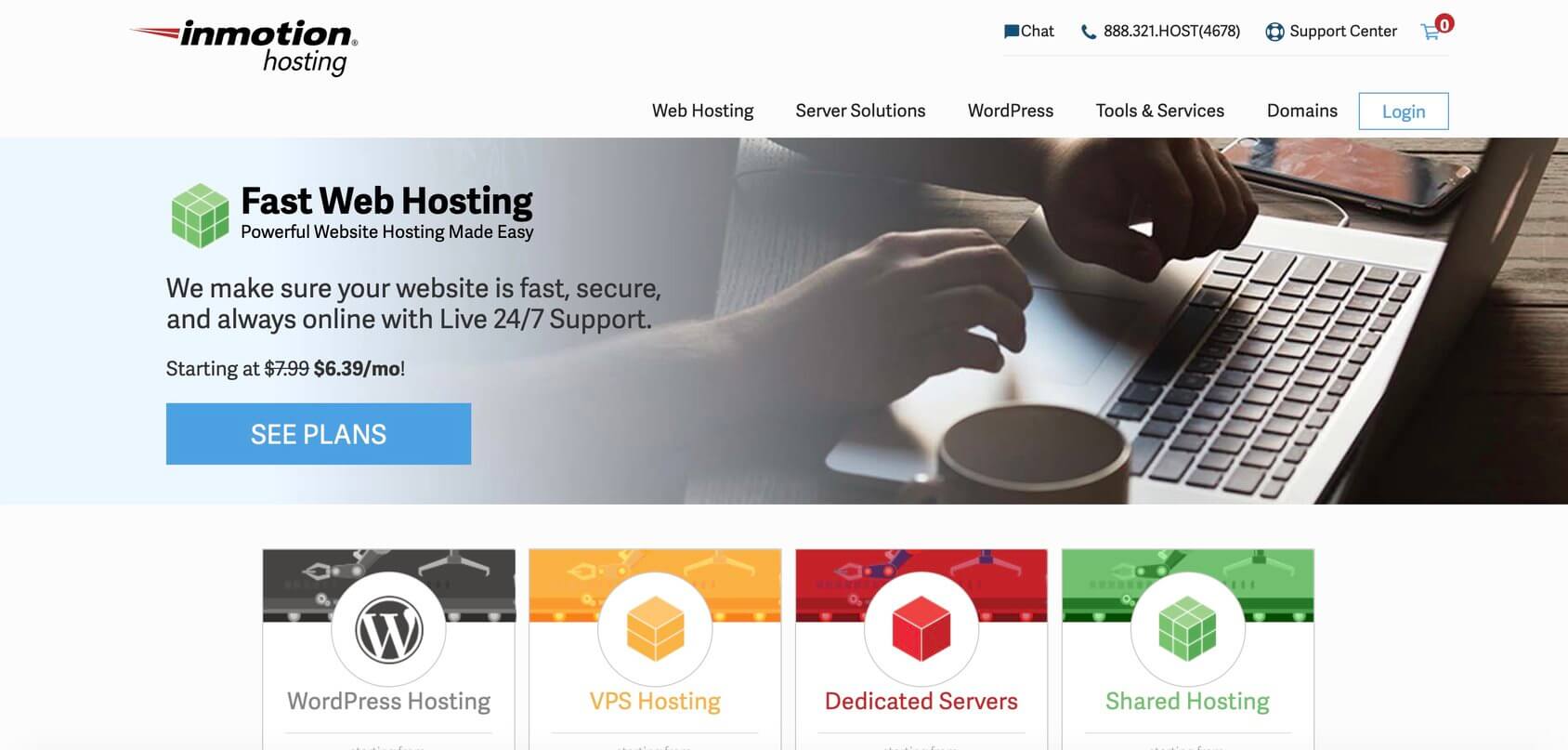 Inmotion is a streamlined company with excellent web hosting technology, a variety of plans, and a strong customer base. Its up-front plans offer extra features like faster servers, databases, websites, and domains as you upgrade. If you want a service with excellent customer support, Inmotion is the one for you. Also, it is the best pick for small businesses because it provides all kinds of extra services, and help that they require.
Key features
Free domain and SSL certificate
Free and unlimited email
90-day money-back guarantee
Unlimited disk space
Free website builder
Pricing
Launch plan charges $3.99/month
Power plan charges $5.99/month
Pro plan charges $13.99/month
4. SiteGround – Best customer support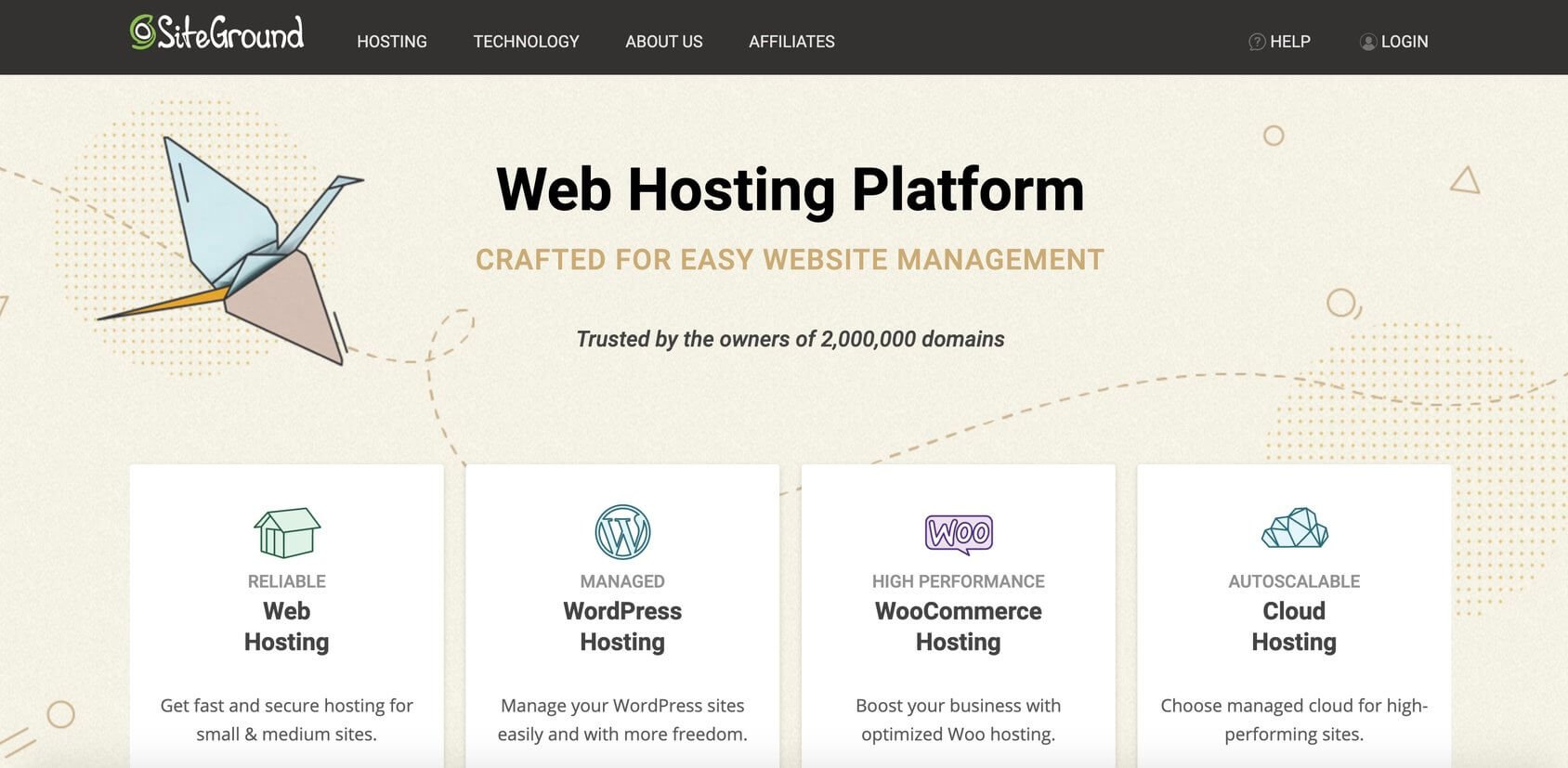 This is one of WordPress's three recommended web hosts and has included WordPress hosting in all of its shared plans. It comes with the best support team, powerful backend, and proactive server monitoring, and automated daily backups. SiteGround is also considered to be the leader in shared hosting as its servers are fast and extra secure. Moreover, it is constantly coming up with upgrades to maintain the quality of their service.
Key features
Free Let's Encrypt SSL
WordPress integration and support
Easy site management
Affordable domain registration and transfer services
Credible email service
Pricing
Startup plan charges $6.99/month
GrowBig plan charges $9.99/month
GoGeek plan charges $14.95/month
5. GoDaddy – Best beginner-friendly hosting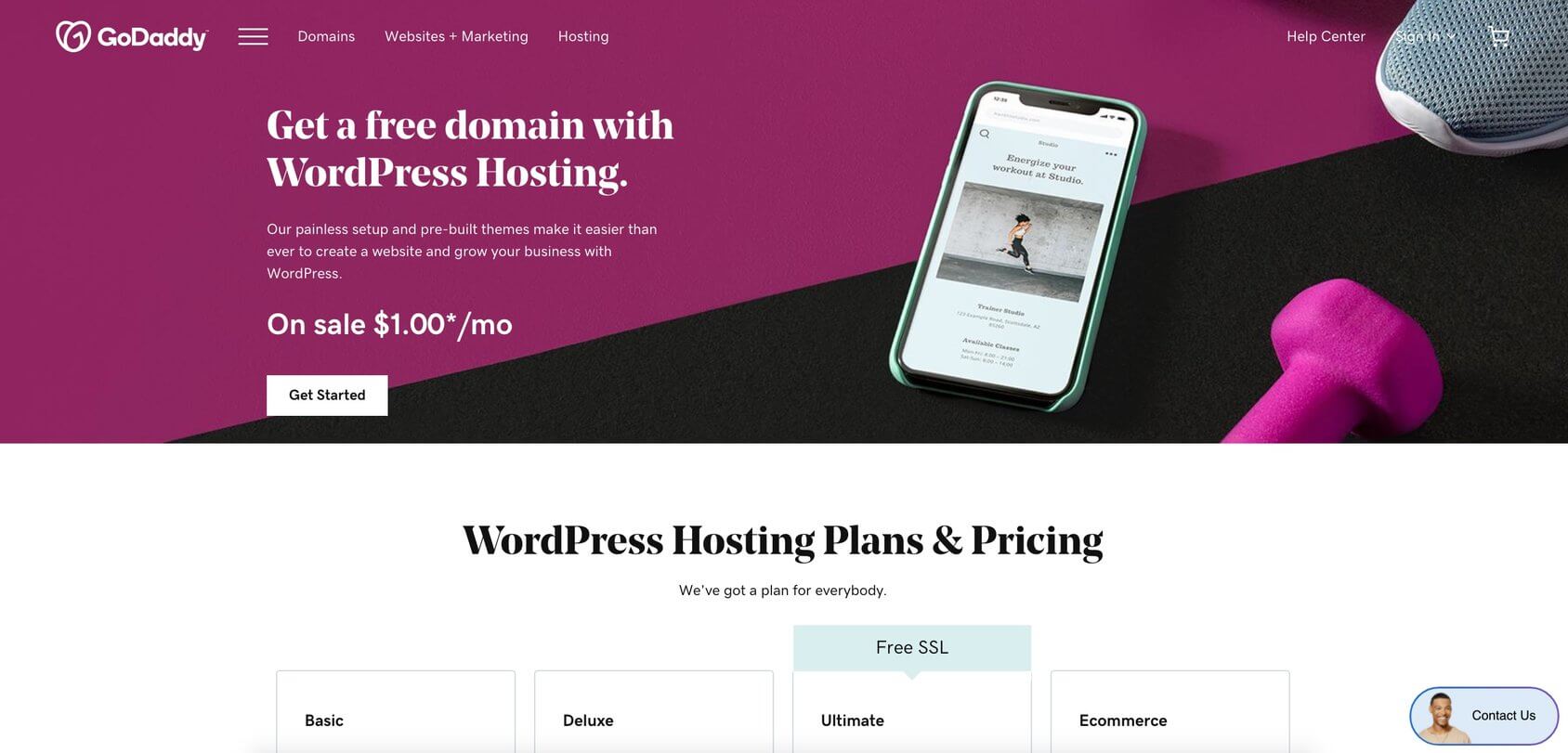 GoDaddy is famous for its complete list of products as it caters numerous services to a small business or an internet entrepreneur who requires a one-stop-shop website. It has proven to be a good choice for both personal and commercial purposes. Their user control options like an easy to use cPanel and an intuitive interface to manage unlimited email accounts are popular in the webmaster world. The company manages an ever-growing network of users by offering fast loading times, excellent security and support, and a free domain name for a yearlong plan.
Key features
Unmetered bandwidth
Award-winning 24/7 support
1-click purchase of additional features
1-click setup for registered domains
1-click install of 125+ applications including WordPress, Joomla, and Drupal
Pricing
Shared hosting plan starts from $2.99/month
WordPress hosting starts from $4.99/month
Business hosting starts from $19.99/month
VPS hosting starts from $29.99/month
Dedicated hosting starts from $89.99/month
6. HostGator – Best scalability for price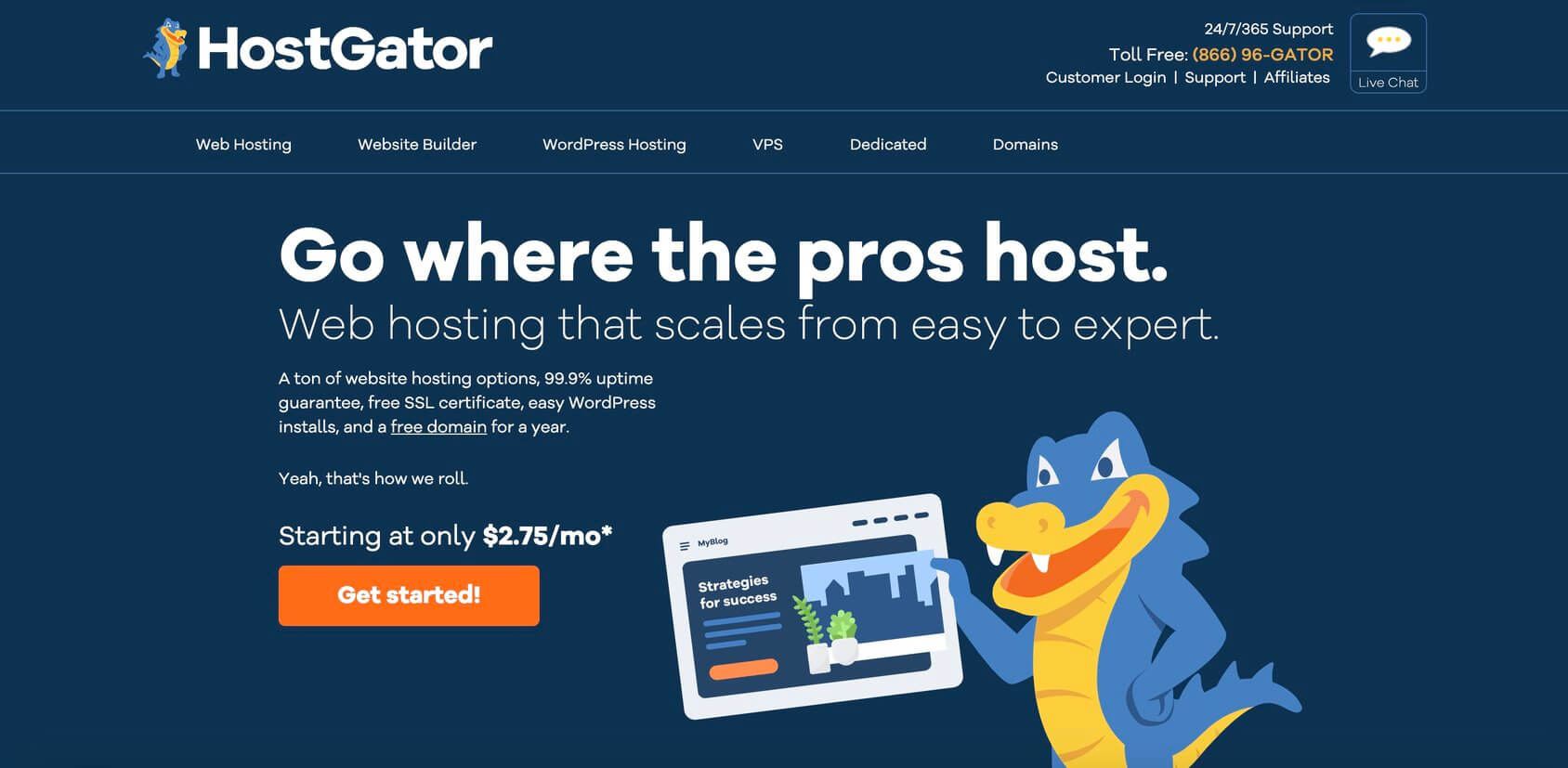 HostGator has several pricing plans for every budget and project profile. It offers an array of tools including a free website builder, unmatched support and email addresses to help you build a website easily. All the web hosting plans come with a cPanel which is the most popular control panel in the world. Also, if you are not satisfied, you can cancel your account within 45 days for a full refund.
Key features
Unmetered disk space and support
Unlimited email addresses
Free WordPress blog tools
Easy to use cPanel
Free SSL certificate
24/7 technical support
Pricing
Hatchling plan starts at $2.75/month
Baby plan starts at $3.95/month
Business plan starts at $5.95/month
7. DreamHost – Most affordable monthly plans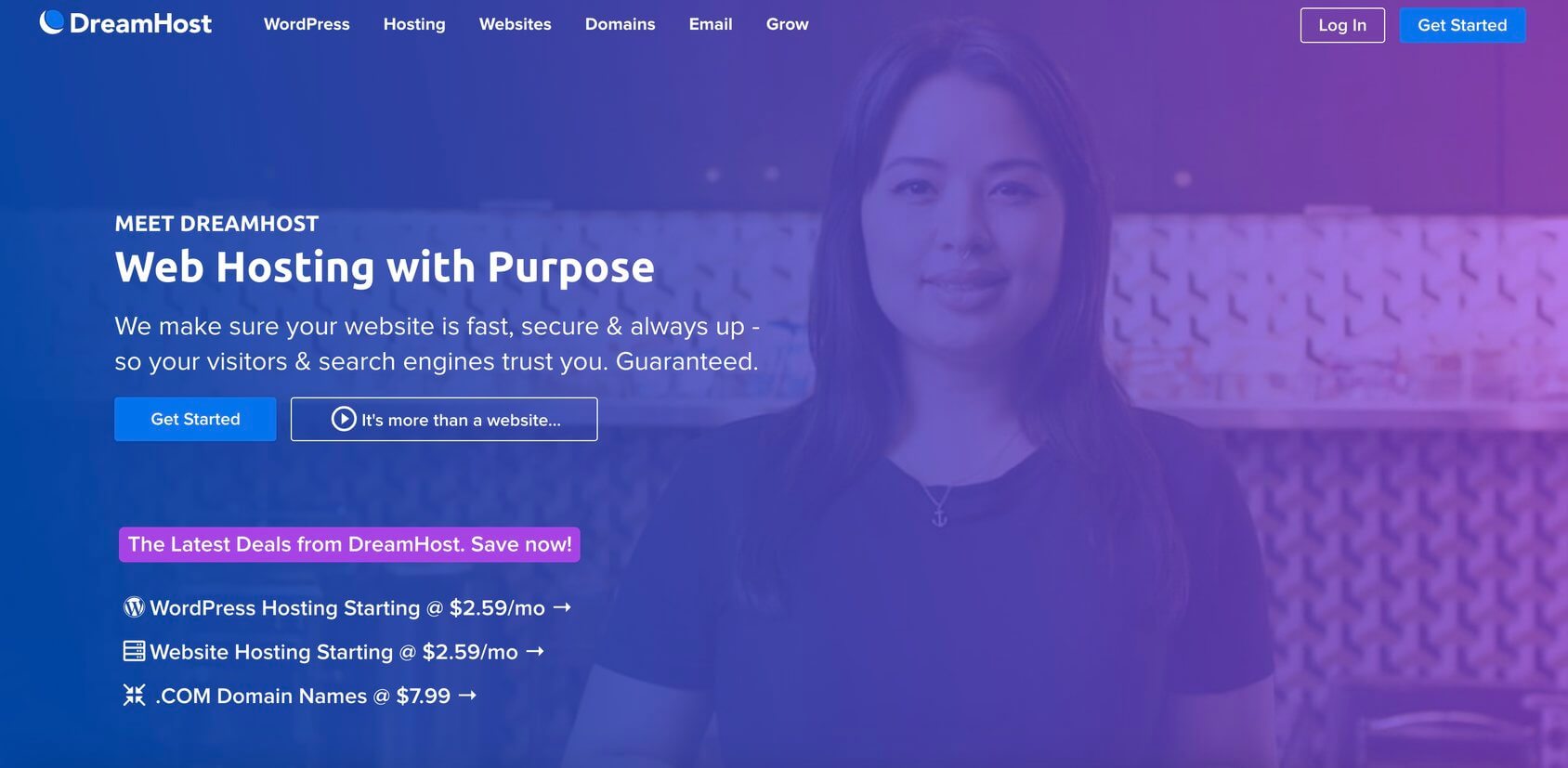 It is one of the three companies officially recommended by WordPress and it hosts around 1.5 million sites, blogs, and applications. This service provides excellent value on price, performance, and support that are combined in an attractive package suitable for users of any expertise level. Services range from Shared and WordPress hosting to VPS options, and beyond. You can test run it for 97 days which is enough time to test its speed, control panel, efficient site builder, and numerous technologies.
Key features
Custom control panel
1-click installer
100% uptime guarantee
Award-winning support
Free SSL certificate
Pricing
Shared starter plan starting at $2.59/month
DreamPress plan starting at $16.95/month
VPS Basic plan starting at $13.75/month
8. Web Hosting Hub – Best affordable hosting service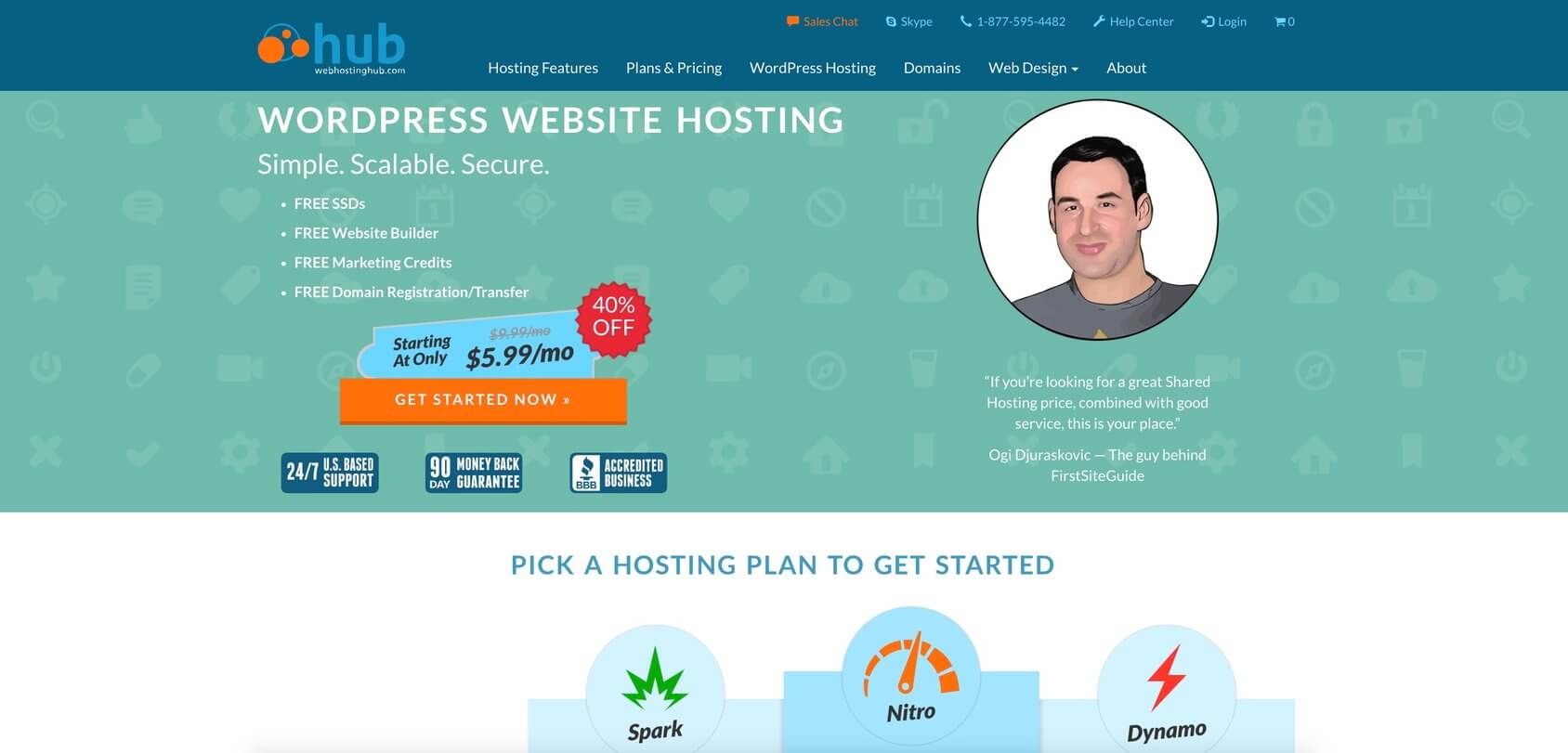 This provider gives small businesses an easy to use and budget-friendly hosting plans. Web Hosting Hub offers only one type of hosting: a shared plan that offers a free domain and money-back guarantee. Moreover, it aims to provide reliable and scalable solutions that can fit a variety of needs, from blogs to e-commerce websites. The cPanel provided by WHH makes it easy to switch plans whenever you need them. Also, it has an unlimited resource policy that aligns with the needs of a personal website or a small business.
Key features
1-click script installations
Easy site management with cPanel
99.9% uptime guarantee
Faster hosting with free SSD's
Free domain and website migration
Pre-installed WordPress
Pricing
Spark plan charges $4.99/month
Nitro plan charges $6.99/month
Dynamo plan charges $8.99/month
9. Greengeeks – Best eco-friendly hosting
Greengeeks is the industry leader in an eco-friendly solution and it commits to putting back 3 times the power they consume into the grid as renewable energy to reduce their carbon footprint. With their plans, you will get everything you require to build and manage your website at a reasonable price. You can easily set up WordPress with an automatic 1-click WordPress installer that also keeps your site up to date.
Key features
Daily backups
Advanced security
Top tier performance
24/7 expert support
Easy maintenance with automatic updates
Pricing
Lite plan charges $2.95/month
Pro plan charges $5.95/month
Premium plan charges $11.95/month
10. iPage – Best for inexpensive plans
iPage offers one of the most inexpensive introductory pricing plans with various features and guarantees. Unlike other hosting providers, iPage offers a one-size-fits-all shared hosting plan with numerous basic features like free domain, free website builder, and mobile optimization. It provides a scalable bandwidth guarantee that can support more than 99.95% of its customer's bandwidth demand. Also, they offer a bunch of freebies with all pricing plans, including $100 in ad credits for Google and Bing.
Key features
Best apps on the web
30-day money-back guarantee
Free website builder
E-commerce website
Analytics tool
Unlimited domains
Pricing
Shared plan starting from $7.99/month
VPS starts from a basic plan at $24.99, Optimum plan at $99.99/month and Business plan at $59.49/month
Dedicated server starts from Professional plan at $194.99/month, Startup plan at $149.99/month and Enterprise plan at $239.99/month
WordPress hosting starts from the WP Starter plan at $7.49/month and WP Essential plan at $10.49/month.
How to choose the right web hosting provider
A great company offers speed, support, and security. Also, you need a solution that allows you to rapidly scale the website as your audience grows and handles high traffic.
With the help of trusted services, you can develop a virtual presence through a professional and polished website for your brand or large business. In a small fee, web hosts normally offer a domain name and publish a credible site that drives traffic to your products and services. So the best hosting service must have all the features and tools that you need to build an amazing website.
A checklist for evaluating service
You might think that all web hosting companies provide the same services, but that's not true. Choosing a proper website host requires a great deal of consideration and evaluation. They can be compared based on factors like credibility, customer support, and greater uptimes.
Some of the most important features for web hosting comparison before selecting a company are.
Check if it is trustworthy
The right firm must be reliable and trustworthy in its guarantees of customer care, follow-up service, quality, and performance. Although measuring trust is harder, but you can gather customer reviews, data analytics, and combine them to find reliable web hosting.
Read terms and conditions
You should not just skim through the terms and conditions but also read them carefully. The terms of service usually include the refund policy which is better to know before signing up for their service.
Price and payment options
The most important detail to consider is the price and payment options of the right company's hosting plans. Many services will offer basic features at a reasonable price while some will charge more for additional services beyond the basic levels.
Therefore, it's mandatory to view all the pricing plans and determine if all the features that you require are available in that plan. Moreover, you should also view their payment options for easy and secure payment transfers.
Money-back guarantee
A good company must offer strong refund policies paired with uptime guarantees to give site owners an option for a way out in case the plan is not up to their requirements. These policies are an important feature that differentiates brands and allows them to stand out from the crowd.
Technical support
This is the number one factor to evaluate when choosing a service. Whether it is a simple query about the website setup or fixing a website when it crashes, prompt customer support is extremely important. You can make a call to the company you have in mind, just to get an idea of their quick support if an issue arises.
Reliability and uptime
The amount of time that your website remains inaccessible or slow, you can lose sales opportunities and productivity. Hence, you need a business that promises a certain amount of uptime and reimburses when any unplanned outages occur. The uptime guarantees usually range from 100% to as low as 99%.
Backup security
Security breaches happen all the time, no matter the type and size of business. So make sure that your company provides backup security to protect your customer's private information. It is an essential feature in providing customers with the option of safe transactions. The service should provide firewalls, data monitoring, and other security tools to not compromise its vulnerabilities.
SSL (secure server)
This is particularly important as plenty of web hosts offer free SSL certificates now. Even if you are just starting to build a website, getting SSL protection in place will help you encrypt the data that your site exchanges with users and visitors.
Room to grow
You need a solution that is equipped to successfully manage a large influx of clients without compromising their experience. Many companies experience growth too quickly but they do not have the resources to handle it which can create problems like slow page loads, downtime, and effect on search rankings.
Understanding types of web hosting
If you are not sure about the kind of service that is right for you, here is an explanation of the different types.
Shared server
This plan is for small and medium-sized businesses that require blogs or basic websites. It provides all the fundamental features at a low cost which typically starts at less than $10 a month. However, since your website is located on a server that is shared by other customers, there are some chances that your website can experience downtime especially when there is a high traffic volume.
Virtual private server (VPS)
It is an intermediate plan between a shared and a dedicated server. VPS is ideal for website owners who require more control over but do not need a dedicated server for that. Each website is hosted on its own space in the server but they still share a physical server with other users. Although VPS provides more customization abilities and storage space, it cannot handle increased spikes in online traffic, and that affects the site's performance.
Dedicated server
A dedicated server offers the most control to website owners over the server their site is hosted on. The server is exclusively rented by you and it stores your website only. This means you can control security, operating system, and all other configuration details through admin access. However, a dedicated server is the most expensive option that can withstand high levels of traffic without affecting the site's performance.
WordPress Hosting
This solution is optimized to align with WordPress's performance and security requirements. It includes one-click WordPress installations to make the entire set up process extremely easy. The best WordPress hosting providers include unlimited storage and bandwidth, pre-installed programs like WordPress themes or plugins, and dedicated WordPress expertise and customer support.
Cloud hosting
It is similar to VPS, but instead of one physical server, your website is hosted on a network using combined computing resources. This allows the website owners to integrate as many resources as they want to without building and maintaining their computing infrastructure. Cloud web hosting is scalable, and it enables your site to grow with time in as many resources as it requires.
Managed hosting
Managed service comes with an added level of technical support. The hosting provider will manage your operating systems, hardware, software setup and configuration, maintenance, and monitoring. The most common form is WordPress managed hosting, which offers extensive features to ease the process of building your website.
Reseller hosting
Reseller is a type of service that involves one company renting hard drive space and bandwidth to another company that will rent it to other smaller businesses. These reseller servers are sold at a markup determined by the selling party. You can set your conditions as long as you work according to the host's terms. Some hosts will charge a monthly fee as well a service fee while others will charge on a pay as you go basis.
Identifying what kind of website you want and who is going to make it
Different types of websites have different technical requirements from a web host, so it's crucial to know the kind of website you are planning to build.
To help you decide, you have to answer some of the following questions:
What will your website be used for? What do you want it to look like? What goals do you want to achieve with your website?
To put it simply, there are three main types of websites that can be selected: static website (for portfolio, small business, or products brochure sites), blog or website with a blog section, and eCommerce website.
Also, you have to answer the following questions:
What is your budget? Who will be building and maintaining your website? Are you planning to make the website yourself?
Answering these questions will help you determine the website building solution best for you. If someone else is designing and developing the website for you, you don't have to get too much into details. However, it is still good to get familiar with what software is available because someone will have to maintain that website after all.
If you don't have a big budget and are planning to do everything yourself, we got you covered. Below, we will explain what tools are usually offered by web hosts to create a website. The process is not hard and you don't need to have deep technical knowledge.
What tools are available to make a website?
Today, website building solutions are accommodated into two main categories: CMS solutions and website builders. In most cases, these tools are provided to you by the hosting company when you sign up with them.
Let's look into both options below.
Content management systems (CMS)
CMSs are software applications used to create and manage virtual content. They don't require users to possess coding knowledge, and that's why they are user-friendly and easily customizable. Some of the most popular content management systems are:
WordPress
This is probably the most popular option because it offers high functionality, self-hosting options, and much more. It is a free, open-source solution that requires no coding knowledge or expertise. You can benefit from an enormous selection of themes, plugins, and widgets that you can choose for your website. It is the best option if you are setting up a blog or website with a blog.
Joomla
Joomla is the second biggest player in the CMS market – useful for both beginners and experts. Users are also allowed to write their extensions and share them with the community or install them through Joomla's extension directory. Moreover, it provides community-supported online handbooks as well as forums for non-experts. A good option for complex websites with various functions.
PrestaShop
It is probably one of the lesser-known content management systems available but is just as valuable. Prestashop is an open-source platform where you can modify the programming to align it with your business needs. There are several integrations and add-ons available in its marketplace that can be accessed by users who are using the downloadable software. A good option for eCommerce websites.
Other popular CMS systems include Drupal, Magento, and many more platforms, but before selecting any of them, you must determine your requirements.
Website builders
Many hosting providers include some sort of website building software in their packages. Web builders provide you with a variety of pre-designed web layouts that you can customize according to your preferences. The software must offer complete flexibility and control over color corrections, image placements, theme design, and much more. Also, some website builders come equipped with drag and drop tools to build a website quickly with the help of design templates.
If you are planning to make a static website for your business, a site builder might be a better solution.
Best of the best
There are plenty of website hosting services that are available on the market, and you can easily select the one that is capable, reliable, and meets all your requirements while providing value for money. We reviewed all these services according to particular categories that they fit in.
Best cheap web hosting providers
Finding the right cheap offers is not as easy, as every website has specific requirements. Most companies offer low introductory prices but raise the rates once the decided period is up. Some provide free bonuses, domain names, or even an SSL certificate.
The following are the two most inexpensive web hosting companies along with features that you can assess for your own hosting needs.
Hostinger is the cheapest web hosting in the market, and even with super low prices, it offers high uptime, fast servers, and 24/7 customer support. Their most affordable plan will only cost you $0.99/month along with free site migration, WordPress optimized servers, and a 30-day money-back guarantee.
Key features
1 website
1 email address
100 GB bandwidth
Free SSL certificate
99.9% uptime
Namecheap's basic plan is not only inexpensive, but it can also be easily set up without any prior coding knowledge. This plan is enough for a small website that doesn't get much traffic, but as your site grows, you might find yourself exceeding the plan limits.
Key features
Daily automated backups
Unlimited bandwidth
3 websites
Security firewalls
100% uptime guarantee
Best monthly payment web hosting
Monthly plans allow you to pay per month without any long term commitment. This enables you to cancel the service anytime you want without the risk of additional penalties or fees. When you are selecting a monthly program, you must go for a service that offers the same functionality as the annual pricing plans.
Here is the breakdown of two of the best monthly billed options.
DreamHost is one of the longest-running company's available today with the best monthly web hosting service. It offers all the classic features in a monthly payment plan that you can cancel anytime. Also, they have the most extended money-back guarantee in the industry, of 97 days.
Key features
1 website with pre-installed WordPress
Unlimited traffic
Free SSL certificate
Free SSD storage
100% uptime guarantee
A2 Hosting ranks among the top three hosting providers that have the lowest-cost monthly billed web hosting plans on the market. It is a popular choice for those who require extra power for their CMS based websites. Also, with 24/7 excellent support and features optimized for WordPress, it is hard to go wrong with this platform.
Key features
1 website
Free website migration
Site security and monitoring
Anytime money-back guarantee
Free SSL certificate
Best web hosting for small business
If you own a small business, selecting the right hosting provider is highly critical for your business operations. It should be reliable, reasonably priced, and includes all the security certificates you require to ensure the safety of your business.
Here are the two web hosting services that are perfect for small businesses.
Inmotion Hosting is the cheapest plan if you are looking for basic shared hosting. But it still does not compromise on its value and provides excellent support, security, and storage space. Inmotion Hosting has its website builder through which you can create your business website. Also, it offers a 90 days trial period, after which you can cancel your account and ask for a full refund.
Key features
Daily automated data backup
Full SSD storage
Choice of server locations
Live chat support
Scala Hosting provides top-notch features, reliable performance, and reasonable prices in one neat package. The shared plan of this service is best for websites meant for small businesses. Also, it has extensive email hosting plans to make sure that your customers remain engaged with your brand. Their customer support can be an additional help in case of any technical query or if you need to migrate your website from another host to Scala Hosting.
Key features
Unlimited disk space and bandwidth
Easy to use control panel
Free Weebly website builder
30-days money-back guarantee
99.9% uptime guarantee
Best web hosting for WordPress
Your WordPress website's health and performance depend on the hosting platform. Therefore, you must be careful in selecting the right web host. The right WordPress hosting setting will improve your search ranking and even increase your business's sales.
The following are the top two WordPress web hosting companies that have remained consistent in their quality and service.
BlueHost is recognized as the officially recommended web hosting provider by WordPress. With this platform, you will never have to worry about slow loading times when there is a surge in online traffic. Moreover, their 24/7 support is always there to address your queries through phone, email, or live chat.
Key features
Free domain name
Easy WordPress install
Strong uptime
Free site transfer
WordPress tutorials
This is another officially recognized WordPress hosting with an extensive network of over 800,000 domain names. SiteGround manages an uptime of 99.98% with fast load times but it is not as quick as BlueHost. It also provides the best 24/7 support in the industry with unique in-house WordPress security solutions to make your site secure.
Key features
Built-in WordPress cache
Automatic upgrades
One-click staging
Free image optimization
Free SSL certificate
Best managed WordPress hosting
Managed WordPress hosting is a solution that is a step up from economical shared web hosting options as it can be customized for WordPress sites. It keeps your website updated to ensure fast speed and high performance with regular backups and security checks.
The following are two of the most popular managed WordPress hosts that provide excellent features for multiple WordPress websites.
This service established the managed WordPress hosting industry, and they have been offering their services since 2013. WP Engine has a user-friendly interface that makes it easy for you to navigate and gives you quick access to all the tools. Moreover, it also offers a highly engaging customer service where the agents will guide you through any issue you might be dealing with.
Key features
Daily automated backups
Malware scan
Fully managed
Security firewall and CDN ready
60-day money-back guarantee
Although Kinsta is the latest company in the world of managed WordPress hosting, it has quickly made its name. It is a WordPress only host with a clean yet intuitive user panel that works as a complete in-house built solution. Kinsta runs all the hosting setups on the Google Cloud Platform, where you can choose from 22 global data center locations when signing up.
Key features
Unlimited free WordPress transfers
Automatic daily backups
One-click staging
Reliable uptime
Free SSL and CDN integration
Best VPS hosting
VPS hosting provides more resources to their users to make their websites more responsive and load faster. They are in the middle of economical but less reliable shared hosting plans and powerful but expensive dedicated hosting plans.
The following are two best VPS hosting providers with streamlined services that sets them apart from the rest.
Inmotion Hosting is the top player in the world of VPS hosting. It offers powerful features, high uptimes, and excellent support at a reasonable price. Also, Inmotion provides an unusual feature of spreading your processing load over all cores on the server rather than having access to one or two cores only. This boosts the performance of tasks that involves simultaneous processing.
Key features
Good uptime
Unlimited email
90-day money-back guarantee
Bonus feature of Launch Assist
Bluehost offers a powerful range of VPS hosting plans and gives you a free domain permanently. Its unique selling point is the quality of the features it provides for both beginners and experienced users. Also, Bluehost is well known for its flexible and robust servers that allow multi-server management to boost speed and increase storage space for your website.
Key features
Up to 4 cores
Free SSL certificate
Unlimited bandwidth
30-day money-back guarantee
Best cloud hosting providers
Cloud hosting has revolutionized the hosting industry with more reliability and flexibility for users. You can use the cloud for everything, such as hosting your emails when you want to replace your business server.
We have analyzed two best cloud hosts in the business that offer top-notch features with value for money.
This service provides cloud hosting that can be powered by the provider of your choices such as Amazon, Google, or Vultr. It also offers to pay as you go plans and even allows you to sign up for a trial period without giving your credit card information. You can easily build a site through this platform without spending money.
Key features
Supports numerous apps
Site cloning
Several flexible account levels
Innovative control panel
Auto healing servers
Liquid Web is a flexible cloud hosting option that is packed with amazing features and outstanding customer service. It is trusted by many businesses due to robust services that maintain their online presence. With Liquid Web's cloud, your resources that the site requires will be shared across multiple servers.
Key features
Dedicated IP address
Standard DDoS protection
cPanel available
Cloudflare CDN
FAQs
What is a web hosting and how does it work?
Web hosting is an integral part of getting your website live on the internet. It includes storing your website files at the hosting platform that you choose, which can be accessed through a web browser. Such service is offered by many companies who possess the necessary technology to store the site's files on their server.
The size of storage you get on a server depends on the pricing plan you choose. You can start by renting a portion of the server, and as your website grows, you can scale up to rent an entire server.
What is the difference between domain and hosting?
A domain is the address of your website, while web hosting is the space that is taken by your site in the virtual space. They are entirely different services, but you need both of them to build a website.
Can I host my website?
Yes, you can host a website yourself but it does require technical knowledge. You will need to install a WAMP server that stands for Windows, Apache, MySQL, and PHP. This allows you to download and install all the packages that you need for hosting website content.
How much does web hosting cost?
Website hosting plans can vary with prices ranging from as low as $0.99 per month to $729 or even higher. These price ranges depend on the type of hosting and additional features that you require.
What type of hosting is right for me?
The right hosting must be able to provide fast performance, incredible support, and adequate security. It should be reliable with high uptimes and increased scalability so that your website is accessible 100% of the time. Moreover, the right platform must have reasonable pricing plans that are not too heavy on your pocket.
What does website hosting include?
Web hosting includes fast servers, open-source software, prompt support, and access to data centers. Moreover, they provide domain names, website builders, email platforms, storage capacity, and unlimited bandwidth.
What is the difference between a shared and VPS server?
A shared server means sharing your resources and server space with other websites. At the same time, VPS hosting offers dedicated server space for a website, but it still shares a physical server with other sites. Shared hosting is ideal for basic personal websites like blogs. On the other hand, VPS is best for small businesses, online stores, and personal sites.
How do I transfer an existing website to a new host?
To transfer your existing website to another host, you need to select a hosting platform that offers free site migrations. After requesting a site migration, you will have to provide login data of your previous web host, and the new service will take care of the rest.
Conclusion
There are several web hosting services available online, but you need to carefully consider your requirements and the service's features to choose the right one.
Whether you are searching for the most economical hosting plan or the most robust services or something that suits your small business, you can find the best web hosting company from the guide above.