WordPress is one of the world's most used platforms for website building. No matter what type of website you want to create, WordPress has all the necessary features at your disposal. WordPress themes are one of the first things that you will be interested in when starting a blog. Since they dictate the entire look and feel of the blog, it is important to find a theme that suits your needs and that both you and your visitors will like.
Top 3 WordPress theme sites for April 2020:
Choosing a theme for your WordPress website or a blog isn't an easy task if you want to do it the right way. Since picking a WordPress theme is a choice you will have to stick with for a considerable amount of time, we encourage you to take your time, review their demos, read the descriptions, and consult your developers if you need to make specific customizations.
A closer look at top WordPress theme sites
WordPress.org
WordPress started in 2003 by Mike Little and Matt Mullenweg. The WordPress platform continues to be the most widely used CMS, it is a platform of choice for over 34% of all sites across the web, and as such there were many new themes developed for it. There are also old themes that have been revamped and made to look even more amazing.
The good thing to know is that WordPress theme designers and developers have continued to deliver high-quality products. Thanks to this, you will be able to find a theme that suits your personal and business needs and goals. You will be able to pick from a variety of themes, ranging from stylish and professional, to simple and clean ones.
Support
If you need support, there are official WordPress forums where you can ask for help. Again it's all free, but bear in mind this is a community-based effort, so be polite!
Pricing
All themes in the WordPress official theme directory are completely free. But first, you need to install WordPress on the web host of your choice in order to be able to download free themes.
Pros
thousands of free themes
themes are officially approved by WordPress and safe to use
themes are compatible with WordPress plugins
Cons
no support for free themes
not all themes are regularly updated
StudioPress is one of the most popular names when you think of the expanded WordPress universe. They are a premium theme provider that was launched in 2007. Today, they are servicing over 200.000 customers with their trendy themes.
All of their themes are built on their own Genesis theme framework, which makes your site faster, more secure, and more SEO-friendly. They have excelled hi-res images and their designs are paired with fonts that, in the end, will give you a flawless result. There are 60 themes to choose from and they all look different. They are all responsive, fast loading, SEO ready, and drop-dead gorgeous. And there is no sacrificing of the coding to get the pretty design.
Support
There are various levels of support depending on what is your financial involvement with StudioPress. You will have to register and confirm it via email. They also have the knowledge base, FAQ, ticketing system, educational webinars, invitations to regional workshops and meetups and instructions for each of the themes.
Pricing
Genesis Framework will cost you $59.95. It will allow you to somewhat customize your themes without coding and to install Genesis child themes.
A single theme will cost you anywhere from $99.95 to $129.95.
Pro Plus All-Theme Package will cost you $499.95. It will get you unlimited access, plus support and updates, for all themes created by StudioPress and themes from third-party developers.
Pros
affordable all-purpose Genesis Framework theme
gorgeous numerous themes
great support and community
Cons
cheaper theme prices if you use their web host
pricey Design Palette Pro plugin
Elegant Themes are third party WordPress theme provider that is on almost everyone's list. If you haven't used their services, you have at least heard of them if you ever dabbled in this area. With 85 team members, almost 11 years in business and over 600k customers, they have grown a lot since one-man's operation that Nick Roach started.
The visual side of things is an area where Elegant Themes are thriving. Their graphics and color schemes are wonderfully combined and it will make your eyes happy as they can be. You can step up your game and play with Divi builder and build up your pages from scratch with their drag and drop page builder.
Support
To be honest, I did not need any support while testing out Elegant Themes, but for the sake of the review, I had to look it up. There are few standard things that are available, like the user forums, ticketing system, and private messages. Everything is searchable and divided into categories, so you won't get lost.
Pricing
Yearly access costs $89 per year. It gives you one year access to all themes, all plugins, themes updates, premium support, and unlimited website usage.
Lifetime access costs $249 one time fee. It gives you lifetime access to all plugins, all of their themes, lifetime updates, premium support, and unlimited website usage.
Pros
excellent pricing
great customisation
stellar graphics
Cons
longer loading of the WP admin dashboard
no dummy demo content option
TemplateMonster is one of the most famous website template providers on the global market. They have been delivering functional templates since 2002. The company offers a variety of templates that satisfy the requirements of both newbies and professional web developers.
One of the strengths of this provider is the number of products offered for different purposes. You can find thousands of ready-made WordPress themes, HTML templates, e-commerce and presentation templates. Moreover, there is a wide range of plugins and graphic items you make take advantage of. It's worth mentioning that all the products are of the highest quality and functionality. As for templates, all of them are responsive, SEO-friendly, and cross-browser compatible.
Support
One more strong point of the company is their professional customer support. A team of experts is available on a round-the-clock basis. Moreover, you may ask for help, using various communication channels. It's possible to solve the current issue on the phone. You may also use a ticket system or a live chat.
Pricing
TemplateMonster offers free and premium templates. The prices for premium products vary but are quite affordable. For instance, WordPress theme or HTML template may cost $75. If you need a Shopify template, the price starts from $118.
If you want to save money and get access to different products, there is such option as the ONE Membership. It's an Ultimate Web Development Kit that includes diverse themes, templates, plugins, graphic items, support, and hosting. You have to pay $19 a month or $229 a year. There is an opportunity to get Lifetime access that costs $849.
Pros
a variety of templates and other items for different CMSs
professional customer support that is available 24/7
Cons
the prices may seem a bit high. However, the products you purchase are really worth their price
How to choose the perfect WordPress theme
What is a WordPress theme?
WordPress theme is a bundle of files (PHP, JS, CSS, images, and others) that work together to produce an overall design and look and feel of a website. Those files include code which creates the structure of your website, styles that make your blog more beautiful and different options that empower you to customize your website without having to mess around with the theme files directly. Most WordPress themes have predefined colors, fonts, widget locations, page templates, and other styles and details that together form the looks of your site. And no matter the theme you activate, good thing is that you can modify it to your likings. Furthermore, you get all that without having to know how to code.
Free WordPress themes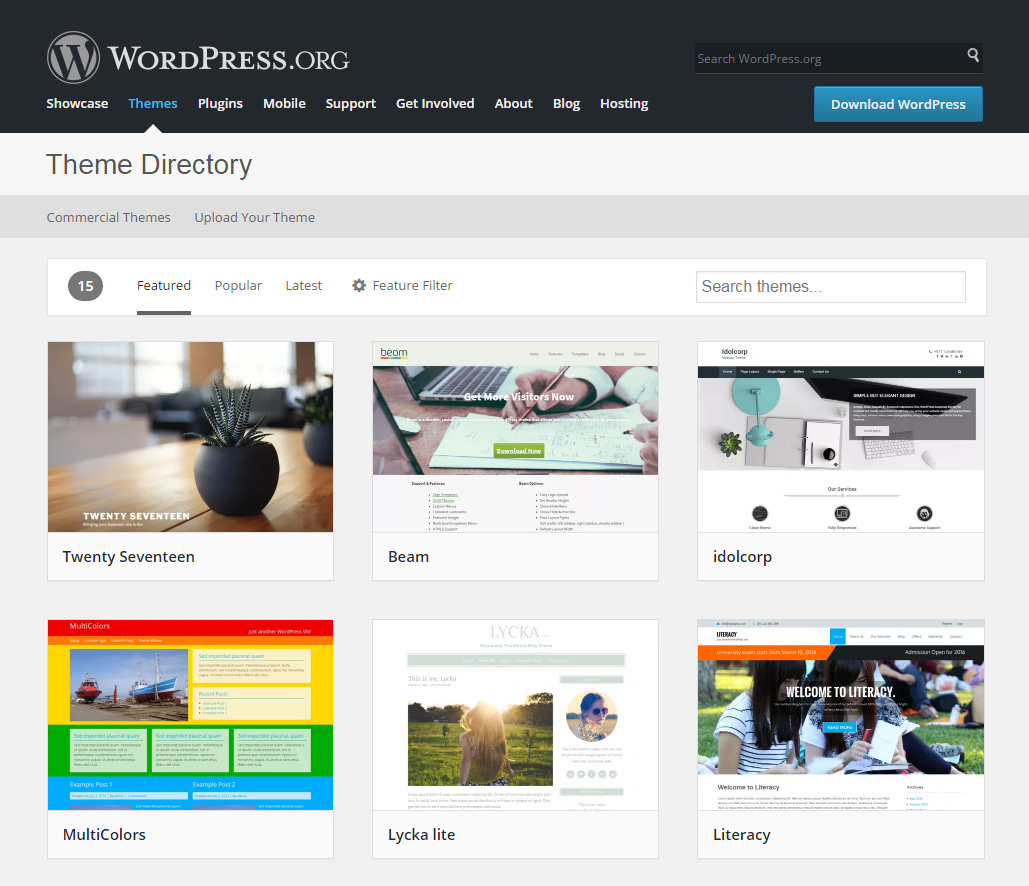 Because WordPress is an open-source platform, it's expected that there are at least some free themes that come with it. Don't worry; there are more than a few. The official WordPress repository has more than a few thousand themes. These WordPress themes are completely free which means you can install them, modify and use however you want to. Since there are dedicated people who monitor the repository and manually approve every WordPress theme and its updates, you can rest assured that every one of them is fully functional and safe to install.
On the other hand, there are countless websites that offer free themes outside of the official WordPress directory. Some offer dozens of themes in bundles, and some just one or two they made in their free time. Unlike the themes from the official repository, you shouldn't blindly trust every source on the Internet. So, be very careful when downloading anything outside the official WordPress.org site.
Premium WordPress themes
While there's nothing wrong with having a free WordPress theme (and there are some amazing ones to be found, that's for sure), it's good to know that there are more than just a few premium ones. Unlike free themes, you have to pay for a premium product. Depending on the developer, customers need to pay a one-time fee (usually cost up to $150 where an average one is about $59) or subscribe to a monthly/yearly membership in order to use a particular item. Usually, paying monthly fees will grant you access to dozens of premium products (themes and plugins). But that's something that depends on each theme provider/shop.
Premium WordPress themes come with one important advantage – professional support. What that means is that the designers and coders who have developed that specific theme are at your disposal. If something doesn't work, or if there's anything you want to change and you just don't know how to, you can always rely on professional support to help you. That's something you can forget about when working with free themes as support for them is based on the "if someone helps great, if not great as well" principle.
Custom WordPress themes
If you want a unique WordPress theme, there are other options you should consider. Since both free and premium themes are available to anyone who downloads/pays for them, chances are that someone else will have the exact same site as yours. If that's something that bothers you or you just have to have a few unique elements and functions that you can't find in existing themes, the option is to hire a professional developer.
After talking to a developer and showing him what you need and like, he can build a custom WordPress theme just for you. While this is tempting, note that developing a custom theme is very expensive and that you can easily spend a few thousand dollars on just one theme.
How to use WordPress theme
On top of the page, there's a number that shows how many WordPress themes you have installed. Right next to that number, you can find a link for adding a new theme. Next to that is a search box that allows you to find any item by its title or any other detail.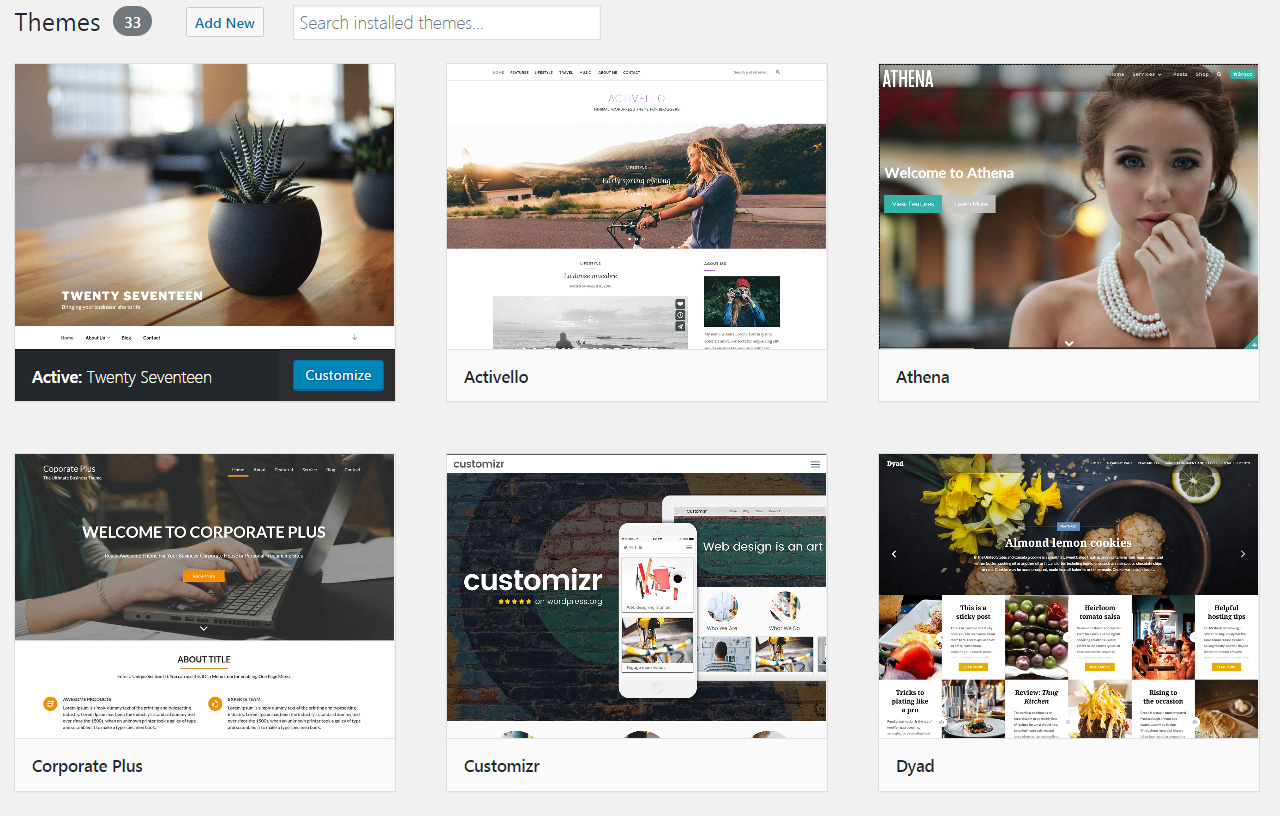 Below that, WordPress will list all the themes that you currently have on your site. The first one will be the theme that is currently active on your blog. You can see that from the dark bar on the bottom that tells you which theme is the active one. If you hover your mouse cursor over the same box, you will be able to view more details about it and click the customize button that will open the Customizer.
If there are any other themes on your site, they will be listed after the active one. By placing the cursor over any of them, WordPress will reveal "Theme Details", "Activate", and "Live Preview" buttons.
By clicking the "Theme Details" button, you can view more information (a screenshot, theme name, its developer, description, and tags). On the bottom, there is also a red delete button that lets you completely remove the theme from the site. Since you won't lose any content by deleting a theme, feel free to remove those that you don't use.
Before activating a theme, have a look at the preview by clicking the "Live Preview" button. WordPress will then open your homepage by loading the new files. This is how your site will look like if you choose that particular theme. If you like it, go back and click the "Activate" button. From that moment, everyone who comes to your site will see the new design in action.
10 best WordPress themes in 2019
Complete list of WordPress theme sites
In this section, I'm going to present different WordPress theme providers. It is going to help you pick the right theme for your future website. The better choice you make, the less problems you are likely to have in the future with your website. So, stay tuned and take a look at our reviews; you are going to find it quite useful.
Theme websites Comparison chart
Here, you will be able to see a detailed analysis of each company listed in the table below. Learning about their customers' experience is extremely valuable, and this is why we are providing you with a unique opportunity to do so. This information will help you to make an informed decision when it comes to picking the right WordPress theme provider to meet your requirements.