Are you starting up a website? Is it your first time designing a site from scratch, and you are not so sure about where to begin?
Well, all you need are accessible web designing platforms that can help novice designers and business owners in creating a website without the hassle of programming.
If you are just making a simple one-page website for your startup, the tools will be a lot easier to use; but if you require all the functionalities of a full-fledged website, be ready for a steep learning curve. That makes it essential to find the right tools and platforms and power through the learning if you want a beautiful website.
After all, research suggests that for 48% of people, a site's design is the number one factor in deciding the credibility of a business. With the right design, your website has the power to leave a strong impression on your visitors, helping them determine if they want to stick around.
This is why you need professional web designing tools to create the perfect website.
In this guide, we will provide comprehensive reviews of the best web designing software and help you choose one that's suitable for your skill level and goals.
The 3 best web design software – July 2020
The top 20 most popular design software
There are several well-equipped web designing software with various features that require no prior experience of web design, or coding experience, etc.
That's why we want to show you a selection of the 20 best web design software that can cater to your every need. Whether used alone or in combination with each, these tools can help you improve your workflow and come up with amazing websites.
1. WordPress.org – Most popular open source software
2. Divi ElegantThemes – Ultimate WordPress page builder
3. BlogGrid – Build professional WordPress websites
4. Wix – Most popular website builder
5. Squarespace – Award-winning website design tool
6. Weebly – Best website design platform
7. Webflow – Best responsive web design tool
8. Shopify – Best e-commerce website designer
9. Adobe Creative Cloud – Web designer's tool kit
10. Bootstrap – A responsive mobile-first web design tool
11. RapidWeaver – Best web designer software for Mac
12. openElement – Website editor with total control
13. Google Web Designer – Create HTML5-based designs
14. Marvelapp – Free prototyping tool for digital products
15. InVision – Digital product design platform
16. Figma – Web designing software for teams
17. Uxpin – UI design and prototyping tool
18. Sketch – Ultimate digital design toolkit
19. Canva – Create graphic design for free
20. GIMP – Free and open source image editor
---
Disclosure: FirstSiteGuide is supported by our readers. When you purchase via links on our site we may earn a commission. We test and try all the products that we recommend.
1. WordPress.org – Most popular open source software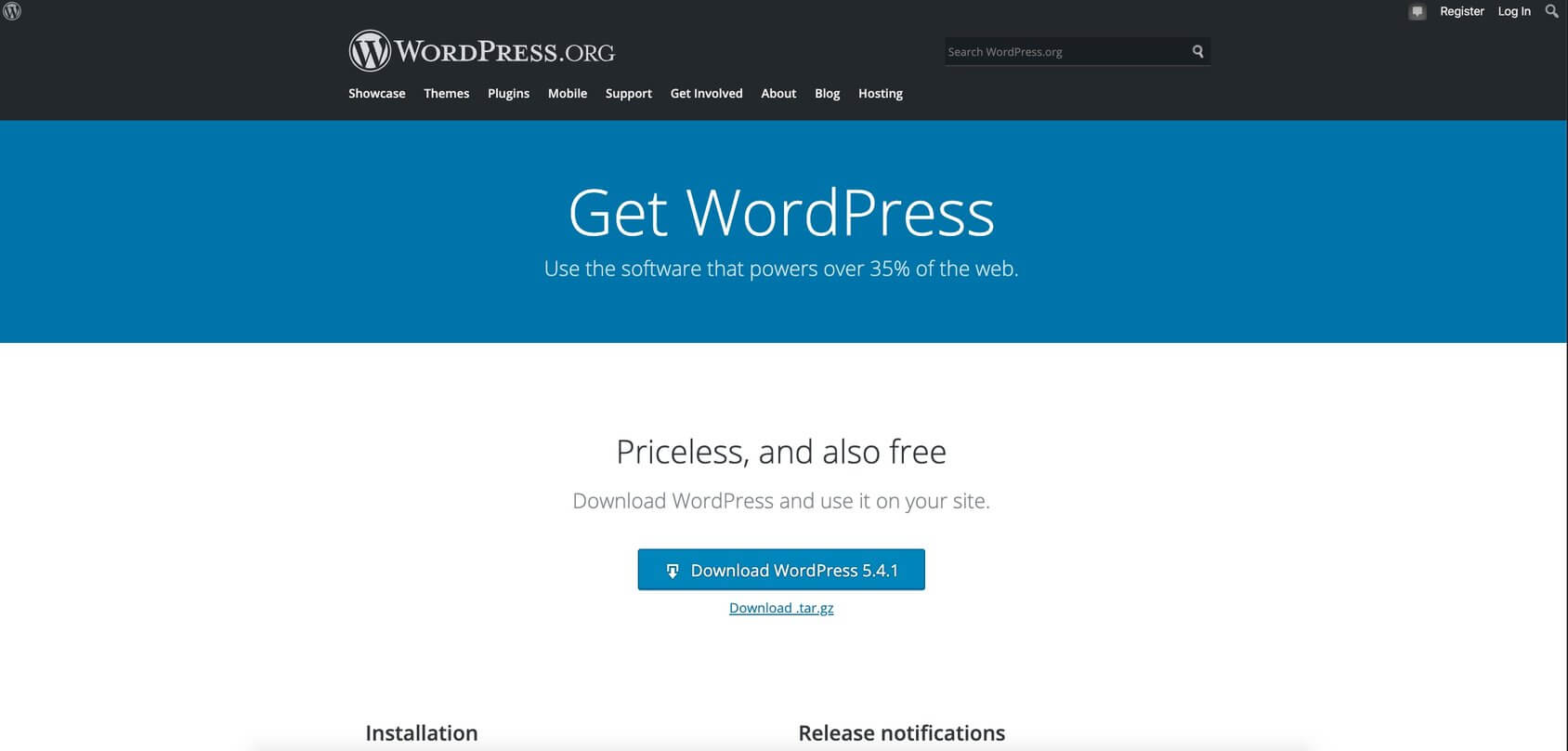 WordPress is the perfect platform for beginners because it's easy to use, simple to learn, and holds so much potential for amateur and professional designers.
Once WordPress is installed, you'll find that the backend for site administration and management is extremely user-friendly. Choose existing WordPress design templates for your website or install an existing free or premium WordPress template with just a few clicks – setting up a beautiful website is easy as that with this platform.
Even if you want to customize it or design your website from scratch, you can do so using the drag-and-drop interface via a built-in framework. Also, you can download many free add-ons that require no more than a few clicks.
Key features
Customizable designs
Powerful media management
Easy theme system
Extend with plugins
Format pages and posts easily
Pricing
2. Divi ElegantThemes – Ultimate WordPress page builder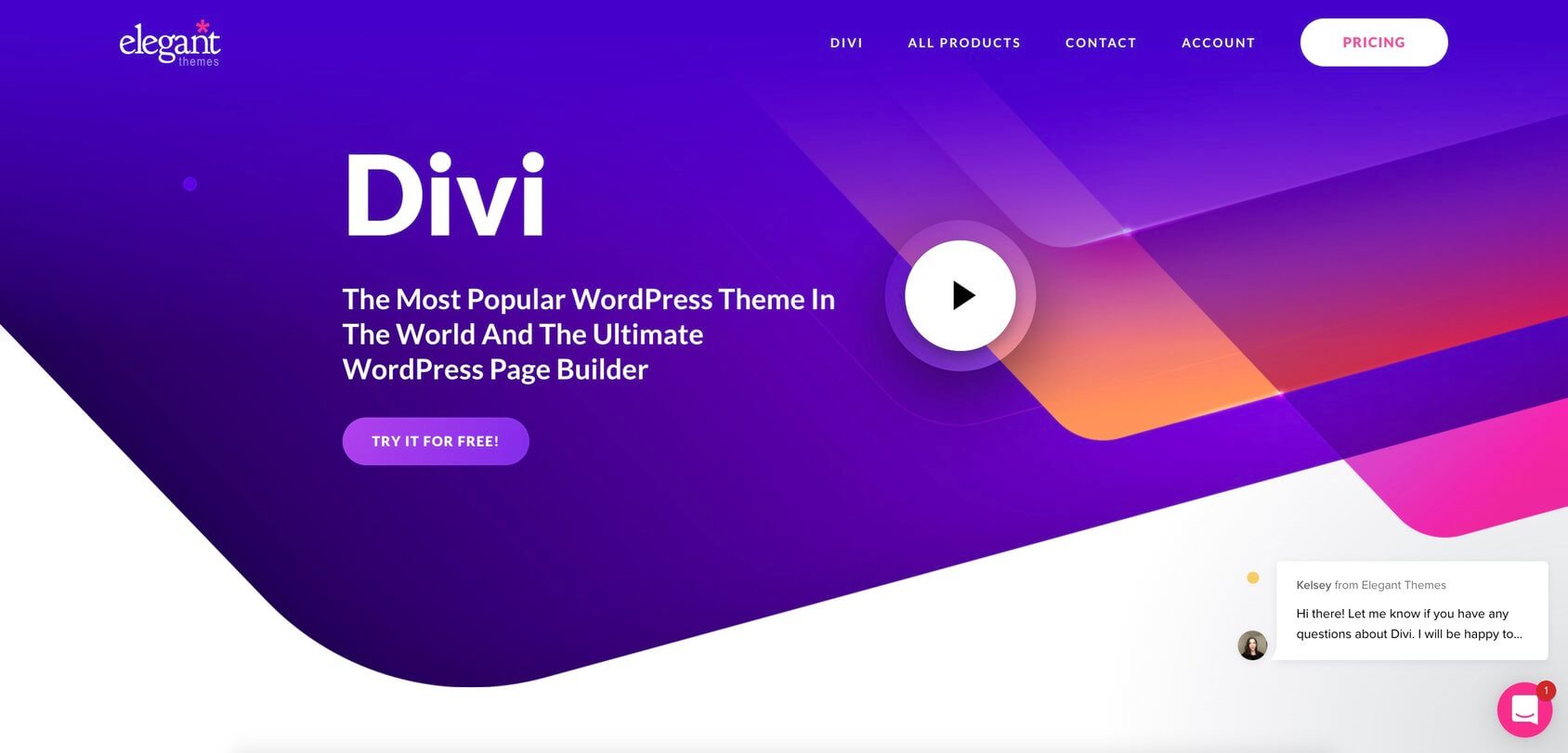 Divi is the flagship theme from Elegant Themes, and it is also one of the most popular WordPress themes available today. It is suitable for any type of website built on the WordPress platform. The installation process is easy and intuitive, and once you have
Divi, you'll need nothing else to set up a site.
It is regularly modified and updated so you can be sure that your website always has the latest functionality.
Additionally, the theme now offers many powerful features, countless customization options, and settings that you'll be hard-pressed to find somewhere else. You don't need any WordPress coding experience or website building skills to use it – even the customization option is available with a user-friendly interface.
Key features
Shape dividers
Layout library
Bulk editing
True visual editing
Drag and drop building
Design options galore
Pricing
$89/year for the entire year's access with unlimited website usage
$249 is charged for once lifetime access with lifetime support and updates
3. BoldGrid – Build professional WordPress websites
WordPress powers BoldGrid that lets you create a website with the most popular content management system in the world. It requires no coding knowledge and comes with professional and responsive themes, giving you 100% ownership of your website.
Similarly, it gives you total control over your website creation process with access to endless options, useful extensions, and support groups. Sites built with BoldGrid use responsive themes so your visitors can view them on any device.
Key features
Custom header and footer layouts
Global color palette
Easy font controls
Drag and drop editor
Efficient design tools
Add widgets easily
Extensive control over design elements
Pricing
Premium website builder plan for $2.50/month
Premium bundle for $5/month
Premium creator bundle for $8.25/month
4. Wix – Most popular website builder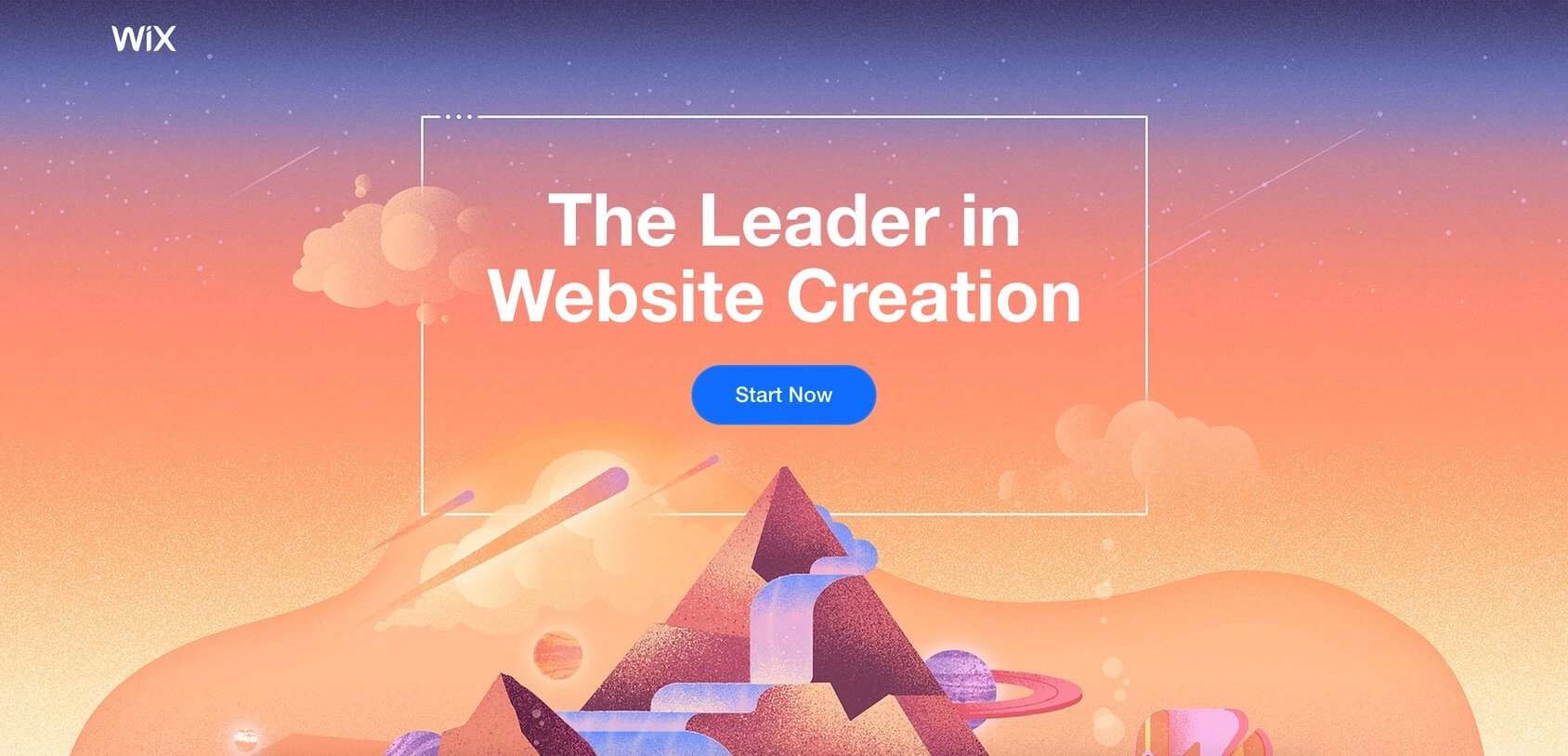 Wix has made web designing easier and accessible than ever thought possible. It doesn't require expertise or prior knowledge to create an impressive looking decent website on Wix. The core design tools are free, and there's no time limit to their use. However, you have the option to subscribe to monthly premium plans to unlock more features.
Wix also deploys an Artificial Design Intelligence (ADI) that asks a few basic questions and automatically builds your website according to your preferences, or you could select from hundreds of elegant templates designed by artists. Also, the drag and drop editor allows you to add, move, resize, and customize modules without any coding expertise.
Key features
Over 500 customizable website templates
Mobile responsive websites
Above the fold content
Appealing color scheme
Advanced design features
Unlimited fonts
Pricing
Basic Connect Domain plan for $4.50/month
Combo plan for $8.50/month
Unlimited plan for $12.50/month
VIP plan for $24.50/month
5. Squarespace – Award-winning website design tool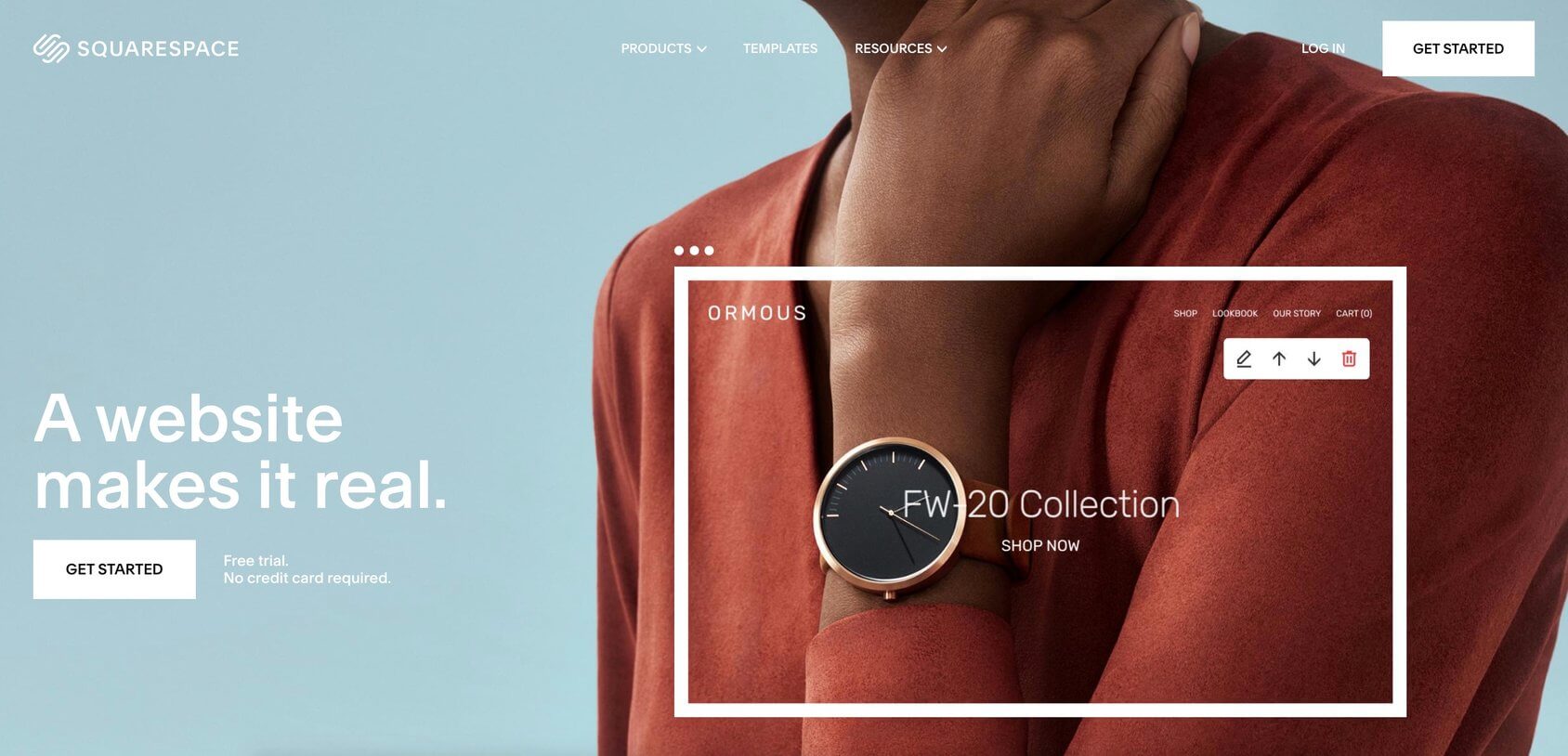 It is a professional platform that's mainly used for creating e-commerce websites. Squarespace comes with all sorts of other features that help your business grow. Without any coding knowledge, you can create a beautiful website in a matter of hours. All you need to do is create an account, choose the template you need and then edit it to fit your requirements and create a unique, professional-looking website.
It is an excellent platform for photographers, artists, designers, and just about anyone who loves aesthetics and designs. You get a free 14-day trial, after which you can subscribe to its paid plans and enjoy the ultimate quality that Squarespace is known for.
Key features
Award-winning web design templates
Professional portfolio designs
Customizable galleries
Password-protected pages
Free logo maker
Change fonts, imagery, and margins with built-in style kit
Pricing
Personal plan for $16/month
Business plan for $26/month
Basic Commerce plan for $30/month
Advanced Commerce for $46/month
6. Weebly – Best website design platform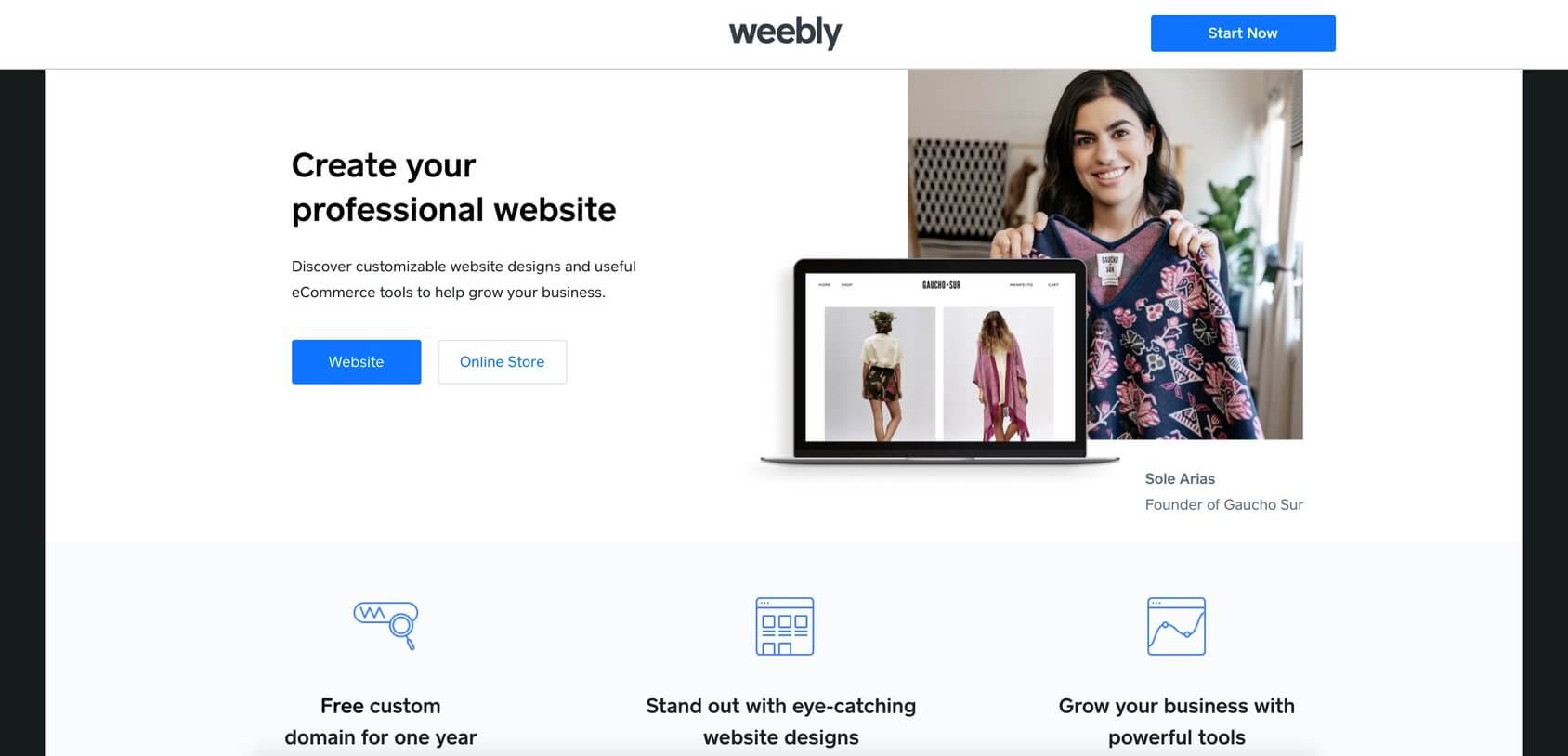 Weebly is the most user-friendly and reliable website builder out there – use it to launch your blog, online store, or your website without writing a single line of code. It is similar to Wix in many ways, but it is easier to use with a user-friendly and clean interface.
Moreover, even the free plan is good enough for a budding small business as it offers all the features that they need to sell things online. This is what makes Weebly an excellent platform for creating a simple business website. The free version is also packed with many features that you will not find with any other free plan.
Key features
Advanced design features
Powerful drag and drop editor
Add multiple content elements to your website such as text, map, photos
Custom headers
High- quality Video backgrounds
Customizable image and color backgrounds
Pricing
Connect plan for $5/month paid annually
Pro plan for $12/month paid annually
Business plan for $25/month paid annually
7. Webflow – Best responsive web design tool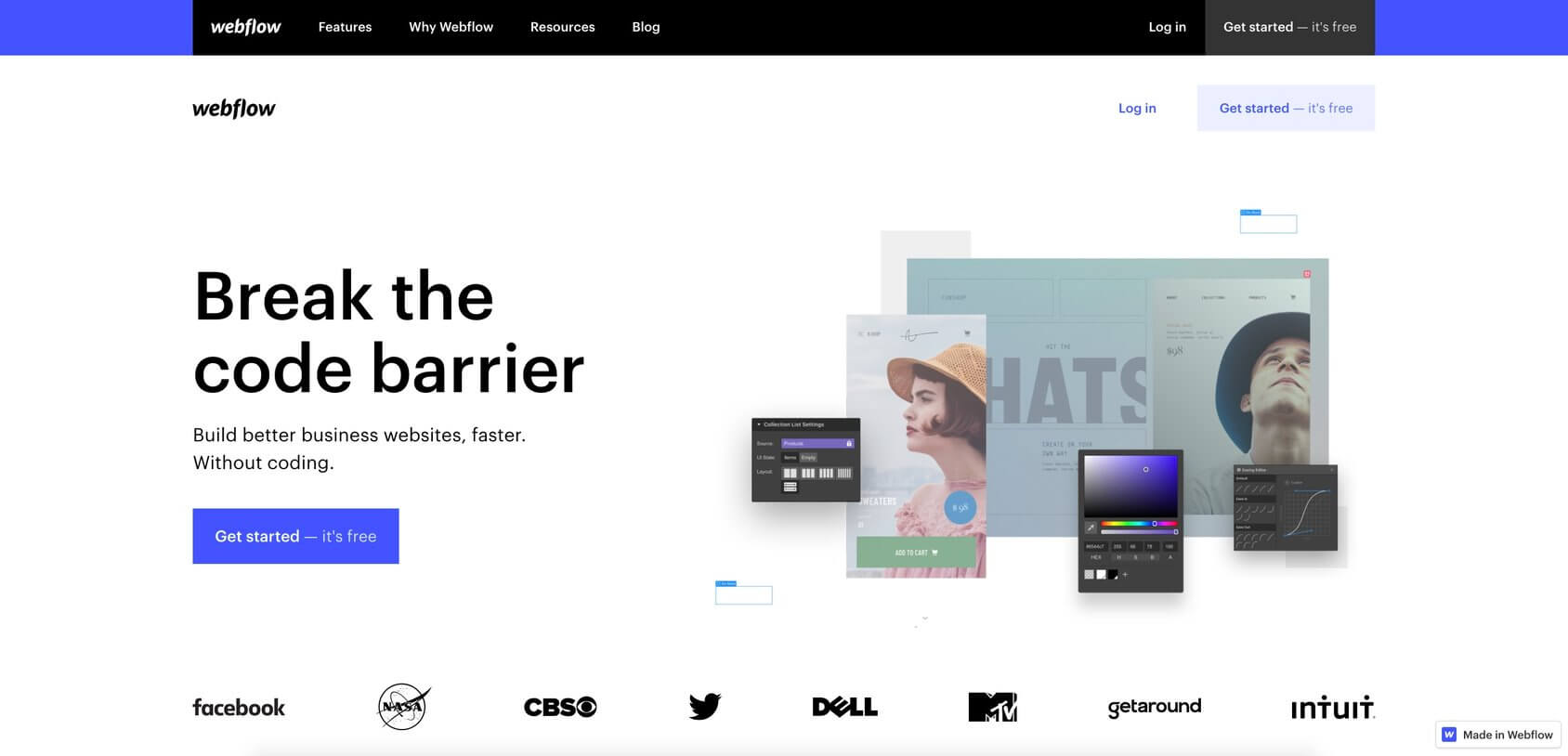 It is a powerful website builder that offers the highest level of customization that is usually only available with WordPress. It is the perfect platform for website designers who don't want to do anything with code but wants a fully customizable theme. You can start with Webflow's tutorial to help you navigate the entire designing process.
After that, pick a template and head over to the editor that looks eerily similar to Photoshop. There are plenty of options to choose from and an array of other design elements like boxes to add to your website layout. If you are entirely new to site designing, we suggest you get a good grip on Webflow before creating your website.
Key features
Over 100 templates to choose from
Parallax scrolling
Multi-step animations
Change the entire site with a single edit
View and reorganize pages element structure
Create your own layout
Global color swatches
Pricing
CMS plan for $20/month
Business plan for $36/month
The enterprise plan is priced according to your business's requirements
8. Shopify – Best e-commerce website designer
It is a complete e-commerce platform with features that enable you to build an online store quickly and efficiently. You don't need to worry about any technical stuff at all and create a beautiful e-commerce store with just a few clicks.
The website designs available at Shopify are mobile-responsive and highly impressive. Even if you can't find one that fits your needs among the 170 themes, it's possible to create your own using the Liquid template engine. Even if you need a specific layout, you can get one designed exclusively for you from one of the many Shopify experts. Shopify is very powerful but still user-friendly, and that's why many businesses choose it to help them scale globally.
Key features
Theme settings editor
Customize every aspect of your store's theme
Support from Shopify expert
Beautiful mobile responsive themes
Over 70 premium and free e-commerce templates
Pricing
Basic Shopify plan for $29/month
Shopify plan for $79/month
Advanced Shopify plan for $299/month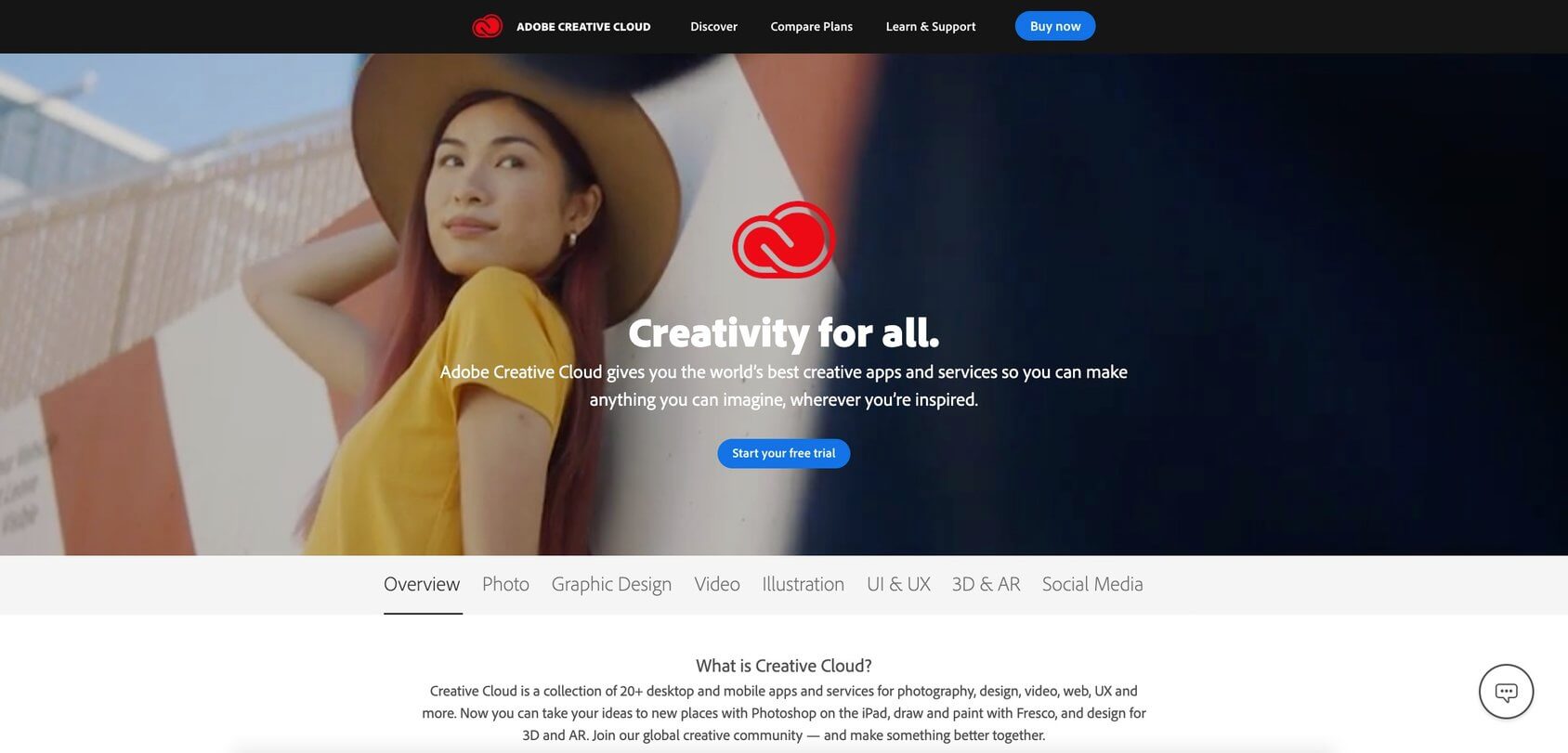 Adobe CC gives users access to its software collection of video-editing, graphic design, web development, photography, and cloud team services. It also gives you the freedom to create graphic designs, undertake photo and video editing tasks, optimize workflow, and do so much more through its industry-standard apps.
Some of these apps include Photoshop, Adobe Illustrator, Adobe Muse, Lightroom Photoshop App, Adobe Dreamweaver, and TemplateMonster Sites, etc. Using these Adobe products will be the smartest decision you will ever make because, as a website designer, you need more than creativity to show your talent to the world.
Key features
More than 20 creative apps
Thousands of Adobe fonts
Showcase your work on Behance
Creative Cloud libraries
Create your own portfolio website
Get 100 GB of cloud storage
Pricing
Plan for individuals priced at $52.99/month
Plan for students and teachers at $19.99/month
Plan for teams starting at $33.99/month
10. Bootstrap – A responsive mobile-first web design tool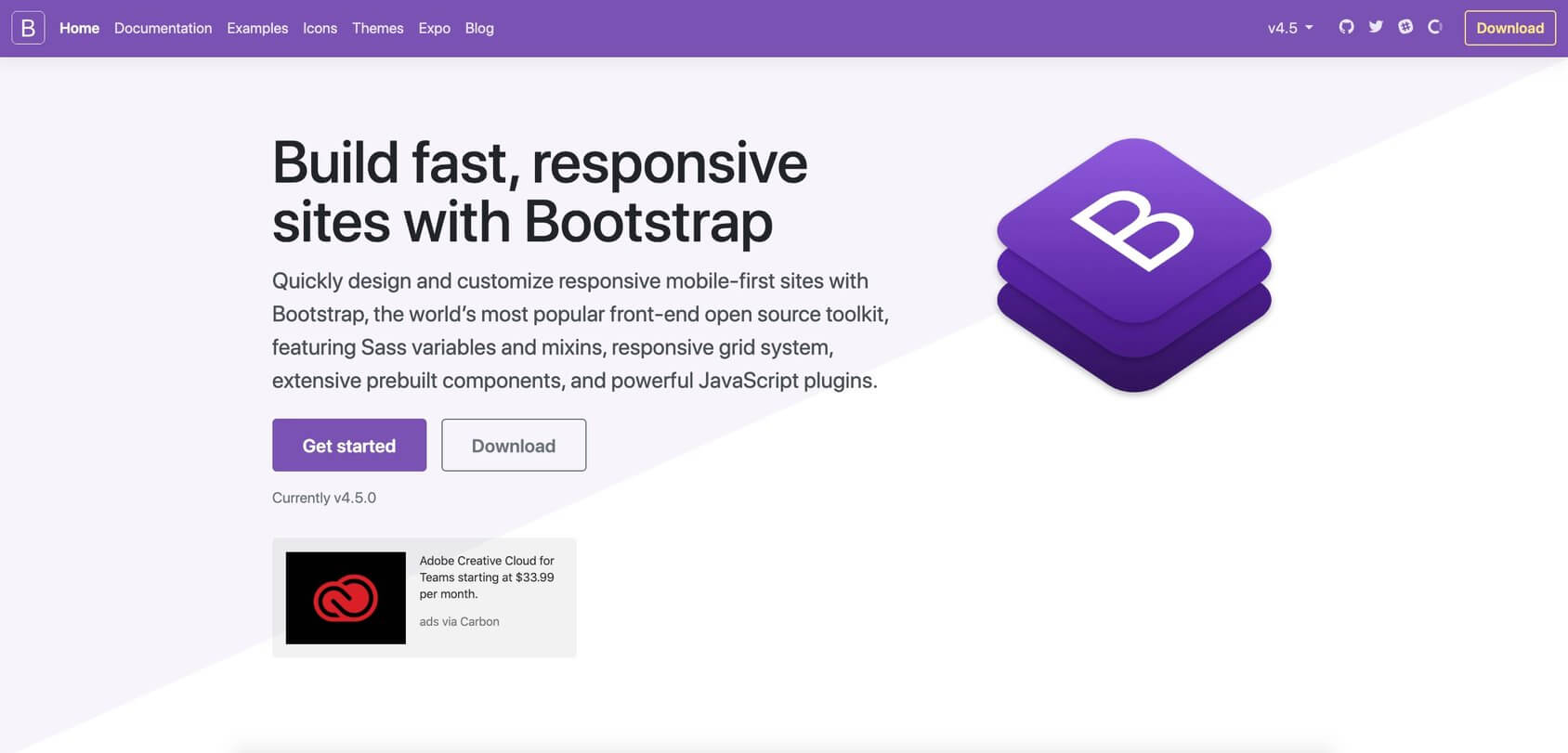 Bootstrap is the perfect web designing platform for the modern developer. It is super easy to use and requires you to have a basic knowledge of HTML to set up your own website. It has all the features needed to make your website attractive as you get to use elements such as buttons or other types of inputs and alerts to deck out your site.
You can also access a vast library of templates that are easy to use and allow you to develop content through HTML, CCS, and JavaScript. There's also a fabulous gallery of icons – just take your pick of what you like and add to your site with a simple click. Additionally, Bootstrap does not need to be installed on a server or computer, only the library needs to be integrated into the project for you to be able to use it.
Key features
Powerful theme building tools
Open source SVG icon library
Icons styled with CSS
Themes built can be built on extended frameworks
Additional plugins installation
Documentation
Pricing
Free plan with 2 GB storage and 10 users
Pro plan is priced at $15/month
Enterprise plan for $29/month
11. RapidWeaver – Best web designer software for Mac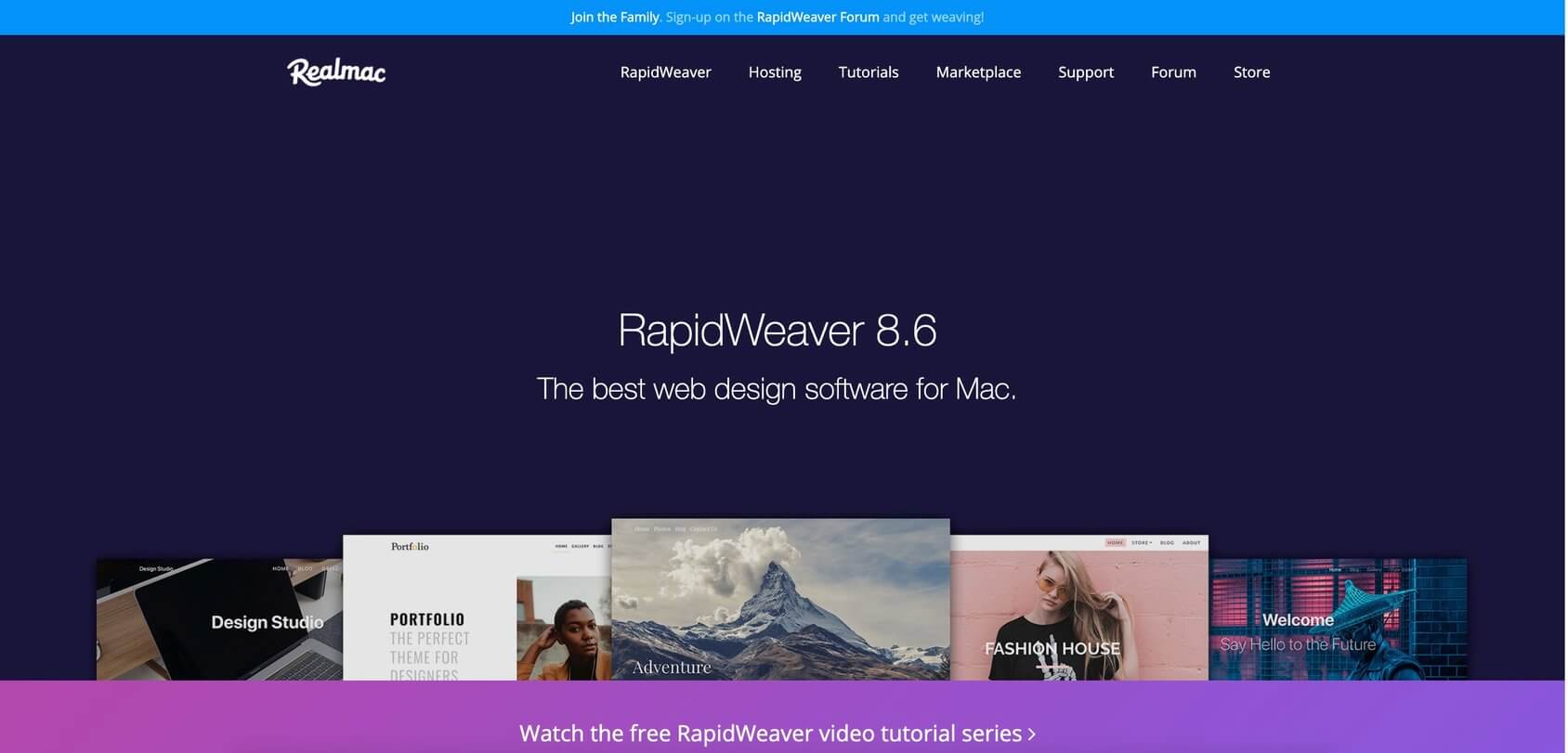 This nifty little tool makes building websites a breeze, and it doesn't require you to be an expert at digital design. Over 50 built-in themes are available with Rapid Weaver; but if you don't find them particularly appealing, there are several third-party themes to choose from. You can even preview the design after making the necessary changes.
Don't let the user-interface intimidate you because it will guide you through the entire designing process and explain all commands. It also has an Add-on feature that enables you to utilize a range of other plugins to enhance your website. RapidWeaver is ideal for websites that you host yourself so that you can create good quality sites that look modern and are mobile-responsive.
Key features
Easy page management
Create sub-pages through drag and drop
Powerful media manager
Unsplash integration
Web icon generator
New add-ons manager
Pricing
RapidWeaver 8 for Mac available for $84.99
12. openElement – Website editor with total control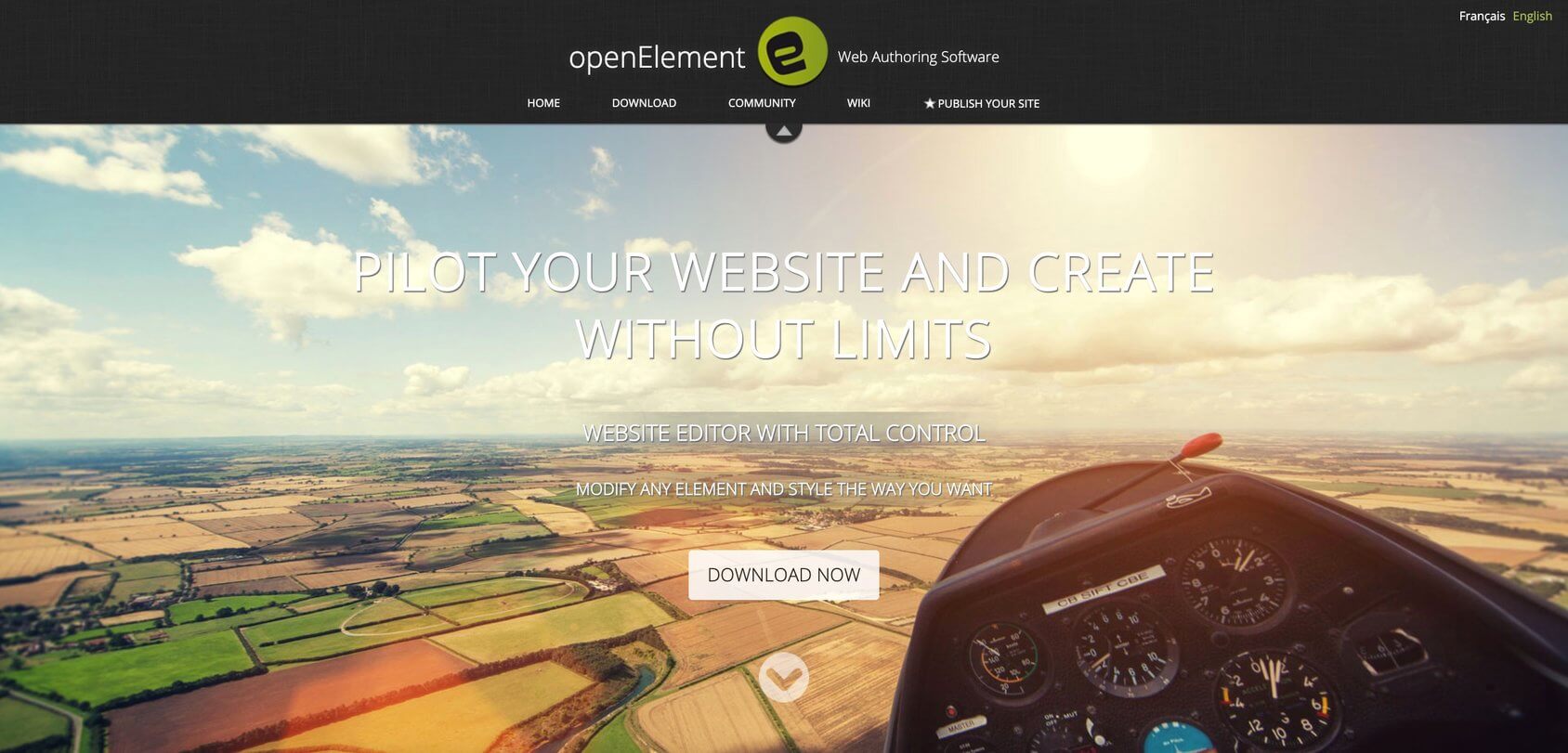 openElement allows you to choose from a variety of functional, ready-to-use, and adaptable elements. The options offer maximum customization of standard content such as text, images, videos, as well as more advanced content like signup forms, contact forms, maps, and photo galleries.
With the help of this platform, you can create and manage websites more efficiently using its powerful and intuitive editor. Moreover, it is reliable, affordable, and does justice by your expectations. It is a straightforward tool that makes it very easy for amateurs even to adapt to it and create beautiful websites quickly.
Key features
Intuitive interface
Image and code optimization
Everything is editable
Reusable styles and elements
Responsive design
Fully customizable CSS
Pricing
openElement has not provided pricing information for their web designing services.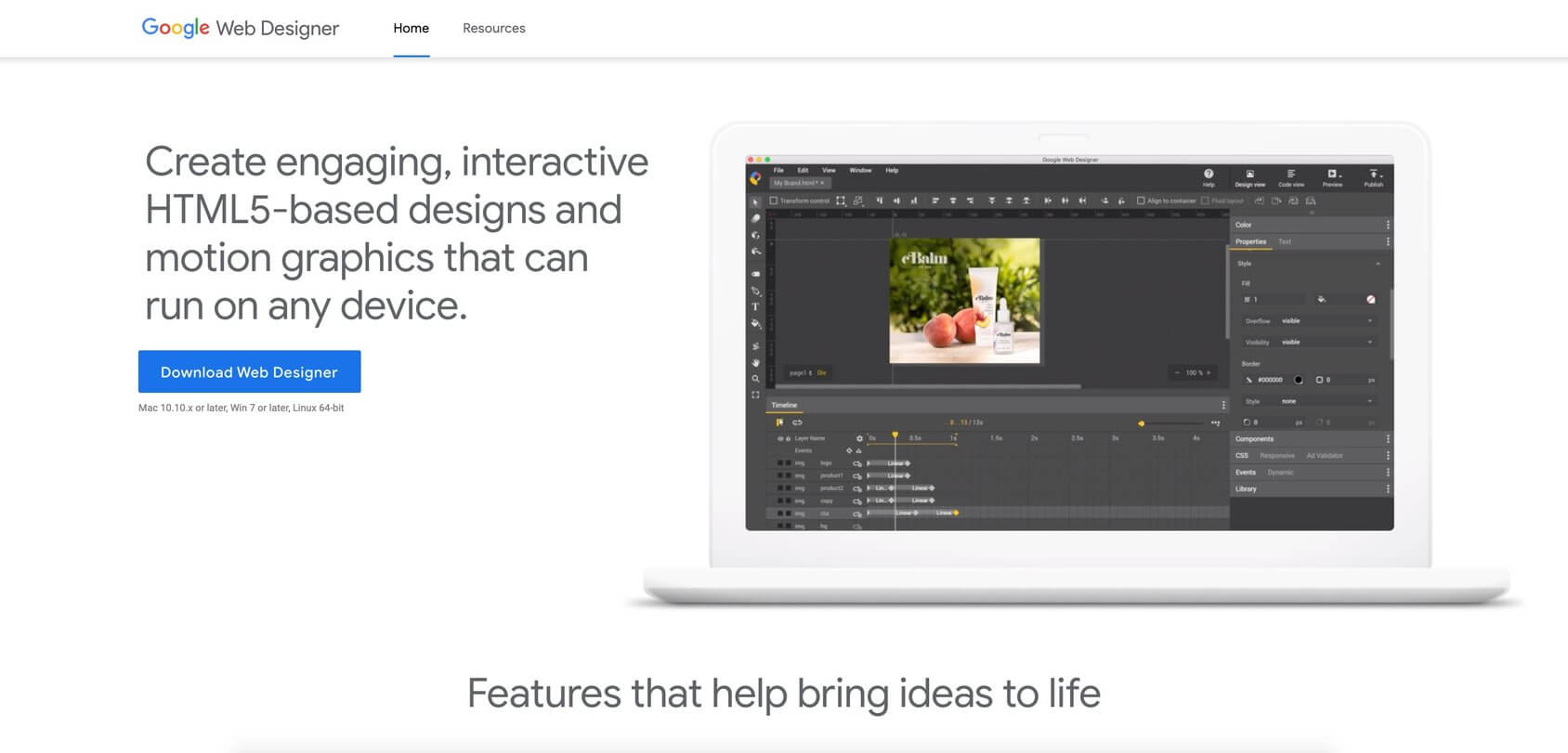 Google Web Designer is a great web design program for creating amazing HTML 5 designs, motion graphics, and animations for platforms like Mac, Windows, and Linux. It has a clear and interactive interface that can be used to create amazing animations, and it's pretty good at prototyping as well. Therefore, this one acts more like an animation or video application instead of a web designing tool.
The animation features are highly intuitive and equipped with video editors that recognize the "Quick" animation mode. You can easily create simple animations with this tool, but for more sophisticated projects, you will require some prior coding knowledge.
Key features
Seamless integration with other Google products
Drag and drop components
Multiple pages for multiple scenes in a project
Responsive ads
Dynamic ad workflow
Create and manipulate 3D content
Pricing
It is free to download and use.
14. Marvelapp – Free prototyping tool for digital products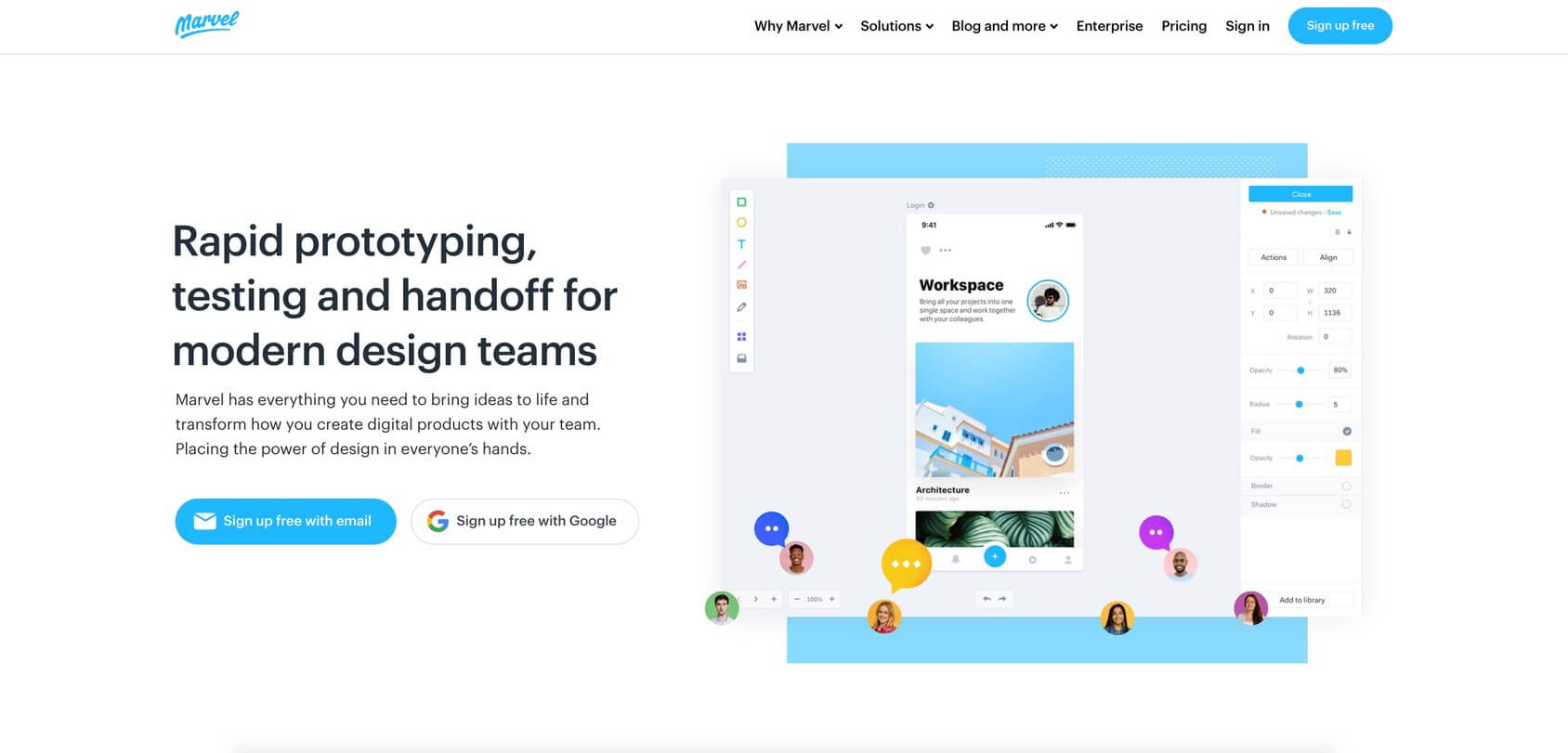 Marvel is a handy application that lets you easily view CSS styles and shows them to your clients for approval. Then you can move on to the development process and implement these designs in the exact design parameters that are already approved by the client. This navigation leaves no space for any kind of errors within the application – you can create beautiful mockups and prototypes for any device right from your browser.
Key features
Accessible library of templates and assets
Intuitive design tools
Open and edit sketch designs
Team libraries
Access your files from anywhere
A vast collection of stock photos and icons
Pricing
Free plan for 1 user per project
Pro plan charges $12/month billed annually
Team plan is $42/month billed annually
Team plus plan is $84/month billed annually
Enterprise plan is created according to your requirements
15. InVision – Digital product design platform
It is a web design platform used to create websites that enhance customer experiences. InVision provides a comprehensive array of design tools and educational resources for teams to help them navigate every stage of the design process.
The best part is that it is a cloud-based software that's easily accessible to professionals who create and manage prototypes. Additionally, it allows users to collaborate on playbacks and edit timelines. InVision also supports integration with other major communication and project management platforms to provide you a seamless experience.
Key features
Open prototype in browser
Works with any design tool
Preview of screen sizes according to layout
Multiple mobile skins for easy presentation
Link anywhere
Create templates and apply them globally
Pricing
Free plan for 1 prototype
Starter plan for $15/month
Professional plan for $25/month
Team plan for $99/month
Enterprise plan for unlimited prototypes
16. Figma – Web designing software for teams
Figma is a cloud-based tool with functionality and features that make it the best designing platform for team collaboration. It simplifies the entire designing process and makes it easy for both designers and teams to work together efficiently. You don't even have to carry it on your laptop; all you need is a web browser to access it – making it unique among all design tools.
Moreover, Figma is pretty straightforward to use and it not only works for the production stage but also allows you to comment and collaborate on projects.
Key features
Draw with Vector Networks
Design clock, watch or pie charts with Arc tool
Tap into advanced font features
Less manual resizing
Easier responsive design
Plugins for everything
Accessible libraries
Pricing
Starter plan for free
Professional plan for $12 per editor/month
Organization plan for $45 per editor/month
17. UXPin – UI design and prototyping tool
It is web-based designing software that helps businesses create website wireframes and design applications with prototyping, team collaboration, HTML imports, data management, and more. UXPin aims to be the best of both worlds as it combines both design and collaboration features that no other designing software does.
Moreover, it is highly conscious about speed and offers you 1000s of responsive components for iOS and other platforms in a matter of seconds. You can select an animation and integrate it into your interactions and transitions with a few clicks.
Key features
Built-in easily accessible libraries
Vector drawing tools
Interactive form elements
Update or edit all components at once or separately
Real-time collaboration
Page transitions
Design system portal
Pricing
Basic plan for $19/month
Advanced plan for $29/month
Enterprise or custom plan priced according to your business's requirements
18. Sketch – Ultimate digital design toolkit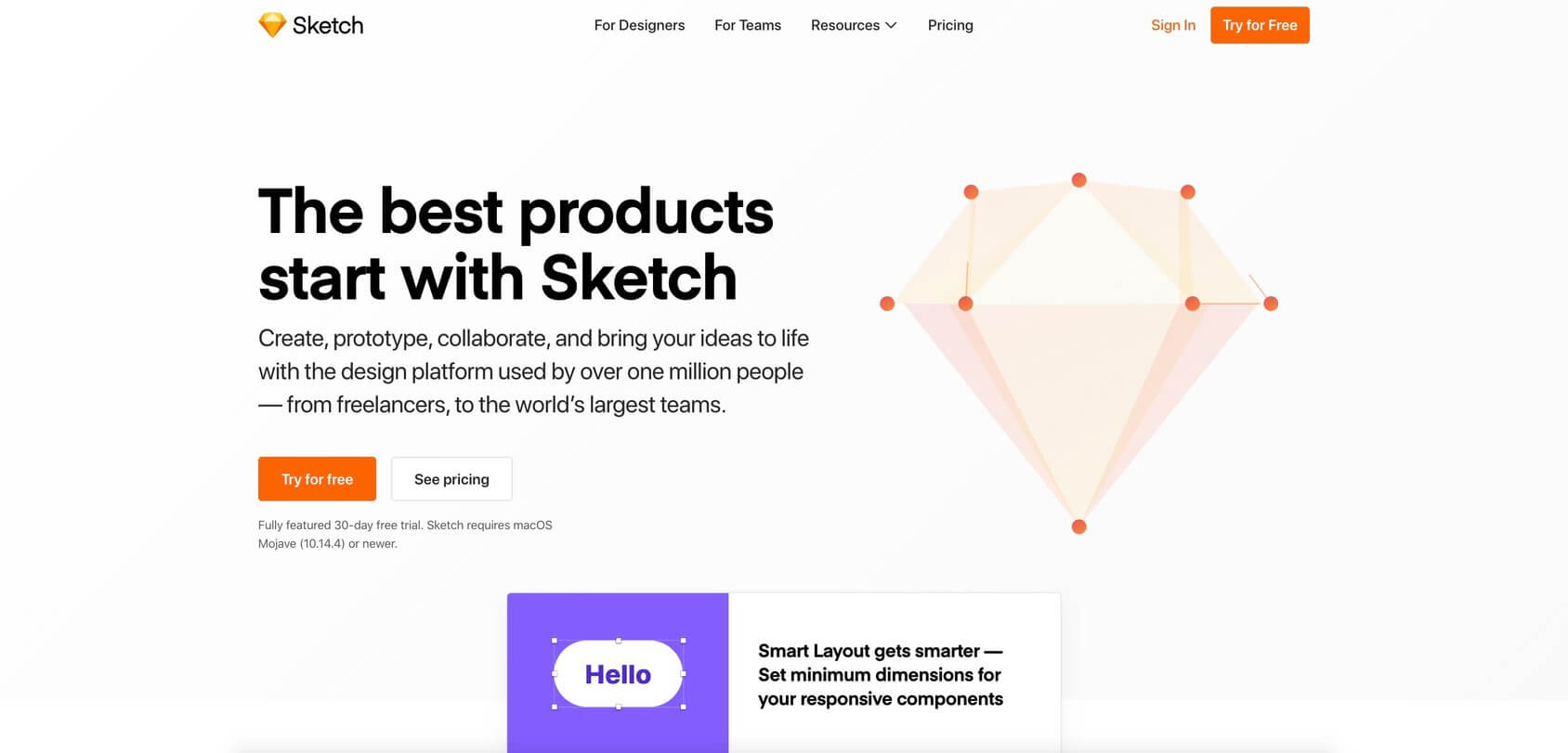 Many developers have started preferring Sketch over layered Photoshop files as it was built for designing interactive interfaces. It enables clients to easily view the prototypes and examine them by clicking, swiping, or tapping on any device. However, it is essential to note here that Sketch is a Mac-only design program that mainly focuses on creating prototypes for web and app designs.
Also, the quality of work that Sketch delivers is next to none – it lets your clients get a better view of how everything looks and responds in real-time. This allows them to make an informed approval in advance of the developmental stage and aids in saving time and money. You can easily download it from the company's site and enjoy a 30-day free trial without having to submit your credit card details.
Key features
Pixel-perfect icons
Scalable vector graphics
Responsive product design system
Customize workflow with extensions
Syncs all collaborators
Gathers ideas and feedback in one place
Pricing
$9/month per contributor for teams
$99 as a one-time payment for individuals
19. Canva – Create graphic design for free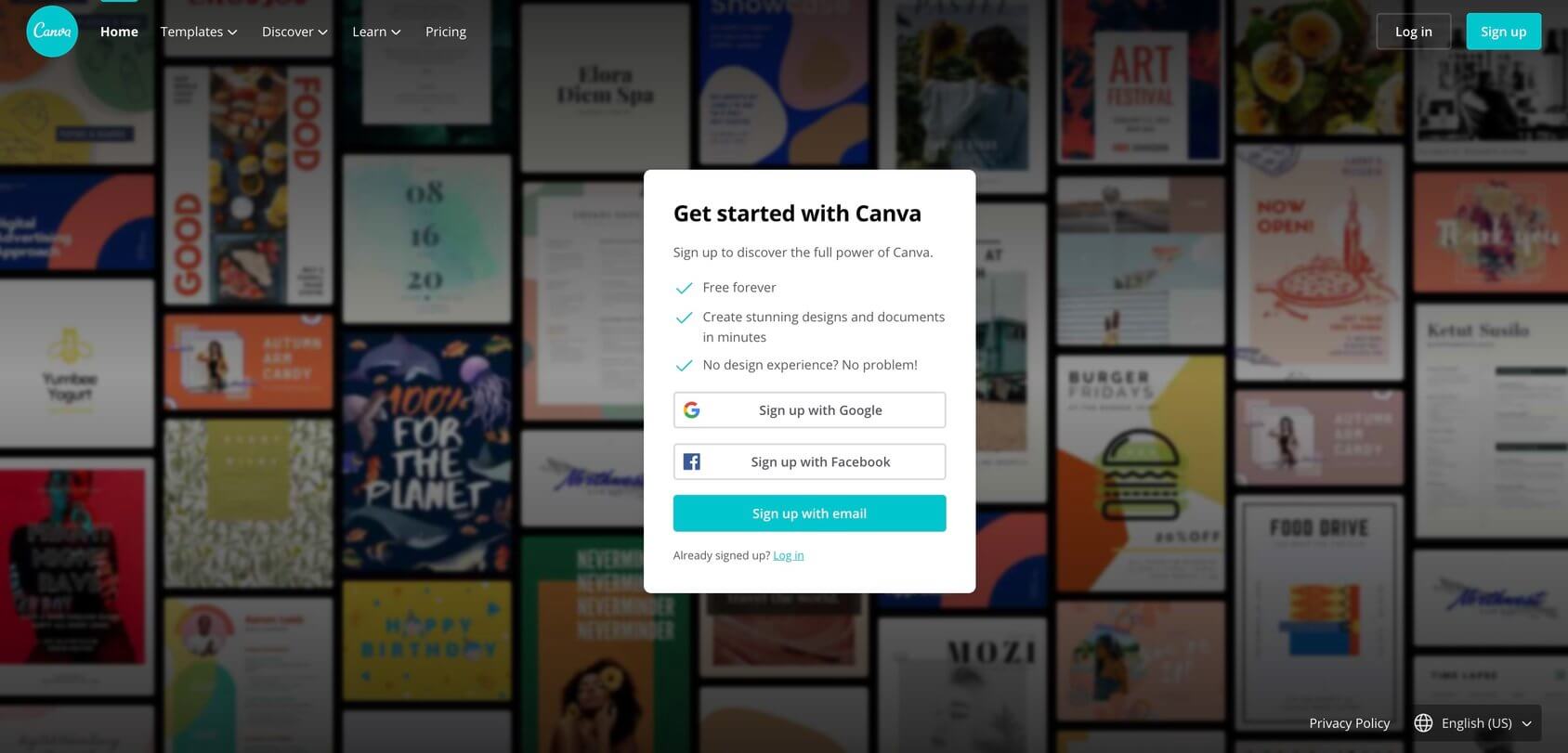 Canva is another graphic tool that is extremely easy to use and offers tons of templates that can help you in creating the website of your dreams. It has a simple yet intuitive drag-and-drop interface that enables you to design simple yet striking visuals. When designing a website, you have to choose the layout and template that you would like, and then get straight to customization. Everything can be edited using the drag-and-drop tool, and you'll be a pro at Canva once you've figured out how to use its many features.
The free plan comes with a limited variety of templates available for you to choose from, and it also limits your collaboration to 10 members only. On the other hand, the premium plan supports more than 10 members, putting a vast database of templates and images at their disposal.
Key features
More than 60 million photos and elements
Over 1000 fonts
Brand kit
Unlimited folders
Format resizing
Access premium animations
Customer support
Pricing
Forever free plan that only allows you to design anything you want
Canva Pro plan charges $9.95/month
20. GIMP – Free and open source image editor
GIMP is the default image editor for Linux, as Photoshop is not yet available for Linux users. It is an open-source image editing platform that packs an array of professional features that closely rival Photoshop capabilities. It offers a range of capabilities, such as noise reduction, cropping, automatic image enhancement tools, customizable brushes, color gradient, and much more. It also has multiple filters, layer masks, and an animation package.
GIMP also supports pre-installed and downloadable plugins that enhance the entire image editing process. Although the application is 100% free, it still does not compromise on the quality of its work.
Key features
High-quality image manipulation
Transforms images to unique artwork
Customizable interface
Photo enhancement
Digital retouching
Unique hardware support
Supports multiple file formats
Pricing
How to choose the right web design software
Most experienced web designers have their preferences when it comes to design software. But since you are just starting, we suggest experimenting and playing around with as many tools and platforms as you can to figure out what good web design is all about.
If you have an eye for detail, there is great software out there for you!
Here's how you need to walk through the entire process before settling on the right web designing platform.
Determine your needs
Ask yourself how you want your website to function. Can it be a single-page scroller, or do you require several pages of content and media?
This should tell you what kind of expertise you need to design it. Also, get familiar with the technology you'll use to build that website and carry out any unique customizations that require prior knowledge or skills.
Define your web design
This is to see how you want your website to look and feel. How do you imagine the layout? Do you have any particular colors or themes in mind?
You'll need a designing platform to help you translate their ideas into a tangible creation.
Purpose of your website
You also need to evaluate the role of your website for your business. You need to think about the way your business attracts customers and how you perform marketing activities. Then determine how your website will drive sales or create new leads from online visitors.
All this will help you define the purpose of your website so you can design it accordingly and grow your business.
Assess your budget
How much money do you want to spend on web designing software? Since your website is an investment, you need to get the best website design software out there, but within the limits of your budget.
Don't worry just yet; there are plenty of free to use tools out there to get started with. But make sure you first write down any features, functionality, or design choices that you'll need and are willing to pay for.
Best of the best web design software
Whatever your goals are, you need the best software out there to retain visitors for your business website or grow your brand. Hence, we have compiled some of the best web design tools out there that are fit for your specific requirements.
Best blog design software
Blog design software provides users the tools to create, edit, and update web pages. The entire look of your blog determines if the reader wants to stay and interact with it or leave the page just because it is too bland or poorly designed.
Since visual interest is a significant part of content marketing, enticing static or dynamic images, videos, or even GIFs can be used to power your blog posts.
The following are two of the best blogging software out there.
This is undoubtedly the most popular blogging platform on the internet. The app is compatible with WordPress blogs as well as blogs hosted on WordPress.com. WordPress offers several attractive themes for your blog and allows you to integrate plugins to help you in creating your dream site.
Key features
Free
Thousands of plugins and themes
Customization features
Constant community support
Wix is a simple, easy to use website builder tool for blogs. You can simply start with selecting themes and website components to work with. It offers an excellent collection of more than 500 templates to kick start the entire design process. The drag-and-drop editor gives you complete access to all kinds of tools and features such as image editor, animations, integrated site blog, and much more.
Key features
Customization options range
App market with integrated features
Easy to use
Intuitive drag and drop UI
Best website design software
Website software provides all the tools and features to users so that they can design highly appealing websites. These tools possess a framework and templates to help create the basic structure of a website as you save precious time and money during the entire designing process.
Following are two best web design software that provides a customizable platform for creating attractive websites.
The web design layouts provided by Wix are designed for small businesses, restaurants, online stores, and artists – and chances are that you'll find something appropriate for your business. They are even optimized for mobile devices and can be spiced up by integration plugins or widgets from the Wix App Market. Working with Wix is a breeze, combined with handy tools such as image filters and animated texts; it is one of the best website building software out there.
Key features
Remarkable templates
Extremely flexible web designer
Let's you animate texts and other elements
Squarespace is an impeccable professional looking web design program that helps you to design your website in the best way possible. It offers more than 100 templates that are highly mobile responsive so that you can provide an enhanced user experience. Squarespace is known for its beautiful templates but outstanding features as well. It is a drag-and-drop visual website builder that works beautifully. The entire editor is made of sections and content blocks that allow you to design the page without creating from scratch.
Key features
More than 100 sophisticated themes
Excellent customer support
Great for both small and large businesses
No resource limits per plan
Sophisticated website builder
Best graphic design software
A capable graphic designing tool not only enhances efficiency, but it also helps in portraying your creativity and blending it into the real-world design. Whether you are a professional graphic designer, or just want to start learning about high-end design, make sure to learn more about these two best graphic design software.
Adobe creative cloud apps encompass all major Adobe web design software programs such as Photoshop, Adobe Illustrator, Lightroom, and Photoshop Apps. They are all intuitive platforms that help you to design and build a website from start to finish with unbeatable attention to quality. Once you get a grip on these platforms, you can easily design a responsive website with banging visuals that attract your users.
Key features
Vector art illustrations
Draw creative logos
Create websites without coding
Canva is the best graphic design tool for creating visuals with simple and easy to use tools. It is perfect for unskilled people who can get a good grip on its intuitive drag-and-drop interface. Also, there are a ton of templates you can choose from this platform that works for multiple categories, including infographics, posters, and even business cards.
Key features
Easy to use
Excellent selection of stunning templates
Stores photos for future use
Best web design software for teams
If you are looking for a web designing platform that works perfectly for your business so that you can send and discuss your projects to your team members or your clients. You are in the right place.
Check out the two best software that are perfect for team collaboration.
It is a multi-user software that helps you to connect with your design team. Although it is a small tool, but, it packs the power of designing a website and sharing it with others as well – Figma takes the entire design process to a new level. Also, it comes with various fonts, colors, and other features that are fantastic if you want to create an icon, logo, or an entire template.
Key features
Design with auto-layout
Export assets in required formats
Unlimited viewers
It is a prototyping and animation tool that allows you to share your creations with your team members. This highly professional helps businesses of all sizes create and manage prototypes, as users get to collaborate, test, and experiment designing the templates on a digital dashboard.
Key features
Planning and feedback management
Automate workflows
Presentations
Digital whiteboards
FAQs
What is the best free web design software?
The best free web design software is WordPress.org, as it allows you to build your website or your blog for free with access to unlimited gorgeous-looking templates that help attract and retain visitors to your site. It also offers various customization options so that you can edit the pre-designed templates and revamp them according to your preferences.
Which web design software is best for beginners?
Wix is an online website builder software that helps you build websites quickly without the need for coding or programming, making it quite user-friendly. Wix also offers several templates that can be used to create your websites without any prior technical knowledge.
Which web design software is best for professionals?
Squarespace aims to assist you in creating professional-looking sites for artists, small and large businesses, photographers, etc. It offers dozens of attractive web templates, mostly featuring full-photo backgrounds and scrolling interfaces. Also, its editing software is the most elegant among all available choices, helping users create gorgeous websites.
What can I use Photoshop for?
Adobe Photoshop is a tool for designers, web developers, graphic artists, and creative professionals. It is mainly used for image editing, retouching, creation of image compositions, additional effects, website mockups, and so much more. Even website layouts can be created via Photoshop so that the designs can be finalized before the designers begin with the coding process.
What can I use Illustrator for?
Adobe Illustrator is a software application used for creating illustrations and artwork using a computer. It can help design a variety of digital and printed images, charts, graphs, diagrams, logos, caricatures, and so much more. You can even import a photograph here and use it to trace an object in the photo or retouch it. It is also useful in creating website mockups that show what the website will look like when it's completed.
Conclusion
The best web design software mentioned above can come in handy when you need resources to help you design a kickass, glamorous website. All these tools provide banging features for developing a site from scratch or revamping an existing template that suits your business's image.
Moreover, you can easily make customizations and make your website look the way you want it to.
Just go over the pros and cons of each web designing software and deciding which will work the best for you. Get in touch with us and let us know about your experiences with these services.