Writing and content development are in-demand professions nowadays. To build a career in this industry, it is important to demonstrate your prowess over creativity, powerful ideas, writing prompts, and the best writing software.
The right software can help you write faster and more efficiently. They enhance your focus and limit distractions so you can write amazing pieces.
However, choosing the right writing software can be difficult; you will have to make some choices before settling for a writing tool that improves your writing and makes it free from errors. Hundreds of writing apps and solutions are available out there, and authors have a multitude of options when looking for the best writing software.
The 3 best writing tools – July 2020
We have compiled some of the best writing apps and tools out there to help make the choice easier for you.
The top 20 most popular writing tools
For this guide, we first assessed each writing software on its ability to organize your content. Then we made sure that it provides a revision history so that you never lose any of your work. Next, we looked for features that enable seamless collaboration and the ability to export work into other popular formats.
Here is a list of the best writing tools and software that we reviewed.
1. Google Docs – Best free word processor
2. Apple Pages – Powerful web processor for Apple devices
3. Draftin – Best distraction-free app
4. Calmly Writer – Best for focused writing
5. Milanote – Best tool for organizing creative projects
6. Evernote – Best note-taking app
7. Freedom.to – Best website and internet blocker
8. Microsoft Word – Best word processor
9. Scrivener – Best for writing screenplays
10. Ulysses – Best in class publishing to other platforms
11. Storyist – App with the power of a word processor
12. iA Writer – Best plain text editor
13. Byword – Best iOS app for distraction-free writing
14. Script Studio – Best tool for screenwriting
15. Grammarly – Best grammar and spell checker
16. ProWritingAid – Best grammar checker and style editor
17. Hemingway App – Best editing tool for writers
18. Reedsy – Best tool to self-publish books
19. Campfire – Best for creative writing projects
20. RoamResearch – Best note-taking app
---
Disclosure: FirstSiteGuide is supported by our readers. When you purchase via links on our site we may earn a commission. We test and try all the products that we recommend.
1. Google Docs – Best free word processor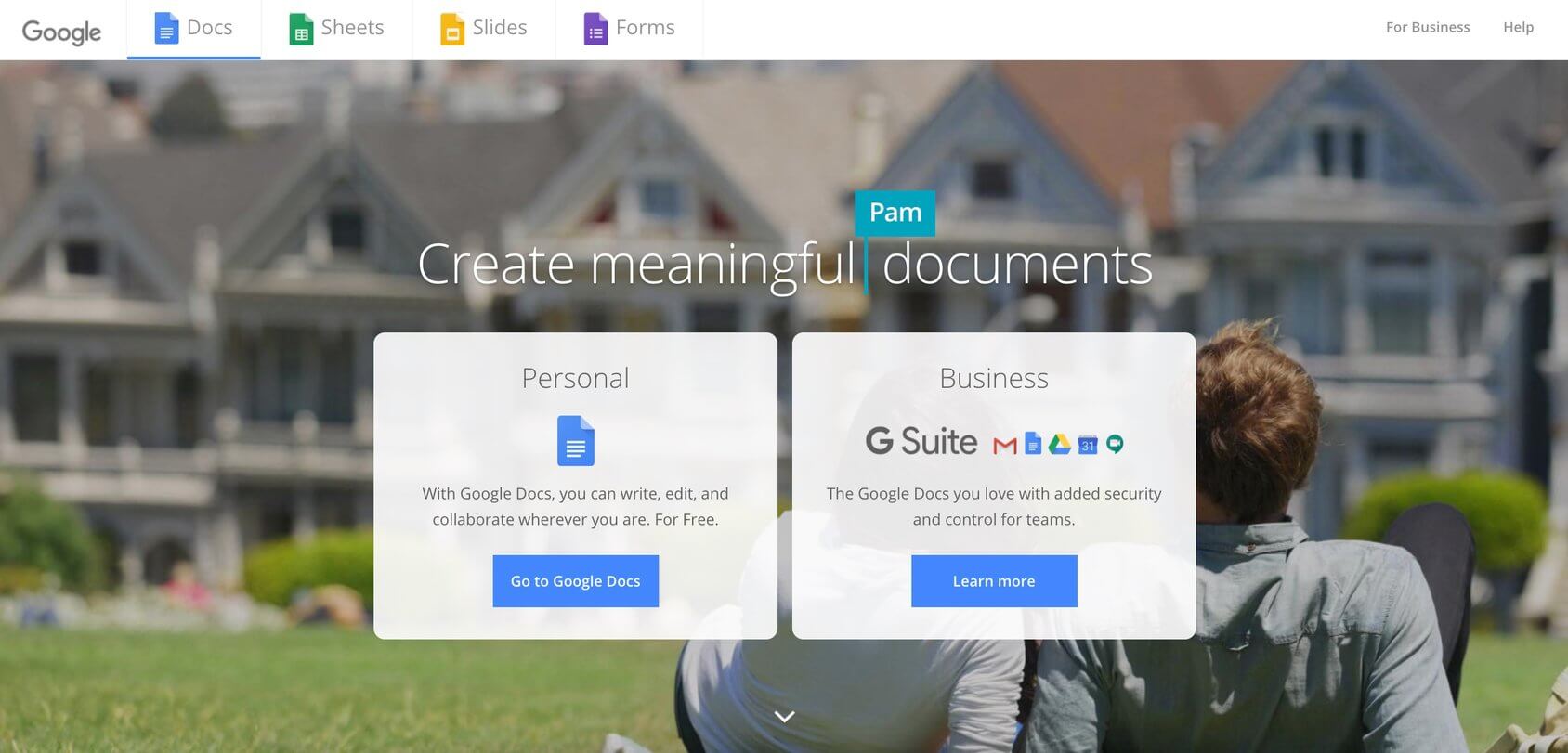 If you are used to MS Word but want a software that lets you save your work directly to the cloud, this ones it. It looks and behaves a lot like MS Word, so there isn't a steep learning curve to worry about, and you can use it online. If you delete anything accidentally, you just need to access the "All Changes Saved In Drive" feature that displays your version history where you can review all the changes.
The best thing about this software is that you can share content, files, and documents with your clients and coworkers easily. These collaboration abilities also allow you to invite your editor to the document and watch as they make changes or leave comments.
Key features
Activity dashboard
Collaborative workspace
Document management
Automatic notifications
Drag and drop interface
Reporting and statistics
Third-party integration
Pricing
2. Apple Pages – Powerful web processor for Apple devices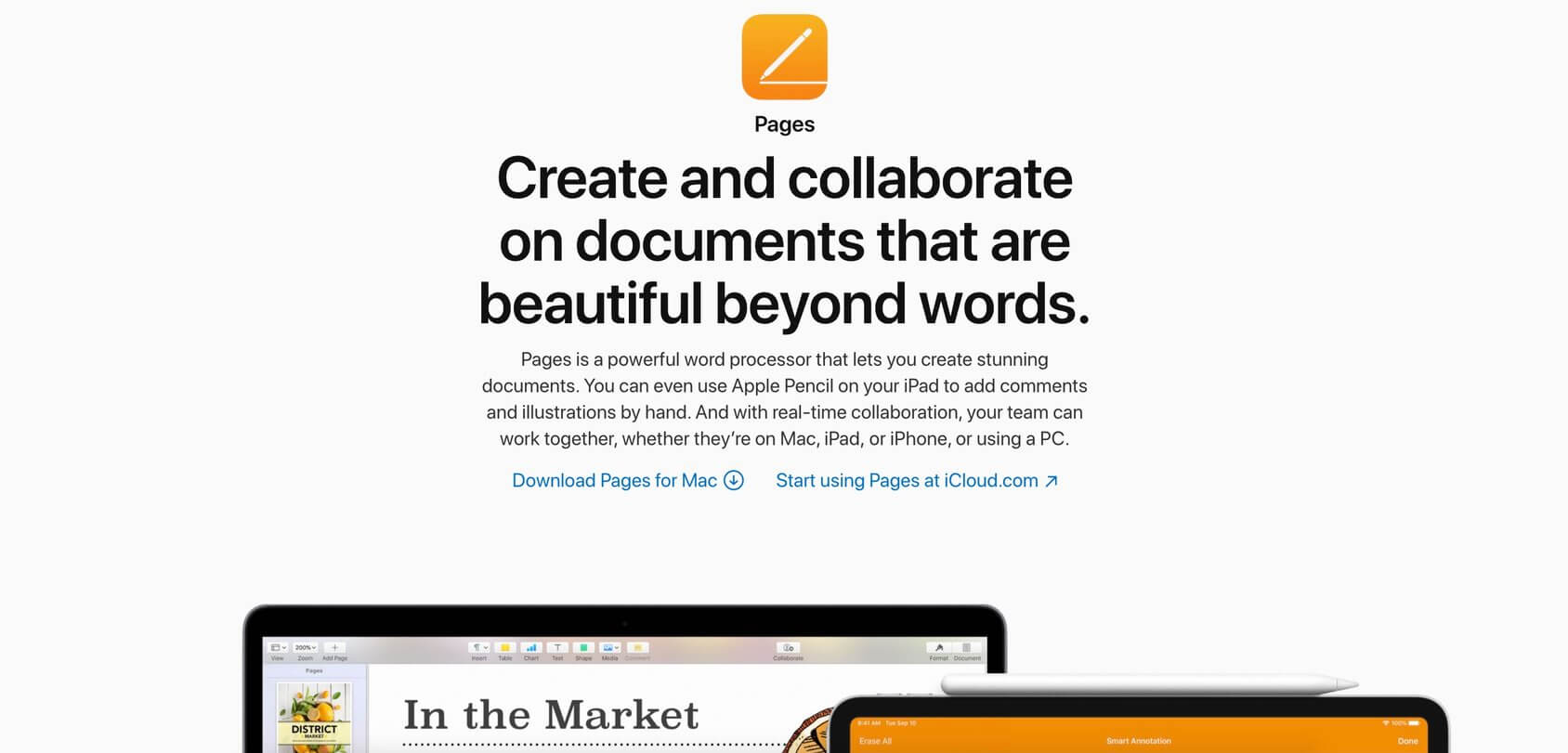 It has the most straightforward interface among advanced word processors. The real strength of Apple pages word processor lies in producing beautifully-designed pages. As Apple says, "It allows you to be a writer one minute and a designer the next, always with a perfect document in the works."
Letters, CVs, books, or whatever else you may be writing will turn out to look great when you use this software. You can even drop in your photos from iPhoto or copy-paste tables and charts from Numbers, which is the Mac equivalent of Excel. This program also offers over 180 Apple-designed templates for every topic you can think of.
Key features
Spell and grammar check
Outlining feature
Stunning page layouts
Drag and drop interface
Captivating graphics
Personalized text styles
Track changes
Pricing
3. Draftin – Best distraction-free app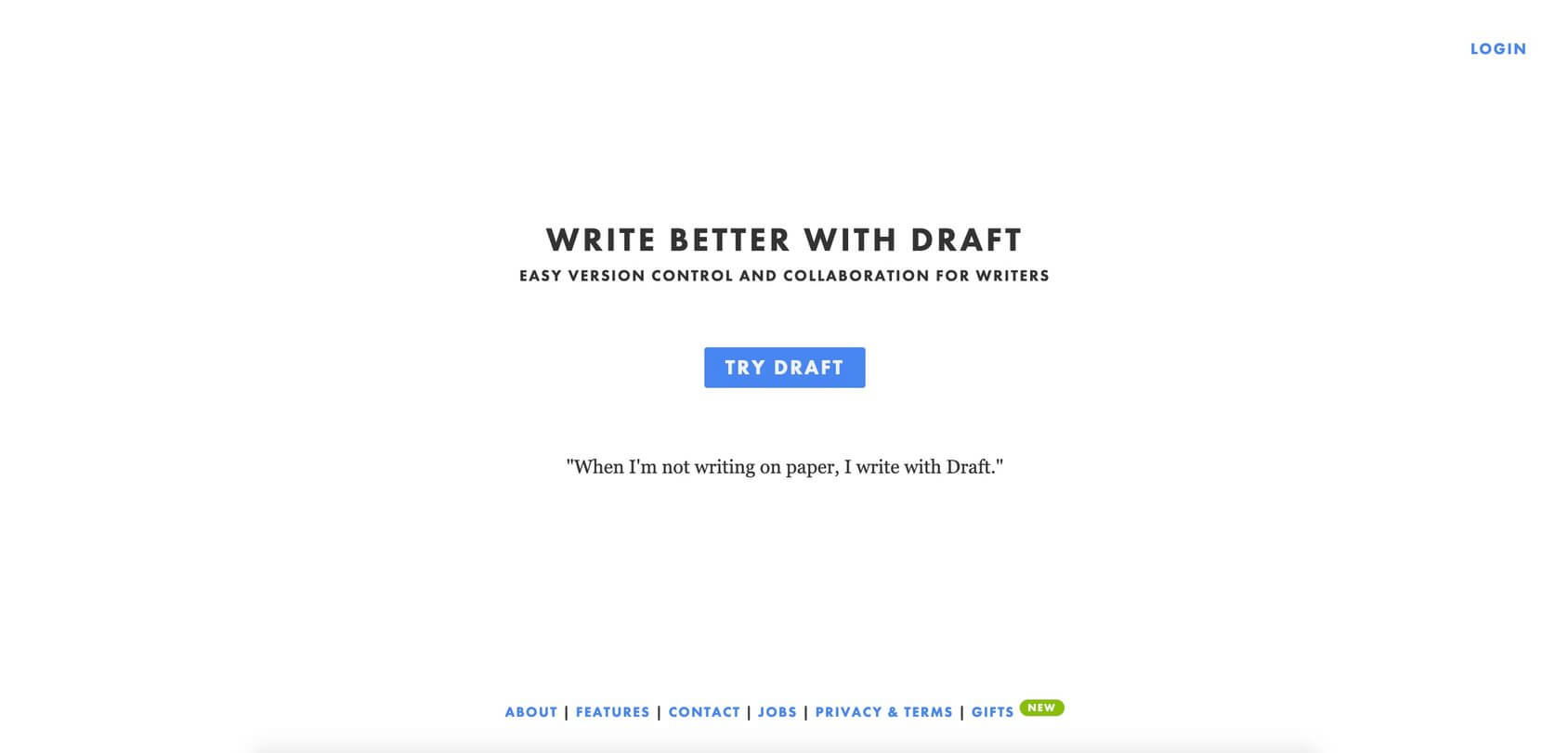 Draftin is the best at removing unnecessary distractions, helping you to be more productive. It has a very minimalist look that keeps you focused on the content you are creating. You can preview the content, format it, add to-do lists, insert images and comments, or even mark out sections of the document.
Saving a document is a breeze in Draftin because it happens automatically after every few seconds when you stop typing. Also, it allows you to export a document to many formats like PDF, ePUB or Kindle, etc.
Key features
Image hosting
Team collaboration
Transcription tools
Analytics
Comment
Pricing
4. Calmly Writer – Best for focused writing
This is one of the free writing apps out there that promises to help you concentrate on your work. The app's design is minimal, and its website is upfront about what it can do. You don't need to download the app; all you need to do is head over to Calmly Writer's website and just click "Open Calmly writer." It can also prove to be useful whenever you start an article, and you require a blog topic generator.
Besides this, it has a "Focus Mode" that is quite handy for editing and formatting content. The entire document goes gray except for the current line or paragraph you are working on. That makes it one of the best distraction-free writing tools out there.
Key features
Formatting
Efficient backups
Responsive design
Dark mode
Smart punctuation
Full screen mode
Word counter
Pricing
5. Milanote – Best tool for organizing creative projects
It is a Web-based note-taking app perfect for visually creative people. It has adopted the model of an unlined canvas rather than a legal pad. But it is not available in a touch-specific format at the moment. Milanote lets you create, edit, and save notes in separate notebooks. These notebooks can be added to pasteboards where you can add images, arrows, lines, free form text notes, and column notes. You can even add notebooks within notebooks.
Also, the notes that you have not yet sorted into a proper notebook can be inserted into a drawer to the right of your pasteboard. Moreover, it offers impressive real-time collaboration features that let you share any board with anyone.
Key features
Content management
Real-time editing
Supports all formats of images and files
Web clipper
Share results
Pricing
Free plan with unlimited boards, 100 notes, images and links
Professional plan for $9.99/month billed annually with unlimited storage
6. Evernote – Best note-taking app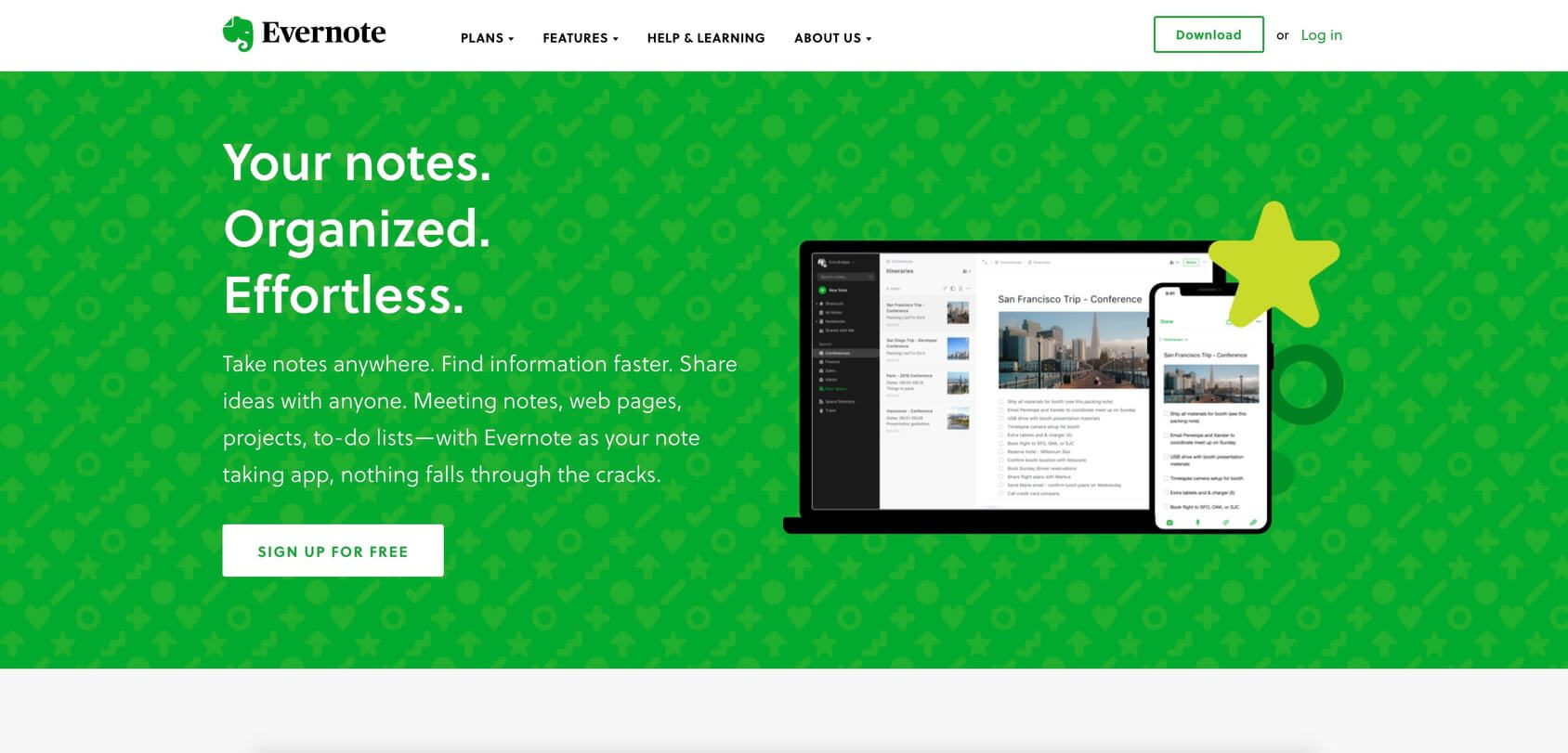 Evernote is a note-taking app that helps you organize your digital life. It takes notes, organizes files, and takes snippets from anywhere on the web. All the individual files are saved in Notes, which can then organize into Notebooks designed according to the themes of your choice.
Its UI is clean for both desktop and mobile, displaying all the icons that indicate the tool's core functions. One of the most useful notes taking features is its template gallery. Evernote comes with dozens of note templates that are divided into three main categories: work, school, and life. This will allow you to take notes quickly.
Key features
Sample templates for meeting agendas, calendars, habit trackers
Robust Optical Character Recognition technology to scan handwritings quickly
Recognizes 28 typewritten and 11 handwritten languages
Own search syntax
Web clipping tool
Collaboration tool
Pricing
Evernote Basic for free
Evernote Premium for $7.99/month
Evernote Business for $14.99/user/month
7. Freedom.To – Best website and internet blocker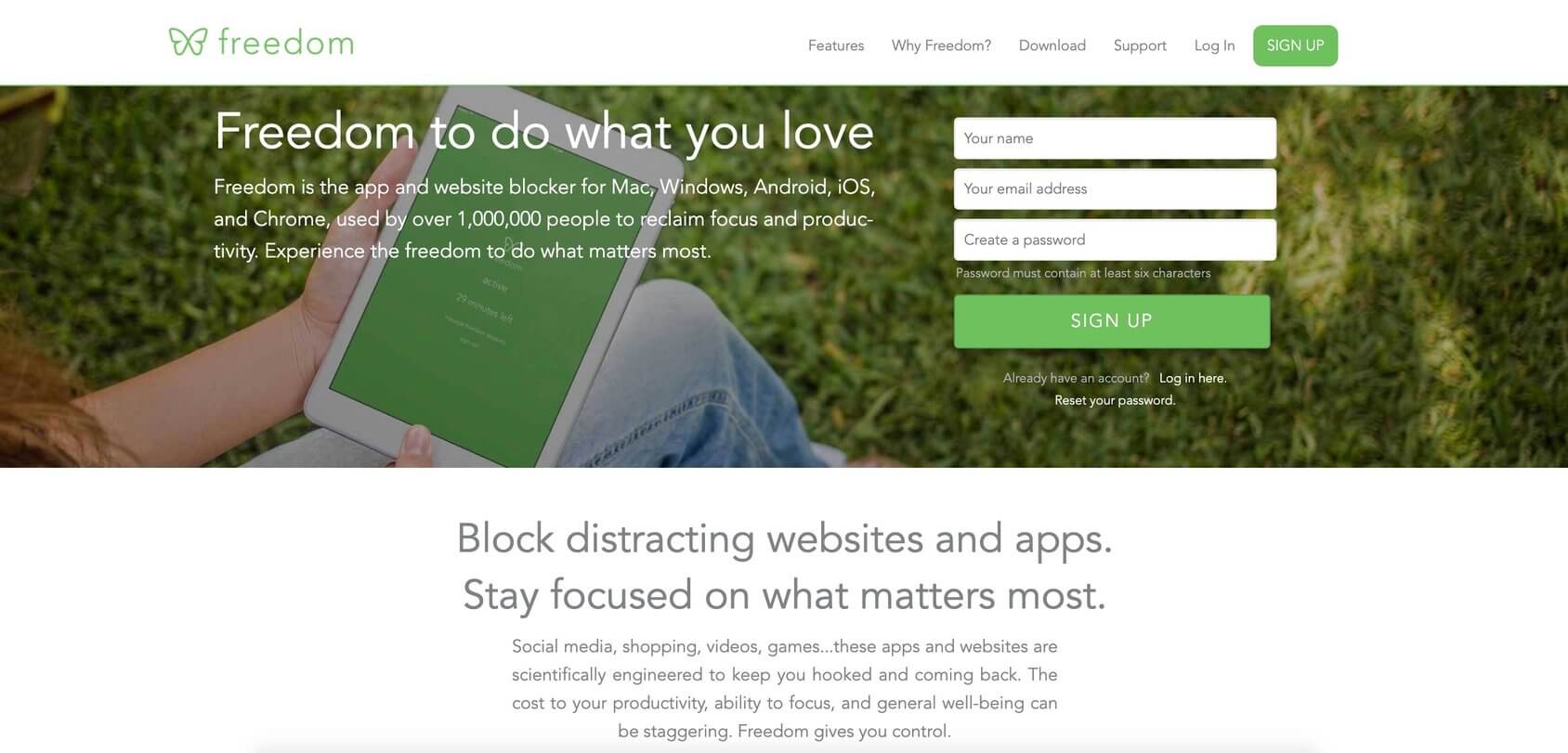 With Freedom.to, you can block sites across all your devices to minimize distractions during writing. It works by acting as a VPN and blocking traffic from the domain names that you have pre-determined as problematic. It works by creating a limited VPN Profile that blocks traffic directly on your device.
Moreover, it reduces the distractions caused by emails, notifications, or multitasking. This saves your time and lets you focus on your writing.
Key features
Blocks websites and apps
Block the whole internet with a click
Custom whitelists
Locked mode to prevent from ending a blocked session
Advance scheduling
Pricing
Freedom monthly premium plan for $6.99/month
Freedom yearly premium plan for $2.42/month
Freedom forever plan for $129.00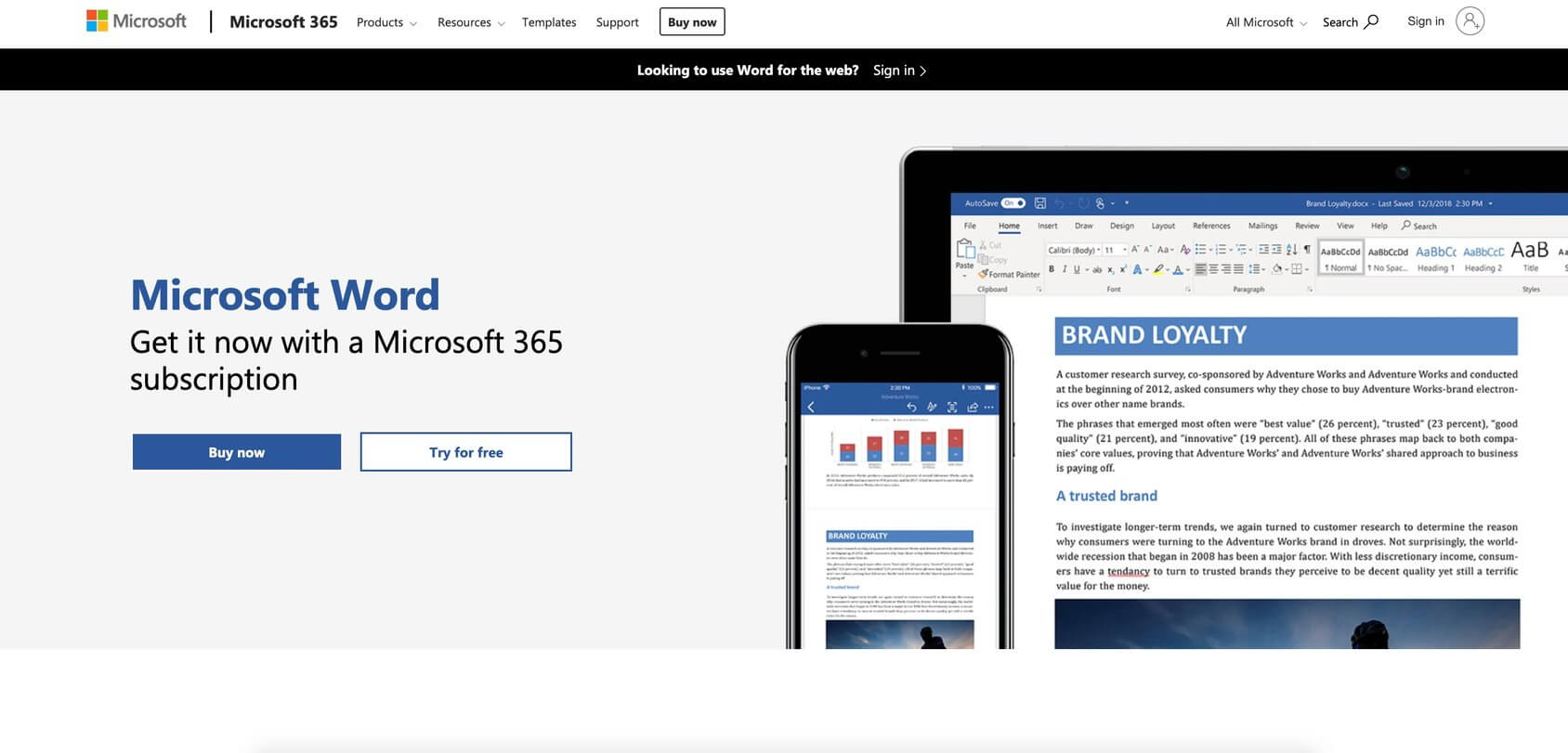 It is the world's most used administrative tool that provides features for word processing used by writers for several reasons. It is common for Microsoft Word to come pre-installed on your computer, but it is also easy to build it and design for personal use.
Moreover, it comes with the functionality to edit documents needed while coming up with custom made documents. Also, Microsoft Word makes it easy for multiple authors to work on a document.
Key features
Search for content
Add citations
Advanced proofing tools
Formatting tools
Supports editing of PDF file formats
Mail merge
Real-time collaboration
Pricing
9. Scrivener – Best for writing screenplays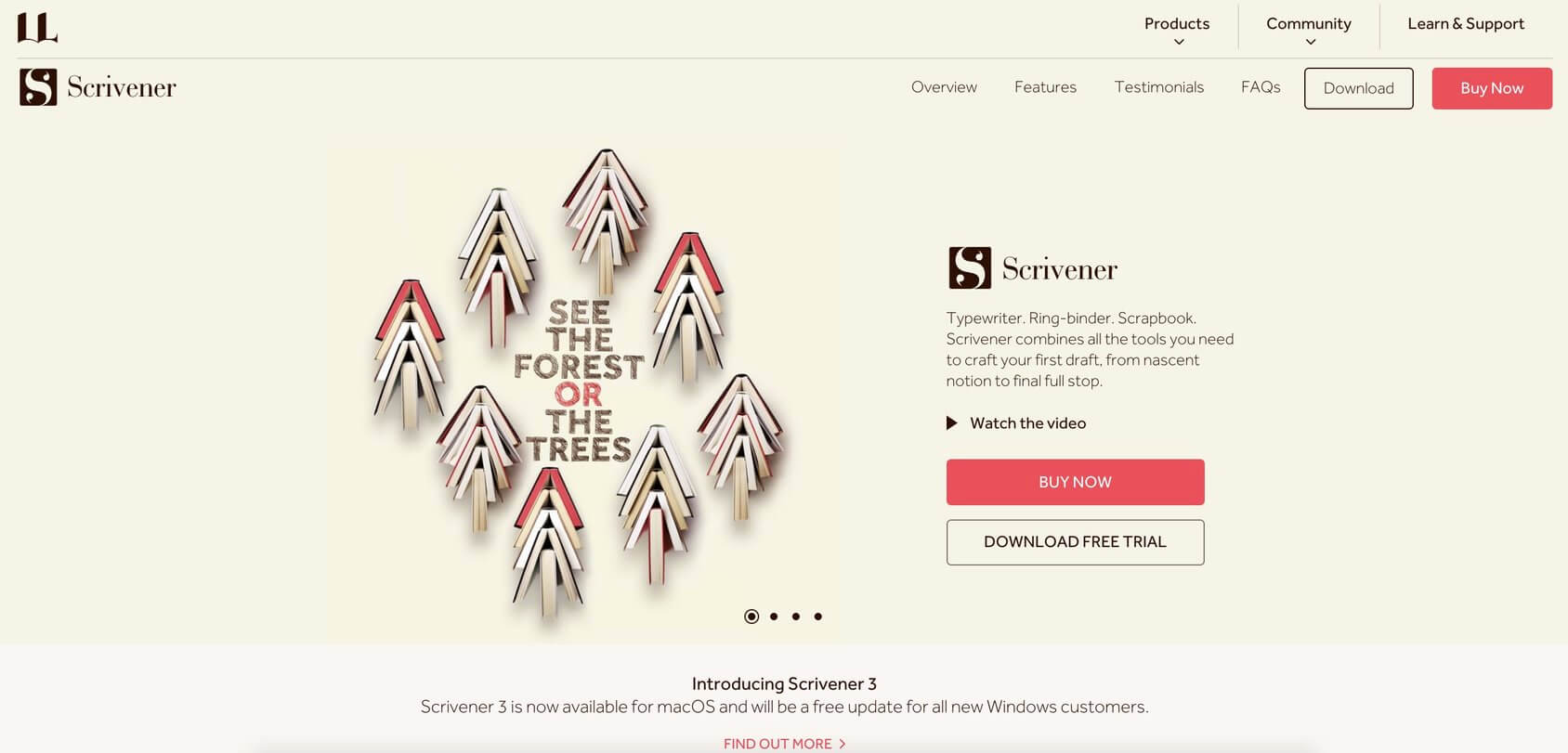 Scrivener software was created for writers only. Many writers love this tool with its advanced features and distraction-free writing experience. It gives a high amount of flexibility for writing, formatting, and organizing your book so that you can self-publish it.
Scrivener holds the potential to break up your book into chapters and sections and reorganize them. It also lets you target your word count goals and even track your progress regularly. While writing, you can even take advantage of multiple screen modes, or if you want fewer distractions, you can switch to full-screen mode.
Key features
Compose text in any order
Easy to use project outline
Formatting presets
Import option
Templates and icons
Set targets and watch the progress
Autosave and backups
Pricing
Scrivener standard license for macOS for $49
Scrivener educational license for macOS for $41.65
10. Ulysses – Best in class publishing to other platforms
It claims to be the best writing software for Apple devices, where it provides a distraction-free interface that does not hold back on features. Ulysses is designed for writers to help them do their job using all the tools and features they need to convert their project from a concept to published work. It is neither a word processor nor a text editor; it is an entire working environment. It doesn't display any options that may distract you while writing. But it makes them available for you easily whenever you need them.
One of the most prominent features of Ulysses is that it supports Markdown language, which is a way of applying basic formatting to text without using menus and buttons.
Key features
Customized editor
Plain text enhanced
Keyboard navigation
Typewriter mode
Organized groups
Attachments
Autosave and backup
Pricing
$4.99 monthly and $39.99 yearly
11. Storyist – App with the power of a word processor
It packs the power of a full-fledged word processor into an app that is meant for mostly screenwriters and novelists. It's a dedicated app for Apple and works only on Mac computers, iPhones, and iPads. It is equipped with almost all the features that make up complete screenwriting software.
Storyist has all the tools needed by a writer such as a corkboard view, folders for plots and character development, and much more. Also, it provides several gorgeous templates meant for novels, screenplays, and stage plays. This makes it one of the best writing apps that work as an organized writing tool.
Key features
View and edit color-coded index cards
Light and dark theme
Navigation slider
Formatting inspector
Easy import and export
Automatic saves
Templates for different writing projects
Pricing
Storyist 4 for macOS for $59
Stroyist 4 for Ios for $19
12. iA Writer – Best plain text editor
The app supports Markdown typing for basic formatting with some built-in buttons, making it a practical and efficient option for bloggers. However, it is missing sharing and collaborative features.
This writing app even has a few views and modes that enhance your focus. Such as the sentence focus mode outs the active sentence in full brightness while the other text around it appears gray. It is available for Android, iPad, iPhone, macOS, and Windows.
Key features
Syntax highlight
Content blocks
Custom made writing fonts
Powerful word export
Accessible plain text files
Clean interface
Pricing
$29.99 for Mac
$8.99 for iPhone and iPad
$19.99 for Windows
Free for Android
13. Byword – Best iOS app for distraction-free writing
It is a cross-platform text editor with markdown support and publishing capabilities. With a minimalistic design and a clear interface, writers can focus on getting their work done. The tool works great for both experts and others who need only a basic text editor. You can also publish your content directly to Medium, WordPress, and other platforms.
Also, Byword supports Markdown language, which is simple to learn as there are only a handful of codes needed. If you don't want to learn Markdown, you can apply a limited number of styles using the Format menu of Byword. Moreover, the files are saved on iCloud that allows you to sync them with your iOS devices as well as Mac.
Key features
Access documents offline
Filter documents by searching all text
Complete Markdown support
Export documents to PDF and HTML documents
Multitasking and split-screen for iPad
Voiceover support
Spelling and grammar check
Pricing
14. Script Studio – Best tool for screenwriting
Script Studio is among the handful of writing apps that are entirely devoted to screenwriters, novelists, and play writers. Its most unique feature is that it not only eases the entire scripting process by offering services like text-to-speech, but it also helps you to become a better screenwriter through a scene-by-scene breakdown of major movies.
Script Studio has a clean interface that makes it ideal for users who want to create manuscripts. You can take notes through a scratch pad designed to manage tasks and write down ideas. It is also a strong player in the exporting game where you can export your manuscript to almost half a dozen file formats.
Key features
Industry-standard script formatting
Character development
Story outline
Story structure with color-coded acts
Different writing modes and templates
Dictation assistant
Analyze story pacing
Pricing
Script studio Mac download for $199.95
Script studio Windows download for $199.95
15. Grammarly – Best grammar and spell checker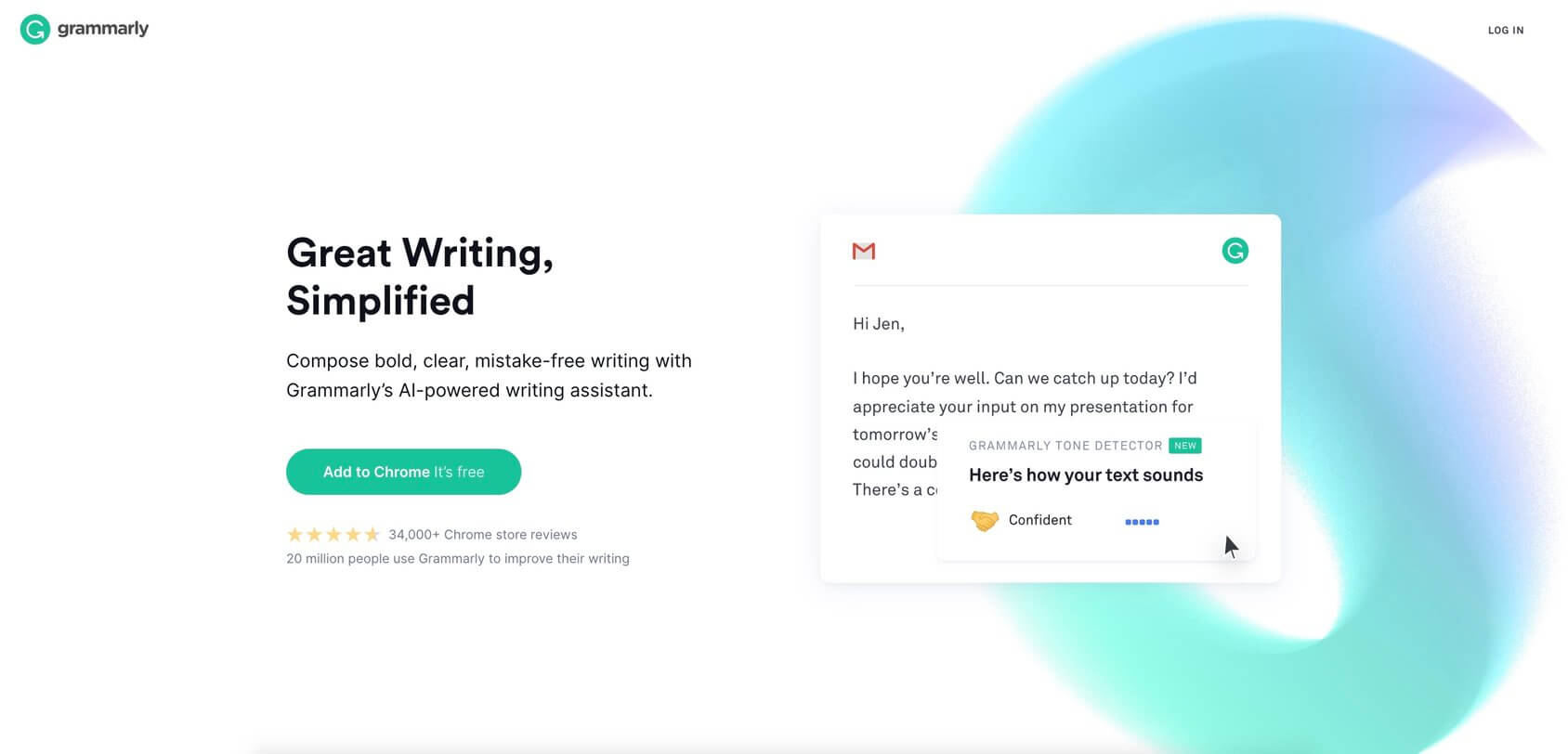 Grammarly is the most popular grammar software for writers on the internet. It analyzes a piece of text you have written and checks for any errors. Whether you are doing professional writing, casual writing, or hobby writing, Grammarly can help you make your emails, social media posts, blogs, or formal papers, error-free. After detecting the errors in the content, it provides you with helpful suggestions on those errors to make your writing clear.
You can even set writing goals on Grammarly based on audience, style, domain, or intent. Recently, they have added several features to help you deliver perfect content.
Key features
Critical grammar and spelling checks
Genre-specific writing style checks
Grammar rule explanations
Microsoft Office integration
Grammarly editor
Personal dictionary
Pricing
Free plan with basic writing corrections
Premium plan for $11.66/month billed annually
Business plan for $12.50/month/member billed annually.
16. ProWritingAid – Best grammar checker and style editor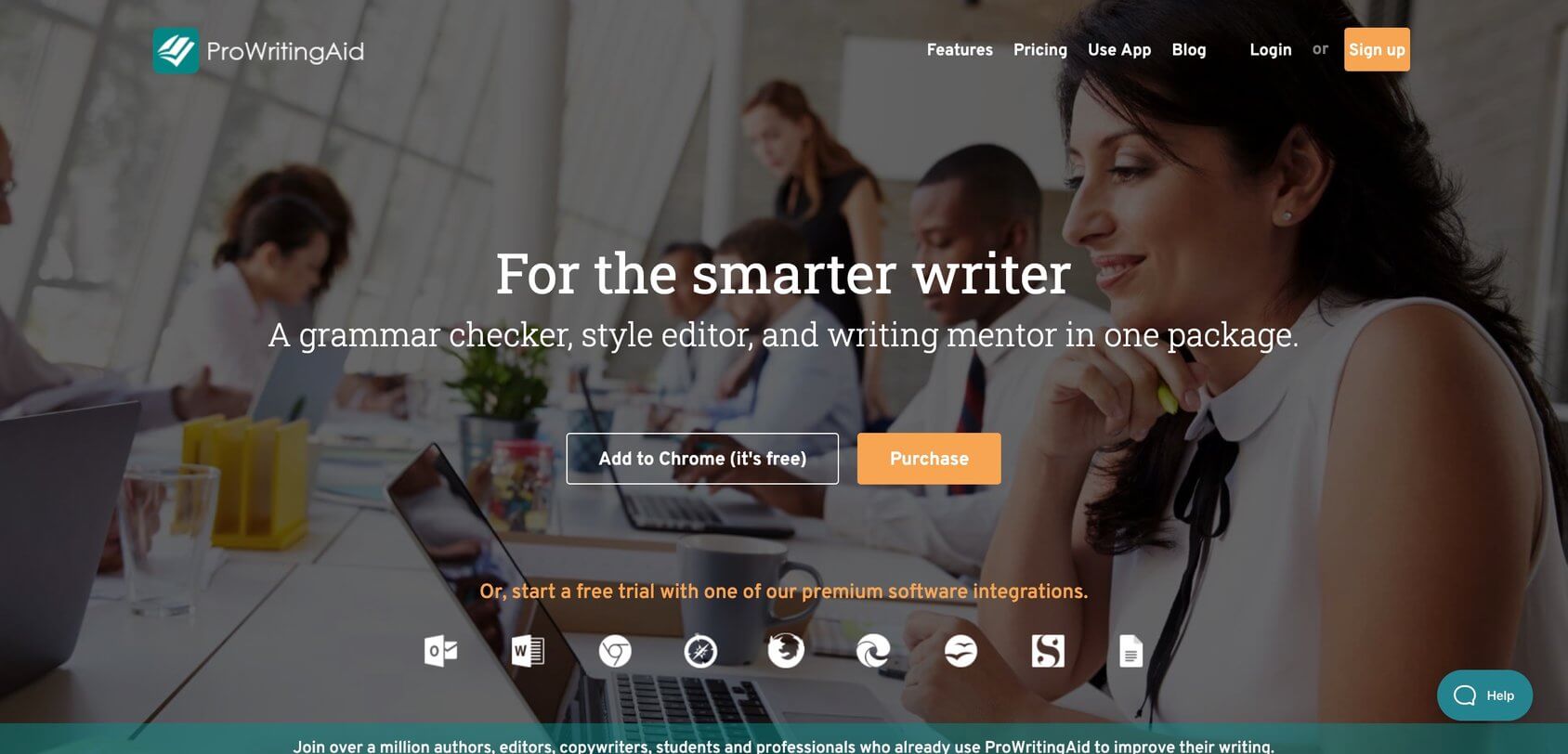 It is more of a grammar tool than a writing app. But ProwritingAid has brilliant features that can act like a built-in writing coach making it perfect for non-fiction writers. You can easily integrate it with any device or browser you use. It will even work with other writing software like Scrivener, Google Docs, or Open office.
Also, it will give you feedback on style, the structure of your piece, and even the readability score. Moreover, its excellent software reporting will detect common writing issues like the use of passive voice, over usage of adverbs, and much more.
Key features
Fast editor
Eliminate spelling and grammar errors
Contextual thesaurus
Learn while editing with explanations
In-depth writing reports
Better integrations
Pricing
Monthly subscription for $20
Yearly subscription for $79
Lifetime subscription for $299
17. Hemingway App – Best editing tool for writers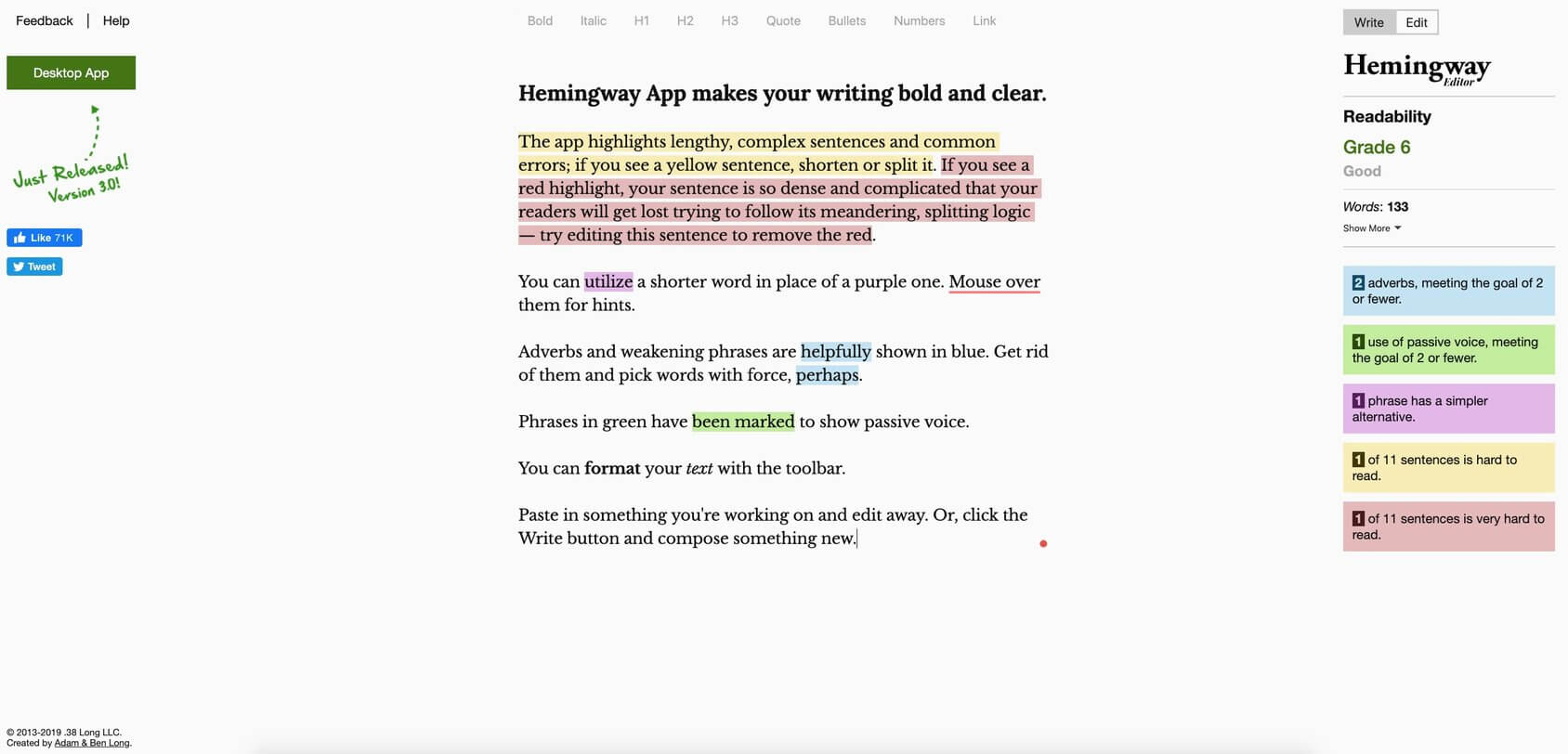 There are all sorts of writing software out there, but the Hemingway app is unique. It is based on Ernest Hemingway's iconic writing style. It is a distraction-free editing tool that is designed to polish your writing while identifying common errors that affect the quality of your piece. These errors include confusing sentence construction, use of weak adverbs, over usage of passive voice, and much more.
The writing mode of this app shows a minimalist interface. There are no page breaks or detailed formatting options to create print layouts, which make this app truly about writing only.
Key features
One-click publishing
Color-coded improvements and suggestions
Readability score
Word count tracker
Online and desktop editions
Distraction-free writing mode
Pricing
18. Reedsy – Best tool to self-publish books
Reedsy offers an entirely new eco-system for authors to help in creating beautiful books. It has two main modes: the editor and the marketplace. Both are offered through an easy to use interface that makes it simple to find editors, proofreaders, cover designers, ghostwriters, and marketers who can help you with your book production. The editor allows you to import your finished manuscript and export it for digital or print.
The most attractive elements of this platform are that the editors set their rates and payment quotes. These payments are collected by the site that saves editors from dealing with collections as well.
Key features
Edit with a professional
Export to PDF and ePUB
Beautiful interface for distraction-free writing
Track changes
Professional themes perfect for ebooks and print
Pricing
Reedsy charges a 20% commission on collaborations
19. Campfire – Best for creative writing projects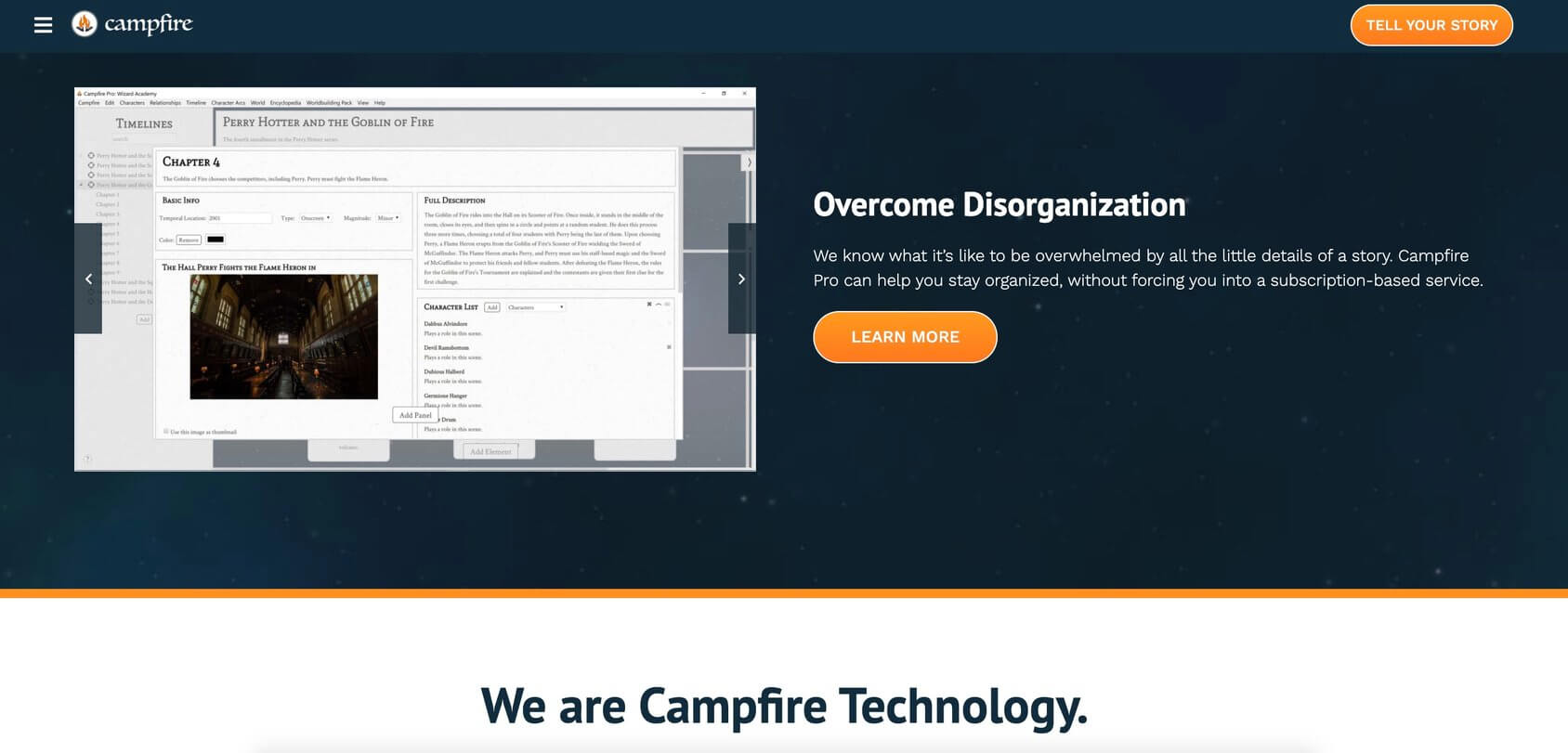 This program aims to be a comprehensive tool for screenwriting and writing in general. It is used by writers to create characters and world-building for their stories, whether they are an aspiring novelist or an amateur fan fiction writer.
Campfire writing software helps in organizing your storyline between minor and major events along with the scenes that are part of those events. You can create your characters according to a variety of categories like religion, cultures, philosophies, and systems. After creating the character, you can export their file to either a PDF or a campfire file called CHAR. If you want to write a book but cannot think of a plot to start with, this is great writing software to use.
Key features
Visualize character arcs
Keep track of multiple timelines
Develop scenes
Color code and organize scenes
Encyclopedia and notes
Pricing
Free trial for ten days
Pro plan for $49.99
Pro and world-building pack for $74.98
20. RoamResearch – Best note-taking app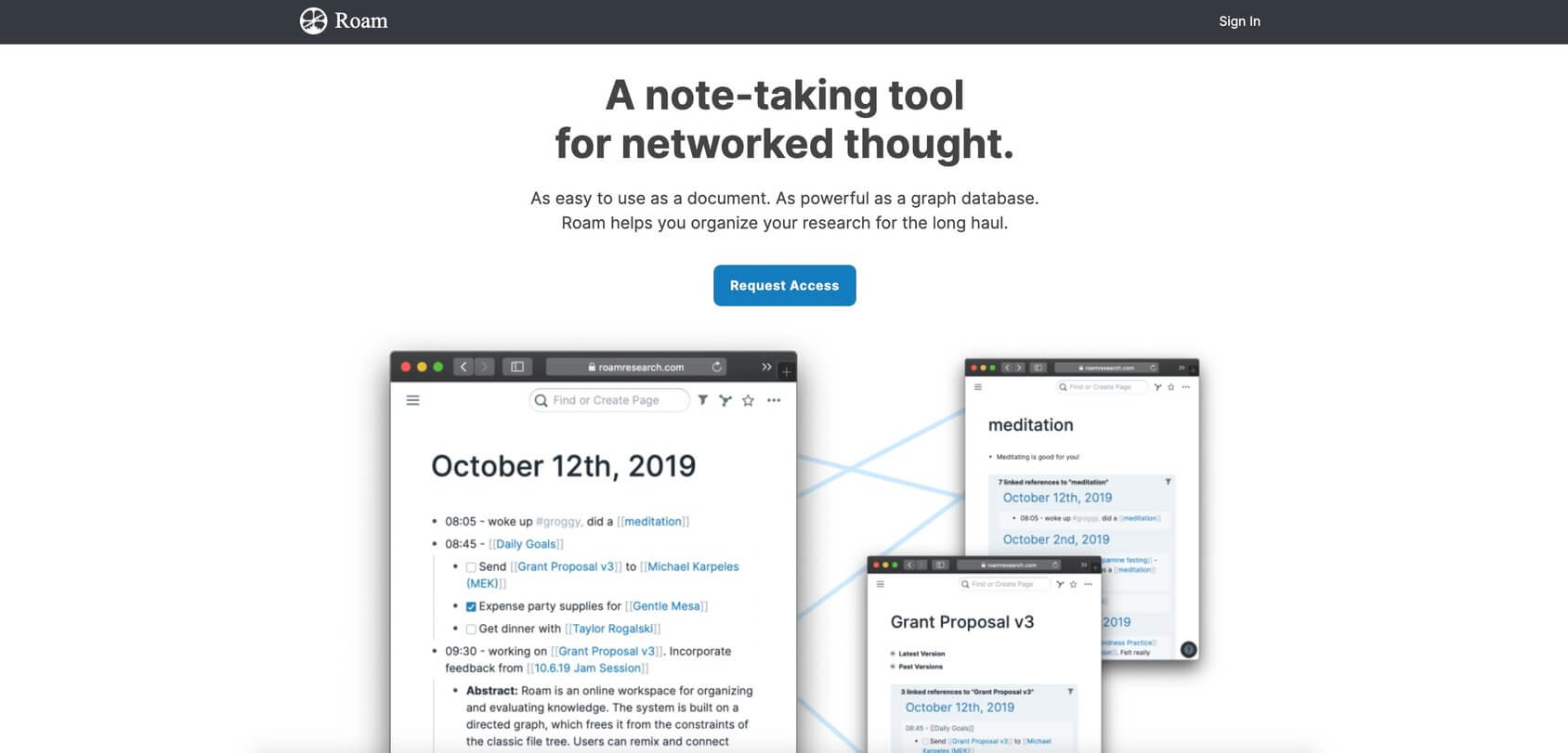 It is a knowledge management tool that helps users write and organize ideas and thoughts effectively by solving complex problems. This easy-to-use tool also allows the users to interact with each other in real-time, and thanks to the bi-directional links engine they can create links between two corresponding pages. In case, one of those pages does not exist, a new page can be created and linked to from the existing page.
This app has a comprehensive database that can help you explore its capabilities that include code insertions, images, videos, tables, lists, diagrams and so much more.
Key features
Automatic display of backlinks
Auto update of Wiki links
Easy links and page creation
Bi-directional linking
Easy journaling
Pricing
No pricing information available yet
How to choose the right writing software?
Writing software is essential for a novelist, screenwriter, or a play writer. They structure the entire writing process and shape the way we relay our ideas to the world but also how we work through these ideas ourselves. Selecting the right tools boils down to three critical factors: power, usability, and features.
When we declare any software as the best out there, power is the most important consideration. This is because it should be able to handle all that you want it to. After that, you must not compromise on its usability because only if a platform is easy to use, will you be able to execute your projects effectively. Features make up the entire writing software, and they must align with your requirements and what you want to achieve through that writing tool.
Other vital questions include:
How much does the writing software cost?
Does it offer any extra features?
Is it user-friendly?
Can you access files no matter where you are?
How easy is the collaboration with editors and other team members?
Does it have templates available?
Can you distribute it to other platforms after publishing?
Best of the best
Writing software designed to write a book, blog, or screenplay can make your writing process more organized, efficient, and focused that will ultimately allow you to write faster.
But many different writing software fulfill writer requirements. Therefore, it is essential to learn which one is right for you according to the features you prefer before investing. After all, choosing the wrong software can affect your writing style and productivity.
Best free writing tools
Are you a blogger, author, content writer, novelist, or a student? You want the best writing apps and software that will do the job for you. But you don't want to pay a lot of money to write more effectively. Well, there's no need to spend a penny for tools that can help you write more productively.
The following are two of the best free writing tools that are unrestricted and free to use.
Like Microsoft, Google is a suite of tools, but a significant difference is that Google Docs is available for free online. You can quickly adapt to this tool if you are familiar with Word – even the formatting options, and the user interface is similar to Word. Writing projects can be easily shared using Google Drive that also comes for free while providing plenty of space for writers. Even if you are working with other writers or editors, Google Docs allows you to collaborate with ease.
Key features
Clear formatting
Import word documents
Export in Word or PDF formats
Work offline with chrome extensions
Create and edit documents online
If you are a Mac user and you need a word processor, Apple pages can handle everything that you need it to do. You can start with a blank document or even select a template. The interface is very easy to work with, and all the text formatting, fonts, and writing tools can be found easily. Also, it directly saves the documents on the iCloud or your hard drive so that you can access them through any Apple device.
Key features
File duplicate function
Export documents directly to epub
Spell checker
Word count tracker
Comments option
Best editing tools
Writers are always looking for tools that help them improve their writing and produce pieces that are free of errors. Spelling and grammatical mistakes are not only embarrassing, but they also affect the quality of your content.
The following are two best tools that will not only improve your writing but also make the editing process a lot easier and more effective.
You can use this tool as a standalone or integrate it with Microsoft Office, Google Docs, or Google Chrome. Just like other writing tools, it edits your work and provides you with immediate feedback. It also gives insights into your writing with a readability score, sentence structure, and dialogue assessment, etc. It is a complete tool for all your editing needs. It is a free version that comes with necessary features, but if you want a plagiarism checker, you will have to buy the premium plan.
Key features
Eliminate embarrassing errors
Writing style report
Grammar report
Overused words report
Redundancy report
It is available as a web version as well as in the form of a Google Chrome extension. It provides excellent editing features that can be used across a wide range of platforms. The interface is really simple to navigate – all you need to do is type or copy-paste the text in the textbox, and it will give you an instant grammar check
Key features
Corrects over 250 grammatical mistakes in one go
Covers contextual spelling errors
Explains the errors
Gives suggestions
Best writing organization tools
Writing can sometimes be challenging, but keeping everything organized as you write can help you produce a quality piece. In addition to this, if you are working on a complex project, you will have to manage several resources, notes, and articles.
Therefore, you will benefit from organizational tools that are designed to keep everything in one place. These are two of the best writing tools that are there to keep you organized.
If you are continuously switching between projects with a computer, notebook, and even your phone notes app filled with scraps of info – go for the Scrivener app. With it, you can brainstorm, outline, and write projects in a neat and tidy app that lets you move between chapters, notes, and other resources. You can even open four files at the same time for easy reference.
Key features
Easy overview of the entire manuscript
Color code documents
Autosave and backup
Import research documents, weblinks, and photos in the project
Note-taking helps writers keep track of all the tasks and personal anecdotes. Evernote is the biggest player in the organizational note-taking app market. It also allows you to scan and digitize any kind of document.
Key features
Manage and keep records online
Collaborate with your team
Sear handwriting
Web clipper
Document scanning
Best book writing software
There is more to writing a book than just droning on and on about your ideas. If you are writing a novel, you need character building, world building, outlines, and a lot more to grab your audience.
Here are two of our top picks for best book writing apps that help write novels, outline, edit, and format.
Reedsy helps you in finding quality author services for self-publication. It has a variety of authors and publishers you can connect with for exposure. When you sign up for it, your book gets promoted to the reviewer community, and then reviewers can preview your book. It also works as a focused tool that makes your book look great on the page and ensures that the inside matter is just how it should be.
Key features
Professional assistance
Book formatting
Insert extras
Export content
It is a revolutionary tool for writers who want a plot and plan out their stories. It allows you to build your characters and even an entire fictional world all in one place. It is the best writing software used by novelists and screenwriters who need to go from an idea to an executed plan. Campfire provides flexible and inspiring features to achieve these goals.
Key features
Plot design
Character development
Maps and pin locations
FAQs
How can I start writing?
Writing the first line can be critical, and if you are still unsure of what to write, you need to start by setting up a space that's conducive to writing.
After that, develop a writing habit by starting slow and writing just a few hundred words regularly. Then you can increase your daily count once the habit starts to form. Create a book outline first to start writing and try to maintain your focus from the start. You can even schedule your book writing time, and during that, you must minimize all kinds of distractions.
Do you need any tools to start writing?
No, you do not need tools to start writing, but these writing tools can help you create effective and organized pieces that are free of errors or any embarrassing grammatical mistakes.
How do I start writing a blog?
To write a blog, you need to find the specific niche you want to write on.
After that, you need to get your blog online through a blogging platform that offers all the features you need to help your blog grow. Then choose a template according to the nature of your blog and start writing posts.
What are the different types of writing?
There are eight types of writing styles:
Narrative writing
Descriptive writing
Expository writing
Persuasive writing
Objective writing
Subjective writing
Creative writing
Review writing
What are good writing topics?
Write about all that you want to write about! Your experiences, current events, something that you are passionate about, or something that you want to change in the world through the power of your words – these are all pretty good topics to start with.
Conclusion
Writers have many tools at their disposal, and we have only covered the best options on our list. Though we believe that our picks are best for their categories, only you can best judge the right writing software and its features that will help you accomplish what you need to.
Through our comprehensive guide on the most popular writing apps and tools, you can become a better writer and create even better and organized pieces.