Voog Review
Company Overview, Pricing, and Features
FirstSiteGuide is supported by our readers. When you purchase via links on our site we may earn a commission.
Read More
If you're not familiar with Voog (pronounced the same as "Vogue" magazine or the Madonna song) that's because until relatively recently, it was known as Edicy. Founded in 2007, it's an Estonian company that decided to change its name, because, well, why not? Although the name changed, its structural changes were not that major—and most were positive. But is it everything going in the right direction, or is this reinvention just an attempt to hide past mistakes?
Start and ease of use
Voog approaches things in an unusual order. First, you'll select a design theme, which you'll be able to see a live preview of on regular and mobile monitors. After providing your name, password and the domain of your choice (which will be given a voog.com extension), you'll be taken to your website editor. But before you dive in, there will be a pop-up window that asks for your first and last name along with your phone number. You can skip this for now, if you want.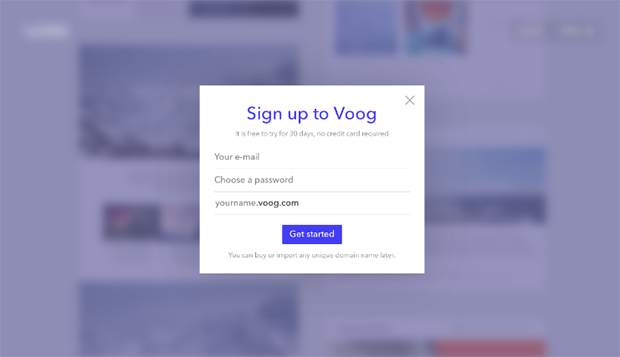 You'll be able to use your own domain if you choose or you can buy one through their associate, domains.com. Pricing for specific domains will vary, depending on the extension you want. Upgrading to .com—or anything other than voog.com—is always recommended if you want to be taken seriously. The editor itself is drag and drop, and everything you need will be either in the horizontal toolbar at the bottom of your page or in buttons embedded in the page elements. Working with them is easy, and adding or deleting them is a breeze.
Website options
When you start out, you'll get 2 GB storage and 30 pages, which is enough for any small business. You'll have a 30-day free trial after which you'll have to select one of the paid packages. This gives you plenty of time to test all the elements you would potentially use. Please note that you can get a lot of valuable audience insights, because in-house statistics are included from the get go and, besides looking snazzy, they're quite informational. They even include mobile statistics, because all templates are responsive and statistics are divided by browsers.


Although the design templates are quite customizable, there are some minor kinks that can be taken care of, if you know how to code. Yes, if you are so inclined, you can write code. There are two relatively hidden gems you should be aware of. First is their multi-lingual feature. While there is no automatic translation (and any translator will tell you that computer translations end up with some major errors), you can choose a language based on the visitor's location. Or, in the upper right corner, there's a small flag that allows visitors to change the language as they wish. This is very useful if your visitors come from different countries and it's one of the best integrations of multi-language tools we've seen.


The other hidden gem is their blogging tool. While a lot of website builders have a tool that will simply connect an external blog to your website, Voog offers an integrated blogging platform that's simple to use. In addition to plain text, you'll be able to edit tags and comments—and adding videos and images is easy. The comments section is provided automatically. You can also add products to your website, but when it comes to the online store, you might want to look for other web builder solutions.
Website editor
When you go to the editor the first time, you might miss the toolbar. It's discreetly positioned at the bottom of the page and will pop up with the right tools when you need them. Most of the page will be occupied with your website page and elements. Every element will have a little pop-up button, which if you select it, will open a new menu. In the upper-right corner, you will see a small +Add button that enables you to add more pages. What's especially neat is that you'll get a pop-up menu that will allow you to choose the title, address, layout and visibility of the page before creating it.


Back to the toolbar at the bottom of the screen. The tabs are: Content, Files, Blogs, Stats, Settings and on the left, Account. With Content, you can add different elements to your page and Files is where you upload and collect files that you need.

Blog is a neat little tool that integrates native blogging with all the necessities. The Stats tab is self-explanatory and Settings is where you'll access general settings, the structure of your website, domains, forms, customize your design, and more. Account is where you manage your websites, subscriptions, profile and referrals.


On the right side of the toolbar, you'll see several self-explanatory icons. From left to right they are: Save, Manage (page settings), Preview, Help and Sign out.

The only annoyance we found is the image gallery. Adding your visuals takes an extra step you don't have to take with other web builders. First, you need to add your images to the Voog gallery. Only then can you position them where you want in the web builder. And, if you want to edit images, you're out of luck. There are no editing tools. If you want to integrate social media tools, you won't see them immediately, but they are available somewhere in the toolbar. If you need some help with that, don't be afraid to look up their helpful tour guides.
Templates and mobile
Voog offers only 15 design templates. However, each is very different from the others and all are fresh and modern. And they are all responsive. You can even see a live preview while selecting your template. Switching between templates is easy, however, there were some kinks while trying to customise them. Not a big deal, but if you are searching for 100-percent flexibility, you should probably try their template code editor.

E-commerce
E-commerce is where Voog falls flat. They offer no built-in shopping solution. There is an option for adding your products to the site, but no direct way to install an e-commerce tool for them. You can add a third-party solution through their code editor, but that's a roundabout solution that we find cumbersome.
SEO and statistics
When it comes to statistics, Voog has one of the snazziest built-in solutions that we've seen. It will give you an overview of your metrics, visitors, browsers, countries, content, referrals, searches and more. Simple, stylish and effective, this is a Voog feature to which other website builders should aspire. Additionally, you have the ability to incorporate external codes.

As for SEO, there's not a single, easy tool to manage it. To manage general aspects of your website, you'll have to go to Settings, then Structure. Settings for individual pages have to be managed from within each page. Logical, but a bit annoying when you can't have it at one place.
Hosting and exporting
When it comes to hosting, the more you pay, the more you get. With the middle-priced package, you get a custom domain. The most expensive package lifts all limitations on storage. There's even an option to have a self-hosted Voog website. And, when it comes to exporting your website, you won't hit the standard industry brick wall. There's an option to export your website as a zip of static html and pics. Nice touch.
Help and support
Voog is a bit, um, lacking when it comes to support. While the editor is quite easy to understand and use, there is no 24/7 support, which is a disadvantage to any Internet-related, non-geographically bound product. Phone support is available from 8am to 4pm CEST (Central European Summer Time). The only other way to contact their team is through their support form or through their website editors "Ask us," which is essentially the same thing. The response will come to your email. So there is no chat or ticketing support, but there is a resourceful knowledge base.

While response time and manners were on par with the competition, having a website that doesn't have professional support around the clock is either very confident, because they are sure nothing will go wrong, or a gamble.

Pricing
Voog has a 30-day free-trial policy. However, keep in mind that it's a European-based company, so all prices are expressed in Euros. You can also save up to 28 percent if you pay for a full year in advance.

Standard Plan €8/month
2 GB storage
30 pages
3 languages
ability to connect custom domain
3 users
password-protected page
Plus Plan €14/month
10 GB storage
unlimited pages
free custom domain
database tool
Premium Plan €49/month
all resources are unlimited
priority support
full SSL connection
Pros
easy integration of multi-lingual websites
compact blogging tool
easy to use drag-and-drop editor
developer friendly
Cons
no integrated e-commerce solution
no editing tools for visuals
some things are adjustable only through coding
small number of design templates
Conclusion
Voog is a great little website builder that's extremely multi-language friendly. It's WYSWIG and drag and drop with a relatively short learning curve. Voog is beginner friendly, but doesn't shy away from advanced users with its ability to reveal its code. Sure, there is a relatively small number of (responsive) design templates without an option to import your own, but they are different and distinctive enough that you can build an original-looking website.

However, the lack of an in-house e-commerce solution is a major drawback. Although they promised to deliver one in 2015, it still hasn't happened. Ouch. Another head scratcher is the lack of 24/7 support. However, its interface is clear and the knowledge base is extensive. This is not a bad website builder, especially if you need a multilingual website. If you also need an online store, you should probably look elsewhere.