WebHostingPad Hosting Review
Company Overview, Pricing, and Features
FirstSiteGuide is supported by our readers. When you purchase via links on our site we may earn a commission.
Read More
WebHostingPad Hosting Review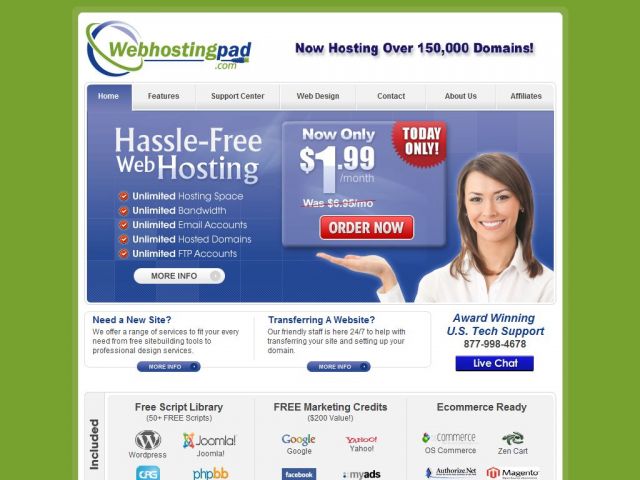 With times being tougher than we've seen in a long while, cheap web hosting is more attractive than ever. These services have proven quite useful as they provide everything needed to build and maintain a website, while allowing customers to enjoy significant cost savings in the process. The market for cheap web hosting solutions has become huge in recent times, and WebHostingPad happens to be one of the most popular options in this segment.
Established in 2005, WebHostingPad is an up and coming company that aims to provide customers with the best bargain for their money. The cost of service is definitely affordable, but does it truly result in the best value? You be the judge after reading this WebHostingPad review.
Price Value
Whether it is a special promotion or just the regular price, hosting plans with WebHostingPad have always been cheap. Catch these guys at the right time, and you can easily find a plan priced at under $5 per month. Considering that you get so much for so little, it certainly appears that WebHostingPad offers a solid return on your hosting investment. However, value means different things to different people, and as you continue to read, you will see that not everyone agrees with this assessment.
Features
WebHostingPad essentially offers all the features that have become common on today's web hosting market. On the menu you will find unlimited email accounts, your choice of three webmail programs, and efficient tools that help you keep spam out of your inbox. You can also count on unmetered bandwidth and disk space as well as a handy file manager that allows you to upload and download to and from the server. WebHostingPad may lack on some of the features found in other packages, but they do provide you with more than enough to work with. In fact, its plans are ideal for personal and small business needs alike.
Free Software
It has become a common practice for web hosting companies to offer a wealth of free software programs with their packages. WebHostingPad follows this trend, and has plenty of applications you may find useful. Bundled in your package are a variety of blogs, shopping carts, content management systems and other software platforms that can be used to enhance your web presence. One of the most unique aspects of WebHostingPad is its utilization of Softaculous. Similar to Fantastico, Softaculous allows you to install program like WordPress, Cube Cart, Joomla and others in a single click. It is one of the few companies to offer this utility.
Control Panel
WebHostingPad provides you with the cPanel control panel to manage your website and hosting account. The leading control panel on the market, cPanel is incredibly easy to use, but has enough power for advanced webmasters to appreciate as well. From a cleanly designed, centralized interface, you can manage everything from the files you upload to the server to the email accounts you set up for your employees. You also have the ability to view traffic statistics, create encryption keys, add domains onto your account, and much more. When it comes to website administration, it just doesn't get any easier than cPanel.
Customer Support
Support is one of the most important factors that must be taken into consideration when looking for a web host. According to customers, it also happens to be the area WebHostingPad could use some improvement in. The company has received mixed reviews in the support department. While some customers say the staff is responsive and helpful, the comments of others are not so positive. Many of the bad reviews touch on WebHostingPad's inability to help customer's solve their problems, which could point to a lack of knowledge in some areas. On the bright side, the host does offer support through multiple channels – toll-free phone, email, and live chat included.
Technology
The WebHostingPad platform is built on smart, and efficient technology. Your site runs on the Linux operating system, which is accompanied by the Apache web server and MySQL database system. The platform offers support for a range of server side programming languages, including PHP, Perl and Python. There are also server side includes and CGI scripts available for easy and convenient dynamic content creation. WebHostingPad has the technology that offers simplicity to inexperienced users, and advanced functionality to the seasoned webmaster.
Service Reliability
WebHostingPad's service is backed by an industry standard 99.9%. The company uses the best breed of software and operates out of a state of the art data center. Located in Torrence, California, the facility is equipped with everything needed to maintain a high level of reliability. There are systems in place to keep the equipment cool, in addition to UPS units and generators to provide backup power in the event of an outage. From regular server backups to onsite personnel, the WebHostingPad infrastructure looks the part and then some.
Despite all its efforts to maintain a reliable service, there have been numerous complaints made against WebHostingPad's overall reliability. Most of the complaints we have encountered site slow website performance as the main downside. However, performance is one of the biggest drawbacks of shared hosting, and the fact that WebHostingPad is growing fast could have a lot to do with this as well. Although excessive downtime does not appear to be a problem, a sluggish website may warrant enough concern on its own.
Extras
WebHostingPad does have a few extra perks that make its service more attractive. In addition to a free domain name registration, the company offers some nice freebies that can help with your website promotional endeavors. When signing up, you receive a total of $200 in free advertising credits through Google, Yahoo, Facebook, and MySpace. This is essentially free money that can be used to generate traffic to your products or services.
Conclusion
If you want a feature-rich web hosting plan without paying a lot of money, WebHostingPad can deliver. However, its track record in the crucial areas of support and reliability are cause for concern that should have you thinking twice before making your final decision. Having taken all this into consideration, it should be a little more comforting to know that WebHostingPad is indeed an award winning company with more than 150,000 domains hosted, which means it is certainly doing something right.