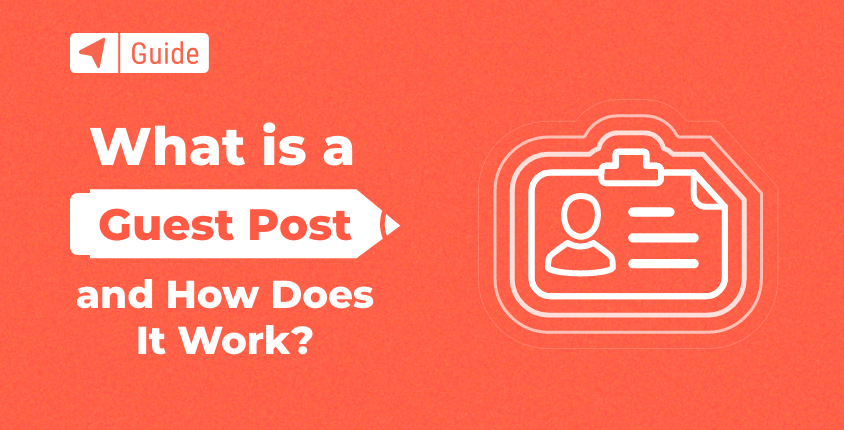 As a general rule of thumb, if you want to enhance your organic marketing efforts, drive website traffic, and reach wider audiences, you'll need to commit to creating quality content – but not necessarily just for your blog or website.
High-quality content can get you noticed even when it's published on third-party sites, as long as they're relevant to your niche. This practice, known as guest posting, presents you with unique opportunities to spread your brand message, connect with your target markets, and establish yourself as an industry leader.
Find out what guest posting is, how it works, and how you can make it work for you.
Table of contents
Guest posting explained
Guest posting, or guest blogging, involves creating original content and publishing it on a site that's not your own. Although it may seem counterproductive – why put in the effort to create great blog posts only to publish them on someone else's site? – it can benefit both the writer and the publisher.
While you would publish your posts on different sites, you would still get the writing credit and, most importantly, the chance to include links to your site, products, or even affiliate partners.
You can create content that supports your marketing efforts and allows you to spread your brand message quickly.
How the process works
To start guest blogging, you need to reach out to potential publishers. Most guest bloggers handle the outreach process themselves. Honestly, chances are low that a site owner would approach you and ask you to write for them, so this outreach is important.
Many well-known sites have specific instructions for their guest writers that you would need to follow. You'll usually receive a selection of accepted topic categories, a minimum and maximum word count for your article, a particular writing style you'll need to follow, and more criteria. If your content doesn't match the publisher's guidelines, they won't accept your guest post.
In most instances, you'll be offering your content for free as a way to boost your own and the publisher's website traffic. However, some publishers will charge you a fee for guest blogging, since it's effectively a marketing channel for you.
Guest blogging benefits
As previously mentioned, guest blogging offers some unique benefits to both writers and publishers. That's why it's such a widespread practice and why so many websites are looking for guest writers.
Take a look at just some of the benefits that you could enjoy.
Benefits for guests
As the writer, aka the guest, you'll get the opportunity to collaborate with organizations within your industry, build connections, and improve your networking. You can make use of your publisher's reach to boost your brand awareness and get in touch with your target audiences. You can share your expertise, build up your reputation, and establish a stronger online presence.
Most importantly, this exercise helps you to build up niche authority and inspire brand trust among your readers.
Benefits for the publishing platform
The publisher of your guest posts enjoys some benefits of their own. Without these benefits, not many site owners would be interested in posting guest content.
The most important benefit for the publisher is fresh new content with a unique perspective. Many publishing platforms struggle with delivering regular, original content that resonates with their readers and sparks their interest. Guest posts allow them to keep these readers engaged, making them want to come back for more.
The publishers also receive an SEO boost, a potentially better SERP ranking, and higher traffic. They build their authority by collaborating with experts (guest bloggers) from various fields, enhancing their own brand awareness.
Establishing guest posting goals
Considering just how advantageous guest posting can be for your brand, it might seem like it's a good idea to jump straight into it. However, there are a few things you should do before you start reaching out to potential publishers. The first task is to establish your guest posting goals.
Creating content without a clear goal in mind won't deliver any measurable results, so you need to consider why you're even looking into guest posting.
Promoting products/services or brands
Promoting products/services is one of the most common reasons why brands consider guest blogging. It allows you to present your offer in the best light possible, highlight your strengths, and give a well-thought-out sales pitch to brand new audiences.
If you have no products/services of your own, you can even use guest blogging to promote your affiliate partners and advertise other brands.
However, regardless of whether you want to promote your or your affiliate partner's brand, you'll need to be careful with this type of guest posting goal. So many publishing editors agree that the guest content they receive is too promotional, which commonly renders it unusable.
You can use your content to boost your marketing efforts, but make sure that any brand, product, or service mentioned is seamlessly integrated into your article.
Building traffic
Guest blogging is an excellent way to drive your website traffic and generate qualified leads, but only if you do it right.
You want to publish high-quality content that offers value to the publisher's readers. You need to pique their interest and impress them with your unique skills and expertise if you hope to attract them to your site.
Backlink building
Backlinks are a critical aspect of SEO that can help you to rank higher on SERPs. In essence, they act as a vote of confidence, signaling to search engines that your site has something of value to offer.
When one site includes a link to your site, it's basically recommending its visitors go and visit you because the information you have is reliable. The more sites that link to your own, the more trustworthy you will seem to search engines and the higher they will rank you. It's simple math.
Although the goal of virtually every guest post you create will be backlink building, you'll need to be careful with it and ensure that it's not your only goal. Google and other search engines aren't big fans of backlinking schemes and similar black hat SEO strategies.
Your backlinks need to make sense for the content that you create, and they need to bring value to the reader. If they don't, you could face penalties.
Establishing authority
The best guest posting goal you could have is establishing your authority.
Guest posting is essentially like being a guest speaker holding an important seminar – you get to share your expertise with the world, connect with the audiences within your niche, and build your reputation. It offers a chance to establish yourself as a genuine authority in your industry.
With such a goal, you'll find it easier to create meaningful content that educates your readers and highlights your brand's strengths. You'll be able to attract audiences, establish meaningful connections with them, engage, and inspire them. Most importantly, you'll be able to stand out from the crowd and showcase your unique brand value.
Recognizing good guest post opportunities
When you first start researching guest posting, you'll find that virtually every blog and website is looking for guest writers. But that doesn't mean that every blog and website is a good publisher for you.
To find excellent guest blogging opportunities, you'll need to scrutinize every site and learn how to recognize the best publishers for your needs. You can do so by answering a few simple questions:
Is the blog's niche relevant to your industry?
You're creating guest posts to attract attention and generate qualified leads through your publisher. You won't be able to do that if the publisher is in no way connected to your industry.
If you're offering dog training services and want to attract new clients, an article about "dog training mistakes to avoid" won't generate much interest on a site dedicated to cloud hosting solutions. The two industries don't have anything in common, so your article would seem odd and suspicious to the readers, and you wouldn't enjoy any benefits from guest posting with such a publisher.
Does the audience of the blog have an interest in your industry?
Once you've found a publisher within your industry, such as a pet boarding service, for example, you need to take it a step further and assess reader interests.
Perhaps the pet boarding service is more popular with cat owners rather than dog owners. In that case, your article about dog training would generate little interest.
Do your due diligence, take a look at your publisher's most popular blog posts, examine the comment sections, and find out what their readers want to see. Only then decide if the publisher is suitable for your brand.
Does the blog have an active community?
As mentioned, the idea behind guest posting is to reach out to wider audiences. You can't do that unless the publisher has an active online community.
Assess their readership, examine the engagement levels of the blog's readers, check out the publisher's social media accounts, and see just how active the community is.
While it's not necessary for the publisher to be the best-known site in existence, you do want to guest post with someone who can help you to spread brand awareness, and for that, you need an active community that will engage with your content.
Does the blog have an established presence online?
Finally, you'll want to examine your potential publisher's online presence. Is the blog popular? Does it enjoy a good online reputation? Are the readers satisfied with the existing content, and do they trust the site?
Posting on a site that has a poor reputation will only reflect poorly on your brand. Any sentiments that online communities have regarding the publisher will be transferred directly to you. If the publisher is unreliable, you'll seem unreliable. If the publisher is a trusted source of information, you'll be regarded as a trusted source of information. Therefore, select your publisher carefully.
How to find the best sites for guest blogging
Upon answering the questions above, it's time to get to work and actually find a site that accepts guest posts. At times, that can be easier said than done, but all you need to do is follow a few simple steps:
1. Google your keyword with relevant terms
Sites that accept guest posts will almost always have a page dedicated to their writing guidelines or steps that writers need to follow.
To find such sites, all you have to do is use relevant guest posting terms and phrases together with your keyword or topic.
In practice, your Google search would look something like this:
[your topic] "guest post";
[your topic] "write for us";
[your topic] "become a contributor";
[your topic] "suggest a post";
[your topic] "write for"; or
[your topic] "contributor guidelines".
You'll find a list of the most popular sites that match your search, and you can start scrutinizing them to find the best match for you.
2. Find competitor backlinks
Another way to find good guest posting opportunities is by searching competitor backlinks. Most SEO tools such as SEMRush will allow you to search for their backlinks and examine all URLs that lead back to them.
Chances are that if a URL links back to a guest post written by your competitor, they'll allow your guest post and link back to you, as well.
3. Scrutinize the sites you find
Once you've done steps one and/or two, you can start looking into the potential publishers in more detail. Check their basic website stats such as domain authority, average views per article, daily traffic, and the likes. Examine their blogs and social media channels, assess their audiences and analyze their communities. Qualify the sites and create a list of the ones that you like the most.
4. Assess the publisher's content gaps
Even a site that's been posting articles every day since 1999 will have content gaps that you might be able to fill. Perhaps they have never touched upon a specific topic. Maybe they have an article that's outdated. Or, do you have new industry insights that could add to their existing content?
Identify all content gaps, then see whether you can fill them. If you can, come up with a few content ideas that you can present when reaching out to the publisher, then pitch your post.
How to pitch your post
With your publisher selected, it's time to pitch your post. Many blogs are very careful about choosing their guest writers. After all, they don't want to risk their reputation by recommending unreliable brands and services.
To assure your publisher of your brand value, you'll want to pitch your posts the right way.
Show your writing
Your previous articles will serve as excellent indicators of quality. Whether you only have a few blog posts on your site or have created guest posts for other publishers, make sure to send a few examples of your writing with your pitch.
The publisher will get to see your writing style, familiarize themselves with your work, and learn more about your business. They'll find it easier to provide you with relevant feedback and give you pointers that could help you to stand out to their readers.
Bring in valuable research
Few publishers will accept random guest posts that come out of the blue. If you want to get accepted, you'll need to show that you're just the writer that they need. You can do that by bringing valuable research to the table.
Explore the publisher's site and reference articles that they've already posted that are related to your pitch. Build on the ideas in some of their previous articles and share how you can create follow-up content that makes sense for their audiences. If there are any reader comments relevant to your guest post ideas, share the insights.
The better that you research the publisher, and the more you relate to them, the easier it will be for them to accept your pitch.
Respect the editor
Publishers that accept guest posts can receive hundreds, if not thousands, of pitches every single week. You won't get a response immediately, and it's very rare that your article will be published the very next day.
In all likelihood, you'll need to have some back and forth with the editor. You'll probably need to make some changes to your content, adapt your writing style, and make your article better suited for the site. Whatever feedback you receive from the editor, you'll need to listen to it.
Regardless of how perfect you believe your content to be, it's important to respect the editor and make the necessary changes if you want to get published.
Explain how your partnership will work
You and your publisher could have surprisingly different expectations from your relationship, so it's critical to make everything clear right from the start. Explain how your partnership will work, state what you want your articles to achieve, and clarify whether your guest post is a one-time thing or if you'd like to send articles regularly.
Pay attention to details
To increase your chances of success, you'll want to be very detailed in your pitch. Everything from your email subject line to your sign-off should be relevant to the publisher, and the content itself should be error-free.
If the publisher has guest post guidelines, follow them to the T. Don't go under or over on the word count. If you need to include three images, place them in strategic spots. If they're asking for Poppins font size 12.5, two inbound links, a bulleted list, and a 50-word conclusion, make sure that your content meets the requirements.
Keep it short but relevant
Finally, keep your pitch short and sweet. No one wants to read a 1000-word email when going through guest posting applicants. Quickly introduce yourself, briefly explain why you'd be a good match for their blog, give a few topic ideas, and state how you can benefit their readers. If you want to show your writing, include it as an attachment.
How to create relevant topics for that blog
It's your job as the guest writer to come up with appropriate topics for your articles. Ideally, you'll want to present at least a few ideas that could be relevant to the publisher. That can often be easier said than done, so here are a few tips to help you to come up with topics.
Know the readers of the blog
The single, most important thing your guest post needs to do is appeal to blog readers. That can only happen if you know who the readers are and what they want.
Spend some time analyzing your publisher's audiences, assessing their pain points, likes, dislikes, and preferences. Find out what they're looking for, then give it to them.
Focus on value
Guest posting is often treated as just another marketing channel to highlight your product/services, add as many backlinks as humanly possible, and promote your brand in every single sentence. Not only do publishers frown upon that, but search engines do, as well.
It's important to focus on value for the reader. Educate, inform, and entertain the reader. Deliver high-quality articles that offer something of value to your audiences.
Use tools to research topics
It can be difficult to come up with original topic ideas on your own, so don't be afraid to use some help. You have access to plenty of tools that can help you to research appealing topics and sub-topics, keywords, key phrases, frequently asked questions, and more.
Read about your industry/niche
Your audiences are often just as interested in your industry's trends and current events as you are. They want to stay updated on all of the latest news and receive first-hand information from trusted sources.
You can become that trusted source by reading about your niche and delivering fresh, relevant content.
Research keywords
Keyword research is critical for the success of your guest posts. It will give you a better idea of what audiences are searching for and help you to create more relevant articles. Also, it will help you to improve your post's ranking on search engines (as long as you're not using keyword stuffing tactics).
Be brave
Don't be afraid to write about seemingly unpopular topics. Examine the blogs related to your industry, check out your competitors' sites, and find content gaps that you could fill.
Use social media for research
Social media can be a great source of inspiration for your next guest post. Explore the popular hashtags, see what your target markets are talking about on social media, and take a look at your own comment sections (and your competitors') to find suitable topics.
How to promote guest posts
Finally, after all that hard work, you'll need to ensure that your guest posts reach as many readers as possible. In most instances, it's the publisher who will take care of the promotion of your post, but you can do your fair share as well:
Share the post on your social media channels;
Include it in your newsletters;
Share it in social media groups and forums;
Mention industry leaders, celebrities, or influencers that you've quoted; and
Link to your guest post in one of your own blog's articles.
It's not enough to share a link to your guest post once and be done with it. Continue mentioning it over the course of a few weeks, refer to it in your upcoming posts, and keep promoting it.
Establish a micro-niche within the blog
You'll need to create a micro-niche within your publisher's blog. Establish a mutually beneficial relationship with the publisher and offer regular posts. Engage in the comment section, respond to questions, and treat the readers as your own small community.
Conclusion
Guest posting is simultaneously the simplest and the most challenging tactic for spreading your brand awareness, building up your reputation, and reaching your target audiences. However, once you have succeeded at doing it once, it becomes much easier.
So, get down to business, find your ideal publisher, and start writing guest posts that speak to your audiences.