What Is a Press Release and How Does It Work?
FirstSiteGuide is supported by our readers. When you purchase via links on our site we may earn a commission.
Read More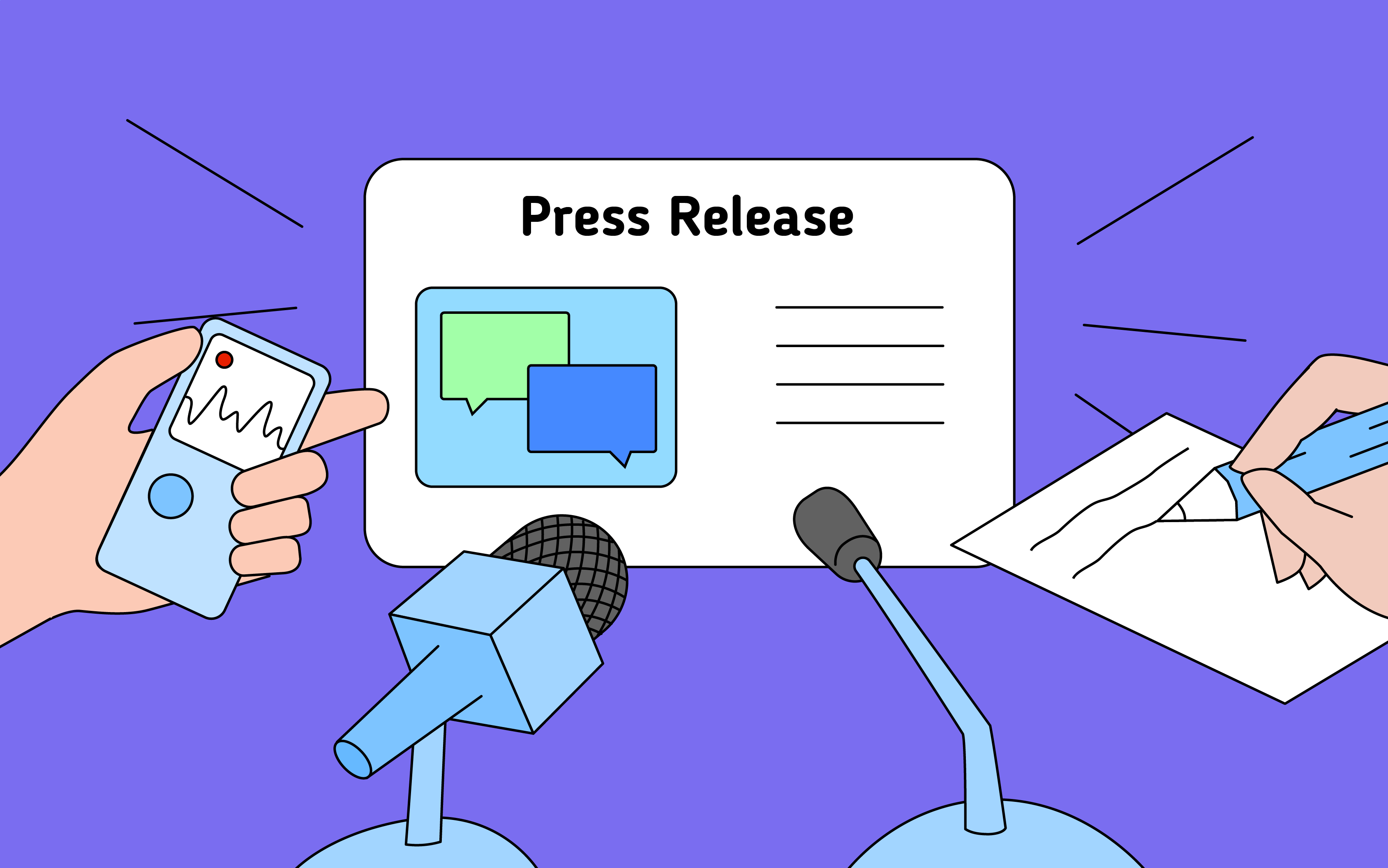 Are you thinking of adding a press release to your marketing arsenal?
It might sound outdated, but this tool can be very effective when you give it a fresh approach. If appropriately crafted, a press release can introduce your business to new customers, reinforce your public image, and share a new reason to love you with your loyal followers.
Here, we'll share more about what a press release is and what you can hope to achieve with it.
Defining a press release
Press releases are official statements that companies write and send out to media outlets for publishing. Journalists can either publish your press release as is without making any changes to it, or they can use the information provided in a press release to write their own story about your business.
For example, you can write a press release announcing the launch of a new product.
In this scenario, your press release would include information pertinent to the official launch and the story around it. What is the new product, how it came to be, and when can your customers expect to try it are some of the questions that your official press release should answer.
What is the goal of a press release?
What is the goal of anything we do in business?
To attract new customers and keep existing ones interested, of course.
A press release can support this aim in many ways. In the days before the internet, having news about your business published in the press was a prime marketing goal. It meant that you stood out among other competitors and were selected as an industry or niche representative.
It's a similar situation now, even though most people no longer read printed newspapers.
For a potential or existing customer, reading about your business in a respectable news outlet has much more impact than reading your mission statement on Twitter. It's proof that your brand is getting places by catching the attention of high-profile journalists.
The goal of writing a press release is to pique a journalists' interest and get your news out there. The ultimate goal, of course, is to increase your online presence, build your reputation, and reach new audiences. To do all of this, you need an impeccably crafted press release.
Types of press releases
There are a variety of different types of press releases. These types are not set in stone, as there are countless topics worthy of a good business press release.
To define what a press release can be about, it's perhaps useful to clarify that a press release isn't just any story about your business. Hiring a new employee is not exactly news material, but hiring an industry-renowned expert or executing a noteworthy expansion is.
In other words, at the center of a press release should be a story or an announcement that the public would want to read about that's something interesting, game-changing, or significant for your brand.
The following types of press releases are great examples of what you can create:
Company launch
A company launch is the most obvious example of a newsworthy event for any business. If you've just entered the market, you need all of the help that you can get in spreading the word. A press release is not only good marketing – it's also an excellent way to introduce your brand at no cost.
A company launch press release is an opportunity to share your brand statement and promise. To make it effective, include an exciting background story or explain how your offer can help solve a relevant problem – and of course, don't forget to invite the readers to visit your website.
Product announcements
Similar to a company launch, a big product announcement deserves a media scoop. You can write a press release about a product launch or a product update. It will tell your customers everything that they need to know about the new product and convince them to test it out.
Event launch
Are you hosting a big business event? Telling the world about it will establish you as a noteworthy name in the industry and make people pay attention.
If you're planning a grand opening or marketing event that customers should attend, having the news published in the press is not merely convenient – it's a necessity. Make sure to cover the what, when, and where, but also give them a good reason why they should come.
Expert hire
Having a big industry name join your company is a reason to celebrate. It means that experts would rather work with you than your competitors and that the best of your brand is yet to come. This is something that you should share with the press and their readers.
Partnership announcement
Partnerships move a business forward. They introduce a new chapter in a story of not one but two popular brands. Partnerships typically mean more changes for customers, so it's important to inform them in time – and like any other business milestone, it shows that you're growing.
Rebranding news
Rebranding is a pivotal moment for every company and its customers. In some cases, branding involves enormous identity transformations that require proper press coverage. You don't want to lose your existing customers just because they can't recognize your logo anymore.
A rebranding press release must include all of the vital information about how the brand experience will change for the customers, when and why. It should also provide reassurance from the top – a statement from your CEO that your brand is stronger than ever.
How they work
Now that you know what kind of a story or announcement deserves a press release, it's time to discuss more about how to make it more appealing to the reader, both for the journalist who needs to publish details and the consumer who needs to become your loyal follower.
Here's what you should do to make your press release work:
Inspire readers
How do you inspire readers as a brand? By giving them an example to follow. The most newsworthy brand stories are those that demonstrate that helping people in need and tackling unsolvable problems is a responsibility that we all share. All brands should work towards this cause.
Journalists and readers love an emotional story, especially if it comes with a happy ending. If you've recently contributed to an important cause, share that. Making it newsworthy does not make it a publicity stunt. Don't hide your generosity, but inspire it in others.
Impress people
You've served your millionth customer? That's an achievement that you should be proud of. Huge milestones and significant breakthroughs are prime examples of great press release material. Make them your hero message, tweet them, and send them to news outlets everywhere.
Now, these types of press releases require some tact. To avoid coming off as braggy, make your work speak for you. Press releases often include quotes from satisfied customers, research results, and case study excerpts. The bigger the numbers, the better.
Spark interest
If you've got something exciting in the works, let the press know about it. Traditionally, press releases include detailed information about the news, including places and dates. But if you want to provoke intrigue and tease your customers, a press release can do that, too.
Of course, you can't create a good press release around nothing. You need to reveal at least a little bit about a new project before you can close the release with "to be announced." For example, you can introduce a new product but tease the release date, or vice versa.
Show impact
Say you're getting ready for a big merger. Will the business aspect of it be interesting to your customers? Probably not. Some will want to read about the numbers and restructuring, but the majority will want to know if the merger will affect them in any way.
When writing a press release, you should always share the impact of your announcement. What does this mean for the customers? When will they reap the benefits? Or, in case your announcement doesn't affect the customer directly, how will this news change the future?
Importance
This brings us to a key element that all types of press releases have in common – the value of your story or announcement. What makes your press release important? There must be something there for the reader if they are going to devote their time to reading your statement.
Before writing your story, ensure that you've found the right angle or a good hook. If you don't have anything concrete to announce to your customers, make sure that your news is at least relevant to current news or offers a solution to a current problem.
Conclusion
If you need some help writing your first press release, feel free to consult our list of the best press release services – and if you don't, we look forward to seeing you in the news. Having your name in the papers will have fantastic benefits for your businesses, so hurry up.