What Is a Virtual Assistant?
FirstSiteGuide is supported by our readers. When you purchase via links on our site we may earn a commission.
Read More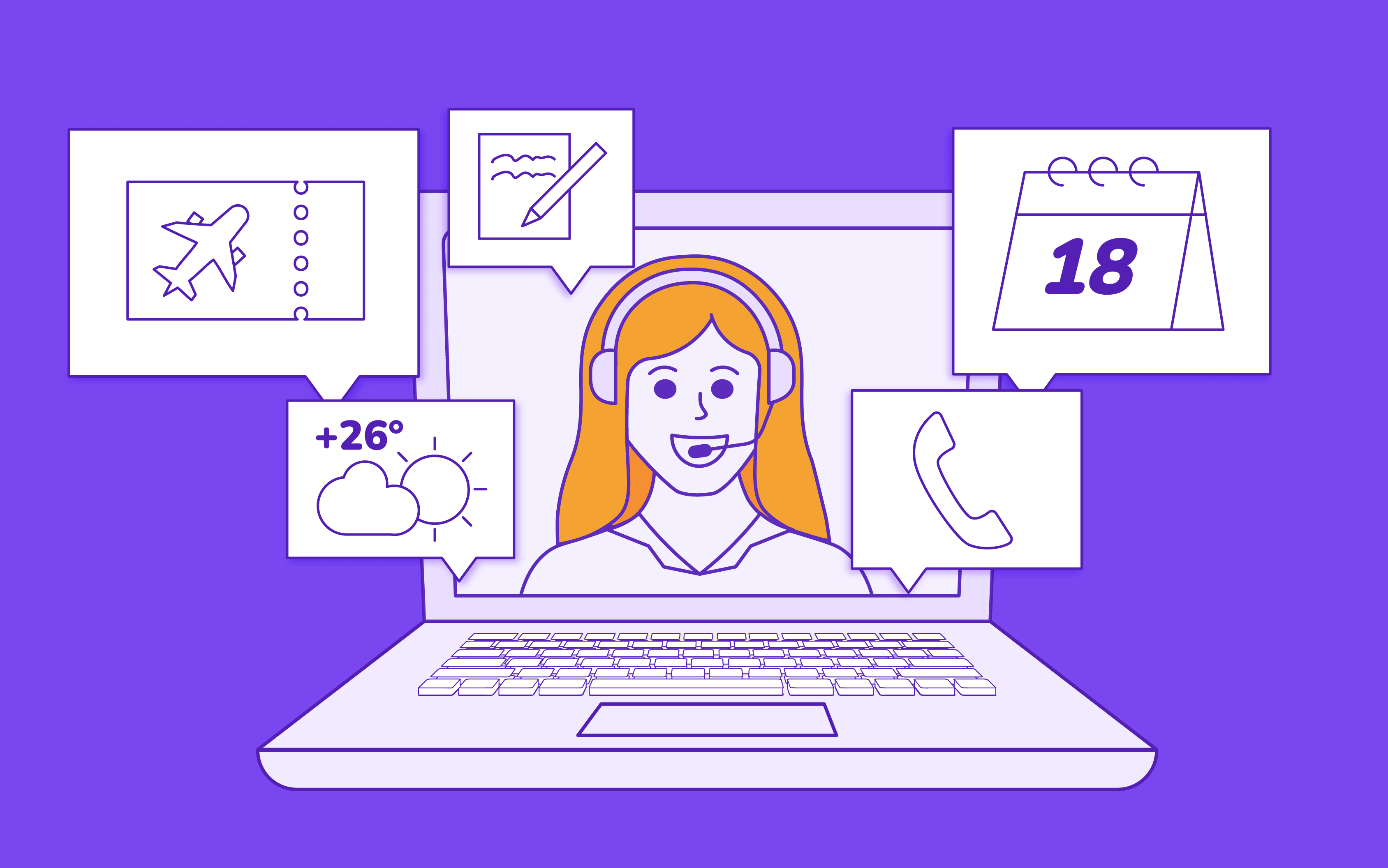 Virtual assistants have been supporting businesses of all shapes and sizes since 2009. They help employers by eliminating as many time-consuming and repetitive tasks as possible so that businesses can focus on their core mission and higher-value work.
Now, virtual assistants have become a viable solution for countless companies. The rise of the digital age has transformed the business world and introduced many new opportunities for enterprises worldwide.
However, it has also created numerous challenges that have forced companies to make massive changes in the workplace and workforce. New technologies have spawned new markets and created demand for innovative products and services.
Today, countless small businesses operate in the online business landscape. For them, outsourcing administrative tasks is an excellent solution for saving time, effort, and resources. Because of this, the demand for virtual assistants has never been greater.
Let's explore what virtual assistants are, what they do, and how they can benefit your business.
Virtual assistants defined
A virtual assistant is a remote administrative professional who works for business leaders, owners, and executives. They support team leaders and managers by providing various services from remote locations.
From calendar apps and email to voicemail and customer service, modern technology has allowed virtual assistance to develop skills and qualifications for helping business executives with administration, correspondence, communications, time management, customer service, and more.
Generally speaking, a virtual assistant can be any self-employed professional who provides creative, technical, or administrative assistance for a fee. These professionals work remotely from a home office and perform various administrative tasks.
However, modern technology, cloud software, and high-speed internet has enabled virtual assistants to do even more. Thanks to automation and advanced software tools like video conferencing and chat channels, virtual assistants can accommodate a range of diverse services, including bookkeeping, web design, digital marketing, and more.
How virtual assistants work
Virtual assistants (VAs) typically work remotely from a home office. They perform the tasks that a secretary or administrative assistant would generally do.
A virtual assistant's remote office may include various components, tools, and equipment, such as:
A computer or laptop;
Web camera;
Noise-canceling headphones;
High-speed internet connection;
Backup internet; and
Backup power source.
VAs require a well equipped and quiet environment to work in with as few external distractions as possible. Such a work environment allows them to focus on mission completion, productivity, problem-solving, and decision-making.
VAs' work is vital for business leaders who struggle with scaling up their operations. When the business load becomes overwhelming, hiring a virtual assistant is the most effective way to shift your focus to strategic planning while leaving more mundane activities to them.
Types of work virtual assistants can cover
Virtual assistants can cover various types of work and services, including accounting, bookkeeping, social media management, customer service, and more.
It's common for small businesses to hire a VA that performs various tasks, from preparing expense reports to scheduling meetings and booking travel arrangements.
Let's review the seven most common services that VAs can provide.
Research work
Most digital businesses hire virtual assistants to handle research work. VAs help marketing executives, managers, and team leaders finish office work, honor deadlines, and more. Virtual assistants often conduct internet research for their employers.
They complete various tasks, such as:
Browsing the web for trustworthy websites and data sources with up-to-date business-related information;
Compiling research and market data;
Presenting data in a requested format;
Searching for the most relevant, accurate, and up-to-date business-related statistics;
Identifying lucrative opportunities for ensuring business growth and expansion;
Conducting competitive and market research to gather intelligence;
Comparing prices of vendors and suppliers; and
Establishing guest blogging and influencing connections.
Content management
A recent study showed that businesses with a brand presence on social media channels and blogs drive more website traffic and generate increased leads. Content creation is one of the core elements of a modern enterprise.
It allows companies to connect with their customers and create meaningful connections with target audiences. Since most internet users have social media profiles, the most effective way to approach them is to use posts, articles, and blogs to start conversations, or to ask for feedback and user reviews.
However, content management is a time-consuming task that requires a lot of effort and research. That's where virtual assistants come into the picture. They can help you save time and effort by managing and printing content verbiage, creating white papers and case studies, writing articles for your blog, and more.
They can also ensure that your content follows the latest SEO requirements. Their job consists of providing traffic-generating content for your business and handling everyday activities such as repurposing, promoting, and publishing.
Social media management
In an internet-dependent, data-driven business landscape, small businesses must be present on social media networks to attract wider audiences, monitor their competitors, launch marketing and advertising campaigns, and promote their products/services. However, social media management requires tremendous amounts of time to yield results.
Therefore, hiring a virtual assistant to manage your social media is the best way to handle your social media needs while saving time and improving efficiency. Since virtual assistants work remotely, you'll always have someone ready to handle your social media marketing activities on your behalf.
They can handle the following tasks:
Create LinkedIn, Instagram, Twitter, and Facebook pages for your business;
Establish profiles on different social media channels;
Create fresh, accurate, and up-to-date content for social media posts;
Use social media post scheduling tools to keep social media audiences engaged;
Gathering more followers to increase user engagement on different social media platforms;
Tracking analytics and performance metrics to analyze performance; and
Monitor competitors.
VAs can help business leaders manage social media across leading platforms, such as YouTube, Pinterest, Instagram, and Facebook.
Data entry positions
Data entry is one of the most cumbersome and time-consuming tasks for entrepreneurs. In addition, it's highly prone to human error. Since incorrect data input could cost you your business, hiring a professional to handle your data entry seems like a viable solution for avoiding costly mistakes and saving time and money.
Data entry VAs can help with various data entry tasks, such as:
Collecting, organizing, and sorting data for entry;
Ensuring data accuracy and relevancy;
Data management;
CRM data entry;
Lead generation using CRM software, and
Generating reports.
Personal assistant jobs
A virtual assistant can provide personal assistance to business executives to help leaders boost productivity. Personal assistants handle professional and personal chores for executives, such as:
Paying bills;
Making online purchases;
Sending and responding to emails;
Scheduling appointments;
Planning travels;
Managing calendar;
Answering calls; and
Handling personal correspondence.
Customer support/service
Digital businesses are booming these days. They gather millions of customers. The rise of digital business has increased the workload for modern customer support agents, making it hard to cope with ever-increasing consumer demands and inquiries.
That's why business leaders resort to hiring VAs to ease their burden and assume some of the vital customer support/service tasks, including:
Transaction handling;
Product data entry;
Inventory management;
Creating SEO-friendly product descriptions;
Providing 24/7 customer support via available channels;
Order processing; and
Product development and category management.
Bookkeeping positions
Bookkeeping is the lifeblood of every enterprise. While it is tedious, it's necessary. It's also time-consuming and prone to human error. Fortunately, business leaders can hire virtual assistants to handle their bookkeeping needs.
Virtual bookkeeping assistants perform the following tasks:
Inventory management;
Year-end bookkeeping and budgeting;
Record keeping;
Ensuring compliance with bookkeeping regulations;
Account reconciliation and cash flow projection;
Revenue management;
Cost management; and
Payroll processing.
Qualifications and skills
Virtual assistants exist to help business leaders with their technical and administrative needs. The qualifications and skills that they possess determine their scope of work.
Here's a quick overview of essential qualities that business leaders look for in modern VAs:
Word processing – in addition to typing and data entry, VAs must ensure that their work is error-free and grammatically accurate.
Writing and communication skills – in a virtual business landscape, business organizations use various digital communication channels to manage their operations. VAs must excel in communicating with clients in both a verbal and written manner, making presentations, managing emails, sending reports, and more.
Computer skills – VAs need basic computer skills, including working with software tools and programs like Google Drive, CRM, Microsoft Office, and cloud.
Effective decision-making and problem-solving – VAs must be quick thinkers and effective problem solvers. They work in busy environments where task completion depends on efficient and effective decision-making.
Organizational skills – one of the primary duties of VAs includes organizing materials and files in an accessible and effective structure.
How are virtual assistants hired?
If you're interested in hiring a virtual assistant, you should consider selecting a professional that matches your business model and budget. The three quickest and most effective ways to hire a VA are to tap into managed service providers, contact a contract agency, or hire one directly via freelance websites for VAs.
How do companies benefit from hiring virtual assistants?
Here are the top four business benefits of hiring virtual assistants.
Flexibility
Since VAs work remotely, hiring remote workers gives your company increased flexibility to handle everyday tasks on the go. They can work from anywhere, anytime, and coordinate your daily needs without being anchored in the office.
Scalability
The biggest problem with scaling a business is moving into more expensive office space and hiring more people. Most companies fail at scaling up due to unpredictable costs and increased downtime. However, scaling your business with VAs can mitigate such risks as you won't have to move or hire more employees.
More time to focus on core tasks
Time is crucial when you're running a business. Every minute that you spend working on your connections brings more revenue into your bank account. However, it's hard to monitor ROI when you have to handle paperwork, make appointments, answer calls, send emails, and waste your time on repetitive administrative tasks. Hiring a VA saves you time and allows you to concentrate on vital business tasks.
Cost-saving
Hiring a virtual assistant allows you to save your resources in two ways:
You don't have to hire more employees; and
You don't have to pay for benefits, including dental and medical insurance, vacation time, and more.
Since VAs work remotely, you can choose a professional from anywhere and pay less for the same work as you would if you hired an employee from your country.
Conclusion
VAs are essential to businesses as they allow executives, team managers, and leaders to save time, effort, and resources while focusing on business growth rather than mundane administrative tasks.
Virtual assistants help business leaders to move their operations forward without having to hire more staff and spend money on their training. In terms of business growth, virtual assistants are the most cost-effective solution for boosting productivity and increasing efficiency.