What is VoIP and How Does it Work? Pros & Cons
FirstSiteGuide is supported by our readers. When you purchase via links on our site we may earn a commission.
Read More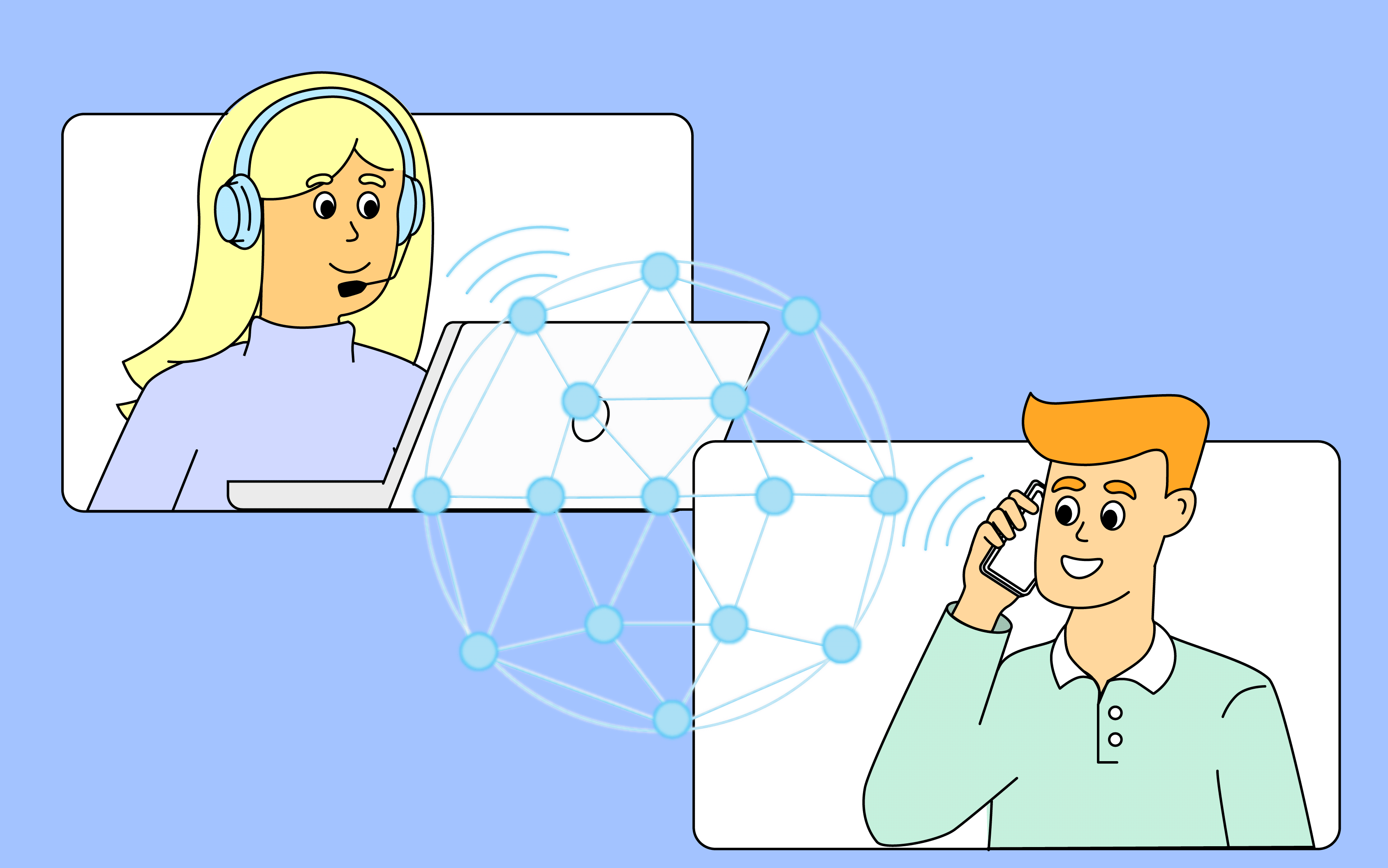 Voice over internet protocol (VoIP) is slowly rendering traditional landline networks obsolete. Today, VoIP is the most effective alternative to mobile phone communication.
This innovative communication technology offers numerous advantages to organizations, the most notable being cost savings, top-grade audio, and advanced features.
Modern-day service providers offer much more than just voice-calling options. Clients can choose from functionalities such as process automation, Interactive Voice Response (IVR), call routing strategies, video conferencing, and more.
Let's delve deeper into VoIP to understand how it can help your company.
VoIP explained
VoIP is a digital communication technology that transfers business communication data and voice calls using internet connections. It's the next best thing compared to the copper-wired PSTN.
With VoIP, business users can rely on an internet connection to handle corporate audio and video communications via the web instead of a regular phone line. Also called internet telephony, VoIP allows you to make audio/video calls using a broadband internet connection to communicate with other users of the same service.
VoIP services are ideal for making international, mobile, long-distance, and local calls using special VoIP equipment or your current desktop device. You can also connect the service to your phone using a VoIP adapter.
How it works
VoIP converts analog signals by turning voice calls into digital data and transferring it via a private internet protocol (your IP address) or the public internet network (WiFi).
You can use VoIP to make internet audio/video calls to mobile phones, landlines, and computer-to-computer anywhere, as long as there's an internet connection available.
Aside from audio calls, VoIP services support other functionalities such as file sharing, instant messaging, video conference calls, and more.
Equipment necessary for a VoIP system
A VoIP system requires a high-speed broadband internet connection to work. You can achieve this with the following:
A local area network;
High-speed services such as DSL; and
A cable modem.
In addition, this system requires a specialized phone device, an adaptor, and a computer. However, the equipment range would depend on the service provider. Some VoIP services allow you to connect the system to your traditional phone using an adapter, while other providers only work over a special device or computer.
VoIP-enabled phones connect directly into your broadband connection. Here's a list of essential VoIP components:
VoIP server – on-cloud or on-prem;
VoIP-enabled endpoints – analog phones with adapters, softphones, or VoIP devices; and
A stable internet connection – faster connection speeds ensure a better customer experience.
Now, let's move on to the main features.
Key features
VoIP can be a game changer for your business communications, but only if it includes the top features, such as:
Advanced call management – block, route, hold or prioritize incoming calls to ensure top-quality customer service;
Call routing – direct inbound call traffic according to your needs;
Auto attendant – a virtual receptionist can assist your customer service and support agents to ensure that each client receives high-end attention;
Business text messaging – update your remote teams and keep your customers informed with unlimited SMS texting functionalities;
Call analytics – gather real-time customer insights to improve your business, monitor behavioral trends, measure customer support performance, and so on;
Call forwarding – effectively manage customer calls during heavy traffic periods;
Queueing – streamline large call volumes by automating inbound call distribution and creating multiple call tiers to reduce wait/hold times;
Call transfer – establish a seamless customer-agent connection;
Instant messaging – since most modern consumers use messaging apps, instant messaging allows you to personalize your communications approach and reach more prospects;
IVR – allow your consumers to communicate with your brand using a real-time voice menu; and
Video conferencing – connect your remote teams outside of the office, set up online meetings, and improve your marketing with web conferencing functionality.
All of these features offer a host of benefits, but do present some potential issues as well. Below, we will explore all of the pros and cons of these services.
Pros
First, let's review the pros of using VoIP services.
Cost-effective
All business organizations depend on the bottom line, regardless of their size and business model. Every cost-saving alternative poses a business opportunity. Adopting a VoIP phone system is a surefire way to improve your corporate communications while saving resources.
VoIP services are more affordable than landline phone systems and can lower your phone bill by more than 50%. Legacy phone service providers usually charge per minute for long-distance calls. On the other hand, VoIP service providers offer unlimited calling in the EU, Canada, and the US, including international calling options available in pay-as-you-go packages.
If your company makes regular international calls, using VoIP services could be a more cost-effective solution for handling your corporate communications. Since VoIP uses the cloud environment, you'll also save on security, maintenance, monitoring, and upgrading.
Advanced features
Modern-day VoIP service providers offer powerful, AI-enabled features to help business users streamline communications, improve customer experience, increase customer service quality, and more. Advanced VoIP features can range from optimizing business communication strategies and tracking real-time analytics to AI virtual assistants, IVR menus, call forwarding, and web conferencing.
These features are critical to streamlining workflows, improving customer satisfaction, saving your team time and resources, and ensuring business growth. Live call sentiment analysis is an excellent example of an advanced VoIP feature.
It relies on AI technologies, such as Natural Language Processing and speech recognition, to track, monitor, and scan all inbound/outbound phone traffic for keywords and phrases that indicate changes in customer behavior.
Live call sentiment analysis can register neutral, negative, and positive customer feelings and provide review reports for managers to help them assess customer satisfaction, agent efficiency, and call queues. These valuable insights are vital to optimizing business communication practices and ensuring more effective customer support services.
Flexibility and portability
Flexibility and portability are essential features for highly mobile, hybrid, or remote business teams. Since it uses an internet connection to operate, VoIP can ensure access to business phone systems regardless of location.
You can easily connect your teams anywhere and bypass different time zones without investing in additional mobile or desktop infrastructure. VoIPs are compatible with softphone interfaces, web browsers, and Android/iOS apps, meaning that you receive 24/7 instant access to features, corporate files, contacts, conversations, and more.
In addition, top-grade VoIP providers provide flexible team collaboration environments with whiteboard, file sharing, instant messaging, and video chatting features for seamless ideation. Such flexibility and portability allow you to scale your communications up or down according to your phone traffic needs.
Better call quality
Over the last decade, VoIP call quality has become more reliable than ever. Modern-day service providers now offer automatic bandwidth adjustments, one-tier carrier partnerships, global location coverage, and HD voice features to help business users advance call quality.
Now, business organizations can ensure 99.99% SLA-guaranteed uptime and high-end communication quality through every customer interaction. Companies can also mitigate problems on the go, such as bandwidth overload, high traffic volumes, latency, jitter, and broken audio.
International coverage
VoIPs are wireless and portable, allowing business users to expand their customer base globally. Companies can connect remote teams anywhere and provide 24/7 customer support and service outside of business offices. In addition, cutting-edge service providers offer multi-lingual support to ensure effective and streamlined communications across any potential language barriers.
No technical setup required
VoIP service providers eliminate the need to invest in the additional infrastructure of technical setup. You receive a single channel for transmitting data and voice. While some providers offer VoIP hardware, such as speakers, IP desk phones, and headsets, you don't need any additional tech to set up your VoIP.
Cons
VoIP services aren't without their downsides. Let's review some of the biggest disadvantages.
Security issues
Every internet-connected device on your network is a potential security threat. Cybersecurity risks are a real threat to every internet-enabled device as hackers will always try to infect your devices with ransomware, malware, viruses, and other threats to steal valuable data.
Unfortunately, your data can become the target of a cyber attack, and hackers can use your VoIP as an access point. However, you can install antivirus software and set security measures in place to ensure full-level protection for your business organization.
VoIP depends on bandwidth
VoIP requires a stable, fast, and reliable internet connection to work. You also need a top-grade VoIP router with at least 5–25 Mbps bandwidth for audio calls, video conferencing, and more. Many ISPs tend to cut down on your bandwidth and throttle your connection.
However, you still have a broad selection of internet service providers that offer ultra-fast broadband connection speeds at affordable prices. We recommend paying more to avoid VoIP communication problems such as jitter and latency.
Low bandwidth could slow down your customer support and cause new problems that could cost you your customers. Although your bandwidth needs will depend on the phone traffic volume, you can ascertain this by thoroughly testing your network's bandwidth to identify areas of improvement.
Jitter, latency, and other connection issues occur for a variety of reasons:
Poor internet connection – VoIP requires higher bandwidth than ordinary web browsing. If you're experiencing latency, perhaps it's time to consider changing your ISP.
Inadequate router – VoIP services require specialized router configurations to operate smoothly. VoIP-configured routers prioritize voice traffic over data to support heavy phone traffic volumes.
Insufficient cables – since ethernet cords are available in different power levels and categories, you need sufficient cables to support higher connection speeds.
These are just some of the biggest issues with bandwidth, but there is also the location tracking issue.
Limited location tracking
Limited location tracking is the biggest disadvantage of using VoIP. Due to VoIP's portability and accessibility, third parties may find it difficult to pinpoint where a call originates from. VoIP calls come from IP addresses, meaning that they don't carry cell tower information or GPS data for tracking.
While most callers don't need this data, customer support services might require it for various reasons, such as handling emergency queries and solving urgent customer issues.
Conclusion
When looking at the advantages and disadvantages, it's evident that VoIP's pros outweigh the cons. It's also important to note the easy installation and quick transition from traditional phone systems to VoIP services. Business organizations can establish unified communication portals to manage all telephony needs under one roof.
This communication unification allows your teams to focus on other vital business aspects while ensuring that your clients, customers, partners, and other prospects receive the attention that they deserve. A VoIP phone system is the ultimate solution for eliminating disruption and customer dissatisfaction.