How to Write a Press Release
FirstSiteGuide is supported by our readers. When you purchase via links on our site we may earn a commission.
Read More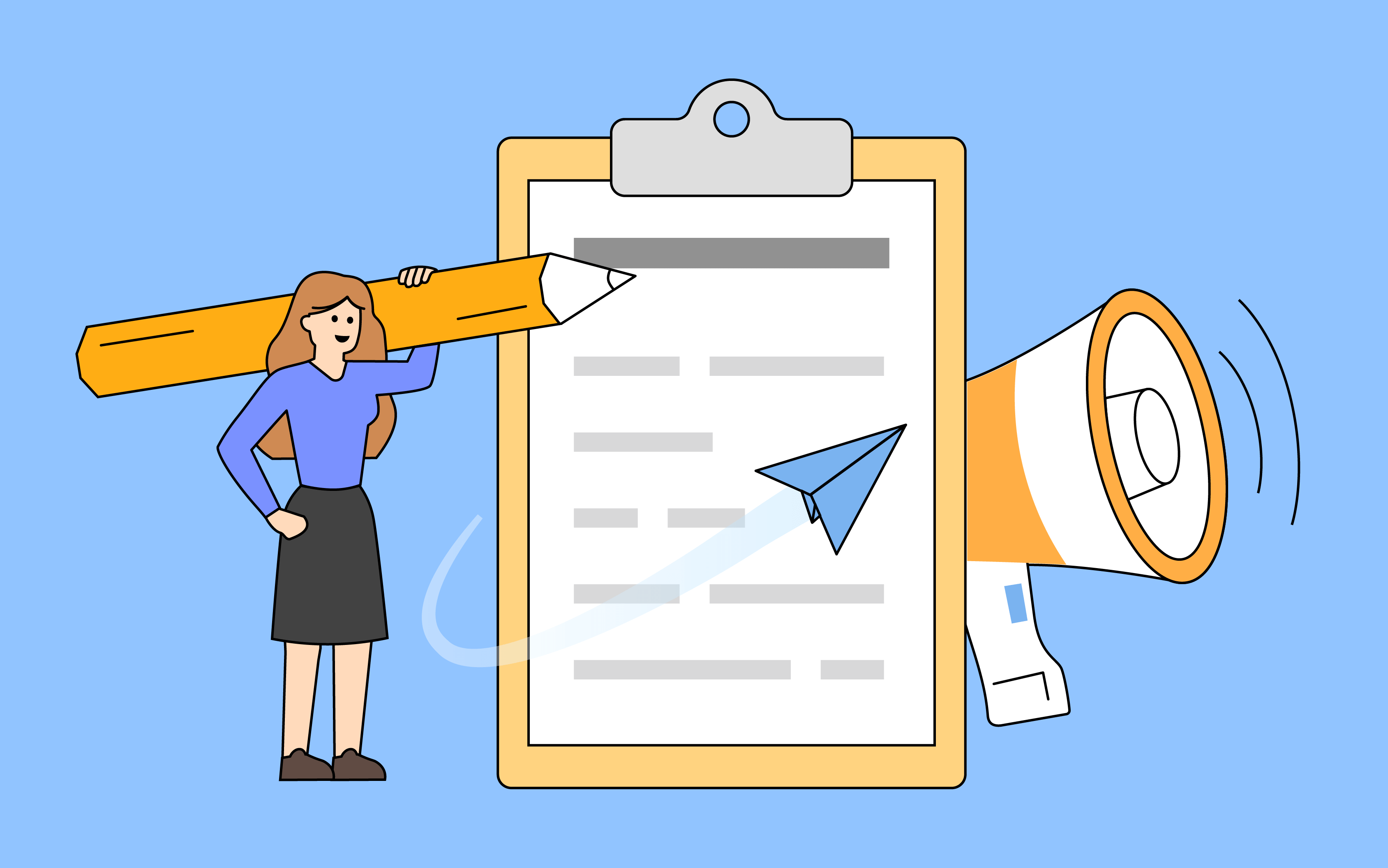 You've built your blog, polished your website content, crafted emails, pinned down your social media captions, and now you have to write a press release too?
Well, you should – if you want a successful marketing campaign.
Writing a press release is a simple way to solidify your brand image and reach new customers. It takes a few hours, but it costs you nothing. It drives website visits and creates buzz around your business – oh, and did we mention that it costs nothing? A press release is free press.
Here are a few tips for writing an attention-grabbing press release that everyone will love.
Consider your target audience
Now you're asking – everyone who? How does a press release even work? Is it aimed at customers? Where does the media fit in?
A press release is an official statement that businesses share with media representatives when they have an important announcement or a "newsworthy" story to share.
Journalists then write an article based on the information that you have provided in the press release. Before it can reach the intended audience, your press release must first grab the attention of news people. If they like it, chances are that customers will like it too.
What goes into writing a press release that will grab journalists' interest?
Let's get right down to it.
What type of press release are you writing?
First and foremost, consider what journalists love. To be "newsworthy", a press release must tell an interesting or relevant story. It should convey an important message or pull at the heartstrings. If you have a story that your audience would find informative, inspiring, or entertaining, preferably all of that at the same time, you've got good press release material.
It also helps if your press release is in some way connected to another viral story. That gives it emotional relevance and momentum, not to mention a much-needed SEO boost.
These events and milestones all make a "newsworthy" press release:
Breaking news
In business, breaking news can be anything from a cyber attack to the death of a dignitary.
Product launches and updates
If you don't spread the word about your new product, who will?
Rebranding
Rebranding is a huge deal. Announcing it through a press release can help you to jump-start the new brand.
Executive promotions and team changes
It's a little unlikely that your customers will tweet about it, but it's a valid reason to pat yourself on the back and refresh your media presence.
Mergers and acquisitions
Mergers and acquisitions are typically game-changing for everyone involved, including customers.
New partnerships
Why not publicly celebrate your new business friendship? It shows that you're constantly working on something new and exciting.
Events
Share about events that your customers (or business partners) would want to know about. In this case, a press release can serve as an open invitation (before) or a success story (after the event).
Grand openings
Grand openings are an excellent example of newsworthy events, especially if you're running a customer-facing business – the more people that hear about it, the better.
Awards
Awards build reputations and establish brands as leaders in the field. An award is physical proof that you're the best of the best.
8 steps to creating a successful press release
The mistake that most businesses make when writing a press release is that they make it way too long. Before we jump to the actual release, let's quickly establish its optimal length. Ideally, a press release should not be longer than two pages. In this case, less is more.
Once more, let's define the characteristics of a good press release and add a few new ones:
"Newsworthy" story;
Two pages long;
Information, not promotion; and
Professional-looking.
When aiming for "newsworthy," you must make sure that your press release is attention-grabbing, but not click-baiting. Not everything constitutes a good story. If you're not certain about yours, take a look at some of the news outlets that cover your industry and niche.
Also, avoid self-promotion. Let your achievements speak for themselves.
As for making your press release professional-looking, the following steps can guide you through the process:
Writing a headline
Every writer, be they experienced or novice, worries over headlines. Conveying the right message and engaging the reader in a single line is challenging, but the solution is simpler than you might think.
Forget about being clever. A good headline is straightforward.
Take this press release headline by Heinz: Heinz Is Searching for Its First-Ever "Head Burger Artist."
Simple, right?
When the story itself is good enough to create the headline, you don't need anything else. A headline should be attention-grabbing, but it's just as important to be easy to understand. Consider your words carefully and make them clear and compelling.
Opening paragraph
The opening paragraph of your press release is your moment to shine. This is where you break the big news to the journalists and provide some context around your business.
Following your headline naturally, you should try to convey the gist of your story or simply explain what the headline is all about.
For example, the aforementioned press release by Heinz uses the opening paragraph to clarify the mysterious headline:
That's why this summer, HEINZ is honoring the best in burger artistry by searching for its first-ever HEINZ Head Burger Artist. The condiment connoisseur that best captures the Art of the Burger will win $25,000 and some saucy perks.
Again, it's all about a good story. If you have nothing important to announce, you won't be able to craft an engaging opening paragraph. The best stories, as they say, write themselves, but you must invest some time into it before everything starts pouring out.
Add most crucial information first
The best writers can create a character for their stories out of nothing. However, even without a person to convey a message, nature or emotion can be a formidable character. Luckily, you already have your lead. A press release is all about your business. Make sure that journalists know that too.
Traditionally, the first sentence of a press release states the location of your business (or wherever the story takes place) and the date like this: New York, NY, Sep 23, 2022.
Next, you need to introduce the five W's:
What is the story about?
Who is involved?
When does it take place?
Where does it take place?
Why should the readers know about it?
While most of these are factual, it's the Why that takes some craft. You can't just say, "This is important because…" – the reader should take the value out of the context and understand the importance of the story by reading between the lines. You'll get there, don't worry.
Use simple language
As we said, a press release shouldn't be more than two pages long. Journalists prefer the Hemingway way of writing, which means keeping your language simple, your story succinct, and your writing to the point. Don't complicate things – this isn't a creative writing contest.
If this is your first time writing anything like this, take some time to read your local business news or portals such as Bloomberg, Reuters, or CNN Business. Pay attention to the grammar and vocabulary. You'll see a lot of short sentences and simple words with only a few adjectives.
Don't forget to double-check your grammar and spelling.
Speaking of Hemingway, there are a lot of tools that writers use to make sure that their grammar and spelling are impeccable. Some of these tools also check the clarity of your text, helping you trim it down when needed and letting you know if you have any excessive words.
Add quotes and statistics
Things like quotes, statistics, testimonials, case studies (excerpts), and research details enrich the text and add to its credibility. Feel free to share any behind-the-scenes data with journalists and readers, as it will increase the value and authenticity of your press release.
Both journalists and readers favor quotes, for example. It's now customary for a press release to include a quote from a business executive or a company spokesperson, which helps elaborate on the topic of your story with a statement coming straight from the source.
Another effective engagement trick is to quote an employee or a customer.
It's always better to let others speak of your achievements. Whatever you choose, find a good measure. Include only the quotes that provide valuable information or show your commitment to the cause, your staff, or your customers. Limit yourself to only a couple of them.
Make a clear conclusion
Like any well-crafted conclusion, the closing paragraph of a press release should summarize the story and add the final touch that provokes action. In marketing, we call this a CTA. A press release shouldn't have a classic call-to-action, but it should have a similar impact.
For example, you can invite readers to visit your website for more information.
Another way to make a press release conclusion more compelling is by providing a sneak peek into the future. Metaphorically speaking, will there be a sequel to your story? How do you expect this news to develop and evolve, and what are the possible implications?
Alternatively, you can use this paragraph to pique your readers' interest. Marvel practically invented the post-credit scene to keep viewers at the edge of their seats even after the movie ends. You can borrow this approach and tease what's next for your brand.
Add contact information
At the very end, your press release should include your contact information and something we call "the boilerplate". Depending on whether you're sending your press release in a physical or digital form, the contact information will either include your URLs or hyperlinks.
In any case, this information should make it possible for journalists to reach you if they have any follow-up questions. You can share your website address, email, phone number, or whatever relevant channel of communication you use most frequently.
Add a short business bio
Oh, and one more thing – the boilerplate.
The boilerplate is a brief and charming overview of your company. It's of special importance if you are still growing your business and are trying to boost your marketing efforts in any way possible. At this point, both journalists and readers should get to know you a bit better.
An effective boilerplate is not much different from a summarized About Us section from your website or your social media page bio. It's just a few sentences explaining who you are as a brand, what you do, and why it matters. If you have time, custom-tailor it to different news outlets.
Conclusion
Making the time to write a press release for every new milestone can be daunting, but we promise you that it pays off. More than 86% of US adults access news on digital devices. Media coverage is just as important as ever because it tells people if something is worth their time.
Crafting an attention-grabbing press release is no more difficult than writing an engaging blog post. It's shorter, more straightforward, and comes with a template structure.
If you're too busy making news and have zero time to write about it, we've curated a list of the best press release services for you to choose from. Don't let your achievements pass unnoticed. Instead, take every chance available to remind people that you're newsworthy.