Yahoo Hosting Review
Company Overview, Pricing, and Features
FirstSiteGuide is supported by our readers. When you purchase via links on our site we may earn a commission.
Read More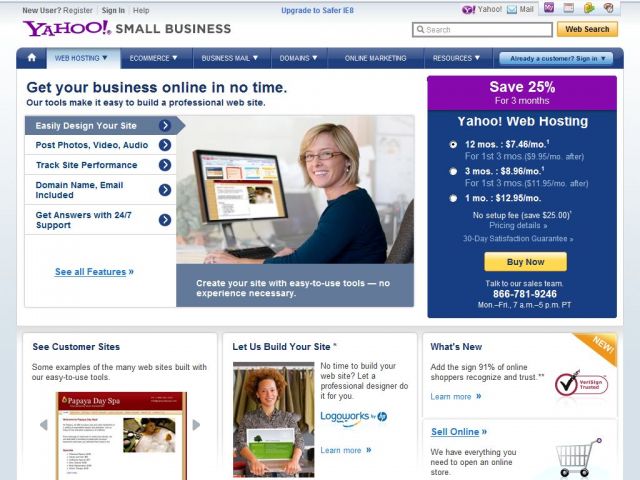 Yahoo is one of the most powerful forces in the internet space. While the corporation is largely known for its convenient search engine, and collection of branded web properties, it also provides web hosting through Yahoo Small Business.
Yahoo's web hosting service is specifically designed for small businesses looking to make a presence online, hence the name. The company certainly has the track record, but does it have what you need to successful? Find out by reading this detailed review of Yahoo Small Business hosting.
Products and Services
Yahoo offers a wide variety of products and services under its Small Business banner. In addition to web hosting solutions, the company has domain name registration available, email hosting, and a suite of online marketing services. It also offers comprehensive e-commerce solutions for those who aspire to sell products or services online. As you can see, the Yahoo Small Business portfolio is well equipped to satisfy a variety of needs.
Basic Features
Features are a big part of what make a web hosting package attractive, and Yahoo gives you plenty to work with. Creating your website is made easy with an intuitive site builder that offers hundreds of predesigned templates to choose from. Also available is built-in software that gives you the ability to wow and engage your site visitors with beautiful photo galleries, and streaming audio and video content. In addition, Yahoo Small Business is equipped with unlimited disk space and bandwidth to accommodate your growth.
Business Features
Yahoo's web hosting solutions are specifically designed for those who want to establish a presence online with their own business. It offers business-friendly features such as the ability to create multiple email accounts, custom forms that allow you to collect data and generate quality leads, and seamless PayPal integration. If your plans call for more than what PayPal can accommodate, Yahoo Small Business' e-commerce solutions can help you create a store that supports thousands of products. Taking this route can be expensive, but the e-commerce tools you have access to are quite powerful.
Control Panel
Yahoo has its very own control panel that was built in-house by its team of developers. Like all web hosting control panels, this particular software aims to simplify the routine tasks of your managing your website. The Yahoo control panel allows you to perform actions such as set up your email accounts, manage files, and launch the utility designated to build your site. You can also administer all your domains from the centralized interface. Though some critics state that the interface is a bit more cluttered than other options, the Yahoo control panel gets the job done.
Customer Support
Some firms in the web hosting business have grown so large, that they have forgotten about the reason they are successful in the first place – the customers. This is not the case with Yahoo. The company employs a staff of customer service agents and technicians that are knowledgeable of the business and the technology that powers it. This in turn, enables them to effectively resolve any issues that arise. The fastest way to contact Yahoo is through 24/7 toll free phone support, but that may not even be necessarily thanks to its rich source of online documentation. Yahoo Small Business offers convenient access to video tutorials, FAQs, and other resources that are available to help you find your way. Yahoo delivers what is considered to be some of the best support around.
Technology
With a team of skilled technicians on its staff, it is no surprise that the Yahoo Small Business hosting platform oozes technological innovation. Its foundation is based on the Unix operating system and Apache web server, two of the most widely used applications in the web hosting environment. The platform supports PHP and Perl programming for dynamic content creation, in addition to MySQL databases for data storage and backend support. The technical specifications of Yahoo Small business make the hosting experience easier for newcomers, and more advanced for seasoned webmasters.
Service Reliability
Yahoo runs multiple data centers to carry out its diverse internet operations. These are the same facilities that power its web hosting service. The firm deploys load balancing across multiple servers, with each server receiving regular snapshot backups to ensure that your data can be fully restored if need be. From high performance hardware to a comprehensive backup power system, the redundancy of Yahoo's infrastructure ensures that your site stays running like a champ, and online.
Even the most secure data center is insufficient without a reliable network to back it up. Yahoo has a world class network you can rely on. The company's network is powered by multiple connections to the internet. This level of redundancy ensures that if one carrier experiences interruptions, your website continues to thrive regardless. The Yahoo Small Business is backed by a 99.9% uptime guarantee, which it maintains consistently so excessive downtime is never an issue for your website.
Extras
Like many other hosts, Yahoo throws in some attractive bonuses to add to the value of its web hosting solutions. Most of these bonuses are designed to aid with the marketing and promotion of your site. For instance, your receive $50 in advertising with Google AdWords, $75 towards an advertising campaign with Microsoft ad Center, and 30% off Yahoo's Enhanced Local Listings. You also receive a free automatic submission to all the major search engines to help accelerate your search marketing efforts. These extras and several more make hosting with Yahoo a great bargain.
Conclusion
Boasting superior customer support, exceptional performance and competitively priced solutions, Yahoo Small Business makes an excellent choice for your web hosting requirements. Track record means everything in this business, and this company certainly has a reputation for being highly reliable across its extensive network of internet operations. There is no shortage of web hosts to choose from, but thousands of customers will tell you that there is no going wrong with Yahoo Small Business.