Zoho Review
Company Overview, Pricing, and Features
FirstSiteGuide is supported by our readers. When you purchase via links on our site we may earn a commission.
Read More
Intro
The company behind the Zoho Mail was founded in 1996. Like many, AdventNet Inc. went through a rebranding process, which happened in 2009. Zoho Corporation was named after its online office suite and Zoho Mail was released to the public in 2008. In other words, it's a relatively new player in the field that offers both free and paid email accounts. However, no matter what type of account you choose, you will have zero ads, which is a rare thing. Is this just a gimmick to reel you in, or is there more behind the curtain?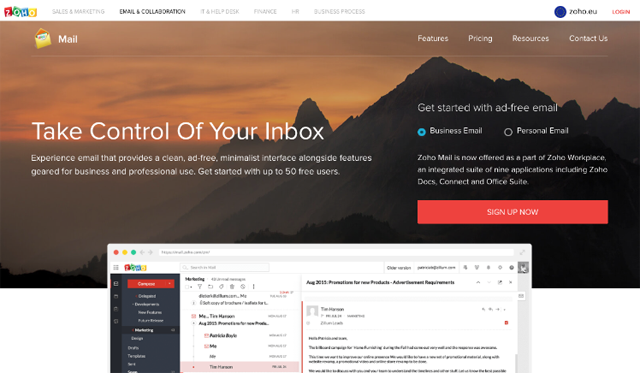 Setting up
Depending if you want a Personal or Business email, the sign-in process will be slightly different. In both instances, you'll have to provide your name, the email ID of your choice, phone number and password. With the Business account, you can use your own domain. Having your phone near you is necessary because you'll have to enter a verification code. After this, if you chose the Personal account, you're ready to go. If you chose their Business account (and both have free plans), you'll have to set up your domain before you can send any emails.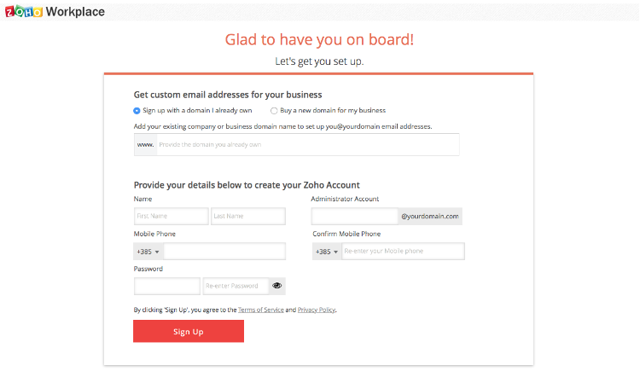 You'll have to decide if you want to set your account up via CNAME, TXT or HTML, and you'll get instructions on how to proceed. After you deal with your hosting account, you will or will not have to wait long for the desired method to kick in before you can use your new email account. This is standard procedure, but if you have a Personal account and want to create a Business account, you'll have to use a different phone number. So, all in all, if you want a no-hassle set up, go for the Personal account. But you won't get the customization options offered with a Business account.
Components and details
Design, navigation and user friendliness
First and foremost, there are no ads. Not even in the free account, which is unique and unheard of in the email provider world. However, this is a huge plus that we would like to see more often. The inbox is clean, simple and easy to use. It's divided into three parts: the upper bar, left vertical menu and the main body/window that will display whatever you selected. From left to right on the upper bar are the menu icons for all their services, the Zoho Mail logo, which will take you home, a search bar, upgrade button, and icons for streams, attachment viewers, notifications, settings, help and account picture.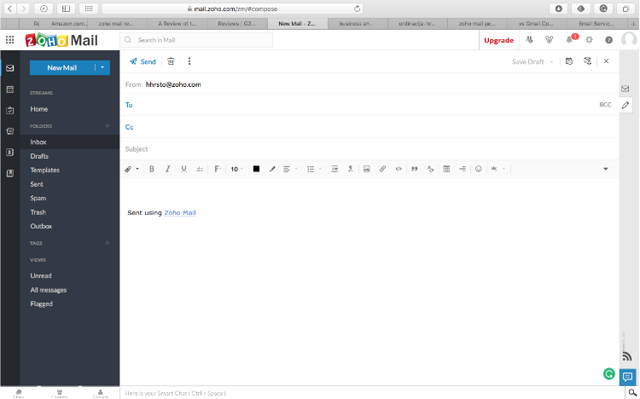 The vertical grey menu is separated into two parts. The left side is fixed and contains menu icons. The right side changes depending on what you selected. The static icons are Mail, Calendar, Tasks, Notes, Drafts and Bookmarks. What's common to all of them is that when you click on them, each will have a big blue button for composing a new calendar entry, note, task or message. After working with it, we've seen that this was a smart move that saves a lot of time. Calendar can be viewed by days, weeks, work days, etc, Tasks can be viewed by categories like "created by me," "delayed tasks" and "this week's tasks." Notes, Drafts and Bookmarks can be divided by personal and group entries. What you might not notice immediately is the bar on the bottom of your screen. This is actually a chat, in case you need to communicate quickly with others.
Zoho Mail is standard, with the inbox, drafts, spam, unread, and other folders, where you can label and color code your mail. But we must mention Home. It literally is a home to all of your menu and you'll be able to see and post messages, create notes and events or even assign tasks. It's a neat tool that's quite useful when you need to coordinate something with more than two people. However, this is not a default landing page for Mail, so if you're not using it, you won't have to look at it. You can go straight to your inbox or create a new email with their rich text editor. There was really no learning curve and everything was simple and ready to use.
Features and Specs
Storage varies by plan, ranging from free 5 GB to paid 1TB. There also are different limitations on email attachments and file uploads. While a free plan will give you 20 MB for email attachments and 1 GB file for upload, the most expensive plan will give you 40 MB for email attachments and 25 GB for file upload. However, main criteria for selecting a plan is what you need your email to do for you and your business. They are currently promoting Zoho Mail as something that can benefit from some aspects of social media, but that can be a double-edged sword.
If you recall, the Zoho menu is located in the upper left corner of the screen. Click on it and you'll see all the services Zoho offers, but if you look closely, you'll see that the services included in your plan have a small green checkmark. This lets you know exactly what your plan includes—and what services are available, including new offerings. For instance, you may have signed up for the Mail, but the list of services reminds you that the Business plan also includes Chat, Connect, Project, Meeting and a free 15-day trial for CRM and SalesIQ. It's a nice little list that will expand your simple mail into a potential organizational bundle.
Connect is a private social network. The Free plan allows you to have one admin; paid plans lift that limitation. While the concept can be great because you'll get all notifications, mentions and private messages addressed to you in your inbox, it can also be a disaster because it's easy to be overwhelmed by the sheer volume of messages. Look it like this: some people want be tagged on everything on social network and media. Other people work better when messages and "likes" are filtered and message volume is reduced. While we love streams, custom app builder, documents management, groups, and chats, do we really need "likes" in the business sphere too?
However, when it comes to email, you'll have an inbox that's ad free and there is no data mining. So if security is a prime concern, this might be a great email provider for you. But the paid plans are important to consider, because the free 5 GB are easily filled up. If you're on the go, their mobile apps are made for Android and iOS, and we must say, there is comprehensive mobile device support. 3D touch and more importantly, swiping, are sometimes a breath of fresh air in email apps. Landscape mode gives you additional screen space. And if you use an Apple device, they are compatible with Apple Pencil, so you will really be able to customize your messages and annotations. If you're a Google fan, you can also integrate mail with Google Apps.
If you want to change your email service provider, along with emails, Zoho gives you tools for migration. You can migrate the emails from your previous server to Zoho Servers via POP/ IMAP. You can also migrate the emails saved locally in the form of PST/ EML to Zoho Mail accounts. You may access your account via POP/IMAP. While you can configure POP accounts, Zoho does not support accessing other external accounts via IMAP. While this is unfortunate, you can always configure email forwarding to route the emails to your Zoho account. And if you're looking for a guarantee, you will get 99.99-percent uptime.
Security
You can activate your account with two-factor authentication. Sensitive data will be encrypted and backed up in multiple locations, so you don't have to worry about leaks. Combine that with 99.99-percent uptime, and your information and email will be readily available wherever you go. You can block unwanted emails based on various settings like the IP Address, subject content and domain. And you can restrict incoming and outgoing emails for users. What you're probably most concerned about is spam. You can customize spam filters and create your own black or white lists.
Support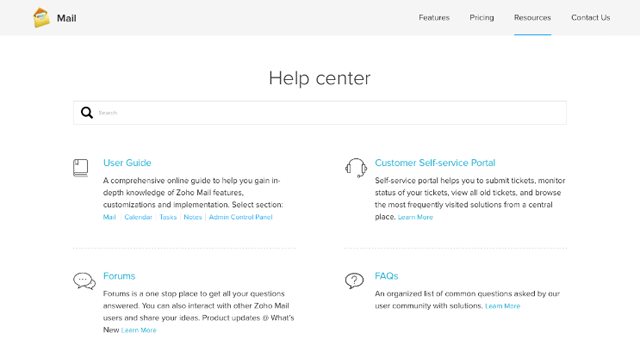 Zoho Mail supports 16 different languages, so right off the bat, a lot of users will feel at home. But when things get squeaky, you'll have plenty of resources to oil them up. From community forums and the official blog to user guides, webinars, FAQs, and most important, a self-service portal. Though we initially thought self-service meant we'd be left to our own devices, we were pleased to discover that you can submit tickets, send emails or tweets, and call them on one of four international telephone numbers. But that doesn't mean all your problems will magically disappear. Users have mixed opinions about the support team, and ultimately, it seems service might be the weakest link in the Zoho chain. A shame, because everything else passed muster with flying colors.
Pricing
Personal and Business plans both have free options. Here we'll focus on the Business plans since features in Personal plans are similar to the free Business plan. While there is a monthly billing option, all prices here are expressed for annual billing.
Free
25 users, plus up to 25 referral bonus users. Single domain hosting, 20MB email attachments and custom logo/login URL, 1GB file upload, single admin and a few additional features.
Standard $2 per month
30GB of storage per user. Hosting for multiple domains, 30MB email attachments, 5GB file upload, multiple admins, domain aliases and additional storage update, and a few more features including everything in a Free plan.
Pro $5 per month
100GB of storage per user, 40MB email attachments, custom branding and everything in a Standard plan.
Enterprise $8 per month
1TB of storage per user, 25GB file upload, unlimited file recovery and everything in the Pro plan.
All plans come with Zoho Chat, ShowTime and Sites applications.
Pros
free plan with no ads
reasonable pricing and upscaling
great accessibility and compatibility
Cons
mixed support user experiences
Zoho Connect can be a double-edged sword
only 5GB of storage for a free plan
Conclusion
Are there any bad things that we can say about Zoho Mail? Well, not much—and that says a lot. Even if you're a beginner or can't make up your mind about which service to use, you can opt for free Business and Personal plans, which means you can give their services a thorough test run. Although Zoho Mail is often recommended, we don't feel it's been given the recognition it deserves. Perhaps this is due to the fact that it's a paid service and there are a lot of free alternatives. But we believe that Zoho gives you a lot for a very reasonable price, especially if you're concerned about data security.
Zoho has a clean and intuitive interface. The only slight concern we have is that their support reviews were mixed. The free plan doesn't offer some premium features and the 5GB of space is limiting. In a few aspects, it's slightly behind the best free email services. However, if all you need is free, simple email for a small team without ads, Zoho Mail just might be a match for you. And if you expand and are willing to pay, you can do it for the reasonable price.