The Best Domain Name Registrar in 2023
10 Domain Registrars to Find and Buy a Perfect Domain Name
FirstSiteGuide is supported by our readers. When you purchase via links on our site we may earn a commission.
Read More
The Best Domain Name Registrar in 2023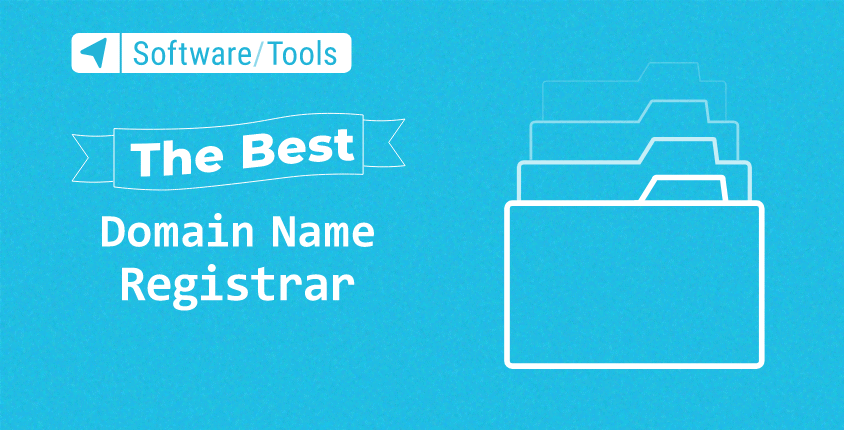 Domain names are among the most important online assets a blog, website, or online business can have. It's something visitors and consumers will notice first, and it will stick with them. Very soon, you will find your domain name at the center of your online marketing campaign, helping extend the reach of your brand. All of this means that domain registration is very important.
But, before you buy a domain name, you should get informed. Why? Well, companies that sell domain names, so-called domain name registrars, are not the same. In fact, the services they offer vary in terms of offered features, reliability, and price.
Since we are talking about something as important as domain name registration, it is worth spending some time finding out what makes the best domain registrar. To help you out with it, we did some extensive groundwork.
EDITORS' CHOICE (JUNE 2023)
We've taken a closer look at all the popular domain registrar companies. Our goal was to find outstanding and trustworthy registrars you can use without having to worry about addressing any risks. All the registrars on our list offer dependable services and make domain registration a walk in the park.
Here is everything you need to know about domain name registrars, including the list of the best ones on the market.
The top 10 most popular domain registrars
Does domain name registration sound too technical to you? The best domain registrars will streamline the registration process for you and make it an easy thing to do (as it should be).
If you try looking for domain registrar companies on your own, you will find out that there are hundreds of them on the market. The trouble is that they all advertise as the best ones. To be honest with you, only a handful are worth your time and hard-earned money.
Here are the top 10 most popular domain registrars.
---
Disclosure: FirstSiteGuide is supported by our readers. When you purchase via links on our site we may earn a commission. We test and try all the products that we recommend.
Namecheap — Provides excellent value for money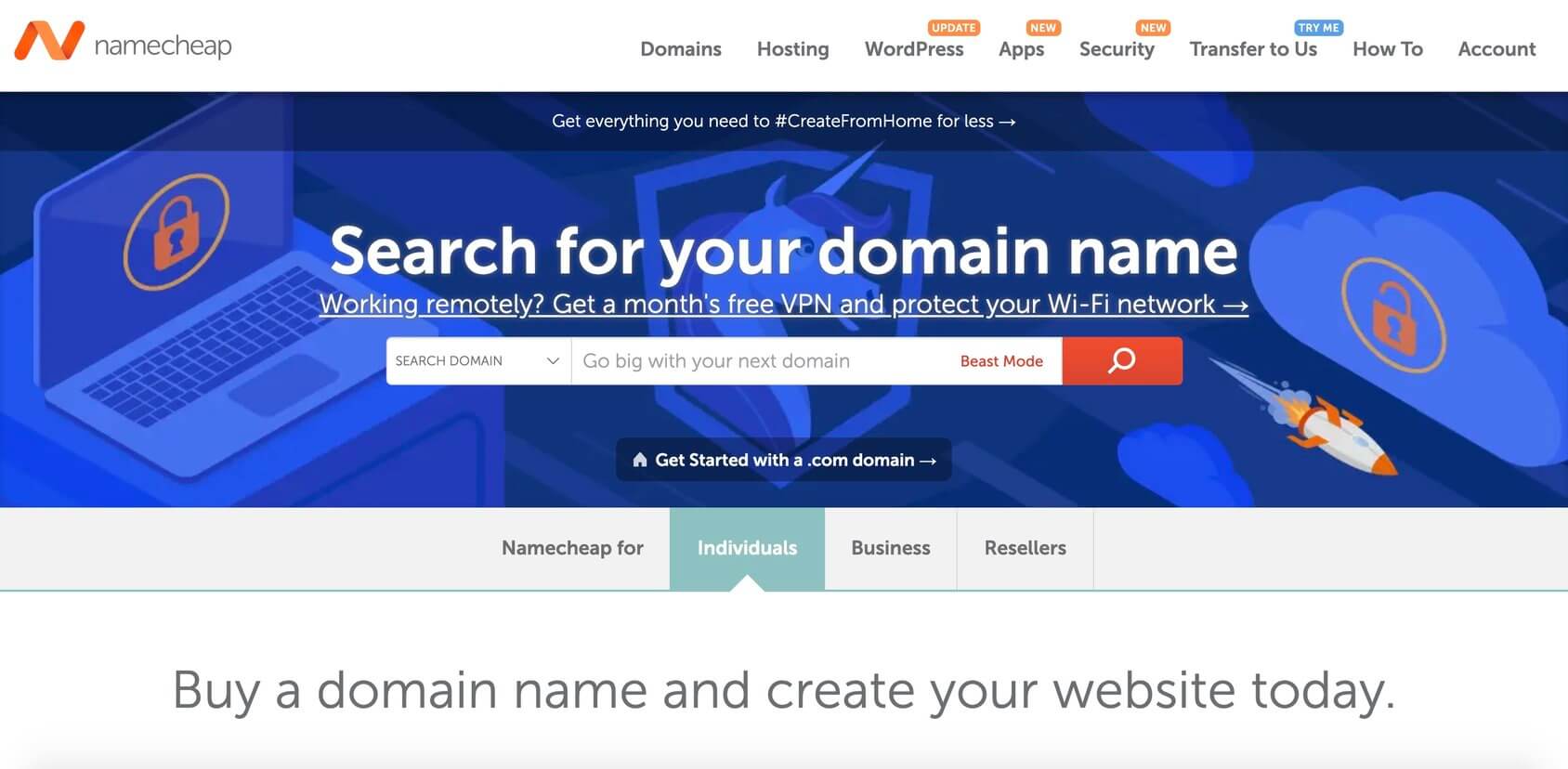 NameCheap is part of the domain name registrar's veterans group. It was founded back in 2000. Currently, NameCheap manages over 5 million domains. It comes with great domain search usability, enabling clients to search domains in batches of up to 50. The search results are organized so that you can get immediate insights. You can see popular, international, discounted, and new domains.
NameCheap services come at affordable prices, and this allows you to access a pool of domains available at really low prices, starting at $0.48. We found the shopping cart to be very informative. Before you proceed with domain name registration, you will be able to see both registration and renewal prices.
Key features
Domain name search
Domain transfer
New TLDs
Domain marketplace
WHOIS lookup service
FreeDNS
PremiumDNS
WhoisGuard
24/7 customer support
Pricing
.com domains start at $9.58
.net domains start at $11.18
.org domains start at $7.48
.io domains start at $39.98
Register domain name with Namecheap >>
Domain.com — Provider with affordable prices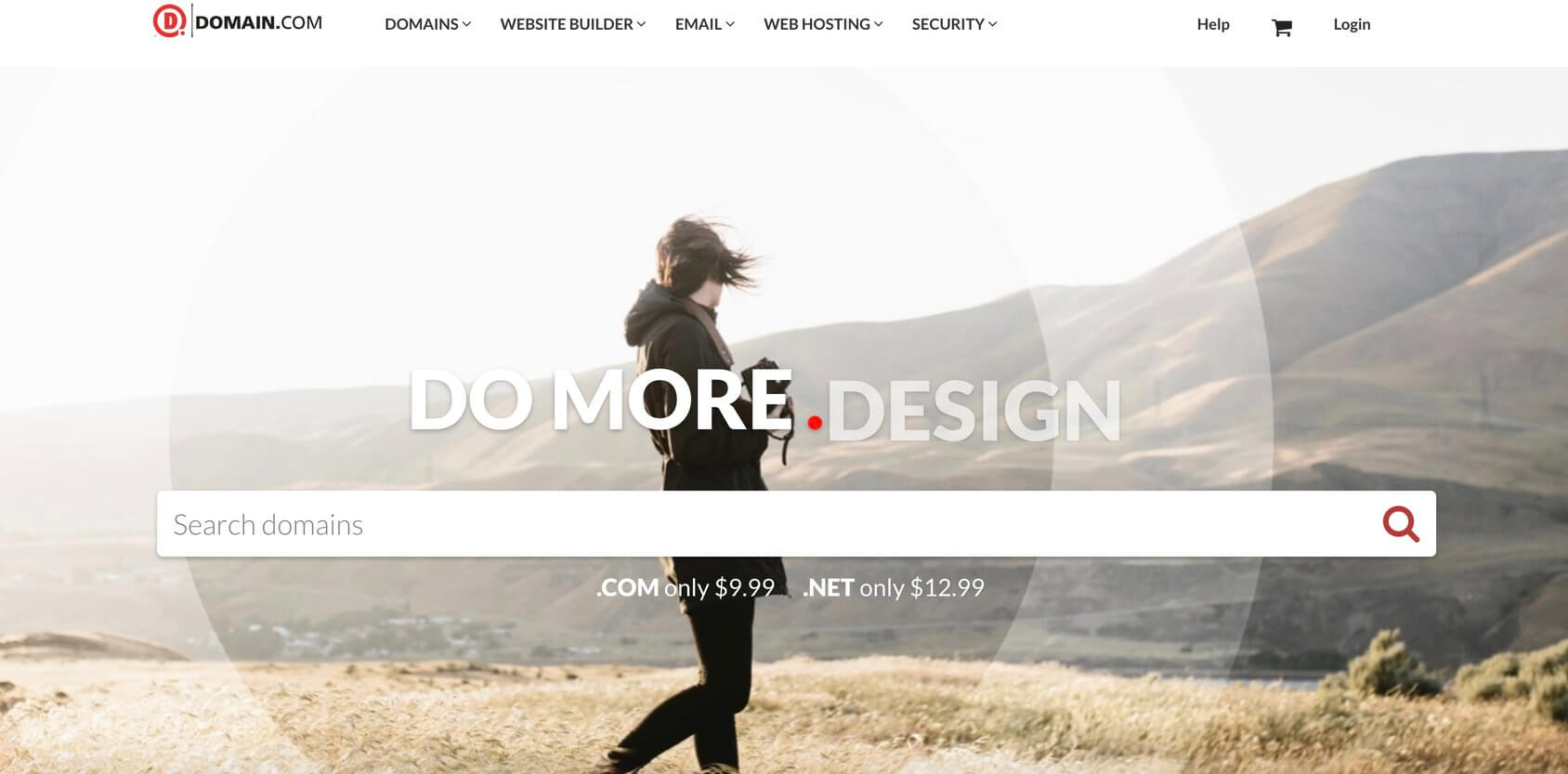 Domain.com focuses on providing services to small to medium-sized businesses. The company has been around for almost two decades and it stands as one of the reputable domain registrars out there.
Domain.com offers non-premium top-level domains (TLD) and has support for more than 25 country codes. Not long ago, Domain.com became a broker in the domain name world, selling premium domains. It offers access to a great dashboard and comes with a number of features that are all locked behind different pricing plans.
Key features
Domain transfer
Domain search
Premium domains
New domain extensions
Domain privacy and protection
WHOIS lookup
24/7 live chat support
Pricing
.com domains start at $9.99
.net domains start at $12.99
non-premium TLD starts at $2.99
Privacy and protection $6.99
Register domain name with Domain.com >>
Iwantmyname — Best for completely custom domains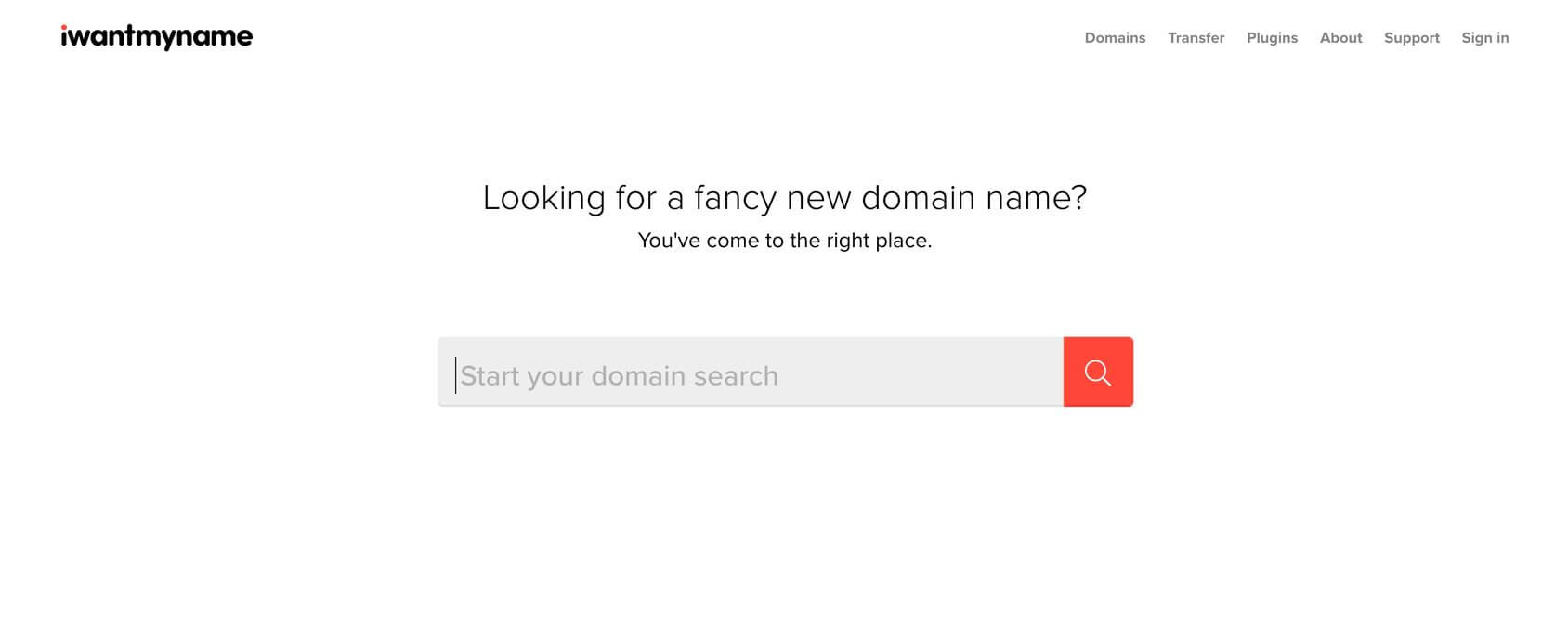 Iwantmyname is a three-man project that started back in 2008, and it turned out to be a huge success. The company founders, Paul, Timo, and Lenz, came around the idea of creating a good and reliable domain name registrar. The company outgrew its founders' expectations. Today, it is one of the most popular domain registrars.
The official website is clean and easy to navigate. Finding and registering a domain name should be as easy as ordering food online. The registrar comes with all usual features and a transparent pricing plan.
Key features
Domain search
Domain transfer
Premium TLDs and generic TLDs
Extension browser with categories relevant to your personal needs
Launch dates for upcoming brand new domain extensions
Over a hundred different domain name extensions
Pricing
.com domains start at $16.40
.net domains start at $23.76
.org domains start at $17.20
.co domains start at $42.90
.app domains start at $29.00
Register domain name with Iwantmyname >>
GoDaddy — The most reputable provider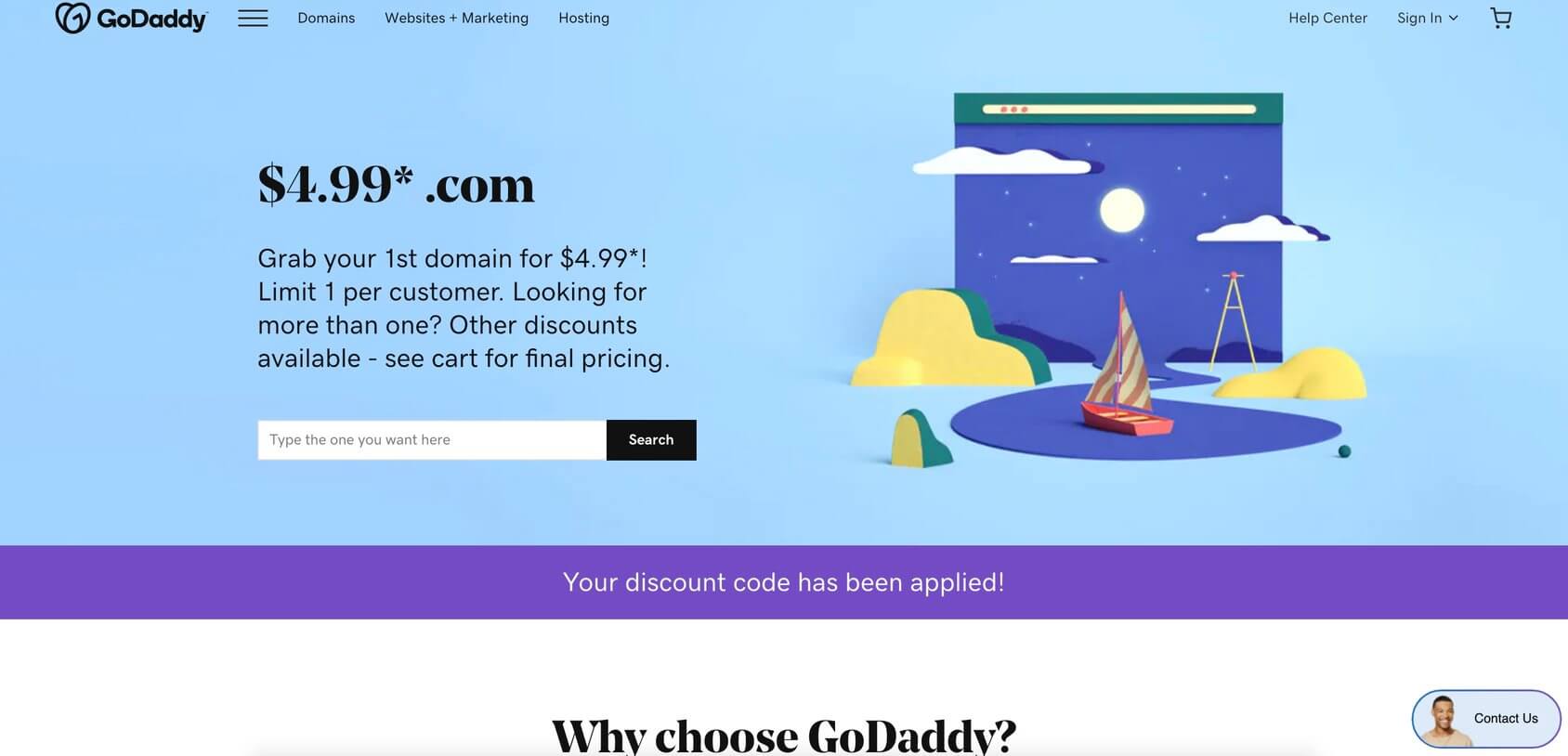 While it may not be the oldest, GoDaddy is by far the biggest domain registrar on the market. It has an enormous customer base of over 17 million. GoDaddy currently manages more than 75 million domains. Hopefully, this paints a picture of how popular it is. After the company established dominance on the domain name market, the prices logically went up.
If you are looking to buy a domain name at GoDaddy, you should be aware that the prices are above the industry average. Some of the features such as WHOIS, don't come free in the extras package. GoDaddy will charge you for every perk that you want to unlock. Anyhow, it is a great option for people who want to get a web hosting and domain registration package. Excellent customer support is available even over the phone to help you choose the best package for your needs.
Key features
Domain name search
Bulk domain search
New domain extensions
Domain name generator
WHOIS
Domain transfer
Domain protection and privacy
Domain auctions
Domain investor tools
Pricing
.com domains start at $11.99
.org domains start at $9.99
.mobi domains start at $7.17
WHOIS start at $8
Note: The prices apply if you pay for two years up-front, and they go significantly up once the two-year period is over.
Register domain name with GoDaddy >>
Hover — The easiest registrar to purchase domain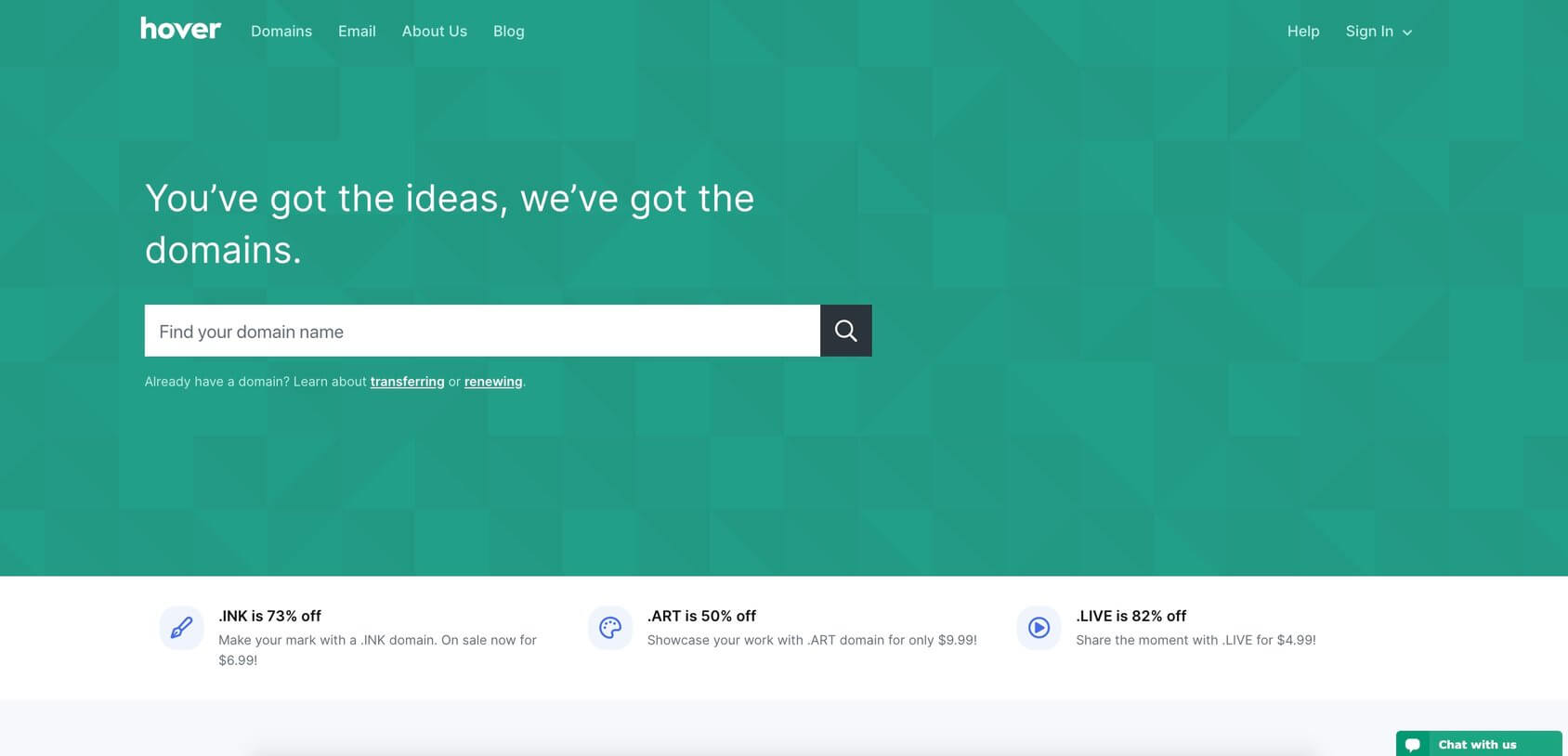 Behind the popular domain name registrar company, we have Tucows. This company owns two other brands in the domain name waters, eNom, and OpenSRS. Unlike other registrars on our list that don't have a dedicated web page for disclosing the pricing policy and plans as we hoped, Hover does the job perfectly. You will be able to see exactly how much you will have to pay for the domain you choose. The list is quite long, so be sure to spend some time cross-referencing prices with other offers.
Hover offers a lot of features and provides a free WHOIS service, as long as you stay with the company.
Key features
Domain search
Domain transfer
WHOIS service
TLD domains
Customer support via email and live chat
Pricing
.com domains start at $14.99
.mobi domains start at $29.99
.net domains start at $16.99
.org domains start at $13.99
Bulk domain pricing
Register domain name with Hover >>
Name.com — Provider with excellent customer service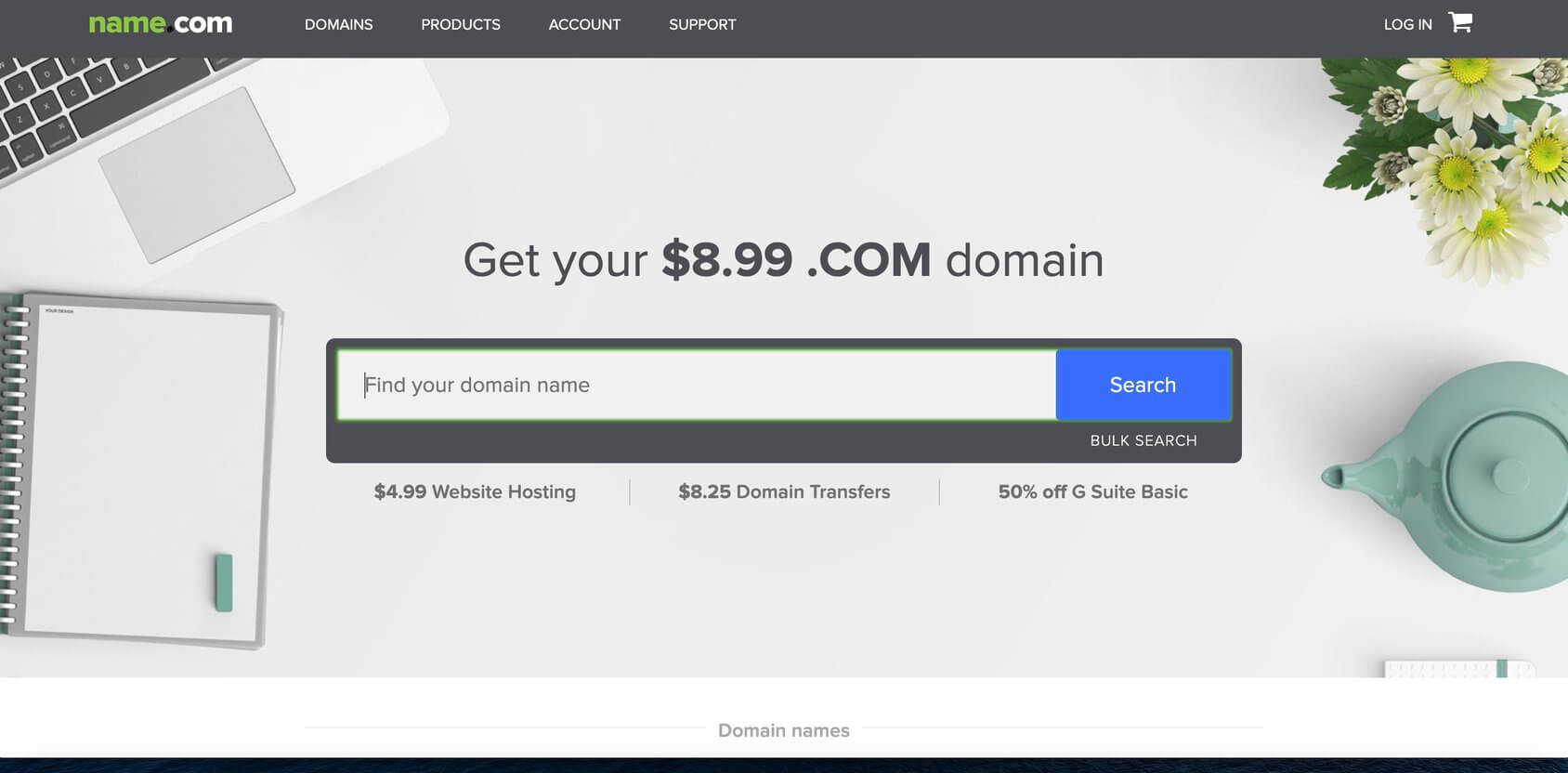 Name.com is managed by the Right Side Group, with headquarters in Denver, CO. The company started out as a small project launched by William Mushkin in 2003. However, it provided premium domain registration services and became quite popular among businesses and individuals. As a valuable member of the Right side Group family, Name.com is responsible for managing over 300,000 domains.
The website is intuitive and really easy to use. Domain lookup and registration are straightforward. When it comes to features, Name.com doesn't fall behind the competition at all. However, the lack of customer support options may discourage some clients with a no-to-limited technical background from using its services.
Key features
Domain name search (apply filters: expiration date, premium, & more)
Domain name bulk search
Domain transfer
URL and email forwarding
Two-step verification
Forwarding to social media
DNS management
Pricing
.com domains start at $12.99
.net domains start at $14.99
.org domains start at $7.99
.mobi domains start at $8.99
Register domain name with Name.com >>
Gandi — Great option to secure large domain portfolios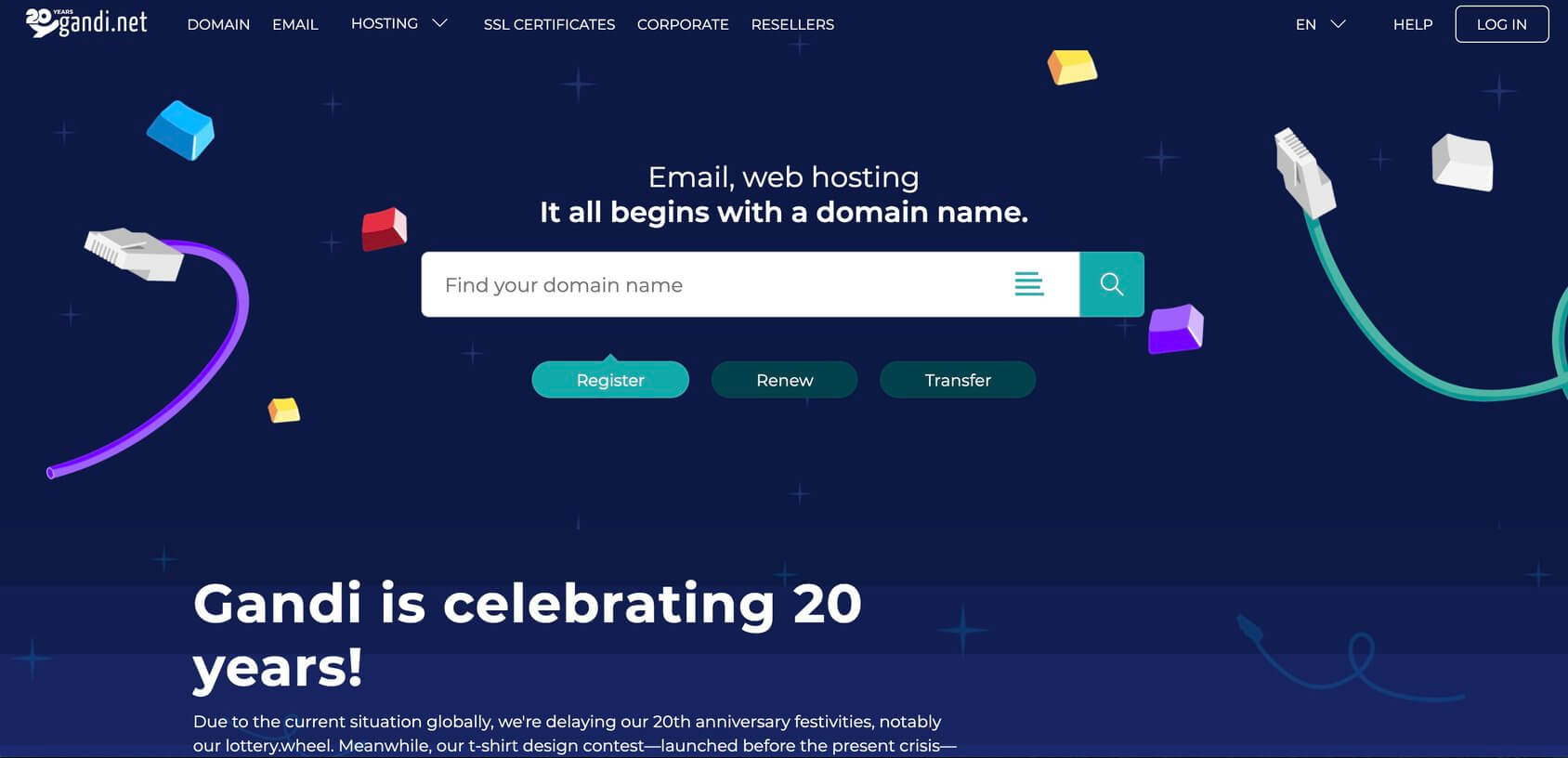 Gandi is the result of a collaboration between French internet pioneers, Valentin Lacambre, Laurent Chemla, and Pierre Beyssac. It was founded in 1999. After it was bought in 2005 by a professional management team, it became one of the most popular domain registrars in Europe.
The Gandi domain management team currently manages over 2,4 million domains from almost 200 countries. Its services are tailored to meet the needs of individuals as well as big enterprises. We found Gandi to have all the must-have features. Their pricing is reasonable, and customer support is outstanding.
Key features
Domain name search
Free SSL certificate to secure your domain
2 free mailboxes with 3GB of storage
Registry lock for .ch and .li domains
Over 700 domain name extensions
A downloadable complete extension catalog with prices included
Pricing
.com domain names start at $16.13
.net domain names start at $18.61
.org domain names start at $9.69
Register domain name with Gandi >>
NameSilo — Enabling you to trade domains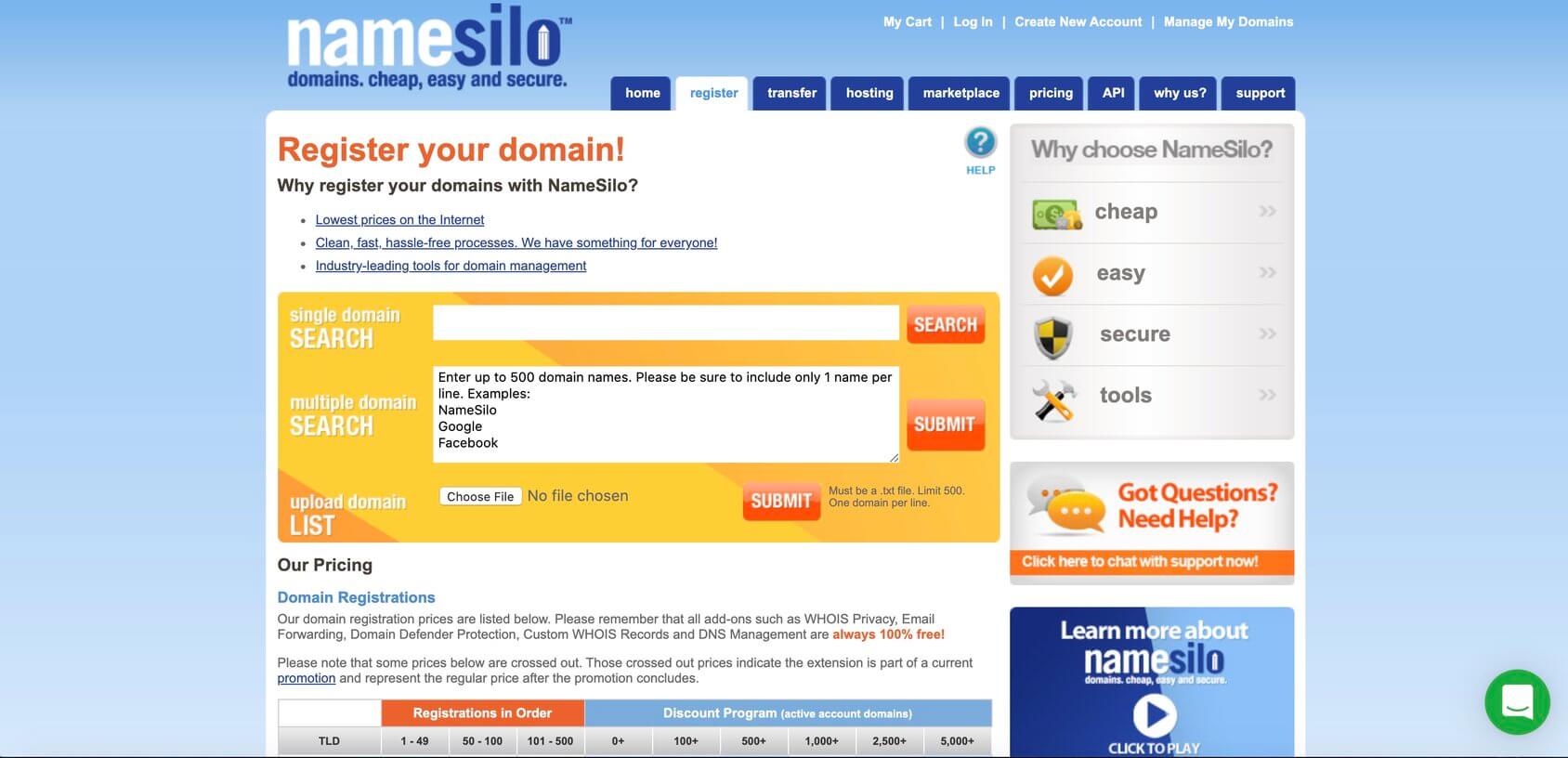 Although new in the game, NameSilo managed to quickly become competitive by offering high-quality services at very affordable prices. NameSilo is one of the fastest-growing registrars with a great offer of cheap domain names. The company offers tools based on cutting-edge technologies to streamline your domain management. You can also register to become an official reseller of the domain names through the platform.
You can find the perfect domain for yourself on NameSilo's domain name marketplace. Here, you can browse through expired domains, or participate in one of the many domain name auctions.
Key features
Domain name search
Domain name transfer
WHOIS service
SSL certificates
Free domain privacy
NameSilo domain name marketplace
Pricing
.com domain names start at $10.95
.net domain names start at $11.79
.org domain names start at $10.79
Note: You can get big discounts when making bulk domain name registration orders.
Register domain name with NameSilo >>
IONOS — One of the best registrars with support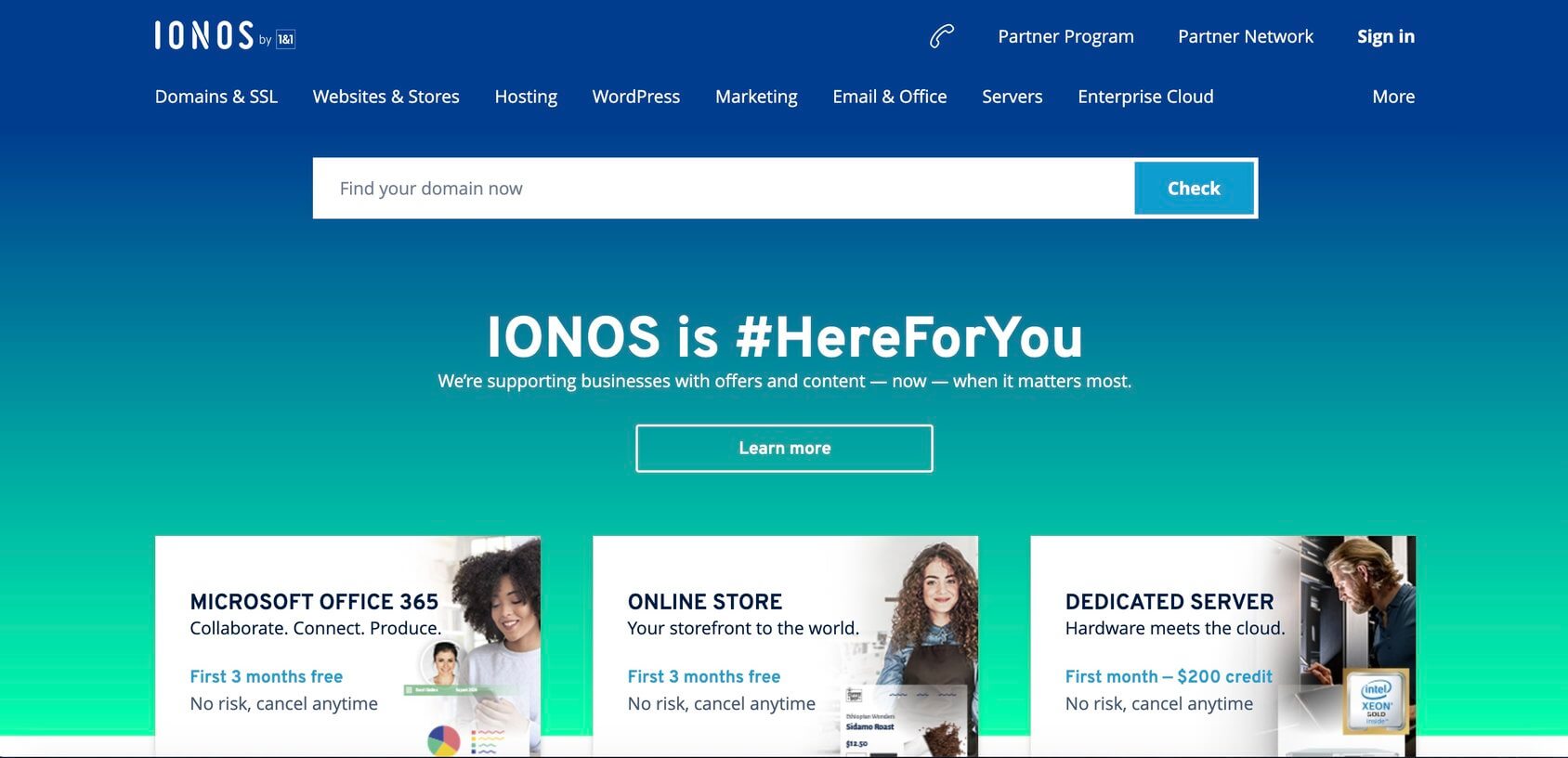 IONOS is a pioneer in the domain registration business. Originally, it was founded under the name 1&1 in 1988. IONOS is owned by a German internet services company, United Internet. There is not much to say when you have a domain registrar with a reputation longer than 30 years. It comes with all the features you need to buy domains.
The website is easy to use, as is the server control panel. There is one thing, though. IONOS services are not available worldwide. At the moment, you can use it if you are in one of the following counties: US, Canada, Mexico, Germany, Italy, Austria, Spain, France, Poland, and Great Britain.
Key features
Domain transfer
Domain name search
Domain guard
Domain lock
24/7 customer support
Pricing
.com, .org, .net, and .biz domains start at $1
.shop domains start at $50
.blog domains start at $6
.app domains start at $12
Register domain name with IONOS >>
Google Domains — Registrations made simple and easy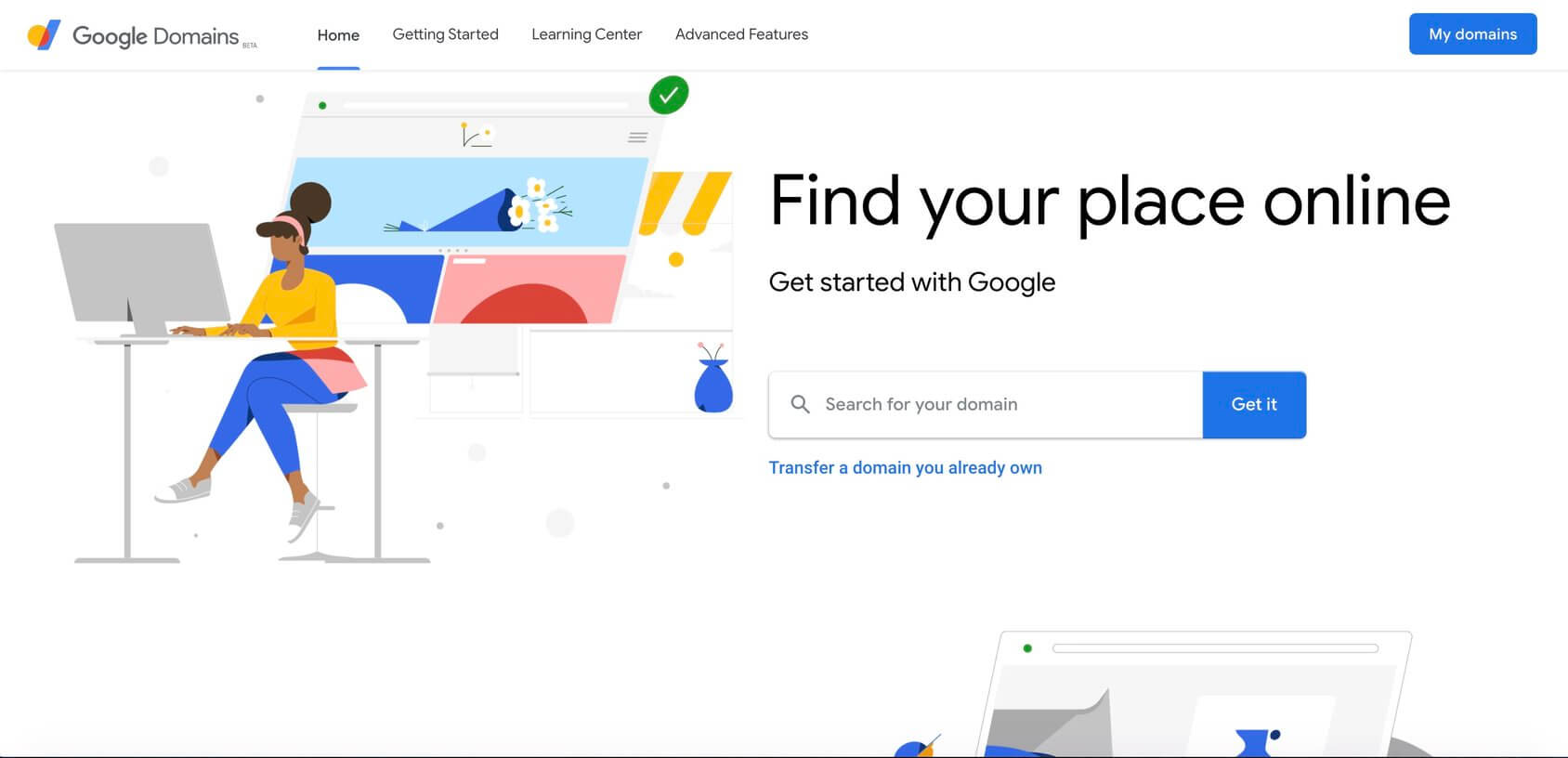 Google decided to leverage its position in the IT world and attract clients who prefer famous and trustworthy companies above anything else. To help individuals and businesses register domains with ease, Google launched Google Domains. Google Domains is very easy to get used to. It offers a clean user interface, a transparent pricing policy, and one of the best domain search features. There are no discounts, special deals, and ongoing sales.
Google did a perfect job of making domain purchasing as straightforward as possible. While the domains are listed in an informative way, we found that you won't be able to register some of the domains with Google Domains. On the other hand, these domains are available across other registrars, including .tv and .mobi. On the other hand, it is the only registrar on our list that offers prices standardized to whole numbers.
Key features
Domain search
Domain transfer
Privacy protection
24/7 customer support
Domain reports
Pricing
.com, .net, .us, .dev, and .org domains start at $12
.app domains start at $14
.me domains start at $20
.tech domains start at $40
.store domains start at $50
Register domain name with Google Domains >>
How to choose the right domain registrar
Before you buy a domain, you have to choose the right domain registrar for you. With so many factors in play, it can appear that it is an impossible task.
It's quite the opposite. Once you know what to do, you can skim through the offers and be able to quickly identify the right domain registrar for your needs as an individual or a business owner.
Domain names extension
Long gone are the days when .com played the most important role in SEO. Unique domain name extensions can help you differentiate yourself from the competition. It can also make it easier for customers and clients to remember it. If you are looking for something unique that goes well with your brand or blog name, narrow down your options to registrars that offer a variety of domain name extensions.
Domain registration vs. renewal price
Many domain name registrars tell customers to buy domain names by listing out cheap domains. But, very often, this happens to be the price for registering a domain. Once you have to renew it, you will most likely have to pay twice as much as your initial investment.
Before choosing the best domain registrar, check the registration and renewal price. Also, if you are transferring the domain from another registrar, check the domain transfer price.
Bundled services
To make the biggest bang for your buck, look for registrars that offer bundled services. Some registrars will charge for these services such as protection, privacy, SSL encryption, and WHOIS lookup. Others offer them for free as long as you stay loyal and keep renewing your domain name registration with them.
If you want to save some cash in the long run, you should consider registrars with bundled services.
Domain registration and web hosting
A majority of domain registrars on our list offer website hosting as an extra. Some people find it convenient to use one company's website hosting and domain name registration services. It makes management easier.
This is a two-way street, though. Web hosting companies also offer domain name registration services. Web hosting and domain registration are both as important. For example, Bluehost, our recommended hosting provider, will give you a free domain name for the first year if you sign up for their hosting package.
Hidden fees
Unfortunately, domain name registrars play the "small print" game like many other firms offering IT services. Whenever purchasing something online, we advise you to exercise caution. Always look at the fine print before making the final decision.
Customer support
Customer support is also an important factor when choosing the right registrar for you. In critical situations, you will need help, and if it is not available 24/7 or you have to resolve matters via email, you will have a hard time. It's always better to go with a registrar that offers multi-channel 24/7 customer support.
The best of the best
It's completely understandable if you can't be bothered with cross-referencing domain name registrars' offers. You need to make an informed decision as soon as possible. Alright, here are the best of the best domain name companies listed in several categories that might reflect your unique needs.
The best cheap domain registrars
The following registrars offer their services at affordable prices. We made sure that there are no trade-offs. You can buy domain names from any of the following companies for a fraction of the price and still get a premium-like service.
The best domain registrars with the most TLDs
If you are only interested in investing in a TLD domain, you don't have to wander around. These two are the best domain registrars that will offer you access to the most available TLDs on the market.
The best domain registrars with hosting service
Do you want to avoid the hassle of having one company for web hosting and another one for domain name registration? No problem. The following two are the best registrars that have a hosting service as well, for your convenience.
FAQs
What is a domain name?
A domain name is how your website will be known online, no matter what type of website you'll have. It is the unique address of your website on the internet and it will be yours as long as you continue paying the annual fee. Customers who know your domain technically referred to as a URL can simply type it in their browser's address bar, and be taken there.

A domain is more than an address. It is your blog, your business, and your online identity. That's why your domain name must be you. Make it recognizable, easy to remember, and a proud representation of you and your brand.
What is the difference between TLDs and SLDs?
Many people think that top-level domains (TLDs) are better than second-level domains (SLDs) in terms of quality. These are just the terms used for the different sections of the domain name. TLD is what comes after the ".", and SLD is what comes before it.

For instance, in firstsiteguide.com, ".com" is a TLD, and "firstsiteguide" is an SLD. Together, TLD and SLD make a domain name.
What are descriptive top-level domains?
Descriptive top-level domain (dTLD) names have recently made an appearance on the domain registry market and are growing in popularity. These domain names are more descriptive than the original gTLDs and can add credibility or distinction to your business.

Examples of dTLDs include: .guru, .adult, .bike and .ninja.
How much do domain names cost?
Prices for domain names vary among different registrars and hosting companies. The normal cost is in the range of $8 to $15 per year for the .com domain. Other gTLDs such as .net or .org may be less expensive. Specialty dTLDs such as .guru, can run as high as $100 a year.

Registrars may also offer special deals used to make an initial purchase so that you pay a low entry fee, but are charged the regular price in subsequent months.

Note: If a promotion boasts $1 domain registration for the first month, it will likely charge you $14.99 the following eleven months. Simply be aware that after the first month or first year, the normal price will take effect.
The myth of the FREE domain
Sometimes you'll see a hosting company or registrar offering «FREE» domain names. The most common offer for a free domain name is that it will be free for the first year when you purchase a hosting plan. This is fine as long as you realize you'll be paying for the domain name after the first year is over.

Other companies may give you the domain free as long as you host your site with them. This is also fine, but understand that the cost of the domain name is bundled into the cost of the services they provide.
A domain name for custom email
Another fairly common practice is registering a domain name in order to establish a custom email address.

If you have a very long domain name, such as: "ThisIsALongDomainName.com".
You may want to register an abbreviated domain name to use specifically for email. Using our example, one could use "tialdn.com", where the domain name for email is the acronym of the primary domain name. This way "[email protected]" is much easier to give out and use.

Domain names registered for this type of use need to be pointed to a host in order to use their email servers. Some registrars offer this service, but in other instances, this requires a normal hosting account, even if the account isn't used to house an actual website.
The domain name to launch a website (often free domain with hosting)
By far the most common reason to register a domain name is to launch ablog or website. Registering a specific name to a website is essential if you want to establish an online presence.

Normally, when you sign up for hosting, the domain registration process will be included.
In some cases, though, an additional fee for domain registration will be required. But your goal is to tie a name to the website that will be housed on that hosting account.

Our recommended hosting provider, Bluehost, is providing a special offer for our visitors that includes a FREE domain name. You will get a free domain name when you sign up to set up a WordPress blog with them and they offer a 30-day money-back guarantee.
Can I buy more than one domain?
You can buy as many domains as you want. There are no restrictions when it comes to domain purchases. For many people, it is a primary occupation. They buy domain names in bulk and try to resell them to make a profit.
Can I buy a previously owned domain?
If a domain is not renewed at a registrar, the domain becomes available for purchasing. You can buy a previously owned domain; however, you should not rush into making this decision without previously researching the domain in question. Check who owned it, look into the domain's history, and make sure it doesn't come with a bad reputation.

Also, your intended domain name may be reserved but available through an auction, such as Godaddy Auction, Sedo, or NameJet. You'll need to find the desired name and monitor the auction to ensure you get the best price and beat any competing bidders.
How to buy a domain for life?
"Buy a domain" is a commonly used phrase, but semantically speaking, it's not a true one. If you buy something, you own it, right? Well, you can't own a domain. What you are actually doing is renting it. The renewal process is you paying a one-year rent in advance. To answer the question, no, you can't buy a domain name for life, but you can hold it until you decide not to renew it.
How to transfer a domain name?
Though you purchase a domain name through a specific registrar, you're not required to keep your domain name with them. You may change registrars whenever you wish, except during a 60-day period after initial registration or recent transfer. This is mandated by the Internet Corporation for Assigned Names and Numbers (ICANN) and not simply a requirement of your chosen registrar. When you're ready to switch registrars, you'll need to follow the procedure to transfer the domain from the existing registrar to your new one.

First, you must contact the existing registrar and obtain a transfer key. The current registrar will then enable your domain name to be released. Next, provide your newly chosen registrar with the transfer you were given. They use it as authorization with the old registrar to allow the transfer.

The two registrars then facilitate the transfer of ownership. Domain transfers most occur within a few days.

Note: One caveat to the process is that neither registrar will change your domain's DNS records or name servers. Should you need to make any changes you will need to change them either prior to the transfer with your old registrar or wait until the transfer is complete and then change them at the new registrar.
Should I buy domain privacy?
Every single domain has a WHOIS listing. Anyone can see and search the listing of all registered domains, meaning that anyone can see your personal data (name, phone number, email, and address).

Domain privacy, or WHOIS privacy protection as registrars refer to it, ensures that your private data is not available to the public. This is why we have to advise you to buy domain privacy.
Conclusion
Now that you had the chance to take a closer look at the most popular domain name registrars and the features they offer, you can make an informed decision.
Domain name registration is not something that you should rush. Take your time and closely examine all the options you have on the market. If you do want to take shortcuts, go back to our "Best of the best" section and consider the best domain registrar we put in the use-case categories.