Wix Website Builder Review 2023
Company Overview, Pricing, and Features
FirstSiteGuide is supported by our readers. When you purchase via links on our site we may earn a commission.
Read More
Wix Website Builder Review 2023
If you're active online, then chances are good that you already know about Wix. Their ads pop up everywhere featuring well-known faces like Jason Statham, Heidi Klum, and Gal Gadot.
However, even without the familiar faces, Wix would still be one of the best and most well-known online web builders in the modern market. One of the main reasons for their success is that they are truly beginner-friendly, and free for smaller projects. This means that you can start right now and quickly build the site of your dreams.
Who should use Wix (best for):
Although you can build practically any site you want, Wix is best for smaller personal (portfolios especially) or business websites, as well as for bloggers who focus on content.
If you are looking for a website builder that will let you inject your own style and ideas, Wix is the right place. Their powerful editor lets you drag and drop elements onto the layout of your site. Everything is intuitive, and you can enjoy building your Wix website without having to write a single line of code.
Wix key features
Powerful editor – a Drag & Drop editor that works flawlessly and lets you actually enjoy laying out your website the way that you have dreamed of.
Templates – more than 500 templates that can be edited to everyone's needs.
Fast – the entire platform works stunningly fast and loads each and every element in the blink of an eye.
Blog – design and manage your blog through a simple and user-friendly dashboard.
Personalized SEO plan – let Wix help you create your own SEO plan, and guide you through the basics of optimizing your website for search engines.
Wix ADI – artificial intelligence will guide you through everything related to your site.
Mobile optimization – work on the mobile version of your website separately.
Corvid by Wix – improve your site by working on Wix's open development platform.
Review summary
Users can build their site for free, or they could opt-in to a plan that will remove Wix ads and give users more control over their site. Whether you are blogging, running a business site, or want to start an eCommerce business, Wix can work with you.
To review Wix and its services, I am about to explore their platform. Then, I will create a demo/test site that will help me to understand their editor and all of their other features better so that I can assess them more easily.
Detailed Wix review
Ease of use
Honestly, Wix is definitely the most beginner-friendly website builder out there! The editor looks beautiful, and it is effortless to use.
When you open the editor for the first time, you will be welcomed by their simple onboarding system that starts with a short video. The fact that the video is only about one minute long is a clear message about how straightforward the process is. If you have any previous experience with building webs (no, not the spider kind), you will only need a few minutes to browse around Wix to learn pretty much everything you need. The location of their elements is exactly where you would expect them to be, making the layout extremely intuitive. If you are a complete beginner, it will take an extra few minutes to look around until you familiarize yourself with the editor, but it won't be that much tougher for you.
Templates
If you watch some of Wix's commercial videos or ads available all over the web, you will quickly realize that their goal is to please everyone. Because of that aspiration, they want to help anyone to build anything. To support this goal, Wix has hundreds of templates available.
I have to admit that at first glance, those templates didn't seem as elegant as I wanted them to be. But after a bit more scrolling and previewing, I changed my mind. Among those hundreds of templates, you can really find dozens of styles, and something to appeal to everyone.
The diversity of categories is simply amazing. And this is where Wix proves that they really can cater to everyone's needs. It doesn't matter if you're looking for something very basic, a fairly common template for photography or business, or even something more unique like a drag queen promotional template, Wix has it all.
Design flexibility
Designing a website with Wix is pure joy. Their Drag & Drop editor works flawlessly, and you can really relax and enjoy crafting a site.
If you want to place an element on one side of the screen, all you have to do is move it there. You can move everything as easy as you would move an icon from one side of your desktop to the other. I didn't experience any glitches or flaws, although some are bound to happen sooner or later. Also, if you go outside the lines, Wix will warn you about that, and even explain who can see the element that you moved away. Amazing!
Adding hundreds of available elements is only one step away, and you can choose from a variety of items such as text, images, buttons, galleries, menus, lists, and much, much more. There are more than 20 gallery elements that you can add, and that's without even including 3rd party apps (more about them later).
Editing website elements is as easy as adding them to the page. Clicking on an element opens a menu that provides element-specific options. For example, if you decide to edit a text element, you will be able to quickly change the font, formatting, sizes, etc. Everything is in reach, and all options are visual. So, that means you do not have to know HTML, CSS, or any other technicality. This means that instead of Googling the terms you don't understand, you can focus on building your site exactly how you imagined it in the first place.
Wix also comes with extra apps that you can install to enrich your site. If you're familiar with plugins in WordPress, you will understand how this works. When you need extra functionality, you simply find the app that you want and expand. However, do note that many of these apps cost extra money.
Domain options
When you start out, you receive a domain name that actually represents your account. So instead of anything complicated, your site will be accessible from youraccount.wix.com.
At first, I thought I was stuck with this. But, after exploring Wix a bit deeper, I found out that you can easily change your account name to anything that you like. I easily changed the test website name to fsgtestwebsite.wix.com.
However, it's important to note that your site also has a name. This means that instead of the classic subdomain as shown earlier, you will have to have one more name in the domain. That means that your site will be accessible from a link such as yourdomain.wix.com/sitename.
If you already own a domain name (like yourdomain.com), you can quickly connect it to your Wix site. Similarly, Wix can help you to get a new domain through their editor. Of course, custom domains cost extra money, and you will have to start a premium plan with Wix to enable the option of tying a custom domain to your site. However, Wix does offer a lot to users for free, so some restrictions do seem only fair when you start customizing your site beyond set limits.
Mobile site optimization
Portable devices like smartphones and tablets are already dominating the IT market. This market dominance is probably not going to stop until Star Trek holograms become available, so it is important that you tailor your website to mobile access.
While working on your site, you can simply click a small smartphone icon to preview your new creation. This is incredibly helpful since you don't have to unplug your iPhone from a charger behind the bed just to preview your site on a mobile screen. But what's even better is that Wix allows you to edit your entire site in this mode!
What's amazing is that this mobile editor is completely separate from the main one. This means that you can make changes in the mobile editor, and the changes will only affect the mobile version of your site. So, for example, if you realize that some content is too big, or some of the images don't fit well, you can adjust/remove/replace them. You can choose animations, place your call to action buttons, and more. This mobile editor is an extremely powerful feature that any user will appreciate.
SEO (Search Engine Optimization)
Being able to easily create a beautiful site does not matter much if no one sees it. That's why it is always important to optimize your website for search engines.
While this is not something you can do with just a few clicks, Wix is definitely able to help you. There's a separate section dedicated to search engine optimization where you can set the title of your website, set a description, and even tell Google and other search engines if you have a physical location for your business (again, an essential factor in SEO).
After the first few simple steps, Wix will show you a few more suggestions. They call this an "SEO Plan," where they suggest how to change titles, descriptions, text on the homepage, and more. Artificial intelligence will even help you to connect to Google Search Console so that you can start improving your SEO game. Wix will then show you their guide to SEO before leaving you on your own or suggest hiring an expert who can work with you.
Search engine optimization isn't easy, but Wix has made it more accessible for beginners and directed them in the right direction.
Blogging functions
Although Wix seems all about drag and dropping design elements so that you can launch your site, blogging is also a priority with them.
Setting up a blog with Wix is as easy as selecting the option. As soon as you open up your blog page, you will be able to change its layout and design. Like everything else with Wix, you're the master of your site and the way it's presented to the world. This means that you won't be disappointed while you adjust the blog settings to meet your needs.
Managing blog posts is quite easy with Wix. Unlike Squarespace (that drove me crazy!), Wix comes with a much cleaner and simpler user interface. Adding new blog posts is only a click away, and the post editor is very intuitive. Adding text and media is exactly where you'd expect it to be. I really like their interface that allows you to focus on the content and not worry about different settings that you don't need.
eCommerce integration
Although it's not a dedicated eCommerce platform, Wix does allow you to start your online business. Unfortunately, you can't do this on the free plan, but if Wix has won your heart with its simplicity, you can keep working with them.
If you decide to upgrade your simple site into a selling machine, you will be happy to hear that Wix allows multiple sales channels. It accepts secure online payments, manages end-to-end fulfillment, and targets prospective shoppers with advanced marketing tools.
Wix pricing and plans
Wix is free for personal use. You can quickly open a free account and start playing around with the design of your site. And there's quite a lot you can do with the free plan. It won't limit you in any way as long as you're using it to create a simple personal website. However, this free plan means having a Wix subdomain without the ability to change it. Also, it means having ads displayed on your site.
If you decide to step up your game, a choice of four plans allows upgrading your site with Wix. If you want to start an eCommerce business, there are also three additional plans at your disposal.
Basic
Allows you to connect your domain.
Combo
Removes Wix ads, comes with a free domain.
Unlimited
Comes with unlimited bandwidth and increases storage.
VIP
Comes with VIP support.
Business Basic
You can accept online payments and have 20GB of storage.
Business Unlimited
Increased storage.
Business VIP
50GB storage, VIP support.
Customer support
The documentation available on Wix is extensive. Whether you're trying to learn more about the editor, billing, and premium plans, or how to handle your site during COVID-19, a wide selection of articles are there to help you out.
However, if you decide to contact support, prepare to be frustrated. I searched for a contact form or an email address through the editor, without any results. Then I realized that all you can do is browse through the documentation and chat with a chatbot. However, if you are persistent, the chatbot will eventually offer to assist you in contacting support directly.
After sending a simple question, I instantly received a confirmation that my email was sent. However, I didn't receive an answer to my query for 20 hours. When I compare this to Squarespace, who answered me within 10 minutes with a detailed response, I have to say I am very disappointed with Wix's support.
Still, the email response was helpful and had custom images showing where to find the element I asked about.
Wix pros and cons
PROS
Editor – the Drag & Drop editor is very beginner-friendly, intuitive, and a delight to work with.
Elements – there are a lot of elements and their variances that you can add to your site.
Mobile – it is easy to preview and edit the mobile version of your website.
Free – if you're using it for personal use, you do not have to pay anything to have your website up and running.
CONS
Can't switch templates – although templates are beautiful to work with, it is not possible to change them.
Support – it was tough to find out how to contact support directly, and they're slow to answer.
Examples of sites built with Wix
Let's see some other websites that are already running on this popular platform before I share what our test site looks like with you. These examples will give you a better understanding of what to expect if you decide to start your website with Wix.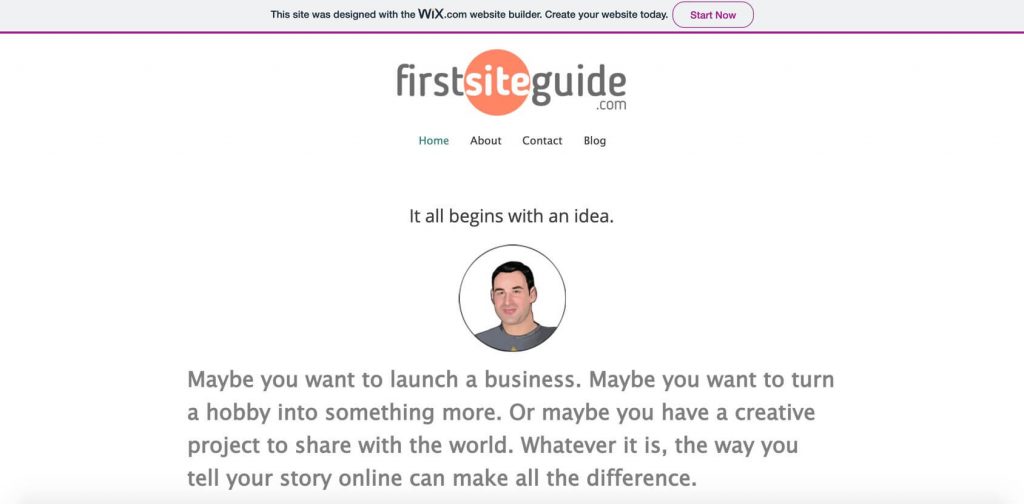 FAQs
Is Wix really free?
As long as you need a basic website, Wix is entirely free, and you can use it indefinitely. That includes editing your websites and adding new elements. However, you should understand that Wix shows ads through your websites, and you cannot customize the domain name while using it for free.
Can I earn money with Wix?
Yes, you can earn money with Wix. Whether you choose to build an eCommerce business where you can sell directly, start showing Google ads or ads from any other platform, become an affiliate for someone, Wix enables you to earn money.
Do I need to find hosting for my Wix website?
No. Once you start your website with Wix, the site is stored on their servers, which means that you do not have to find 3rd party hosting companies to handle your data.
Does Wix give you a domain name?
If you choose Combo or any higher plan, you will get a voucher for a free domain name for one year. After that, you will have to pay for the domain name by yourself.
Can I transfer my domain to Wix?
Yes. If you choose Combo or any higher plan, you can connect your domain to Wix. In that case, anyone who visits your domain gets access to the Wix site that you have built.
Conclusion
Wix is a beginner-friendly website builder that allows you to use their editor without hassle. Everything is visual, and you can just focus on building your site.
I loved the way their editor works, and although you can expect a glitch here and there, in essence, it functioned very well. My experience with Wix would be completely perfect if their support weren't so hard to access.