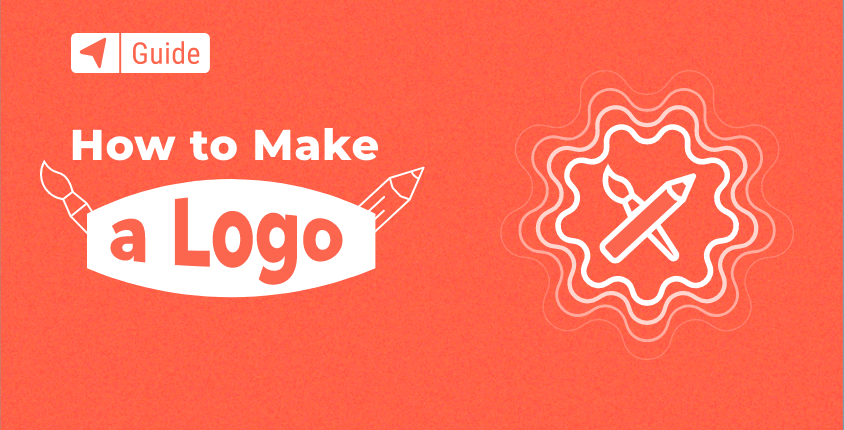 Your logo is the visual representation of your brand—and everything it stands for. At a glance, it should reflect your brand's personality and promise. Ideally, it will be memorable and stand out from the crowd. Consider iconic logos such as the Nike swoosh, Apple Computer's simple apple or Target's red bullseye. What comes to mind when you think of each one?
If you are in the process of starting a blog or a small business, you may not have the resources to hire a designer to develop your logo. This guide was developed to help small business owners with no design experience to understand how to create a logo. You'll learn about the processes necessary to transfer your ideas onto paper, find out how to spot flaws in your concept and enable your primary idea to grow until it reaches a satisfying level of quality.
Although this may be new ground, you'll probably learn a lot and enjoy the experience. So, let's start from the beginning.
What is a logo?
A logo works much like your name. When you were born, your parents gave you a name that, over time, you infused with personality. Now, when people hear your name, they immediately think of you. And when people talk about you, your name evokes certain emotions and characteristics.
Whenever the name comes up, people immediately think "that funny party guy who has a deep voice" or "that blonde girl who has a quirky laugh and always dresses well."
In the same vein, a logo is a symbolic representation of your brand identity. It carries vital information about who you are and what you do and causes people to feel a certain emotion. For example, BMW is associated with precision, quality vehicles and prestige, as many company executives drive their sedans. Nike is associated with high-level sports performance and durable shoes.
Why are logos important?
Logos give websites an identity, but you need to understand why that is so important. The branding process has many different stages and elements. The design and proper usage of your logo are a big part of it.
Your job is to make sure people connect the dots and recognize your website and brand the second they see the logo. If that works, your marketing efforts will be much more effective. The fact is, most people build an emotional connection with the brands they've had positive experiences with, based on their history and personality.
When targeted consumers see your logo, they need to instantly recognize it and connect it with your brand values. Why is this important? Because approximately 65 percent of consumers said shared values attract them to a brand and to the specific products or services you offer. They also revealed that shared values help make your brand more memorable. The very next time they think about something related to your niche, your domain name and logo should be the first images that pop into their minds.
Your audience should be able to differentiate your logo from a series of different brand logos on a shelf and choose your product based on the fact that they associate it with quality, cost-effectiveness or any other characteristic that you want to be known for.
Protect your logo with LegalZoom
Principles of an effective logo
For you to successfully create a logo, there are some principles you need to be aware of. As a beginner in the world of logo design, you'll need to train your mind so that it can adopt a creative thinking process that will enable you to come up with unique designs. You should be able to do this if you understand the following principles:
Simplicity is the key
Designers constantly overdo it when it comes to logos. But the most popular logos are striking in their simplicity. Nike and Apple are great examples: everyone on the planet recognizes these logos and their mottos. Obviously, there's a thin line between overdoing and underdoing it, and this might be your biggest challenge when designing a logo.
It needs to be unique
In a sea of companies, the last thing you need is a generic logo design that looks like everyone else's. Sure, there are some popular design features for any niche, but you need something with a unique style—features that people relate to your brand specifically.
It needs to be recognizable
You need to get inside the mind of your target audience, find out what they like and desire, and develop your design accordingly. The logo should stand out and be easy to recognize, even from a distance. Obviously, a lot of research needs to be done here but it will be worth your while. The evolution of the Apple logotype supports well the principle stated in this part.
Flexibility is very important
The logo should be recognizable regardless of size or the medium it is represented in. It needs to work both in color and black and white, on billboards and business cards, in a corner of a web page viewed from a smartphone, and on keychains and mugs. Logos that are overly complex don't translate well into smaller formats.
It needs mirror a business' personality
It's possible to come up with a great logo that just lacks the right spirit. An excellent example would be to use playful colors and a cartoonish font when creating a logo for a serious law firm—that's a big no-no. However, there are many different mistakes you can make in this process that is not as obvious, which is why it's quite important for you to clearly define your business.
Different types of logos
Now that you're familiar with the basic principles, it's time to find out what types of logos there are, so you can become familiar with your options. Different types of logos can help you achieve maximal personalization and find just the right tone.
Text
A common mistake laymen make is thinking that a logo needs to consist only of design elements rather than plain text. This is far from the truth. It's possible to create a timeless design by using a word, a single letter or an abbreviation. The beauty of this approach lies in different fonts and possibilities that are practically limitless.
Symbolic
Symbols are fun and memorable. A symbol can be anything from a small green leaf that signifies eco-consciousness to a specific animal, geometric shapes or even something completely abstract. Many symbols are recognizable worldwide, and while some of them incorporate other well-known symbols from the past, or were inspired by them, a lot of the best ones were created from scratch.
The obvious problem here is that you won't be the first person to remember a certain connotation between a symbol and a particular business niche, and it's very likely that you'll end up with a concept that already exists if you don't do your homework.
Combined
If you decide to combine symbols with text, you'll have even more options for your design. There are many interesting examples of how powerful a combination of symbols and words can be in the world of logos. But there's a problem you need to avoid. This type of logo can easily be overdone—with so many options, it can be difficult not to cross that thin line we mentioned earlier. Staying aware of our first principle—simplicity—will keep you on the right track.
The logo design process
Everything we've mentioned so far is a bit theoretical, but now it's time to see the exact steps you need to go through before you can come up with a final version of your logo. A light bulb appearing above your head along with a brilliant idea in your mind the minute you start working on it is a possibility, but also highly unlikely. Any creative process needs to be divided into clear steps, so that you can be as efficient as possible.
Create a brief, or creative guidelines, to cover the end goals and problems that need to be addressed
Before you start working on the logo, you need to define what you are trying to convey, who your target audience is, what common problem you will be solving and what makes your brand different from the competition. You essentially want to clearly define your value proposition and crystalize your brand philosophy.
Here's an efficient list of questions you should have in front of you during this process:
What are my goals?
Who I am trying to present via a logo?
Who is my target audience?
What makes me better than my competition?
What does my brand stand for?
Talk with your business associates and employees, or family members if you are starting a family business, and make sure you know how you want others to view your company.
In-depth research
The next step is to start looking at the market, other companies in your niche and even what consumers are saying on forums and social media. Your logo needs to be market appropriate, tailored to suit the preferences of your target audience and initiate an emotional response. Simultaneously, it must be consistent with your own brand values and the type of image you wish to portray. Creating an ideal customer avatar helps a lot during this stage.
Armed with insights from your research, you can begin to narrow your ideas down to the specific type of logo you think would work best, such as one of the three mentioned in the previous section. You can also start to think about the colors, fonts, and symbols you can use, and the emotion you want to convey. It's best to focus on one or two characteristics that you'd like showcase through your logo, such as "elegant and modern" or "young and adventurous." Logo colors used & color emotions by fortune 500 brands
Finding inspiration and exploring different ideas
This is the point where you sit down with your business partners, friends or family members, make lots of coffee and start brainstorming. While you're doing your homework, make sure that you expose your mind to different sources of inspiration — having a staring contest with a blank page in front of you can hardly do any good. You can look at pop culture, art, history, mythology, something from your past that has great emotional value, an inspirational quote from a book or movie, or create a play on words based on your company name. It will keep you motivated and focused throughout the whole process if you take several short breaks.
Creating several coherent digital draft versions
Once you have a good idea what you want to accomplish and have found several elements you wish to incorporate, you can begin to sketch out different ideas on paper. You don't need great drawing skills for this process, just create rough images. There are three main options here: you can create rough freehand drawings to give a professional designer an idea of what you want, use computer software and online tools to put together a few drafts or just outsource the project completely, but more on that later.
Evaluating and tweaking the design
The primary concept you come up with should be treated as a tree that has just been planted—you need to give it space to breathe and grow. When you are designing your own logo, it's best to share your ideas and rough sketches with friends and family, or even with potential customers on social media, and get some feedback.
Producing samples and selecting a design
When you have created several design options that work best, it's time to crystalize them. At this point you can choose one or two designs that everyone likes, and create one or two variations, changing small things like font, color, proportions or the positioning of some of the elements. You also should test your concepts in black and white, and in color, and see if they work in a range of sizes. After this is done, it's time to seek more feedback. When you've determined which of these variations seems to get the best response, it's time to move on to the final phase.
Tools and methods for creating a logo
There are a lot of great user-friendly tools and cost-effective services you can use to create a logo, depending on your needs, budget and skill level. Even if you have no previous experience with logo design, you can create some rough drafts that will give a professional designer a good starting point. Here are the three most popular routes that you can take.
Be easy on yourself if you're a beginner. There are many different websites that can help you come up with a decent design quickly. Free tools can offer some decent variety and help you create a serviceable design, or just give you some good ideas that you can expand upon. Some sites offer pre-made designs that you can mix and match, customizing elements like size, font, and color. Some designs offer even more freedom for customization. These don't require much skill and are generally best for small companies with very tight budgets.
Free Tools
If you have time on your hands and want to create a logo by yourself, the next three tools will be very helpful. Each of them is a great tool that's very efficient and most importantly—free to use.
Tailor Brands is one of the leading logo makers available online today. They harness machine learning and artificial intelligence technologies to create a unique and beautiful logo tailored to your business. Tailor Brands takes your logo to the next level by automatically incorporating it in social posts for social media, business cards, templates, and more.
Logaster will enable you to browse through several hundreds of logos until you find the one perfect for you. After you enter your company name and select the type of business activity you do, you'll be able to start your quest—once you select a logo, Logoaster will provide you with a variety of options, like adding text or changing colors, to customize and personalize it. The only thing left is to download it and you may do so in raster and vector formats, but first, you need to know the difference between the two formats.
With over one million users, this software is capable of providing you with the first-hand experience in the world of logos. The huge collection of images from a lot of different categories make it simple to use and you can create your own logo within minutes. You should be aware that the interface of this tool is not that great, which is the only major disadvantage of Online Logo Maker. Nevertheless, you'll be able to create good symbolic logos using this software.
Paid Services
For those who want a custom design based on their own ideas and research they've gathered, and are willing to pay a reasonable price for it, there are a number of great freelance websites where you will find graphic designers of various skill levels. The process is fairly straightforward: you find a designer whose work you like, give them your input and pay them for their services once the work is complete.
The following three platforms connect freelancers with employers, so you can expect to work with designers from different corners of the world. Their work will require appropriate monetary compensation, but there's room for negotiation.
Although a lot of people don't like Freelancer's user interface, you can't really argue with the fact that this is a platform that has a lot to offer. You can be quite precise about the kind of logo you want, describe it perfectly, select the price range you're willing to work within—and simply wait for the best bidder. However, you shouldn't expect much from the Freelancer support team if some type of problem occurs.
Similar to Freelancer, UpWork is a platform that connects employers with freelancers and enables them to establish a professional relationship. It was born when two of the largest freelance platforms, oDesk, and Elance, merged. Today they have more than 30 million freelancers signed up on their platform. After you create a profile, you can create job posts detailing what you are looking for. Next, you wait for a number of designers to apply. Then you can check out their profiles and choose the one you deem to be the best. There is plenty of room for clear back and forth communication, so you will be able to give feedback on first drafts and later versions of the logo until the final idea is crystallized.
On this platform, both employers and freelancers focus on jobs that are less extensive, primarily making deals that usually involve pricing the proposed work, based on an estimate of the amount of time required to complete the job. However, because you only need a logo, you'll be able to find a good designer who will work for a fair price and complete their task within a short time frame.
Budget approaches
If your budget doesn't allow you to pay for an accomplished designer, look for cheaper alternatives. The three platforms listed below will offer you a different market—this is where up-and-coming talented designers look for employers with a tight budget.
A little more straightforward than the previous platforms, and with job offers to start at a mere $5, this can be a quick and easy solution for anyone looking for a decent, affordable logo. You simply use their built-in search engine to find logo designers and hire the one that you like. Skills and prices vary from quick and simple $5 to $30 logos or more professional logos with revisions and multiple concepts for several hundred dollars. There are many positive ratings that come from both parties, employers, and freelancers, so if you have a smaller budget and realistic expectations, this may be perfect for you.
From as little as $39.95 (or half price if you have a monthly subscription) you can get a high-quality logo using Placeit's simple to use logo maker. With more than 4500 professionally designed logo templates you'll have plenty of options to choose from, regardless of your industry. So if you're looking for an affordable, unique and high-caliber logo Placeit, and it's straight forward logo design tool, could be a great option for you.
Finding the right designer on this platform may take some time—prices of services are established by freelancers, and they range anywhere from $5 to $1000. However, if you put in some effort, you'll be able to find a freelancer who fits your budget and needs by going through a large number of portfolios.
Crowdsourcing Websites
When it comes to platforms based on crowdsourcing, the following are the best three. They all nurture an interesting employer-designer relationship and allow you to select the best option from a number of unique designs submitted by a variety of talented designers.
The great thing about 99Designs is that it can be super affordable—if you're short on budget, you can simply submit the price you're willing to pay for a logo design and receive ideas from designers willing to work for that price. Multiple designers will send in their logos and you can choose the one that reflects your brand best. You get a logo; a person gets paid; it's fairly straightforward. However, you should know that building a long-term professional relationship isn't what people do here—you'll receive a logo in a .jpeg or a .eps file type and that's it. Also, you should do some research on these file types, so that you'll know what your best option is.
For those who want to make a logo on their own but do not have the necessary skill, Designhill's AI-based logo maker is probably one of the best options. All one has to do is enter some information about their company, select their design preference and then based on those preferences you get a variety of logos to choose from.
Unlike the previous platform, Design Contest allows you to create long-term professional relationships, which may be their best feature. This is a fresh logo platform and the largest, so there are a lot of talented people to choose from. If you're in need of assistance, you should also know that the Design Contest support team is online non-stop from Monday through Friday, ready to help you.
DesignCrowd gives you access to more than 500,000 designers from around the world with logo projects starting at just $99. Other than having an amazing gallery with a significant number of outstanding logos, they also have a great team that can polish your design and gets it ready for product applications. DesignCrowd is all about quality (not just quantity), so you should take them into consideration for your future project.
Pro Tools
If you, one of your associates or a family member have some artistic talent, you might consider building the entire logo from scratch using professional software. Tools like Illustrator and Photoshop can be difficult to wrap your head around at first, but they will enable you to materialize your idea better than anything else. They require a small initial investment and plenty of work, but they allow you to create absolutely anything you can imagine. You won't have to worry about communicating your ideas to someone over Skype or email or spending a ton of money to get the design just right. But you will need some skills. This is the best option for creative artists and entrepreneurs who have a talent for design.
The great thing about this tool is that you can create both types of graphics using it – raster and vector. However, in order to use it properly and get to know all its options, you'll definitely need to put in some time—that's the only significant disadvantage of Adobe Illustrator. It's available on Windows and Mac, and it includes a lot of brand new features like smart drawing tools, new distortion effects, etc. So, if you have enough time on your hands, we suggest you go with Adobe.
An excellent piece of software for vector drawing, Corel Draw has been around for ages and is still one of the most popular tools for logo design. It features a very intuitive interface that's easy to get used to, fully customizable and gives the user plenty of options to work with. The software is a bit pricey, but you can get a free trial version and be on your way to creating a great logo in no time.
An interesting fact about this software is that it provides helpful tips and tricks during your creative process. Also, Laughingbird's navigation menu and themes are easy to use and apply. However, if you have minimal knowledge about logo design, you may be overwhelmed by the tremendous number of options. Besides this, Laughingbird will enable you to create a professional logo, thanks to its many smart features.
Register and protect your logo
Although this may seem like a lot of work, it really isn't—it is simply a legal matter you need to take care of to protect your logo and brand. Primarily, you need to research trademarks and see if there's someone else who already claimed and registered that logo or one that's very similar to it. Probably the best way to do this is to go through the US Patent and Trademark Office and see what their records show.
If there are no problems with the particular logo you have decided to go with, you should fill out the required forms and file an application with the trademark office, which can be done online. You can also find a lot of useful information regarding trademarks on their website.
If your application is approved, you'll have all the legal rights to your logo in every state in the U.S. There's one more thing you should consider using—something called trademark watch can be very useful, because it will notify when your logo is used, illegally, by a third party.
Register and protect your logo with LegalZoom
Conclusion
This guide covers all the basic points anyone interested in designing a good logo on a small budget needs to know. The information will be quite helpful to anyone who is new to logo design, especially ambitious entrepreneurs opening their first online shop or launching their first startup, as well as bloggers and artists looking to establish a reputable brand.
If you follow this guide, you'll be able to adopt a healthy, creative thinking process, come up with clear ideas, and design a logo that is memorable, engaging and speaks to your target audience. Using precisely defined steps and doing a fair amount of research up front will provide the foundation you need to create a memorable and versatile representation of your brand.