The Best Blog Name Generator 2023
FirstSiteGuide is supported by our readers. When you purchase via links on our site we may earn a commission.
Read More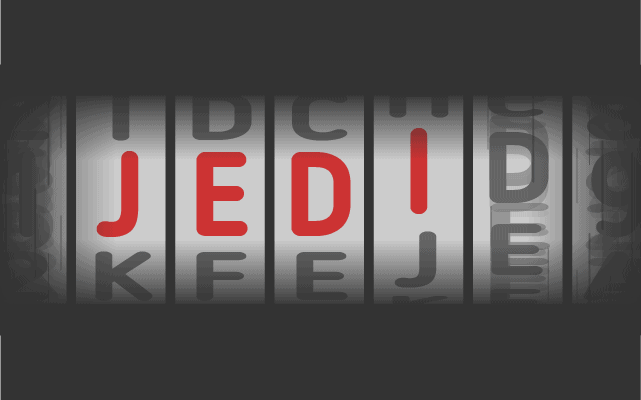 Whether you want to create a brand new blog or want to rebrand and spice up an old blog, you'll need a blog name generator to help you with the naming process. However, actually finding a good one is quite hard.
A blog can be anything these days. Since media channels are so varied, you'll find that you need a YouTube name generator, blog name generator, Twitter name generator, or simply a screen name generator for your online forefront.
Whatever the case may be, you'll need some interesting blog name ideas. Coming up with good blog names can be quite a chore if you don't use a designated blog generator tool. Good blog names should be short, memorable, and inviting. When someone comes across your blog name, they should instantly have an idea of what's going on.
You can think really hard to come up with the best blog name, or you can solicit the services of a professional blog name generator. There are many blog name generators (we've created our own free business name generator tool), some of which are free, while others demand a payment. Depending on your desired service, you should use either one – but rest assured that if you need a blog name, you'll get it fast with a great blog name generator.
The top 15 most popular blog name generators
Not all blog names are created equally, and some are way better than others. For example, when you search for bodybuilding.com, you'll know outright what the website is about. You should base the name of your blog or website around the content that's on it.
To further streamline this blog name generator process, you should use the appropriate tool. Whether you're looking for a lifestyle blog name, catchy blog names, clever blog names, or even creative blog names, you should find a tool that has the following features:
Cover a wide variety of blogs and niches
Help with blog generation overall
Have a geographical setting
Multiple blog name ideas
Fast service
Fun wordplay options
Word suggestions
Word substitutes
All these features will come in handy when you're wondering how to come up with a blog name. If you're wondering how to create a blog name like that, you'll be delighted to know that there are excellent blog name generator tools at your disposal, such as:
---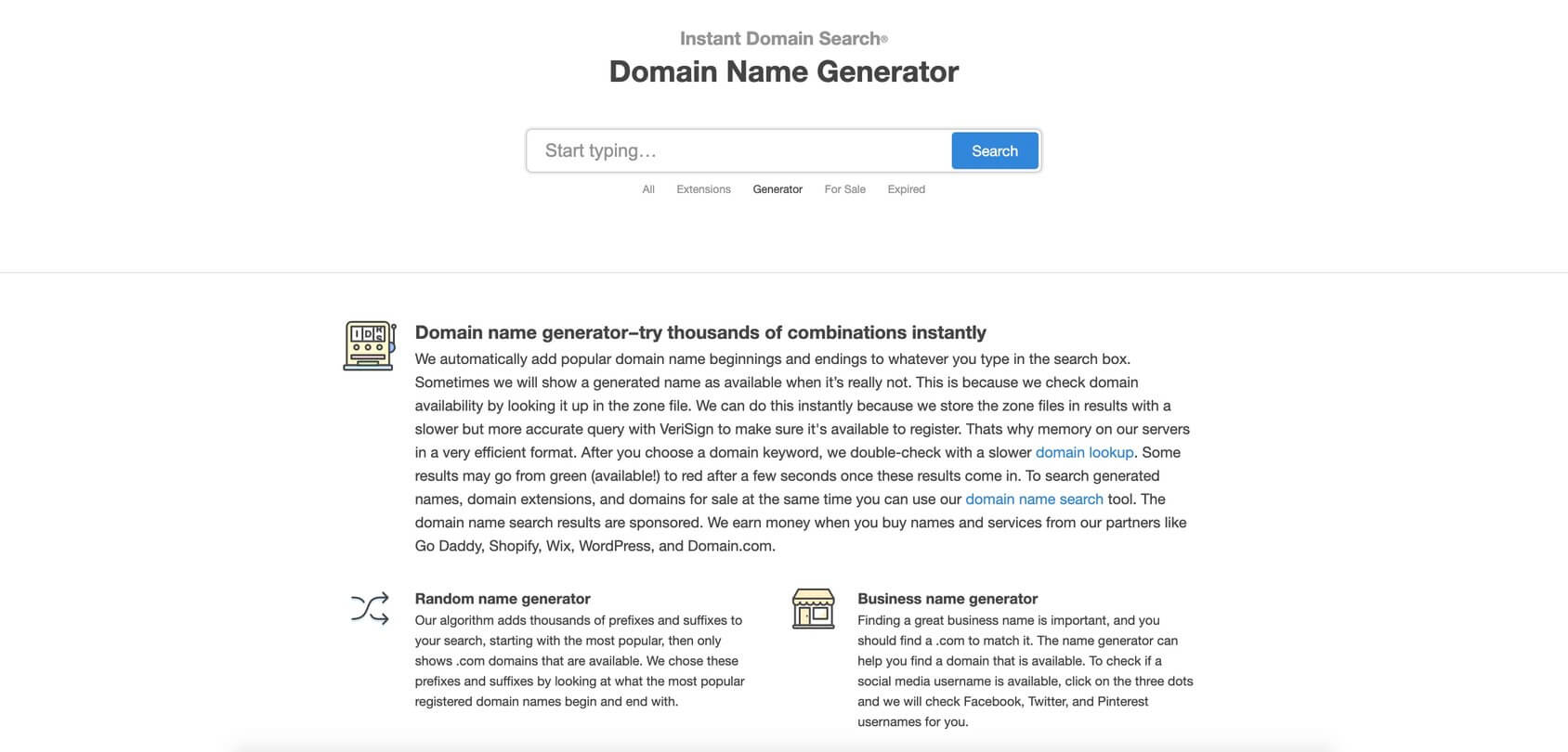 Instant Domain Search is a top of the line blog name generation tool, which comes with a wide catalog of other tools to help you create your blog. Whether you need to create a quick name for your business brand, blog, or register a modestly priced domain name, you can do it through Instant Domain Search.
Through the use of this tool, you don't have to worry about blog domain names being taken. Instant Domain Search will automatically find a blog name that isn't taken, so you can rest assured that you can be the first one to purchase it.
Key features
Fully random name generation – combine your keywords with many popular prefixes.
Multiple naming options – get several thousand results with each generation effort.
Affordable domain name registration options – register your domain through GoDaddy, one of the most popular domain platforms in the world.
Automatic name generation as you type – with each character, you get an automatic generation, so you can build along as you go.
Pricing
Name Generation – Free

Domain registration through GoDaddy – $4.99
Visit Instant Domain Search for additional information >>
Domain Wheel — Unmatched speedy blog name generation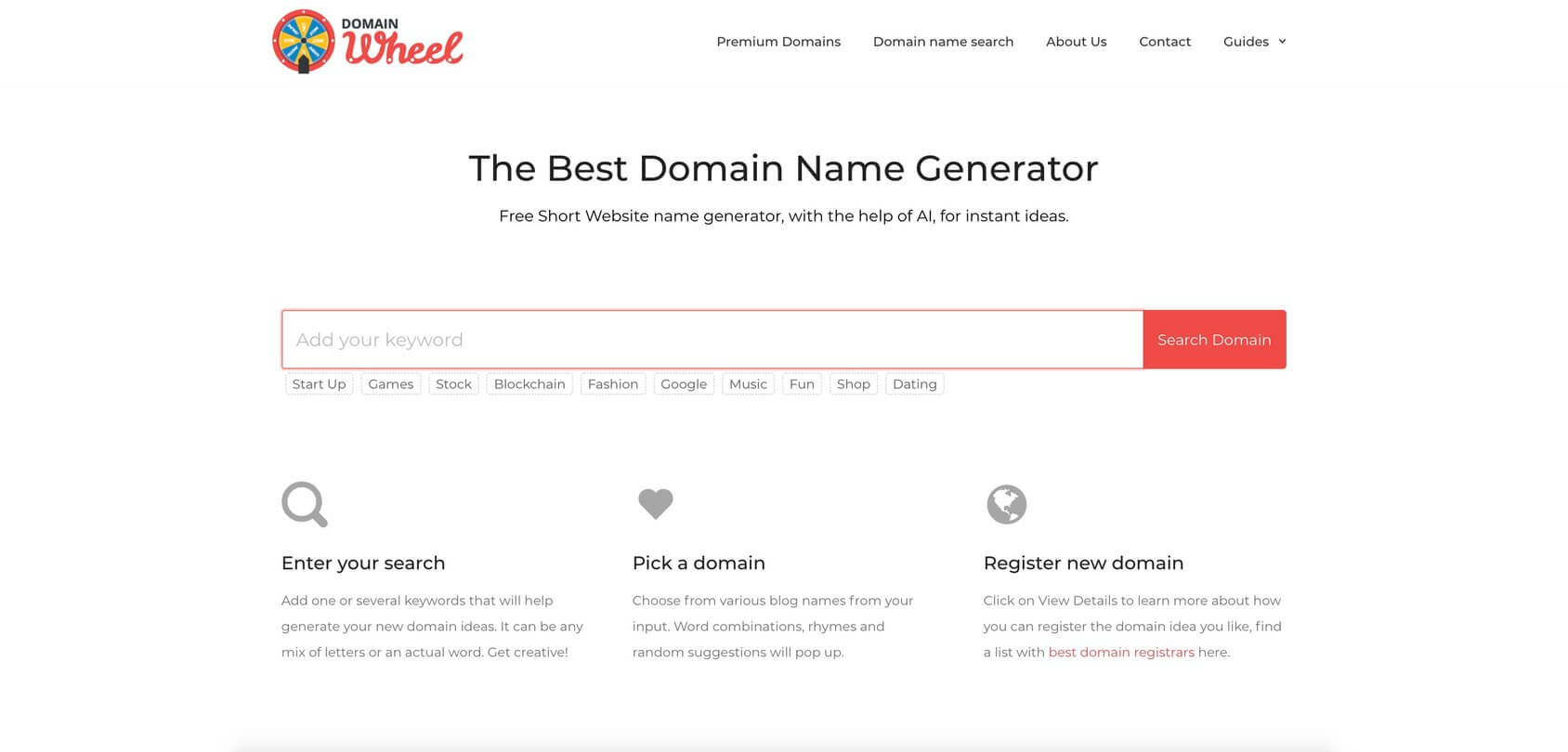 Coming up with the best domain names for blogs won't be the easiest thing in the world, but through the use of Domain Wheel and all of its tools, the process is greatly simplified. This tool is ideal for any upstart blog owner's business arsenal and is integral to the blog creation process.
Whether you're looking for a screen name generator, blog name generator, Twitter name generator, catchy blog names, or simply a website name idea, using Domain Wheel will make the job a whole lot easier. Its simplicity makes it ideal for people who are just getting into the blog making niche.
Key features
Quick and simple blog name generator tool – blog name generators don't have to be complex, and that's best shown through Domain Wheels' simplistic design.
AI-assisted randomization tool – get AI-assisted name suggestions to help you find the best option for your new blog.
Automatic domain availability checker – check the availability of your desired domain name as you type it out.
Suggested premium name options – premium names are available at the bottom of the screen.
Additional details with every suggestion – each suggestion will have additional analytics details.
Pricing
Name Generation – Free

Standard domain registration from $2.70 and upwards

Premium domain registration from $199.99 and upwards
Visit Domain Wheel for additional information >>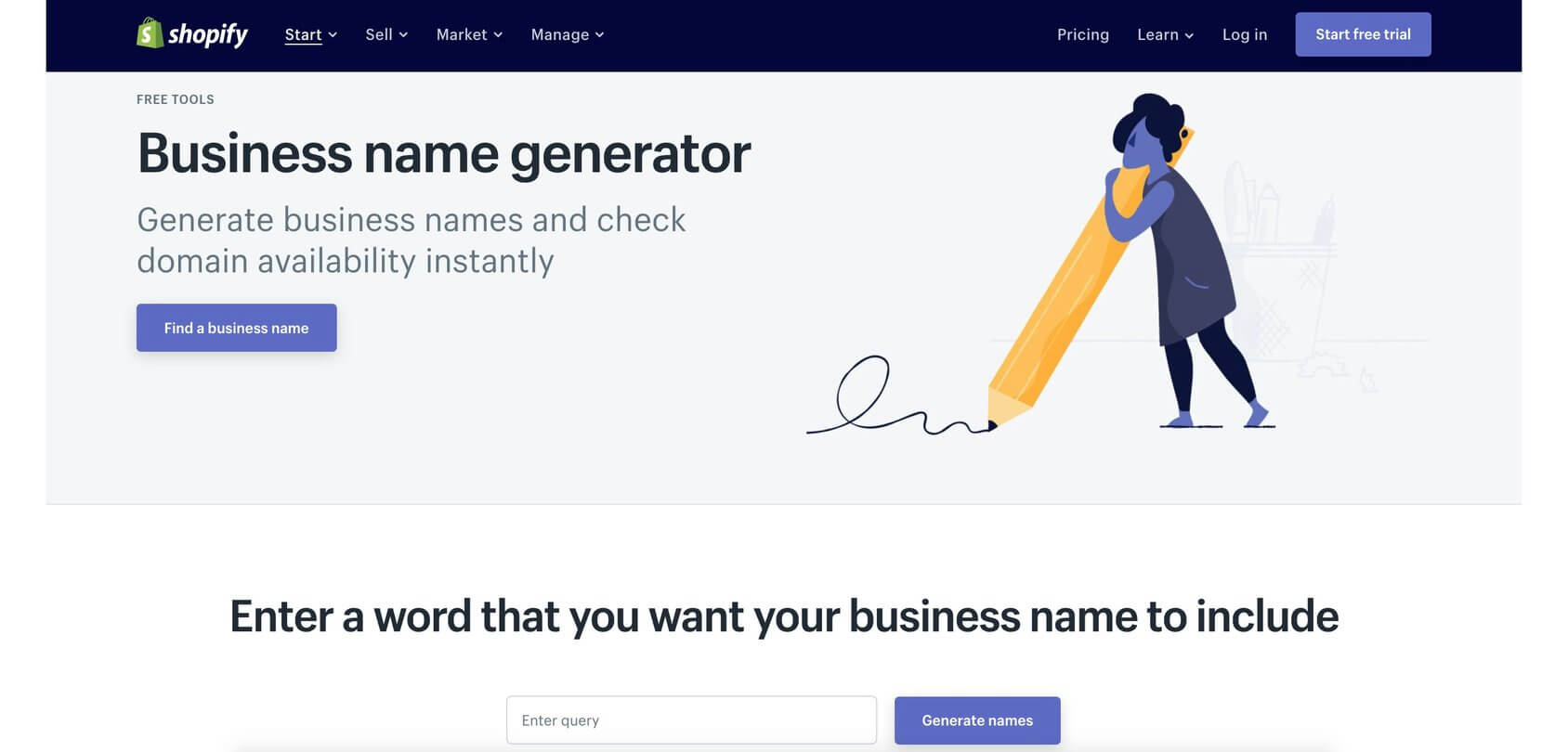 Shopify is renowned for its large assortment of online business making tools, which include a blog name generator, logo creator, slogan maker, QR code generator, and many, many more. Shopify is a full-stack online business creation tool, and its name generator generates original blog names and also checks the domain.
To run any kind of serious online business, you'll need to use a full stack tool such as Shopify.
Key features
The full-stack online business creation tool – Shopify is one of the most popular full-stack tools, which consists of anything from a logo generation tool to a fully complete eCommerce store.
Many preset and customization options – when it comes to customization, there are many filters and options you can choose from to specify your unique needs.
Niche based blog name generation – specific names based on the most popular blog niches out there.
Complete online store purchasing options – if you want to skip the hard work, you can purchase a whole website with all the features already on it.
Multiple unique blog names available – there are over 100 unique and available names with each search.
Visit Shopify Name Generator for additional information >>
Bluehost Domain Search — Domain check and blog name ideas in a second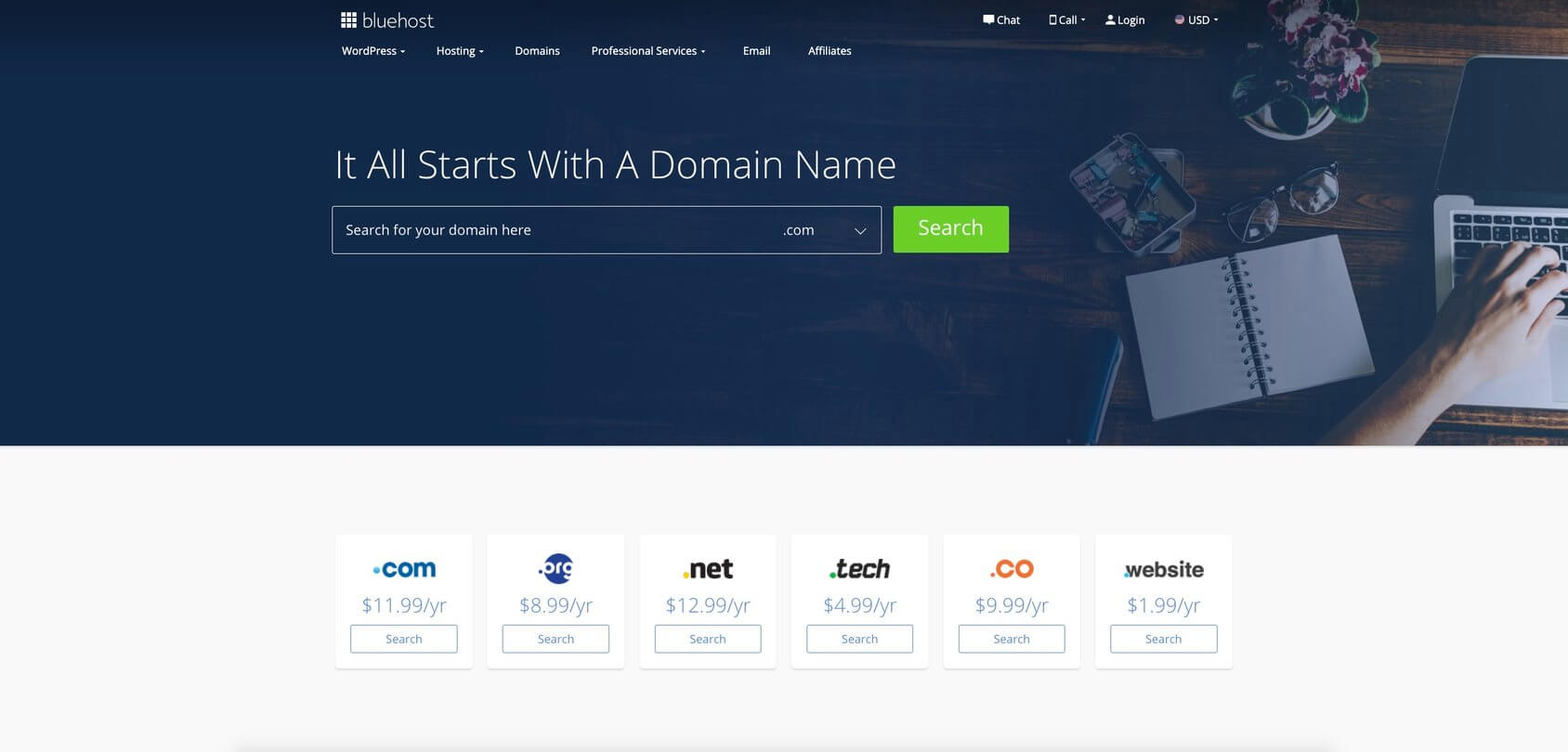 Bluehost is a renowned domain registration company, and one of the biggest in the game. Through the use of their blog name generation tool, you can automatically register it for a very affordable price. Since this is a domain service in itself, you're not using any proxy tool to generate a name.
This tool has a wide assortment of domain management tools, which includes but is not limited to automatic renewal, simple GUI management, and a domain lock.
Key features
Many extension options – whether you're registering a .net or a .tech website, or anything in between, BlueHost has got you covered.
Superb domain management tools – Bluehost domain registration comes with free top of the line domain management tools.
State of the art security features – a website is only as good as its security, and the security standard on Bluehost is absolutely bulletproof.
Active customer support including live chat and landline – customer support is always important, especially when your domain and business are on the line.
Multiple hosting options – WordPress hosting shared hosting, dedicated hosting, VPS hosting, WordPress hosting, dedicated eCommerce hosting; you name it, Bluehost has it.
Pricing
Name Generation – Free

Free domain with the hosting plan

Domain registration – $10.99 and upwards
Visit Bluehost Domain Search for additional information >>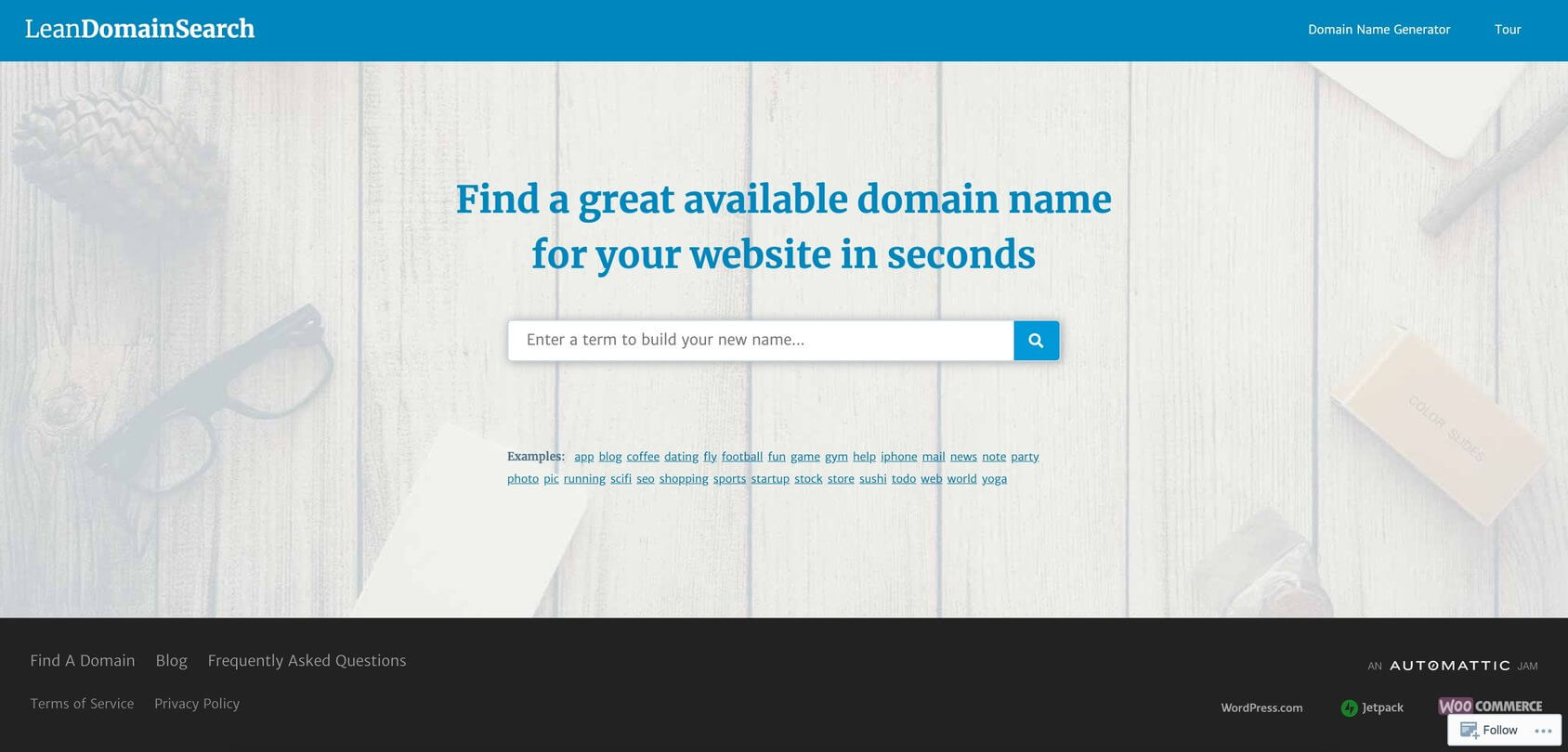 Lean Domain Search is a simple online blog name generation tool that is built for upstart businesspeople, trying to get their first blog out there. Once you're on the website, all you need to do is enter several keywords in an automatic search, which will provide you with a number of available domain names.
This is a tool based around simplicity. The website comes with a slick GUI design which makes name generation easy. When you insert a keyword, you can further optimize your search through many filters.
Key features
Simple name generation – name generation at the tip of your fingers.
Search filters upon generation – further refining filters, and options once you generate an initial name.
Domain registration options – register your name and domain through the most popular domain platforms.
Sorting options – sort your generated names by niche.
Quick results – results at a fraction of a second.
Visit Lean Domain Search for additional information >>
NameMesh — Top of the line variety blog names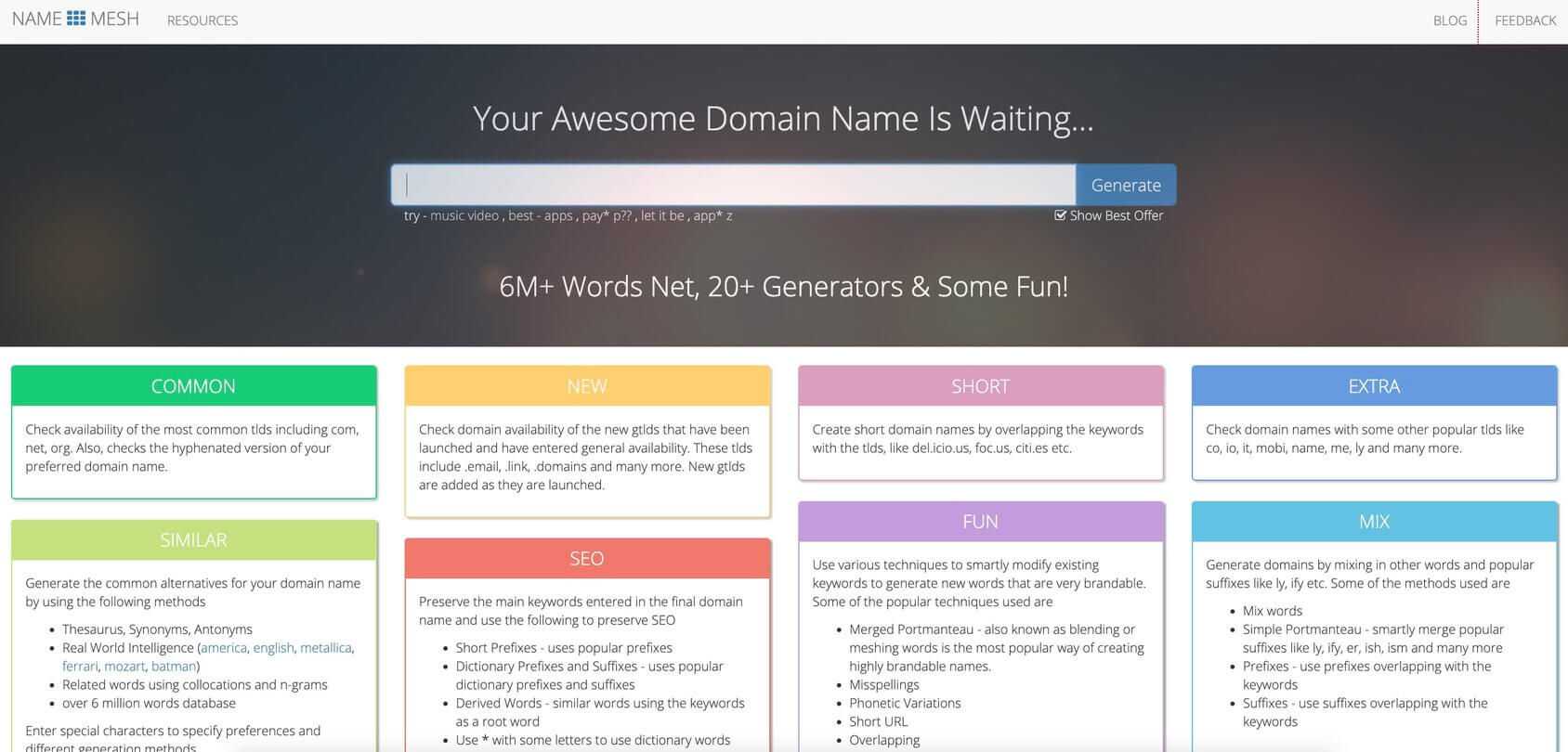 Naming a blog is never an easy task. Through the use of a well-optimized tool like NameMesh, the task is simplified with an unmatched amount of laptops. The service is based on choice, as it allows you to generate a name through many keywords, settings, filters, and presets.
After inserting a keyword, you'll move on to a page that generates names based on multiple things, such as AI, SEO, length, premium status, and many more. In short, it's a very quick and simple tool that allows you to devise a clever blog name with ease.
Key features
Generation results based on many factors – base your results on many options, and refine them through simple categorizations.
Easy-to-navigate GUI design – navigate the tool and generate a name with the utmost simplicity.
Bluehost based domain registration – register a domain with one of the most popular domain name registration platforms.
Online business resource index – gain access to a lot of webinars, articles, and guides on online business creation.
Business book registry – gain access to an abundance of books that will help you run your business.
Visit NameMesh for additional information >>
BustAName — Simplicity at its finest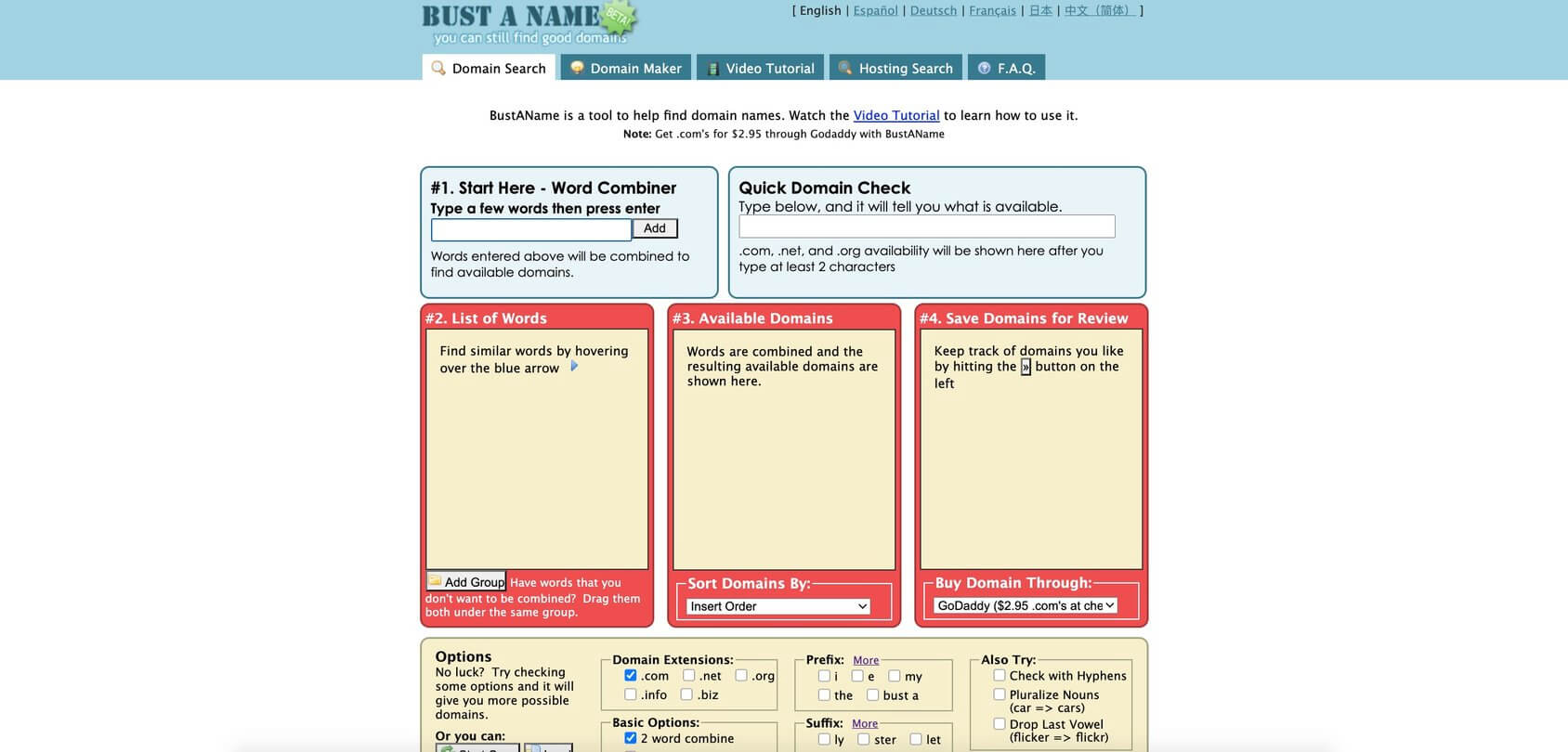 BustAName is one of the simplest tools in the world of blog name generation. This tool might seem a little dated, but its functionality is still up to par with any other on this list. It's surprisingly malleable, and you have a lot of options to choose from when you just need to bust a rhyme or a good blog name.
This tool is renowned for its simplicity. Everything happens on one page which is very easy to navigate and comes with a lot of settings to fully optimize your great blog name creation process.
Key features
Simplistic old school design – generate a name while experiencing an old-internet nostalgia feeling.
Many options and features – everything is on one single page, and that page is jam-packed with features and options.
Quick domain check bar – check a domain once you get the name, and check it with ease on the very same page!
Godaddy supported domain registration – register your domain name with the most popular domain registration platform out there.
Multiple language options – generate a name through a multilingual tool, which includes five different languages.
Visit BustAName for additional information >>
Nameboy — Expert service made simple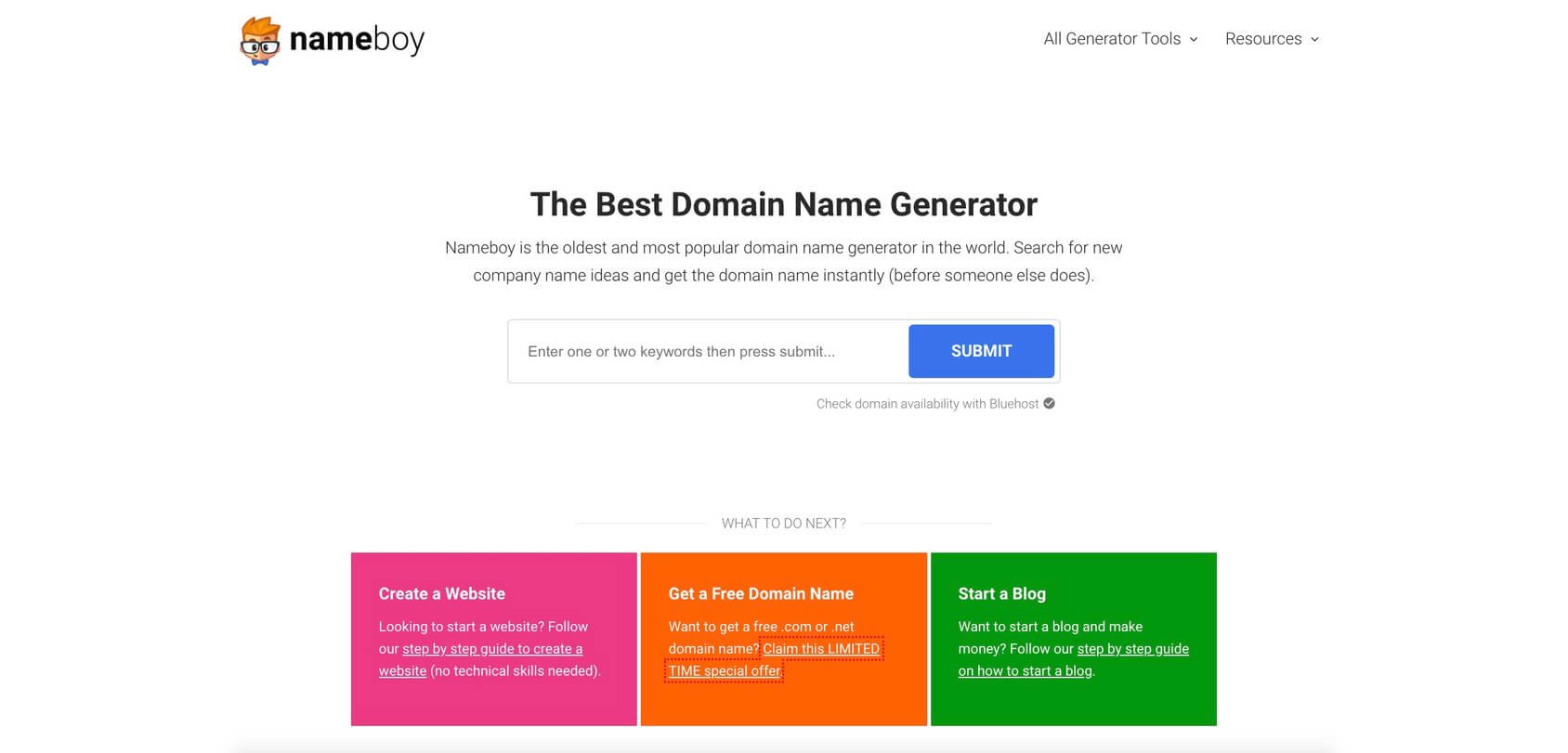 Generate a catchy blog name with the top of the line generation tools of Nameboy. Nameboy has many different filters, presets, and options that will help you create an enticing, creative, and unique name for your upstart business.
This tool is an ideal solution to the problem that every entrepreneur faces. And with the business world slowly moving to the virtual landscape, it's important to get yourself a good domain name while it's still available. Blog domain names are finite goods, and tools like Nameboy allow you to get the best one possible at a fast pace, and register it at an affordable price.
Key features
Unmatched amount of extensions – whether you're looking for a .com or a .club, you can rest assured that Nameboy has your back.
Bluehost based domain registration – find a name with Nameboy, and register it through one of the most popular platforms around, Bluehost.
Multiple generator tools – Nameboy isn't only for blog names, as you have domain generation, YouTube name generator, screen name generator, business name generator, podcast name generator, brand name generation, and many more.
Guides – NameBoy comes with all the guides that you might need when creating a website.
Tips – if you're not too keen on reading full-sized guides, Nameboy gives you a couple of key tips when picking a name.
Visit Nameboy for additional information >>
Panabee — Domain, business, website, blog, and app coverage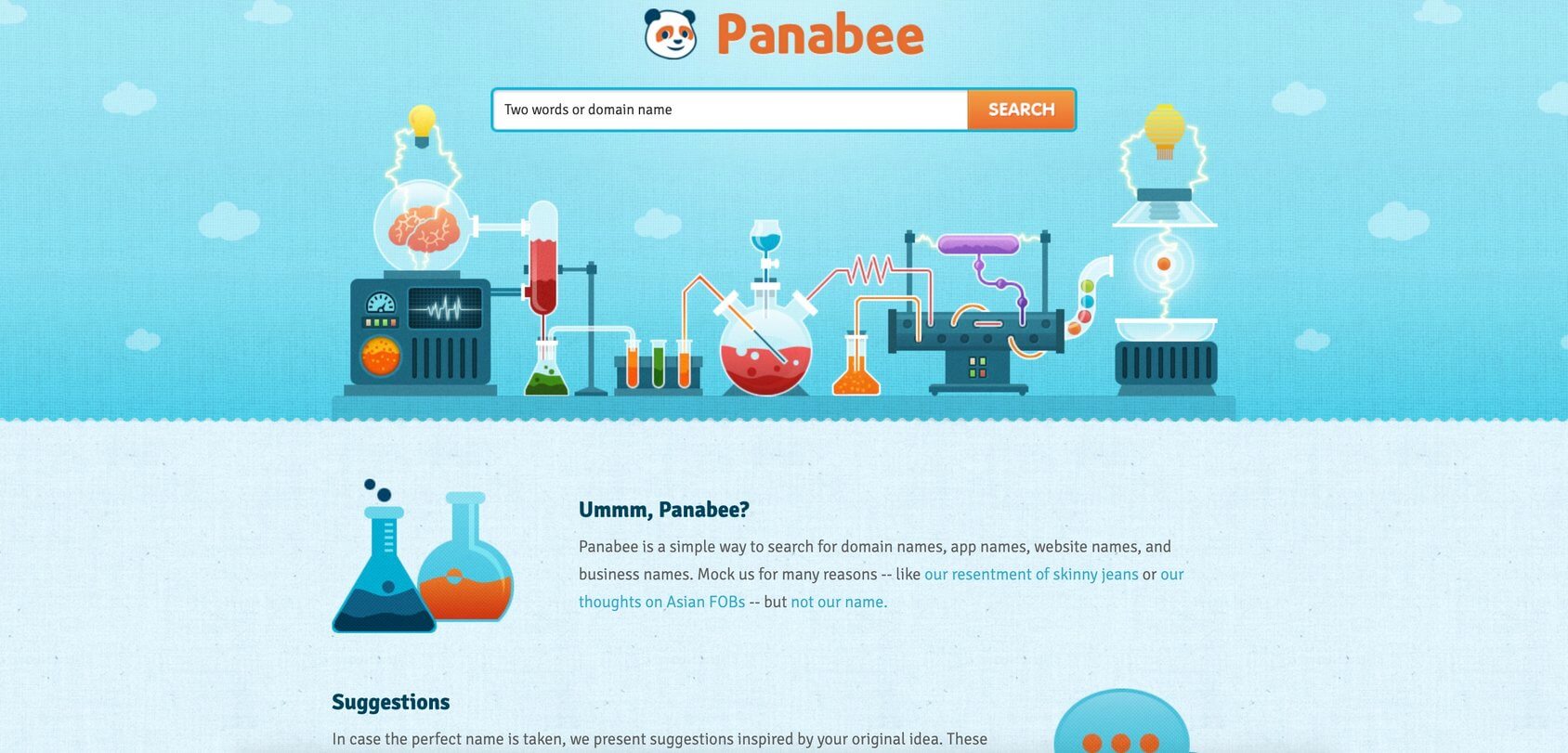 Panabee is a great looking domain too, which allows you to check for available domain names and suggests viable options. The tool itself is very easy to use and very easy to navigate. Using it to devise a creative blog name is easy, as every aspect is streamlined to perfection.
It comes with all the necessary features and a couple that is completely unrelated to domains such as the social media name search.
Key features
Searching and generator tool – while Panabee is most popular for its domain search, it's also worthwhile for brands, blogs, social media, and usernames all around.
International domain options – unlike most websites that only offer .com or some standards, Panabee offers the popular .co.__ extension, which is great for local websites, blogs, and brands.
Term suggestion – if you're experiencing burnout and can't come up with some keywords, Panabee will automatically suggest some for you.
App store search – you can search for app names, to ensure that your app name is unique as the app itself.
Social media username search – do you want to check if your desired Facebook or Twitter name is taken? Well, with Panabee, you can do just that.
Visit Panabee for additional information >>
Domain Hole — Quick names, simple filtering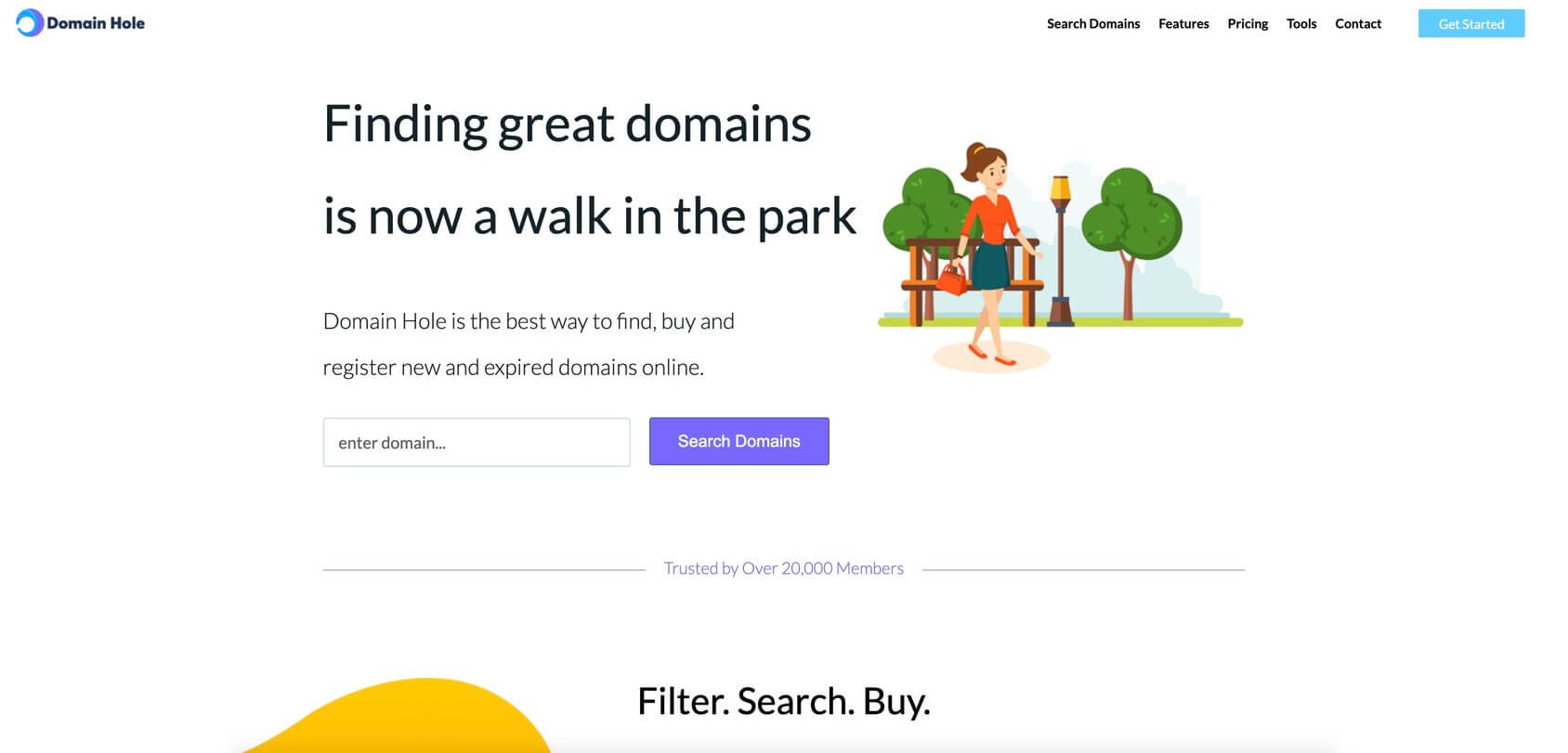 Domain Hole is probably one of the most refined, sophisticated, and complex tools on the market. It allows you to create an ideal solution for your blog name needs, all with the addition of many filters, presets, and some in-depth analytics.
With each keyword, you're bound to get upwards of four million different available domain names, which you can filter through the powerful filtering and refinement capabilities of this cool blog name generation tool. This is an ideal tool for more experienced businessmen.
Key features
In-Depth analytics – every cool blog name will come with an abundance of analytics options that give professionals an in-depth perspective into their potential name generation.
Good blog names – even if this is a top of the line complex tool, it is bound to give you some simple, lighthearted, and creative names.
Simplicity – this tool is suitable for both professionals and startups, but using it to its full extent requires some additional effort and research.
Generation power – this tool is immensely powerful and just as easy to use. Each and every generation effort will yield a fantastic amount of domain options.
Expired domains – DomainHole catalogs expired popular domain options, meaning you can cap a great deal when using this tool.
Visit Domain Hole for additional information >>
Domainr — Computer assisting name brainstorming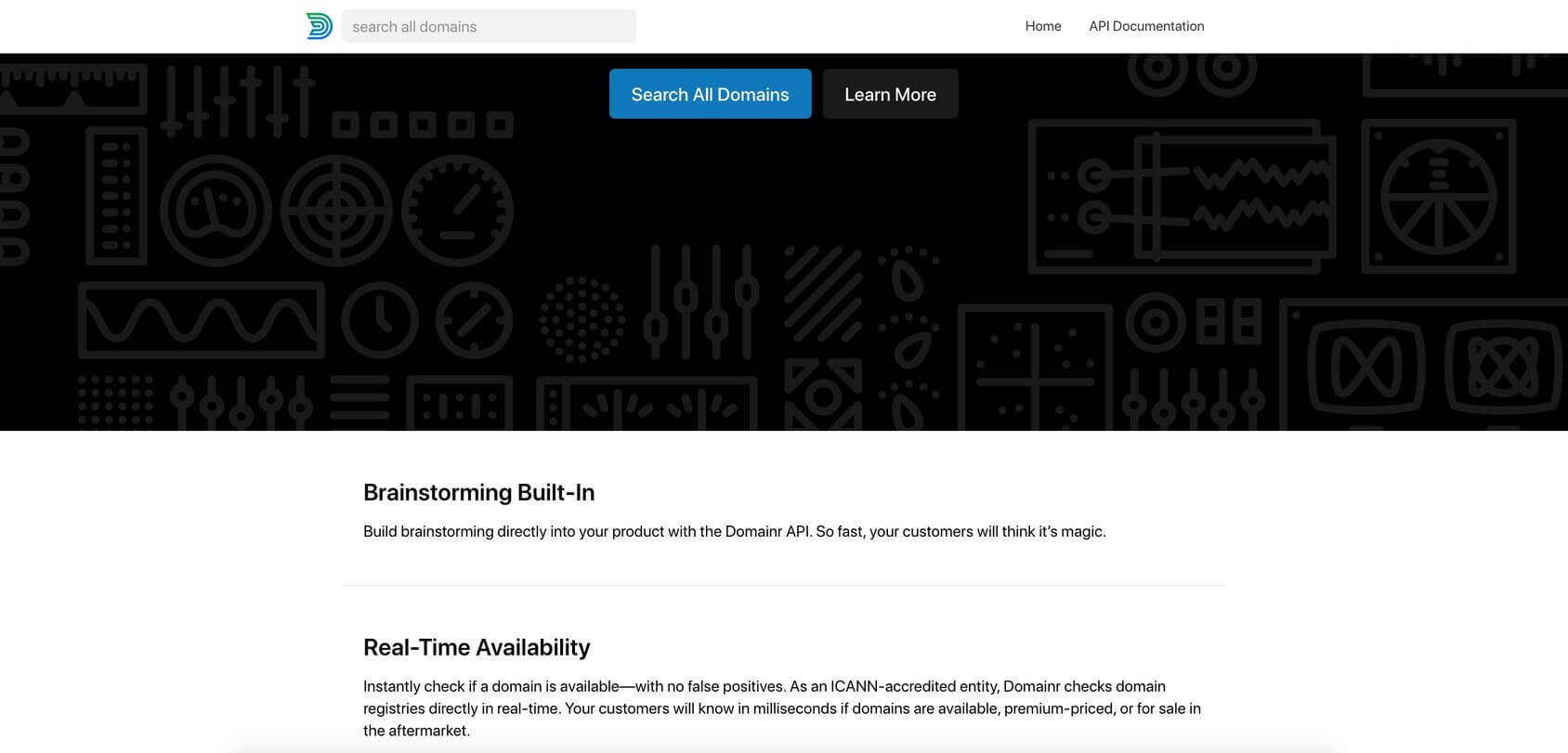 Domainr is a good online domain checker and an ideal solution to picking a blog name. While the tool is very powerful by design, it's still simple enough to use and navigate. It's a great option for anyone trying to get into blogging, as it has all the brainstorming built into the application.
Once you put in all of your desired keywords, Domainr will suggest ideal solutions for your unique blog name, which will fit your unique blog perfectly.
Key features
Automatic suggestion – Domainr has great brainstorming features that automatically suggest solutions when you put your desired keywords in the generation tool.
Instant Search – as you type your keywords, you'll get domain suggestions.
Honest availability – if a domain is currently unavailable, Domainr will tell you. You'll also be notified if a domain is potentially available.
ICANN certification – this tool is ICANN certified, meaning that it's a proper name generation tool.
Hosting redirection – once you find a domain name you're happy with, you will automatically be redirected to the adequate hosting website.
Visit Domainr for additional information >>
DomainPuzzler — Advanced name generation tools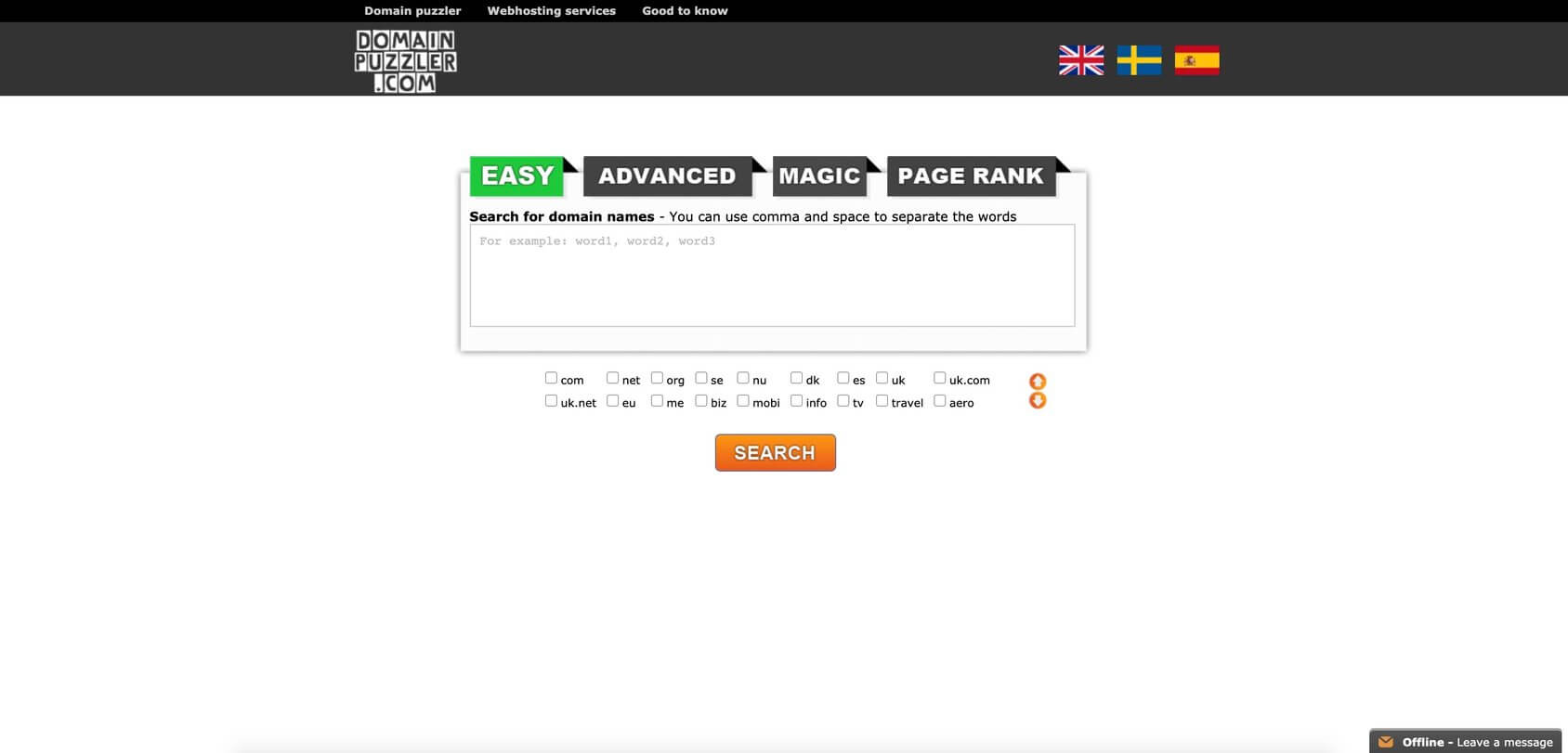 Domain Puzzler is the simplest program on this list. It's a great blog name generation tool with a focus on simplicity, which is manifested through its one-page approach.
On one page, you can enter your keywords, filter it through your desired extension, and check the availability, all through DomainPuzzler. It has four different levels of complexity, which are purposefully built for all types of users, so both professionals and upstart entrepreneurs will be covered.
Key features
Easy mode – the easy mode will only require you to enter a couple of keywords, after which DomainPuzzler will automatically suggest the best possible available domain names.
Advanced mode – advanced mode is the same as easy mode, but with the addition of a keyword combination feature.
Magic mode – the magic mode will automatically combine your keywords with popular keywords through the use of AI.
Page rank – the page rank feature will allow you to compare page ranks against popular keywords.
Three languages – this great tool comes in English, Spanish, and Swedish.
Visit DomainPuzzler for additional information >>
DomainsBot — Name generation complexity simplified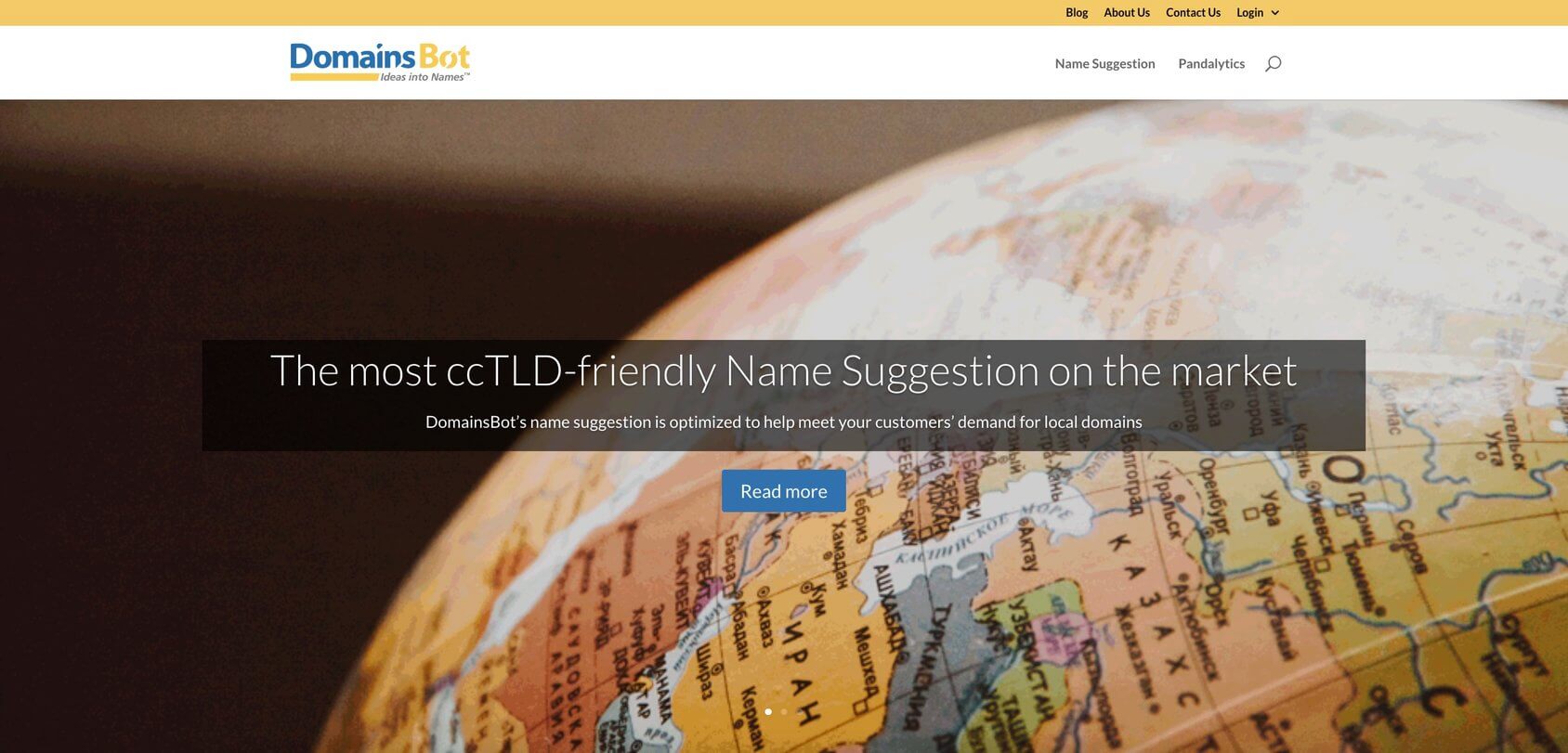 Domainsbot is a complex tool with some amazing features. It's the ideal solution for all of your blog generating needs. It has all the analytics features that give you an edge over your competition.
It also comes with some powerful analytics, suggestions, and hosting features. The keyword suggestion operates in over 11 languages, and the AI-assisted suggestion process is as seamless as possible.
Key features
AI-assisted suggestions – all the keyword suggestions are completed through sophisticated AI.
Over 11 languages – all the domain suggestions are also available in over 11 languages, making it ideal for international users.
Superb analytics features – this website is packed with all the necessary analytics features that allow you to get ahead of your competition.
Superb security features – a domain is only as good as its security, and all domains offered by DomainsBot are protected through a high-security standard.
User-friendly – while the tool might seem complicated at first, its chock full of user-friendly features that allow for a seamless name generation experience.
NameStation — Detailed name generation analytics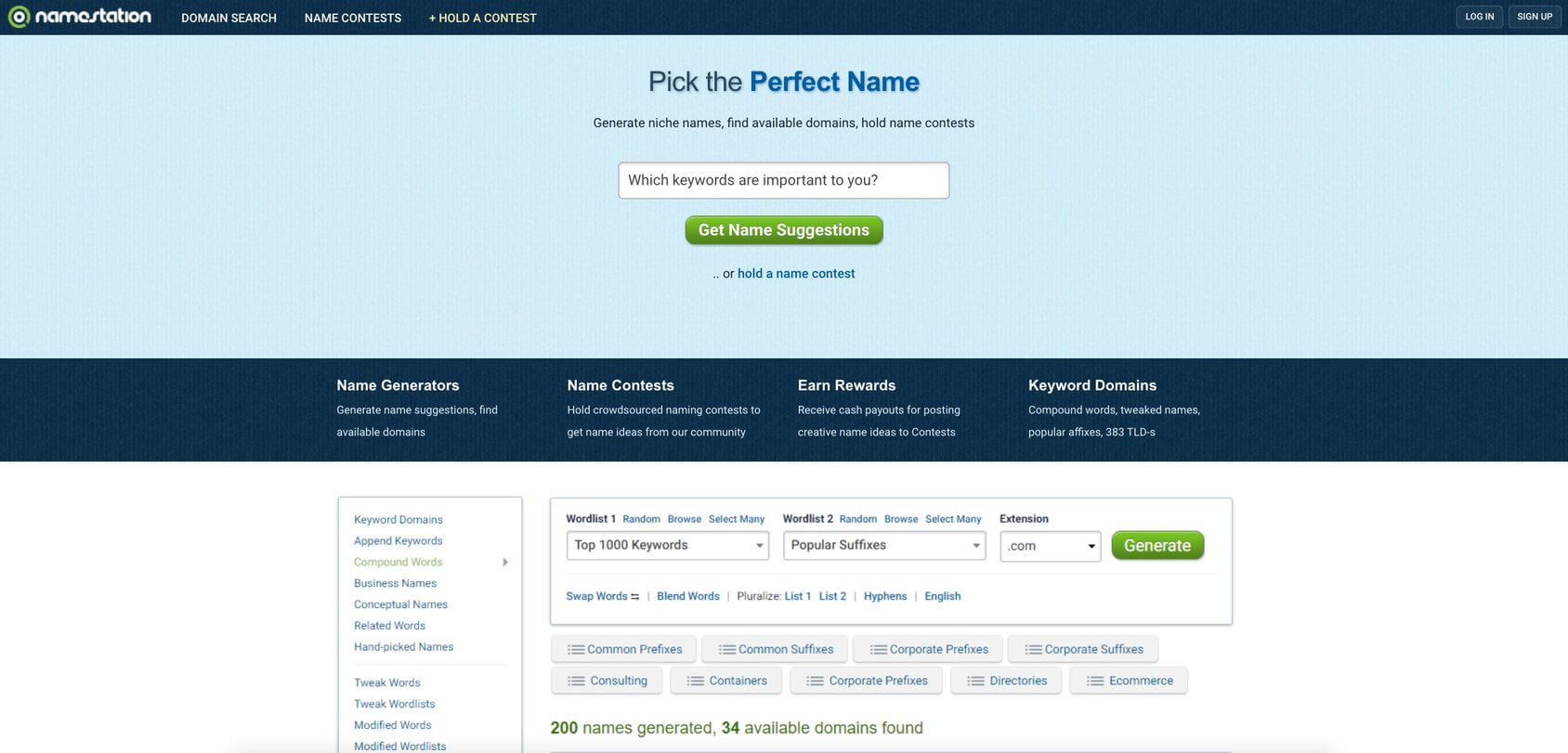 Picking the best blog name is no easy feat, and that's why the simplicity in tools such as NameStation comes in very handy. Researching the market, the subsequent SEO, and your actual business will take a lot of time. NameStation is a simplistic program with a keen focus on getting you what you want.
When it comes to affixes, there is no one better than NameStation for the job. If you've found the perfect candidate for your creative blog name but it seems to be taken – NameStation will help you find an adequate workaround.
Key features
Stand-ins and affixes – NameStation is determined to help you find your perfect domain, and if that domain name is taken, you'll find that the features within this tool do a perfect job of finding an adequate workaround.
Keyword-based domains – this tool will help you find the right keywords for your creative blog name and domain.
Hold naming contests – you can post a contest onto the website and get the community involved with your naming. Simply pick the best one you like and enjoy your brand new name.
Tweaking names – if your desired name isn't available, this tool will find a suitable tweak that won't ruin the initial sound and charm.
Niche based suggestions – NameStation has many niches you can choose from for a name generation. From business to eCommerce, your naming needs will be covered through the many generation features of NameStation.
Visit NameStation for additional information >>
WHG Name Ideas — Thousands of blog names in a second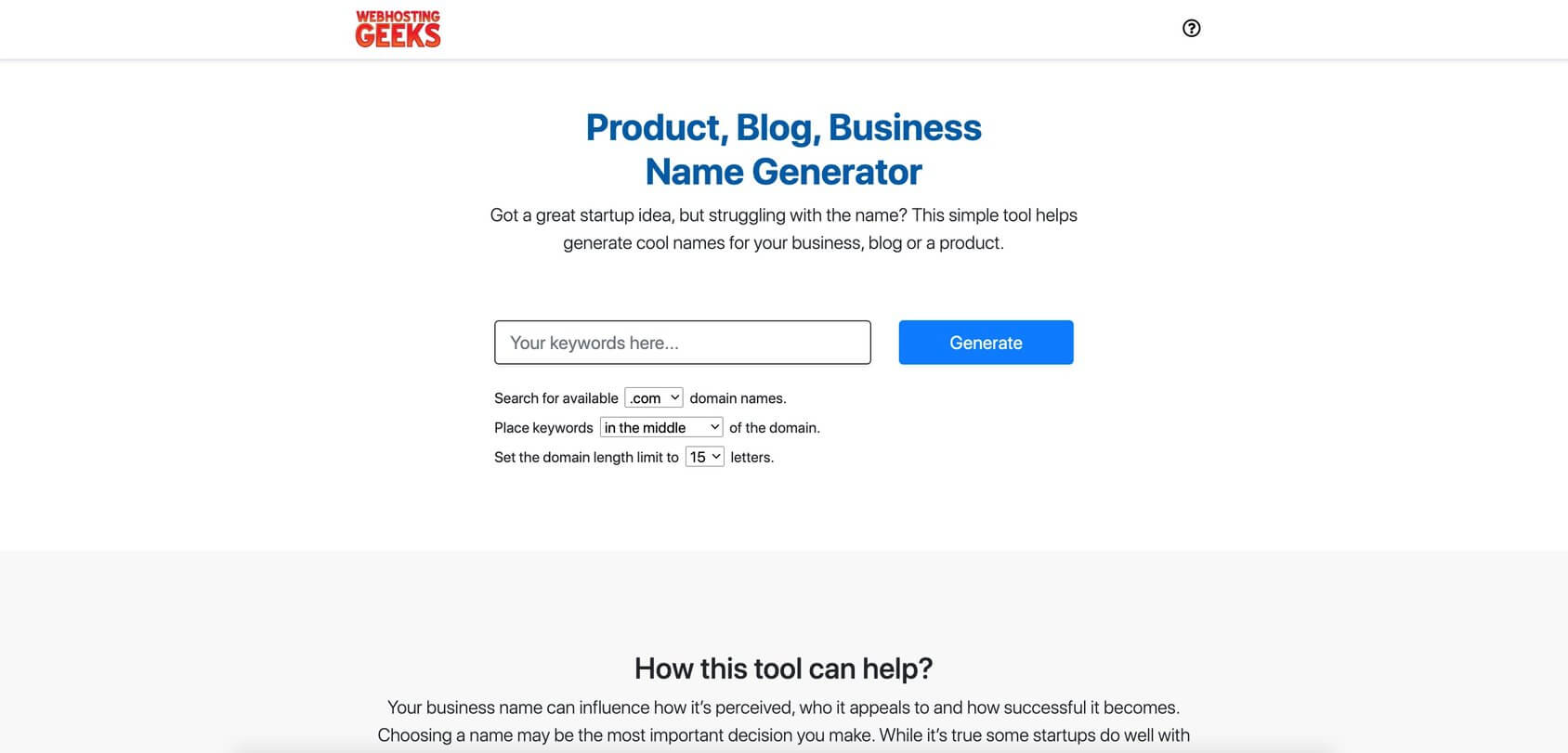 Whether you're looking for a blog name or a brand name, the many features of WHG Name Ideas will suit you. Its simplistic one-page approach is very easy to use and navigate, which makes it a great solution for a quick naming task.
You can select from a multitude of extensions, and tie keywords into an exciting new name. While this tool isn't as sophisticated as some others on this list – it's still a viable option if you're looking for a creative blog name.
Key features
Ease of use – this tool is all based on a one-page format, making quick work of name generation.
AI-assisted generation – the WHG Name Ideas logo generator will help you tie your keywords to popular prefixes and suffixes, making up the ideal blog name.
Useful tips – the website is chock full of very useful brand running and online business establishment tips.
All major extensions – whether you're looking for a .com or .co.uk extension, you're covered. This tool searches all the major English extensions.
Instant availability check – when you find a name that you like, all you need to do is click on it to check if it's available at the current moment.
Visit WHG Name Ideas for additional information >>
How to come up with a blog name
Coming up with good blog names won't be a simple task. It requires quite a lot of thinking, market research, and dedication. A good blog name is at the forefront of your presence, and before you decide on one, you'll want to know what makes a good name.
To find out what works for you, you have to think about your niche. Are you making an actual blog or simply a profile or business. You need to research your niche and find out what works for the top players in the game.
If you want to build a health and beauty niche blog, brand, or business, you'll want to look at what the top health and beauty niche blogs are doing. Don't copy anyone, just try to accumulate as much positive inspiration as possible, and use it when making your blog name.
A good name should give your viewer an instant idea of what your content is about. Do some SEO research before you pick out the words that best describe your blog. Whether you're thinking about a blog name by yourself or using a blog name generator tool – you need to prepare some keywords. After coming up with an initial draft of your name, it's important to test it against the competition. There might already be someone with the same or a very similar name.
The second part of creating a good blog name is testing it against your content. You might be making a brand, which includes a catalog of products. How does your name work with them? The testing process is as important as the creative process itself.
When you've gathered all the necessary keywords, done all the domain research, and prepared in full – it's time to put all of it to good work with a blog name generator tool. The best blog name generator tools will give you a multitude of unique options to choose from, and will usually test it against a domain.
After you've received your ideal name solution, you can start implementing it virtually everywhere. If you're proud of your content, share it with the world under your brand new blog name banner.
Good blog names examples
To further prove our point that personal names are relatively self-explanatory, we've listed five popular niches and five of their most popular blogs and websites.
Social Media
FaceBook.com
Twitter.com
Snapchat.com
Instagram.com
WhatsApp.com
Bodybuilding.com
Healthline.com
Health.com
MensHealth.com
WomansHealthMag.com
Business and Finance
BusniessNewsDaily.com
Business.com
Entrepenuer.com
BusinessDictionary.com
BusinessInsider.com
Automotive
AutomotiveWorld.com
Cars.com
CarMax.com
AutoTrader.com
TrueCar.com
Photo Sharing
Pixabay.com
Pexels.com
ShutterStock.com
StockPhoto.com
DepositPhotos.com
Read all these names out loud, and take a moment to think about them. What ties them together? They all allude to the type of content that you can find on the website. Without even going to the website, you can have a general idea of what it does, and what you can find on it. Take for example the popular photo-sharing website, Shutterstock. The name itself will tell you, it's a hub of stock photos.
Let's take Amazon as an example. Amazon is a river, not a store – but when taken out of context, it represents a large, flowing entity. This is the genius behind blog naming.
FAQs
How do I create a unique blog name? What should I name my blog?
Coming up with good blog names is as easy as utilizing the best tool on the market. If you want to do it yourself, you'll have to do some keen research and thinking, but a blog tool does its best to automate the process as much as possible.


Once you've come up with a blog name idea all by yourself, or through a blog name generator tool, you need to choose the best one.
How to check the domain name?
If you're using the best tools, a blog name creator tool will check the domain name for you. This will significantly reduce the research process. If you're using the best tools out there, they'll even provide you with a chance to register your blog domain name. These are known as full-stack tools, and they usually offer hosting, logo creation, and a bunch of other things.
What to do if a blog name is taken?
If you've found the best blog name out there, but it seems to be taken, there are only two things you can do. You can either give up and pick another name or change it up slightly. If you chose to change the name slightly to be unique, practice caution. Don't make it too similar to the existing blog, or you might get into some copyright trouble.
How do I pick a blog niche?
If you're looking for a profitable blog niche, you need to find out what works best for you. Some niches are easy to manage, while others might require constant investments and attention. Whichever niche you pick, you should do thorough research on how to get proficient in it, and bring in your own audience from as many places as possible.
Conclusion
Having a unique blog name will make you and your business stand out. Whether you're looking for a name for your YouTube channel or a simple blog, you can benefit from using a blog name generator tool.
Whether you want to create a creative blog name all by yourself or you're planning on using a tool for the job – you should look into different domains. Once you're done with that, congratulations, you've got yourself a unique and catchy blog name that you can use anywhere.