The Best Social Media Management Tools in 2023
Top 20 Software Apps for Managing and Marketing Your Business
FirstSiteGuide is supported by our readers. When you purchase via links on our site we may earn a commission.
Read More
The Best Social Media Management Tools in 2023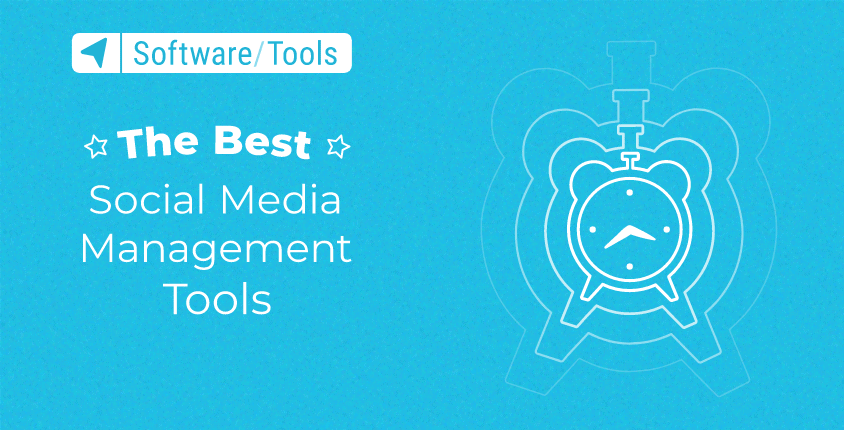 If you're running a blog or businesswebsite and looking for the best tools for social media management, you've come to the right place. Your public relations campaigns can be much more successful if you choose to use these social media marketing tools.
They are designed to allow businesses to narrow their audience targeting down to the very specific types of consumers with focused messages. If used with more traditional media relations tactics, your chances of widening your organic reach and attracting a larger audience suddenly look a lot better.
EDITORS' CHOICE (JUNE 2023)
It's important to go through these tools and understand what they can do so that you can develop the ultimate marketing communications tool for your company. You can harness the potential of that tool to cover mainstream press coverage and feed it directly into your social media outputs.
Each tool is different, and it can help publish, schedule, and plan social media content at the right moment to complement your marketing and wider public relations strategies.
The top 20 most popular social media management tools
When it comes to choosing the best management tools for social media, it's crucial that you choose the tool that suits your business goals and your team's needs perfectly.
These tools aren't designed to provide a miracle but to help your team get your business where it should be, in the great order of things. Since there are hundreds of tools on the internet, I've come up with a list of the top 20 (SMM) tools that will deliver results in the most measurable and effective manner.
---
Buffer — User-friendly social media tool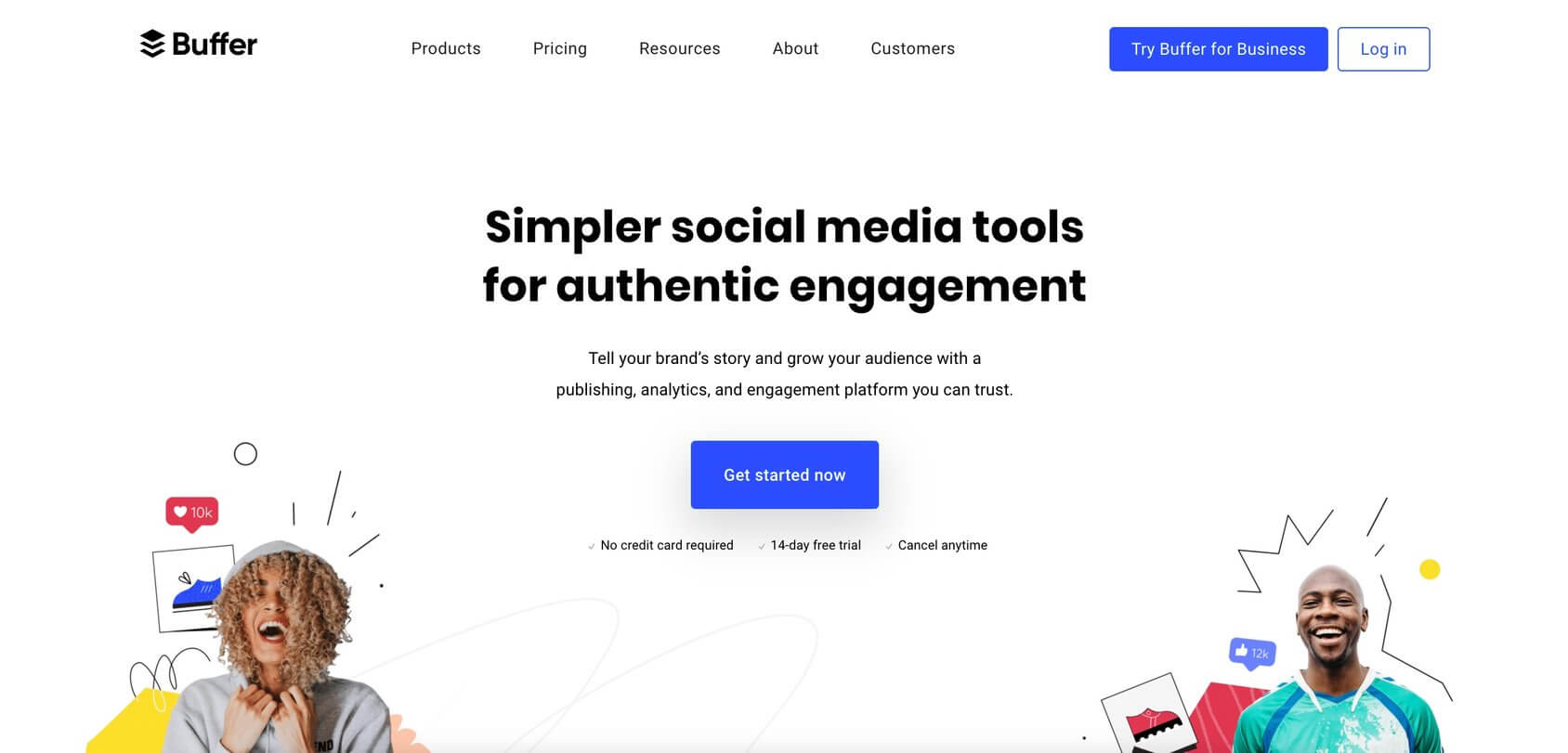 According to many experts in the business field, Buffer is one of the best social media management tools around. It provides users with a high level of convenience and clarity they need to achieve their business goals.
The advantage Buffer has over all other similar tools is that it allows its users to use its interface to manage all their social media accounts. A user can repurpose, schedule, and create posts, assign different assignments and permissions to team members, etc.
It has three different sections to help the user navigate more easily. The first section is Publish, where you can make direct posts and leave your first comments. The second section is Reply, which you can use to keep all your conversions in one place and monetize your social media efforts. The third section is Analyze, which will help you get thorough reports to measure your performance. It's the best scheduling app that allows for seamless app integration. It's especially effective for Instagram marketing as it allows the users to post directly to the page and leave the first comment – an extremely effective smart social marketing trick. Also, you can easily add another raft of hashtags or link to external content without suffering Instagram penalties for redirecting.
Key features
RSS feeds connectivity
Informative social analytics
Multiple posts and tweets
Social profile sharing
Profile management
Multi-media format sharing
Analytics and insights
iOS and Android support
Team collaboration
Customized scheduling
Standard buffering
Pricing
Free trial
Essentials- $6 per month
Team- $12 per month
Agency- $120 per month
Visit Buffer for additional information >>
Hootsuite — Best tool for managing social media profiles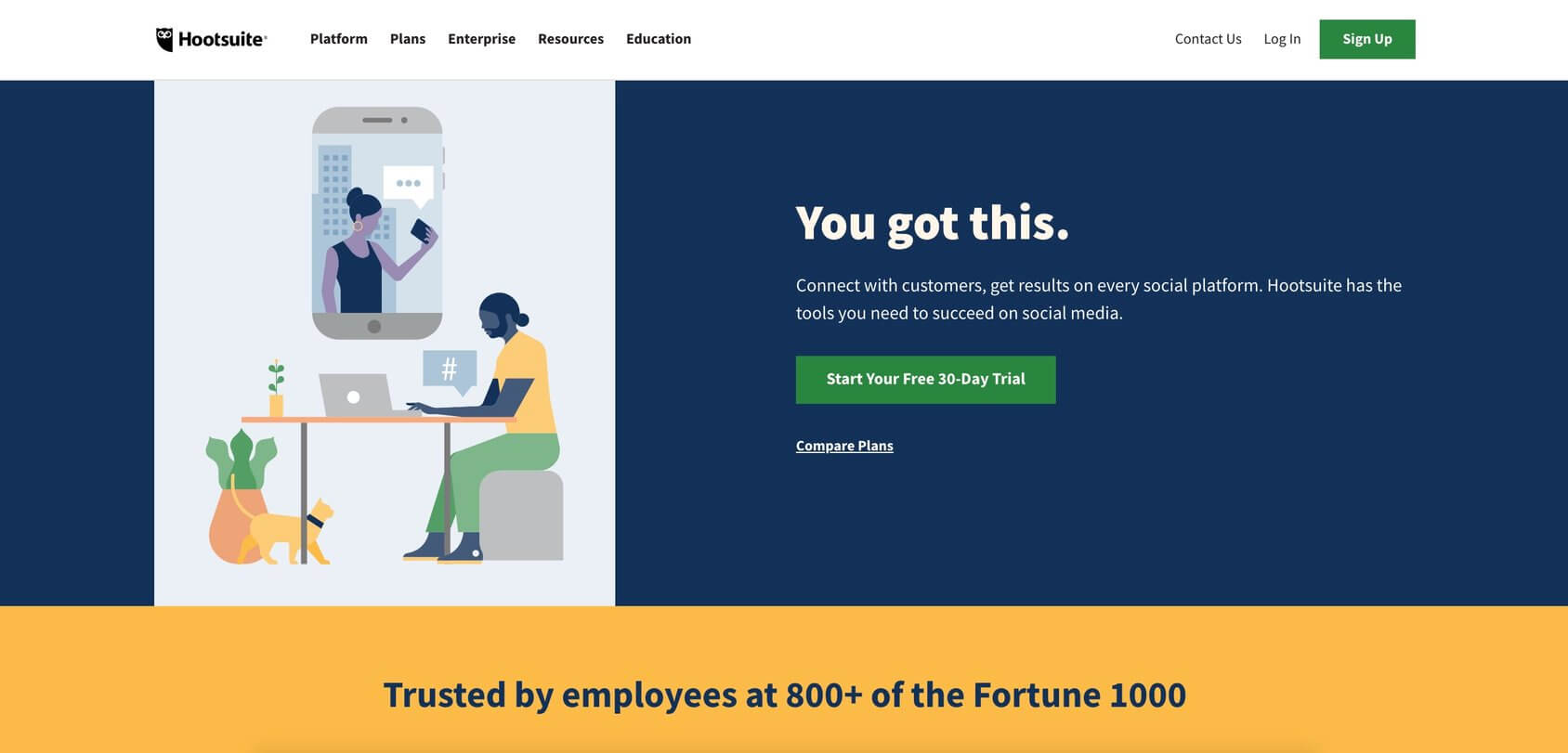 Hootsuite is an exceptional social media management software that acts as the one dashboard that you can use to manage multiple social media profiles simultaneously. Aside from the user-friendly interface, businesses can use their free version to connect up to 3 social media profiles to keep all related activities in one place. It's a perfect feature for small businesses as they are usually required to operate a few accounts to get their hands on free PR opportunities.
Hootsuite provides access to a free publisher software where users can create posts and use this tool as a post planner to schedule the release of these posts across different social channels, using just one main source to do it. In case a business has a frequent need to create fast posts to keep their audiences up to date and engaged, Hootsuite provides the Hootlet Chrome extension – an excellent feature that allows the user to share any content relevant to their audience with ease and in a timely manner.
Key features
Manage multiple contributors
Data gathering by tracking brand mentions
One-step multiple networks updates
Optimize delivery
Social analytics reports
Pricing
Professional– $99 per month
Team– $249 per month
Business– $739 per month
Enterprise– contact sales for pricing
Visit Hootsuite for additional information >>
Sprout Social — Best tool for building relationships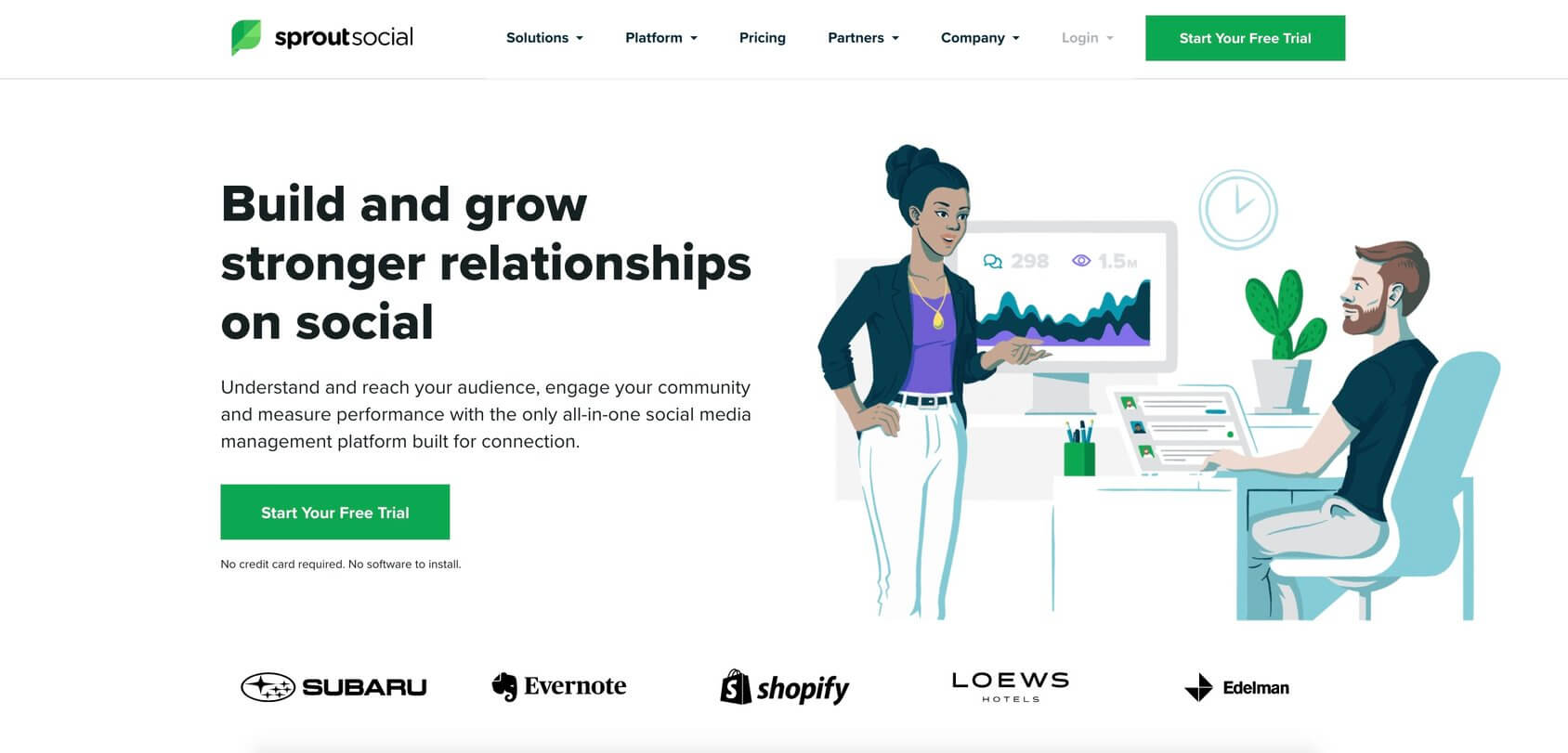 There is indeed a huge amount of free publisher software tools on the internet, but none of these tools is as effective as Sprout Social. Its biggest advantage, one that provides real value for your money, is the ability to use a seamless publishing system for posting tweets and messages across different social media platforms.
The tool also provides detailed analytic reports that allow you to monitor and measure your performance. While this tool primarily serves to support your social media strategy, it's also a tool for tracking monitored keyword searches.
There are 3 types of plans available, Team, Premium, and Deluxe. Sprout Social supports Facebook, LinkedIn, and Twitter, and it's CRM-compatible. To make things even better, there's a 30-days free trial for all those who want to give Sprout Social a try.
Key features
Smart inbox
Mobile
Collaboration
Publishing
Analytics
Monitoring
Social CRM
Account Structure
Pricing
Standard– $249 per month
Professional– $399 per month
Advanced- $499 per month
Enterprise- contact sales for pricing
Visit Sprout Social for additional information >>
Agorapulse — Best software for real-time profile syncing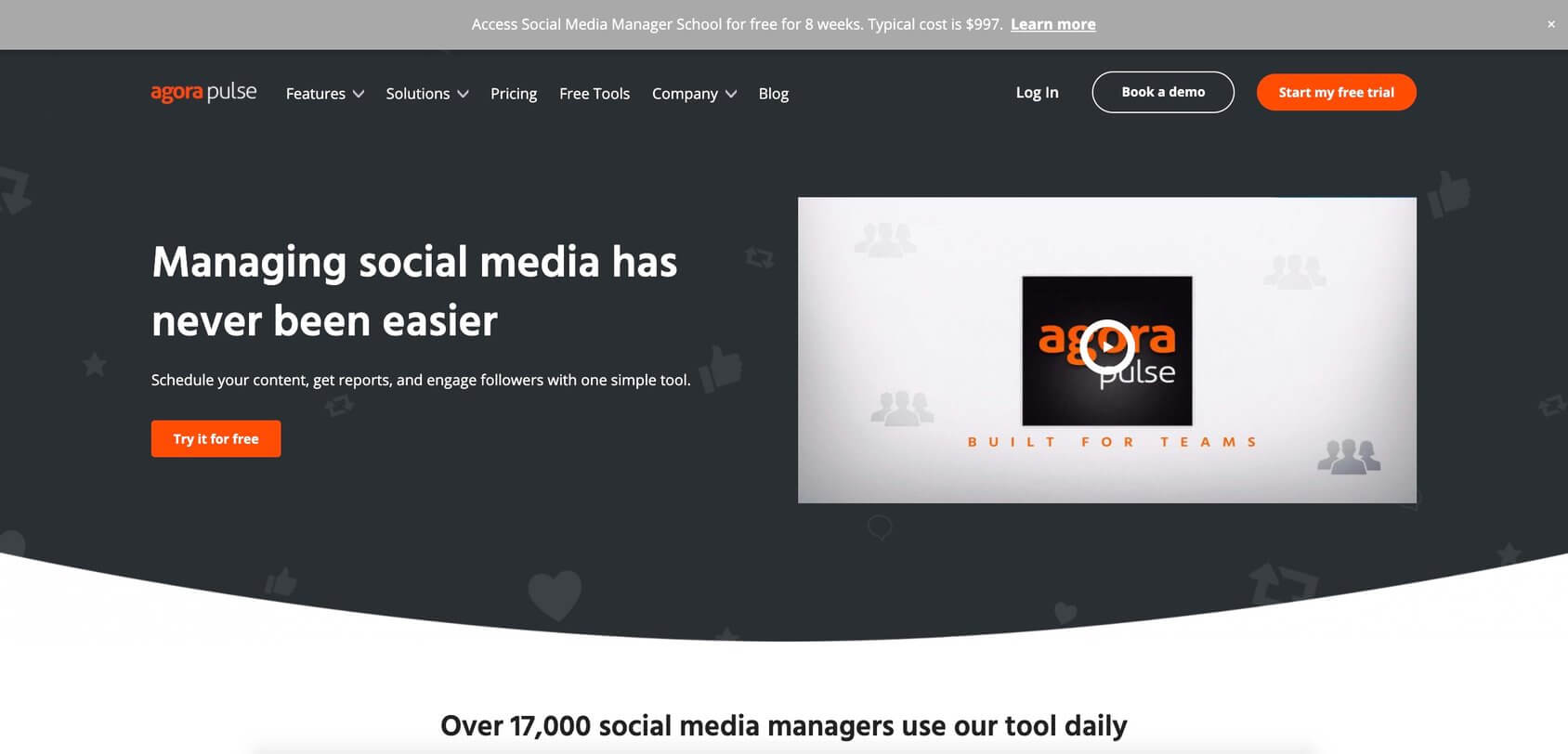 Social content needs constant updates to stay relevant and engaging enough. That's exactly what Agorapulse is all about. It allows the user to use the social media inbox option to keep their content fresh and up to date. Aside from syncing all social media profiles in real-time, this fantastic social media management tool saves old conversations and allows the user to retrieve any information, if need be. Businesses mostly use it to ensure they don't miss any relevant tweets, likes, comments, etc. Agorapulse is also a performance measuring tool, allowing businesses to track their efforts by getting customized reports in PowerPoint.
Key features
Facebook analytics
Twitter management
Team functionality
Calendar view
Instagram monitoring of hashtags and brand username
Advanced PowerPoint reports
CSV reports
Advanced scheduling and queueing options
Pricing
Free trial
Standard- $59 per month
Professional- $99 per month
Advanced- $149 per month
Custom- contact sales for pricing
Visit Agorapulse for additional information >>
Sendible — Social media software for brand awareness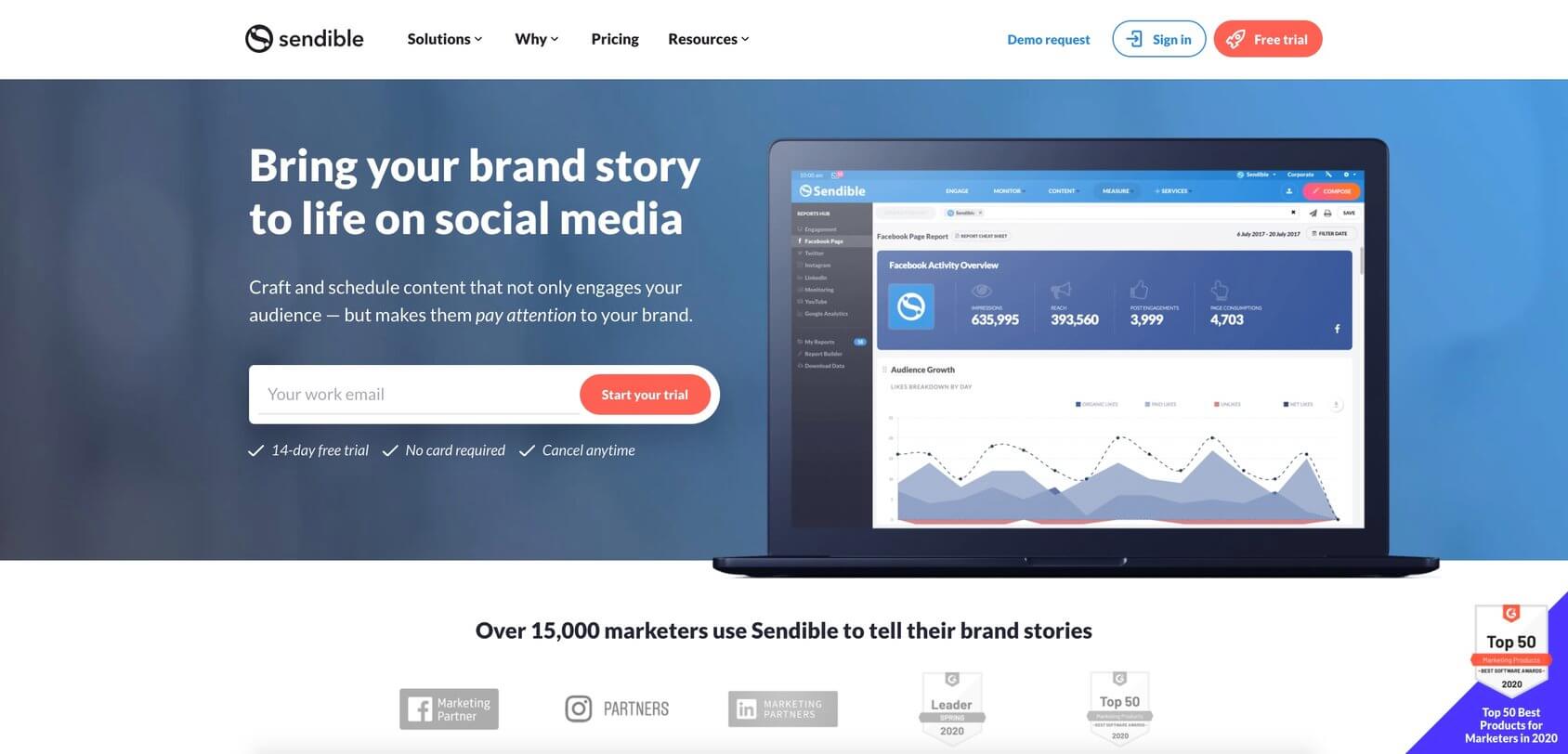 Designed specifically for brands with multiple clients, Sendible is an excellent tool for voicing your brand to increase brand awareness. It's a fully optimized tool for digital marketing, mostly used by digital marketers. It has all the features a brand needs to engage with target audiences and keep them engaged. Easy scheduling and posting, most relevant content queuing, preview posting, post tailoring, these are all just some of the exceptional SMM features that Sendible offers.
Still, the best thing about Sendible is its built-in functionality that supports multiple users. Businesses use Sendible to include teams on their social media needs. Any team member working on the client's accounts has access to enhancing and creating relevant posts. It's an excellent SMM tool that most businesses use to improve their customer service and sales team efficacy. Boosting customer service is one of the best things about Sendible. Put simply, Sendible allows a business to dive deep into the pool of consumers and see if their strategies provide the wanted results or not.
Key features
Multiple social network publishing
Integrated analytics and tracking
360-degree brand building
Reputation monitoring
Customer engagement
Lead generation
Schedule posts
Manage multiple users and clients
Pricing
Free trial
Creator- $29 per month
Traction- $89 per month
Scale- $199 per month
Visit Sendible for additional information >>
eClincher — Best social tool for growing your brand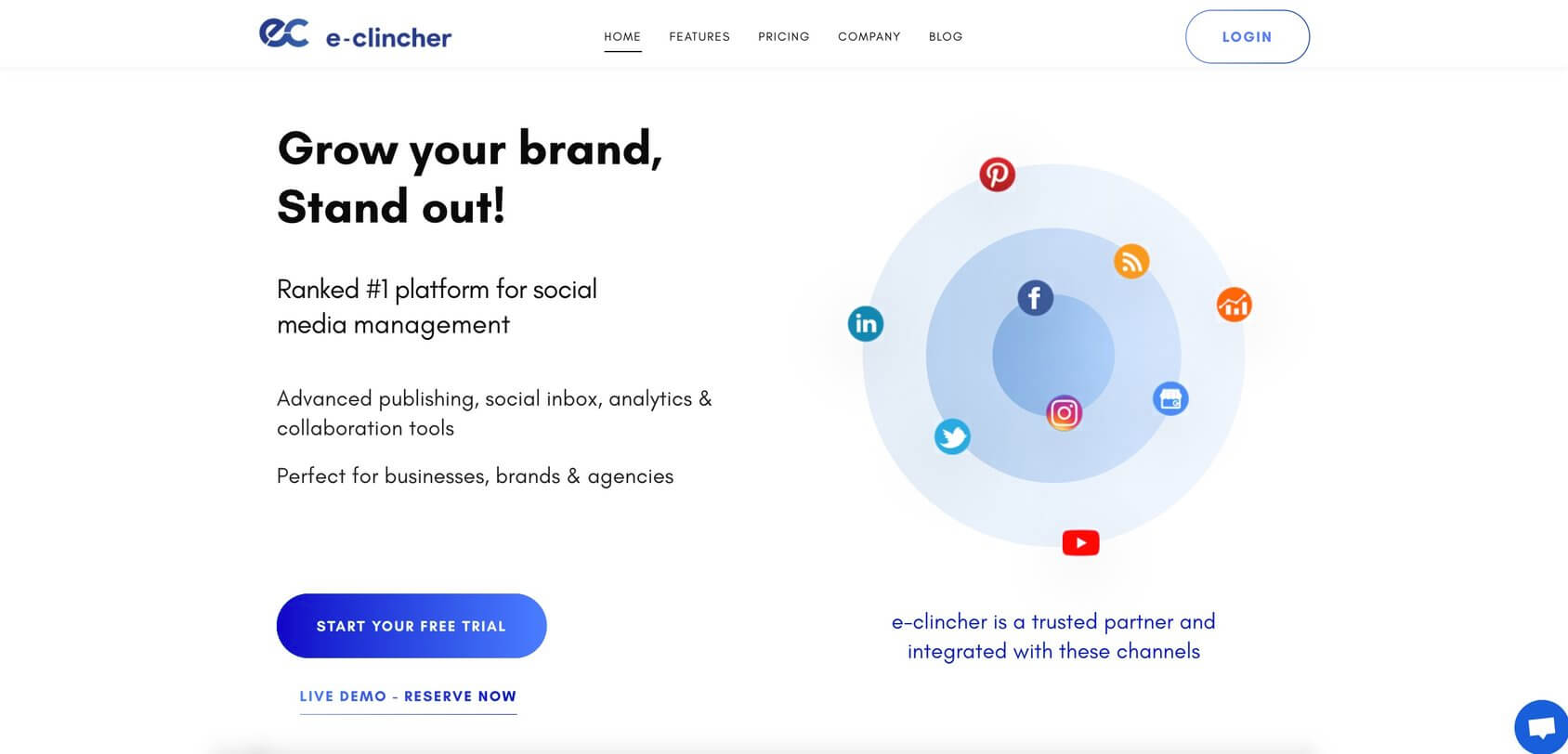 Many businesses struggle with coping with huge scopes of work when it comes to social media management efforts. It's quite tedious work, especially for small businesses operating on a limited budget.
Fortunately, eClincher can help share the load. The tool allows companies to manage social media groups, pages, and accounts across multiple platforms in the most intuitive way. Digital marketing agencies, teams, professionals, businesses, and social media managers all use this tool.
Same as many other social media management software, Clincher is compatible with Blogger, YouTube, Pinterest, Instagram, Linked In, Facebook, and Twitter. It's one of the best social media scheduling tools for growing your brand and improving your efforts related to engagement, scheduling, reporting, and networks.
The majority of companies use this tool when they want to periodically share evergreen content across multiple social media platforms. In terms of engagement, eClincher allows a business to gather all social media notifications, comments, and messages and store that content in one place for easy retrieval. You can access this content base every time you need to engage, follow, thank, or respond to your audience.
Key features
Advanced publishing
Auto-post with queues
Content recycling
Engagement
Hashtags and keywords monitoring
Content curation
Social media analytics
Website analytics
Team collaboration and agencies
Pricing
Basic– $65 per month
Premier– $175 per month
Agency– $425 per month
Visit eClincher for additional information >>
SocialPilot — Best tool for teams and agencies
If your business requires a cost-effective and user-friendly SMM solution that provides multiple features, SocialPilot should be your option number one. It's an excellent and simple to use tool suite for managing social media, scheduling posts, improving engagement, and analyzing results for even better performance.
SocialPilot is a preferred tool of choice for small businesses, business professionals, marketing agencies, and various other enterprises. Aside from competitive pricing and user-friendly design, the SocialPilot tool also allows for seamless integration of social accounts, while offering improved control over handling all the essential tasks.
It also allows brand management, content curation, and bulk scheduling, directly from the software. That aside, SocialPilot offers more functionality and additional features that users need to easily go through large chunks of data to filter only the most relevant data. That alone makes rescheduling content a walk in the park.
Key features
Advance post scheduler
Single social network interface
Advanced social media scheduling calendar
Custom Facebook branding
Bulk scheduling
Teams and collaboration
Content suggestions
Custom feeds
Client management
Deep URL shortening integration
Pricing
Professional- $30 per month
Small Team- $50 per month
Agency- $100 per month
Agency+- $200 per month
Visit SocialPilot for additional information >>
CoSchedule — Best tool for a marketing organization
CoSchedule is one of the best social media management tools that allows you to work smarter rather than harder and do more with less. Every marketing campaign requires a decent amount of effort and organization. You can do that and more by keeping all your marketing-related work in one place.
This is quite an intuitive tool that allows businesses to build better relationships with their clients, customers, and audiences.
Aside from covering all your social media management needs, it also caters to your other marketing needs, including events, content, emails, etc. Find the best times to post your content, schedule your promotions, develop a reusable template for social media, and more.
Key features
Campaign analysis
Campaign management
Content management
Customizable templates
Reporting and statistics
Social network marketing
Third-party integration
Drag and Drop interface
Engagement analytics
Pricing
Free trial
Pro- $29 per month
Marketing Suite- contact sales for pricing
Visit CoSchedule for additional information >>
MavSocial — Best visual SMM platform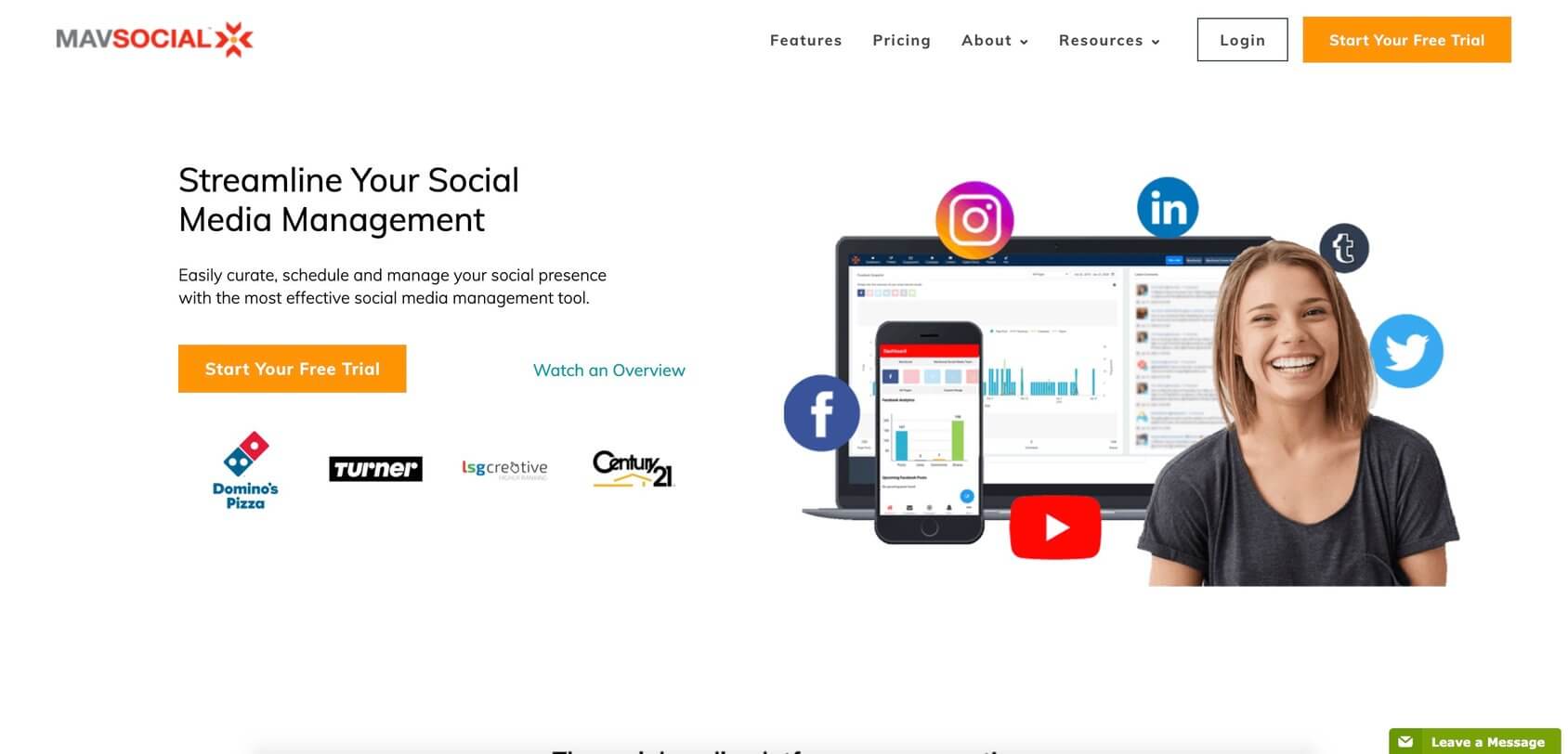 If you need an SMM tool that allows you to shift focus on visuals, MavSocial should be your option number one. It's more than just a tool, it's an entire platform that allows the users to engage with the target audience across multiple social media channels, using just one social inbox.
It's an excellent tool for monitoring and tracking social notifications, messages, and conversations. Businesses use it to allocate employees to personal messages and view prospect comments and replies by profile or platform.
MavSocial is mostly used for tagging, sorting, and searching interactions, as well as retweeting, liking and posting replies.
However, its strongest features relate to content scheduling and reporting. You can use it to create campaigns across multiple platforms, reschedule content for reposting/sharing, and use its built-in analytics to measure your performance. The tool supports networks like Tumblr, YouTube, Instagram, LinkedIn, Twitter, and Facebook.
Key features
Intuitive visual content management
Flexible marketing campaign
Seamless social media publishing
Comprehensive collaboration
Sophisticated dashboard and reporting
Pricing
Pro- $78 per month
Business- $249 per month
Enterprise- $499 per month
Visit MavSocial for additional information >>
Friends+Me — Best engagement-increasing tool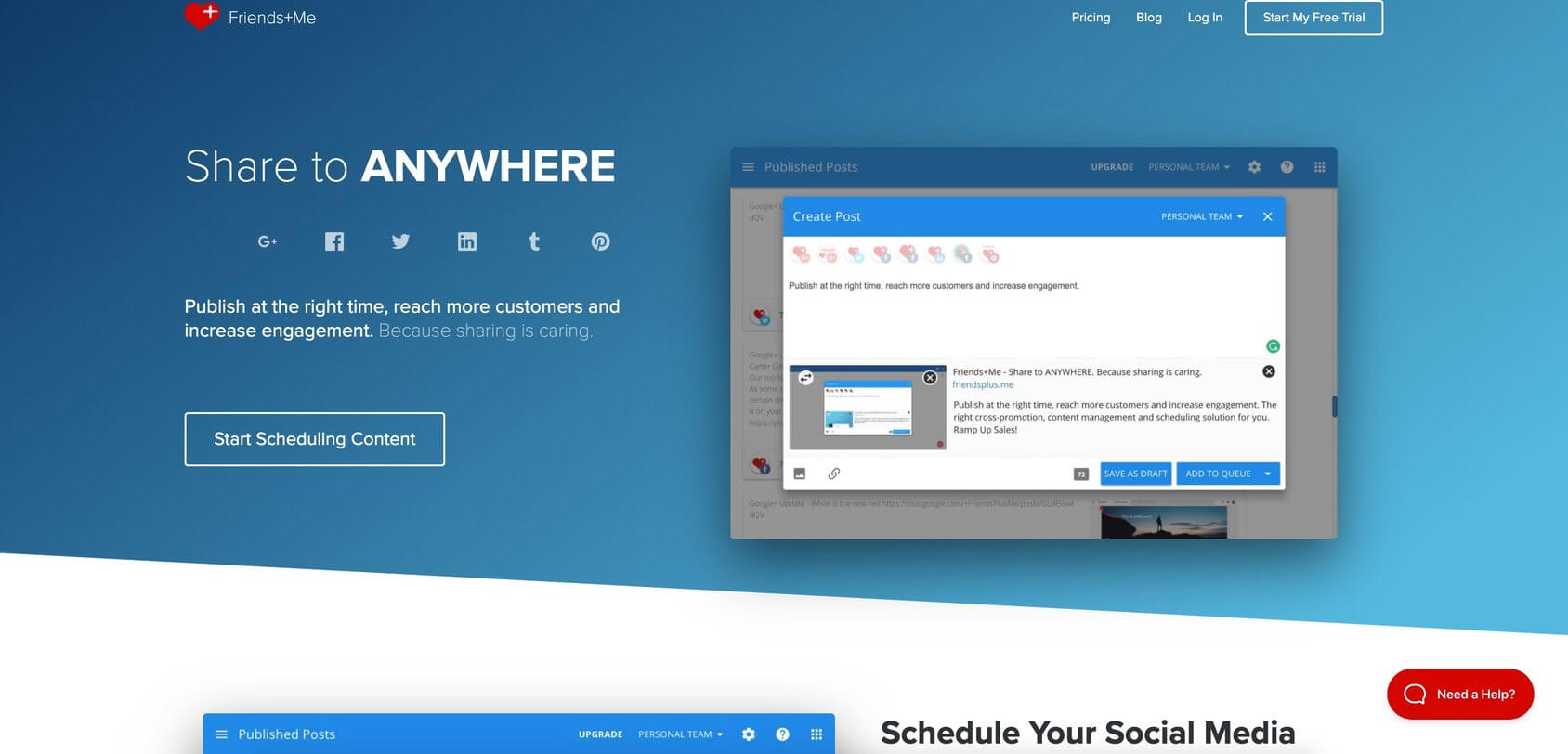 One of the best ways to get ahead of the competition curve is by increasing brand awareness. While there are many social media tools that can help a brand achieve this particular goal, none of these tools offers a range of such useful features as Friends+Me.
Aside from brand promotion, this is an engagement-increasing tool that is designed to help a business reach wider audiences but, more importantly, connects with those audiences in the right, meaningful way.
Put simply, Friends+Me makes your online presence more appealing while offering a range of useful features that you can use to further nourish the freshly converted prospects.
Key features
Mobile applications
Browser extensions
Desktop application
Content cross-promotion
Team support
Link shortening
Bulk schedule
SEO benefits
Pricing
Free trial
Individual- $9 per month
Small– $29 per month
Medium– $59 per month
Large- $259 per month
Visit Friends+Me for additional information >>
Crowdfire — Best social media scheduler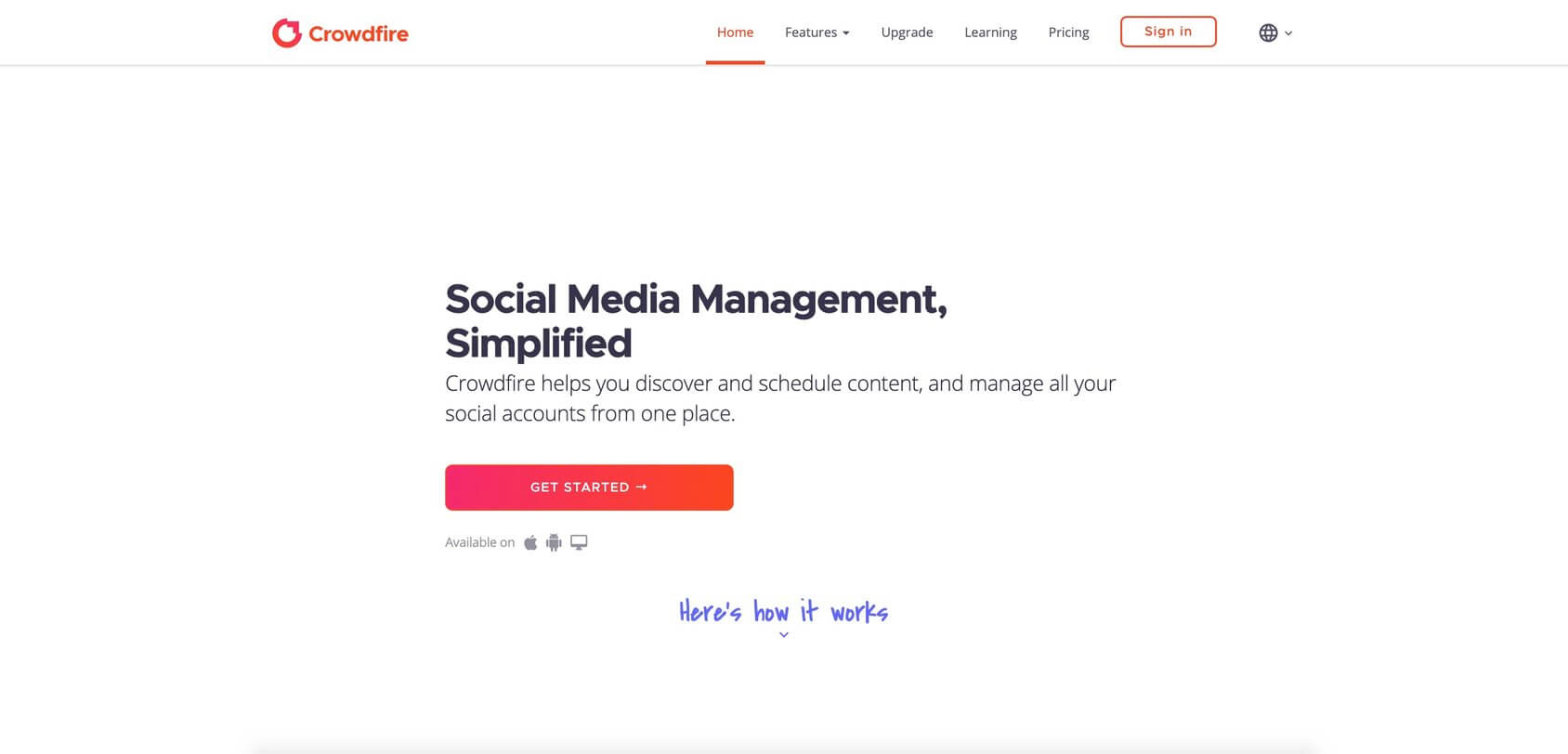 When it comes to social media marketing, timing is everything. Hence, the increasing importance of having a social media scheduler that allows individuals, solopreneurs, agencies, small businesses, and brands to keep all your social media management efforts in one place.
Crowdfire allows you to schedule and curate your content in advance. Aside from being the best scheduling app, it's also a post planner and an excellent tool for social media listening. It provides an array of useful features a brand can use to improve social media engagement, analyze feeds, improve social CRM, etc. Automate all social media processes, use the advanced tracking mode for popular keywords, and own your social marketing game.
Key features
DM marketing
Twitter analytics
Follow competition
Search by location and keyword
Android and iOS apps
Engagement optimization
Copy followers
Track recent unfollowers and inactive users
3in1 scheduler
Viral hashtag tool
Pricing
Free trial
Plus- $9.99 per month
Premium- $49.99 per month
Vip- $99.99 per month
Visit Crowdfire for additional information >>
MeetEdgar — Best social media automation tool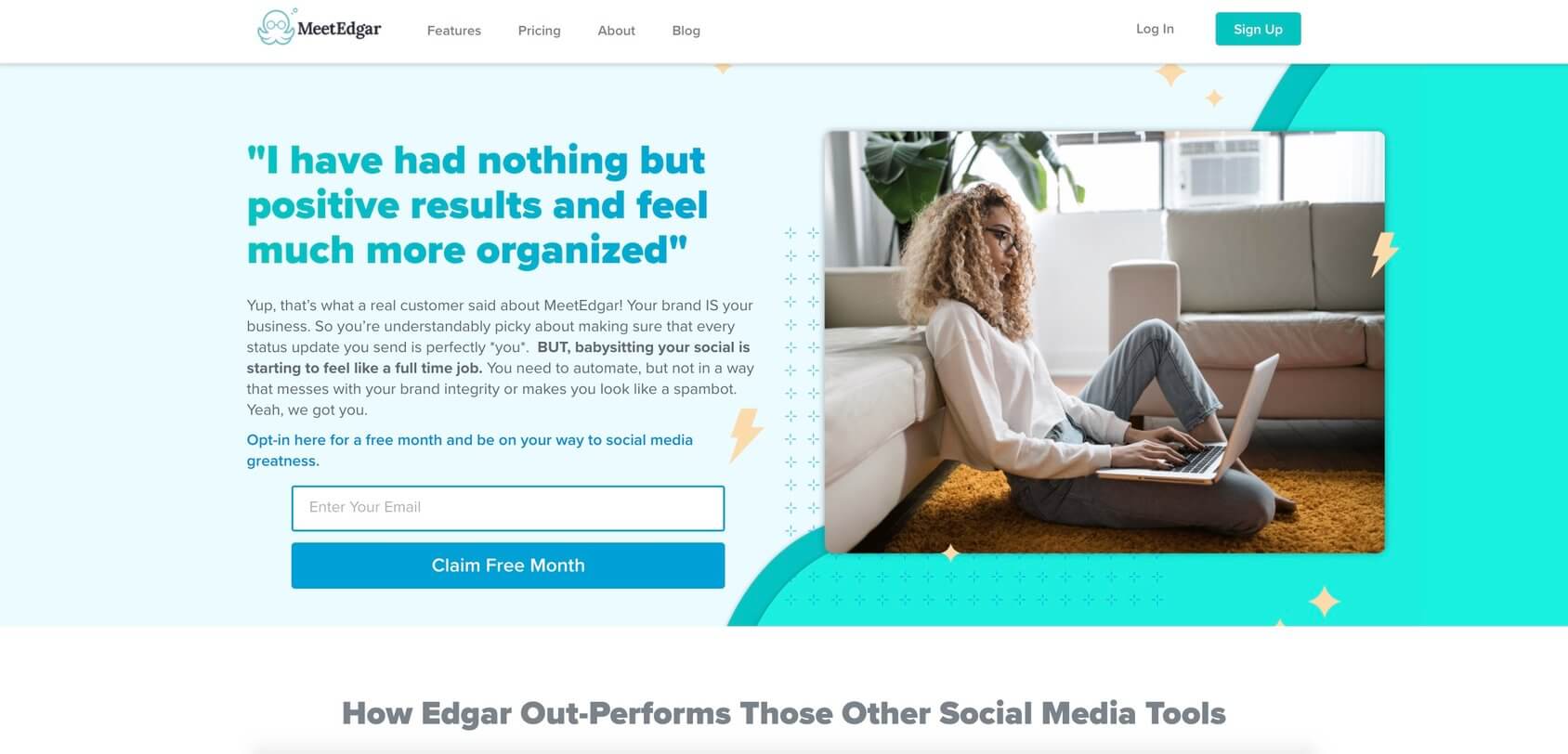 The biggest problem most businesses experience when it comes to social media is a scope of work that includes repetition. Instead of wasting your time, effort, and resources to go about your daily social media needs, you can use MeetEdgar to eliminate repetition and optimize your social media content.
Two main benefits come from increased brand awareness and an opportunity to connect with your target audience in a meaningful way. Using the power of automation, MeetEdgar allows you to efficiently manage your brand's online presence by handling all repetitive and tedious social media tasks.
Key features
Social media scheduler
Automated social sharing
Auto-refill queue
Unlimited content library
Category-based scheduling
URL shortener and in-app tracker
Browser extension
Auto-expiring content
Direct video uploads
Pricing
Eddie- $29.99 per month
Edgar- $49.99 per month
Visit MeetEdgar for additional information >>
Post Planner — Tool for increasing engagement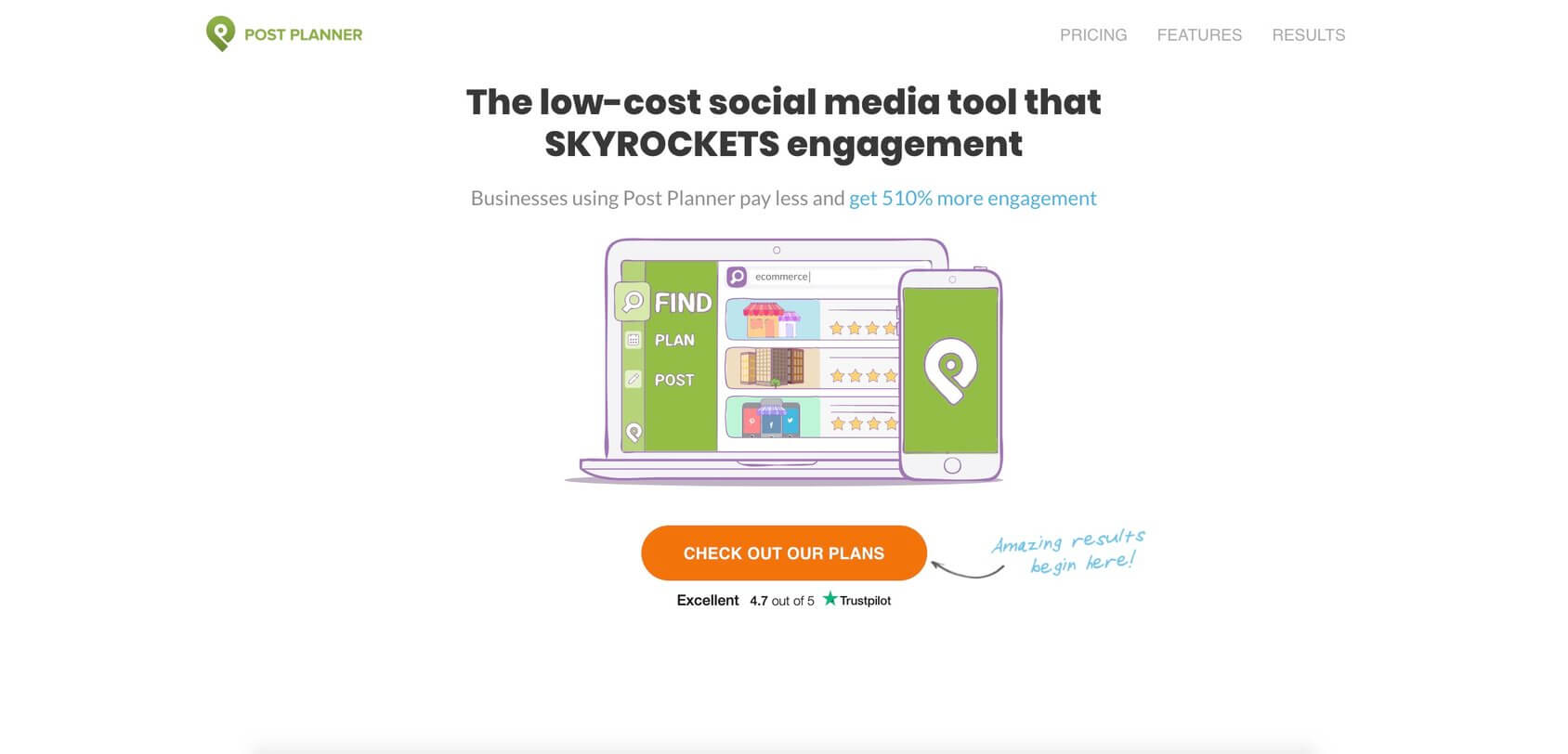 Post Planner social media manager app is an excellent tool for increasing engagement, improving lead generation, and conversion rates. It's mostly designed for professionals and small businesses. If used properly, it can help generate up to 510% more engagement than before.
Aside from generating engagement, this tool helps locate the content, plan and optimize your content, and automate and streamline your publishing. Use its advanced social media scheduler and post planner features to optimize your content and posting, and you'll dive into a much wider pool of audience.
Key features
Planned posts
Top articles
Status ideas
Bulk uploads
Sharebar
Custom domain
Email opt-in
Post targeting
Pricing
Single– $3 per month
Starter– $7 per month
Growth– $27 per month
Business – $47 per month
Enterprise– $197 per month
Visit Post Planner for additional information >>
Tailwind — Best scheduling tool for Pinterest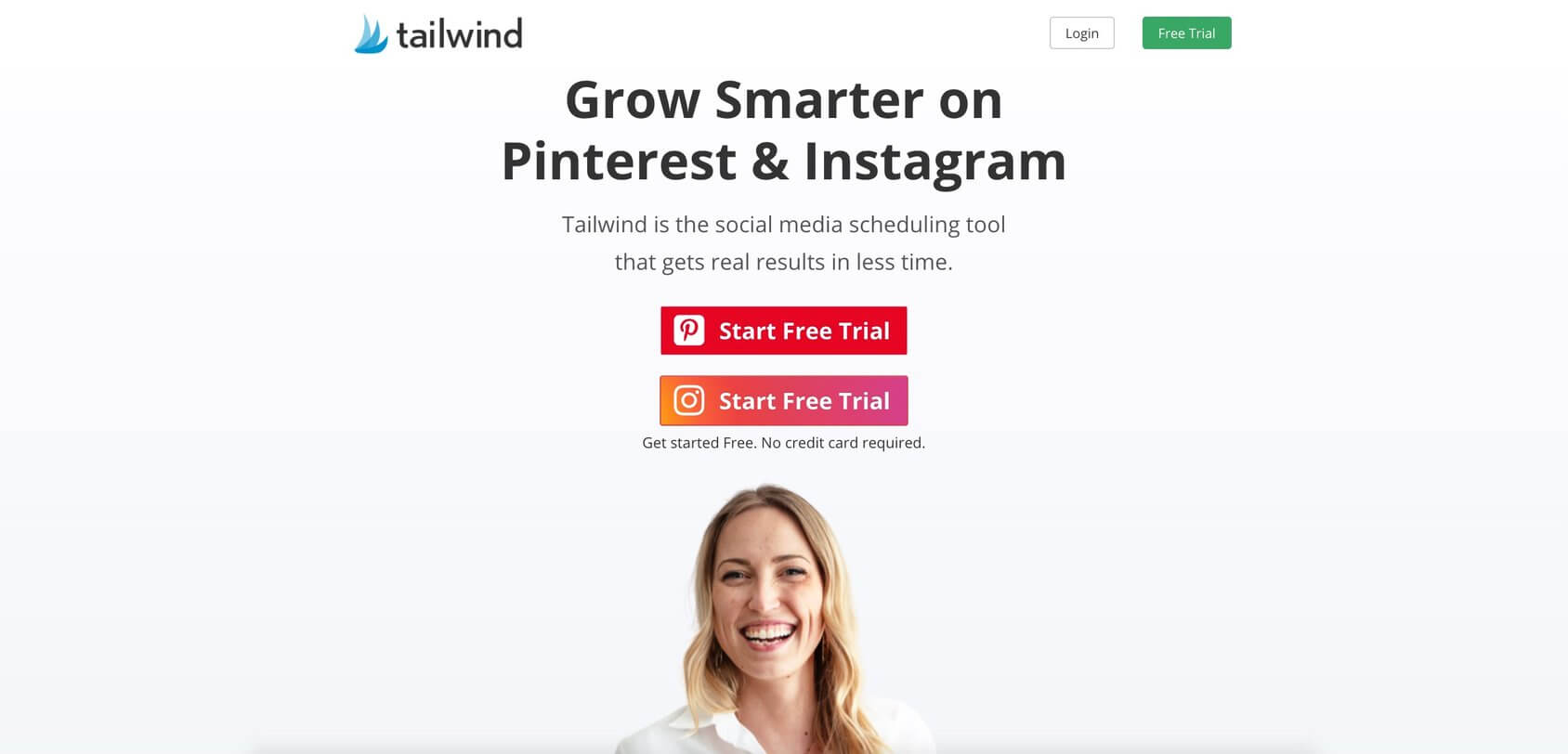 In the online world of the internet, visual content provides the best feedback for businesses. If you're into digital marketing, it's simply impossible to run a digital marketing campaign without visual content.
That's exactly where Tailwind can help. This is a perfect tool for handling everything around visual content on social media. Tailwind is exclusively designed for platforms like Pinterest and Instagram.
It allows you to schedule, clone, and create multiple posts and pins on a daily basis, almost effortlessly. Still, the thing that makes Tailwind worthy of the best social media marketing tool title is its stunning scheduling intelligence. It intuitively suggests content and proper timing for reposting, how to locate and create top-quality content, and how to measure your performance along the way.
Key features
Pinterest analytics and reporting
Pinterest content marketing
Pinterest content optimization
Schedule pins on Pinterest
Instagram analytics and reporting
Instagram audience management
Instagram UGC content management
Pricing
Pro- $19.99 per month
Advanced- $39.99 per month
Max- $79.99 per month
Visit Tailwind for additional information >>
Later — Best marketing platform for Instagram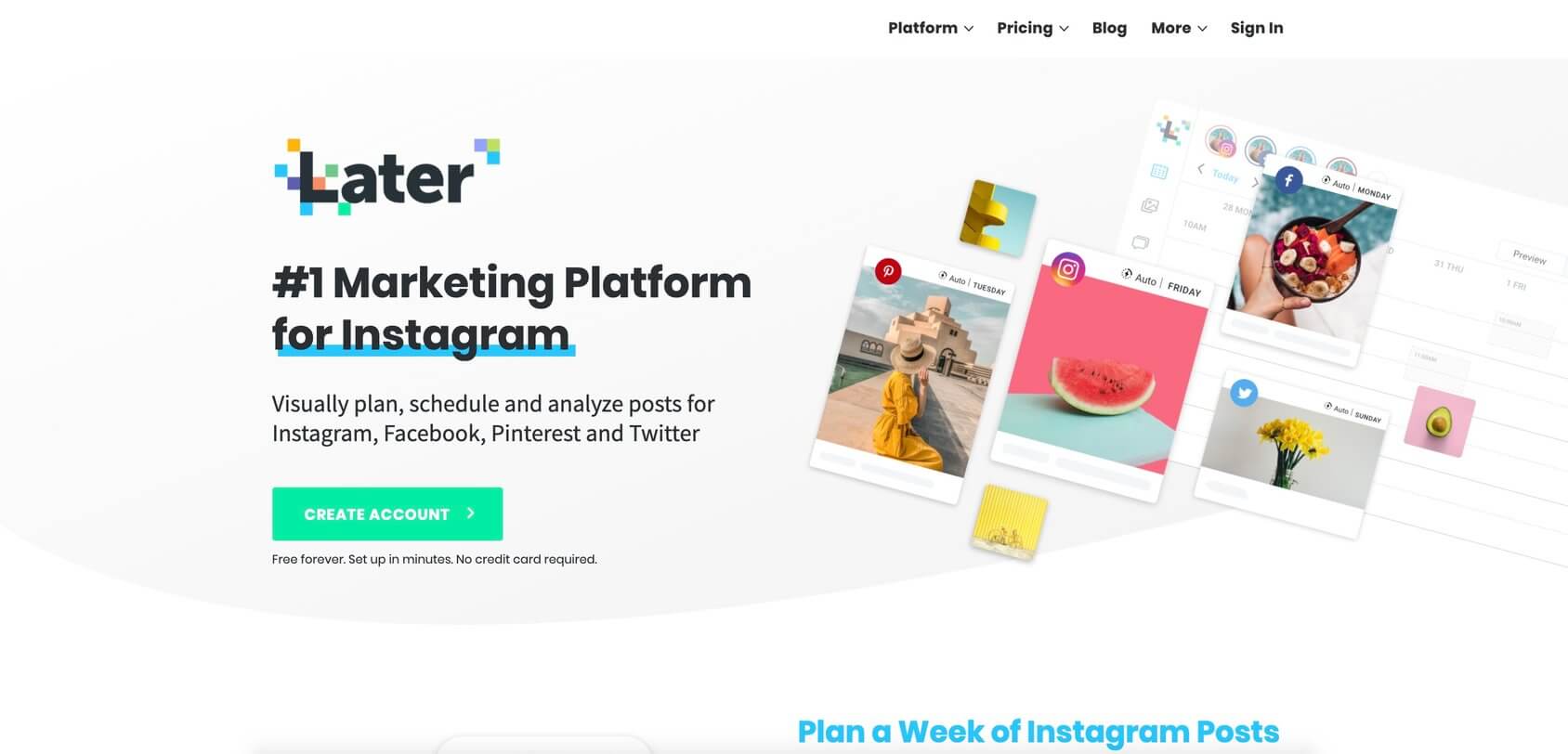 You can't properly focus on your core mission and on growing your business if you have to constantly worry about posting on social media. Instead of wasting your time, effort, and resources, how about you use technology for all the heavy work while you get on with the essentials?
That's where Later steps into play. This isn't just a tool, it's an entire platform that allows you to handle everything your business needs when it comes to platforms like Twitter, Pinterest, Facebook, and Instagram.
Visually plan, schedule, and analyze posts to save time and resources in the process. In other words, Later allows you to organize and arrange your social media content to be visually appealing and attention-grabbing across multiple social media networks. The best thing about Later – it's one of the free social media management tools around.
Key features
Post managing
Instagram feed management
Feed designing
Content synchronization across multiple devices
User-generated content advertising
Visual post scheduling
Content organization
Audience targeting
Content performance analytics
Pricing
Starter- $18 per month
Growth- $40 per month
Advanced- $80 per month
Visit Later for additional information >>
Snaplytics — Best manager app for Snapchat
Modern social media users demand something more engaging than just ordinary posts, images, and videos. That's why social networks like Instagram, Facebook, and Snapchat provided an additional option to attract wider audiences – Stories.
Snaplytics allows a brand to create engaging and visually appealing stories, quickly and easily. This tool is loaded with excellent features a business can use to go about their daily needs. Create professional and engaging content, take care of distribution, and track your performance to improve your impact.
Key features
Publishing suite
User-generated content reposting
Advanced messaging
Automated analytics
Monitoring and social media listening
Permission management
Team collaboration
Story monitoring
Pricing
2-5 accounts– $29 per month
6-10 accounts– $49 per month
11-20 accounts– $79 per month
More than 20 accounts– contact sales for pricing
Visit Snaplytics for additional information >>
Hubspot — Inbound marketing, sales and service tool
HubSpot is a social media management software for marketing, sales, and service that is designed to help a business grow and expand to new markets.
It allows a brand to harness the full potential of automation and digital marketing techniques to handle everything from CRM, CMS, marketing, sales, and customer service. It also provides full CRM support, free of charge. This is a tool that allows you to combine customer service, sales, and marketing efforts into one powerful weapon for business growth.
Key features
Blog analytics
Integrated social publishing
Social media monitoring
Social media analytics
A/B testing landing pages
Segmentation
Custom lead scoring
Sales lead notifications
Email testing
Pricing
Professional- $890 per month
Enterprise- $3.600 per month
Visit Hubspot for additional information >>
Oktopost — B2B social media management platform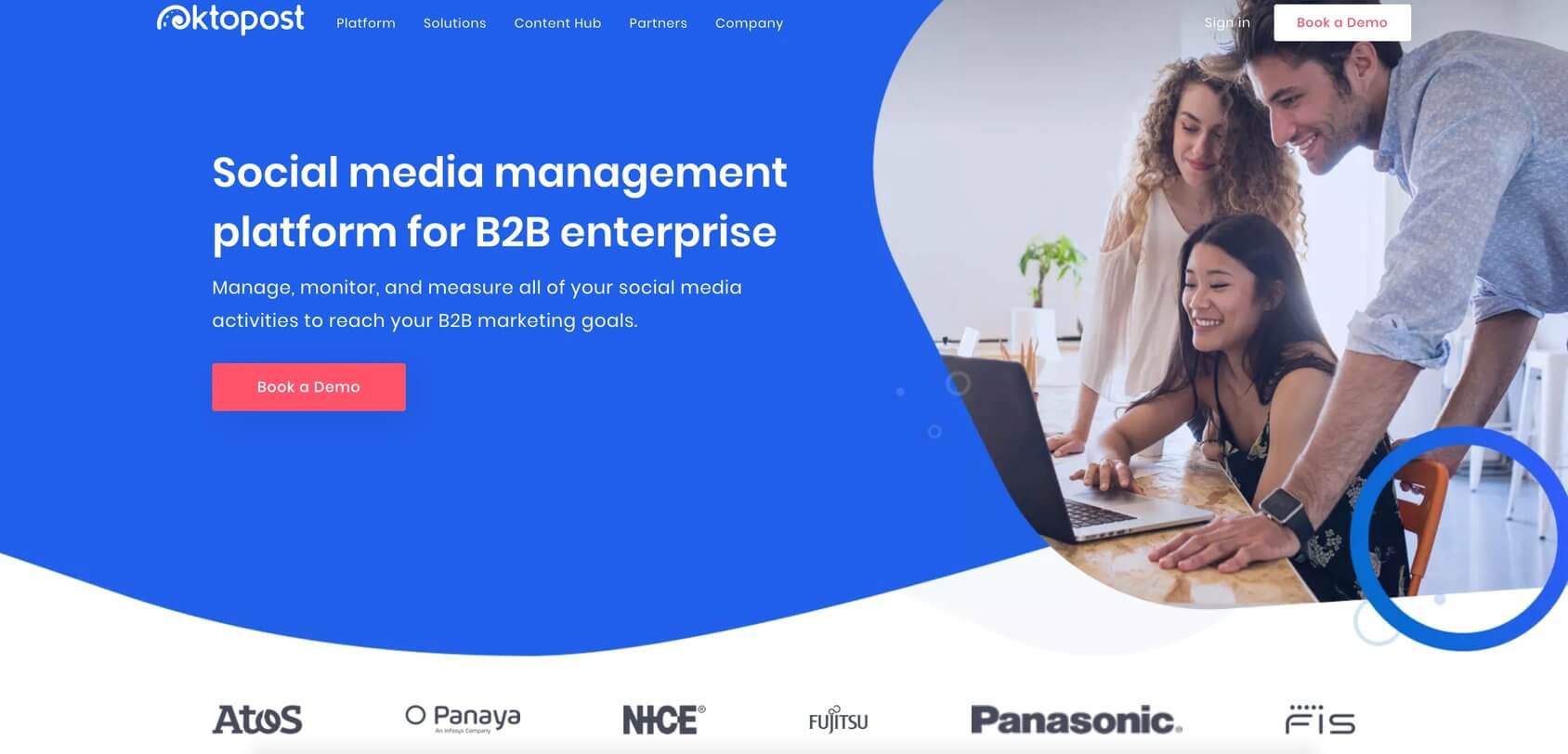 B2B enterprises have a lot to think about when it comes to achieving their marketing goals. Fortunately, modern technology has a solution to every modern problem a business might have today.
Oktopost is an effective SMM solution for B2B companies as it allows them to manage, monitor, and measure all of their social media interactions and activities. It's a three-in-one platform that allows a business to handle everything related to social media management, employee advocacy, and social media promotions across multiple channels.
Key features
Conversion tracking
One-click posting
Integrations
Assign permissions
Rescheduling
UTM customization
Link preview customization
Content scheduling
Keywords tracking
Automatic link shortening
Pricing
Visit Oktopost for additional information >>
Planable — Best tool for efficient social media collaboration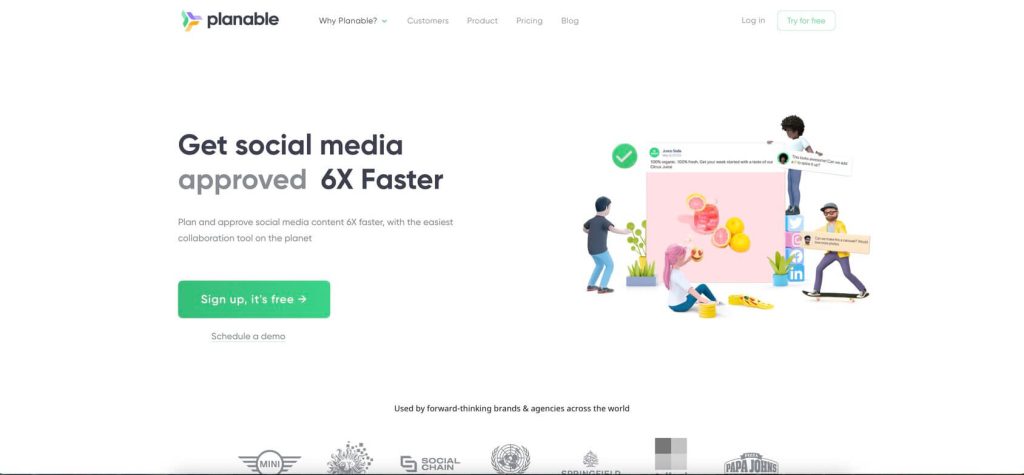 It's been a while since social media was a one-man show. Today it's teams, stakeholders, approvers, designers, project managers, and so on. Planable is a modern social media collaboration tool built with teams in mind. It is the most visually rich and accurate platform you'll find which helps both you and your stakeholders easily preview and review your content. Collaboration happens in context, right next to the posts themselves. You've got 4 views to create, preview, and plan content: a feed view for accurate previews, a calendar view for planning across all platforms, a grid view for Instagram, and a list view for power actions.
Planable is integrated with 7 social media networks: Facebook, LinkedIn, Instagram, Twitter, Google My Business, YouTube, and TikTok. If you manage multiple brands, you can create separate workspaces and group stakeholders and platforms for each one. The best thing is that Planable has a free plan allowing you to test at ease during your first 50 posts.
Key features
Multiple views: feed, calendar, grid, list
Mobile app
Internal/External collaboration
Four approval workflow options
Workspaces
Scheduling
Media library
Image editing
Video trimming
Pricing
Free trial
Basic- $11 per month
Pro- $22 per month
Enterprise- contact sales for pricing
Visit Planable for additional information >>
Metigy — Technology made for SME Marketers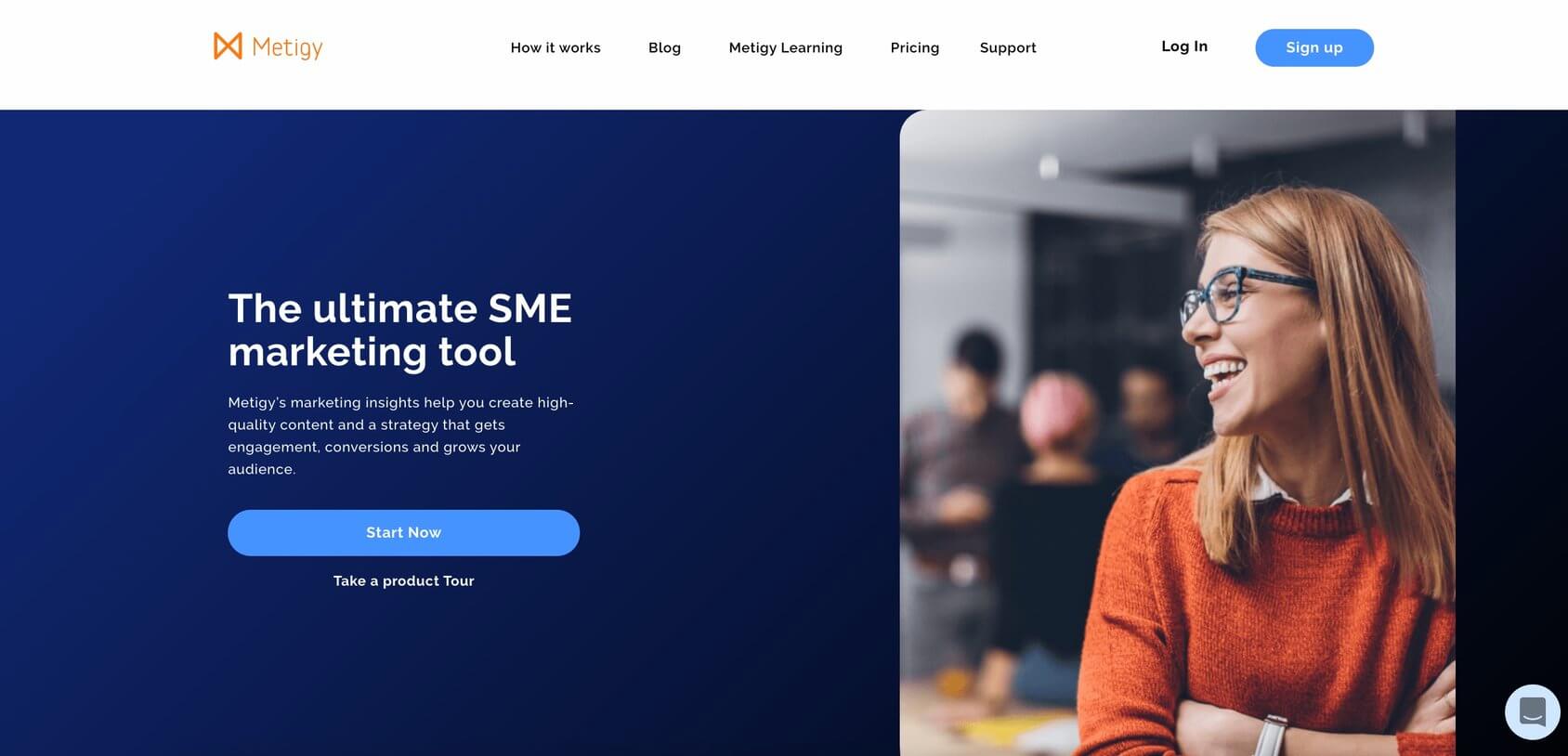 Metigy is the world's leading decision support technology made for SME Marketers. Metigy's AI-powered real-time Insights, Recommendations and resources help even novice marketers achieve 2-3x improvement quarter on quarter.
Designed by marketers for marketers, think of Metigy as your personal strategist. They're there to assist and advise you in real-time, ensuring that marketing opportunities are capitalized upon to allow you to achieve greater results, no matter your expertise or experience.
Key features
Promote brand awareness – decision support based on insights and data-driven AI technology.
Generate meaningful engagements – set (and stick to) your marketing objectives with daily to-do action lists, strategies and insights that are relevant to your goals.
One-step multiple network updates – you can preview your social media posts and content over multiple social network platforms.
AI that processes and learns from your analytics – you can see in the dashboard that it tracks your engagement, reach, growth metrics, competitor's performance, and learns from every interaction.
Content planning and scheduling – get recommendations on how often you should publish, when to share, and what networks you need to be active on to reach your audience and objectives.
Paid social media advertising – you can boost posts and keep up with your ad campaigns directly in your calendar.
Custom automated social analytics dashboard – their advanced system is constantly improving and learning to suggest trending topics and post types.
Pricing
Starter- free trial
Pro- $25 per month
Team- $149 per month
Visit Metigy for additional information >>
How to choose the right social media management software
In the modern online world, social media has become the most powerful tool that helps businesses reach receptive and large audiences. The way a business manages its social media engagement plays a crucial role in both branding and marketing strategies.
The reason why so many businesses start using social media management software tools is very simple – social media networks gather more than four billion users every day. By establishing an effective social media presence, businesses get a chance to improve lead generation, brand marketing, customer engagement, and reach a wider audience.
Therefore, it's paramount to choose the right social media management tools to turn that engagement into business growth, profits, customer retention, and sales.
This will benefit your business in many different ways:
Increase brand awareness
Increase sales and lead generation
Increase engagement
Increase traffic
Gather relevant data about your performance
Promote team collaboration
Save time and resources
Advanced social media scheduling
Improved user experience
Social media network support
ROI measurement
Social media monitoring and listening
Analytics and reporting
Now that you have a proper insight into the cutting-edge SMM tools, let's delve deeper into each tool to see how different tools cover different business and marketing needs.
Best of the best
While the internet is swarming with hundreds of SMM tools with different features, I give you the top 10 best of the best tools, each covering different business/marketing needs.
Best free social media management tool
Tools like Buffer or Hootsuite are exclusively effective when it comes to social media management. Their specific key features are designed to help individuals and businesses make the most out of their social media efforts.
Best all-in-one social management tool
A business can gain so much by choking the right tool for their specific needs. Different businesses have different needs, and all-in-one SMM tools might just be the best solution to match those needs. With that in mind, here is a tool that delivers such an all-in-one experience.
Best tool with the most networks
Different social media networks offer different options that can help businesses achieve many different goals, depending on what their needs are. Here is a fantastic tool that works with most networks.
Best tool for Instagram
In the world of the internet, social media platforms have become every marketing strategy that businesses use. Networks like Instagram offer features that are specifically built for social media marketing. Let's see what is the best tool for Instagram monetization and marketing.
Best tool for B2B companies
B2B companies are as competitive as they can increase brand exposure and attract more consumers. There's no better place to do that than on social media. Here is a great tool that is specifically intended for B2B enterprises.
FAQs
Do I need a social media management tool?
If you want to get ahead of your competition, you'll need social media software to upgrade your social media game and make the right moves at the right time.
How much does social media management cost?
While the prices of social media management vary per month, there are many free publisher software and free social media scheduling tools at your disposal. Most paid tools allow a free trial to experience the features.
Can I do social media management on my own?
If you have the time and are ready to invest some effort into it, yes, you can. You can explore different tools for free until you find the one that meets your needs.
When should I look to hire a social media manager?
The moment your business growth has exceeded your current potential is the right moment to consider hiring a social media manager. This is a long-term investment, so I recommend that you do it as soon as possible.
How much should I pay for a social media manager?
The popular rate that social media managers charge goes from $25 to $35, which means that an average is approximately $250-750 per month, depending on the scope of work.
Conclusion
In the modern business landscape of today, running a business requires many skills and techniques to beat the competition and remain relevant. Social media management tools are simply vital to your business efforts, especially when it comes to tracking audience engagement, spreading brand awareness, organizing, and publishing content.
These 20 top social media management tools all offer an array of different features that cover different aspects of your social media needs. These superior tools are meant to help you set new standards in your industry and showcase your brand as a worthy authority in your line of work.