The Best Writing Software in 2023
10 Writing Tools for Copywriters and Authors of All Levels
FirstSiteGuide is supported by our readers. When you purchase via links on our site we may earn a commission.
Read More
The Best Writing Software in 2023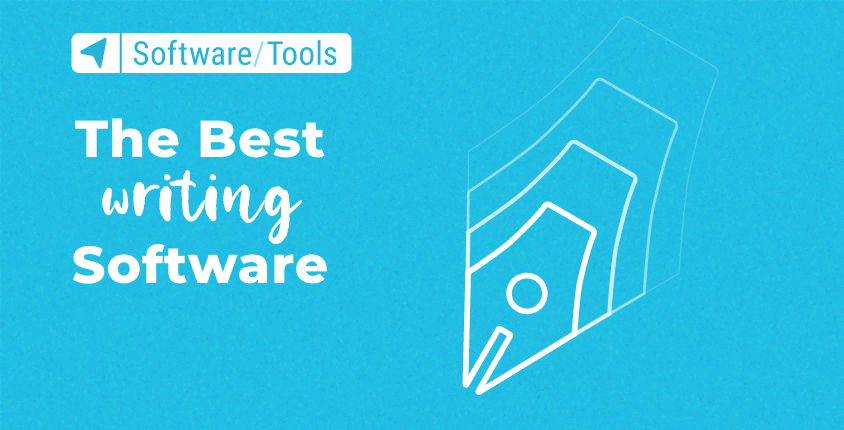 Writing software is an essential tool used in all industries. Writing programs have come a long way, starting from MS-DOS Editor and Notepad to now becoming one of the most sophisticated tools in the software market. Finding the best writing software for your needs can prove challenging.
One of the reasons this is a challenge is that there are way too many options available. While all writing software shares one common feature – the ability to write and edit text – each of them comes with unique features to streamline your writing. Also, there are paid and free writing software choices. How do you determine which one to choose and whether it's worth investing money in one of these software tools?
To help you out, I have decided to put various writing software solutions to the test.
In my effort to deliver you a verdict on the best writing software, I've worked hard to remain unbiased. All of the tools on my list can help you to write and collaborate on your documents.
Let's start with the most popular tools, see what each one has to offer, and examine their best use cases.
The top 10 most popular writing tools
EDITORS' CHOICE (MARCH 2023)
A writing tool has to be easy to use. It should also help you to focus on your writing while allowing you to access useful features ranging from grammar and spelling to collaboration on documents.
If you Google "writing tools" you'll get hundreds of results. To be honest, not all of them are worth your time. Here are the ones that you should focus on:
---
Google Docs — Best free writing tool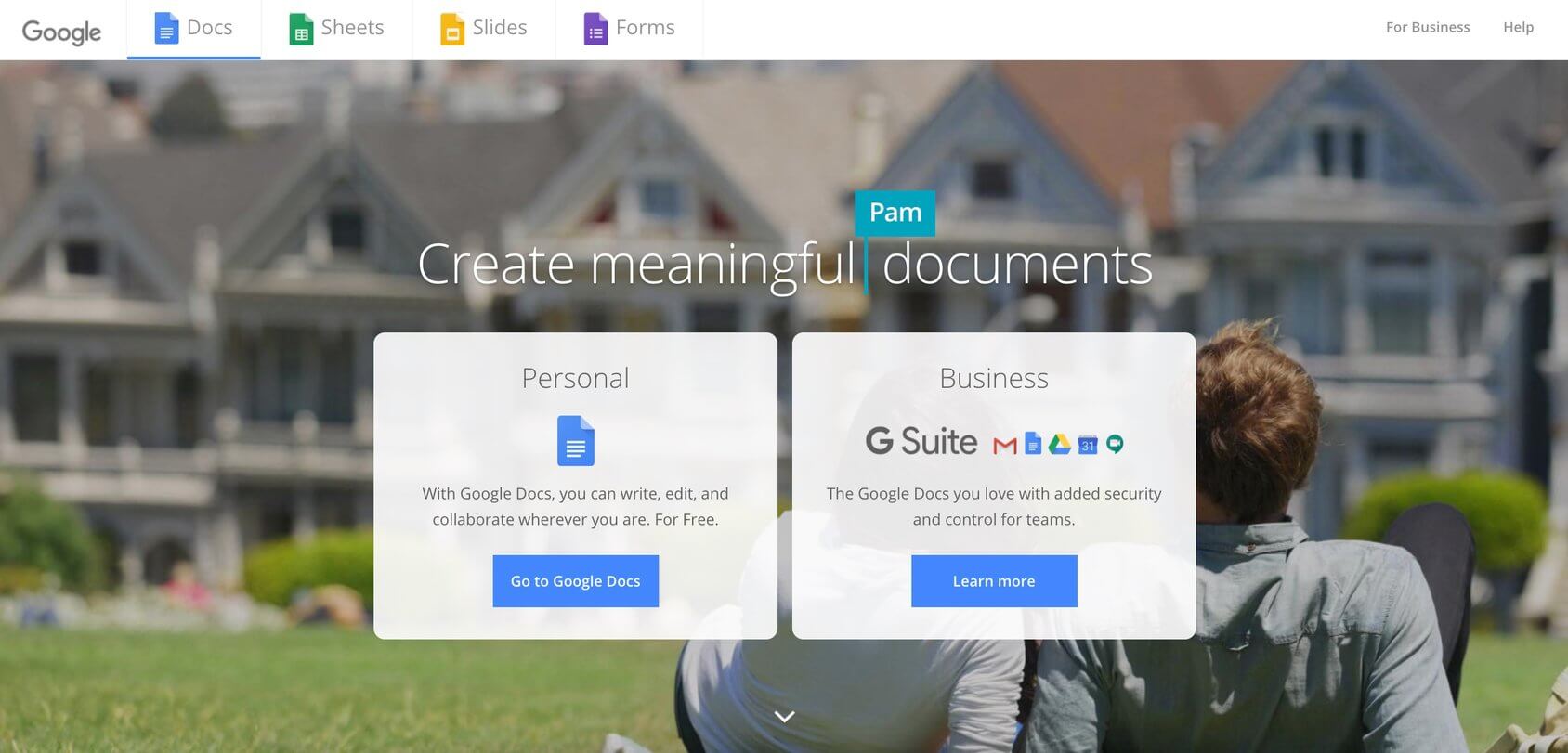 Google Docs is a writing tool straight from Google's lab. It's a completely free cloud-based writing software. It integrates with all of the other tools in Google Suite, including Sheets, Mail, Drive, and Calendar. You can write your documents on the go, download files directly to your drive, or keep them on your Google Drive.
Google Docs comes with all of the features you need to create a variety of documents. You can insert tables, images, format text, and check spelling and grammar, all with a few clicks. It also comes with pre-built templates you can use to create stunning documents for personal or business use.
Key features
Dedicated smartphone app – access, edit, or create documents on the go whether you are on a smartphone, tablet, or laptop.
Built-in chat – collaborate with editors and chat with them in real-time without closing the document.
User permission rights – share your documents with others and control whether they can view or edit them.
Real-time collaboration – access the same documents with your team and share your efforts to edit them.
Auto-save – Google Docs automatically saves your documents as you type.
Add-ons – get access to powerful add-ons to create more visually appealing documents.
Plans and pricing
Google Docs is available for Personal and Business use.
Personal Use
Google Docs for personal use is free writing software.
With free access, you can use Google Docs and all of its features, including collaboration, version control, addons, and spelling and grammar, without spending a dime.
Business Use
Google Docs for Business Use is part of the Google Workspace, which comes with added control for teams and additional security layers. It's available in two packages – Free and Basic:
Free
Free Google Workspace comes with business email, Meet, Chat, Calendar, 15GB Drive storage, Docs, Sheets, Slides, Forms, Sites, Keep, Currents, and Apps Script. It has standard 24/7 support, admin security controls, and endpoint management.
Basic
Basic Google Workspace comes with everything in Basic plus unlimited cloud storage, Cloud Search, and Google Vault.
Visit Google Docs for additional information >>
Scrivener — Leading book writing software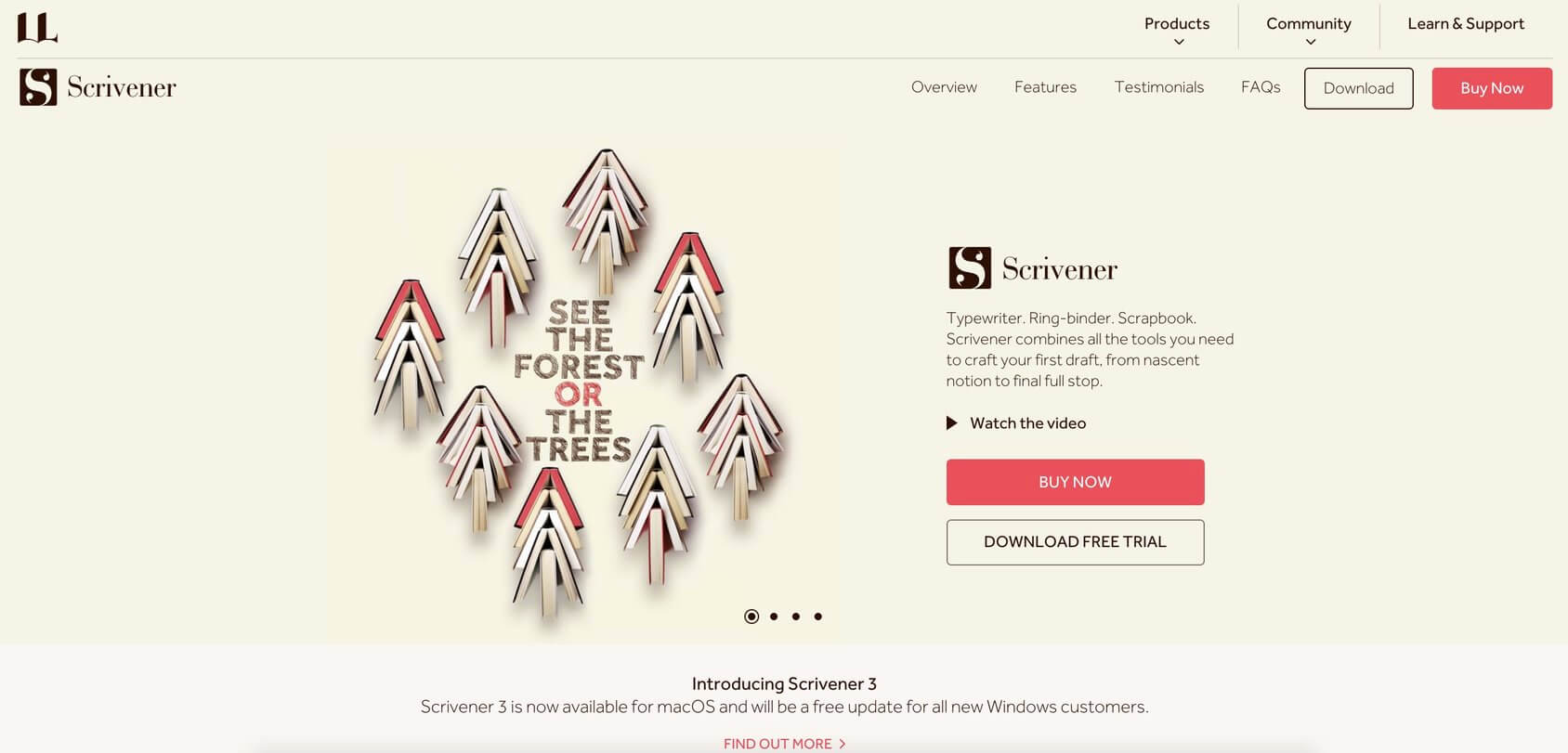 If you are looking for writing software to use on your new book project, Scrivener is definitely worth considering. This tool comes with all of the features that both new and experienced writers can benefit from. You can quickly create a new draft and save it for later use.
Scrivener also allows you to write notes and compile and organize your research into one document. You can compose your text however you want and when you want. Integrating text into your main story is easy with the "Scrivenings" mode.
Key features
Familiar text editing – Scrivener keeps writing as simple as possible.
Formatting presets – make your own formatting presets to consistently create visually appealing texts.
Import support – import your research from Word files, PDFs, web pages and have it all in one place.
Corkboard – attach every section of your project to a virtual index card for easy project management.
Outliner – quickly arrange files in folders and subfolders, review synopses, and word counts from a drag and drop interface.
Metadata – leverage color-codes and keywords to easily record and find important information.
Plans and pricing
Scrivener is available for macOS, Windows, and iOS.
macOS
$49.00 – Standard License for macOS

$41.65 – Educational License for macOS
Scrivener is optimized to work on macOS and comes with integrated outlining tools, Scrivenings mode, corkboard, and outliner.
Windows
$49.00 – Standard License for Windows

$41.65 – Educational License for Windows
Scrivener for Windows provides you with access to synopsy reviewer, meta-data, full-screen writing, corkboard, and outliner.
iOS
$19.99 – available on iPad, iPhone, and iPod Touch
Although light, Scrivener iOS app delivers all of the important features including integrated outlining tools, outlining, dark mode, and document export customizations.
Bundle
Two standard licenses, one for macOS and one for Windows.
Visit Scrivener for additional information >>
ProWritingAid — Outstanding editing tool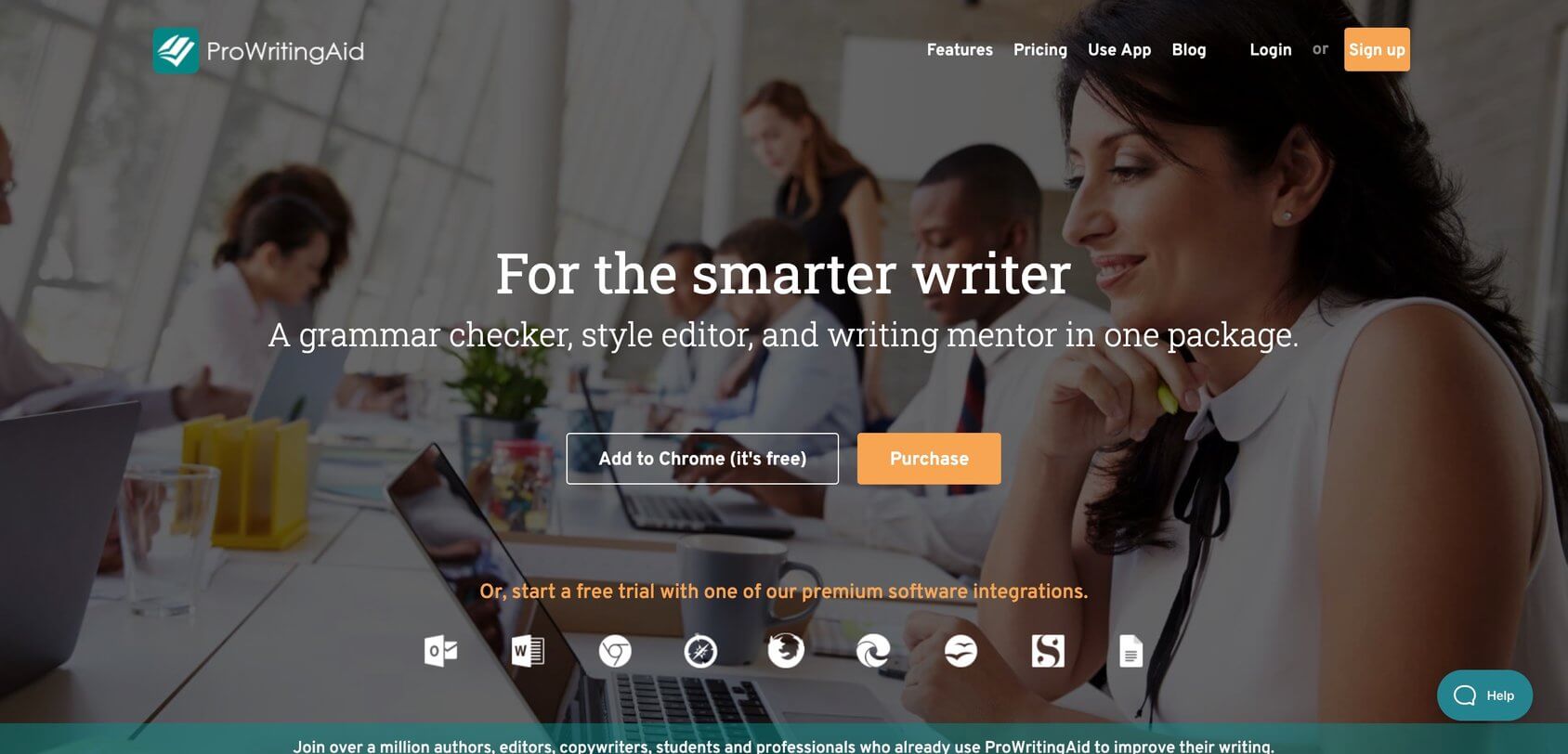 If you are wondering what the best writing software with strong editing features is, ProWritingAid can provide you with everything that you need. It comes with a comprehensive list of features. All of the built-in editing tools have an educational component as well. ProWritingAid will ensure that you write using correct grammar, spelling, style, and tone of voice and help you to become better at writing.
All of the write aiding tools are created to provide corrections and feedback in real-time. You can even get insight into dozens of custom-tailored writing reports to learn what you can do to improve your copy and your writing.
Key features
Real-time readability improvements – get suggestions to improve the readability of your copy as you write.
Writing reports – get access to an abundance of writing reports to take your writing to the next level.
Writing style – receive writing style suggestions to improve the clarity of your copy.
Edit & learn – become a better writer thanks to in-app suggestions, quizzes, explanations, and videos.
Word explorer – find perfect synonyms for your overused words.
Style and dictionary editor – create new rules and turn them into automated suggestions.
Plans and pricing
ProWritingAid offers two packages, Free and Premium. Both packages come with three pricing plans: Monthly, Yearly, and Lifetime. ProWritingAid offers a standalone Plagiarism Checker.
Free
Plans come with a set of features.
Premium
$30 per month

$10 per month


billed annually

$399.00


one-time payment
The Premium plan comes with all of the features in the Free plan, plus 60 plagiarism checks per year.
Visit ProWritingAid for additional information >>
Apple pages — Excellent personalization features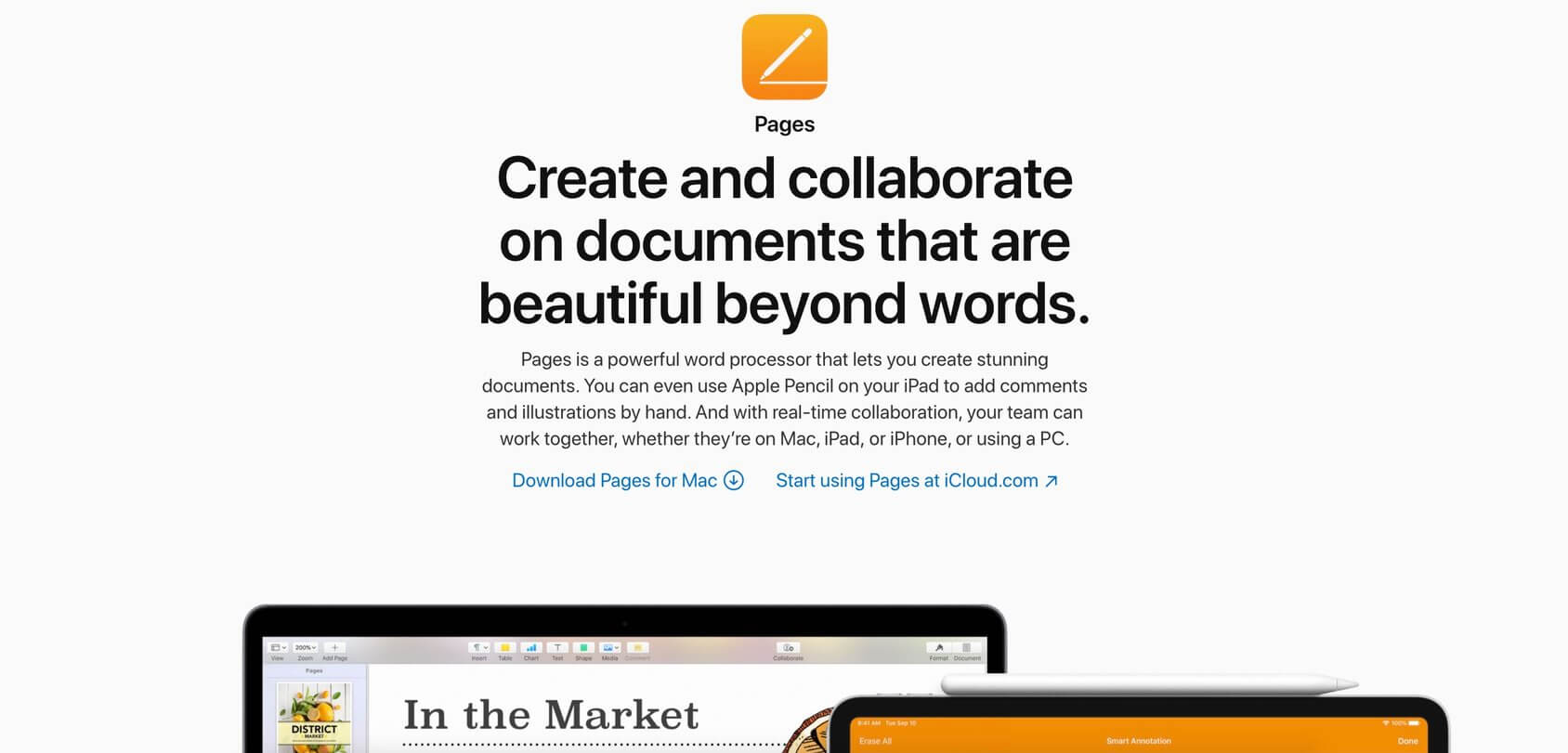 Pages comes from the world-famous IT brand Apple. It's a standard word processor with a focus on enabling you to create visually stunning documents. Although an Apple product, Pages is available for PC users as well. It comes with hundreds of professionally-designed templates organized by use case categories.
When it comes to standard word processor features, Pages has all of them. It also has support for interactive stories so that you can create the most engaging copy for your target readership. There is even video support which allows you to add and play web videos inside of your documents.
Key features
Easy skimming – read and edit your documents on the go without accidentally making unwanted changes.
Create objects – turn text, images, shapes, and videos into objects to easily move them across the document.
Video support – insert YouTube and Vimeo videos into your document without leaving Pages.
Color settings – add colors or gradients to text, document, or background to create visually appealing documents.
Presenter mode – enable automatic text scrolling to streamline your public speeches.
Charts – convey the meaning of your data thanks to beautiful column and donut charts.
Plans and pricing
Apple Pages is free for anyone with an iOS and macOS device.
Visit Apple Pages for additional information >>
Draftin — Great document version control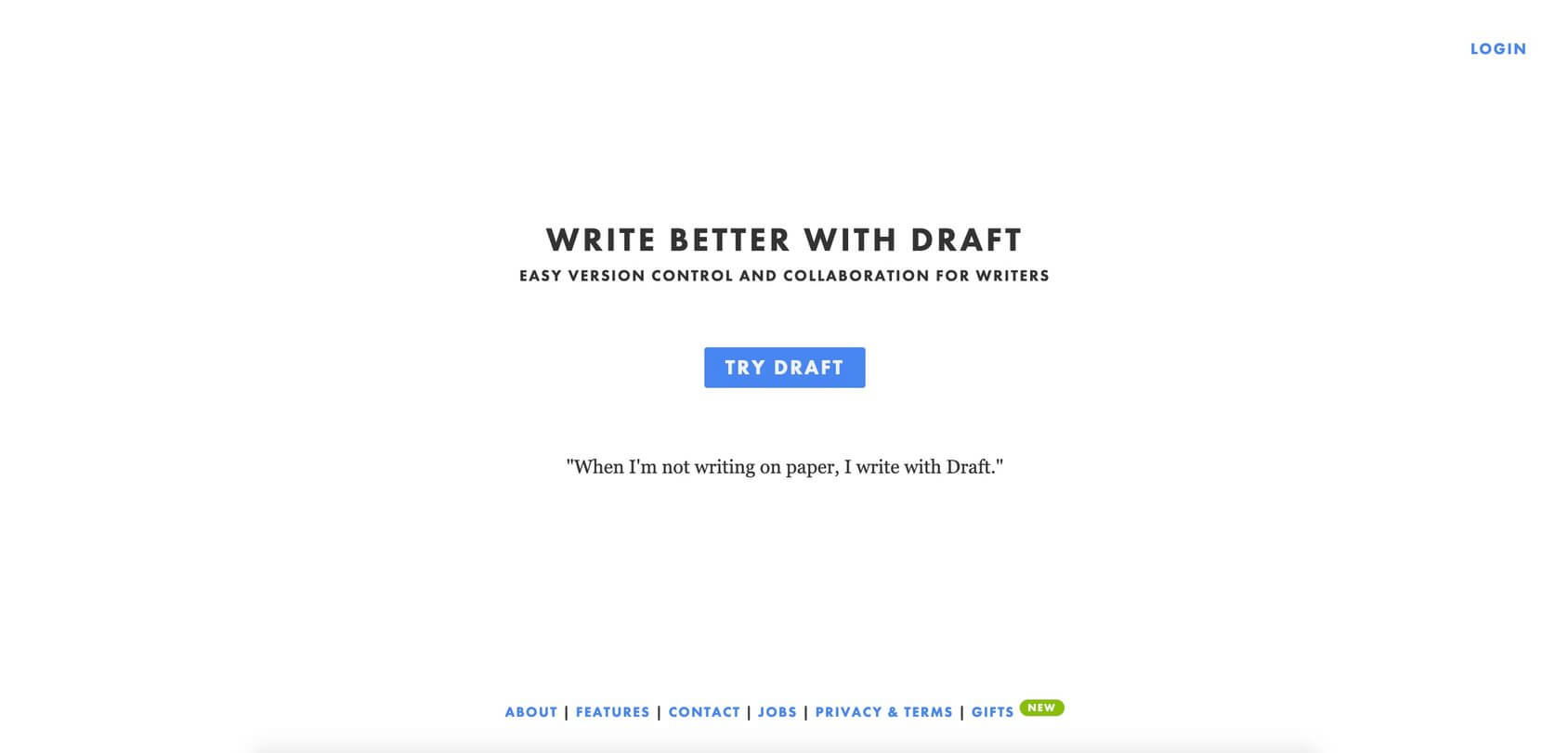 There are several reasons why Draftin is one of the most popular writing software tools. While it comes with all of the standard writing software features, Draftin also caters to the needs of teams of content creators. This tool streamlines document version control and enables smooth collaboration for writers and editors.
Draftin makes publishing very easy. Thanks to WebHooks, you will be able to publish your content via JSON payload to any platform that supports it. On top of that, you can publish your Draftin drafts on other platforms including WordPress, Twitter, Basecamp, and Mailchimp.
Key features
Enhanced version control – take a look at all editors' individual changes and accept or ignore them.
Insightful version history – take a look at an older version of your draft any time to choose the best copy.
Cloud syncing – bring your documents from Google Drive, Dropbox, and Evernote to one place and automatically sync changes back to the original cloud destination.
Chrome draft extension – use Draft with any webpage you can write on.
Easy publishing – publish your drafts directly to WordPress, Tumblr, Blogger, Twitter or LinkedIn.
Audio and video transcription – transcribe any video or audio with easy to use built-in transcription tools.
Plans and pricing
Subscription plans
$3.99 – 1-month subscription

$7.98 – 2-months subscription

$11.97 – 3-months subscription

$15.69 – 4-months subscription

$19.95 – 5-months subscription

$23.94 – 6-months subscription

$27.93 – 7-months subscription

$31.92 – 8-months subscription

$35.91 – 9-months subscription

$39.99 – 12-months subscription

$74.99 – 24-months subscription
Draftin offers a variety of subscription plans, and each plan comes with all of the Draftin features.
Visit Draftin for additional information >>
Evernote — First-class for taking notes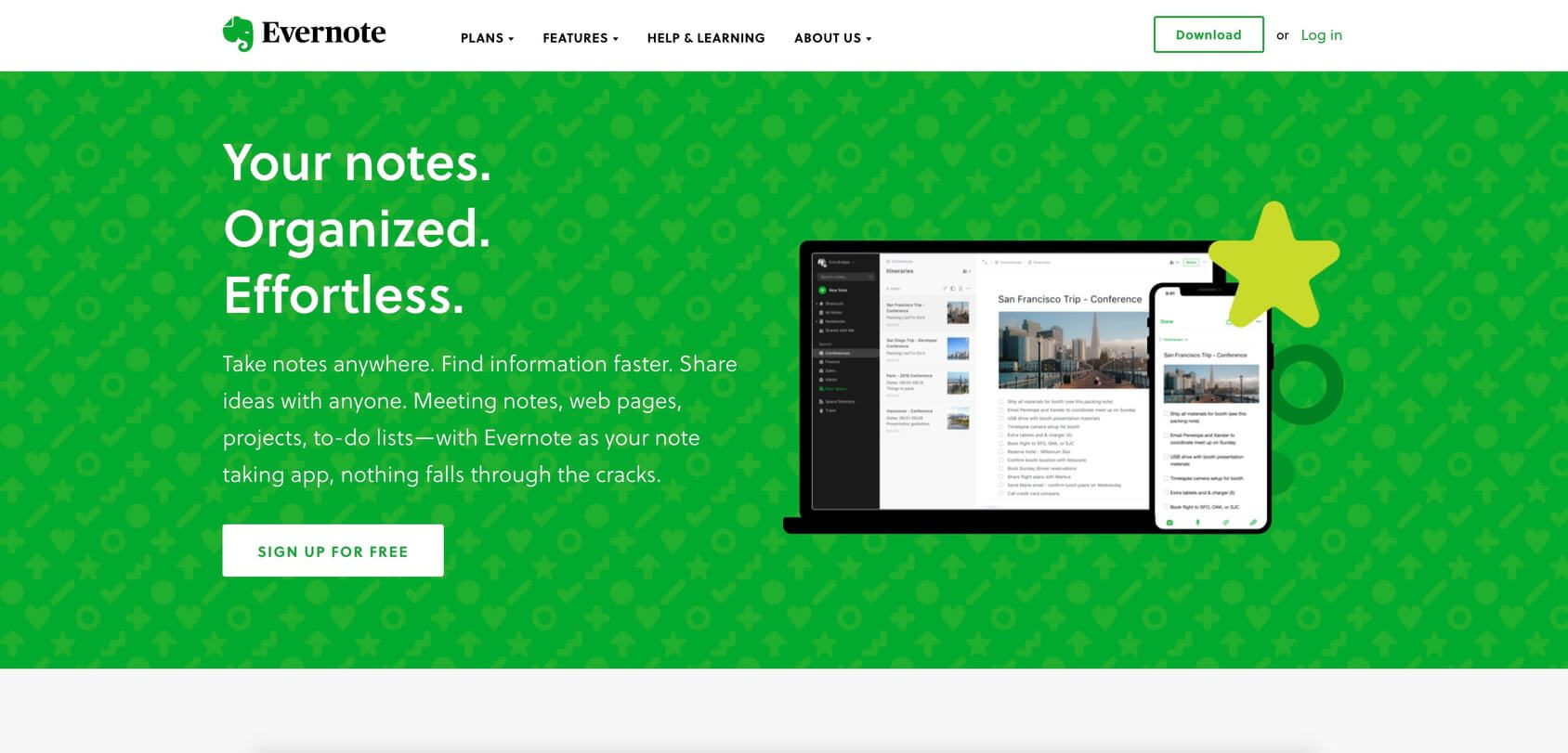 Evernote is all about efficiently taking notes. The toolkit Evernote offers can quickly make it into your go-to app when doing research. You can create, sync, and organize your notes. It also makes the information easily accessible to you. Evernote also comes with collaboration features to help your entire team stay on top of the notes and use them easily.
Evernote supports integration, which is great news for writers that already use other core apps. The team behind Evernote also offers a few additional functionalities to digitize your offline documents and become paperless hassle-free.
Key features
Note sync – keep your notes synced across all devices you use regularly.
Offline support – get access to your notes even if you are not online.
Notes management – put your notes into a notebook system, then use keyword tags or advanced search to find your notes in a matter of seconds.
Web clipper – add useful information online to your notes in one click.
Search handwriting – capture your handwritten ideas.
Document scanning – digitize all of your important documents and have them with you at all times.
Plans and pricing
Evernote is available in three packages – Free, Personal, and Professional:
Free
The free plan comes with a 60MB monthly upload limit, all note creation features, web clipper, and search functionality.
Personal
The Personal plan comes with everything offered by the Free plan, plus a 10GB monthly upload limit, AI-suggested content, Google Drive, Outlook, and Slack integration.
Professional
The Professional plan comes with everything offered by the Premium plan, plus a 2GB per user monthly upload limit, CRM integration, team collaboration, and administration.
Visit Evernote for additional information >>
Freedom.to — Best for staying focused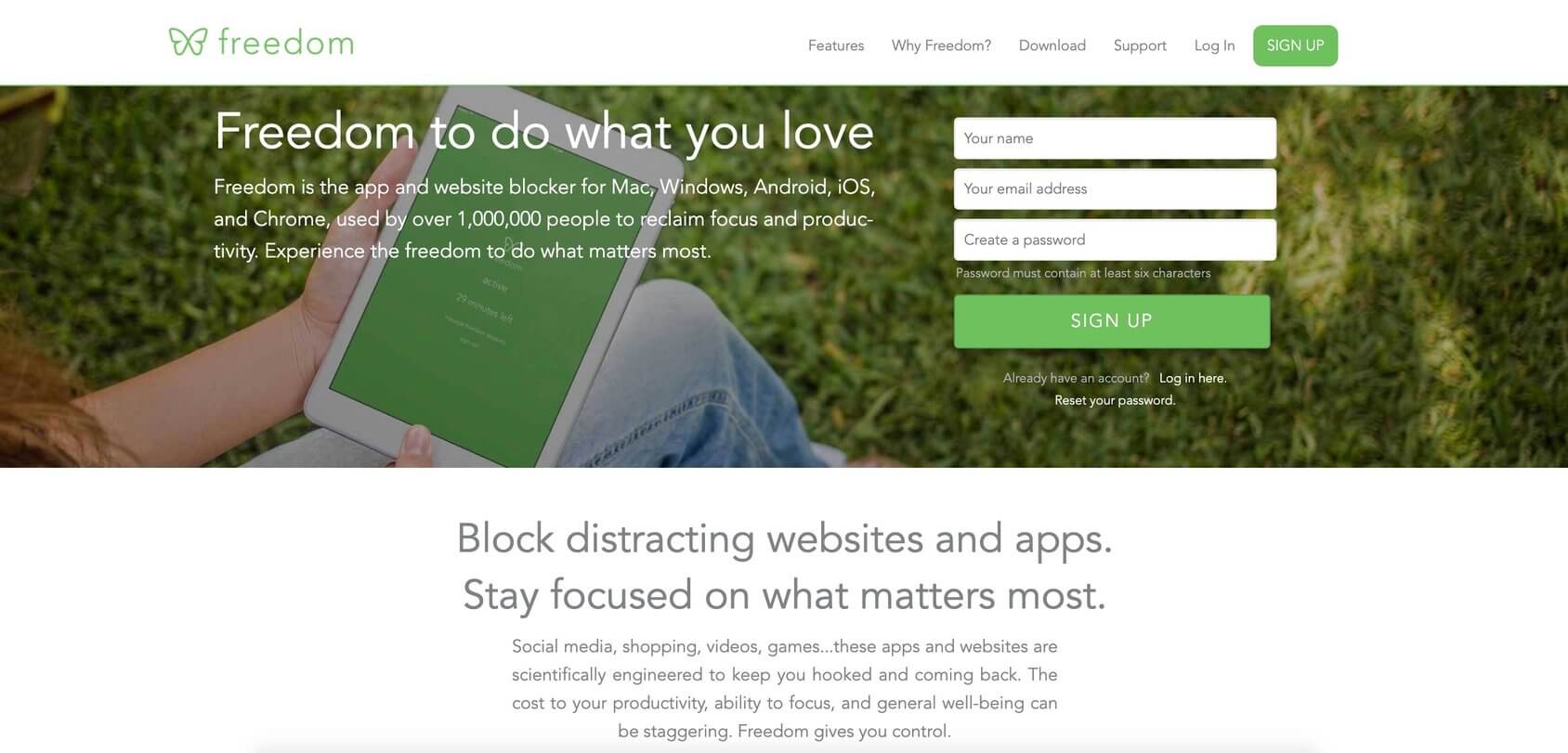 If you have trouble focusing on your writing, Freedom is a writing program that will help you to stay on your task. You can look at it as a sort of writer's aid tool. It can help you to tune out and stay focused on your copy. Freedom can block anything ranging from websites to apps.
This app can even block videos and games and help you to improve productivity and prevent procrastination. All of its features work towards providing you with the means to take back control of your time and improve your attention span.
Key features
Block websites – block unlimited numbers of websites.
Block apps – block distracting apps including games.
Block the internet – go and stay offline with the click of a button.
Blocklists – create customized block lists of sites and apps.
Device sync – stay consistent with your blocking routine across all devices you use.
Advance Scheduling – automatically use your blocking filters at any given time.
Plans and pricing
Freedom comes with three pricing plans: Monthly, Yearly, and Forever. All plans come with unlimited access to Freedom features for the duration of the subscription.
Yearly
$3.33 per month


billed annually
Forever
$159.99


one-time purchase
Visit Freedom.to for additional information >>
Microsoft Word — Great publishing potential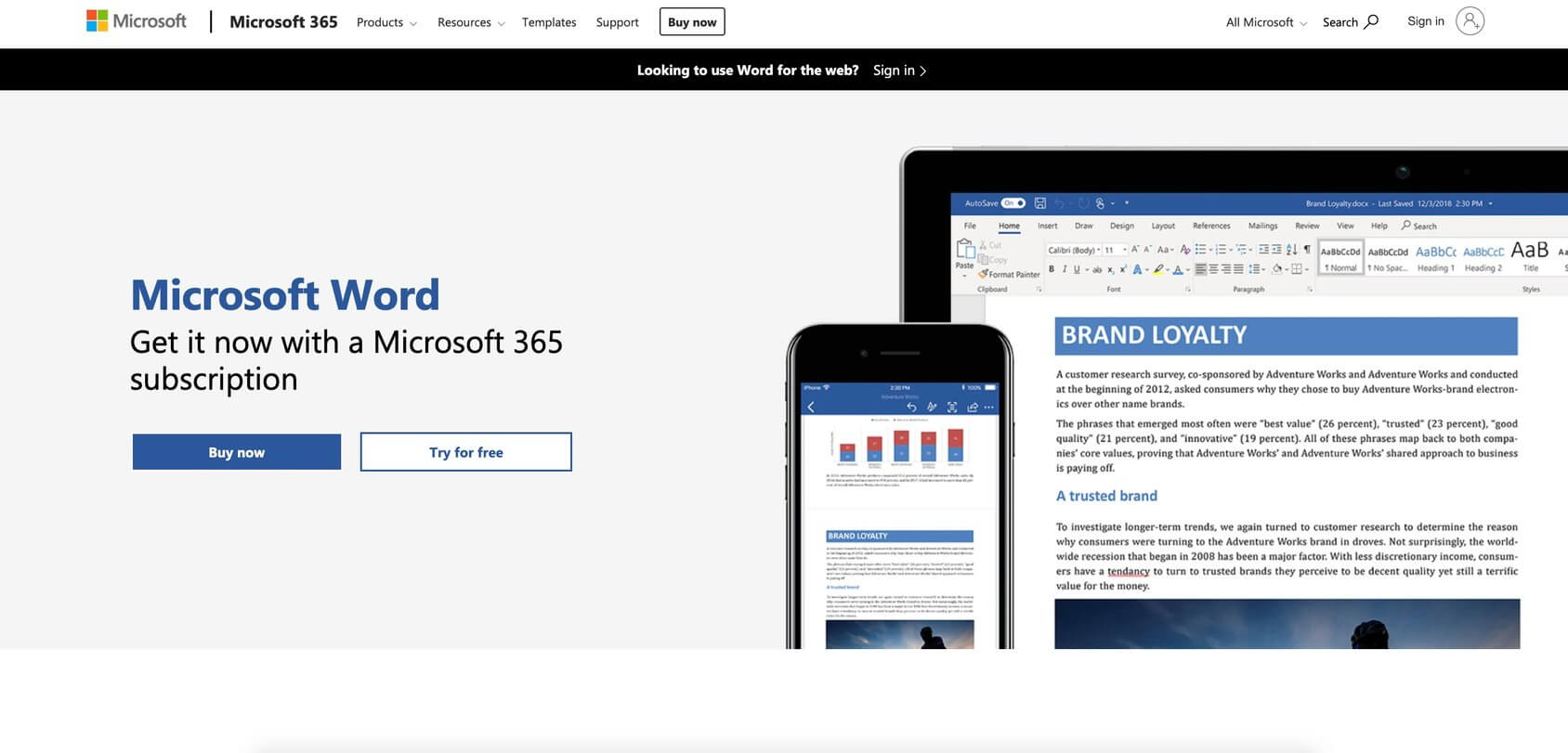 Microsoft Word is famous writing software that has been around for over 20 years. It comes with a robust set of features. Microsoft Word comes with literally every tool you'll need as a writer, whether your niche is booklets, e-books, blog posts, or books. Over the years, Microsoft has continued to update Word to keep it relevant to modern users.
Today, you can use it to convert your documents into ready-to-publish web pages instantly. A built-in translator can help you collaborate on an international scale. There is cloud support as well, to take your writing with you wherever you go.
Key features
Publish documents online – export your documents as web pages for easy online publishing.
Real-time translation – overcome a language barrier to collaborate with people across the globe.
Import support – insert anything you want into your documents, 3D models included.
Voice reader – Word can read your copy back to you so that you can catch easy-to-miss mistakes.
Learning tools – improve your writing thanks to Word-powered learning tools.
Task pane – do your research without ever having to leave Word.
Plans and pricing
Microsoft Word is accessible via personal and business Microsoft 365 plans.
Microsoft Office for Personal Use
Microsoft 365 Family
The Family package has support for 6 people and comes with 6TB of cloud storage. It includes the following Microsoft apps: Word, Excel PowerPoint, OneNote, Outlook, Access, Publisher, OneDrive, and Skype.
Microsoft 365 Personal
The Personal plan comes with 1TB of cloud storage and contains all of the apps included in the Family package.
Office Home and Student
$149.00 one-time purchase
Office Home and Student plan comes with Word, Excel, and PowerPoint.
Microsoft Office for Business Use
Microsoft 365 Business Basic
The Business Basic plan provides access to the web and mobile versions of Word, Excel, PowerPoint, Outlook, Exchange, OneDrive, SharePoint, and Teams.
Microsoft 365 Business Standard
Business Standard is tailored for companies that need desktop versions of the Office app on a number of devices. It comes with Word, Excel, PowerPoint, Outlook, Publisher, Access, Teams, Exchange, OneDrive, and SharePoint.
Microsoft 365 Business Premium
The Business Premium plan comes with everything included in Business Standard, plus premium cyber threat protection and device management.
Microsoft 365 Apps for business
Microsoft Apps for business comes with desktop versions of Microsoft 365 apps with premium features, 1 TB of cloud storage per user, standard security, and anytime phone and web support.
Visit Microsoft Word for additional information >>
Campfire — Perfect for making writing plans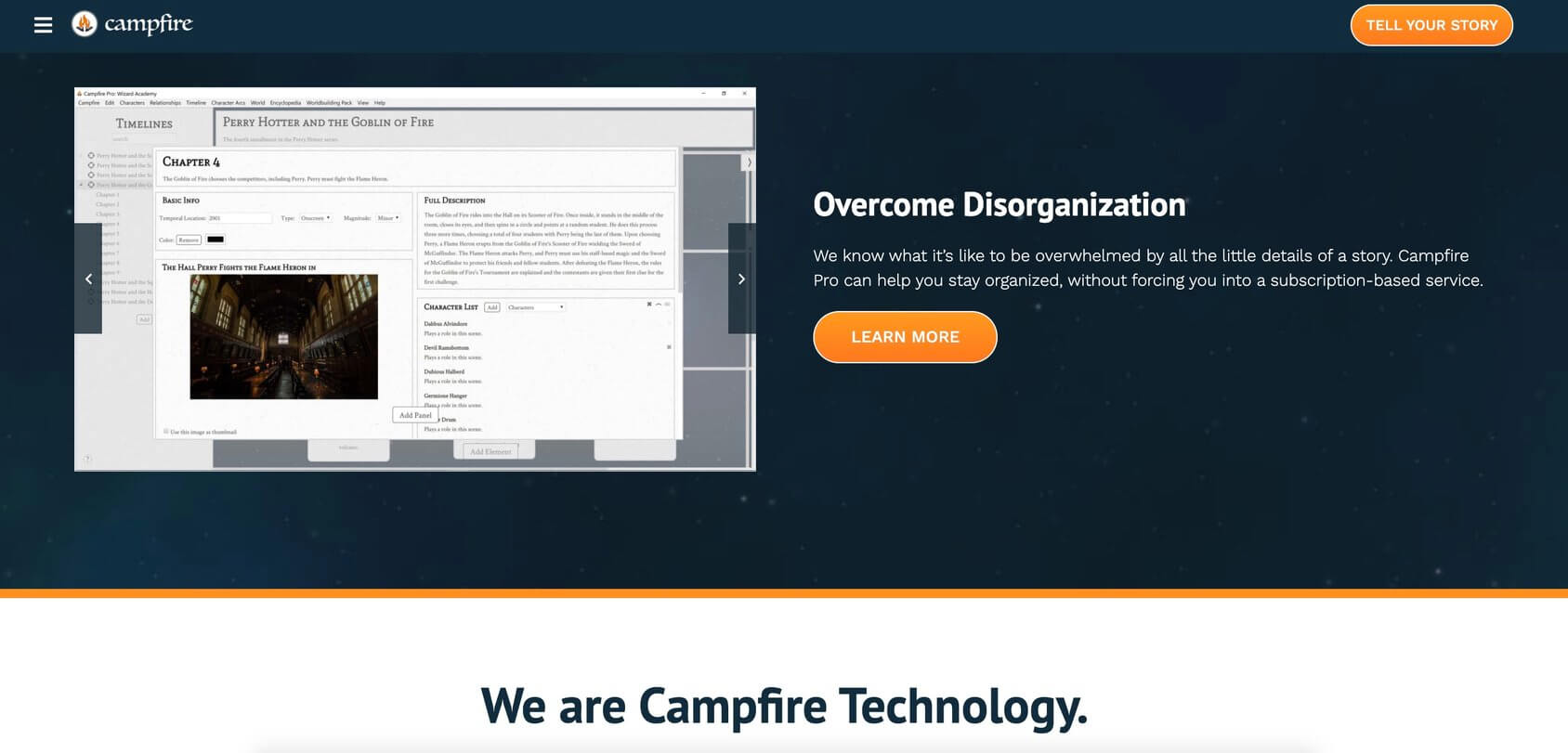 If you are interested in writing programs that can help you to plan and execute complex writing projects, you should definitely take a closer look at Campfire. With Campfire at your disposal, you can create worlds as complex as Tolkien's Middle Earth and never lose track of your characters and their story arcs.
This app has a very interesting set of features designed to help you to make profound writing plans. More importantly, all of the features are easy to use, even if you have never used writing software before.
Key features
Worldbuilding tool – build elaborate fantasy worlds and keep all of the information in one place.
Characters – work on your characters' background stories, develop relationships, and use images.
Plot – work on story events and add them to the narrative timelines.
Magic systems – develop complex magic systems from scratch and introduce magic items.
Encyclopedia – build a wiki about your world.
Visualization tool – get instant insight into character arcs and identify errors early on.
Plans and pricing
Campfire offers three packages – Free trial, Pro, Pro + Worldbuilding pack, and Campfire Blaze:
Free trial
Get access to character development, story timelines, maps & locations, and advanced worldbuilding for 10 days, completely free of charge.
Pro
Pro plan includes character development, story timeline, and maps & locations features.
Pro + Worldbuilding pack
This plan comes with everything included in the Pro plan plus advanced world-building.
Campfire Blaze
Price depends on the chosen module

Campfire Blaze plan enables you to choose and pay for the modules that you need to complete your specific writing project.
The modules are available with this arrangement:


Free – modules come with limited functionality.
Monthly – pay for modules every month no strings attached.
Yearly – pay for modules yearly and get 2 months out of every year free.
Lifetime – get lifetime access to a module if you pay 3 years for it.
Wildfire
The Wildfire plan comes with a copy of Campfire pro, and a lifetime subscription to all modules.
Bonfire
The Bonfire plan comes with a copy of Campfire pro, and lifetime subscriptions to 4 modules you choose to purchase in Blaze.
Flames
The Flames plan comes with a half a year subscription to all Blaze modules.
Visit Campfire for additional information >>
RoamResearch — Best for organizing research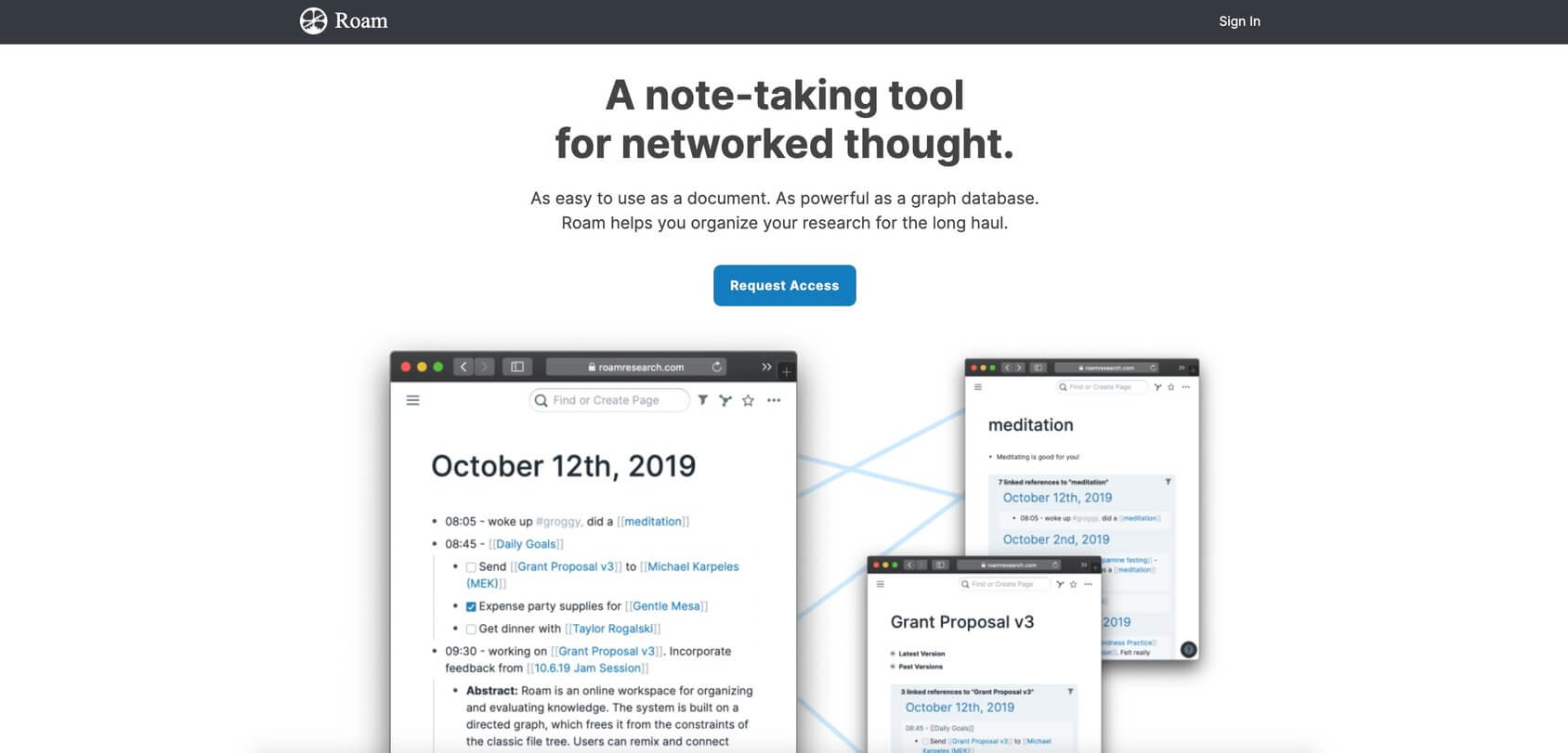 Writing a compelling piece of copy has to be based on facts and in-depth research. RoamResearch is writing software that can help you to facilitate that research and keep all of your information well-organized and in one place. You can create notes and make links between the notes so that you can move back and forth, looking at your ideas and valuable information.
RoamResearch also provides you with quick insight into your notes network to help you identify the most valuable notes – notes with most internal links. At this point, RoamResearch is only available as a web app.
Key features
Notes – easily create notes to write down your ideas or findings.
Elements – add various elements ranging from page reference to date picker to your notes to make them more meaningful.
Multitasking – work on several notes simultaneously to capture all relevant data at once.
Daily notes – keep random notes and plans for the day.
Graph overview – get a birds-eye view on all of your notes and internal links.
Easy commands – use double-brackets to commit information to a single file, or simply hit to associate facts with a file.
Plans and pricing
RoamResearch offers two plans – Professional and Believer:
Pro
$15 per month

$13.75 per month


billed annually
The Professional plan allows you to use up to 3 private or public roam graphs and comes with an unlimited number of collaborators.
Believer
The Believer plan includes everything in the Professional plan plus exclusive access to new features, community calls with the team, and priority support.
Visit RoamResearch for additional information >>
How to choose the right writing software?
Even though you know now a great deal about the best writing software solutions, it could still be a challenge to choose the right one for you. The abundance of features available can make it hard to get a clear idea of which tool to pick. To help you, I have put together a quick checklist you can consult anytime you are shopping for writing programs.
Take your goals into account
You can't choose the right writing software unless you take your goals into account. What is the project you are working on? Are you writing a newsletter, blog posts, reports, case studies, or a book? Are you often creating various types of copy?
The right writing tool is the one that helps you to accomplish your goals. In other words, a writing tool and its features have to serve the specific purpose of your writing. Keep in mind that the right tool for your colleagues may not be the right tool for you.
Do your research, and test various features to see whether the tool you are interested in can help you to accomplish your goals.
Define your writing process
The chances of finding two writers with the same writing process are pretty slim. Your writing process is unique, and you have to define it if you want to find the right writing tool for you. If you are basing your writing on thorough research or a complex flow of ideas, you will probably need to look for tools that allow you to take quick notes.
On the other hand, if you tend to get easily distracted, you will probably need a tool that helps you to stay focused. It's essential to outline your writing process down to the last detail so that you can identify your needs and find the software features that can complement your process.
Identify the risks
Writing comes with a variety of risks. You can lose your documents due to a power surge or fall victim to a cybersecurity hack. Do you find yourself often writing in cafes and restaurants? Do you know all of the risks of working on unprotected WiFi networks?
These questions can help you decide whether you need writing software that offers user permission rights, saves as you type, and comes with industry-grade cybersecurity protection.
Be honest about your budget
The right tool is the one that you can afford. There are plenty of cutting edge writing programs out there. However, some of them come with a significant price tag. Can you afford such a tool?
Carefully consider your options and plan for the future, especially if you have your eye on a tool that comes with a monthly subscription. What if you can't afford to pay your subscription? What happens with your work? Make sure to choose a tool your budget can sustain without giving you stress.
Do you work alone or often collaborate?
Writers often work hand in hand with other writers, editors, and publishers. If you are one of these writers, then the right tool for you has to come with features that streamline collaboration, editing, and publishing.
This could save you a lot of redundant work in the future. You won't have to juggle your documents via email. More importantly, you will be able to access version control and quick publishing so that you can focus on more pressing matters.
Ease of use
Last but not least, you have to take ease of use into account. Ease of use is a term that refers to how easy it is to use the tool even if you have no previous experience with it. Some writing programs are rather simple, while others come with advanced features that you will need to learn how to use.
If you don't care as much about the extra features as you do about laid back writing, then you need a simple tool.
Best of the best
I know that selecting the best writing software can be a challenge even when you have access to this list. Furthermore, to help you make a decision, I've created the best of the best category, below.
Best free writing tool
If you want to save cash and use free writing software, you need a tool that comes with as many features as possible. It should include standard word processor perks, plus version control, user permissions, and easy editing and sharing. There is only one tool that offers all of this for free – Google Docs.
Best editing tool
Are you interested in using a tool that comes with the best editing features? One that can help you to make your copies more compelling and help you to improve your style and writing skills? ProWritingAid comes with a set of features developed to do exactly this.
Best writing organization tool
Juggling notes, references, and stitching them together during the writing project is tedious, especially if you have to do it manually. Fortunately, there is writing software to help you stay organized from start to finish. Scrivener can help you to unite all of your research and use it in the best possible way.
Best book writing software
While you can use any of the writing programs available to you to write a book, there is only one software that streamlines the entire book writing process. Scrivener comes with a specialized toolkit to help you to plan your book, keep research in one place, and stay productive.
FAQs
How can I start writing?
There are several things that you need to do to be able to start writing. The most obvious ones include deciding when and where you want to write and choosing a goal. But there is one more thing that you will need – a writing tool. Unless you are devoted to old-school typewriters, you will probably need writing software.
With the right writing software in your hands, you will be able to plan your writing, take quick research notes, and complete your projects on time.
Do you need any tools to start writing?
Yes, you do. The tools you'll need to start writing are called writing programs. Whether installed on your computer or cloud-based, these apps enable you to write, style, and format your documents without breaking a sweat.

Cloud-based writing apps are extremely popular these days because they allow you to write anywhere you want. Since there are plenty of them, you will need to assess your unique writing needs to pick the right tool for you.
How do I start writing a blog?
To start writing a blog, you will need to choose a topic. The topic can vary. You can stick with something that's personally interesting to you, or write copy that can help your readership stay informed or solve relevant problems.

Writing a good blog also means coming up with an engaging headline that can capture the visitors' attention. Often you will have to use images to explain complex topics better, improve your post, and make it more appealing. If you are interested in learning more about blogging, you can visit our comprehensive guide on how to start a blog.
What are the different types of writing?
There are four types of writing: narrative, descriptive, persuasive, and expository. Narrative writing is typically used when you want to tell a story. It works well with both fictional and real stories. The purpose of descriptive writing is to enable readers to connect with the copy and visualize places, characters, and relationships.

Persuasive writing is often used to change the readers' point of view and align it with the writer's. And, finally, expository writing is used to disclose facts in an unbiased fashion. For instance, the article you are reading is an example of expository writing.
What are good writing topics?
There is not a definitive answer to this question. The answer actually depends on two factors – who is writing it and for whom it is written. Generally speaking, a good writing topic is a topic that you are personally interested in.

Your interest can motivate you to do thorough research, look for facts, and compile what you find into a copy your readership can get value from. Such copies don't have to be based on research but on your own experience.
Conclusion
There are plenty of reliable and good writing programs to choose from. Each one comes with a specific set of features. Some of them are easy to use, while others come with advanced features and capabilities.
With all of this information at your disposal, you can make an informed decision and choose the right writing software for you. As you can see, there is no need to rush and make your decision quickly. Take your time to assess your needs to be able to see if specific tools complement them. If you are still indecisive, jump back to my "best of the best" category to choose the best software for a particular use case.