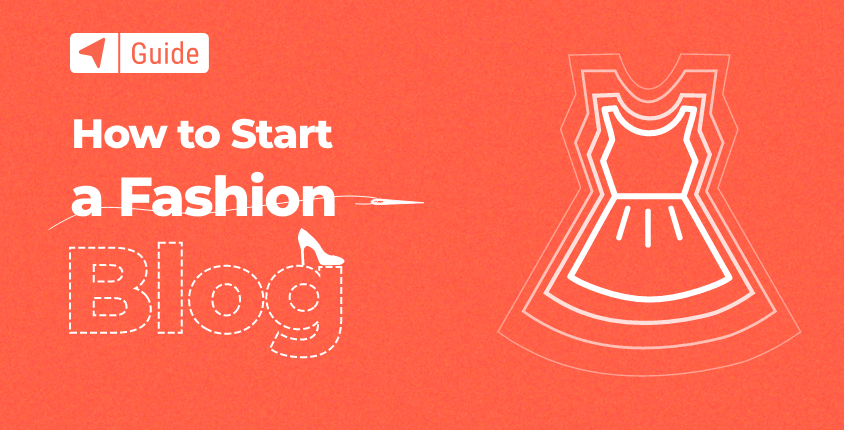 Are you a passionate fashionista? Do you have an eye for fashion? It might be an excellent idea for you to start a fashion blog!
Fashion blogging sounds like a perfect hobby or a lucrative side job, doesn't it? However, it can also become your primary source of income.
Launching your fashion blog can be inexpensive and straightforward. Honestly, anyone can launch their blog these days with a little expert guidance. If you're wondering how to start a successful fashion blog in 2023, this guide will help.
Simply follow the eight steps below, each with some handy fashion blogger tips, and launch your fashion blog today.
⏳ Short on Time? → Click Here for a Quick Start with Bluehost
Table of Contents
Step #1: Find your fashion niche
Defining a specific niche establishes the foundation of any successful business. Why is defining your niche that important?
It's much easier to build a community of loyal readers and clients when you know who you're targeting. When you pinpoint a specific niche demographic, you can create appropriate content, offer the right types of products, determine the best price points, and meet your target audience's quality expectations.
Focusing on a single fashion niche can also help you to increase brand loyalty and your buying rate.
How to find your fashion blog niche?
Finding your perfect niche may seem a bit confusing, as the fashion industry has many different niches. However, it can be straightforward if you answer the following questions.
Why do you want to start a fashion blog?
The idea to launch your fashion blog must have popped to mind because you genuinely love fashion, right? But what is it related to fashion that you're passionate about? Is it sharing tips and tricks for a perfect outfit? Or is it keeping people in the know about the latest fashion trends? Do you wish to become a fashion influencer who sells the best fashion items?
It's important to decide if you want your fashion blog to be informative or promotional and if you'll use it to sell products. Once you determine your blog's purpose and the message you want to convey, you'll have a clear goal in mind that will help you to narrow down your niche.
What demographic segment are you interested in?
Think about who you want to target. Do you want to attract male or female customers? Maybe both? Are there particular age groups you would like to market to? Are you going to tackle menswear, sportswear, streetwear, bridalwear, childrenswear, or perhaps unisex apparel for any occasion?
Choosing one or more demographic segments will help you to further narrow down your niche.
Do you want to sell online or retail?
If you want to sell online, you can start doing it today. You can quickly create an online store for an extensive collection that's available to customers 24/7. If you want to open a retail storefront, it will take some time to get everything in order. That's a more expensive option because of the rent, utility bills, and other expenses that come with physical stores.
However, since retail provides a hands-on experience, it can generate high profits, especially if there's high foot traffic at your location. Of course, you can always sell both online and in a retail store. That would expand your reach and generate many more leads.
Where are your customers located?
Why is it important to know where your target audience is? Because their needs and fashion preferences may differ depending on their region. Their culture may also greatly dictate their fashion style.
So, keep in mind cultural and regional differences, among others, to make sure that you offer exactly what your target customers desire.
Types of fashion blogs
There are many different types of fashion blogs out there. Exploring all of the options is yet another great way to find a viable idea for your own blog. Here are some of the most popular types to choose from.
Celebrity fashion blogs – As the name suggests, celebrity fashion blogs deal with celebrity styles and trends. Celebrity fashion blogs share the hottest red-carpet outfits, street-style or TV looks worn by celebs, the latest beauty tips and makeup tricks, and much more.
General fashion blogs – This is again pretty self-explanatory – like all of these fashion blog types, for that matter. If you run a general fashion blog, you can create any kind of content you feel passionate about. It could include outfit suggestions, runway trends, shopping tips, editorials, news in the fashion world, and celebrity looks you find inspiring.
Personal style blogs – If you have a brilliant fashion sense that you would like to share with the world, you should consider launching a personal style blog. This type of blog is all about outfits. You can share casual, business casual, business formal, vintage, chic, evening dresses, or any other outfits that match your style.
Street style blogs – Looking at what people in your community or around the world are wearing can often be quite inspiring. Who says you can't make a fashion statement while going to work or grocery shopping? That's precisely what street style blogs are all about. They share different styles and vibes of fashionable people in the streets.
Fashion critique blogs – This type of fashion blog is an excellent choice for true fashionistas who are qualified enough to critique fashion trends, designer collections, celebrity looks, or anything else fashion-related. It's for those with an expert set of skills or experience in the fashion world who are equipped with authoritative thinking and all of the necessary know-how about the fashion industry.
Fashion news blogs – These are blogs where you can read up on all of the latest fashion news. For instance, it could cover fashion weeks, local fashion shows, new collections by famous designers, and any other newsworthy event.
Shopping blogs – If you're wondering how to start a fashion blog and get paid, launching a shopping blog might be an awesome idea. In essence, shopping bloggers sell various fashion items related to the newest fashion trends. Successful shopping bloggers also craft compelling content to generate more leads and boost sales. Many of them even create eye-catching collages from the pieces they sell.
Step #2: Work out the technicalities – pick your blogging platform
Once you've narrowed down your niche, it's time to get technical. You need to pick a blogging platform to start a fashion blog.
A blogging platform, or a content management system (CMS), is a tool that lets you create, manage, update, and optimize a blog. Don't worry if you're not a tech-savvy person. Blogging platforms provide you with a ready-made blog site to instantly launch your fashion blog, without any coding needed.
When it comes to popular blogging sites, you have the following options:
Free web hosting (free or freemium plans)
Open-source self-hosted blog (free, open-source software)
Free web hosting (free or freemium plans)
Some of the best blogging platforms that offer free web hosting are WordPress.com and Blogger.com.
They provide automatic backups and security updates, and you don't have to download and install anything. However, that also means you have very little control over your blog. The most notable limitations that come with free web hosting include:
Cannot remove ads that WordPress may place on your blog
No access to your HTML source
Limited choice of widgets
A limited number of themes
Inability to install plugins
Open-source self-hosted blog (free, open-source software)
An open-source self-hosted blog is a much better option than free web hosting. It's the setup process that we'll show you later in this guide.
Our top recommendation is WordPress.org, an absolute market leader in the industry. It's the most popular blogging platform globally for several good reasons.
WordPress.org is very intuitive and easy to use, even for complete beginners. All of its features are very user-friendly, and the learning curve is almost flat. You can get the hang of it before you can say "how to start a fashion blog." It has a wealth of free themes to choose from, of all of which are professional-looking, eye-catching, fast-loading, responsive, and customizable.
One of its greatest benefits is that you are fully in charge of your blog. You can use any theme, plugin, and other functionalities to design and customize your blog any way you desire. You also own all your data, and WordPress can't terminate your access.
When launching a WordPress blog, you need to decide on:
A domain name
A web hosting provider
Step #3: Get creative – think of a trendy (domain) name
A domain name is like your fashion brand label, so it needs to be catchy and memorable. It needs to resonate with your audience and show what your blog is about.
You can use your name as part of your domain name if you're already an influencer or otherwise famous in the fashion industry. If that's not the case, it's probably wiser to leave your name out.
Characteristics of a good blog name are these:
Short but sweet
Unique and trendy
Easy to spell
You don't want it to be hard to search. You want people to remember it and find it easily. A great example is to "Dress for Success" if you share fashion tips for business attire.
Now, although WordPress is free, you need to pay for your domain name and web hosting. The annual registration fee for a .com domain ranges from $10 to $15 USD per year with most domain registrars.
However, you can also register your domain name with a web hosting provider, which is usually a cheaper option. Once again, we recommend Bluehost, one of our favorite hosts. You can add a new domain for FREE, use an existing one, or choose to make one later.
Recommended tool:
Step #4: Time to get a web hosting account
If a domain name is like your fashion brand label, web hosting is like your wardrobe, a physical space where you keep everything.
What is web hosting?
It's a service that makes websites accessible on the internet. It provides space on its web servers to store all of the content and files that make a website, enabling people to view and interact with it.
That's why it's essential to choose a reliable web host that will keep your website secure and fully functional. Bluehost is the recommended option, both to obtain domain names and hosting services. It's even recommended on the WordPress official website.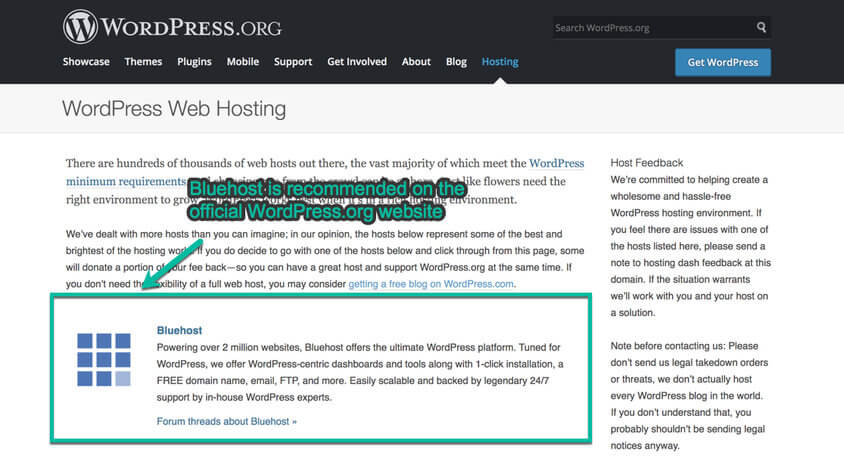 Bluehost offers a fair deal that includes:
A free domain name
30-day money-back guarantee
If you pick Bluehost, you'll get a free domain for the first year of using their services. You'll only need to pay for web hosting. Here at FirstSiteGuide, we have a special discount price of $2.75 per month for our readers. Grab this exclusive opportunity to save on web hosting while enjoying the fastest, safest, and most reliable service.
→ Click Here to Claim an Exclusive 65% Bluehost Discount Offer! ←
Step #5: Set your fashion blog in motion on WordPress
Once you sign up for a web hosting account, you can set up your WordPress blog. Here's a detailed explanation of all of the steps you need to take to do both.
1. Visit the Bluehost homepage.
Head to the Bluehost website and click on the "Get Started Now" button.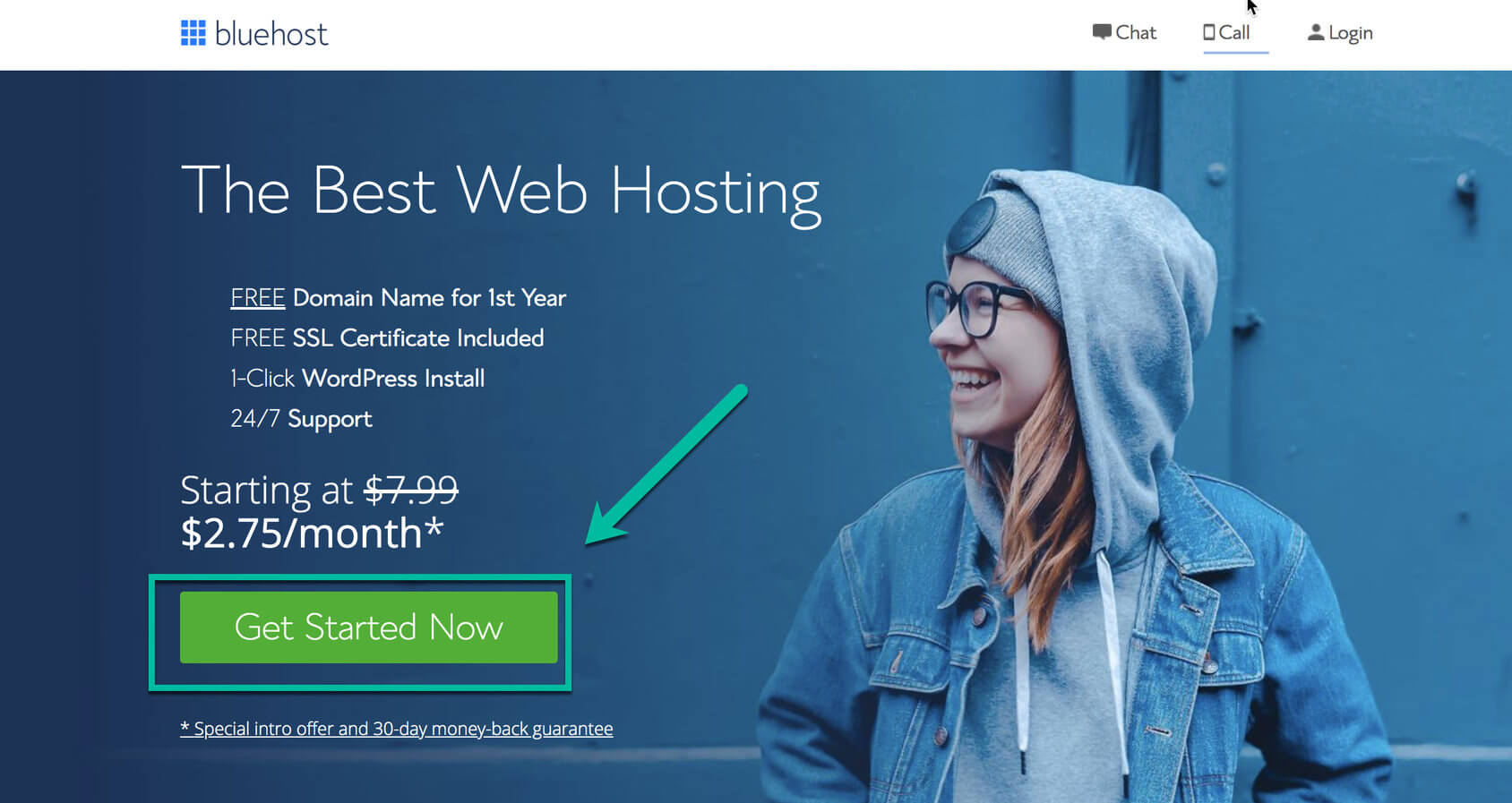 2. Select your hosting plan.
Once you get started, you'll see the following hosting plans on your screen. Which one you choose depends on your budget and the features you want to use.
The Basic plan is a great choice when starting your first blog. It has all of the features you'll need while you're still learning how to be a fashion blogger. As you grow, you can easily upgrade to any of the other hosting plans at a later date.
If you want to enjoy the extras of the Plus or Choice Plus plan, such as various unlimited services and unmetered bandwidth, then sign up for it from the beginning. Just make sure that your budget can afford it.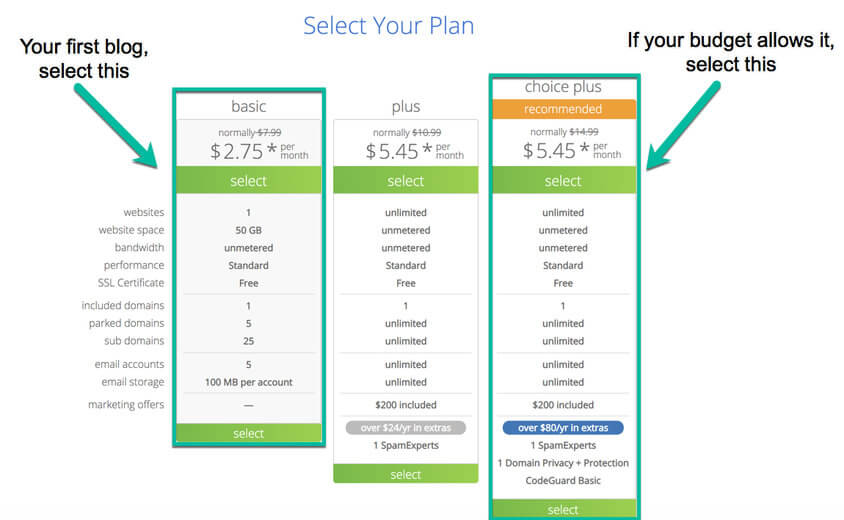 3. Choose your domain name.
If you've decided to register your domain name with Bluehost, simply enter the name in the box under "Create a new domain" and click "Next." If the name's already taken, you'll get a list of suggestions to choose from or draw inspiration from.
If you still haven't thought of a catchy name for your blog, you can register your domain later. If you already have a domain name from any domain registrar, enter it into the box under "Use a domain you own" and click "Next."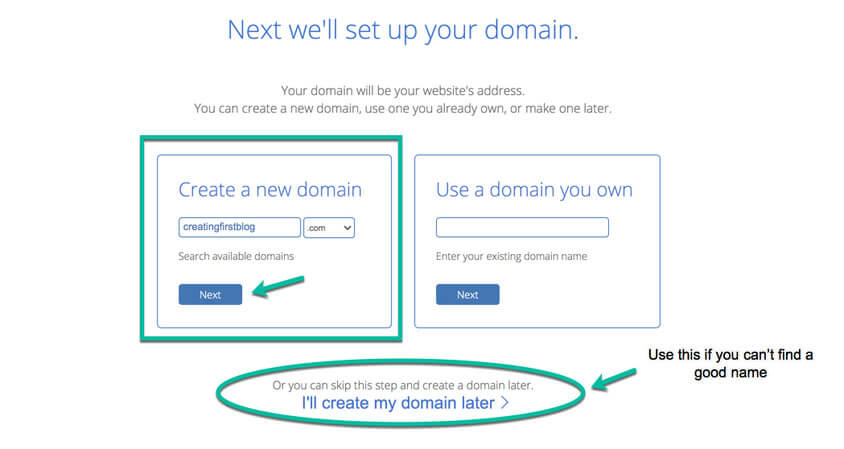 4. Register with Bluehost.
Whether you skipped the previous step or set up your domain, you'll be directed to the registration page. You can use Google Single Sign-On to set up your account faster or manually enter all the necessary information.
Provide personal information for your account
As you can see, you need to provide some basic personal information, including your name, address, email address, and phone number.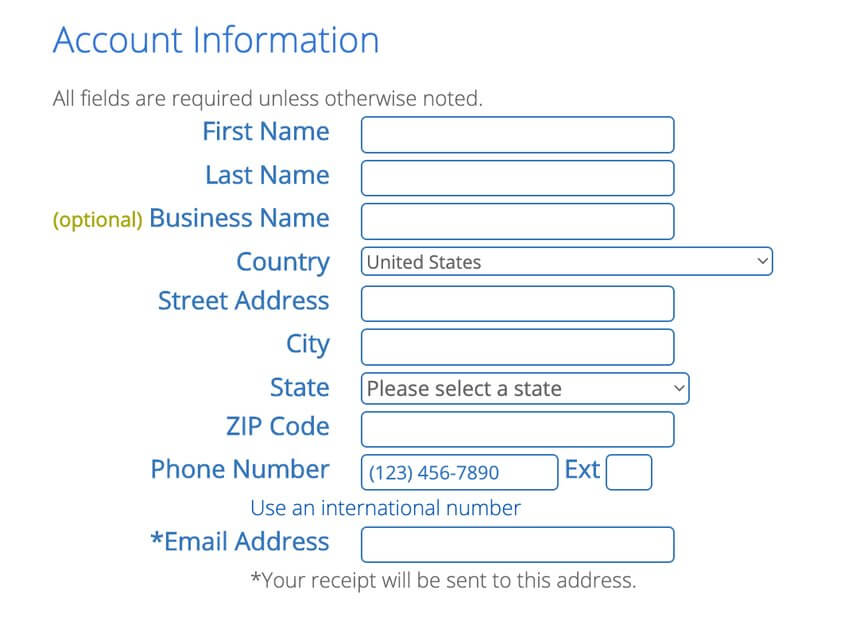 Pick your hosting package.
Now's the time to decide how long you wish to use the Bluehost services before you choose to renew your subscription or potentially switch to another provider.
If you're not ready yet for a longer commitment, you can go for the 12-month account plan. However, it's slightly more expensive than the 24-month and 36-month plans. The latter is the best deal, but make sure you're ready for the commitment before selecting it.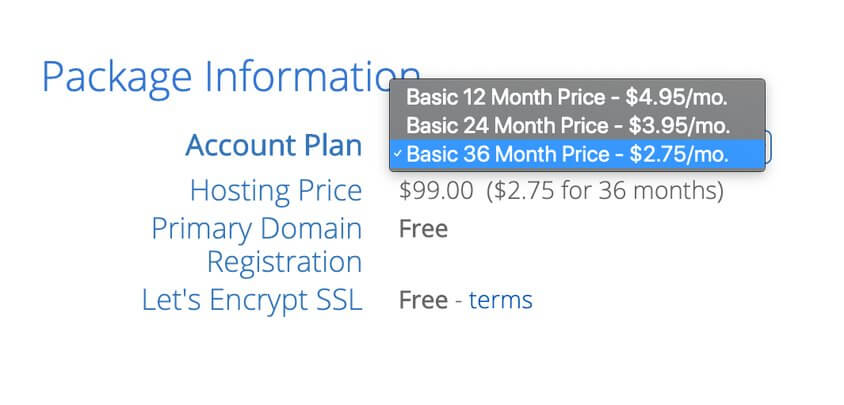 Select package extras.
These are all of the extra features that Bluehost offers. Explore them carefully to determine which (if any) you will need. Simply check or uncheck the boxes to add or remove the package extras.
We highly recommend that you add the Domain Privacy + Protection feature, as it will make your personal contact information invisible.
If you're not sure which package extras to choose at this time, you can always add them later.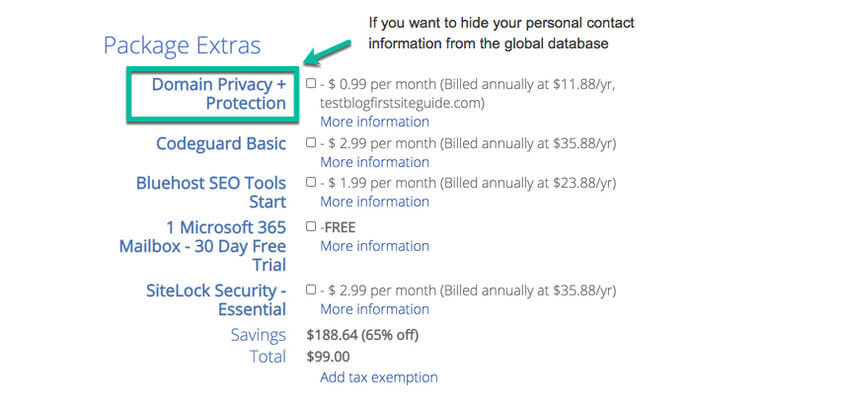 Fill out payment info.
The last step for creating your Bluehost account is to provide your payment information. Simply fill in the necessary boxes, check the box for agreeing to Bluehost's Terms of Service, and click on the "Submit" button.
Once Bluehost makes sure that everything is in order regarding your payment (which won't take longer than a minute), you'll receive your confirmation email.
If you've set up your domain already, you'll also get an email to verify your email address and activate your domain.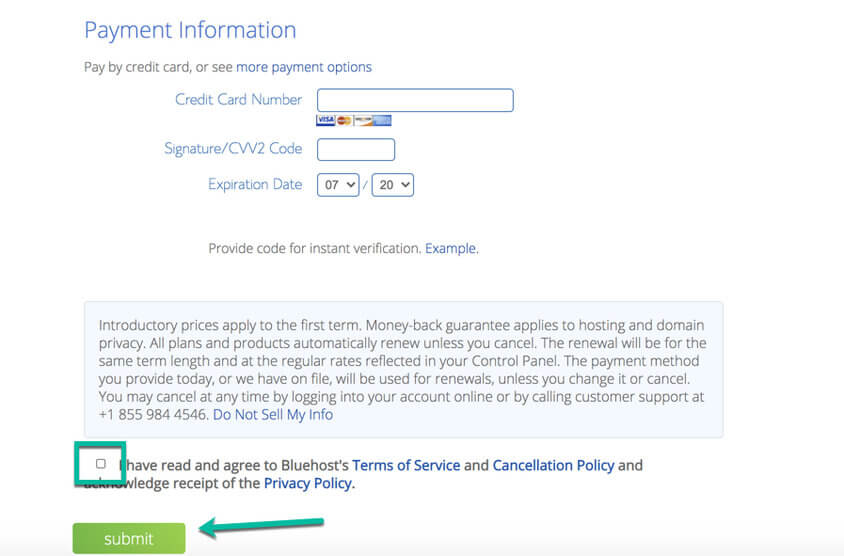 Create your account.
Once your email address is verified, it's time to create your Bluehost account. Click on the "Create your account" button to get started.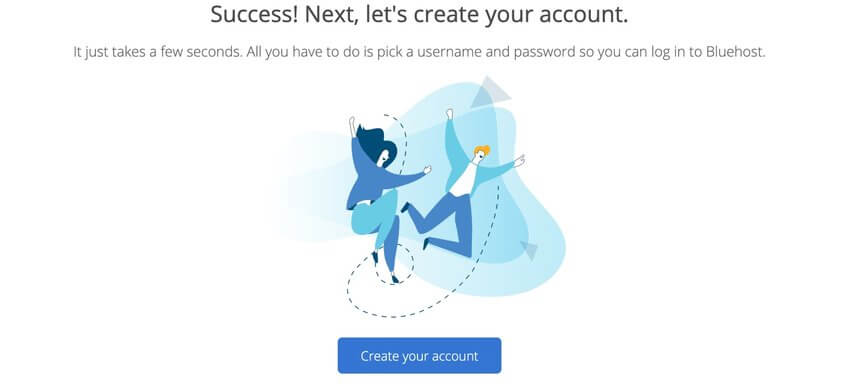 Enter your domain name (or username if you don't have a domain yet) and create your password. Check the box to agree to Bluehost's Terms of Service and Privacy Policy and click on the "Create Account" button.
All that's left now is to log into your new account. Simply enter your email or domain name, type in your password, and click on the "Login" button.
That's it! You now have an active Bluehost account and are ready to set up your WordPress blog.
5. Launch your WordPress fashion blog with Bluehost.
Once you log into your account, click on "My Sites" on the Bluehost dashboard, and then click on the "Create Site" button.
Now you'll need to take four steps to set up your fashion blog. You can skip some or all of them if you wish to set up everything on your own.
However, we highly recommend you go through all of the following steps if you're launching a blog for the first time.
First step: State your goals.
Answer the following questions:
What kind of site are you creating?
What type is it?
Who are you creating a site for?
Each question provides a drop-down menu so you can choose your answers.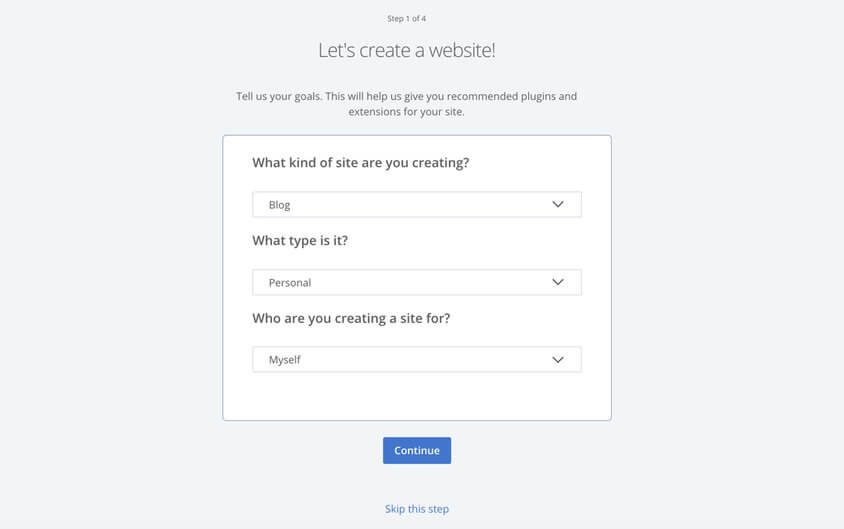 Second step: Choose what you want to add to your site.
Since you're creating a blog, you'll need to check the box in the "Blog" section.
You can also add an "About me" page, a custom logo, a resume, and a store. Simply check all of the boxes of the elements you want to add to your site.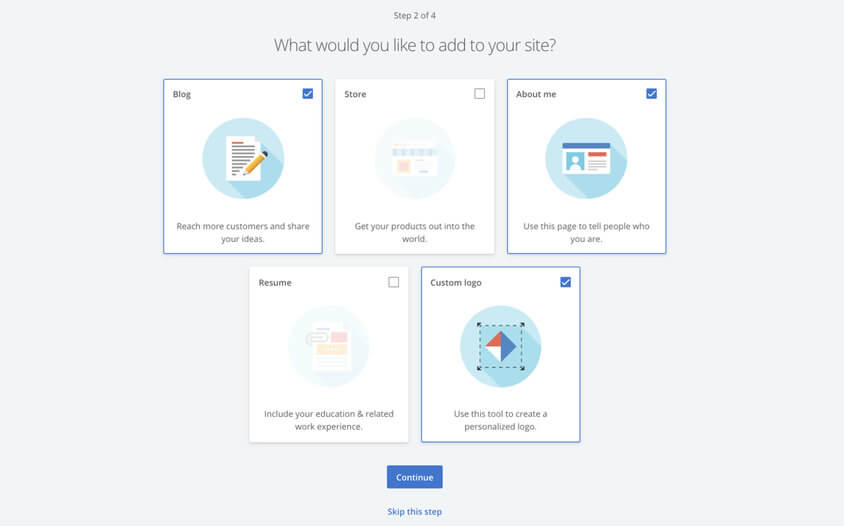 Third step: Say something more about your blog.
Here you can add the name of your fashion blog and its tagline, which will show up in website searches. This is something that you can change anytime.
Bluehost will also ask you how comfortable you are with creating websites.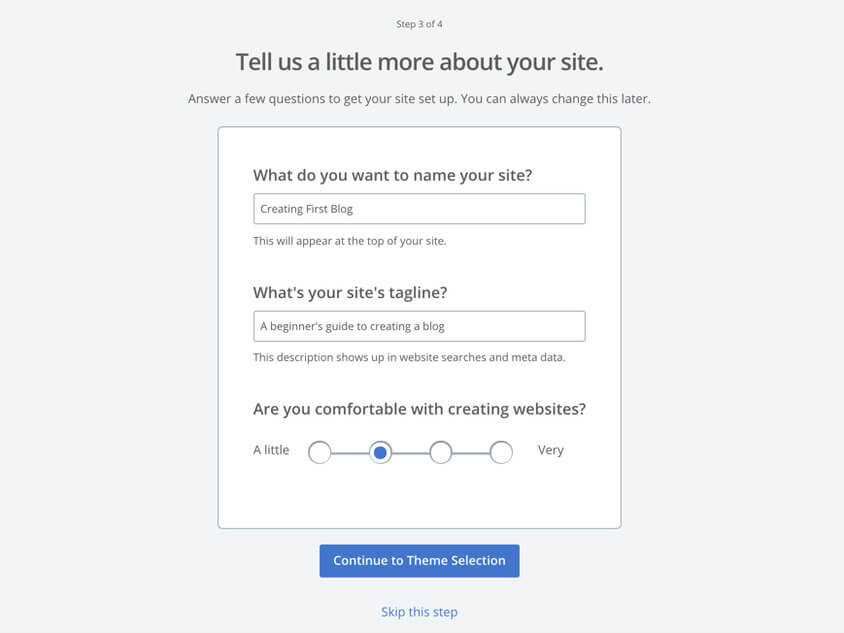 Fourth step: Select a theme.
After providing more information about your blog, you can choose from a range of themes that Bluehost offers.
You don't have to pick your theme if none of the available options speak to you. You can do it later when your WordPress fashion blog is live. If you do select a theme now, you can change it anytime.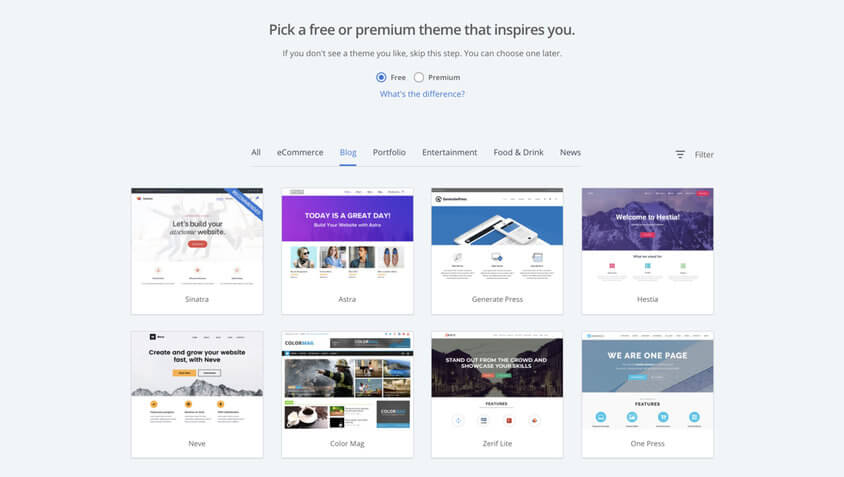 Launch your blog!
By this point, WordPress software is automatically installed on Bluehost and ready to work its magic.
But before launching your blog, you can spend a bit more time playing with all of the customization nuts and bolts recommended by Bluehost.
Once you're done, click on the "Launch My Site" button.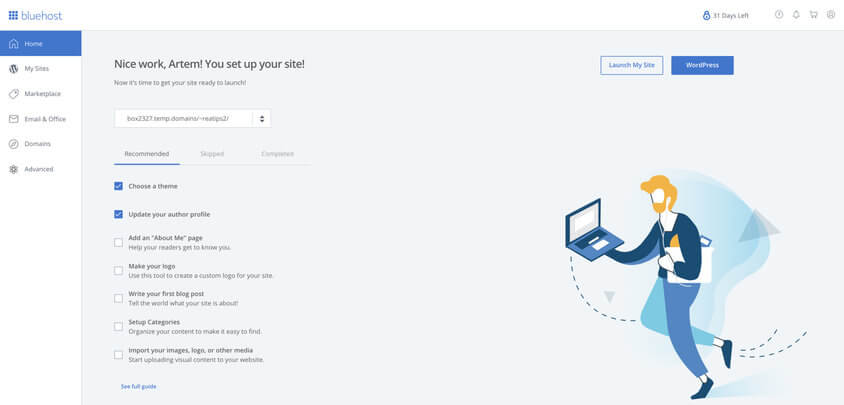 Congratulations! Your fashion blog is live!
Step #6: Dress for success – select your fashion blog theme!
There are still some things you need to set up before you can begin your fashion blogging. One of the most important is selecting your fashion blog theme.
If your domain name is your fashion brand label, your blog theme is its face. It will determine your blog's look and feel, and it's what your readers will see first once they land on your site. So, make sure it creates an excellent first impression.
There are more than three thousand themes available on WordPress.org, so it can be challenging to pick only one. Don't worry; you can change it anytime and as many times as you want.
Installing and setting up a new WordPress theme is fun and fairly straightforward.
Head to your WordPress dashboard, and click on "Themes" under the "Appearance" tab in the left-side menu. You can then choose from premium themes or free WordPress.org themes. You can also upload any theme you may already have.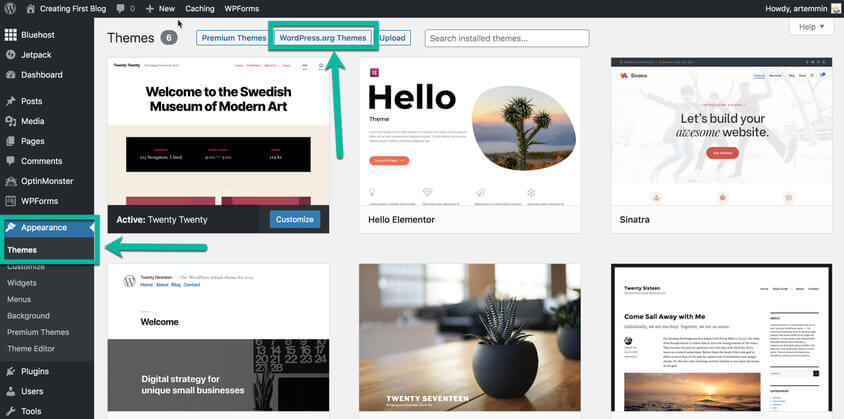 When trying to pick your theme, make sure to:
Pay attention to the features – each theme offers different features and functionalities;
Preview the theme – explore its layout and customization features; and
Check the ratings – ratings will give you an insight into each theme's quality.
Each WordPress theme will customize a little differently, which is why it's vital to preview them. Try before you buy, right?
What are good fashion themes for a fashion blog?
There are many beautiful WordPress fashion blog themes. Here are some of the most interesting ones, each mobile-friendly, SEO-optimized, and suitable for a different type of fashion blog.
Astra – Price: Free
Astra is a fashion and lifestyle blog theme that is suitable for any fashion blog. It features more than 100 templates with different designs and functionalities.
It's easily customizable, optimized for high performance, and very flexible. It lets you change the layout, fonts, colors, and any other visual element for making your blog pop.
Løge – Price: $34.30
Løge is an e-commerce fashion theme for retailers. It creates a customizable storefront with minimalist-style product pages that provide a seamless shopping experience.
It supports lots of WordPress plugins for e-commerce and has built-in widgets and modules for page building.
Shoppe – Price: $59
Shoppe is an excellent theme for online fashion stores. It offers lots of pre-built designs and photo galleries that you can use to build an e-commerce store on your blog.
It also features a drag-and-drop builder, a wealth of menu styles, flexible layouts, add-ons, customizable social banners, and free plugins.
Elegant is a minimalist fashion theme that's very clean and, well, elegant. It's ideal for fashion and lifestyle blogs as it gives a stylish look and eliminates distractions to put the focus on content.
It has a ready-made portfolio section and lots of templates to choose from. It also features a drag-and-drop builder for customizing every single element of the theme.
Accessorize your blog – add plugins!
Plugins add more functionality to your blog and can provide features for further customizations. Most of them are free, but there are lots of premium ones as well.
On WordPress.org, there are more than 57,000 plugins with different functionalities.
You can find them by clicking on "Plugins" in the left-side menu on your WordPress dashboard.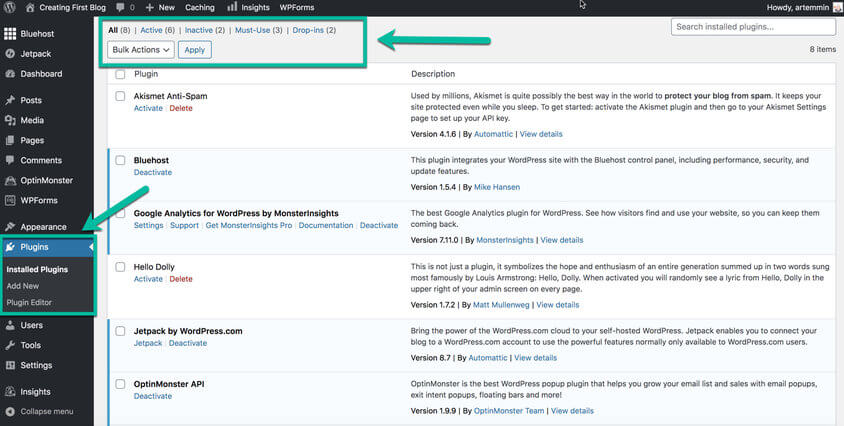 Some of the top plugins for fashion bloggers are:
Social Warfare – social sharing plugin
InGallery – Instagram Feed plugin
WP Retina 2x – Retina-ready image plugin
Yoast SEO – SEO plugin
Max Mega Menu – menu management plugin
Social Warfare enables you to display fast and attractive social share buttons on your blog for boosting your website traffic. It also displays share counts and lets you create tweetable quotes and widgets for popular posts.
InGallery is a plugin that lets you add your Instagram feed to your blog. That's great for boosting engagement and sales, as well as for using web traffic to gain more Instagram followers. It comes with different color schemes, CTA buttons, pop-ups, social sharing tools, and more.
WP Retina 2x is a plugin that makes your images responsive and optimizes them for Retina displays. The result is a professional-looking blog with exceptional images.
Yoast SEO helps you to optimize your fashion blog for search engines. It helps you to optimize metadata, tags, keywords, content density, readability, XML sitemaps, URLs, and much more. It's a no-brainer for every blogger.
Max Mega Menu automatically converts multiple menus into one. That's great if you have lots of different categories on your blog. It's very time-saving and greatly improves site usability.
Examples of popular fashion blogs
If you want to learn how to run a fashion blog, you can draw inspiration from some of these blogs:
Step #7: Hit the runway – start publishing and promote your fashion blog
Up to this point, we've covered mostly technical tips for starting a fashion blog, but now it's time to explore the more entertaining side of it.
Now that you have your fashion runway, you can hit it and show the world what you have to offer. Start writing compelling blog content that resonates with your audience and helps you to establish authority in your niche.
However, your blog is brand-new, and your target audience doesn't know you exist yet. So, start promoting your fashion blog to get more eyes on your awesome content.
How to promote your fashion blog
Promoting your fashion blog is incredibly simple and exciting. Let's take a look at the most critical steps you should take.
Be active on social media, especially on Instagram.
Sharing your posts on various social channels will help you to expand your reach and build a community. You shouldn't miss Facebook, but Instagram and Pinterest are more visually-oriented, so put a lot of effort there.
Most fashion and lifestyle bloggers prefer Instagram, so there's a vast community there for you to tap into.
Are you wondering how to start a fashion blog on Instagram? It couldn't be simpler!
Share eye-catching photos from your blog posts, exciting captions, and always include relevant hashtags and enticing calls to action (CTAs).
Don't forget to add a link to every new blog post in your bio. In between new posts, keep sharing beautiful photos relevant to your niche.
But don't just share stuff, no matter which social channel it is. Interact with your followers regularly, because that's how you'll boost engagement and build trust.
Boost your best-performing posts.
Boosting your top-performing posts will help you to expand your reach even further. Getting organic traffic when you're new to blogging takes time, so paid reach can be of immense help.
You can boost posts on any social channel you use.
The steps are pretty much the same everywhere:
Pick a post;
Click on the option to boost it (at the bottom of your post);
Choose a target audience; and
Set your budget and duration.
When you boost posts that your audience already loves, you'll increase your reach quickly, together with your engagement rates.
Collaborate with influencers.
Collaborating with fashion influencers in your niche will help you to gain more exposure. After all, they are influencers. They already have a sizable following.
You can tap into their audience of loyal followers who rely on their opinions and recommendations. If you build a strong relationship with them, they can easily become your brand ambassadors.
Spy on your competition.
There's nothing like strong competition to push you to grow and improve in everything that you do.
What are other fashion bloggers in your niche doing? Seeing what works for them can nudge you in the right direction towards success.
But don't spy on them to copy them. Do it to draw inspiration from them and find ways to be better. Check on what kind of content they share, how they interact with their audience, and how their community responds. Take note of everything they do and learn from them.
Come up with a weekly posting plan.
Why post new content every week? Because that will give you enough time to create something great.
Always focus on quality over quantity, but don't wait too long to publish fresh content, either. You don't want to fall behind your competition.
Once a week is a great start, but make sure you plan for all of the content that you'll put out on your blog at least one week in advance. Use simple tools such as a regular calendar, Google Sheets, or CoSchedule to create your blog calendar.
When it comes to social media, you can use Later for Instagram and the Schedule settings on Facebook.
Own your niche!
Owning your niche means establishing yourself as an expert. It means building authority, credibility, and trust with your audience.
You can do that by diving deep into your niche. Whether that's lifestyle blogging, shopping blogging, celebrity fashion blogging, or anything else, touch upon all of the relevant topics that might interest your audience. Be their go-to source of high-quality information.
Additional content tips
Visuals are extremely important when it comes to fashion blogging. Enrich every blog post with high-quality, eye-catching images and videos that will grab attention and boost engagement.
Be consistent with your publishing. Publish regularly to let readers know when to expect new content from you. Consistency shows professionalism and builds credibility.
Reply to your readers' comments. Show appreciation and thank them for taking the time to read what you wrote. It will show that there's an actual person behind your blog who cares about their community.
Build rapport with your audience by addressing their needs and showing that you understand them. Connect with them on an emotional level and make them feel as if you were reading their mind. That's the best way to forge meaningful relationships, boost engagement, build trust, and inspire loyalty.
Step #8: Monetize your fashion blog
One of the most burning questions in every aspiring fashion blogger's mind is, "How to start a fashion blog and get paid?"
Even if you want to create a fashion blog to help people look their best, it won't hurt to make money blogging.
How do fashion bloggers get paid?
Just like promoting your fashion blog, it's very simple to monetize your content. Here are some of the best ways to do it.
You can sell your products and services.
This is an excellent way to earn money from your blog, but it works best when you already have great authority in your niche.
So, if you wish to sell fashion products or services (e.g., fashion consulting) on your blog, wait until the site becomes popular and generates tons of visitors.
This is where WordPress themes such as Løge or Shoppe can come in handy. You can also use one of the WordPress eCommerce plugins to create an online store, such as WooCommerce.
Sponsored content
When your blog gets popular, lots of brands might reach out to you for a paid collaboration in terms of sponsored content.
All you need to do is create content that promotes their products or services, publish it on your blog, and get paid for it. You get additional income and a new business relationship, and they get more exposure and sales. It's a win-win.
Sponsored Instagram posts
Sponsored posts are regular posts that you get paid to promote on Instagram. Just like we have explained above, brands can reach out to you to promote their content. Only this time, it's their Instagram posts.
Those can be their top-performing posts, shoppable Instagram posts, or even user-generated posts that drive high engagement.
Start your own YouTube channel and promote your blog!
If you have the budget to regularly make high-quality videos, head to YouTube, and create your channel. It will supercharge your blog's impact and get you more traffic.
You can earn money through your YouTube channel by promoting the products or services you sell, sponsored content, or affiliate products. The most common way to earn money is through YouTube ads.
Sell ad space using Google AdSense.
Posting paid ads on your blog is yet another cool way to make additional income. For instance, you can choose to post ads related to your niche and content.
One of the best tools for earning money from blog monetization is Google AdSense. It will help you to optimize your ads to make them more appealing.
Take advantage of affiliate marketing.
Affiliate marketing is a way of promoting someone else's products or services to earn a commission whenever someone buys them through your blog.
All you need to do is join an affiliate program (e.g., Amazon Associates) and strategically place affiliate links within your content. Whenever any of your readers purchase the products you recommend after clicking on those links, you'll earn a commission.
Becoming a brand ambassador
As a brand ambassador, you agree to promote a particular brand regularly. You can promote it on any channel where you have a presence, including your blog and social media.
Now, you can get paid for your work, or you can opt for compensation in the form of actual products. For instance, a brand can give you free access to their makeup line, which you'll then recommend to your audience.
Takeaway
Fashion blogging is a fantastic side gig, especially if you're truly passionate about it. It can be an inspiring, fulfilling, exciting, and very lucrative adventure.
Start by choosing a niche you care about and stick to it. That way, you'll be more likely to gain like-minded followers who are genuinely interested in what you have to say. Choose your blog name, set up your fashion blog, create a content plan, regularly impress your audience with awesome content, and monetize your blogging efforts.
Before you know it, you'll become a successful fashion blogger that people love engaging with. Good luck!