The Best Marketing Automation Software in 2023
FirstSiteGuide is supported by our readers. When you purchase via links on our site we may earn a commission.
Read More
The Best Marketing Automation Software in 2023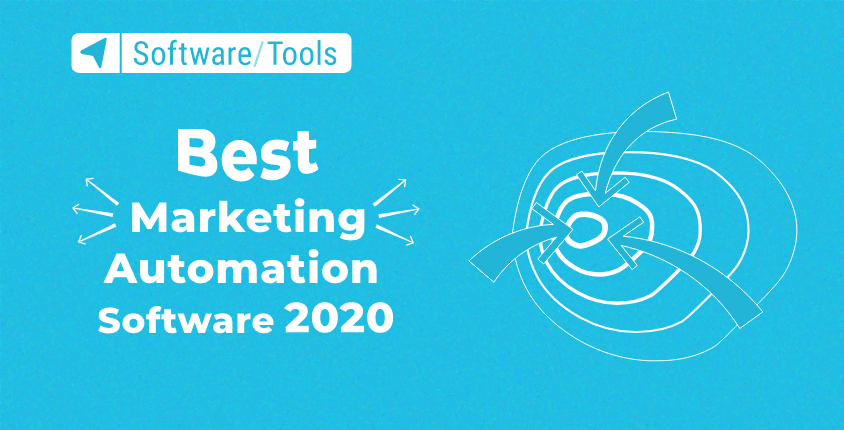 It's very hard to expand your reach and guarantee profits in a customer-centric environment. Being able to connect to your customers and prospects during the various stages of the customer journey is paramount.
However, doing things manually is borderline impossible, and more and more companies are choosing to walk the path of marketing automation.
This enables companies of all sizes to reduce marketing costs, improve campaign efficiency, and convert more prospects into customers thanks to custom-tailored customer experience. There's one slight problem, though – there are over a hundred marketing automation tools on the market.
EDITORS' CHOICE (JUNE 2023)
Below you'll find a list of the best marketing automation tools, a guide to how to choose the right one, and the best tools for specific purposes explained.
The top 15 most popular marketing automation tools
I like to say that not all software tools are created equal, and this also applies to automation tools, especially in the marketing department. One of the most important factors to consider is a tool's popularity. If a tool has thousands of active users, it's a good sign. It means that it shines in at least one of the following categories: ease of use, number of features, affordability, and customer support.
To make it easier for you and narrow down your options, I went on a hunt for the most popular tools. I even went the extra mile to identify the best of the best.
---
Disclosure: FirstSiteGuide is supported by our readers. When you purchase via links on our site we may earn a commission. We test and try all the products that we recommend.
ActiveCampaign — Feature-rich automation tool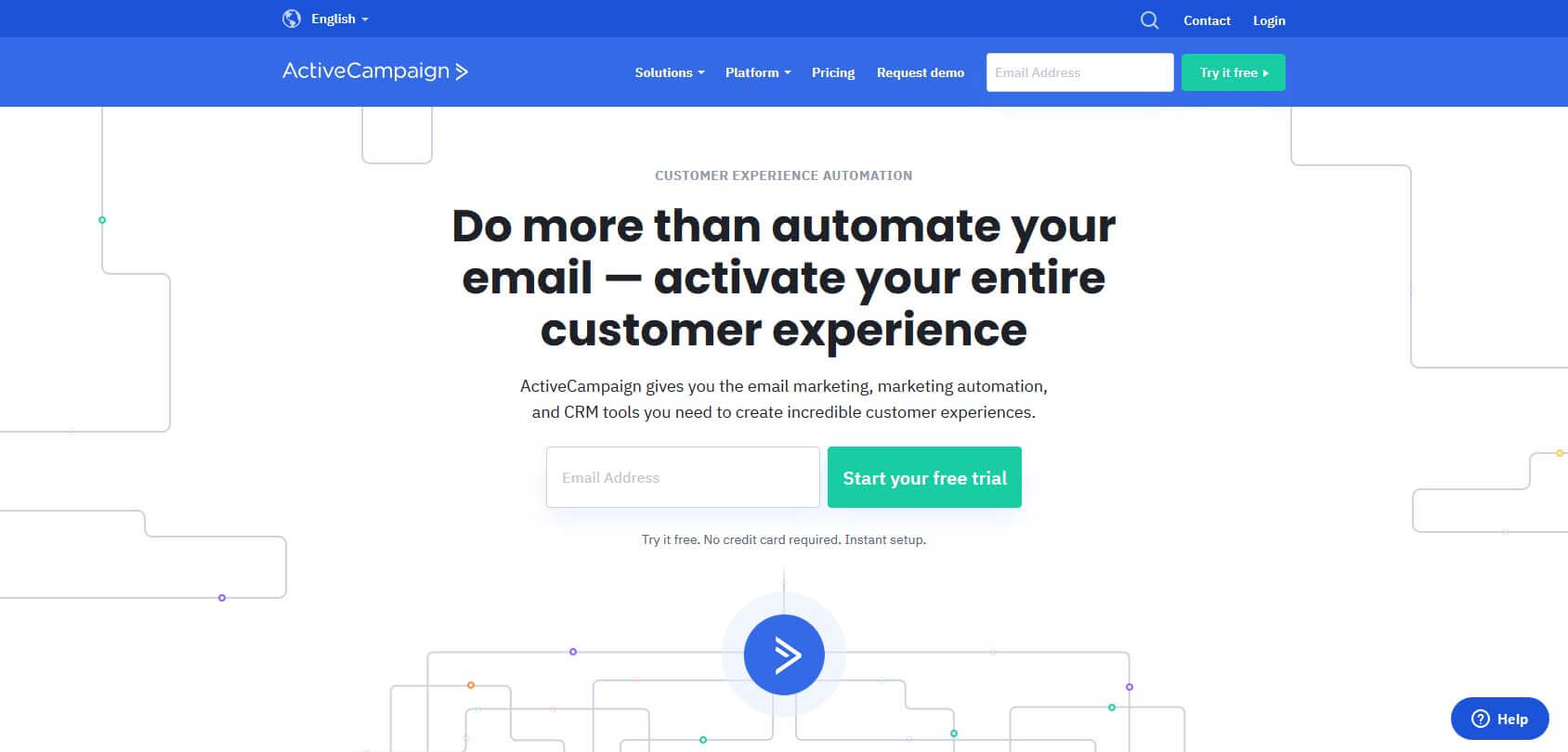 ActiveCampaign is a marketing automation platform developed to help small businesses thrive in their specific markets. It comes with a full toolkit of features to help you streamline your marketing efforts. It also has several subscription plans. ActiveCampaign is an affordable solution for businesses, even with very limited budgets.
The ActiveCampaign dashboard is polished and easy to use. You can access all of the features and settings from one screen. This tool will meet your marketing needs, no matter how complex they are.
ActiveCampaign has great support for third-party integrations to help you leverage data from all over your digital landscape. Auto-responder options are particularly useful if you have a large customer base and a big target market.
Key features
Site messaging – lightning fast responses in their chat window.
Engagement tracking – determine who's excited and why.
SMS – answer customers with quick SMS.
Automation – have everything run smoothly.
Contact management – sort out all of your contacts.
Email marketing – engage through follow-up emails.
Advanced reporting – stay on top of everything.
Integrated forms – quick and easy form creation.
Pricing and plans
ActiveCampaign features four main plans – Lite, then Plus, Professional, and Enterprise:
Lite
This is the most basic plan and includes unlimited sending, newsletters, subscription forms, marketing automation, and email and chat support for 3 users.
Plus
This plan features everything included in the previous plan plus lead and contact scoring, Facebook custom audiences, SMS marketing, dynamic content, deep data integrations, and custom permissions for as many as 25 users.
Professional
The plan includes everything from the Plus plan, along with the addition of predictive sending and predictive content, customer attribution and path to purchase, win probability, split automations, site messaging, in-depth onboarding, and three one-on-one training sessions every month, all for up to 50 users.
Enterprise
Customize the right plan for you
This plan features all of the perks from the other plans, as well as custom reporting, custom site domain and mail server domain, a dedicated account rep, free design and social data services, phone support, uptime SLA, and an unlimited number of users.
Visit ActiveCampaign for additional information >>
HubSpot — Best overall marketing automation tool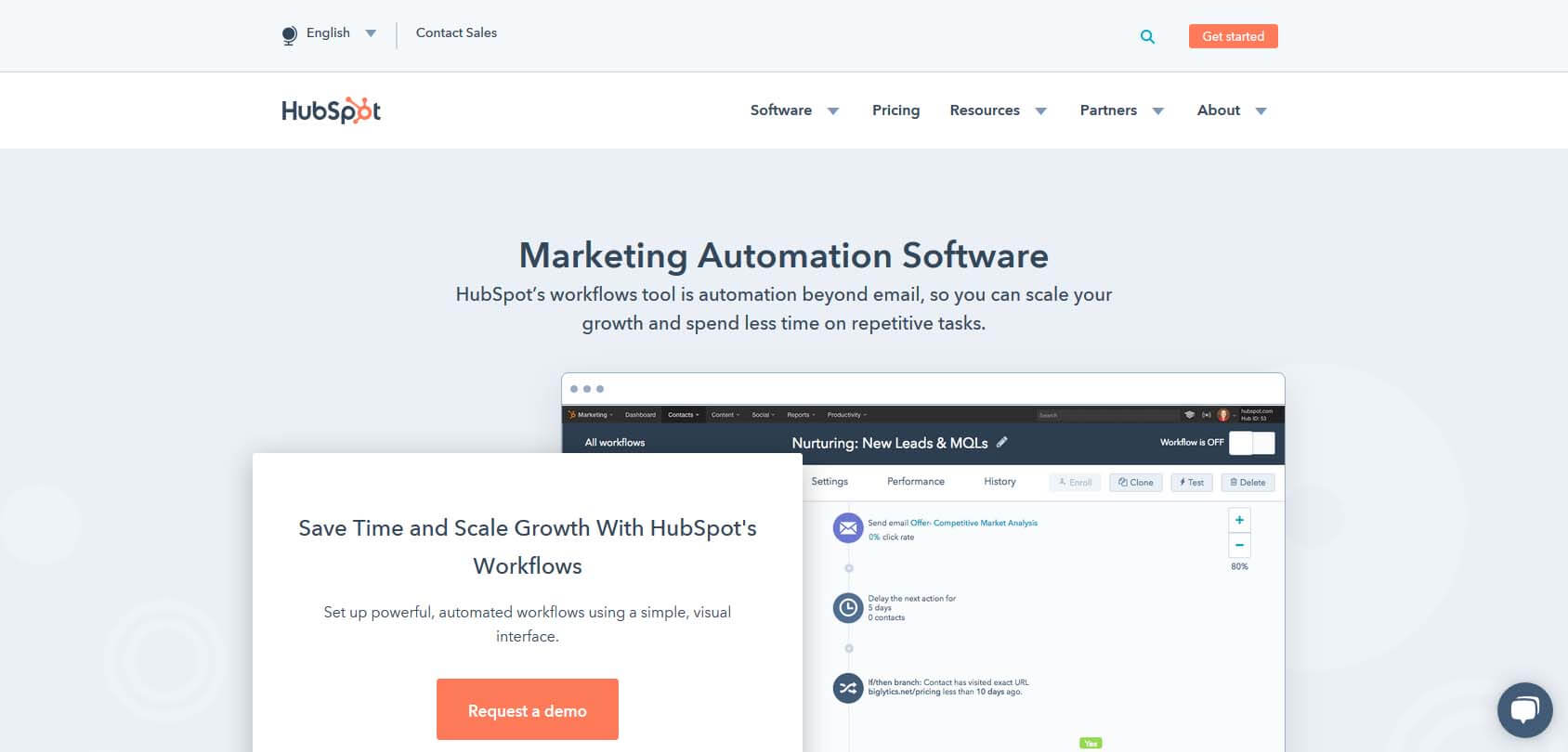 HubSpot marketing automation is one of the most complete and strongest marketing platforms accessible today. It was designed to help you capitalize on your inbound marketing strategy, especially if it thrives on content marketing. Bear in mind that not all HubSpot pricing plans have a marketing automation feature – it's included in the pro-pricing plan.
Besides automation, you also receive access to creating custom workflows and goal-based lead nurturing. HubSpot puts you in a position to track your contacts and get notified as soon as they take an important action.
HubSpot supports integration into Salesforce and HubSpot CRM to help you to deliver a personalized experience to each one of your contacts and efficiently push them down the funnel. Analytics and reporting features are quite detailed, and you can use them to map out the entire journey for each one of your customers.
Key features
Blogging – draw visitors with killer content.
Landing pages – optimize pages for more conversions.
Email – skyrocket email marketing effectiveness.
Marketing automation – automate all of the tedious tasks.
Social media – brand mentions, engagements, post scheduling.
Calls to action – access the most enticing CTAs.
SEO – develop a winning content strategy.
Ads – track ROI from all sources.
Pricing and plans
Hubspot has three basic paid options – Starter, Professional, and Enterprise:
Starter
$20 per month

$18 per month


billed annually
This plan includes all of the free tools as well as landing pages, conversational bots, live chat, list segmentation, email marketing, and ad retargeting.
Professional
$880 per month

$800 per month


billed annually
You receive all of the perks of the other plans with the addition of marketing automation, smart content and reporting, blog, SEO recommendations and optimization, social media, A/B split testing, CTAs, video hosting and management, website traffic analytics, custom ad campaign reporting, and a filtered analytics view.
Enterprise
$3600 per month


billed annually
This plan features everything from Professional, plus partitioning, hierarchical teams, single sign-on, social permissions, email send frequency cap, calculated properties, adaptive testing, multi=touch revenue attribution, and custom event triggers and reporting.
Visit HubSpot for additional information >>
Autopilot — Best user interface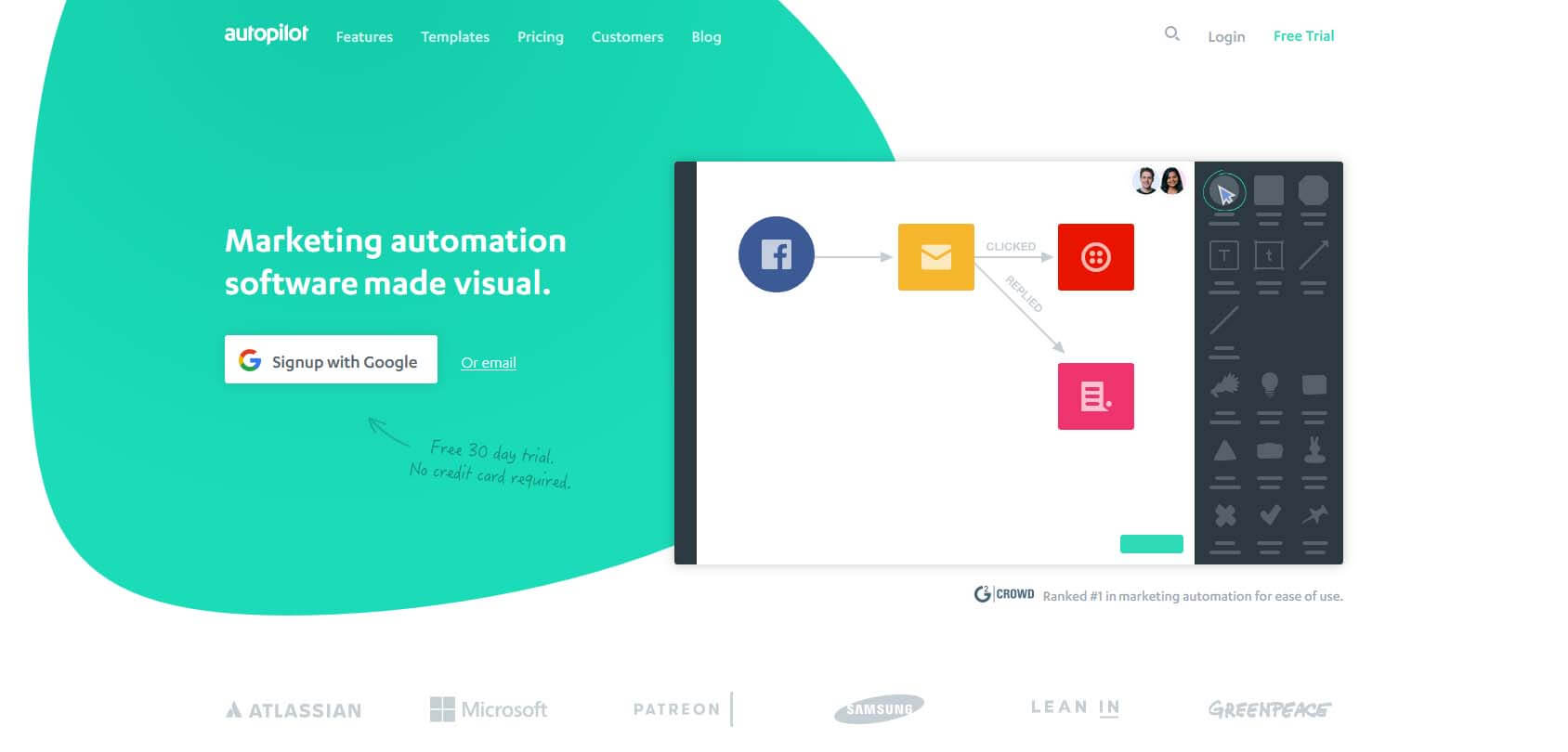 Autopilot has its user interface to thank for becoming one of the most popular marketing automation tools. This tool is beautiful – the user interface is clean and minimalistic, so it won't take you more than a couple of minutes to get things done. Their features are fun to use as they add to one another in a logical and convenient way.
Autopilot, in its essence, is an automation platform, email marketing, and messaging tool. The best thing about it is that you can use it with minimal technical experience. However, the platform enables you to create and launch detailed and complex messaging and targeting initiatives.
Key features
Segment leads and customers – sync CRM info, capture leads.
Design and build customer journeys – use templates or customize.
Team collab and annotation – share work in real time.
Drag-and-Drop custom emails – beautiful emails in no time.
Send messages on every channel – from SMS to Facebook Ads.
Automation through shapes – variety of integrations and shapes.
Goals and insights – goal performance and channel comparison.
24/7 live chat support – fix issues whenever they occur.
Pricing and plans
Autopilot is available at two plans – Professional, and Business:
Professional
Deliver personalized messages on every channel.
Business
A complete solution for customer data, messaging and analytics.
Visit Autopilot for additional information >>
Omnisend — Robust automation features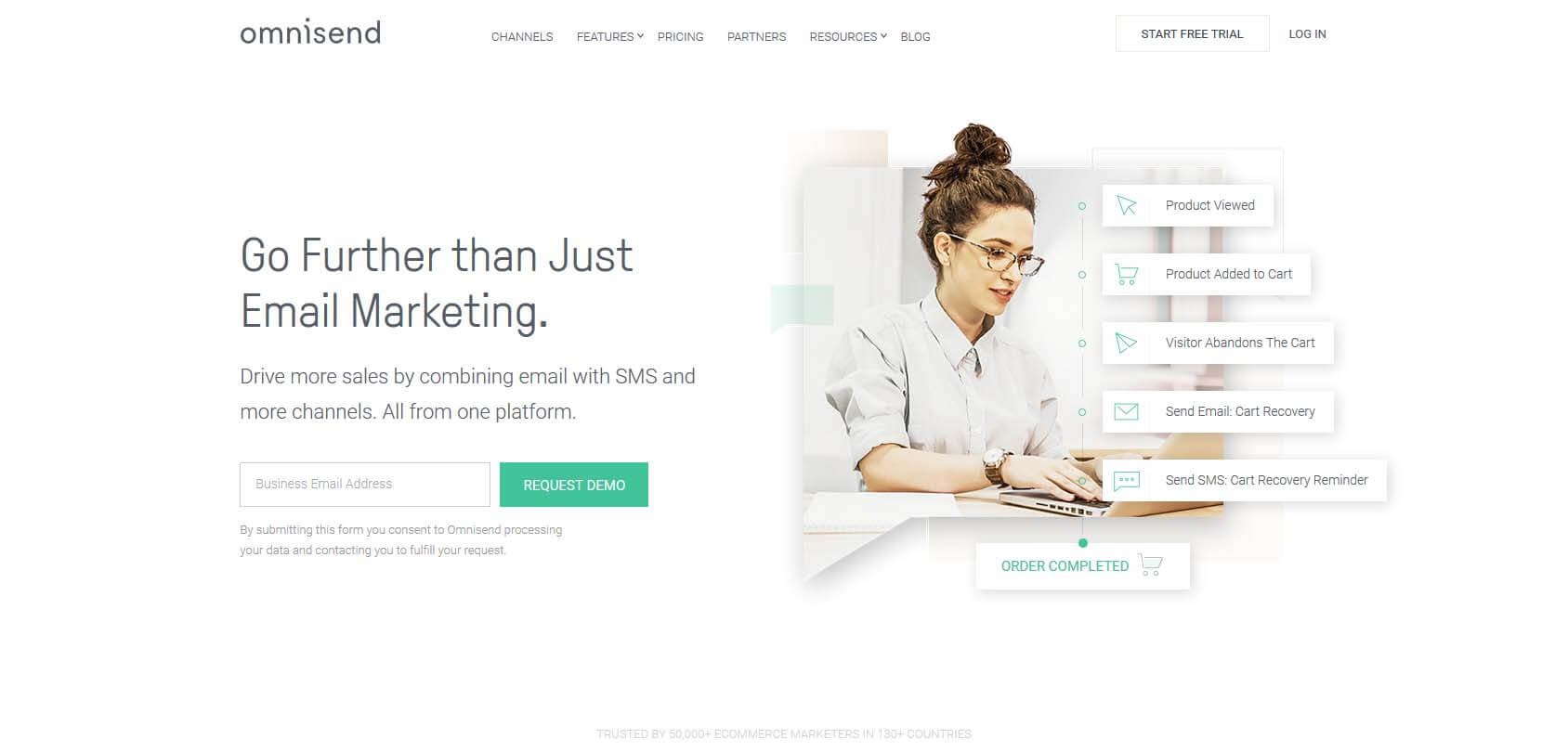 Omnisend was developed in 2014 to help companies automate their marketing tasks. However, the developers went beyond that first goal and turned Omnisend into a go-to tool for every eCommerce business that wants to benefit from marketing automation.
Omnisend is a great tool for stepping up your marketing game. It comes with support for every major eCommerce platform. Whether you run a WooCommerce, Shopify, or another platform, you can use Omnisend. It comes with all sorts of automated emails, including emails designed to reduce cart abandonment rates.
The price tag is quite significant when compared to other marketing automation software, but since it's a scalable solution and built to cater to the needs of eCommerce companies, the price is at the industry average value.
Key features
Customer journey features – signup boxes, tracking, segments, follow-up.
Customizable forms – dynamic email capture and forms.
Automated email series – pull subscribers into sales funnel.
Shopping habit based messages – product suggestions and special offers.
Customer loyalty programs – incentivize customers to come back.
Reports – keep track and improve your campaign with custom reports.
Pricing and plans
Omnisend has a basic Free plan, as well as two main paid ones – Standard, and Pro:
Free
Best for starting businesses or for exploring Omnisend.
Standard
Best for growing and medium-sized businesses focused on email marketing.
Pro
Best for high-volume senders aimed at adding extra power with SMS.
Visit Omnisend for additional information >>
Act-on — Platform delivering marketing insights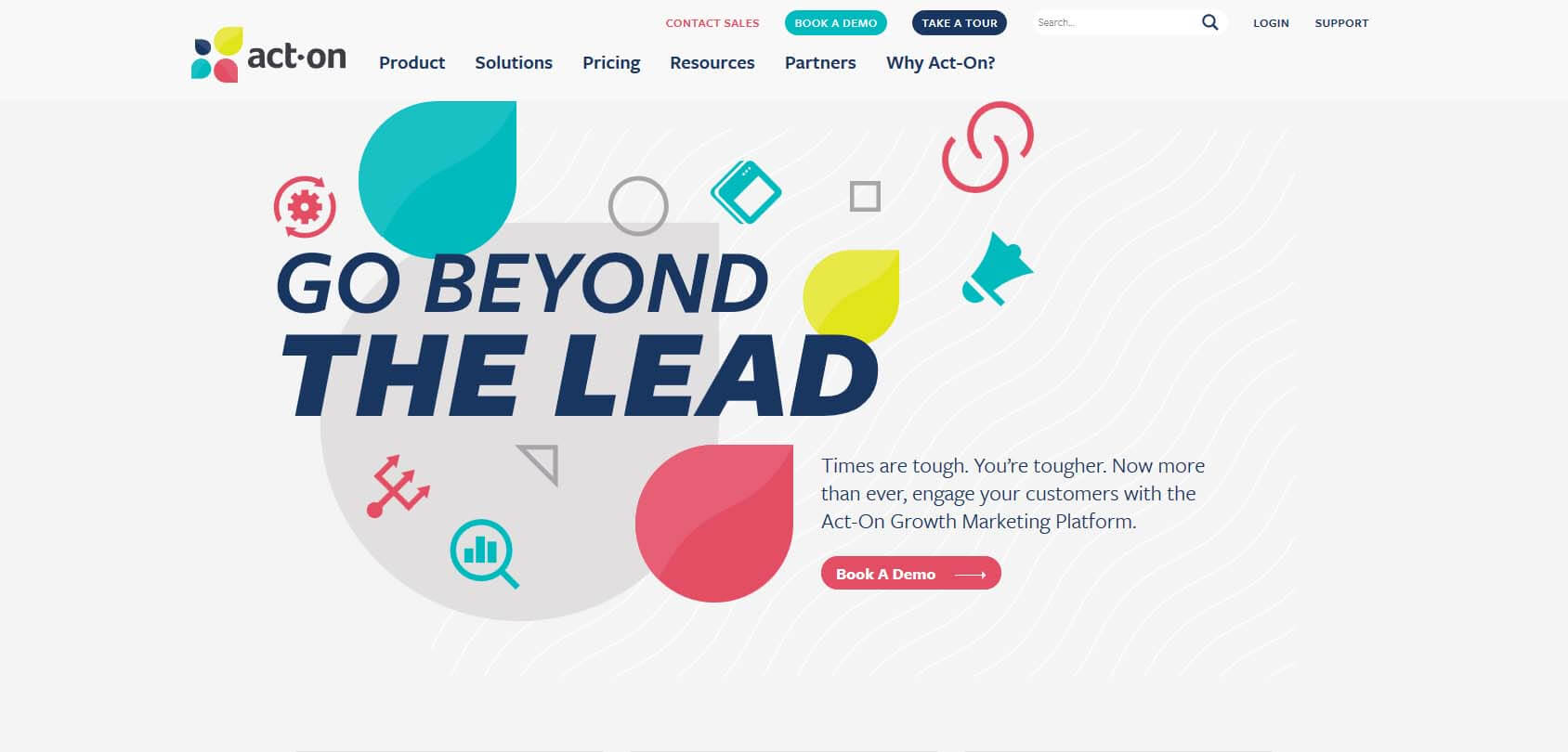 Act-on is a powerful tool built to automate completely custom marketing efforts, and it comes with many valuable features. When it comes to the potential of the software itself, it's right there beside Pardot and HubSpot marketing automation tools. It's more like a suite than a piece of software designed to fulfill one purpose.
Besides automation of marketing actions, Act-on allows you to connect your email marketing with social media marketing, customer relationship marketing, and SEO. With access to API, your IT team can develop a custom-tailored solution for your specific business needs. If you are running a large scale operation, Act-on is definitely one of the options worth trying out.
Key features
Automation – entice, convert, impress customers quickly.
Segmentation – group contacts dynamically by traits.
Build website and landing pages – quick and effective landing pages.
Messaging – target customers with perfect messages.
Scoring – assess all relevant engagement metrics.
Integrations – customize content through customer data.
Forms and data management – optimize lead generation with forms.
Analytics and reporting – use audience insights to impress.
Pricing and plans
Act-on's pricing is straightforward, with only two plans to choose from – Professional and Enterprise:
Professional
This plan has variable pricing based on the number of active contacts, from $900 per month for 2.5k active contacts to $2000 per 25k, $2500 per 50k, and so on, with custom pricing for over 2M active contacts.
You receive the best marketing automation, integration with most MarTech systems, multichannel marketing programs, engaging customers throughout the lifecycle, analytics and reporting dashboards, and phone support during business hours.
Enterprise
This plan is also variable pricing, from $2000 per month for 2.5k active contacts to $3100 per 25k, $3600 per 50k, and so on, with custom pricing for over 2M active contacts.
The Enterprise plan offers everything that the Professional plan does, with the addition of a deep CRM connector for NetSuite, Microsoft Dynamics, and SalesForce, data studio for advanced reporting and BI integration, account-based marketing, and two user accounts.
Visit Act-on for additional information >>
Ontraport — Platform for small businesses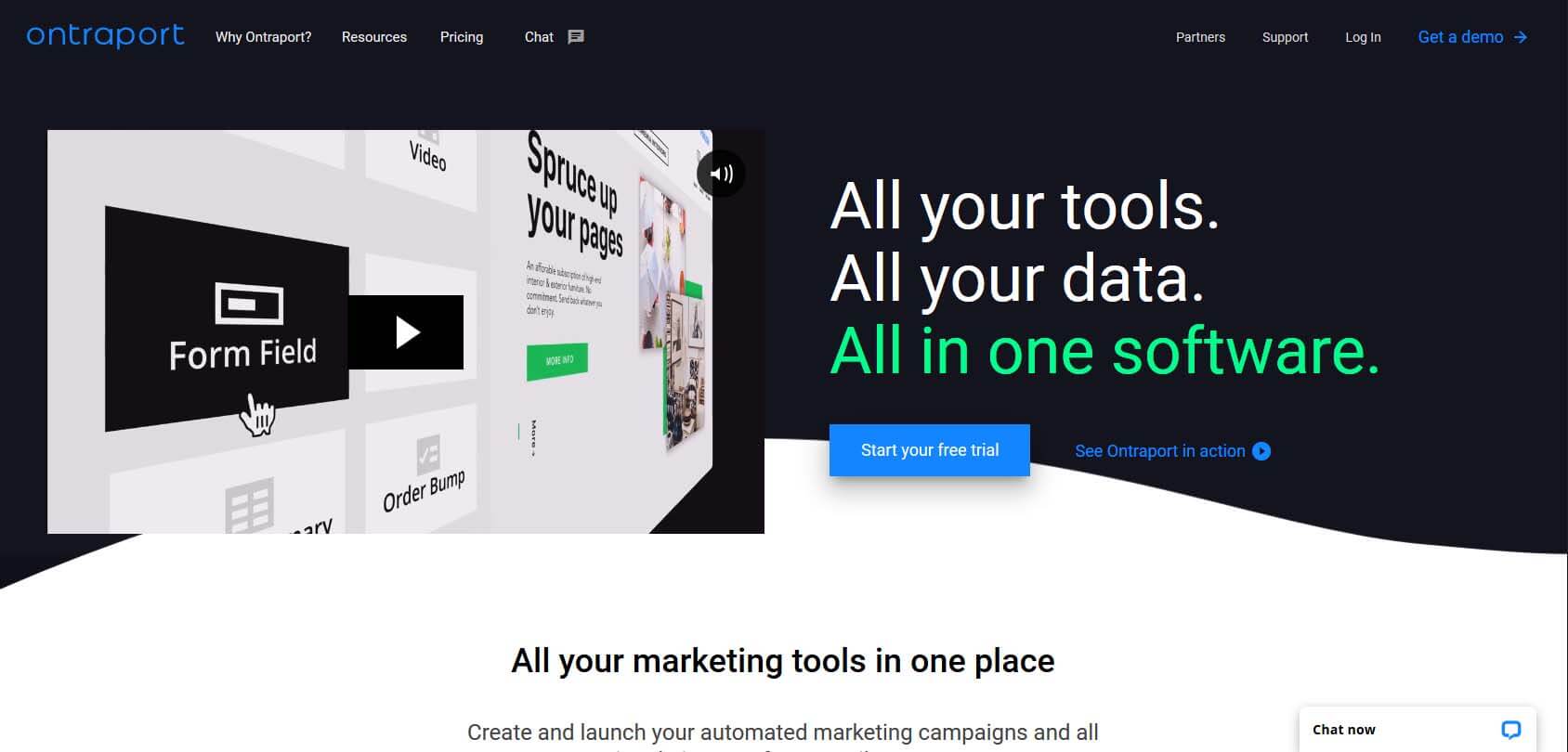 Ontraport is designed to help small businesses and startups automate marketing and focus on core business processes. Even a one-man business can prosper from it. Ontraport is extremely easy to use but that doesn't make it any less potent than other tools on this list. With clean UI and exceptional features, you'll be able to automate marketing and along with other tasks.
Ontraport comes with support for email marketing. It has a few extra features suitable for eCommerce businesses and supports the creation of landing pages. Great analytics and reporting are the features that launched it to success. With Ontraport, you can assess the performance of your campaigns any time you want.
Key features
CRM – every customer action in one place.
Emails – messages with your brand voice.
SMS – send text reminders and offers.
Landing pages – great landing pages that convert.
Forms – grab attention, build your database.
Membership sites – build a membership site.
Pricing and plans
Ontraport has four plans available for their customers – Basic, Plus, Pro, and Enterprise:
Basic
Email and text message automation, web forms and pages, and a scalable platform for growth.
Plus
Add payments, memberships, website personalization, advanced CRM, and more.
Pro
Deep customization, marketing tracking and testing, partner programs, user roles and permission management and more.
Enterprise
Unlimited everything, Enterprise-grade security
and scale.
Visit Ontraport for additional information >>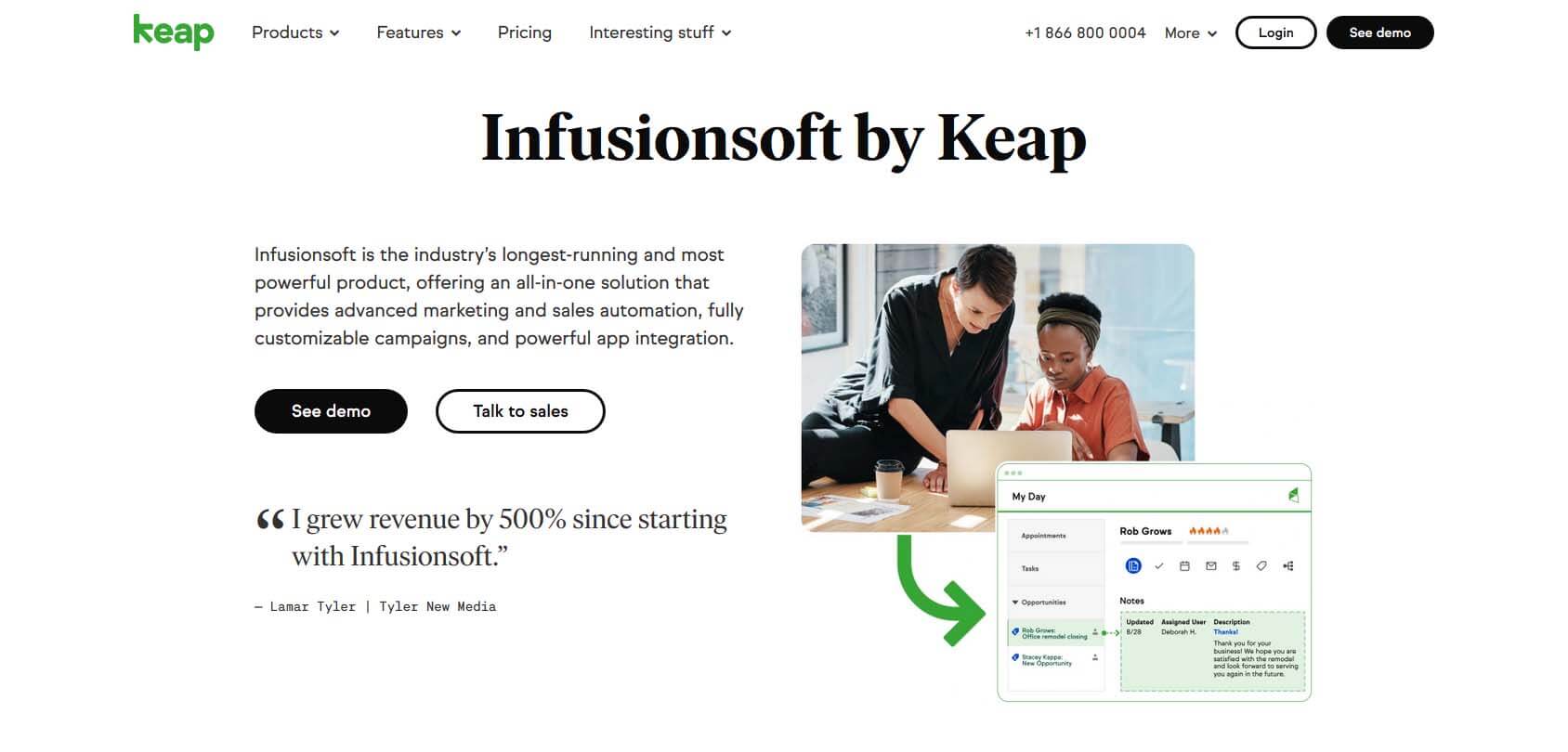 InfusionSoft is a veteran in the marketing automation field. It was established over 15 years ago. So far, it has helped countless marketers achieve their marketing goals. InfusionSoft has always remained true to its target audience, mainly consisting of solopreneurs and small businesses. Recently the company went through a rebranding phase, and InfusionSoft has been renamed to Keap.
Keap comes with a clean UI and advanced functionality. A marketing campaign builder allows you to automate both the marketing and sales processes. Keap supports advanced logic, which you can implement when making your custom-tailored decision trees to fuel your marketing initiative.
Key features
CRM client management – all client info easily accessible.
Email marketing – engage customers with custom emails.
Automated appointments – schedule appointments through the email form.
Pipeline – keep track of lead activities.
Quotes – give clients a one-click solution.
Invoices and payments – have clients pay in seconds.
Integrations – connect with hundreds of available apps.
Reports and insights – learn what works for you.
Pricing and plans
There are two marketing automation plans that customers can choose from – Pro, and Max.
Pro
$189 per month

$149 per month


billed annually
The Pro plan features client management with CRM, email marketing, phone line, and text messaging, scheduling appointments, as well as making quotes, invoices, and payments.
Max
$249 per month

$199 per month


billed annually
This plan has everything that the previous one offers, as well as marketing and sales automation, recurring payments, a landing page builder, along with smart forms and reports.
Visit InfusionSoft for additional information >>
Sendinblue — Easy to use marketing automation tool
At the beginning, SendinBlue was nothing more than a digital agency. However, they leveraged their knowledge in the digital marketing field and built a solid email marketing tool. Over the next couple of years, that tool evolved into marketing automation software. SendinBlue shines in all departments. It's easy to use, comes with many helpful features, and has support for advanced settings.
SendinBlue comes with sophisticated automatic lead scoring to help you identify what stage the leads are at and send them relevant text messages or emails. While the tool is paid, the company offers a completely free no-strings-attached plan that comes with basic automation features.
Key features
Email marketing – custom design your messages.
SMS marketing – keep your customers updated on limited offers.
CRM – store your customer's information in one place.
Automation – increase your performance with automated messages.
Facebook marketing – reach out to your audience with Facebook ads.
Statistics – get real-time statistics.
Pricing and plans
Aside from the Free option, there are three marketing automation plans offered by SendinBlue – Free, Starter, and Business:
Free
The free plan offers unlimited contacts, email campaigns, an email template library, SMS marketing, SMS and email personalization, and chat for one user (one shared inbox).
Starter
$25 per month

$22 per month


billed annually
The Starter plan has all of the perks of the Free one, with added features like no daily sending limit, email support, 100,000 emails per month, along with the option to remove the SendinBlue logo and perform A/B split testing.
Business
$65 per month

$58 per month


billed annually
This plan features everything from the previous plans, with the addition of 1 million emails per month, Facebook ads, marketing automation, send-time optimization, 5 free landing pages and $20 per additional landing page up to 20 pages, retargeting ads, phone support, 3 free inboxes (3 separate users) and $9 per additional inbox up to 10 total inboxes.
Enterprise
Contact sales to obtain a quote
The Enterprise marketing automation plan incorporates all of the features of the Premium plan, plus a custom number of emails, priority sending, priority support, over 20 landing pages, over 10 users, SSO (SAML), a customer success manager, and dedicated IP.
Visit Sendinblue for additional information >>
GetResponse — All-around marketing platform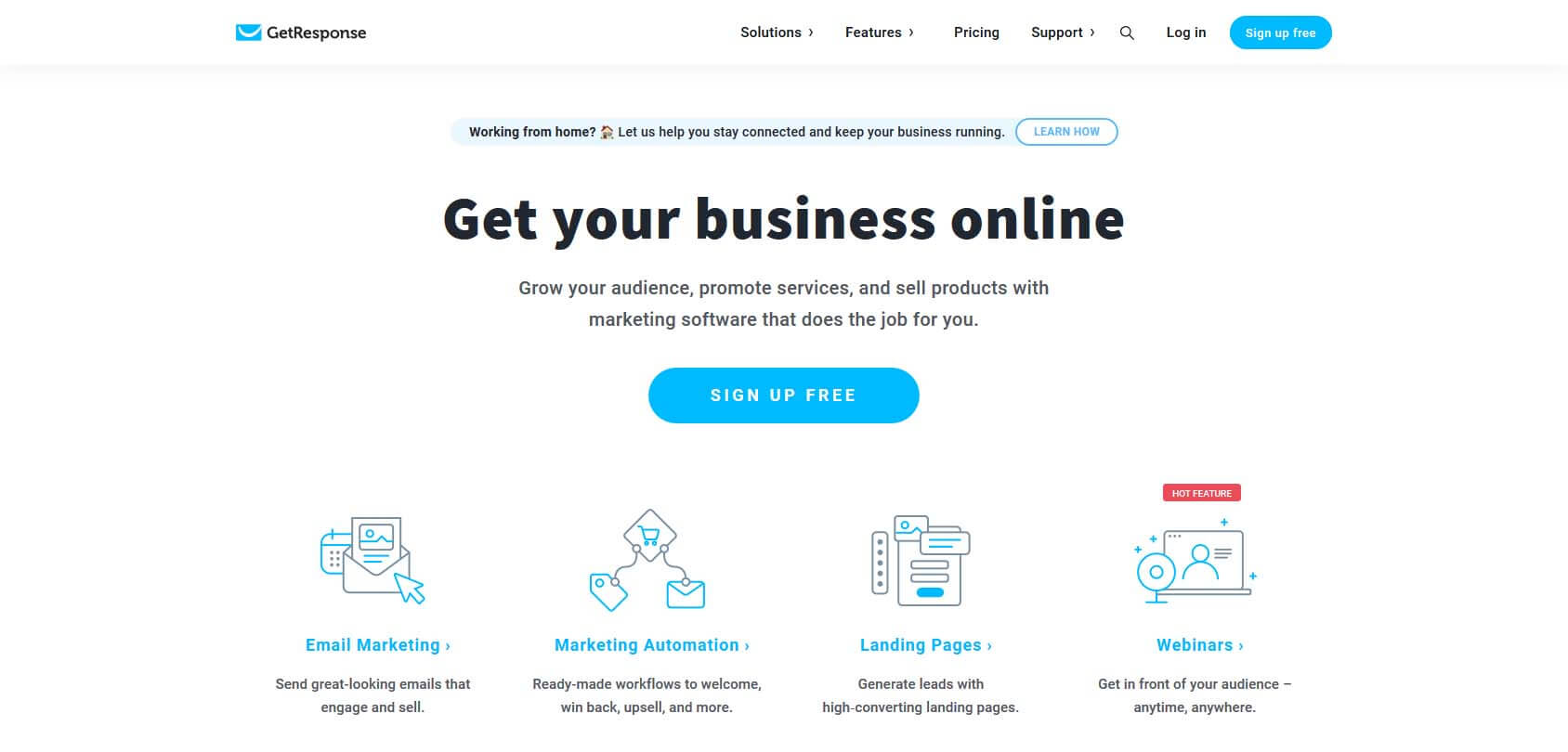 GetResponse is an affordable marketing automation tool. It has dozens of features, and it remains affordable by categorizing the features and locking them behind more expensive pricing plans. The US is designed with users in mind, meaning that you won't have to spend much time learning the features and how to put them to use.
The simple features, such as email marketing, are to be fine-tuned and bug-free. GetResponse becomes harder to use if you want to automate marketing processes with advanced conditional logic. In this department, the tool acts a bit clunky and requires substantial knowledge in making custom automated campaigns.
Key features
Email marketing – intuitive design tools and templates for great emails.
Landing pages – countdown timer, Facebook pixel, pop-ups and signup forms.
Marketing automation – everything from tags and scores, to automation flows.
Webinars – polls and surveys, whiteboard, and screen sharing.
Prebuild conversion funnels – lead magnet, sales, list building, and other funnels.
Facebook Ads – set up your ads to target your Facebook audience.
Pricing and plans
The site includes four main plans to fit a variety of needs – Basic, Plus, Professional, and Max:
Free
The Free offer includes email marketing, autoresponders, an unlimited number of landing pages and automation templates, one sales funnel, unlimited lead funnels, Facebook ads, and the option to sell digital products.
Email marketing
$19 per month


$15.58 per month


billed annually

$13.3 per month


billed every 2 years
This plan has everything offered by the Basic one, as well as an automation builder with five workflows, five webinar funnels, webinars for up to 1000 viewers, contact scoring and tagging, five sales funnels, and up to three users.
Marketing automation
$59 per month

$48.38 per month


billed annually

$41.3


billed every 2 years
The Marketing automation plan has all the perks of Plus, with the addition of unlimited workflows in the automation builder, paid webinars for up to 1000 viewers, unlimited webinars and sales funnels, on-demand webinars, and up to five users.
Ecommerce marketing
$119 per month

$97.58 per month


billed annually

$83.30


billed every 2 years
The Ecommerce marketing plan has all of the bells and whistles of previous plans, plus dedicated support and IP address, deliverability consulting, SSO, email campaign consulting, and webinars for up to 1000 viewers.
Visit GetResponse for additional information >>
Drip — eCommerce marketing automation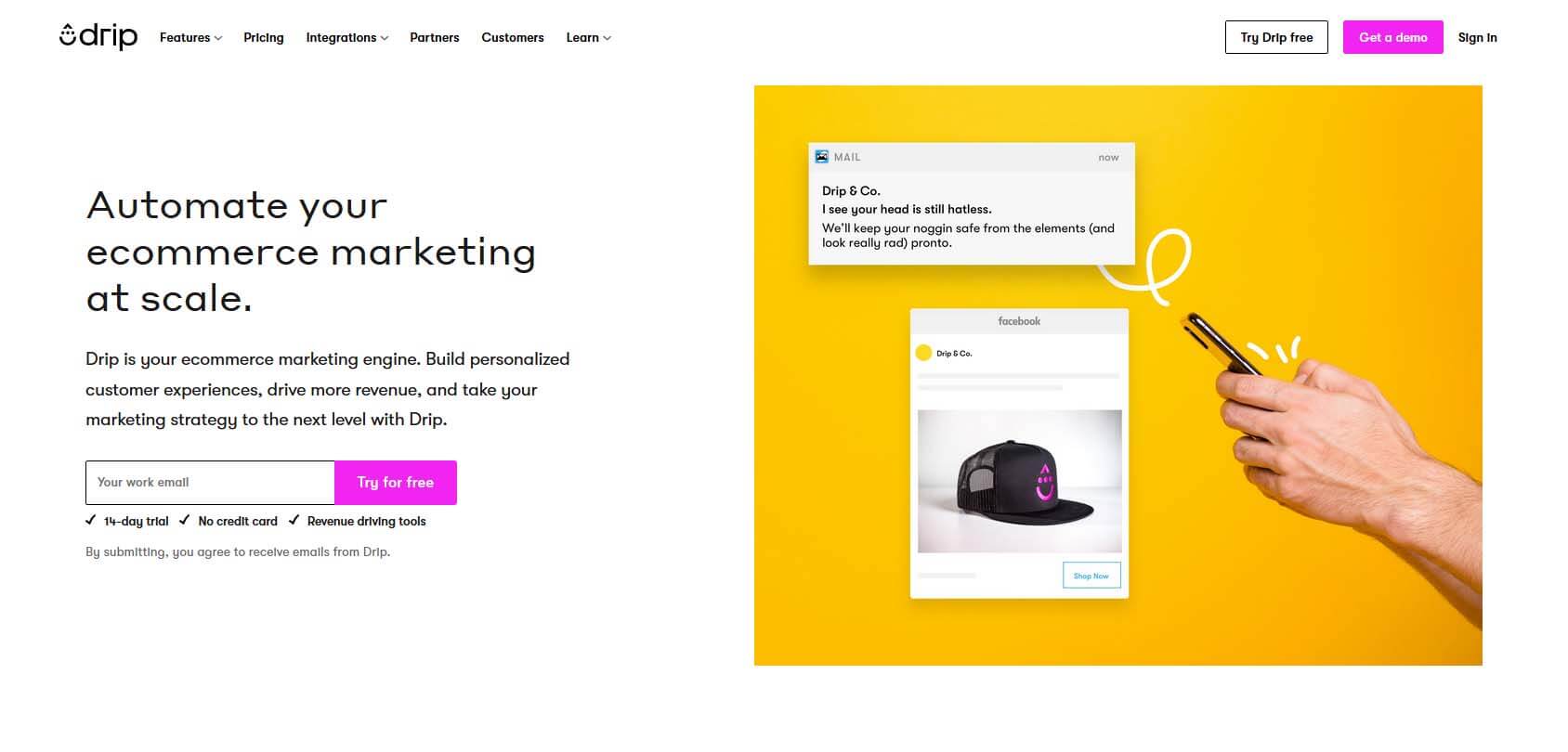 Drip is another marketing automation tool built to cater to the needs of eCommerce businesses. It is similar to Omnisend. The layout looks beautiful and comes with a number of settings and features. Thanks to Drip, you can automate all of your marketing processes, even the ones that are completely customized to meet your unique marketing goals.
With their analytics and reporting features, you can gauge your marketing performance. Drip puts you in a position to map the customer journey for all customers and act on it. You can also personalize your emails and messages for contacts no matter where they are in the funnel.
Key features
Customer data – detailed data, tags, custom fields, and integrations.
Personalization – deep segmentation for highly personalized content.
Automation – Use automated messages to reach out to your customers.
Multi-channel touch points – email, Facebook, Instagram, integration with SMS.
Optimization – insight dashboard, auto revenue attribution.
A/B testing – easily perform split tests to optimize your approach.
Pricing and plans
Drip features variable pricing depending on the number of users, from $19 per month for 100 people on the account to $29 for 1000 people, and up to $1599 for 140k people. There's also a 14-day Free Trial.
Variable plan
The features are the same for every price point and include deep customer insights, behavior and revenue tracking, multichannel automation, segmentation, flexible API, email analytics, the learning hub, chat, and email support, and third-party integrations.
Visit Drip for additional information >>
Prospect.io — For sales prospecting with auto-pilot mode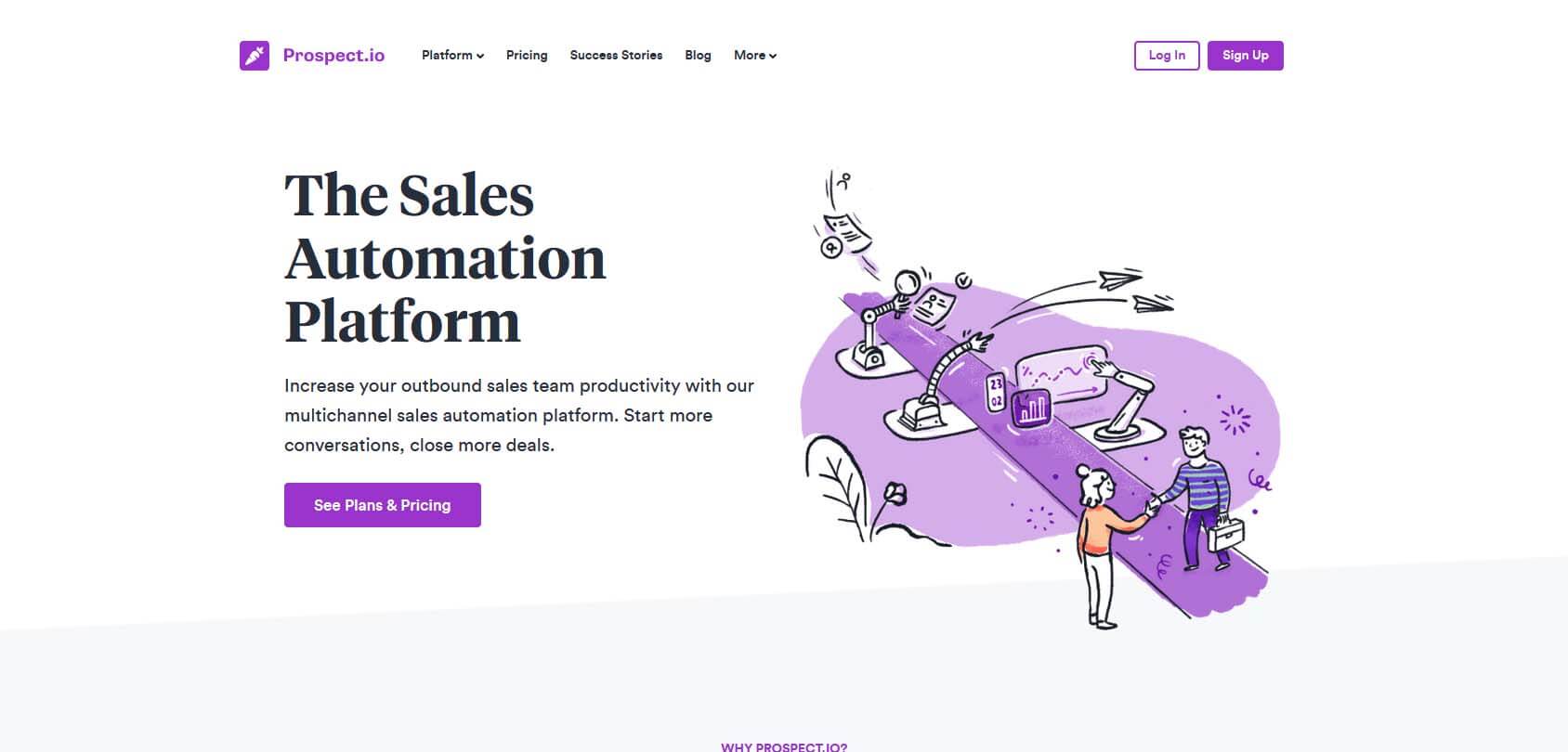 What started out as a simple Popsales Google Chrome extension back in 2015 is today Prospect.io. This is a complete sales automation platform with marketing automation as a perk. With this tool, you'll have more time to devote to your core business processes.
The platform comes with a set of tools to help you stay on top of your outbound automation. You can create multi-touch drip campaigns to engage prospects at different stages of their journey and automate personalized follow-ups for each one of your leads and customers.
Prospect.io supports integration with Slack, Zapier, Salesforce, Pipedrive, Close.io, HubSpot, and Piesync. Thanks to their browser extension, you can conveniently access the platform at any given time.
Key features
Email finder – search single prospects or in bulk.
Chrome extension – search any website, webpage, and LinkedIn.
Email search API – quickly find any email address and prospect info.
Automatic enrolment – enroll automatically based on different criteria or events.
Building blocks – create automated paths with simple blocks.
Personalization – customize your emails for each subject.
Detailed Analytics – open rates, click-through rates, bounce rates, replies.
Pricing and plans
Prospect.io comes with only one plan:
All features
With this plan, you receive access to all features, multi-channel campaigns, cold email campaigns, Linkedin campaigns, etc.
Visit Prospect.io for additional information >>
Mautic — Open-source marketing automation tool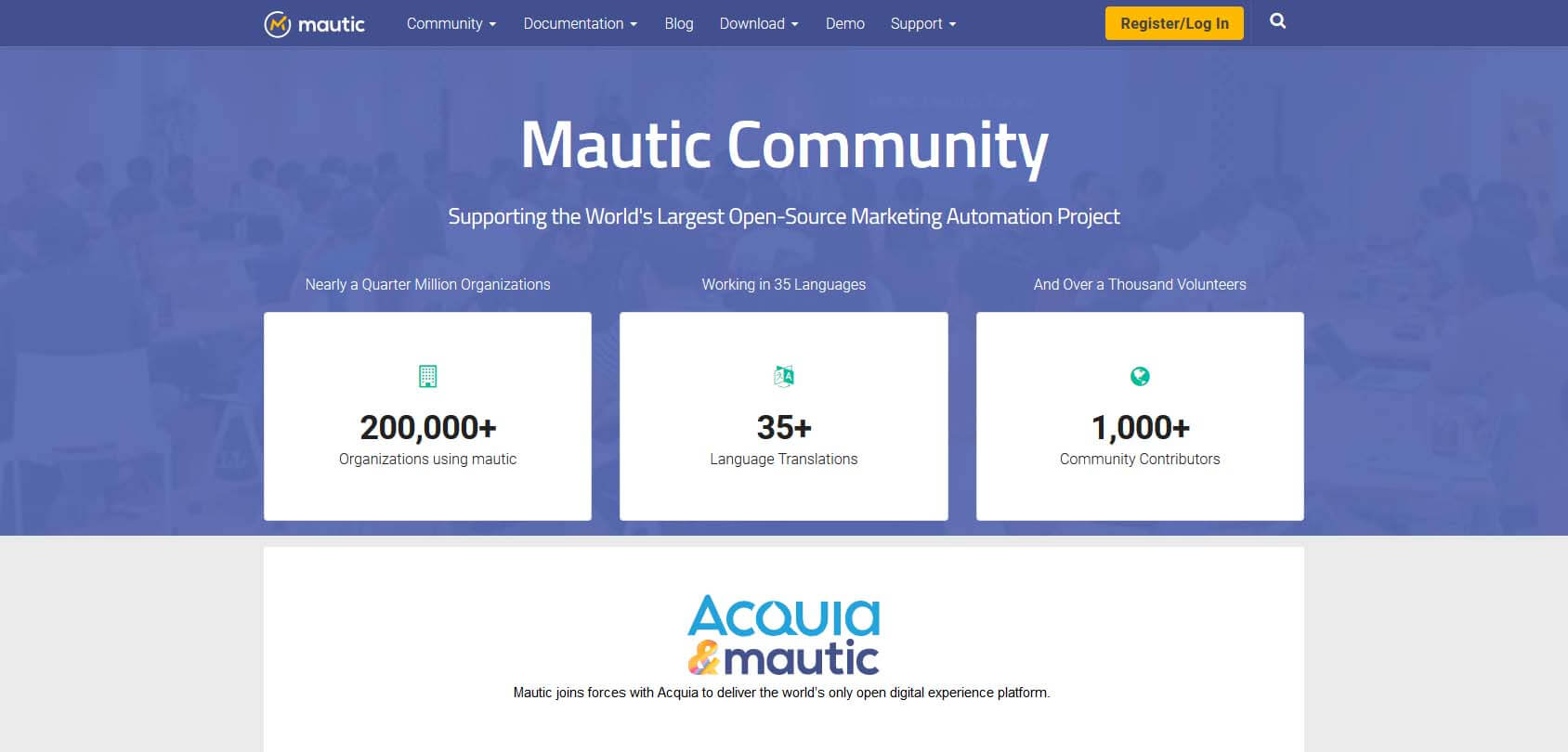 Mautic is the only open-source marketing automation software on my list. This platform started off as a small project back in 2014. Over the years, it has grown into a large platform currently used by more than 200,000 companies around the world. It comes with a lot of features, and it can be completely customized to reflect your branding efforts.
It's surprisingly easy to use, given the fact that it's an open-source solution. Mautic takes automation and makes it easy and simple. The interface is simple and intuitive. The features are easy to get used to, both the simple and the more advanced ones. More importantly, you get control of your own data, and you don't have to share it or upload it to any third-party company's servers.
Key features
Easy setup – a quick 3-step installation process.
Full control over data – no third-parties involved.
Unlimited integrations – integrate it with your CRM and any other systems.
Unlimited customization – change and customize anything you like.
Contact tracking – track all of your contacts with powerful tools.
Landing pages and forms – custom-tailored pages and forms.
Pricing and plans
Mautic is an open-source platform so it is completely FREE to download, as long as you have the system requirements to run everything.
Free
Get access to a custom landing page builder, social media integrations, campaign marketing, and dripflow programs, as well as contact nurturing and tracking.
Visit Mautic for additional information >>
Outgrow — Boost marketing with interactive content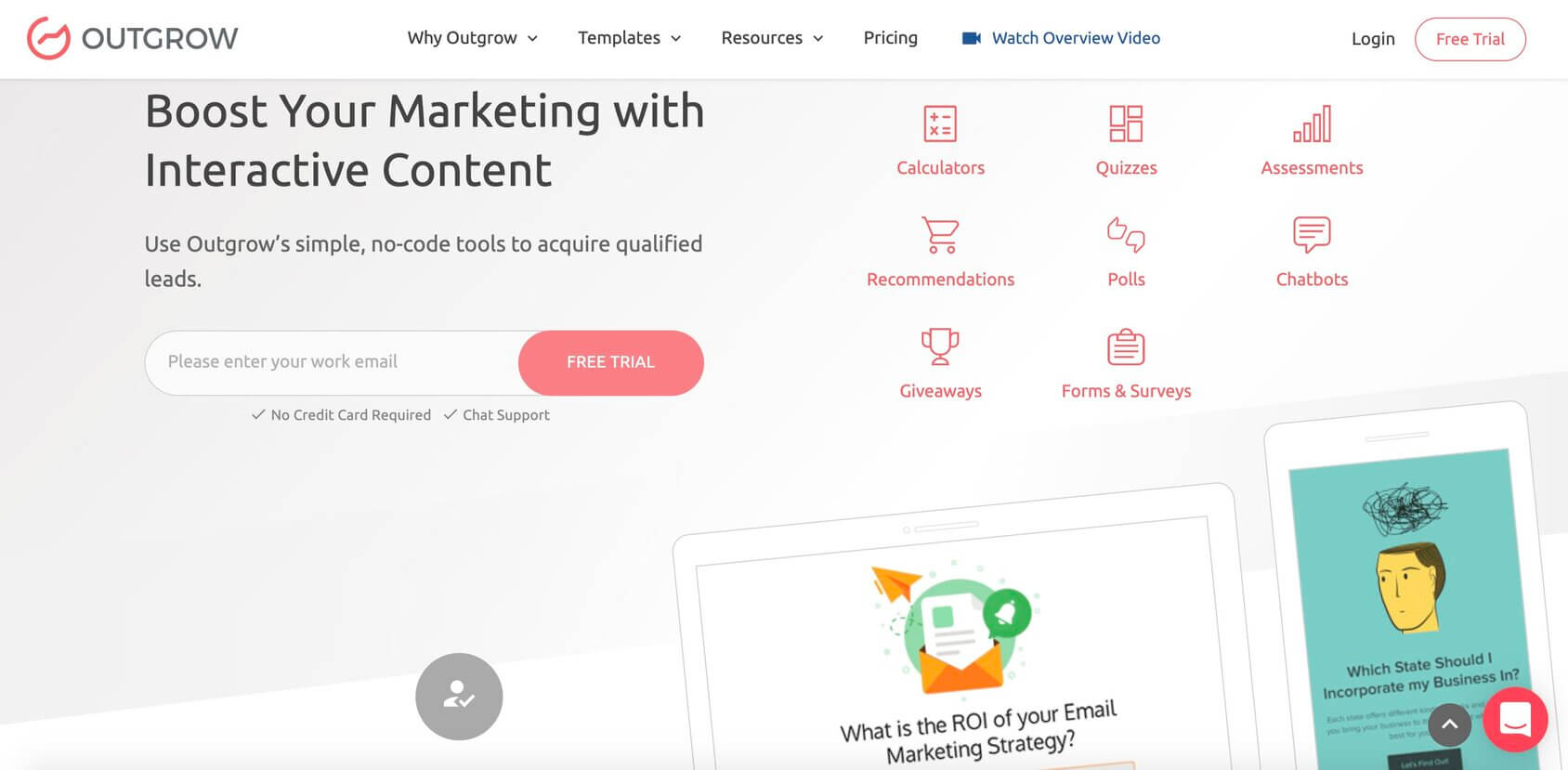 Outgrow is an interactive marketing platform that lets marketers and digital agencies create quizzes, calculators, chatbots, and assessments, polls, and giveaways to boost their marketing efforts. These interactive content types help companies generate new leads and increase their social footprint. Moreover, it can be used to engage customers. Interactive content adds value to the customers while generating valuable client information. This, in turn, can be used to nurture and segment the leads generated.
Outgrow's interactive content can be used to generate viral traffic and increase high-quality leads and conversions.
Key features
Lead generation – Gather and nurture qualified leads by creating viral interactive content.
Lead segmentation – rich customer insight allowing for better customer segmentation.
Dynamic landing pages – build interactive webpages for more engagement.
Extract intelligent analytics – analyze and optimize marketing campaigns.
Integrations – integrate with 1000+ marketing tools.
Automate marketing processes – with forms, polls, and chatbots.
Pricing and plans
Outgrow offers four plans to its users – Freelancer, Freelancer Pro, Essentials, and Business:
Freelancer
$22 per month

$14 per month


billed annually
This plan offers one interactive content type- the Quiz. The number of leads that the user can gather is restricted to 12,000 per year. The user can make up to 5 content pieces live. Moreover, the user can make use of 3 premade templates and layouts.
Freelancer Pro
$45 per month

$25 per mont


billed annually
This plan offers up to 3 interactive content types – Assessments, Calculators, and eCommerce recommendation quizzes. The number of leads that the user can gather is restricted to 12,000 per year. The user can make up to 6 content pieces live. Moreover, the user can make use of 4 premade templates and layouts.
Essentials
$115 per month

$95 per month


billed annually
This plan offers all the interactive content types allowing for unlimited content pieces and all templates and layouts. The user can gather up to 90,000 leads per year. It allows up to 3 team members with standard integrations and limited access to advances features. The Essential plan offers full access to logic jump features and formulas.
Business
$720 per month

$600 per month


billed annually
The Business plan offers all the interactive content types. A user can gather 600,000 per year and have up to 10 team members. This plan also offers full access to charts, tables, and graphs along with full access to formula, logic jump, custom branding, and advanced features.
Visit Outgrow for additional information >>
Pardot — Best B2B marketing automation platform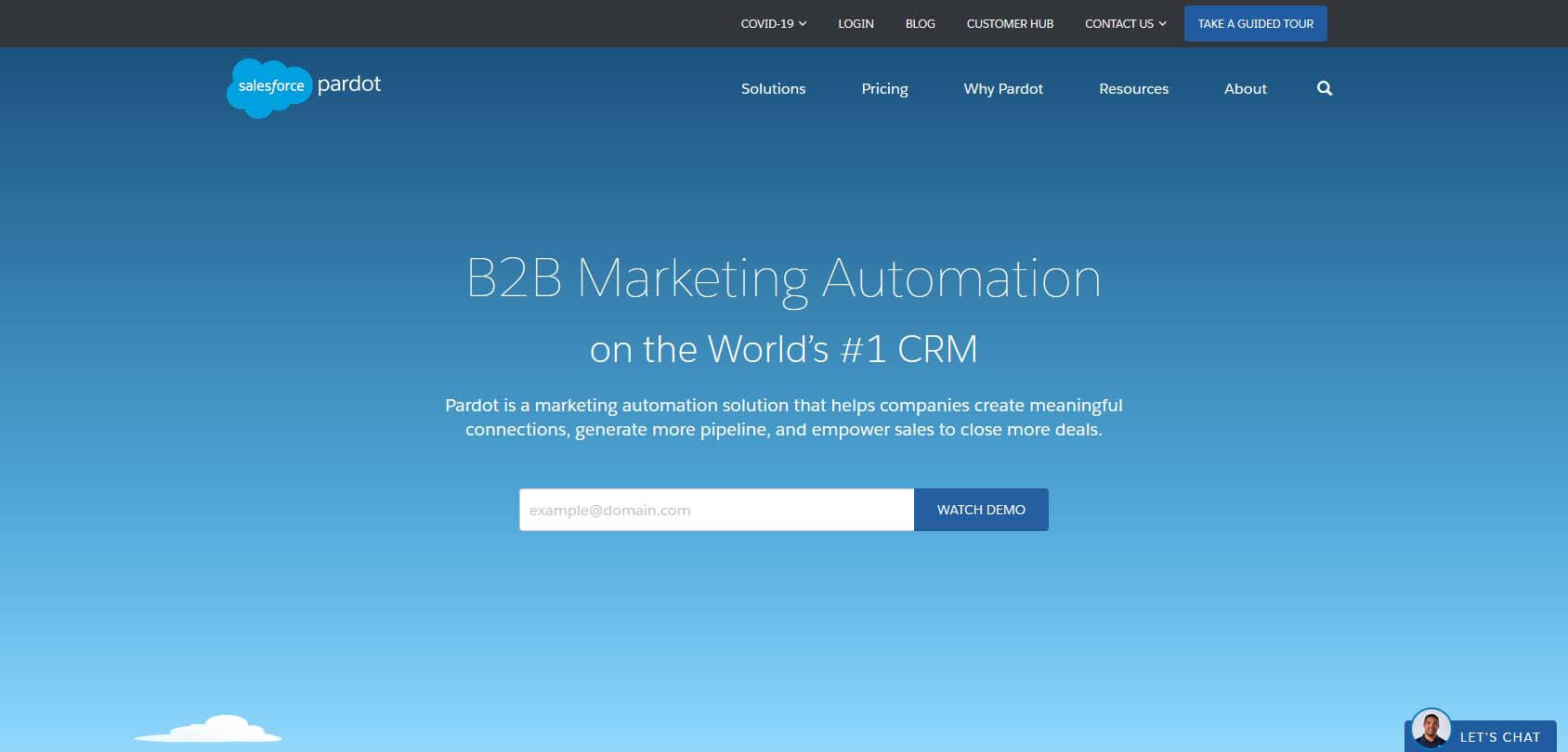 Pardot is a part of the SalesForce cloud suite. It is a cloud-based marketing automation software built for big enterprises. This tool is robust and comes with so many features and settings. It's definitely not something a beginner should get involved in. If you have an experienced marketing expert on your team, you can do wonders with Pardot.
Pardot comes with advanced B2B automation functionality. The tool also allows you to automate communication with your clients across the digital pipeline. Pardot comes with smart lead generation features, enabling you to create and use custom forms and landing pages.
Key features
Streamlined lead management – lead nurturing, qualification, segmentation, etc.
Smarter lead generation – landing page builder, smart forms, SEM and SEO, social posting.
Easy email marketing – email builder, personalized messages, and optimized sending.
Sales alignment – real-time alerts, campaigns, activity tracking, and CRM integration.
ROI Reports – ROI, lifecycle, and advanced email reports.
AI Insights – Pardot Einstein behavior and lead scoring, campaign insights.
Pricing and plans
Pardot offers four well-rounded plans to its users – Growth, Plus, Advanced, and Premium:
Growth
$1,250 per month, paid yearly
At the basic level, you get up to 10k contacts, 50 forms, some integrations, landing pages and automation rules per month, landing page testing, the marketing calendar, email A/B split testing, engagement programs and lead nurturing, prospect tracking, lead scoring, 100 MB file hosting, and unlimited email marketing.
Plus
$2,500 per month, paid yearly
Plus brings you all of the perks of the Growth plan, with the addition of unlimited forms and landing pages, advanced dynamic content, 100 automation rules, multiple scoring categories, social profiling and lookups, all integrations including Google AdWords, 10 SSL vanity domains, 500 MB file hosting, and 25k calls per day.
Advanced
$4,000 per month, paid yearly
With this plan, you have all of the benefits of the Plus plan, as well as 150 automation rules, 10 GB file hosting, 100k calls per day, custom object integration, custom user roles and permissions, 20 SSL vanity domains, two business units, and two developer sandboxes.
Premium
$15,000 per month, paid yearly
The premium plan has everything found in the previous ones, plus up to 75k contacts, 5 business units, 5 developer sandboxes, and access to Premier Plus.
Visit Pardot for additional information >>
Marketo — Robust tool for nurturing leads on the go
Marketo wasn't always a robust marketing automation tool. It started off as a compact tool to help marketers automate their day to day tasks to achieve better results. Over time it has evolved into a complex tool. Recently it was acquired by Adobe. Today it's a part of Adobe's enterprise marketing cloud solution.
Marketo delivers a powerful synergy when paired with Adobe Target and Adobe Analytics. Since it's a robust tool, Marketo is more suitable for enterprise customers. The pricing point of its plans also puts it into the "marketing automation software for big enterprises" category. Marketo drives measurable results thanks to the features that give you the power to automate data-driven marketing campaigns.
Key features
Email marketing – connect and build relationships with customized emails.
Lead management – entice, nurture, and deliver quality leads to sales.
Consumer marketing – reach out to customers on every channel.
Mobile marketing – build winning mobile campaigns.
Revenue attribution – examine each customer interaction, find the highest ROI.
Personalization – engage your visitors by customizing your content.
Pricing and plans
The pricing on all plans is variable, determined on a case-by-case basis, so you will have to contact sales to get a quote. The basic plans include – Growth, Select, Prime, and Ultimate:
Growth
The Growth plan offers a number of perks, including 25 users, daily API calls, custom data and object fields, audience segmentation and targeting, advanced dynamic content, personalization, campaign and journey automation, email and social marketing, the marketing calendar, landing pages, and forms, SEO, reporting, attribution and ROI dashboards, and secure domains.
Select
This plan includes all of the perks found in the Select plan, with the addition of website retargeting, target account management, predictive content and audiences, website personalization, and advanced journey analytics.
Prime
The Prime plan incorporates all of the features of the previous plans, plus email deliverability, sandbox, and Tier 1 premium multi-touch attribution.
Ultimate
The Ultimate plan allows you to manage multiple brands and sizable teams globally. You'll have to request information based on your need through an online form.
Visit Marketo for additional information >>
How to choose the right marketing automation software
Choosing the right marketing automation software isn't an easy task. Yes, you have to identify and define your current business and marketing needs and goals, but that's only one part of the process. You also have to futureproof your organization with your chosen solution. This means that you have to forecast your business growth and developments in your target market.
While this sounds like an impossible task, there are a few tips and tricks that can empower you to make an informed decision. To help you make a smart choice, I've put together a checklist. You can use it anytime you consider investing in a marketing automation tool.
Company size matters
You've probably noticed us mentioning things like "this product is built to cater to the needs of small businesses, eCommerce companies, or big enterprises" in each one of the automation software descriptions.
I included this information because it's a very important factor to consider when looking for a perfect software fit for your organization. For instance, if you are running a small company, why invest in features that you will never use?
The price and additional costs
The pricing policy is another thing to pay close attention to. Features are usually locked behind the next, more expensive subscription plan. Consider your options and take your potential business growth into consideration.
Having the ability to subscribe to a new plan and get access to more features when you need it is a great thing. The option to back down to a cheaper plan is also an option that can help you save cash when you don't need to use certain features.
Scalability
Most of the popular marketing automation tools are sold as software as a service except Mautic, which you can download and run on your company servers. Your current business size and operations aren't set in stone.
It's a smart choice to invest in a scalable solution that you can continue to use, whether you scale up or down with your business. Making a switch to a brand new tool when you need to focus on core business processes can slow you down and make it harder to capitalize on a new opportunity in the market.
The set of features
Marketing automation encompasses various actions. Each one of these actions reflects very specific features found in marketing software. When choosing the right tool for your company, you need to be aware of your marketing efforts to choose the perfect tool for your company's needs.
I can classify all tools into three categories. In the first one, we have tools that are channel-specific. These will enable you to automate your email marketing, for instance. Then, we have middle and bottom-funnel tools that incorporate features for lead capturing as well as automated messaging. And, finally, we have full-funnel tools with features ranging from leveraging SEO to analytics and reports.
Ease of use
When adopting a new piece of software, you always have to take into account ease of use. Ease of use stands for how easy it is to implement and use your new software. Easy-to-use tools come with a clean and intuitive UI.
With an easy to use tool, you will significantly shorten the onboarding time and be able to benefit from all of the features in a shorter time frame.
Customer support
No matter how well you prepare for your new software adoption, some problems will emerge. That's why you need to have access to customer support 24/7/365. Many marketing initiatives are time-sensitive.
Being able to contact customer support and resolve your issues in a timely manner will help you in achieving your marketing goals efficiently, even if you face small hiccups.
Security
Since most of the marketing automation tools are cloud-based, all of your sensitive data will be stored on remote servers. You should always take the time to see which security measures the company has in place.
Keeping your data safe and secure is paramount, especially in this scenario, because you are handling the personal data of your clients and customers.
API
API is a huge thing in the automation world. A marketing automation solution with an open API will assist your team of IT specialists to integrate it into your software environment and enable you to benefit from all the features it has to offer.
API allows a piece of software to communicate with other tools, which can extend the automation potential, reduce the number of errors in repetitive tasks, and boost productivity across the board.
Customization potential
If you are running a specific marketing operation, you need a tool that can help you to automate it. If you choose a tool that allows you only to use pre-built automation templates, you won't be able to use it for more individual needs.
Make sure to go with a tool that allows you to customize it to your specific needs. Customization will enable you to use the tool even if you make drastic changes to your marketing processes in the future.
Best of the best
Do you find choosing the right marketing automation tool for your business very hard? Don't worry – it can be exceptionally hard when you have never used such a tool before. Below I have listed the best of the best tools. I even put them into categories based on the business size they can benefit the most.
Best marketing automation for small businesses
Small businesses operate on limited budgets. Investing in a feature-rich tool right from the start is pointless. However, finding a tool that can scale as your business grows is important. This tool can help you seamlessly launch marketing automation in your company.
Best marketing automation for mid-size businesses
Mid-size businesses can benefit from versatile marketing automation software. This software has to provide additional features and enable companies to customize automation processes. An exceptionally good tool for this purpose is SendinBlue.
Best marketing automation for enterprises
Enterprises simultaneously run very complex marketing operations. At the same time, they have to accommodate the needs of thousands of clients and customers. Such a marketing operation demands robust automation software. Marketo meets these challenging demands.
FAQs
What are the benefits of marketing automation?
Marketing automation delivers a number of benefits. First of all, it significantly reduces the time needed to complete certain processes and frees up marketers' time so they can focus on more pressing matters. You can also expect to see improved marketing cost-efficiency. You'll do more things in less time and save money on labor costs.

Automation is also applicable to marketing operations of all sizes, and you can up-scale it or downscale it should you need to. And finally, thanks to analytics and reports, you'll be able to assess the effectiveness of your marketing campaigns.
How much is marketing automation?
There are numerous marketing automation tools on the market. Each one of them has a unique pricing policy. The price of automating your marketing processes depends on the tools you choose and which tool you'll choose depends on your business size, the scale of marketing operation, and your contact list.

While SendinBlue offers a free plan limited to a specific number of emails, other tools come with various price tags ranging from a couple of bucks to several thousand dollars.
Is Salesforce marketing automation software?
SalesForce is a cloud-based software company. It offers different services, including CRM, customer service, analytics, application development, and marketing automation. The company's marketing automation tool is called Pardot.

This is a complex solution developed to help big enterprises automate and stay on top of their complex and unique marketing campaigns.
Who needs marketing automation?
Any business aiming to expand its reach and generate and capture leads needs marketing automation. Even a startup with a one-man marketing team can benefit from automation solutions.

Automation has become a best practice across verticals as it allows companies to nurture leads and deliver them to the sales team hands-free.
How do I start marketing automation?
To start with this tool, you need to choose and invest in the right marketing automation software. Then you have to integrate it with your CRM and import your entire contact list.

Once you are ready, you can create email templates for leads at different stages in the funnel and run your first automated marketing campaign. Don't forget to use analytics and reports to measure your results.
Conclusion
Marketing automation software is one of the favorite tools in every marketer's toolbox. However, choosing the right one for your company can prove to be a daunting task. If you run into any problems, feel free to come back and consult my list of the 15 best marketing automation tools. You can always go with one of the flavor-of-the-year tools I've listed out in my "best of the best" section.
Finally, don't purchase the tool as soon as you like it. Feel free to give it a free test ride if there is a trial. If there is no trial, you can watch a use case video on YouTube or try to find and read customer testimonials and reviews to help you make a final decision.