SiteGround Hosting Review 2023
Company Overview, Pricing, and Features
FirstSiteGuide is supported by our readers. When you purchase via links on our site we may earn a commission.
Read More
SiteGround Hosting Review 2023
In this overview, we will examine what SiteGround currently offers to their customers so that you can quickly analyze it and see if it is a good fit for your new site.
Who is it best for?
SiteGround hosting is best for more experienced users who will make use of all of the extra services that SiteGround offers, and who won't mind paying a few extra bucks for it.
Table of contents
Company overview
SiteGround is a popular web hosting company that was established in 2004 in Bulgaria. Since then, the company has provided a home to more than two million domains. SiteGround has also partnered with other internet giants like Joomla who offer their customers free hosting through SiteGround.
Today, SiteGround has six data centers in the United States, the Netherlands, UK, Germany, Australia, and Singapore. The company has more than 600 employees that work together in order to bring the best hosting experience to their customers.
SiteGround plans and pricing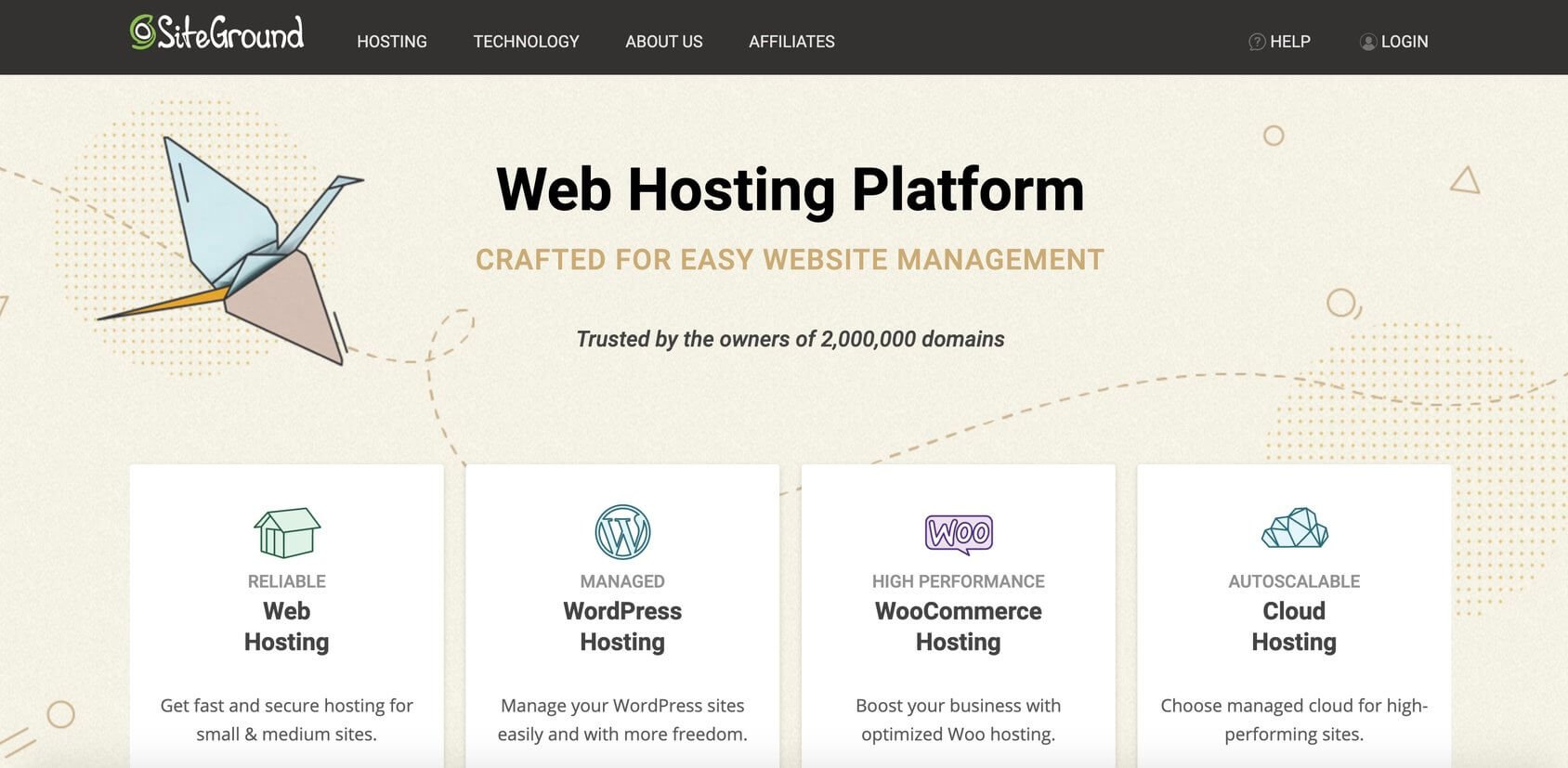 SiteGround offers several types of hosting. If you open their website, you will quickly see offers related to web hosting, WordPress hosting, WooCommerce hosting, as well as Cloud hosting.
For the purposes of this overview, I will show you what you can get with their WordPress hosting offering.
StartUp
1 website, 10GB disk space, good for about 10,000 visits per month, unmetered traffic, free WordPress installation and migration, free SSL, daily backup, free CDN, free email, WP-CLI and SSH, unlimited databases.
GrowBig
Unlimited websites, 20GB disk space, good for about 25,000 visits per month, unmetered traffic, free WordPress installation and migration, free SSL, daily backup, free CDN, free email, WP-CLI, and SSH, unlimited databases, on-demand backup copies, ultrafast PHP, staging.
GoGeek
Unlimited websites, 40GB disk space, good for about 100,000 visits per month, unmetered traffic, free WordPress installation and migration, free SSL, daily backup, free CDN, free email, WP-CLI and SSH, unlimited databases, on-demand backup copies, ultrafast PHP, staging, white-label clients, the highest tier of resources, priority support.
SiteGround key features and functions
SiteGround offers everything you could need for hosting your WordPress website. Let's discover the most prominent features and functions that the company promises to deliver:
Fast WordPress launch – the installation is fast and easy so you can start your website in no time. Then, their starter tool will help you to create a beautiful and functional site even if you're a beginner.
Smooth WordPress transfer – have a site hosted with another hosting company? SiteGround will equip you with a free tool that will transfer your site to SiteGround within a couple of clicks.
Manage and security updates – let their team of professionals handle updates for you so that your site is always up to date and ready to face the world. You also receive a security plugin that will watch over your site.
Unmatched WordPress performance – by using Google Cloud technology, SiteGround offers an extremely fast working environment along with a free plugin that will optimize your site like never before.
Dashboard overview
SiteGround comes with a custom panel that allows you to quickly and easily control every aspect of your hosting and site.
Home
The home tab holds all of the important information and connects you to the rest of the panel where you can finetune the details.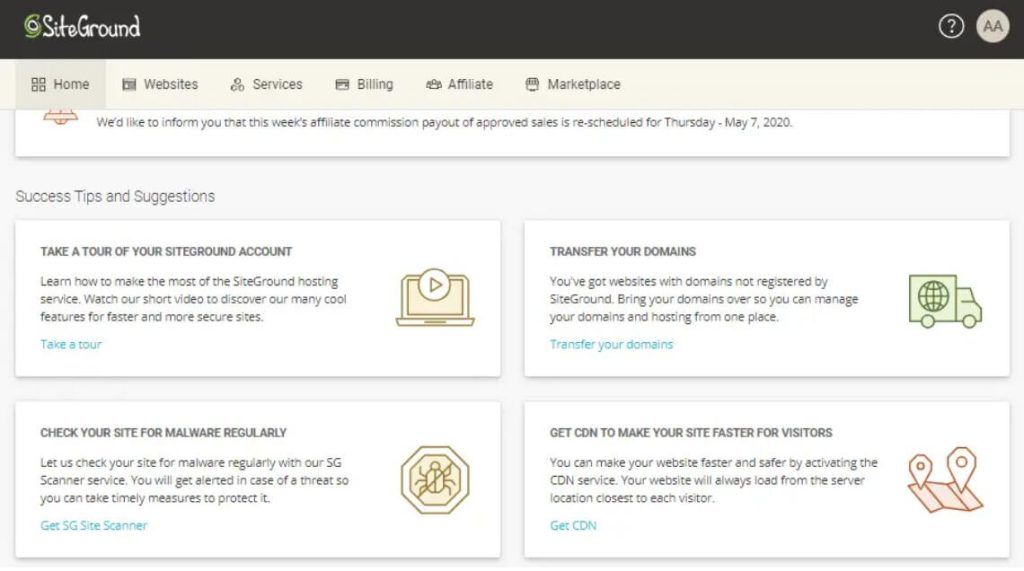 Websites
Whether you have one or several websites active on your hosting plan, you will be able to find them here. If the site was created with WordPress, you will have the "WordPress" kit button that opens all of the available tools for optimizing your WordPress site.
If you need to have more people working on the same account (a colleague or a client who needs to log in), this tab will let you manage user accounts as well, so you do not have to share account credentials.
Services
This tab will hold all of the services you have active with SiteGround. This means that all hosting plans and domains that you have associated with SiteGround will be easily found under the Services tab, where you can quickly manage them.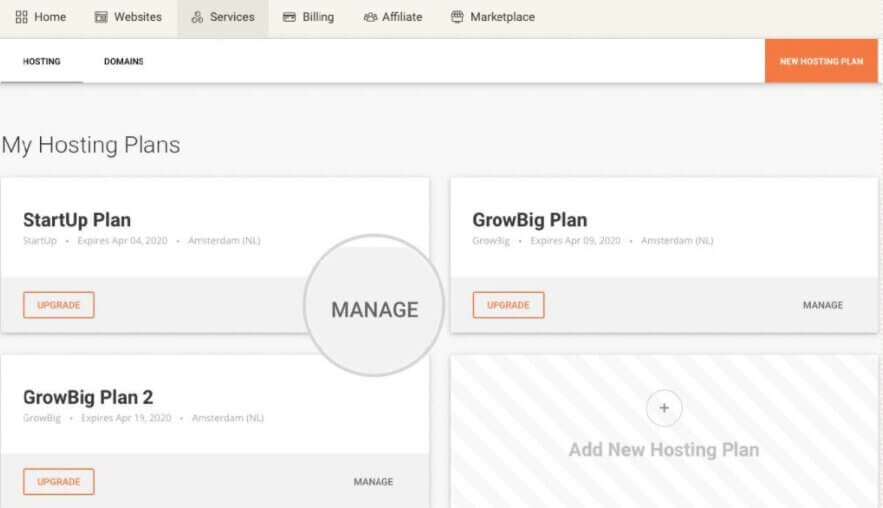 Billing
This is the place to manage your billing. Easily change account info, cancel automatic renewals, and more. If you need an official invoice, this is also the location to generate one quickly.
Affiliates
If you want to join SiteGround's affiliate program, this is the place to manage everything you need. Set up your first campaign, get your affiliate links, track conversions, and more.
Here you will also find visual assets (like banners for your site) that will help you to get started with affiliate marketing more easily.
Marketplace
If you decide to expand your current services on SiteGround, you can find everything you will need on their Marketplace. Buy new domains, hosting plans, add 3rd party services, and more.
SiteGround knowledge base and support
Their documentation center is always available on SiteGround's website, and you can access it even before you purchase a hosting plan. The knowledge base looks nice, and more importantly, is organized well. You will find the topics organized into categories for easier navigation. There's also always a search bar available at the top of the screen.
If you open one of the articles, you will realize that they are short and direct, while all of the images are on-point, so that you can quickly solve any issue by yourself.
However, if that doesn't happen, it is good to know that you can easily contact support via chat and tickets. Phone support is available as well, and the great news is that SiteGround's phone support is available 24/7!
SiteGround refund policy
SiteGround offers a 30-day refund policy for all of their shared hosting plans. However, if you purchase one of the Cloud hosting plans, the refund policy is only 14 days.
Please note that domain name fees, 3rd party services, and paid support are not refundable.
SiteGround pros and cons
Pros
Fast servers
24/7 phone support
Free daily backup
6 data centers spread across four continents
Cons
Higher renewal price
Limited data storage
FAQs
Is SiteGround only available for WordPress?
Although SiteGround does offer managed WordPress hosting, that's not the only service that you can get. There are a number of other shared and cloud hosting services available where you can install and manage any CMS, software, or service that you want and need. SiteGround also offers reseller packages.
Is SiteGround expensive?
Compared to other hosting companies, SiteGround may seem expensive. However, in this case, the higher price is justified by having better technology and extra features available from the very start.
Is a SiteGround domain free?
Unlike many of its competitors, SiteGround does not offer a free domain name even if you decide to purchase a yearly plan. You can purchase a domain through SiteGround, but you will have to pay for it separately. The cost of the domain is $17.99.
Does SiteGround offer monthly payments?
Yes, SiteGround offers monthly hosting plans. You can always change your billing cycle through the user settings available from the user control panel.
Conclusion
SiteGround is a popular hosting company that is good both for beginners and professionals. However, due to the higher price and all of the extra features and functions that it offers, it is much more suitable for more experienced users. They can take advantage of all of the extras, and will not mind paying a few extra bucks per month for it all.