Starting a food blog is not a difficult task, however daunting it may seem initially. Many food blogs are hosted by people who may be experts in the kitchen but are novices when it comes to technology.
If they can learn how to start a food blog, so can you!
Building a food blog is inexpensive and feasible no matter how old you are or where in the world you are from. In some cases, the cost of starting a food blog is less than the overall price of the ingredients involved. Food blogs are trending these days, and therefore, they have the potential to earn a steady income.
Food blogging provides opportunities to have fun, meet interesting people and hone culinary skills. A lot of people wonder how they can become successful food bloggers. This guide will explain how to make it on your own.
Four easy steps to starting a food blog
Choose your content management system (CMS)
Choose your domain name
Web hosting service account setup
Tips for successful food blogging
When starting your blog, it's easy to get discouraged by the amount of information on the internet; figuring out technical details alone can be hard. But we are here to make things easy. Let's learn how you can start a food blog ASAP.
Choose your content management system
Working with code requires a great deal of technical knowledge. But don't worry about that because these days, food bloggers can use an interactive visual interface to build, manage and add content to a blog without having to worry about the technical aspects.
A content management system caters to these specific needs of bloggers. It allows them to upload, move, resize, copy, paste and link elements of their blog. While there are many Content Management Systems out there like Joomla, Blogger, and Drupal, the most popular and widely accepted CMS is WordPress. That's why this guide will teach how to start a food blog using WordPress.
The reason WordPress has been chosen in this guide is that, since 2009, it has been one of the most popular blogging platforms in the world. It provides options for limitless creativity and offers great functionality. WordPress has a highly customizable platform that works great with food blogs and can help create a website as well. Knowing how to code and design can be a bonus, but it is not essential to building a food blog.
Choose your domain name
Choosing a name for the blog requires careful consideration. Various details have to be taken into account when naming a food blog. For example, it has to be unique and reflective of the blogger's style and personality. In addition to that, it must give a clue of what the site is all about.
Here's a quick guide to how food bloggers can fine-tune their choice of domain names:
Keep it brief. The target audience better remembers short, simple, and concise URLs of a food blog.
The uniqueness of a domain name plays an essential role in making it memorable. The name of a blog must stand out to everyone, even the ones who've never visited it.
A visibly strong connection between the name of the blog and the founder is essential to maintain consistency in the messages. Readers, viewers and the audience, in general, prefer feeling a genuine link with the personalities that run the food blogs.
Recommended tool:
One of our favorite hosts that work best for food blog domains is Bluehost. It has the option to create a new domain for FREE, use an existing one, as well as to make one later.
Web hosting service account setup
A web host is a service that keeps websites accessible 24/7 on all devices. Once the domain name is finalized, the next phase of starting a food blog is to find the best blog hosting site and set up an account with them.
Some people prefer a one-off deal for both a domain and hosting. Combining the two is the recommended way to get the best out of a hosting service and increase the feasibility of food blogs.
First Site Guide takes a particular interest in determining the best hosting services and Bluehost is the recommended option to get domain names and hosting services.
Bluehost offers a fair deal that includes a free domain name and a thirty-day money-back guarantee. This web hosting company is known as "one of the best and brightest of the hosting world" by WordPress.org. That makes it an excellent choice for any food blogger.
Bluehost is the only web hosting company recommended by WordPress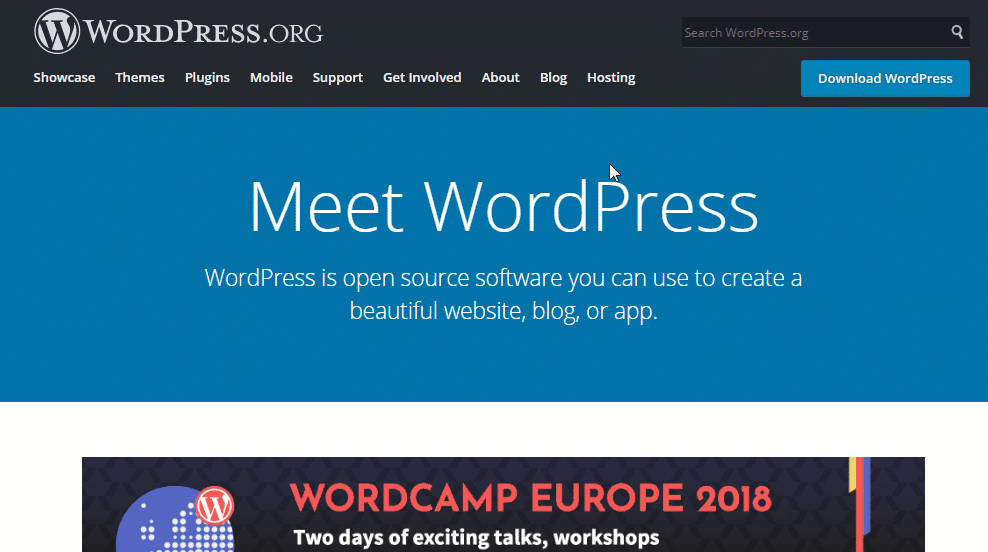 Signing up for web hosting services is a straightforward process and we have detailed it step-by-step for Bluehost.
Note: Other web hosting services may have a slightly different control panel. However, the installation process is going to be similar.
Step 1: Get Started
Bluehost offers an exclusive deal to help bloggers start the best cooking blogs. Click on "Get Started Now" on the Bluehost homepage to start setting up the blog.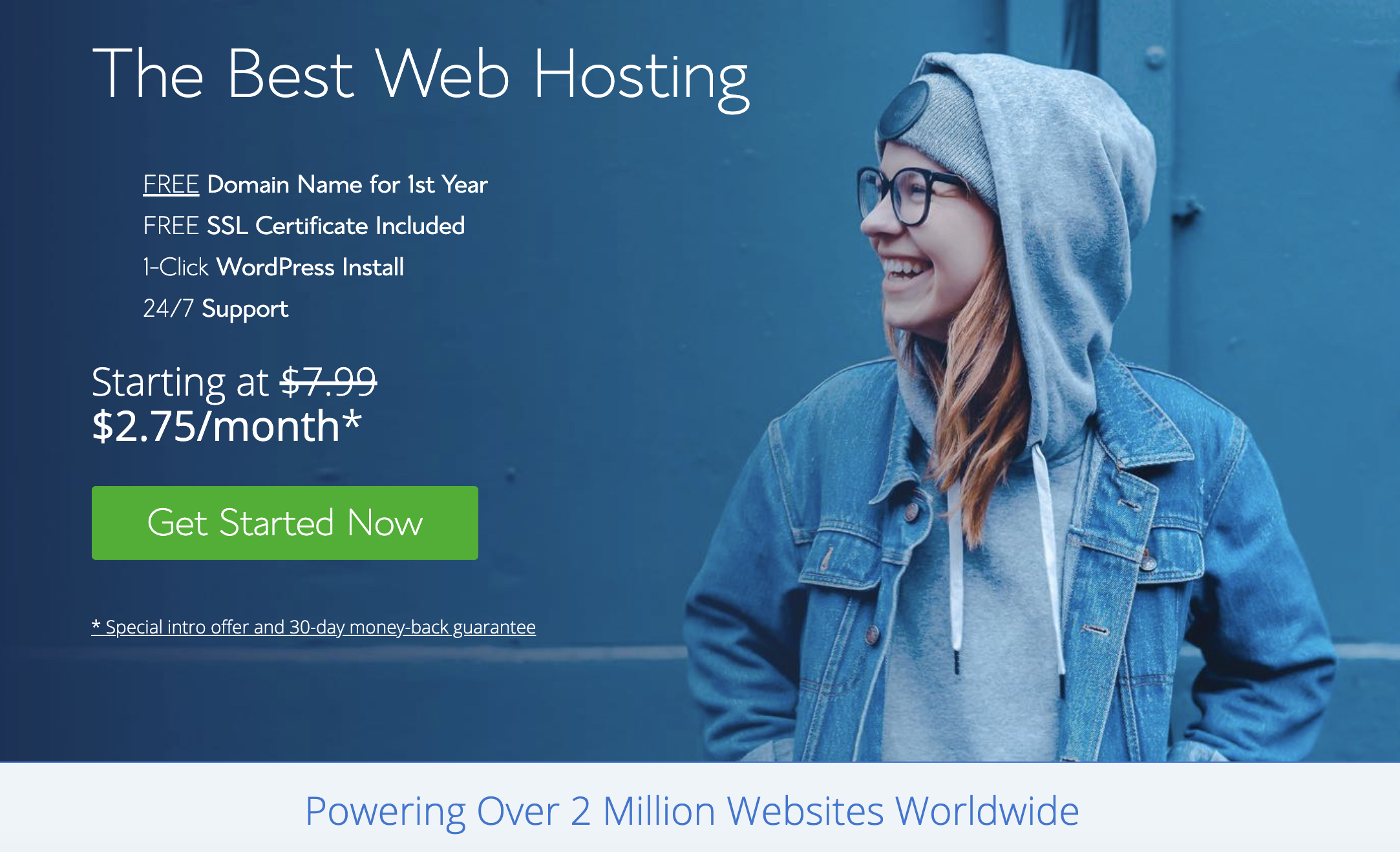 Step 2: Subscribe To The Right Plan
Bluehost provides a variety of blogging options, but beginners are better off selecting the Basic Plan. It's possible to upgrade the package later as your blog grows.
Even though the Basic Plan has a few limitations, it offers everything a new blogger may need to get a good start.
Another web hosting plan available on Bluehost is Pro Plan, which is similar to the Plus Plan but offers a better performance in comparison. This is an advanced package suitable for seasoned food bloggers.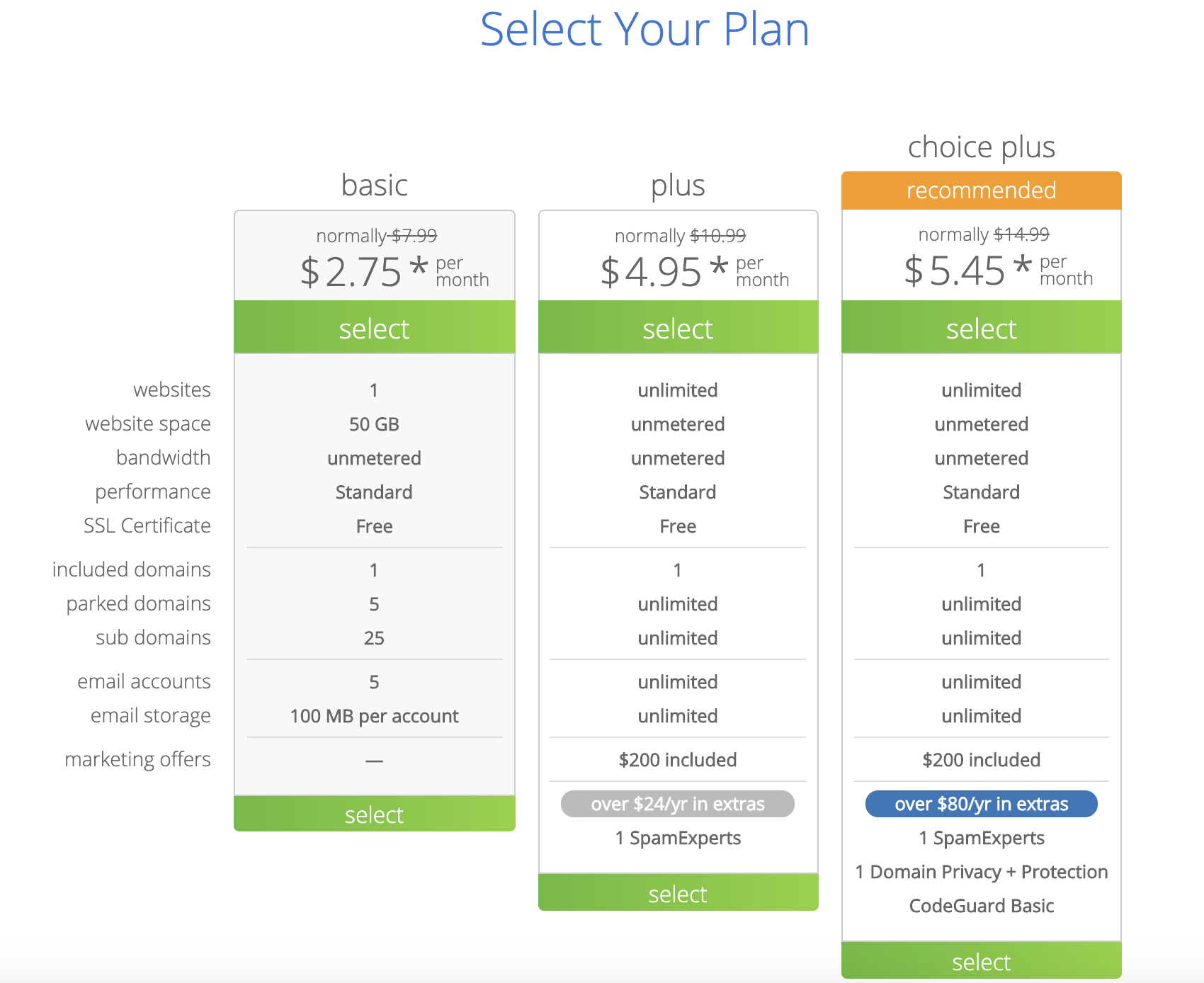 Step 3: Choose Your Domain
As mentioned earlier, coming up with a name for your blog that is creative and catchy is vital to a food blog's success. A domain name can make or break a blogger's career and Bluehost provides everything a food blogger needs to get on track.
In addition to hosting your site, Bluehost also serves as a tool that can help you come up with domain names during the registration process. Try different combinations and play around with the available options before typing the final title in the given box.
This can help you choose the best blog domains. In case the name you selected is not available, Bluehost will show you an additional list of similar domain names to choose from. Making a food blog with a proper name becomes easier with such facilities at hand.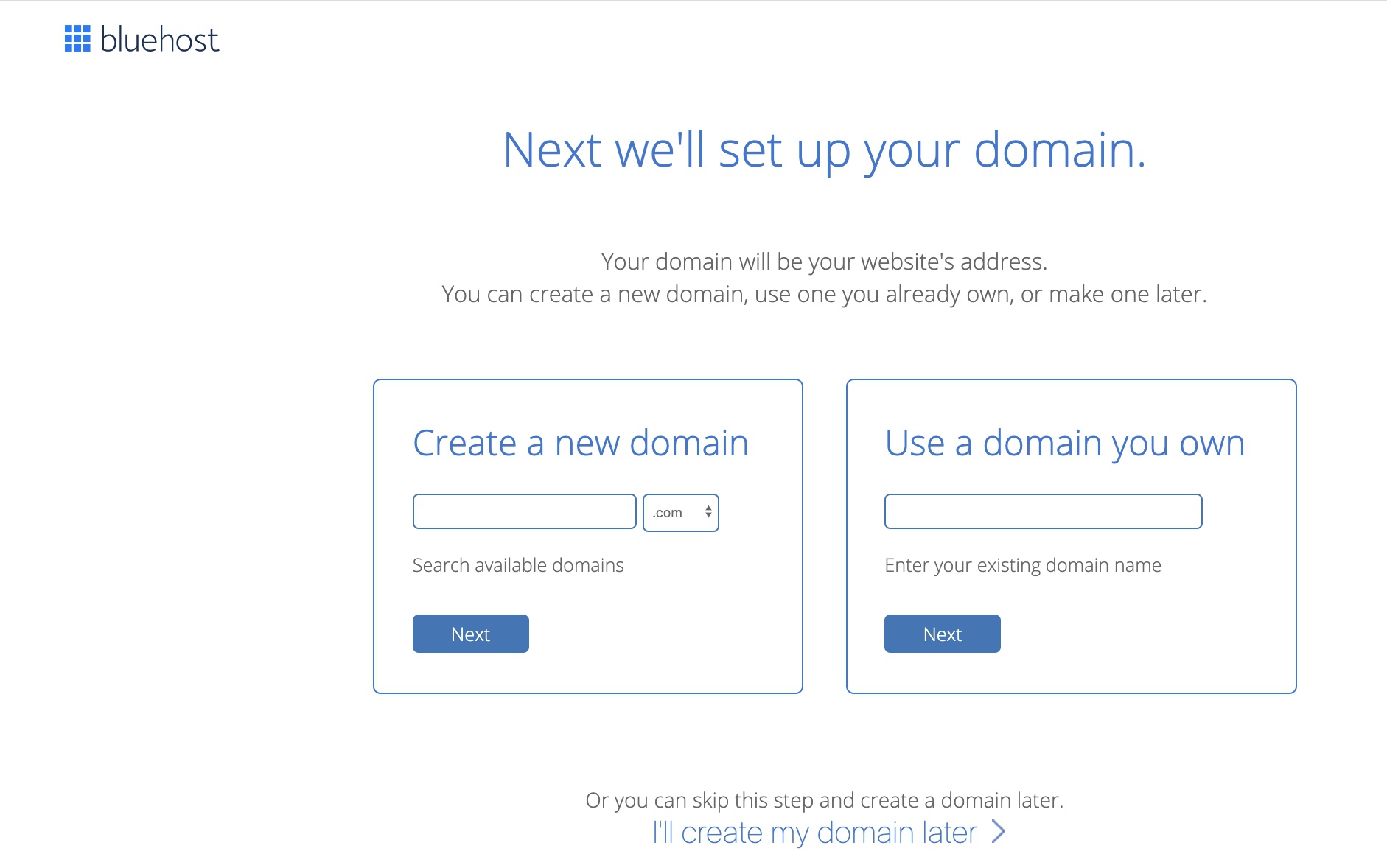 Step 4: Register Your Domain
Now comes the time to register the chosen domain name for the blog. Familiarize yourself with this form and make sure you have all the required info available readily as you set out to fill it up.
It requires the user's personal, business and billing information to set up an account. Bluehost guarantees the safety and privacy of shared information so you can provide the banking info without worrying too much.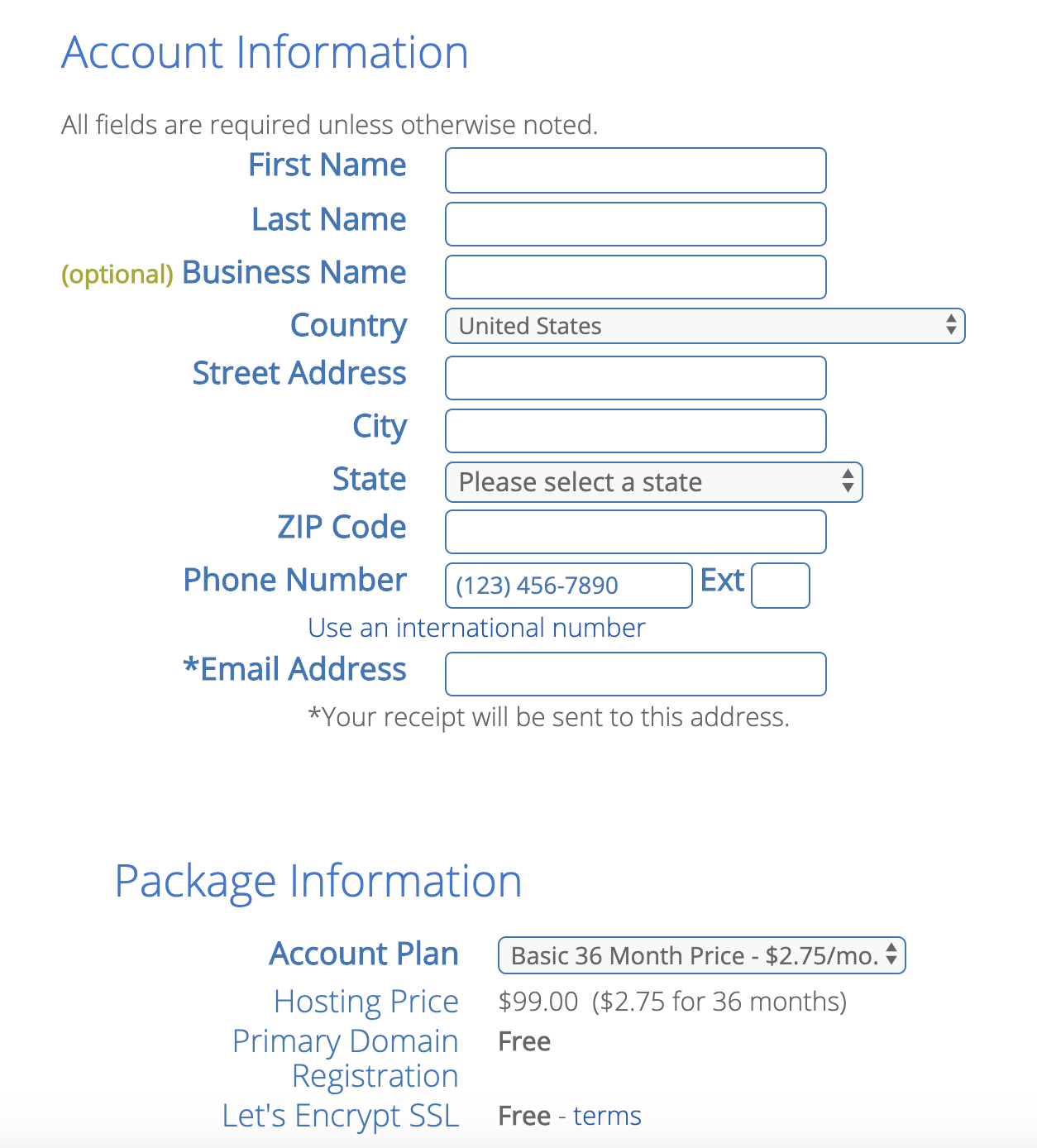 Step 5: Payment
Budgeting is an integral part of learning how to start a food blog.
The 12-month package is the lowest-priced option to set up a blog. However, for the food bloggers looking for a long-term commitment, the twenty-four-month and thirty-six-month packages are the more economical options. The longer a package, the lower it costs monthly.
It is not mandatory to select the package features at this point; a blogger can leave the boxes empty for now, and return to the page later when in need of the new features for their food blog.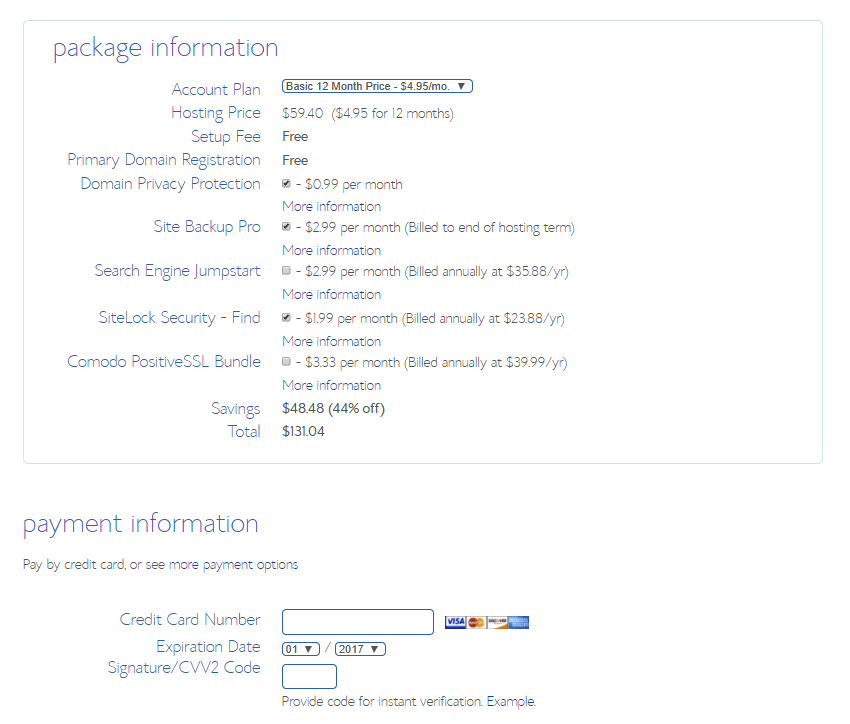 Check the "Terms and Regulations" box and return to the Bluehost homepage. In the upper right corner, there is a login button. Enter the domain or username and password. After logging in, find the WordPress icon and click "quick install." Credentials will be sent via email shortly after that.
Step 6: Set A Password
The next step on how to start a food blog is to create a strong password that is not easily cracked. This can prevent cyber-attacks and breach of privacy.
A secure password is at least eleven characters long and contains symbols, numbers, uppercase, and lowercase letters. Once the password is created, click the "Terms and Regulations" and then click "Next."
Step 7: Log In
After confirming the password, the page will present a message of successful password creation and show a login button. Click on it, and enter the username or domain, and the password to log into the account.
Step 8: Select Your Theme
Once logged into the account, a page will appear displaying multiple themes for a food blog. Bluehost provides a variety of default WordPress themes, all of which have the potential to make a blog visually appealing.
These themes can always be changed later on, so the decision made here has no permanent effects. One can always pick another theme from WordPress.org theme directory.
Step 9: Start Building
Once the theme has been selected, it is time to start building the food blog. Log in to the WordPress dashboard, click on "Start Building" and proceed.
Step 10: Set Up Your Site
After logging into the WordPress dashboard, a "Welcome" page will appear with two options to choose from: personal site, and the business site.
There will be another option as well, that says "I don't need help" for cases where assistance from Bluehost is not needed to make the food blog.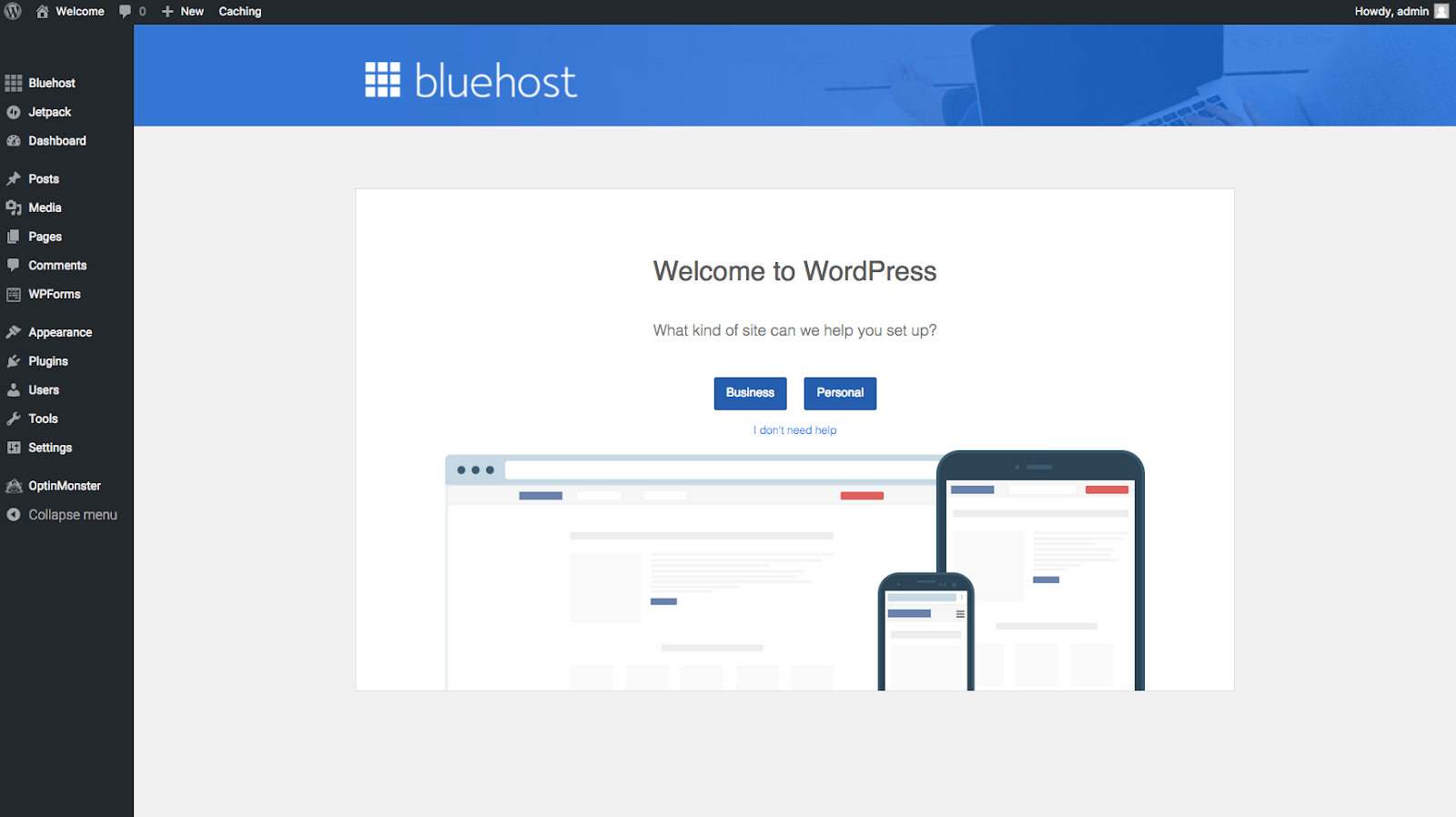 Step 11: Available Options On Bluehost For Site Creation
In case a blogger does need help from the hosting service, they offer a wide range of options to help you find the info you need. When exploring all the choices available, click "Bluehost" at the top left corner of the navigation menu.
That will lead to a page full of options with various tabs and different tools to create a food blog. Click "Launch" to create a site, and it will open a page asking for the name and description of the website. Set title and description for the visitors to see.
Congratulations!
The WordPress blog is set up and it's ready for use. The basics of starting a food blog have been covered and now it's time to set up a layout, theme, and design a food blog.
Tips for successful food blogging
When a blog is launched, there are several things one must take into account. Here are a few tips on how to make a food blog the right way:
Schedule your blogs and maintain a constant flow of posts. Be it daily or weekly, but make sure you have a predetermined content plan to abide by.
Set a tone, style, and voice that is unique to the blog. It should be natural, readable, digestible, and, most of all, friendly.
When writing a recipe, keep the title, URL link, and the name or heading the same. Refrain from inserting any additional information into these. It helps readers identify the content, and the search engines rank it higher.
Consistency is key. Do not shift directions in a piece of content. For example, many content creators often start with "instructions," then shift to "directions" and later turn it into "methods." Maintain a consistent structure so that the audience doesn't end up confused. It can affect the ranking of a blog
Make a content outline and stick to it. Divide the food blog into sections according to the subjects in the plan. And stay relevant to the respective issues while blogging for each section. For example, a recipe blog must contain content related to methods of cooking.
The ideal length of an article is three-hundred to seven-hundred words for a blog.
The use of a plugin for lists is recommended to give a better impression and clarity – be it a list of ingredients in baking blogs, or steps of a process.
Before uploading photos, it is essential to name the files correctly. If there are multiple photos to show steps or individual dishes, their file titles should contain the step, name of the meal, and the particular topic of the post.
The image of the final product being talked or taught about should be the featured photo of the post.
The use of keywords in the main tags and first twenty-five words of the article lets the reader know what they are about to read.
Avoid copying content, recipes, or images from another food blog. If a particular recipe seems appealing, it is better to try it out and give it your twist instead of risking plagiarizing content.
Topic Ideas
Writer's block is all too common among bloggers, and food bloggers are no different, they too can run out of topics to discuss.
The motivation to food blogging
To make a name for myself in the food world
49%
To have a voice so I can say what I want to say
48%
Writing is my passion
44%
In hopes of turning my blog into a job
41%
But don't worry; we came up with a few ideas to kick start that creative process. Try the following:
Revisit and remix recipes
Try seasonal and regional foods
International cuisine reviews
Restaurant, product, cookbook or market reviews
How to select the elements of a festive meal
Kitchen tips and tricks
Cooking classes, courses, and accreditations
New deals, discounts, coupons and sales
Aside from text, the use of images, videos and links can make the content more interactive, engaging and appealing.
Enticing visuals
Providing vivid images of food with recipes and other content is crucial to keeping the audience interested in the blog. Readers are attracted to appealing visuals like food photography and clear illustrations.
It is convenient to take decent pictures of food even for a novice in the field if the following advice is taken into account:
57% of Pinterest users interact with food-related content, the #1 category of content and it is the number one source of referral traffic for food blogs
Keep the lighting uniform. Avoid unnecessary shadows, blurred areas, or stark contrasts.
Clean the tabletop, and avoid adding extra elements to the background as it may distract the viewers from the main object.
Taking photos of the steps is essential but refrain from overdoing it. For example, adding one more egg yolk to the mixer need not be captured, but the general stage of kneading must be shown visually.
Mentally map out the steps that need to be photographed, and write them down as a reminder to prevent having to repeat for the sole purpose of photography.
Try to maintain consistency in visuals by keeping the focal distance and lighting the same for all the shots unless macro and micro details of the food are needed.
Keep the editing minimal. Adjust the levels and crop out distracting objects in the image.
The ideal resolution for the photos is 72 dpi. It meets the requirements of the web and does not take long to load.
Saving as .jpg or .png format works best in terms of rendering online.
In case the photos need edits after uploading to the blog, options to rotate, crop, resize and rename are available to be used directly from the WordPress dashboard.
Examples Of Best Food Blogs
Making an excellent food blog requires dedication, practice, and time.
Best Food Blogs
And if there's a need for some aspiration and direction, there's plenty to be found online. Check out these popular food blogs targeting different niches:
Best Vegan Blogs
There are vegan food blogs about vegan cooking too, such as:
Best Vegeterian Blogs
There are vegetarian blogs out there that focus on vegetarian food. Two of the best vegetarian food blogs are:
Frequently Asked Questions
Common questions asked by most people considering food blogging as a career have been addressed here.
How much does it cost to start a food blog?
Initially, a food blog does not have to be expensive. It is better to start with WordPress instead of spending thousands of dollars on a custom website.
Get hosting and domain for as little as $2.75 per month for a fantastic start to your blog.
Installation of WordPress is free, although it's a worthwhile investment to get a premium theme designed explicitly for a food blog. It saves time taken in customization of the entire theme. There's a good chance a premium theme will contain elements needed to run a successful food blog.
What should I blog about?
It is best to blog about things you love and know best. It shows authenticity, and readers can perceive the originality of the content. Genuine representation of your personality attracts the right audience and keeps them around.
It allows the food blogger to showcase their skill set and personality. Most people love stories, visuals, videos, and unique recipes.
Following content ideas can help food bloggers attract masses.
Original recipes
Restaurant reviews
Nutritional facts
Celebrity eating habits
News on food and restaurants in a specific region
Innovative tips and techniques for cooking
Avoid copying or spinning articles and recipes found online. People and search engines can sense whether the content is original or not, and it can lead to dire consequences.
How do I promote my food blog?
Promotion is a step by step process that requires careful planning and strategy. A food blogger must get to know their niche through research and alter their marketing efforts accordingly. There are several channels one can use for paid, as well as organic promotion.
Such as word of mouth, Facebook ads, YouTube channels, email marketing, guest posting, influencer marketing, and search engine optimization for certain keywords. It is vital to have a plan before starting – otherwise, it's a gamble.
How successful are food blogs?
With serious effort, food blogs can engage millions of users online and earn thousands of dollars a month.
Apart from Pinch of Yum, there are countless other success stories of food bloggers to prove how lucrative business this is. Two good examples of successful blogs are Budget Bytes and Smitten Kitchen – and these are not even the top ones.
How do food bloggers get paid?
There are many ways a food blogger can earn money. Some of those are listed below.
Join advertising networks – These allow website owners to show targeted ads to their readers. The more views a post gets, the more money it makes.
Sell ad space – Food blogs have plenty of room for ads on their pages. Selling or renting those spaces to marketers can be profitable.
Sponsored content or guest posts – People, companies, or brands might want to get featured in a food blog once it gains following. In those cases, they pay a blogger to post their content on the blog.
Affiliate programs – A blogger recommends a product or service through the blog and earns a commission for every sale made through it.
Sell a cookbook or an eBook – A popular, skilled, or experienced food blogger can become an author and sell their work through their blog.
Offer membership programs – A blogger can directly charge for access to their content on subscription bases.
Food photography – A skilled food photographers can earn through selling rights to their photos.
Invest a little bit of your time and experience in discovering new ways of earning through your blog. It is possible to find new means of making money unique to a particular blog.
How much money can you make with a food blog?
Food blogging can be adopted as a hobby or a full-time job. Results depend on the amount of time, resources, and skills the food blogger has. The more one has to invest, the higher the returns on investment.
Earning a few thousand dollars per month is not a problem for popular food blogs. Huffington Post reported that the duo behind the "Pinch of Yum" – Lindsay and Bjork Ostrom – earned $802,144.55 in the year 2016.
However, not every food blog earns that much. For example, the same duo of Pinch of Yum made only $20 in their first month. Therefore, it is crucial to bear in mind that the first few months of blogging will be an uphill struggle.
A food bog has the potential to earn hundreds of dollars per month after a year of consistent and quality blogging.
Conclusion
Now that the basics of how to start a food blog are clear, it is time to start blogging. Prepare the content, get social, and go viral – that's all it takes to start getting more traffic and monetizing a food blog.
Achieving success in the world of food blogging can boost anyone's confidence. It is an enriching experience to interact with other food bloggers, discover new tricks, and try out recipes.