Starting a food blog isn't an easy task, but as long as you're passionate about food and enjoy spending time cooking, it can be a piece of cake. All you need is some dedication, interest, and a little bit of guidance.
There are many aspects to becoming a food blogger, so it might feel overwhelming when you're first starting. But don't worry, that's why this guide is divided into nine comprehensive steps that are easy to digest and follow.
From finding your food blogger niche to finally monetizing your blog, I'll cover all of the essential steps that will make your blogging journey a breeze. So, let's get right down to it and teach you how to start a food blog that drives clicks and attracts audiences.
Table of Contents
Step #1: Start by choosing your food blog niche
The big question of the day is how to become a food blogger? Where do you start? Do you first come up with a good food blog name, or should you perhaps start browsing interesting WordPress food blog themes and start visualizing how the final result could look?
None of the above.
First, you need to find your blog niche and be very specific about it. There are currently over 570 million blogs on the internet, many of them food blogs. If your site is too broad, it might appeal to a slightly wider audience, but it will be challenging to break through and outperform the vast amount of competition.
By narrowing down on a specific niche, instead of competing with the whole of the internet, you'll just compete with a select few blogs. You'll find your target audience much more efficiently, and you'll get your followers more involved.
How do you find your food blog niche?
There are plenty of different food blog types and niches that you can get into. Vegan blogs are incredibly popular today, and so are paleo diet, keto diet, and low-carb diet blogs. While you can always go for what's currently trending, it'll be easier to go for what you're passionate about.
Whether it's a hobby or a career, your kitchen Blogspot will require effort and commitment. If you're not passionate about it, you'll quickly lose interest in it, and running it will be more challenging than it should be.
So, what are you into? Perhaps pastries are your thing, or you enjoy making the ever-so-mesmerizing realistic cakes? If you follow a specific diet, it would be a good idea to focus on it as you'll be more closely connected with the topic, which will subsequently make it easier to find a like-minded audience.
Think carefully about why you're even considering how to start a cooking blog. Consider what you want to share with the rest of the world and what inspired you to check out this guide.
Types of food blogs
If you're finding it difficult to hone in on your niche, you might want to look at all of the different kinds of food blogs and see what resonates with you:
Recipe blog (easy recipes for busy people, health and fitness recipes, quick recipes, etc.)
Sustainable cuisine
Trending food blogs (vegan blogs, vegetarian blogs, gluten-free blogs, paleo diet blogs, etc.)
Cuisine specific blogs (Italian, Greek, Chinese, French, Indian, etc.)
Food or drink tasting blogs
Cookbook review blogs
Food and travel blogs
Food photography blogs
These are just some of the examples that you can draw inspiration from. So, get creative, explore all of your options, and find a niche that's the most suitable for you.
Step #2: Pick your blogging platform
Luckily, if you want to learn how to create a food website, you don't have to start from scratch and first learn how to code. You only need a reliable blogging platform, also known as a content management system (CMS).
As its name would suggest, a CMS enables you to manage, create, publish, edit, and organize visual and written content online, so it's by far the best place to start a blog.
Our top recommendation that can suit both beginners and blogging pros is WordPress.org. WordPress is the most used CMS globally. According to information compiled by W3techs, WordPress enjoys a 63.6% market share
It powers about a third of the internet, and for a good reason. It's intuitive and easy to use, it's continuously updated to fix any issues, and its customization options are virtually endless.
But, regardless if it's WordPress.org or another platform that's got your attention, you'll have two options to choose from:
Free web hosting
Open-source self-hosted blog
Free web hosting (free or freemium plans)
WordPress.com and Blogger.com are excellent examples of free web hosting platforms. Bloggers across niches commonly use both as they offer everything you need to get started on your first-ever cooking blog. But, there are a few downsides.
While you do have access to free themes and gadgets, free versions come with significant limitations. You'll have to pay extra for choosing your domain name; you'll need to pay if you want any useful plugins and gadgets – all these costs can quickly add up.
Of course, you can go without all that extra flair and pay precisely $0 for these blogging platforms, but you'll only have access to the most basic features.
Open source self-hosted blog (free, open-source software)
If you genuinely want to be in charge of your cooking blog, your best option is going for the self-hosted setup – we highly recommend it.
You can simply download WordPress, then change and modify it as you like and customize your blog to reflect your vision.
Now, when you opt for a self-hosted WordPress blog, there are two essential things you'll need to decide on: your unique domain name and your web hosting provider. As a new food blogger, you should try using Bluehost – a company that collectively hosts over 2 million domains.
Step #3: Think of a domain name
Getting your domain name right is one of the most crucial things for running a successful food blog. If you select just any random name, you could hurt your blog traffic, ranking on search engines, SEO efforts, even your blog's reputation.
So, make sure to pick a good blog name. It should be:
Short and sweet
Unique and memorable
Easy to pronounce
Relevant to your niche
You'll need to register your domain name, which will cost you between $10 and $15 a year.
Bluehost is our top pick that works great for food or any other blog domains. You have three options: choose your name for free, use an existing one, or come back to it later.
Recommended tool:
Step #4: Choose your web hosting provider
Think of your domain name as your blog's home address. When someone's searching for you, they'll find you there.
If your domain name is your address, your web hosting provider is your blog's house. It's the place where your blog 'lives' online.
Web hosting providers are companies that can make your cooking blog accessible online. They provide servers and data centers and keep your blog connected to the internet. Bluehost is the #1 web hosting company recommended by WordPress.org
The best web hosting provider that's even recommended by WordPress.org is Bluehost.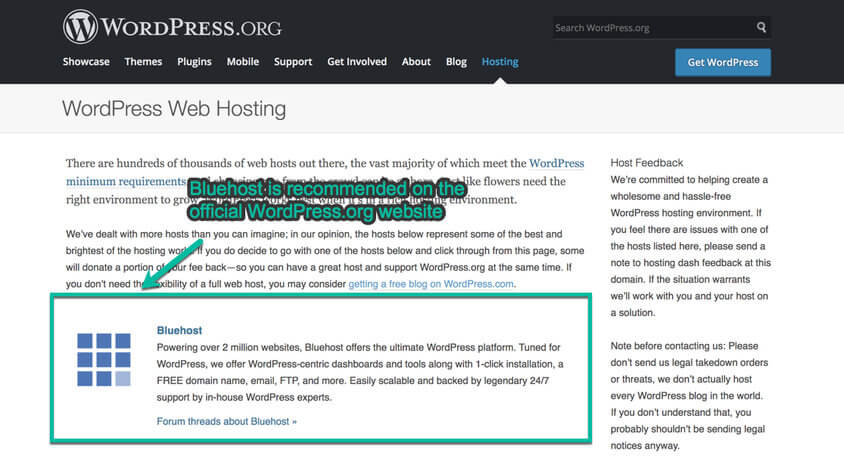 It offers a free domain name in the first year and superior hosting services with a 30-day money-back guarantee. We have a special discount price of $2.75 for our readers.
Step #5: Launch your food blog on WordPress
Now it's time to learn all of the technical details about how to start your own food blog. In this section, we'll go over the process of launching your food blog on WordPress, step by step.
Go to the Bluehost homepage!
First, you need to go to the Bluehost.com website to get started. On the homepage, you'll see the "Get Started Now" button.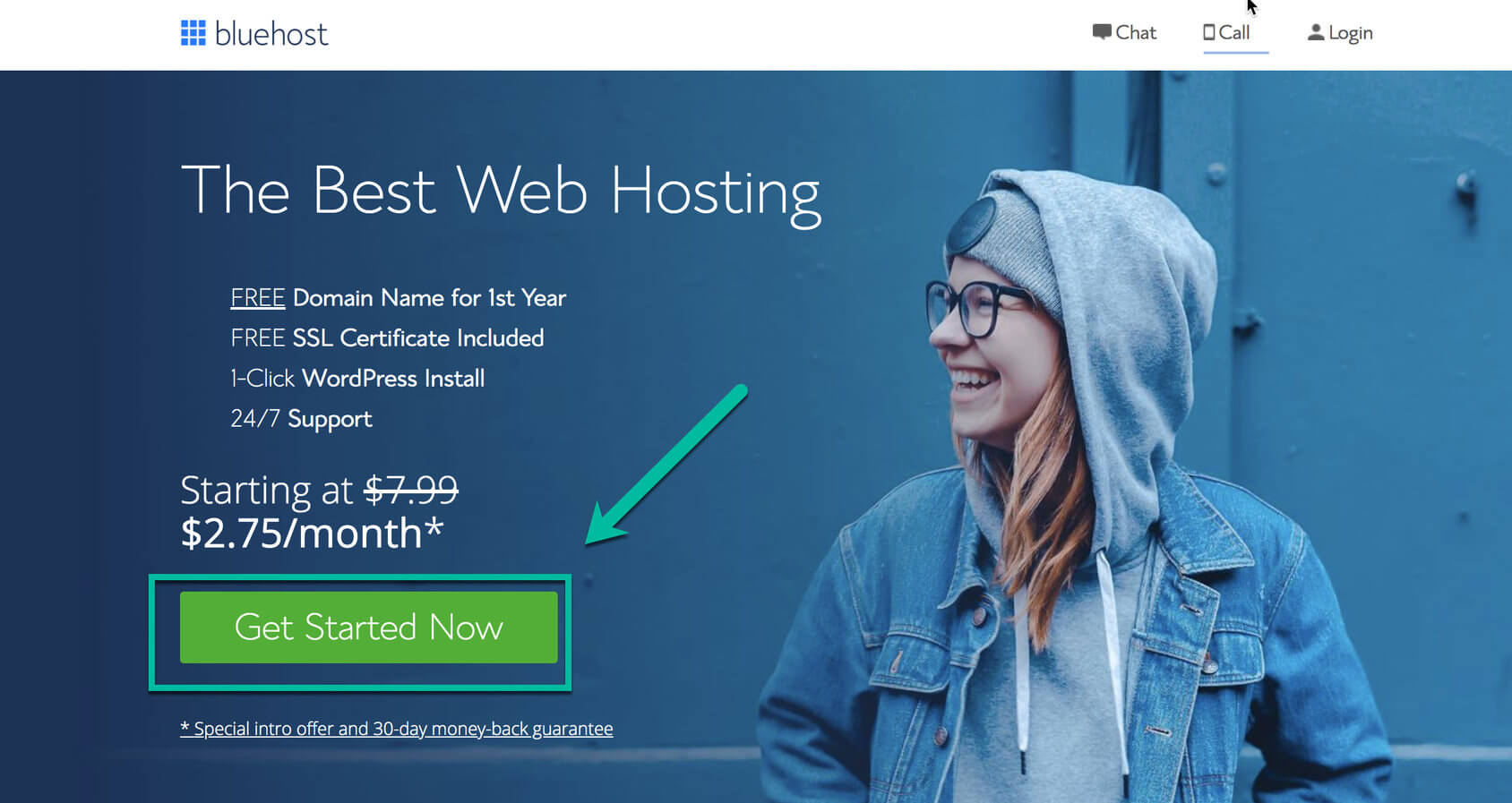 Choose your hosting plan!
As soon as you click on the "Get Started Now" button, you'll be taken to the next step. Here, you'll choose your hosting plan.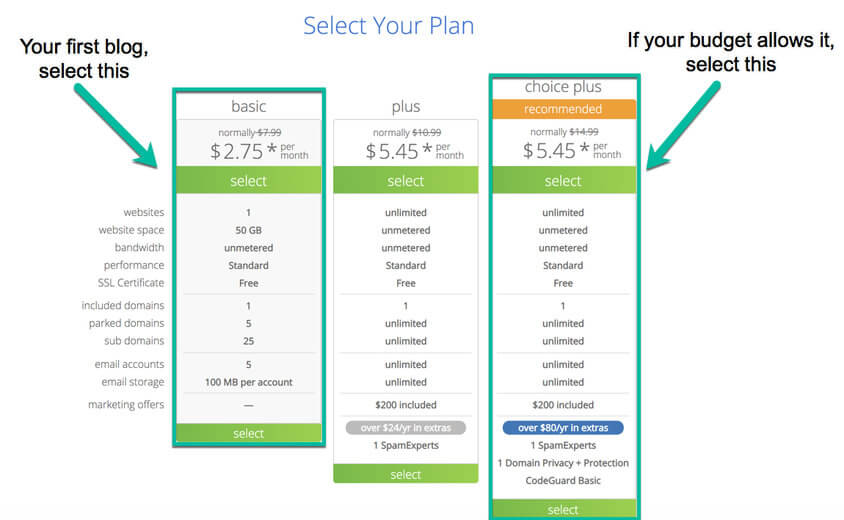 All the plans' features will be listed, so make sure to read through them to see which plan suits your needs best.
Set up your domain name
As previously mentioned, this is a highly significant step. Come up with a great domain name that will resonate with your audiences and clarify what your blog is all about. You can create a new domain name now, use your existing domain name, or temporarily skip this step and come up with a name later.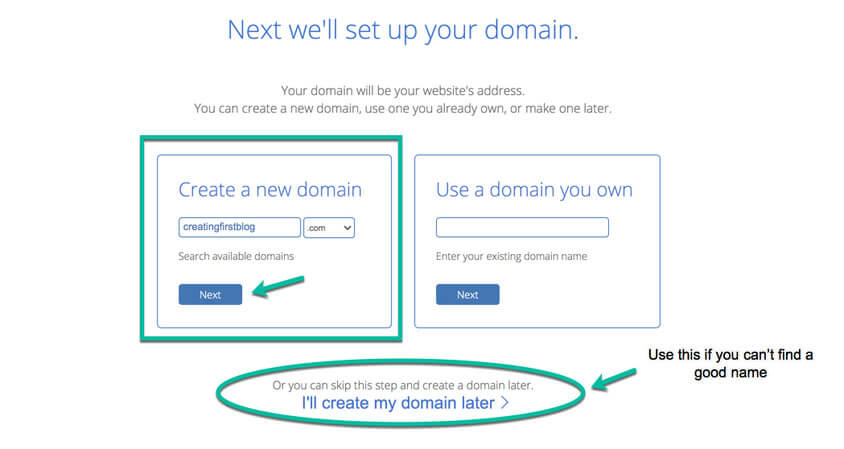 Register with Bluehost
Registering with Bluehost is nice and easy, and all you need to do is to fill in some basic information.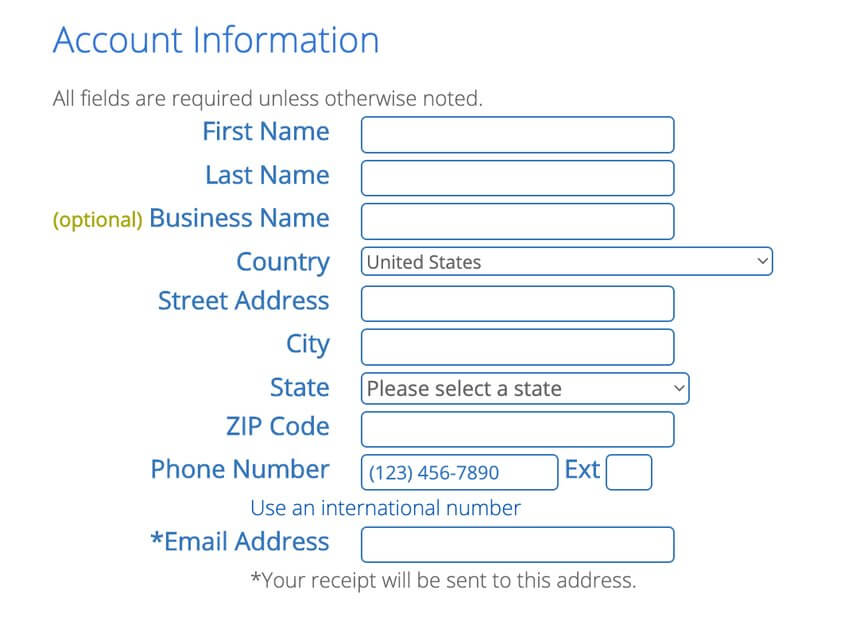 Select your hosting package
You will have the option to choose the length of your plan. You can select a 12-month plan, a 24-month plan, or a 36-month plan. The price of the 36-month plan will be the most affordable, so this will likely be the best option for your food blog.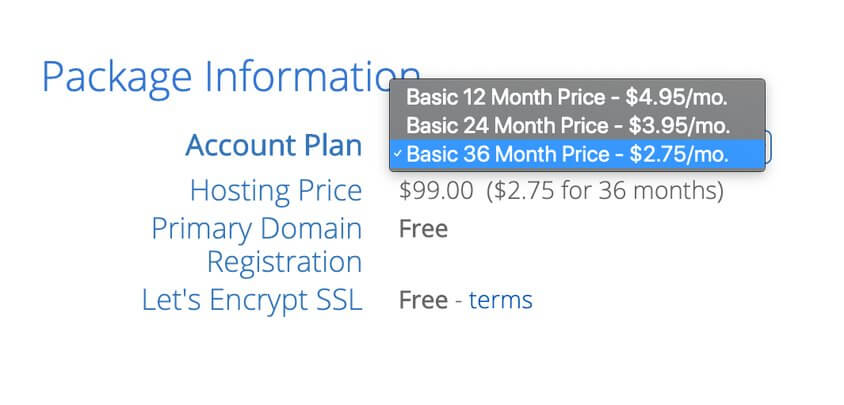 Package extras
Take a look at your package extras. Not every extra is necessary, and if you uncheck some of the extras that you don't want, your final amount will automatically be lowered.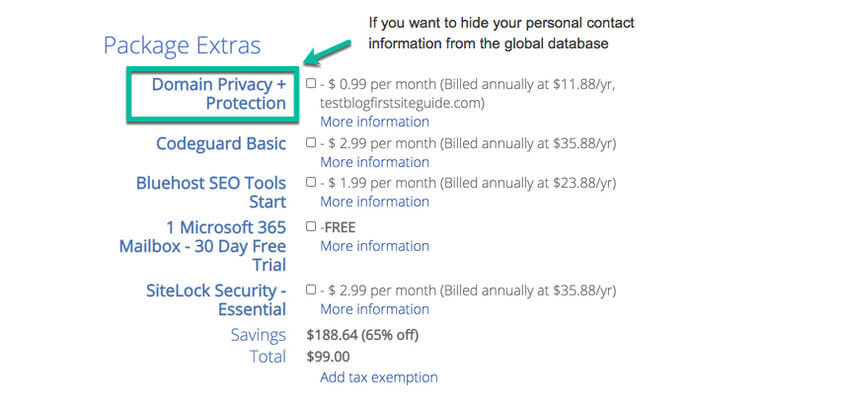 Keep in mind that you can always add extras later if you find that you need them. I do suggest that you keep the Domain Privacy Protection box checked. This service will hide your personal contact information from the global database, which is publicly visible to anyone on the internet.
Enter your payment information
Fill in your payment information, and you'll be ready to go. Read through Bluehost's Terms of Service, agree, and submit your information to create your account.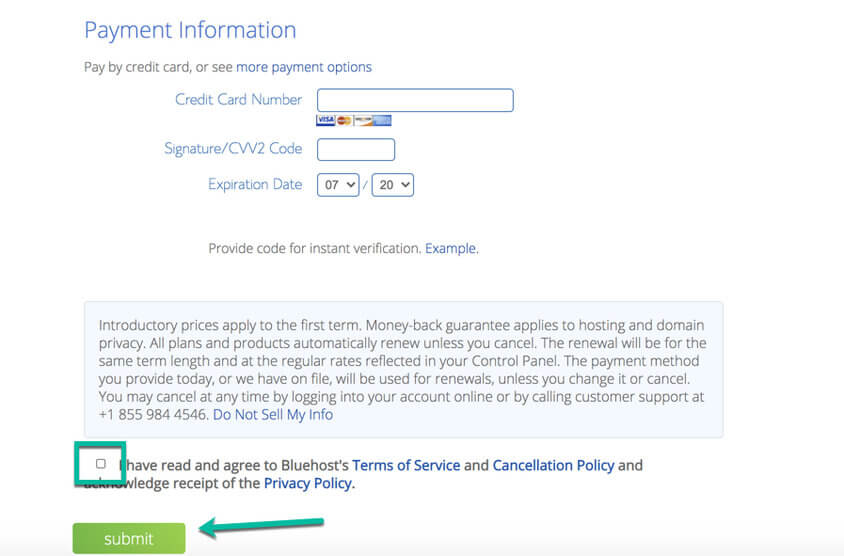 Create your account
Now it's time to create your WordPress account.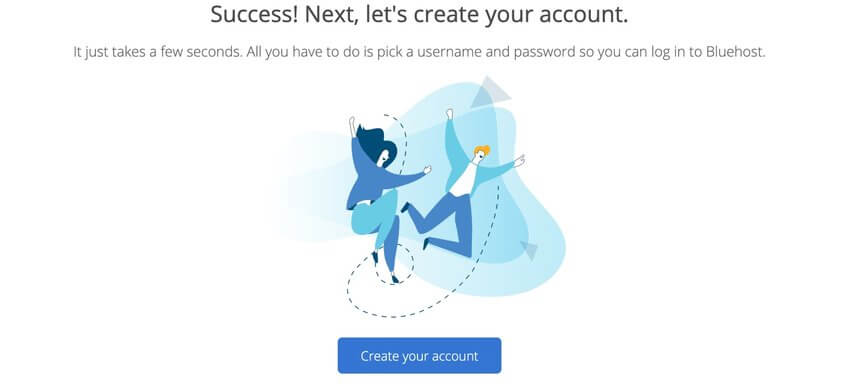 You can do so in a few easy steps:
Click on "Create your account";
Enter your password and complete the account set up;
Your account is ready to go. Click the "Go to login" button; and
Fill in the fields "Email or Domain Name" and "Password".
Great! Next, you can begin creating your food blog.
Launch your WordPress food blog with Bluehost
After you log in to the account, Bluehost offers a straightforward process with four simple steps to help you create a food blog. I suggest you go through that process if this is your first time building a blog.
You can also click the "Skip this step" button and create a blog on your own inside the Bluehost hosting account.
Step 1: You'll first need to answer several questions about your new food blog site. Explain what type of site you're creating and who you're creating it for (your target audience).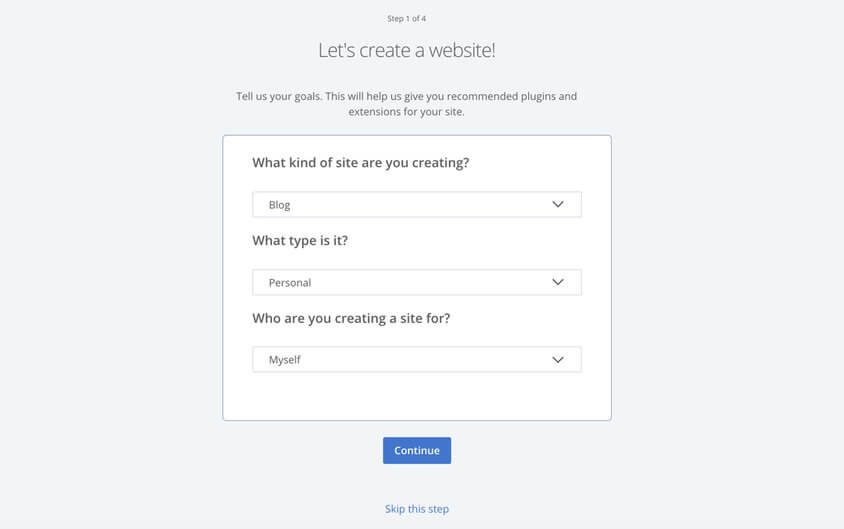 Step 2: Choose what you'd like to add to your site. You'll have several options to choose from, so consider each carefully.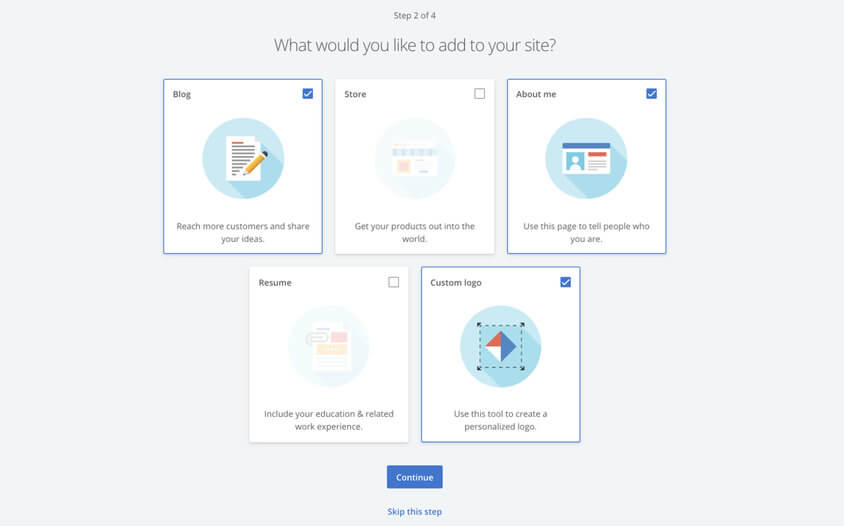 Step 3: Choose the name of your site and its tagline. Consider these carefully, but don't stress – you can always change them later.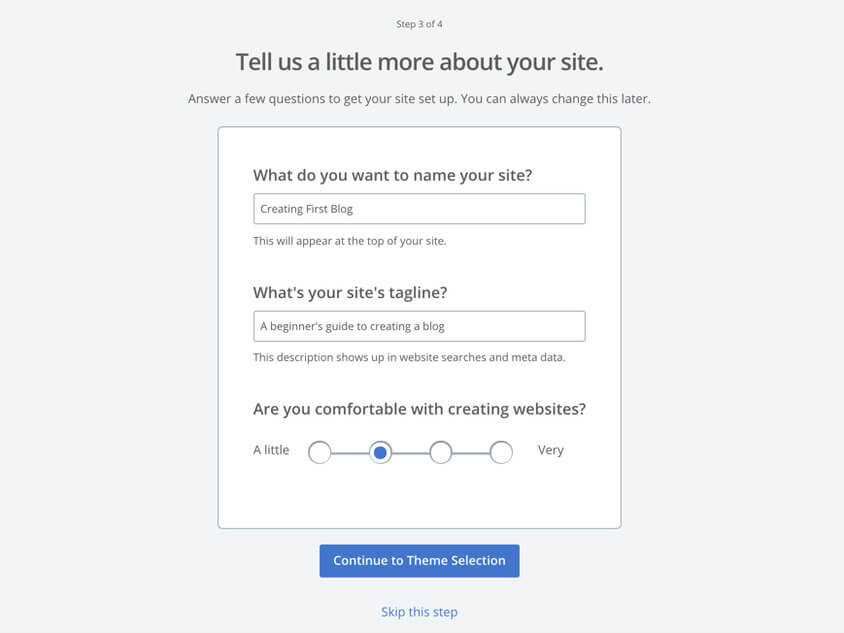 Step 4: Select your theme. Bluehost offers you a variety of themes, so see which suits your style best. If you want, you can skip this step and come back to it later. You can also change your theme any time you like.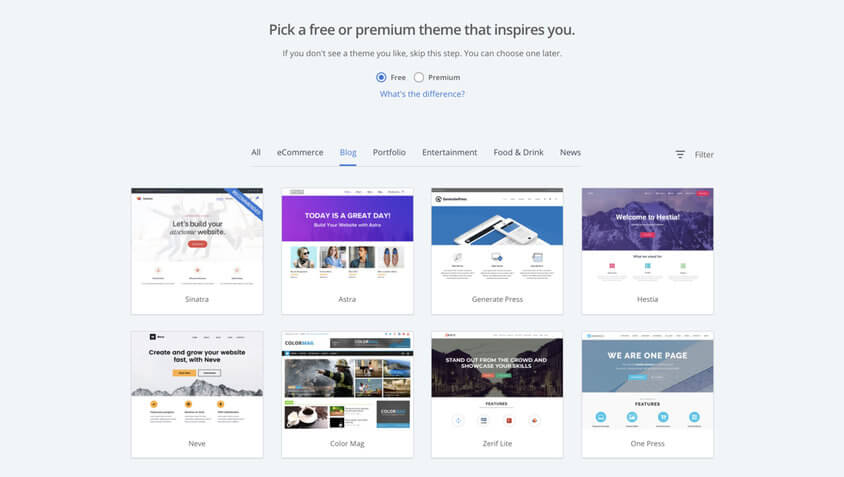 Launch your blog
If you're all set, you can launch your blog by clicking on the "Launch My Site" button. You'll go live, and you can start sharing your recipes, videos, and more.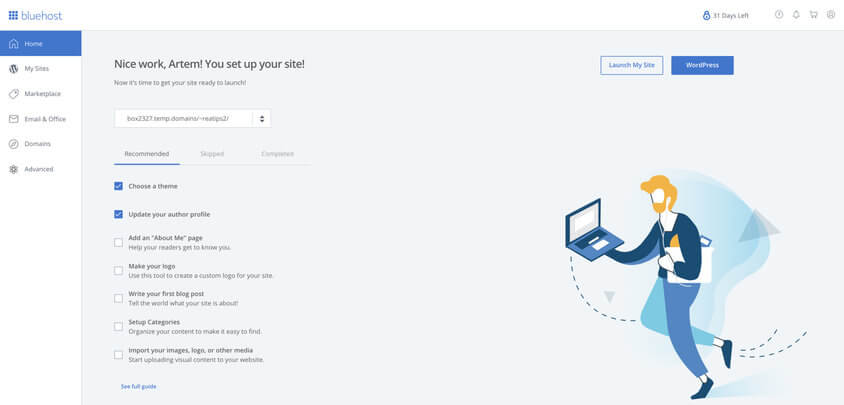 Step #6: Select your food blog theme
When you're learning how to be a food blogger, you also need to learn how to design a food blog. This starts with choosing the right theme. You'll want something that's visually appealing, intuitive, and user-friendly so that your readers can easily find their way around your site. And, you'll also want something that makes sense for your niche.
WordPress.org has a wonderful selection of over 3,000 themes at your disposal, so you can take your pick. To narrow down your search and find a theme that works well for your food blog, make sure to:
Pay attention to the features;
Preview the theme; and
Check its ratings.
Keep in mind that the themes will customize differently depending on their built-in features, your blog's content, and its layout.
To find the themes, you'll need to go to the WordPress dashboard, go to the "Appearance" tab, and click on "Themes." There you'll find countless free themes as well as many others with an affordable price tag.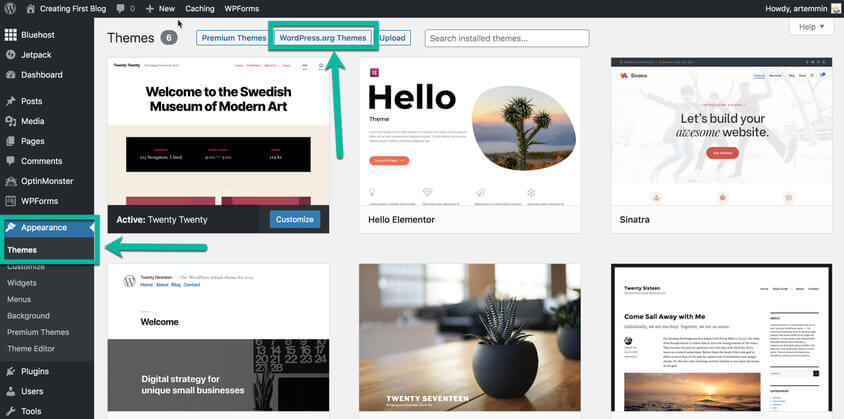 What are good WordPress themes for a food blog?
What are good WordPress themes for a food blog? It all depends on your preferences. There isn't a single theme that outshines all the rest, but still, some WordPress themes are better for specific purposes than others. Our favorites and some of their main features are as follows:
A minimalistic theme excellent for adding banners and promotions. It can also be integrated with WooCommerce.
Responsive design;
Four banner locations;
Visual customizer; and
Gutenberg compatibility.
Highly customizable and ideal for any type of food blog.
Recipe management system;
Live customizer;
WooCommerce support; and
Different blog layouts.
Clean and feminine, great for creative food bloggers.
17 blog layouts;
Instagram widget plugin;
Customizable color options; and
Featured posts area.
Comes with a useful recipe creator that every food blogger needs.
Recipe nutritional information;
Country flags to organize cuisines;
Integrated cooking timer; and
Over 40 premium plugins.
Natural and beautiful. Ideal for food and lifestyle blogs.
Fully responsive;
Built-in WPBakery page builder plugin;
Recipe shortcode; and
Social media widgets.
Add plugins to your blog!
Without the right plugins, your food blog would be just a simple static page. You need plugins that can help you to boost engagement on your posts, improve SEO, enhance your site's speed, and add contact forms.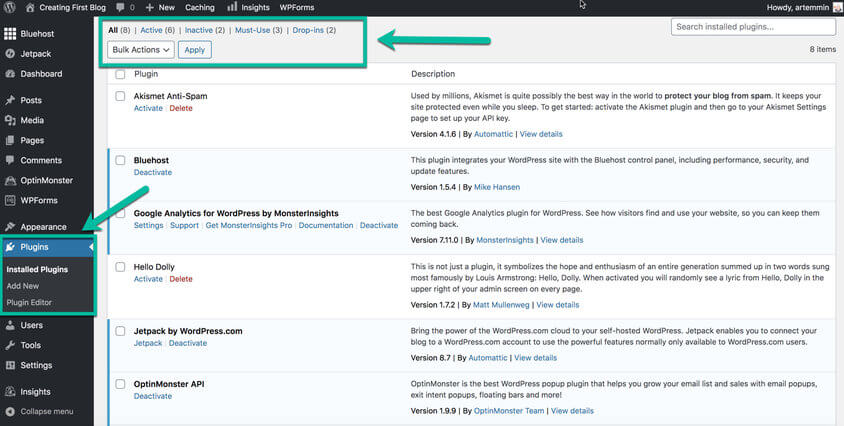 Some of the most highly recommended WordPress plugins for a food blog include:
A template that allows you to upload and organize new recipes easily.
Convenient default recipe template;
Recipe list widget;
Nutritional label widget; and
Countdown timer.
Offers multiple recipe card styles to suit your brand's aesthetics.
Includes star ratings;
Adjustable servings;
Video recipe; and
Nutrition facts.
Ideal for enabling your readers to pin your blog to their Pinterest.
Hover over an image to see the Pinterest Pin It button;
Include the Pinterest Pin It button in the post;
Customize the button color; and
Multilingual.
An essential plugin for helping you to rank higher on search engines.
Meta title and meta description templates;
Schema implementation;
XML sitemaps functionality; and
SEO analysis.
Ideal for producing static HTML files and speeding up your blog.
Preloading for generating cached files for the posts, categories, and tags;
Garbage collection – deletes old cache files;
Custom caching; and
CDN support.
Give these plugins a try, and you'll see precisely why they're so valued by food bloggers across niches.
Step #7: Create a content plan
If there's one thing that internet users love, it's consistency. Your blog readers will want to know what they can expect from you, and most importantly – when they can expect it.
If you're inconsistent with your posts and skip updating your blog for weeks on end, your readers will get the impression that you've either abandoned the food blog entirely or that you're not committed to it. Either way, they'll have no reason to stay committed to you.
To ensure that your blog keeps gaining attention, it's a good idea to develop a posting schedule. Prepare content at least a week in advance to make this task easier on yourself, and rely on simple tools like a content calendar to stay on track.
How to create a food blog calendar
While you can always use your regular calendar to stay on schedule, tools like Google Sheets or Coschedule can be lifesaving. You'll receive reminders and notifications, and you'll have a clear overview of your entire posting schedule.
Of course, knowing how to create a food blog calendar schedule is one thing, and it's quite another figuring out exactly what to post on the due date. Fortunately, there are several things you can do to come up with relevant content. Take a look.
Try to find out what your audience wants!
Finding out what your audience wants is a simpler task than you may think. For example, you can make use of analytics tools or your blog's performance metrics. That way, you'll see which of your previous posts have generated the most interest and received the most views. This will help you to get an idea of what kinds of topics your readers enjoy the most.
You can also go an easier way and create a poll or a survey that your readers can complete. Ask about their preferences and interests, and about what they'd like to see from you.
Spy on your competition
Monitoring the competition is the most crucial aspect of any business, including your food blog. Watch what your competitors are doing, and see how their readers respond to their content. Keep an eye on what they're doing right and wrong.
Just make sure not to become a copycat. You don't want to steal your competitors' ideas or copy their content – only use it for inspiration and checking out new trends.
Come up with a weekly posting plan!
As previously mentioned, having a week's worth of content in advance is always important for a food blogger. You'll find it easier to break through and garner attention when you have a regular posting schedule that you stick to. Try to post at least a few times a week, and avoid uploading all of your content at once. Spread out your posts to avoid becoming spammy.
If you're posting to social media as well, you can make use of tools like Later, which is designed for Instagram, or Facebook Schedule, for your Facebook posts.
Own your niche – be an expert of your specialties
Coming up with relevant content is much easier when you specialize in your niche. If you're interested in starting a vegan food blog, for example, make sure that you explore every aspect of veganism and try to bring something unique to the table.
Whatever the topic of your blog posts, approach it as an expert, and level up your skills in it.
Additional content tips
Textual content is essential for any type of blog, but if you present just huge blocks of text, your readers will quickly get bored. You need to retain their interest by introducing mesmerizing visuals that will help you to break up the text and keep the readers engaged. Photos, videos, and GIFs, for instance, should also be part of your content strategy.
Here are our top tips for spicing up your food blog with visual content:
Learn how to make appetizing photos
If you're serious about your food blog business, sooner rather than later, you'll also have to get serious about your food photos. Hiring a food photographer can be pricey, so go easy on your wallet by investing time into researching food photography. You'll find countless educational videos for free. Just type in 'food photography tips' on YouTube, and you're halfway to being a pro.
Keep the lighting uniform!
Lighting is everything in photography. It can help you to put more focus on smaller details, and it can set the mood for the entire photo-shoot.
The most affordable way to ensure excellent lighting is by shooting outside during the daytime. However, this is not the most reliable method, as the climate and weather conditions will dictate how your photo-shoots will go.
A better option would be using a photography lightbox and shooting indoors. You can easily make a lightbox yourself, or you can find affordable options on Amazon.
Learn about food staging
When you're browsing your Instagram feed, it probably seems that virtually everyone is a pro at food staging. But it doesn't take much to learn how to truly make your food pop in photos.
Again, YouTube will be your best friend here. There's a number of high-quality tutorial videos on food staging that will tell you everything that you need to know. Check them out and learn a few neat tips and tricks that will make your audience drool at the sight of every food photo you upload.
Try to maintain consistency in visuals!
Everything about your food blog should be consistent. From the fonts and color palettes that you're using to the way you write your content. And this includes your visuals.
If you have a cutting board that you love, include it in all of your photos. If you like how your kitchen counters look in the background, make sure they're always present.
When everything on your blog is unified and in tune, you'll develop a recognizable brand that your audience will love.
Add videos
Videos are a great way to connect with your readers and keep them engaged. How-to and food prep videos are especially popular nowadays, so they're an excellent tool to use for your blog.
You can also use Q&A videos or behind-the-scenes videos to connect with your visitors and establish a stronger relationship with them.
Make sure you're filming in a well-lit room, and use a high-quality mic and camera.
Keep the editing to a minimum!
Editing is an important part of photography and videography, but it's also important to know when enough is enough.
You'll want to use editing software to enhance your visual content, not change it in its entirety. Make sure that your food looks real and genuine. A slightly burnt toast will be more appealing to your audience than a clearly edited slice of bread.
Step #8: Promote your food blog
Once you've created your blog and started publishing, it's time to build your audiences. People won't just randomly stumble across your food website, so you'll need to work on promoting your blog. There are several ways to do that.
Social media marketing
Social media will be your most reliable tool for promoting your food blog. Over 52% of online brand discovery happens in public feeds on social media. So, get to work. Create social media accounts for your blog and keep them active.
You need to update your accounts consistently, engage with your followers in the comment section and messages, and be responsive. If you're inactive, you'll seem disinterested and unprofessional. Facebook, Instagram, and/or Pinterest, being the most visually-oriented platforms, are a typical choice for food bloggers.
Collaborations with other food bloggers and influencers
If you want to gain exposure in your niche, the best thing to do would be to collaborate with others in your industry. Established food bloggers and influencers can help you to expand your reach and attract a wider audience.
If you don't want to collaborate with your direct competitors, you can at least look for people who are as closely connected with your niche as you feel comfortable. If you're an all-vegan food blogger, for example, you could work with a vegan food blogger who specializes in pastries, let's say.
Reach out to different influencers and see which collaboration would make sense for your blog and brand persona.
Food Blog SEO
Focusing on Search Engine Optimization (SEO) is the best way to boost your organic marketing and make it easier for your readers to find you.
You could do many things to enhance your SEO efforts and improve your blog's ranking on search engines. Take a look at some of the most important SEO tactics for food bloggers.
Use long-tail keywords
Keywords are the words that your target audience would use to search for content in your niche. If your content contains the keyword that your potential readers have googled, your blog will be more likely to show higher up on top of the search results.
However, your audience is very unlikely to find you by typing in just a single keyword such as "recipe," for example. Firstly, few people will ever use a single word when looking for something online. And secondly, it will be more difficult for your blog to rank higher in the search results with such a general term.
So, you'll need to use key phrases, aka long-tail keywords. The more specific you are, the more relevant your content will be to your target audiences, and the more likely they'll be to find you.
Instead of focusing on the keyword "recipes," for example, go for long-tail keywords like "easy vegan recipes for two."
Make your blog mobile-friendly
Mobile optimization is crucial for your SERP ranking. If your site's not optimized for mobile, engines such as Google will push you towards the bottom of the search results and make your blog more difficult to find.
Also, a vast majority of internet users use their smartphones for browsing the net. They won't waste their time on your blog if it takes too long to load on mobile devices or if the text and visual content aren't clear and legible.
Write long-form content (2000 words and more)
Google is a big fan of long-form content, so you can use this to your advantage to increase your SERP ranking. If possible, try to have most of your blog posts count to 2000 words or more to boost your visibility and enhance your organic marketing efforts.
Another good thing about long-form content is that it gives you plenty of chances to increase your keyword density naturally, and it allows you to showcase your expertise.
Step #9: Monetize your food blog
Finally, it's time to reap the benefits of your food blog. Even if you've decided to learn how to become a food blogger simply because it seemed interesting to you, you'll probably enjoy the money-making aspect of it.
There are several things you can do to increase your blog's profitability.
Publish and sell your own cookbooks
Selling your cookbooks can be a very lucrative strategy, but you have to be smart about it. Wait until you've gathered enough blog readers who'd be interested in buying your book. You can sell hard copies or ebooks, or better yet, both. Make sure that you promote your new cookbook on your blog and on your social media channels.
Create a YouTube channel promoting your blog
Internet users love consuming videos, so it's not surprising that YouTube is one of the most popular platforms.
If you want to increase your visibility and generate more followers and readers, create a YouTube channel, and use it for promoting your blog.
An added benefit is that you can start making money off of YouTube through ads and sponsorships as your account grows.
Sell ad space using Google AdSense
If you want simple passive income, selling ad space through Google AdSense is the best way to get it. AdSense will find suitable ads that match your site's content and your audience, then present them in your food blog's ad space. You'll get money from the advertisers and enjoy some passive income.
Build your own email list
You can make money from your food blog by using it to sell products or services to your visitors. It's the most sustainable business strategy that's often the most lucrative. But for that, you'll need a sales funnel and your own email list to reach out to potential customers.
Use an email opt-in tool to get email addresses from your readers and create your unique list.
Run Facebook and Instagram ads to increase website traffic
Every business can benefit from social media marketing, and your food blog is no different. While it will require an initial investment, social media ads can pay off by increasing your reach and helping you to generate more loyal readers.
This can be even more beneficial for your blog if you've started selling additional products or services. Social media networks such as Facebook and Instagram have excellent targeting features and can connect you with exactly the right audiences that would be interested in what you have to offer.
Try affiliate marketing
Affiliate marketing is the ideal solution for making your food blog profitable. The affiliate will be in charge of their own marketing efforts, and you'll solely be responsible for connecting your readers with the affiliate company. You'll normally be making money per each new customer you bring to the company.
Takeaway
Food blogging is incredibly popular today, and it can be an exciting and profitable endeavor for anyone with a passion for it. It requires effort, commitment, and dedication, but it can easily become well worth it. So, if you were wondering how to become a food blogger, what you need to do is:
Choose your niche;
Pick your blogging platform and come up with a domain name;
Choose your web hosting provider and launch your blog;
Create useful content, promote your blog and monetize your blog; and
Enjoy!
Your food blog can become so much more than a simple passive income opportunity with a little bit of effort on your part. So, give it a try, and see where your blog takes you.
Do you have any questions or anything to add? We'd love to hear from you!