Welcome to this guide
Your talent in the kitchen speaks for itself. You have a host of fans among your family, guests, co-workers and random recipients of your culinary delights. So why not share your talent with the world? Imagine teaching people how to be creative in the kitchen. Helping them break the fast-food habit. Even showing them how to eat and live healthier?
You need a forum for this, and since most people would rather check for recipes online than buy expensive cookbooks, it's probably high time you started your own food blog!
There are more than 250 million blogs out there in the world, of which more than 3 million are food blogs
Building your own food blog is not a difficult task, however daunting it may seem initially. Search for food blogs on Google and you'll see many blogs hosted by people who are masters in the kitchen but novices in the tech world. Blogs are affordable—there are many ways you can be online for less than you spend on the ingredients of a single recipe. Blogs are popular and trendy. And a blog can become a steady source of passive or active income for you. It's up to you to decide whether you want your blog to be a hobby—or a serious business. Don't forget: whatever your goals are, you'll have fun in the process, meet interesting people and even improve your cooking skills.
So, are you ready to get started on your blog? Here are four easy steps you'll find in our Food Blog Guide:
Food blogs with 14,800 monthly searches occupy the second place in the top 5 types of blogs searched for on Google
selecting the right content management system(CMS)
choosing your domain name
setting up your account with a hosting provider
tips for successful food blogging
When starting your blog, you may become discouraged by all the random information on the internet. It's easy to get bogged down trying to figure out the technical details. Well, with your food blog, there's no need to. We provide everything needed to give you a big head start. And you'll have the pride and satisfaction of having created a terrific blog—of the quality many people spend a lot of money for. Let's start with the basics.
Selecting the right content management system (CMS)
What is a content management system? In order to build, manage or add content to your blog, you'll need a visual interface that lets you perform all these actions—and more. Instead of working with code, you'll be able to do everything: upload, move, size, drag, drop, copy, paste and link.
The complicated coding and design behind each website are still there, but they're performed by the content management system, based on your visual input. While numerous CMS options exist, the most popular choices are limited to a handful, such as Joomla, Blogger and Drupal. But the international vote of popularity goes to WordPress, the content management system we use for this guide.
We've chosen WordPress because, since 2009, WordPress has been one of the world's most popular blogging platforms. It gives you options for unlimited creativity and functionality. WordPress works perfectly with blogs, but you can also create a website as well. It's highly customizable.
Knowing coding or design can be a plus when working with WordPress, but you can build a real web masterpiece without knowing the first thing about codes, design or blogging. Additionally, its worldwide availability and the fact that it has already been localized in a number of languages, make WordPress the hands-down favorite.
Choosing your domain name
When you visit your favorite websites on the web, you use their name to access them. A Google search starts from the Google homepage, whereas a chat with an old friend on Facebook will start from your personal Facebook page. You get to them, and other websites, because you know their address and type it in the address bar of your browser.
In order to reach them, you use a convention that includes a web domain name sandwiched between www. and .com. Top-level domains (such as the ending .com) can vary, but the convention is the same. In order to have your own domain and culinary website, you'll need to pay an inexpensive amount, usually on a yearly basis. Let's see how we can get there!
When you choose your blog name, you'll need to give careful consideration to a number of details. Your blog name is unique; it should reflect your personality and style, and also give people an idea what they're about to read on the page. For your convenience, we've prepared a short list of tips aimed at fine-tuning your choice of a domain name.
New gTLDs as percentage of total TLDs
1. Brevity is golden. Even services with shorter names such as Facebook and Twitter go for shorter variants for their links fb.com and t.co. This is because it's crucial to be accessible and memorable.
You could name your blog something like http://food_for_people_who_dont_have_time.com. But we doubt many people will remember the name and be able to access it. Instead, you should aim for something short and memorable, such as http://quickbite.com. There's not too much information, the word order in the domain name is obvious and it's easy to remember.
So choose the shortest and catchiest name—people will remember it and know how to look you up and access your content.
2. Make the topic of your blog clear. It should stand out from the domain name, even for someone who has not visited your blog before. If you're already widely known for your cooking, use your name. If you're not, stick with a clear description of what your blog will be about.
3. It should read YOU. All the food bloggers we interviewed agree on one point: the foodie internet business is about being genuine and making your readers feel comfortable. Don't barricade yourself behind a name that doesn't represent you. You need to feel a strong connection to your blog, and make it clear to your readers, too.
Recommended tool:
Setting up your account with hosting provider
If you already have the perfect domain name for your food blog, it's now time to concentrate on finding a host. A web host is a service that enables your blog to be accessible to your readers 24/7 through their desktop and mobile browsers. Hosting is a paid service.
Some people prefer to go with a one-time deal for both securing their domain under their name and for purchasing hosting. Since it's more likely you'll get the best deal by bundling your domain name and hosting service, this is this option we recommend.
Bluehost is the only web hosting company recommended by WordPress
At First Site Guide, we take a professional interest in determining which are the best hosting services. Based on our experience, we recommend Bluehost. They offer a special deal that includes a FREE domain name and a 30-day money-back guarantee.
Bluehost web hosting company is recommended by WordPress.org as one "of the best and brightest of the hosting world".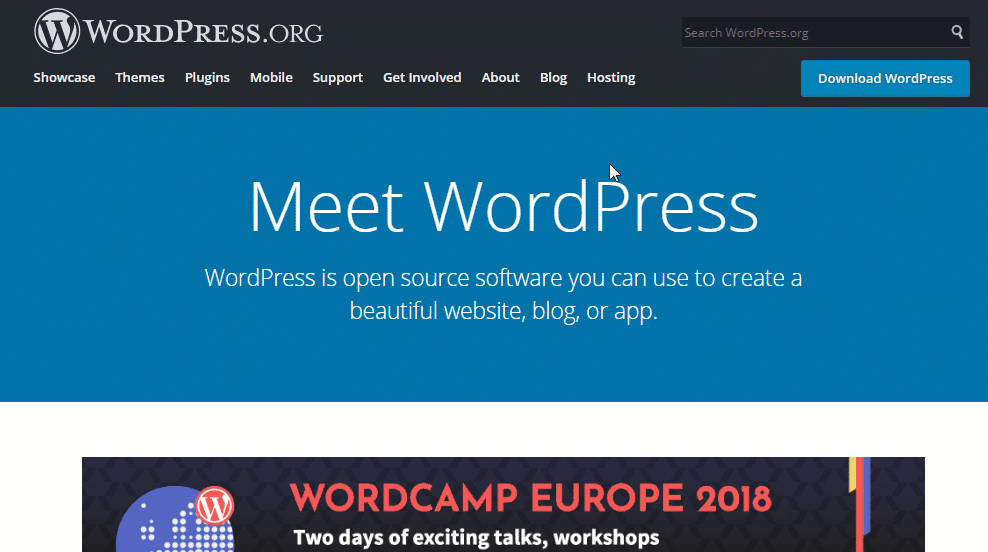 We're going to walk you through the signup process with Bluehost.
If you choose to go with the other hosting provider they might have slightly different control panel, but the installation process will be similar.
Step One
If you're anxious to get your own special deal at Bluehost, which can help you start blogging almost instantly, click here. Next, click on "Get Started Now" and you'll begin the process of setting up your own blog.
Step Two
Bluehost provides you with a variety of blogging options. If you're a beginner, the best way to go is with the Basic Plan. Once your needs have evolved, you can upgrade your package.
Although the Basic Plan has some limitations, it still offers everything you need to get off to a good start. As your blog grows, you may consider going with the unlimited Plus Plan, which is the top-selling package Bluehost offers.
You can also get the Pro Plan, which is similar to the Plus Plan, but it offers even greater performance. This is an advanced package, suitable for seasoned bloggers who have a large base of followers visiting their blogs on a daily basis.

Step Three
Choosing a domain name is a vital step that can make or break your blogging career. No need to worry, though, because Bluehost has everything you need to get started on the right track.
Bluehost is set up almost as a brainstorming tool that feeds you an abundance of domain name options during the registration process. Look at the options, play with different combinations and when you come up with a domain that appeals to you, type it in the box.
If that name is already taken, Bluehost will notify you and give you an additional list of similar domain names you can use.
Step Four
At last, it's time to register your domain. If you see this on your screen, it means you've chosen a domain name and you're getting closer to finishing the process of setting up your account. On this page, you'll fill out your personal information, business information and billing address.
Bluehost guarantees that all your information will be kept safe and private.
Step Five
Step five deals with payments, so you may want to keep a calculator handy to check your totals.
The 12-month package is the lower-priced option. However, if you're ready to make a longer commitment, the 24-month and 36-month packages are cheaper. The longer the package you take, the lower you monthly fee will be.
You don't have to commit to all the other package features at this point, so you can leave the selection boxes empty for now. When you want to try new features, you can easily come back to this page and add them.
Total cost over three years to host one website on the lowest pricing plan
$106.20 Bluehost
$142.56GreenGeeks
$215.64InMotion
$286.20DreamHost
$1.044Wp Engine
Bluehost has the most competitive pricing, and also Bluehost lets you upgrade or downgrade your plan with one-click, and allows you to cancel your account and receive a full refund at any time
After you've checked the "Terms and Regulations" box, return to where you started—the Bluehost homepage. In the upper right corner, you'll see the login button. Enter your domain/username and password to enter your account. Then, find the WordPress icon and click for quick install. Shortly after, you'll receive your credentials via email, so be sure to check your inbox.
Step Six
After you choose your Bluehost account plan and enter your payment information, it's time to create the password for your account.
Make sure you create a strong password that would be impossible to crack in case you encounter cybersecurity issues. A strong password has at least 11 characters and it's a combination of symbols and both alphabetic (both uppercase and lowercase letters) and numeric characters.
Once you create your password, tick the "Terms and Regulations" box and click the "Next" button.
Step Seven
This step shows you that you have successfully created your password and displays a "log in" button for accessing your account. Here you'll need to enter your username (or your domain) and your password to enter the account.
Step Eight
Once you log into your account, you will be taken to a page displaying themes to pick for your new food blog. Bluehost provides a variety of default WordPress themes to choose from, all of which can make your blog very visually-appealing.
You can always change your theme later, so don't worry too much about making a permanent decision right away. Also, you can always pick another theme from a WordPress.org theme directory.
Step Nine
After selecting a theme that inspires you the most, you are ready to start building your new food blog. To do that, you need to log into your WordPress dashboard, so click on the blue "Start Building" button to proceed.
Step Ten
Logging into your WordPress dashboard will take you to the "Welcome" page, where you need to choose whether you want to set up a business site or a personal one.
If you want to set it up on your own, simply click on the "I don't need help" link to create your blog without the help from Bluehost.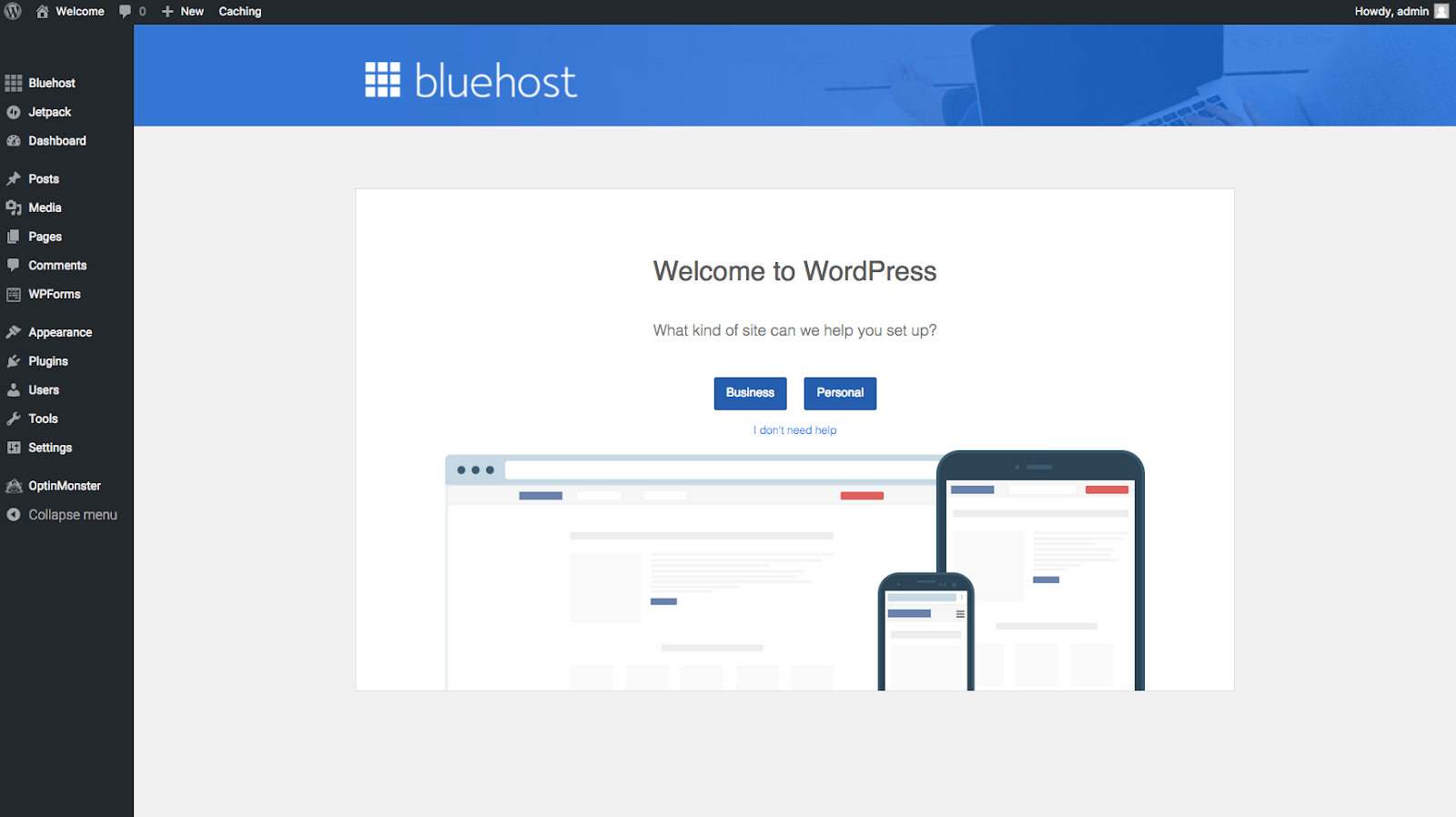 Step Eleven
If you decide to set up your site with the help provided by Bluehost, click on the "Bluehost" button at the top of the left-hand navigation menu. The button will open a page with various tabs displaying different tools for helping you create your site.
You can easily create your site by clicking on the "Launch" button, which will take you to a page where you need to name your website and describe it so that your future visitors will know what your site is about. Simply enter the site title and site description in the appropriate boxes and you're good to go. Now you have your own WordPress blog hosted by Bluehost and you can start blogging immediately!
Success! You will be able to start blogging immediately.
That's it! When you've completed these steps, you'll be a proud owner of your own WP blog. Now it's time to start setting up your layout, theme, and design, so you can create a blog that looks amazing.
Tips for successful food blogging
When you write for your food blog, there are a number of things you should take into account. Below we have prepared a starter list for the successful food blogger.
1. Aim for a constant flow of new articles. Whether daily or weekly—that's your call! But make sure you create a schedule and stick to it. More than anything, your faithful readers need to be rewarded by your new articles.
2. Create your own style and voice. Write in a natural, easy-to-understand and friendly tone. Read what you've written aloud to yourself. Does it sound unnatural or hard to understand? Don't hesitate to change it.
3. If you provide recipes, make sure the title and link of your new post reads exactly the same as the name of the recipe—nothing else. All other information may be added to the post content, so don't try to cover too much information in the title. Clear titles with names of recipes are helpful to your readers and give you a boost with search engines.
4. Be consistent. For example, don't use the term "instructions" once, then shift to "directions" or "method." Search engines and your readers like to see structure.
5. Decide on main headings for the sections of your posts and stick with them. And always use the same text style.
More than 90% of food blogs out there are generalists and are not very focused. But a blog like Karismatic Life, which focuses on cooking for young children (with an Indian twist) is much more likely to find an avid readership than one which attempts to grab at existing trends and throw together a generalist approach
6. Try to keep your articles somewhere between 300 and 700 words. Not only do people have short attention spans, search indexes do, too.
7.Use a plugin for lists—be they ingredients or steps—you'll need to point out there's a "list" thing behind what you're doing.
8. Always title your photos before uploading. If you're building a gallery and there are more pictures, such as photos used to show the steps of a recipe, make sure you number them, name the recipe and each step.
9. Always make the finished product photo the featured photo of your post.
10. Strive to use keywords (e.g. the main tags of your post) in the first 25 words of your article. This helps give readers a better idea what they're about to read.
11. Don't copy content, such as recipes or images, from other bloggers. If you are thrilled with a recipe and want to try it out, make it your own and provide your photos.
Topic Ideas
The motivation to food blogging
To make a name for myself in the food world
49%
To have a voice so I can say what I want to say
48%
Writing is my passion
44%
In hopes of turning my blog into a job
41%
Following are suggestions for topics suitable for food bloggers. You may not cover them all at once, or regularly, but there should be a common thread to your blog. Use this list when you have writer's block and want ideas for what to write about next:
* Recipes and re-visiting recipes
* Seasonal foods
* International cuisine you're trying out
* Restaurant, product, cookbook or market reviews
* Kitchen layouts – tweaks you've done to your kitchen that make it work better for you
* Festive meals – how you choose the menu, seating, table setting, music, etc.
* Kitchen tips and tricks
* Cooking classes, courses, accreditations
* Hot deals, sales and coupons
Don't just use text. Provide images, videos and links.
Tasty photos of tasty dishes
57% of Pinterest users interact with food-related content, the #1 category of content and it is the number one source of referral traffic for food blogs
It's very important to provide rich and vivid visual content. Your readers will be attracted by the food photography on your blog and you'll need clear illustrations for your recipes.
Even for the blogger debutante, it's pretty easy to take decent-quality food photos, if you follow some basic advice:
* Lighting should be uniform, with no unnecessary shadows, blurred areas or stark contrasts.
* Make sure you've cleaned your tabletop! And unless decoration is key to your photos, don't distract your readers with unnecessary background elements.
* Take photos of all relevant steps, but don't overdo it. Adding one more egg yolk to the mixer is not photo-worthy, but the general step of kneading is.
* Make a mental map of the steps you're about to photograph. Write them on a post-it note, if needed, to avoid having to redo steps you've already completed.
Which of the following topics do you cover in your food blog?
Recipes
Restaurant reviews
Healthy living
Drinks (wine, spirits, etc.)
Food industry
Specialized diets
* If possible, keep the same focal distance and lighting conditions for all your shots. Unless you shoot macros of food details, you need to keep your readers' attention focused.
* Before taking each photo, make sure your hands and prep area are pristine and adjust lighting as necessary.
* Don't over-edit. If you need to, adjust levels and crop out distracting materials.
* Save at a resolution of 72dpi. This is enough for the web and you won't have to worry about how long a page with a number of photos takes to load.
* Save in *.jpg or *.png formats—they're rendered the best online.
Forgot anything about your photos? Do you need to rotate, crop, resize, rename? The good news is many of these actions can be performed directly from your WordPress dashboard!
Examples of The Best Food Blogs to Follow
Making a good food blog is no small task. So we've gone ahead and put together the very best food bloggers from around the internet. Here you can find the people with the knack for spreading the joy of food, the skill of cooking, and expanding the culinary horizons of those lucky enough to stumble on their blogs.
We hope that these blogs will inspire you to create a great food blog on your own.
Best Food Blogs
Best Vegan Blogs
Best Vegeterian Blogs
Frequently Asked Questions
How much does it cost to start a food blog?
If you are just starting out, a food blog does not have to be expensive. Instead of spending tens of thousands of dollars on a custom website, we would suggest starting with WordPress. You can get hosting plus domain for as little as $2.95 per month, and still start an amazing food blog that will attract visitors.
Installing WordPress is free, and you might want to spend some extra money on a premium theme that's specifically designed for a food blog. Since you're not getting a custom design, we suggest investing in a good theme because it will save you time customizing the entire thing. Also, it is a good chance the theme will come with a few elements that you will need for running a successful food blog.
What should I blog about?
Just like with any blog, you should blog about what you love and know. By writing (or making videos and images) about the food that you love to prepare, you will attract more visitors than blogging about something you think it will attract attention. It will allow you to show your skill, personality, and to let people learn something new from your experience.
People love stories, great images, videos, and unique recipes. Here are a few things you can blog about:
Write original recipes
Add restaurant reviews
Include Nutrition facts
Talk about celebrity eating habits
Write news about food and restaurants in your area
Work on innovative tips and techniques for cooking
Whatever you do, make sure you play to your own strengths and focus on that.
You should definitely avoid copying or spinning articles and recipes that are already online. People and search engines like Google will recognize that you are not original, and that may only lead to a disaster.
How food bloggers get paid?
There are several techniques food bloggers can utilize to start making money:
Advertising networks – you can join one of the popular advertising networks (like Google AdSense, Media.net or BuySellAds) that will allow you to show targeted ads. The more popular the blog gets, the more money you can earn

Sell ad space directly – a food blogger can show ads on the sidebars, in articles or anywhere on the site. You can sell those ad spaces directly to an advertiser

Sponsored posts– you can accept sponsored posts. If you establish a good blog, people will want to pay to get featured on your site

Affiliate programs – you can recommend a product through your blog. If a customer makes a purchase, you'll get a commission

Sell your own cookbook or ebook – you can write a book or ebook and sell it

Start membership sites – if you can offer something unique, people might want to pay monthly fees for unique content

Sell your food photos – if you are a good photographer, you can sell the rights to your food imagery
These are just a few popular methods you can utilize to start making money. When you become comfortable with your blog, you will find the one you prefer and that will fit your blog. You will also discover new ways of getting paid on the blog that might be unique to you.
How much money can you make with a food blog?
A food blog can be just a hobby or a full-time job. That depends on you, the blog and how much time, money and skill do you have. The more you invest in a blog, the more you can expect back, of course
A popular blog can earn a few thousand dollars per month without a problem. For example, Huffington Post reported that Lindsay and Bjork Ostrom, the duo behind the Pinch of Yum blog earned $802,144.55 during a 12-month period (from December 2015- November 2016)!
Obviously, not many food blogs will be able to earn that much. The same couple from the example earned only about $20 their first month.
So, it is important not to quit just because you haven't earned millions in your first months of blogging. But if you're good and work hard, you can start earning hundreds of dollars per month after your first year blogging.
Conclusion
Now it's time to prepare content, get social and go viral. With our expertise, you can easily start monetizing your food blog and impress everyone with your web presence. You've done a great job going online and your success with this new endeavor will help you feel more confident. You'll be enriched by interacting with other food bloggers—discovering new tips and tricks and trying out their recipes. Enjoy your first food blog!